There are still some Disney Christmas experiences you can enjoy for free, no park ticket required!
Free Christmas Offerings in Disney World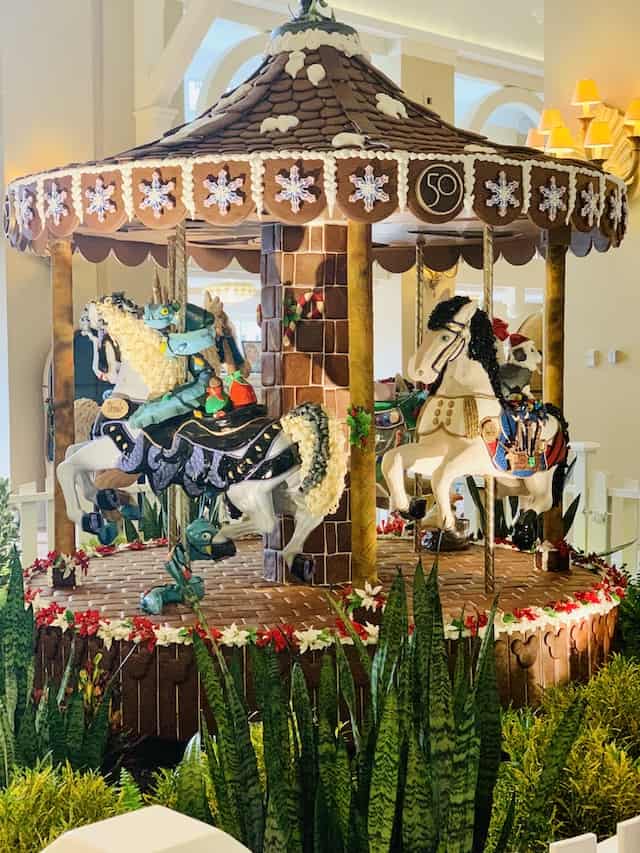 In this era where everything at Walt Disney World seems to come at an additional cost, the thought of free magic is a bit inconceivable. But there are some things you can still enjoy during the holidays at Walt Disney World free of charge even if you do not have a theme park ticket!
Here are five of our favorite ways to soak up the Christmas magic on rest days during your holiday trip or on resort-only vacations. We can't promise you won't be tempted to spend money on food and merchandise once you are there, but for all intents and purposes, these experiences are still free.
1. Fireworks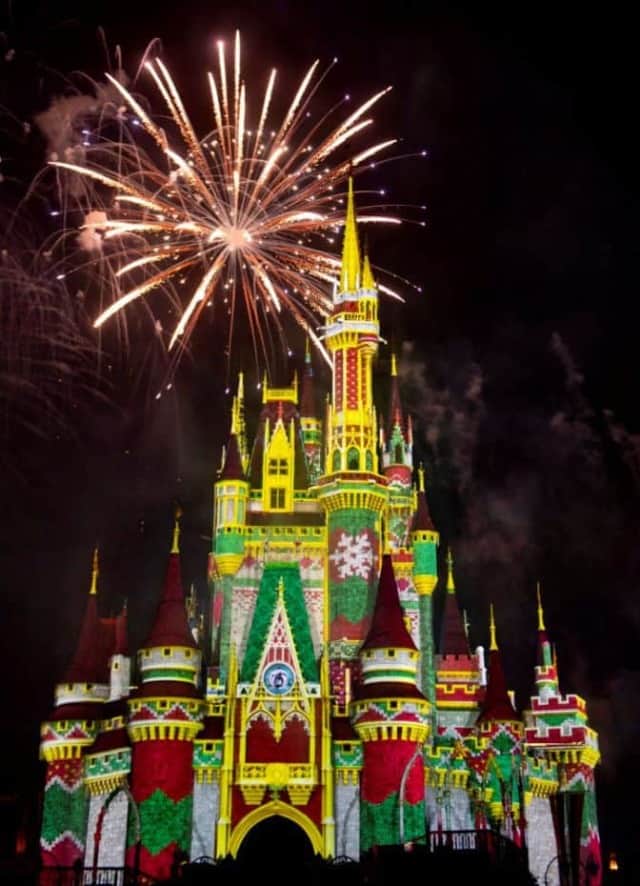 Walt Disney World is known for its world-class fireworks shows. But did you know that you can catch the Magic Kingdom's Christmas and New Year's Eve fireworks spectaculars for free?
You do not need a theme park ticket to see the shows. And, the best part is that neither Minnie's Wonderful Christmastime Fireworks nor Fantasy in the Sky are overly reliant on castle projections. So, you can enjoy the shows pretty well from locations outside of the parks.
Minnie's Wonderful Christmastime Fireworks is offered on November 8, 2022-December 22, 2022 on select nights at 10:00 as part of Mickey's Very Merry Christmas Party. You can catch it on November 8, 10, 11, 14, 15, 17, 18, 27, and 29 as well as on December 1,2,4,6,8,9,11,13,15,16,18,20,22.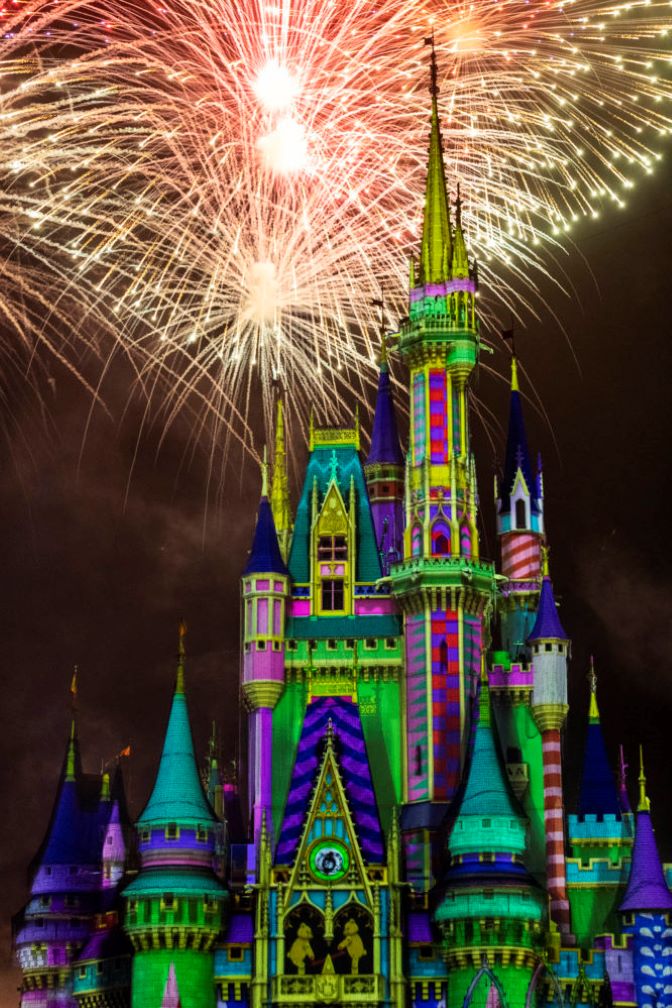 As a special treat, Guests visiting between will also be able to see the show without attending a party. This special showing will occur at 8:15 nightly from December 23-December 29, 2022.
Additionally, New Year's Eve Fireworks Fantasy in the Sky is available in the Magic Kingdom on both December 30 and 31st.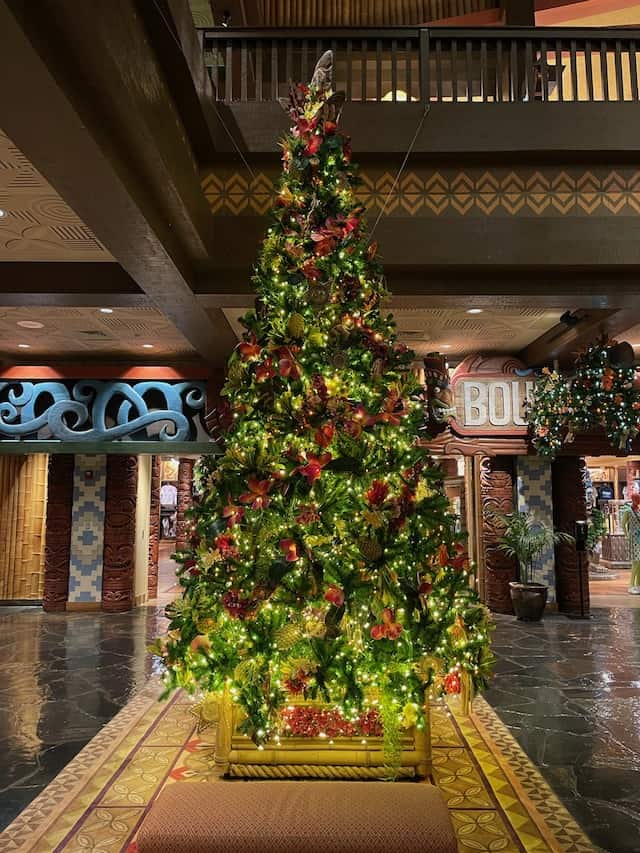 If you do not have a Walt Disney World park ticket, you can still enjoy the fireworks from a variety of vantage points. Some of the resorts do offer great views and even pipe in the accompanying music.
You can travel to any of the locations via bus from Disney Springs. Otherwise, you will need a dining reservation to enjoy them from the resorts. The beach at Disney's Polynesian Village Resort offers a good view, and the music is piped in. It is one of my very favorite spots for fireworks viewing.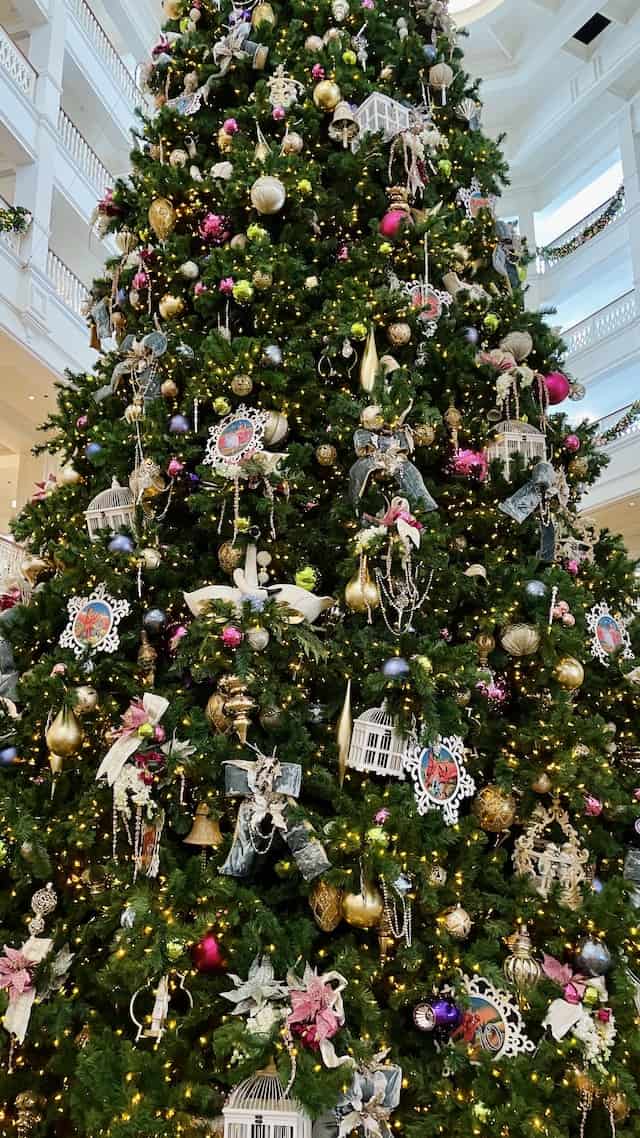 You can also see them from Disney's Grand Floridian Resort & Spa. Viewing is available from the beach. While you are there, be sure to check out the glorious gingerbread display. Disney's Contemporary Resort also has several great viewing areas. One is the bridge between Bay Lake Tower and the original building.
Finally, you can catch the Magic Kingdom nighttime spectaculars from the Ticket and Transportation Center. It offers an unexpectedly great view. For a more detailed look at exactly where to go for the best places at these locations for fireworks viewing, click here.
2. Photo ops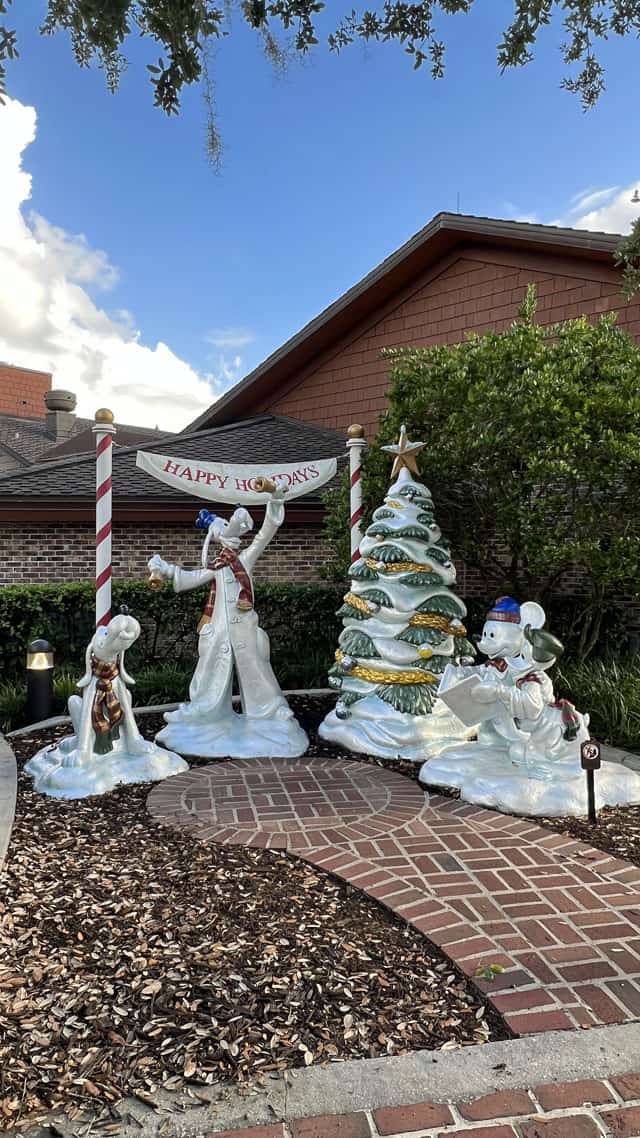 Disney Springs offers quite a few holiday photo ops for Guests that are absolutely free of charge. One of these is at the Market Place. It is a sculptural version of Mickey and his friends in front of a Happy Holidays Banner.
It is actually available all year round. So, you can snap photos for Christmas Cards any time of year. Also, be sure to check out the PhotoPass Studio experience. There is a good chance that holiday backgrounds are available. It is all included if you have Memory Maker.
3. Christmas Tree Stroll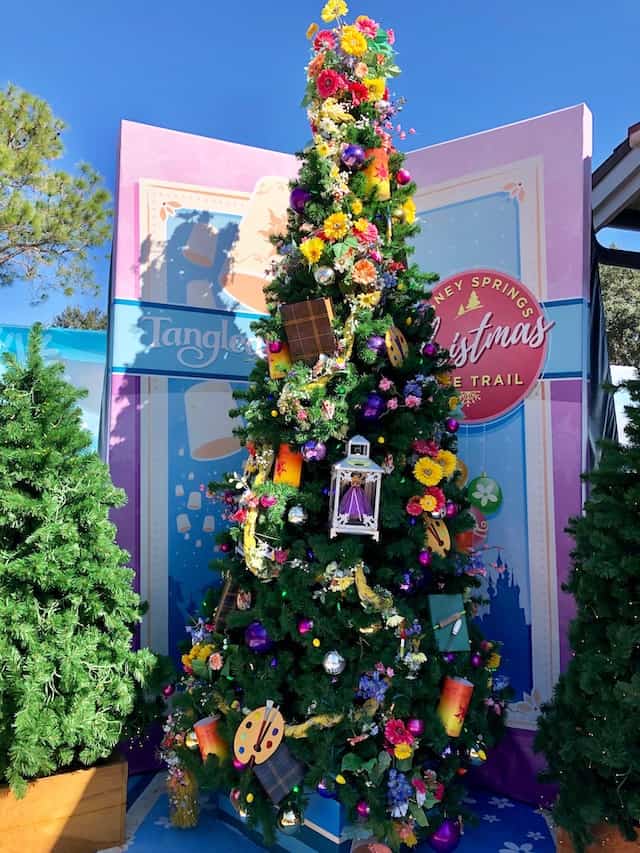 Nightly snow flurries and Disney-themed Christmas tree trails have returned to Disney Springs for 2022! Guests can walk in a winter wonderland created in Disney Springs as they wander through Town Center and the West Side as flurries of snow add a touch of magic to holiday shopping.
Not only that, but there are plenty of trees themed to specific Disney films and characters for you to see. Be sure to enjoy all of the themed Christmas trees during your visit. It can be hard to pick a favorite because they are all spectacular. Read more about celebrating Christmas at Disney Springs here.
4. Resort Decorations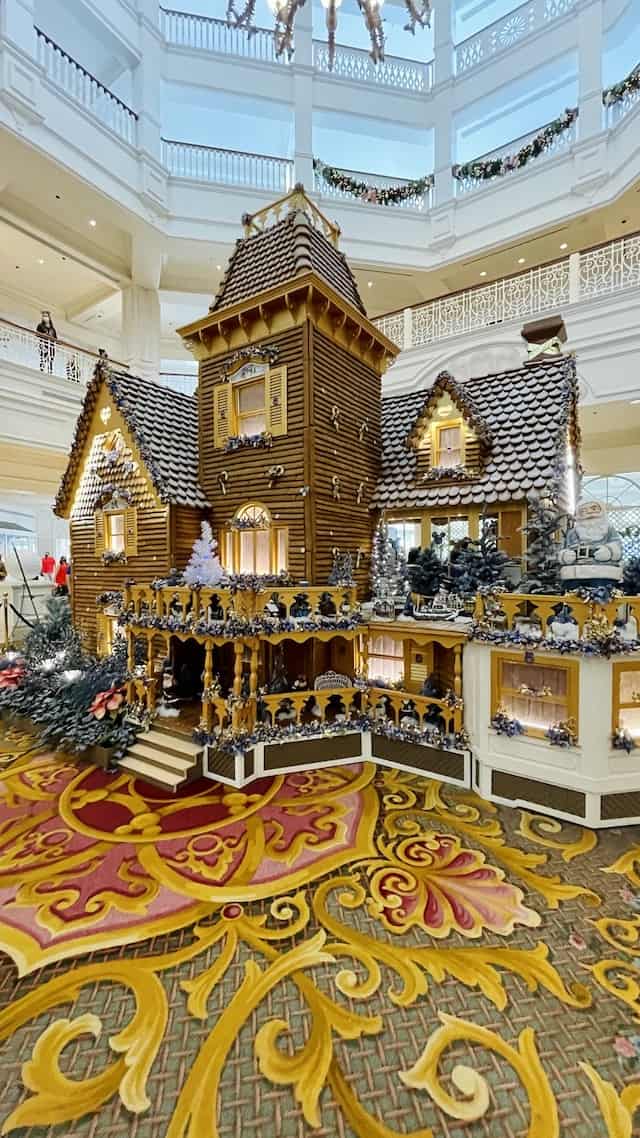 Many of the Walt Disney World resorts have magnificent Christmas decorations that guests can enjoy. If you are not staying at one of the resorts, you can hop on a bus from Disney Springs to enjoy them. If you want to park there or use rideshare, you will need a meal reservation at one of the resort's restaurants.
The most famous display is the Gingerbread House display constructed at Disney's Grand Floridian Resort & Spa. It smells as delicious as it looks! If you love gingerbread, you will also find a gingerbread carousel at Disney's Beach Club. Prepare to be amazed because it actually spins!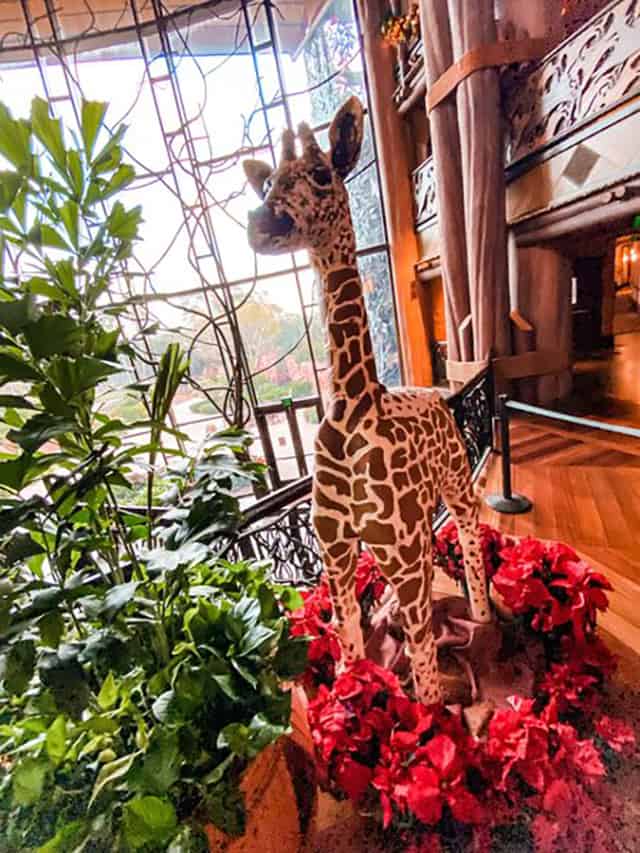 Next, be sure to go and see the gorgeous decorations that await at Disney's Animal Kingdom Lodge. These include a glorious gingerbread giraffe. Finally, you will find a Castle display at Disney's Contemporary Resort. It is inspired by Mary Blair, the mind behind "it's a small world".
Wilderness Lodge also goes big for the holidays. You will love the decorations, and you might even be able to catch a campfire sing-along while you are there. For more details on all the gingerbread decor that you can see at the resorts this year, click here.
5. Meet Santa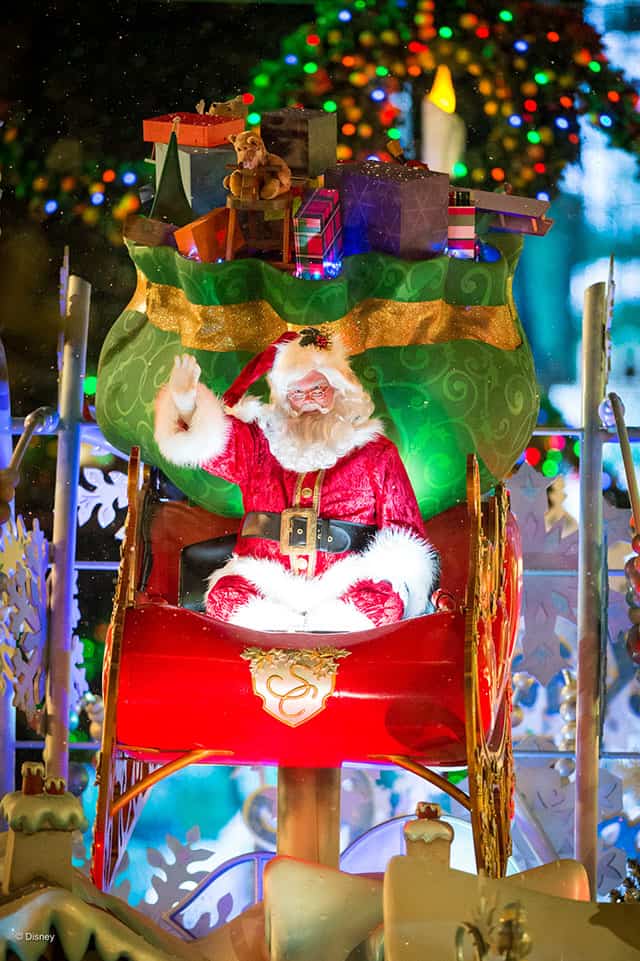 What could be more magical than meeting Santa Claus at Walt Disney World? If you want to meet him, one free option is to stop by Disney Springs and head to Once Upon a Toy.
As you can imagine, this is a very popular event. To keep the line down, this event does utilize a virtual queue. Guests can grab a spot in line virtually and enjoy shopping, dining, entertainment, and photo ops around Disney Springs while they await their return time.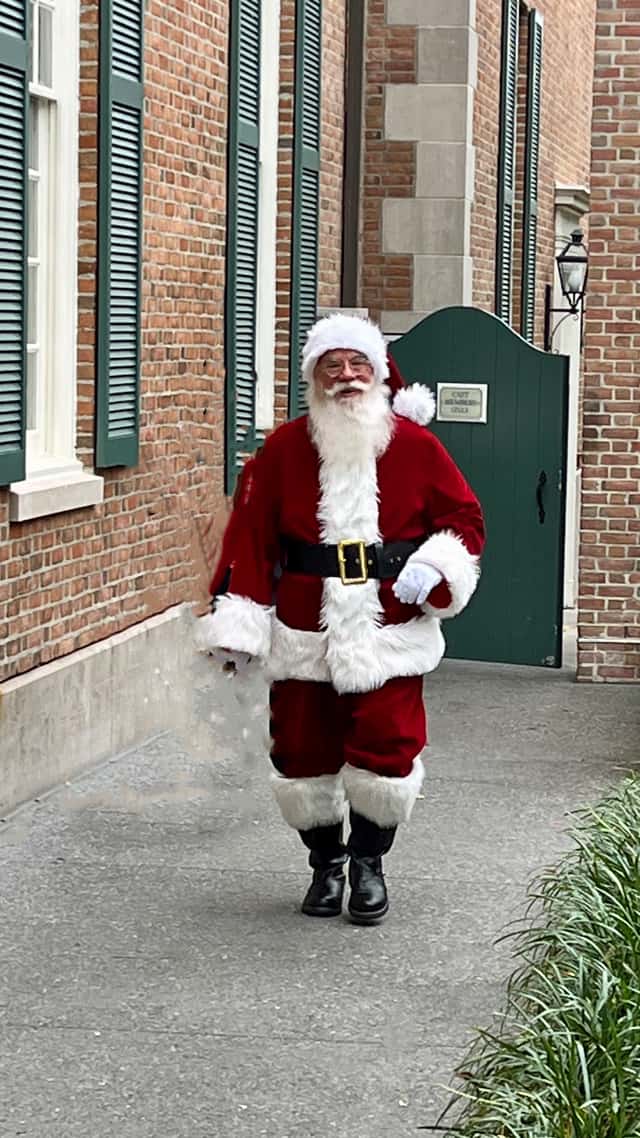 Want more places to meet and see Santa in Walt Disney World? Head over here.
What are your favorite things to do for free during the holiday season at Walt Disney World? Did we miss any of the experiences you love? Let us know in the comments or join the conversation on Facebook.