Mexico's food booths never disappoint. For this year's Festival of the Holidays at Epcot, Las Posadas knocks it out of the park!
Festival of the Holidays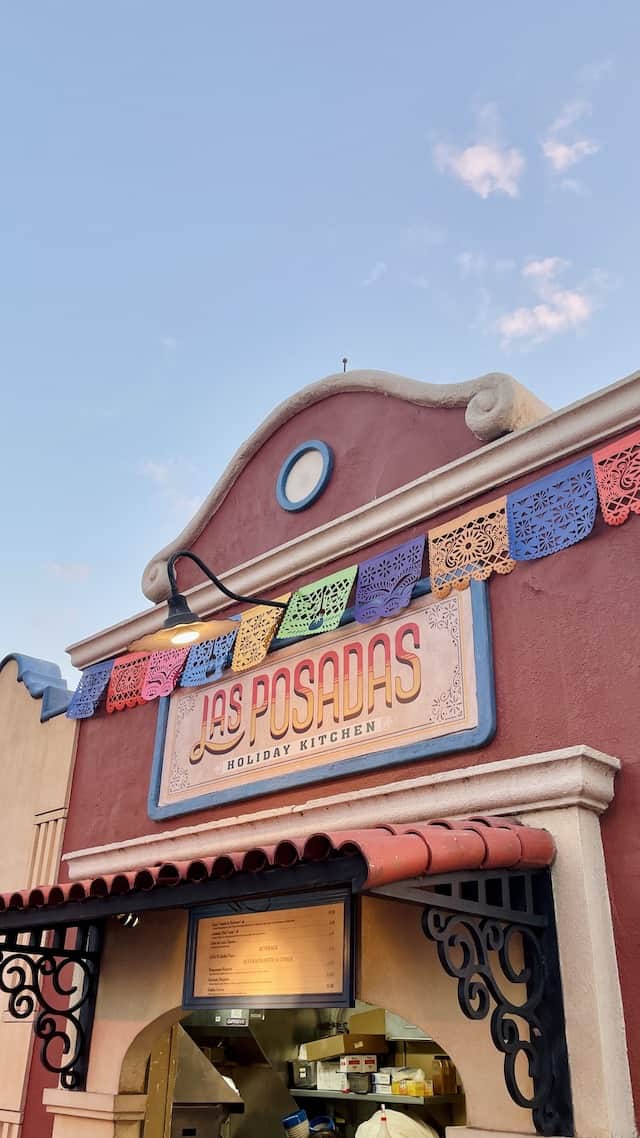 The holiday season is truly magical at EPCOT. Festival of the Holidays is an amazing experience where guests can enjoy the beautiful Candlelight Processional, enjoy delicious holiday food booths, take part in a fun scavenger hunt, cookie stroll, and enjoy great entertainment! There's brand new merchandise that you can check out HERE, along with a new indoor location for Santa Claus.
Guests can ride Guardians of the Galaxy with a new holiday remix! Be sure to grab your boarding group or purchase an Individual Lightning Lane to experience it. Spaceship Earth even has its own light show for the Festival of the Holidays.
Las Posadas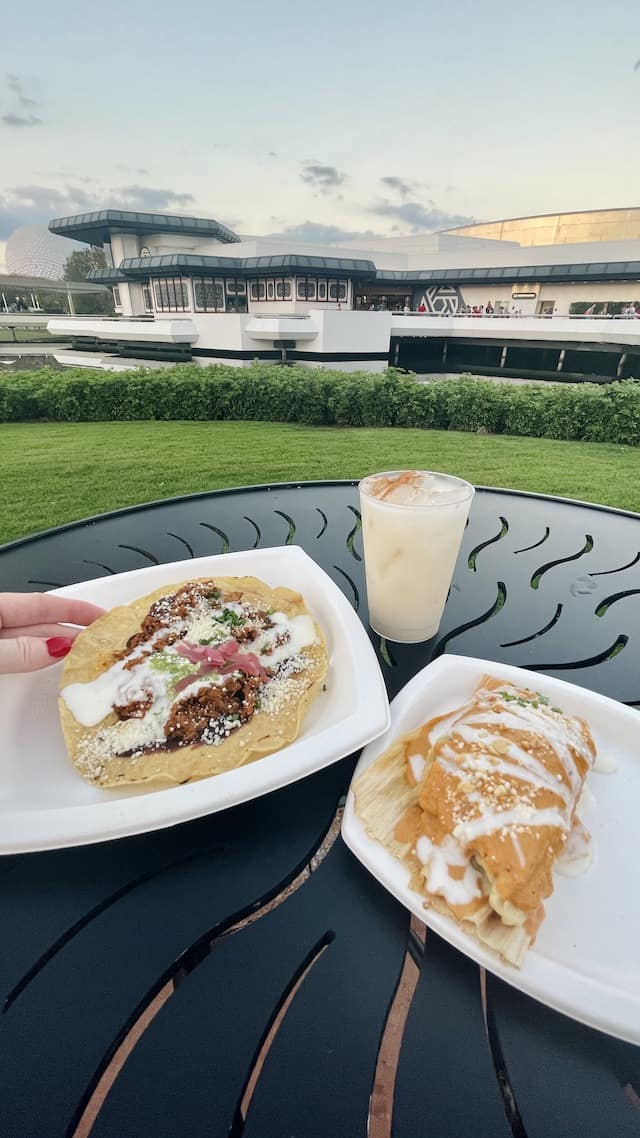 Mexico booths are some of my favorite, and this one is no exception! Take a look at the menu and pricing:
Food Items:
Giant Tostada de Barbacoa: Braised barbacoa beef on a giant tostada with chipotle black bean purée, salsa verde, queso cotija, crema Mexicana, and pickled onion (New) (Gluten/ Wheat Friendly) $10.50
Cochinita Pibil Tamal: Cochinita pibil in corn masa topped with Pipián sauce, queso cotija, and crema Mexicana (New) (Gluten/ Wheat Friendly) $8.00
Dulce de Leche Churros sprinkled with cinnamon-sugar $6.25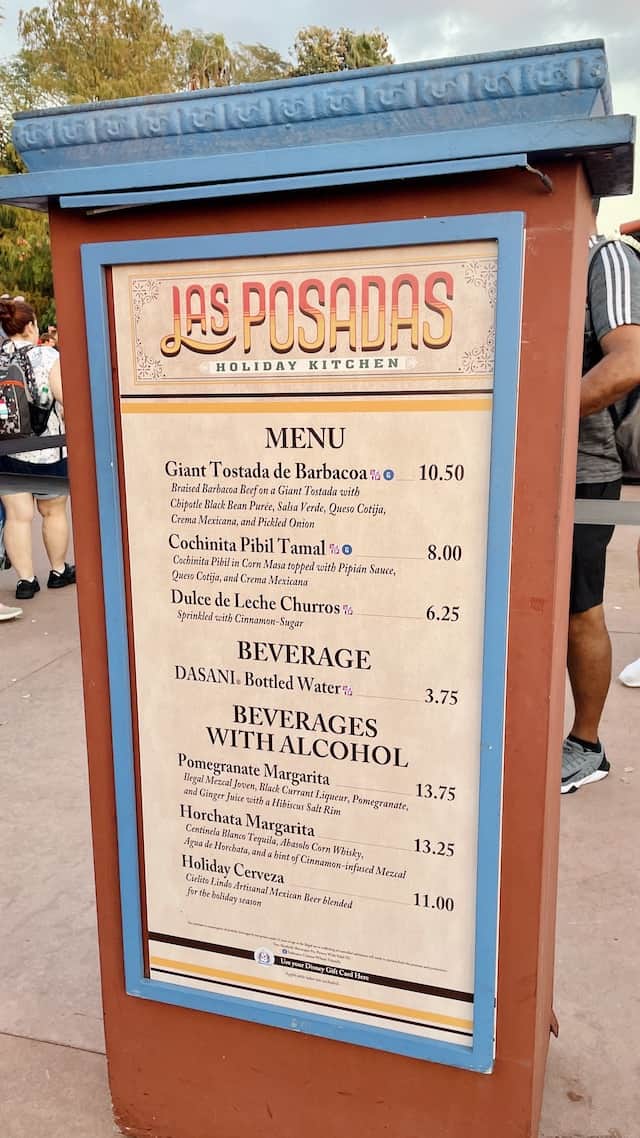 Beverages:
Pomegranate Margarita: Ilegal Mezcal Joven, black currant liqueur, pomegranate, and ginger juice with a hibiscus salt rim (New) $13.75
Horchata Margarita: Centinela Blanco Tequila, Abasolo Corn Whisky, Agua de Horchata, and a hint of cinnamon-infused mezcal $13.25
Holiday Cerveza: Cielito Lindo Artisanal Mexican Beer blended for the holiday season (New) $11.00
Giant Tostada de Barbacoa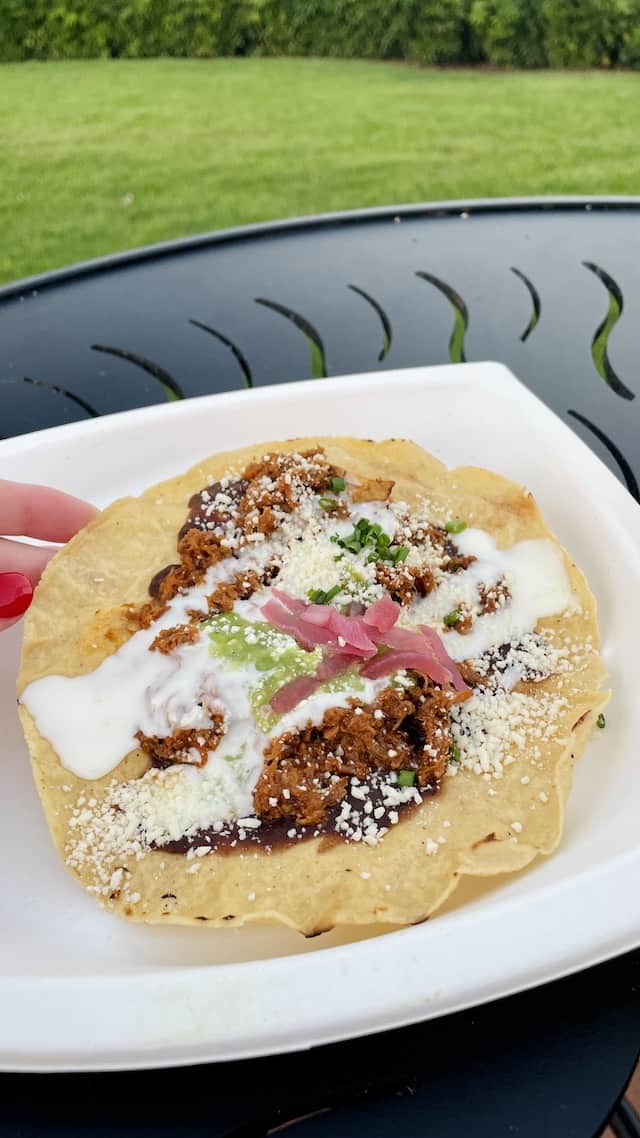 The tostada includes braised barbacoa beef with chipotle black beans, salsa verde, quest cotija, crema Mexicana, and pickled onion. It is a new dish this year and is one of the pricier items at the festival at $10.50.
However, this tostada was well worth every penny! Barbacoa is the Spanish word for barbecue, and this thick beef is cooked slow with lots of seasonings. The only "negative" about this dish is that there was not enough filling to cover the entire tostada.
Chochinita Pibil Tamal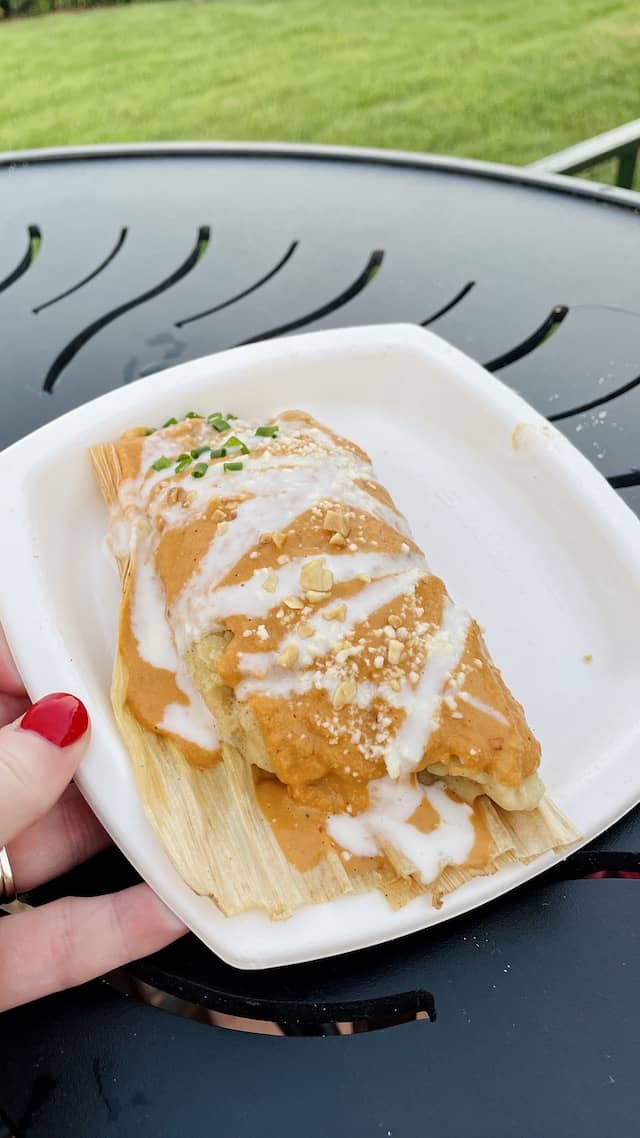 Not to be outdone by the barbacoa, the Chochinita Pibil Tamal also delivered this year. This dish is a little spicier than the mild tostada but still so delicious.
A quick Wikipedia search tells me that Pipián sauce is made from greens and thickened with ground pumpkin seeds – perhaps giving it that orange color! I tasted no hint of pumpkin or greens, however.
Priced at $8.00 I was expecting a bigger portion, but what I was given tasted amazing!
Horchata Margarita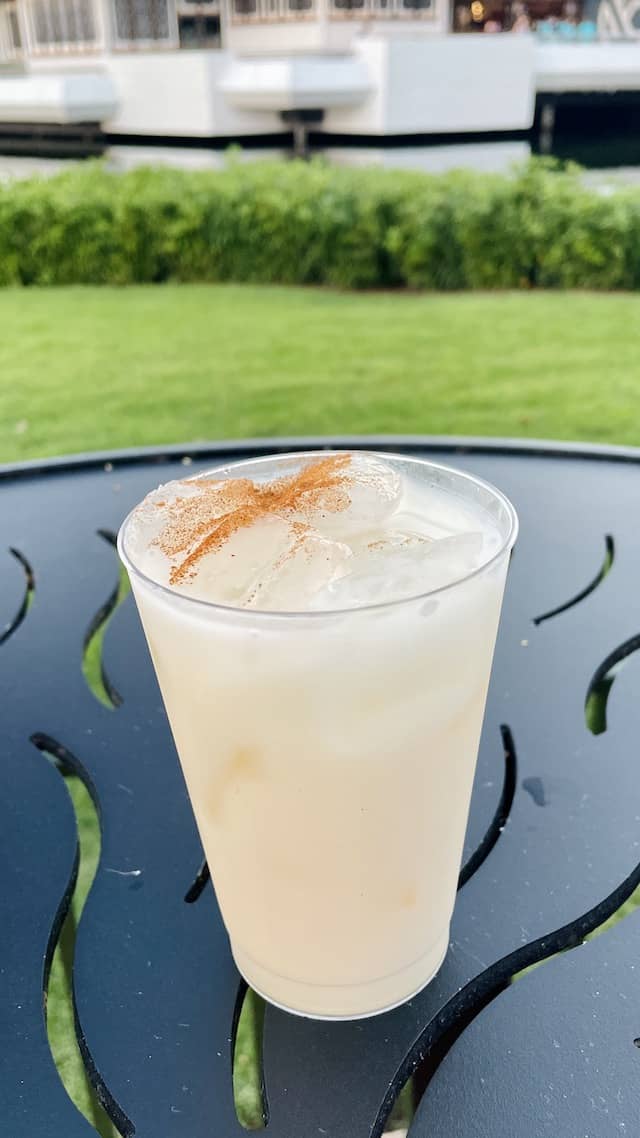 The horchata margarita is a traditional Mexican drink made of white rice soaked in water. It's then flavored with cinnamon and sugar. It kind of tastes like Cinnamon Toast Crunch milk with tequila in it.
To be honest, I was a bit surprised with the prices this year. Usually, Italy wins the prize for most expensive food booth, but the margarita is $13.25 and it is not a full size drink.
Regardless, everything tasted amazing! I really enjoy the Mexico food booth at each festival, and Festival of the Holidays did not disappoint.
Do you love the Las Posadas booth at Festival of the Holidays? Share your thoughts with us in the comments below and on Facebook.