Holidays at Disney are already special. But the merriest part of all can only be found in Disney's Animal Kingdom.
Holidays at Walt Disney World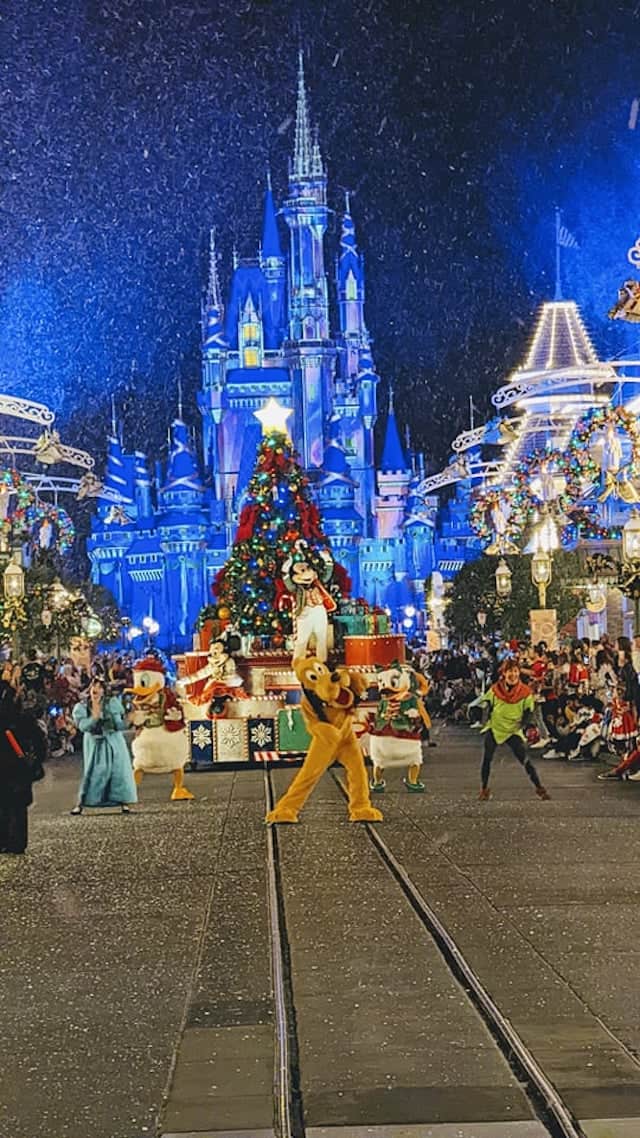 The holidays at Walt Disney World are a special time for Guests. Not only is the regular magic present, but it is cloaked in gorgeous decorations and overlays. Magical surprises like snow on Main Street await.
Not only that but there are special events and experiences to enjoy in every single park. While some like Mickey's Very Merry Christmas Party come at an additional cost, there are also special holiday offerings that are included with your theme park admission at no extra charge.
One is the ever-popular Candlelight Processional that appears in Epcot. You can read about this year's lineup here, how to enjoy this year's show with dining reservations here (and why you might not want to pair it with a reservation here), and the history of the show here.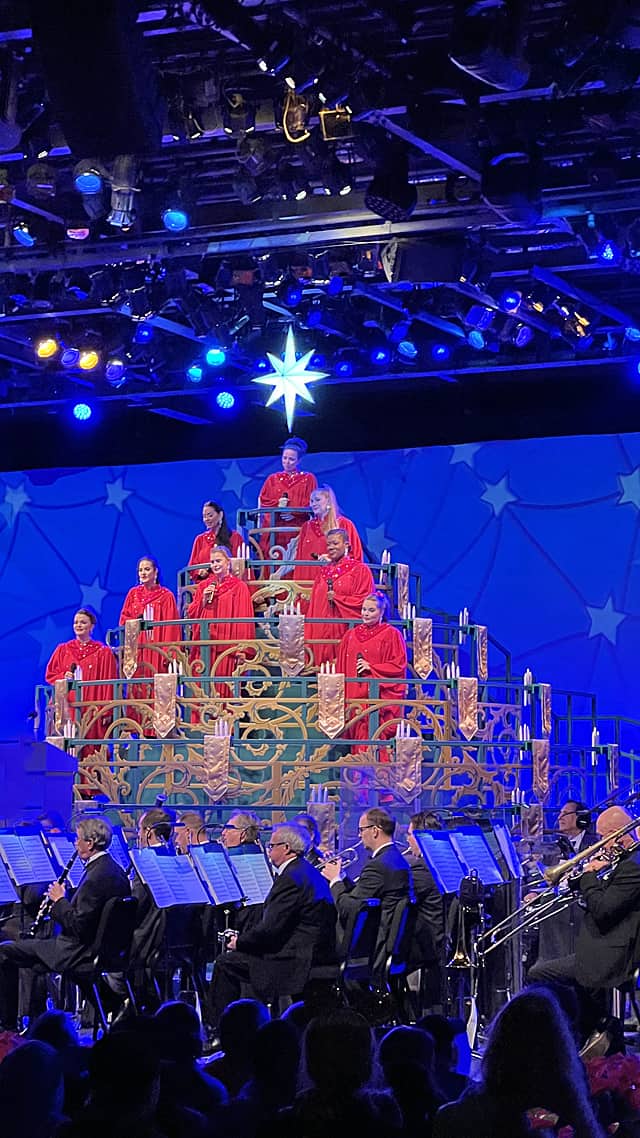 You might also enjoy Holiday Storytellers, which features traditions around the world. You can find them telling their tales at World Showcase.
But, did you know that there are other free events that are lesser known? My (Katie's) very favorite special event that is included with admission at no extra charge is the Merry Menagerie!
The Merry Menagerie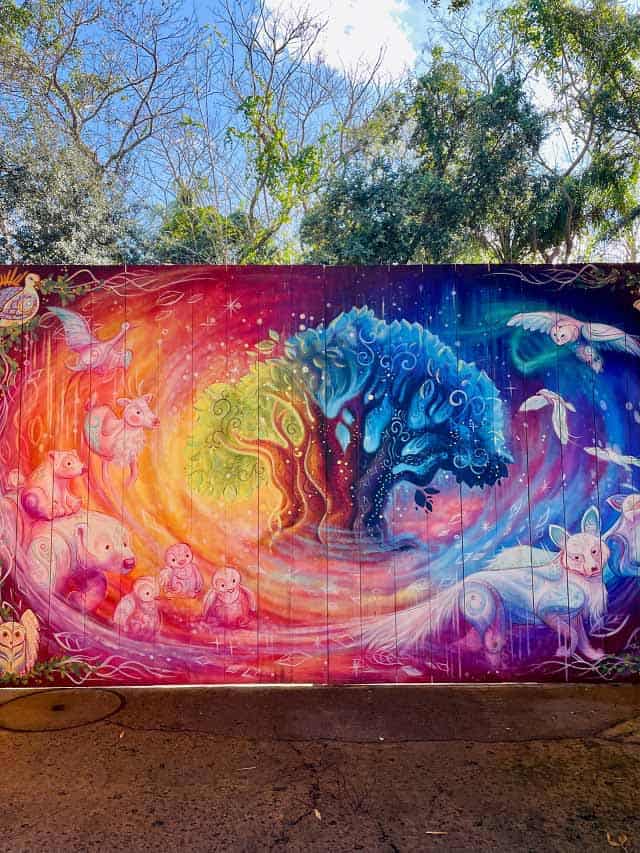 Merry Menagerie is a special seasonal offering that appears only during the holidays at Walt Disney World. The performance features gorgeous arctic animals that are brought to life by puppeteers.
These whimsical puppets are sure to delight Dreamers of All Ages! The puppets interact with the audience to bring merriment and cheer as they create a winter wonderland at the heart of Animal Kingdom.
You will find that there are all sorts of creatures for the animal lover in your travel party to enjoy. The lineup includes penguins, reindeer, arctic foxes, polar bears, birds, and baby seals!
Where to Find It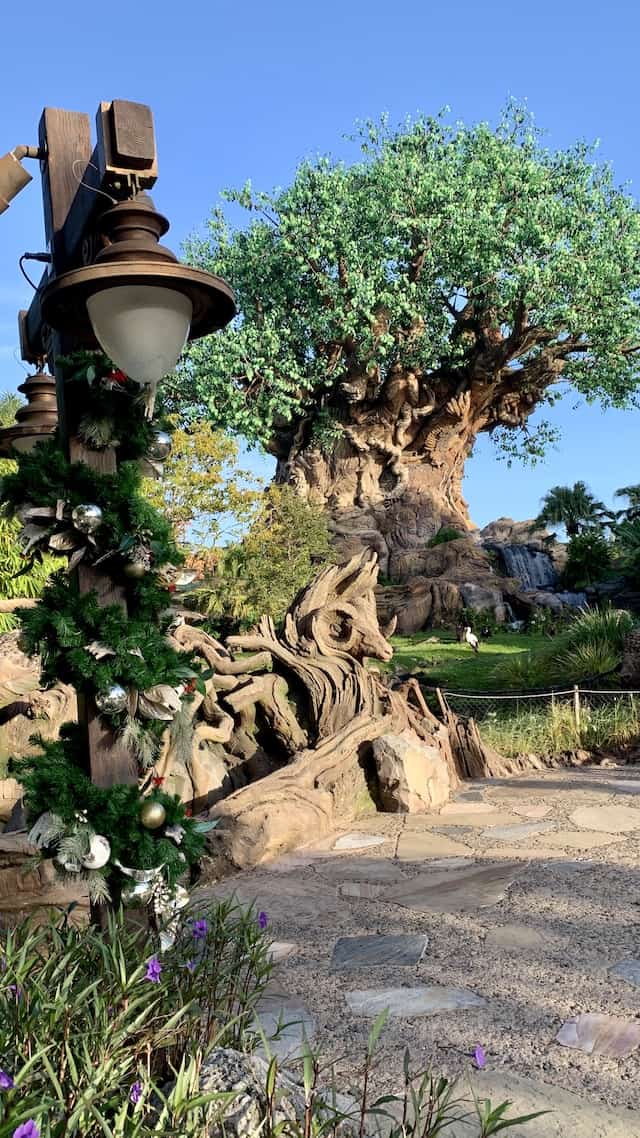 During the Holiday season, if you want to see the Merry Menagerie, you will need to head over to Disney's Animal Kingdom. If you are lucky, you can find the delightful wintery puppets freely roaming Discovery Island!
They stick to the same general route that Kevin takes on her rounds, so if you have encountered her, you will know where to look. Alternatively, you can ask the Cast Members on Discovery Island. They generally know approximately when and where the Merry Menagerie will appear.
Timing for Sets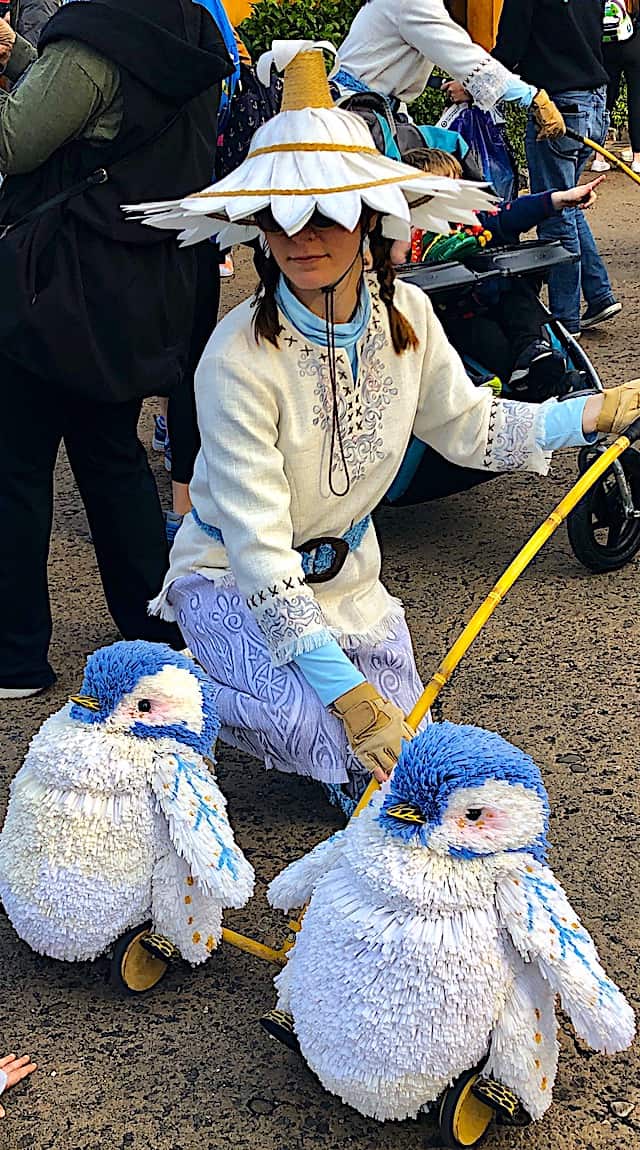 The Merry Menagerie has returned for the holidays in 2022. The show makes daily appearances, weather permitting, of course.
You will find Merry Menagerie appearances occur at regular intervals during daytime hours. If you are at Discovery Island and do not see the delightful animals milling about, you will likely find them within the half hour. In the meantime, you could pop into a shop or enjoy some of the Memory Maker experiences nearby.
There are two distinctly different Merry Menagerie sets featuring different arctic animals. If you want to see the full range of mystical winter creatures, you will need to catch both sets.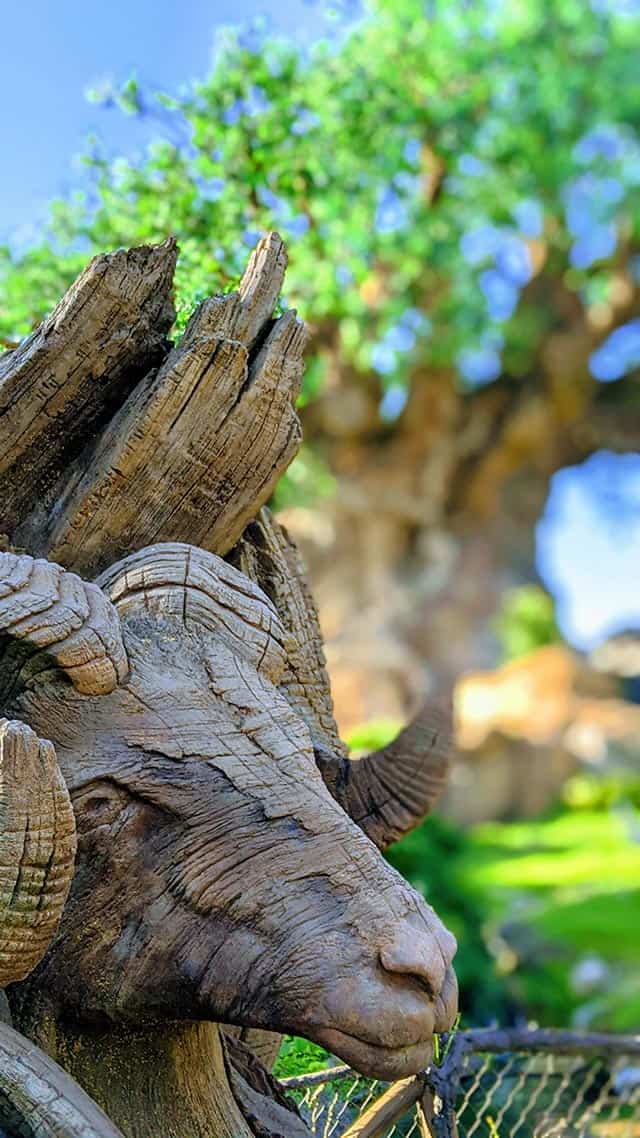 The two sets alternate. So if you see one grouping of animals, you can rest assured that the other is coming up next unless, of course, you have stumbled upon the final show of the day.
Keep in mind the show is only active during daylight hours. It begins mid-morning. The final appearance is typically sometime during the 4:00 hour and ends by 5:00.
What is so magical about it?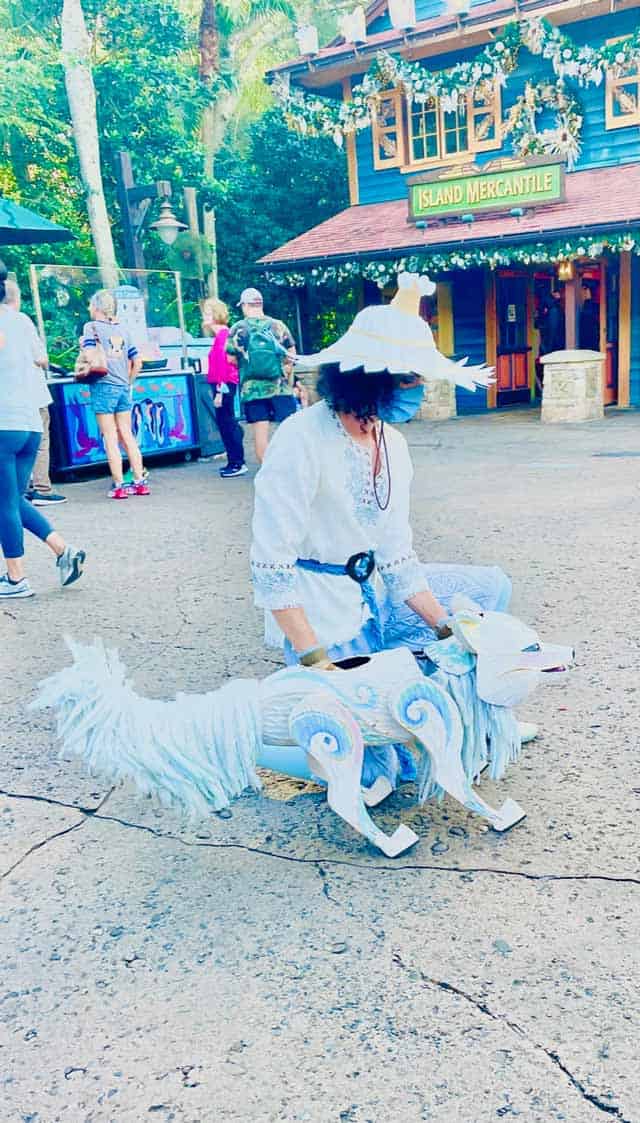 One of the reasons that I love Merry Menagerie so much is that it brings back that "old school Disney" feeling. It is the feeling you have where there is magic around every corner that requires no special event ticket and no extra cost.
In a Disney World where so many experiences come at an extra cost, it is refreshing that no Guest with a ticket can be priced out of this particular extra bit of magic. Also, there is no need to stare at your phone to book it; in fact, you can't book it at all. You just have to be in the right place at the right time.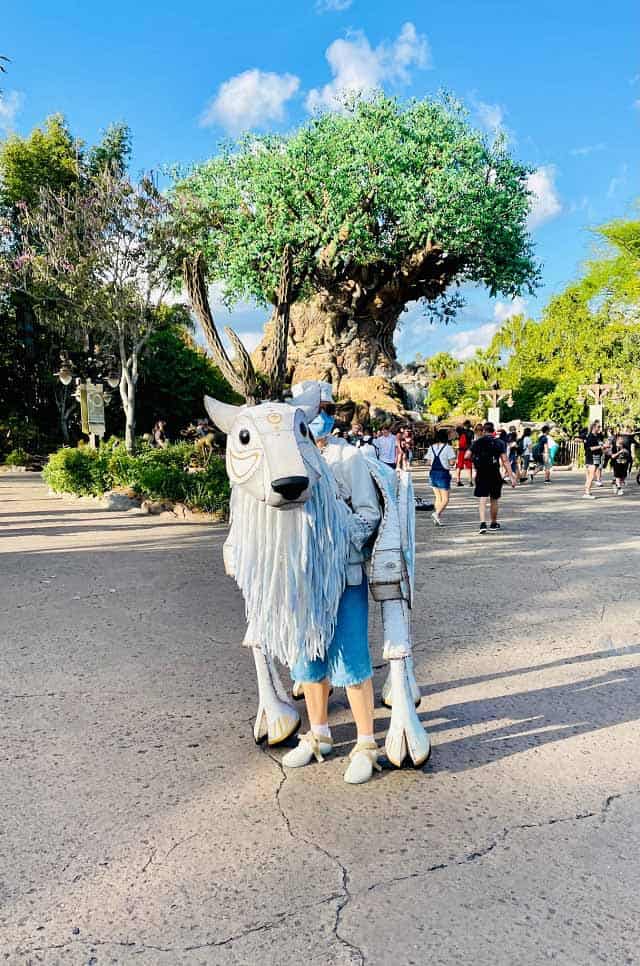 Thus, Merry Menagerie is a refreshing gem. In addition to the general whimsy associated with cute wintery creatures, there is magic for Guests who happen to stumble upon this show.
For example, I did not tell my own children that it existed. So, when my daughter happened upon a reindeer puppet at the Tree of Life she squealed with glee.
Moreover, the puppeteers do an enchanting job of making the show interactive. Guests can pat and hug the seal and penguins. They can play with the arctic fox. And, of course, they can pose with the animals for photographs.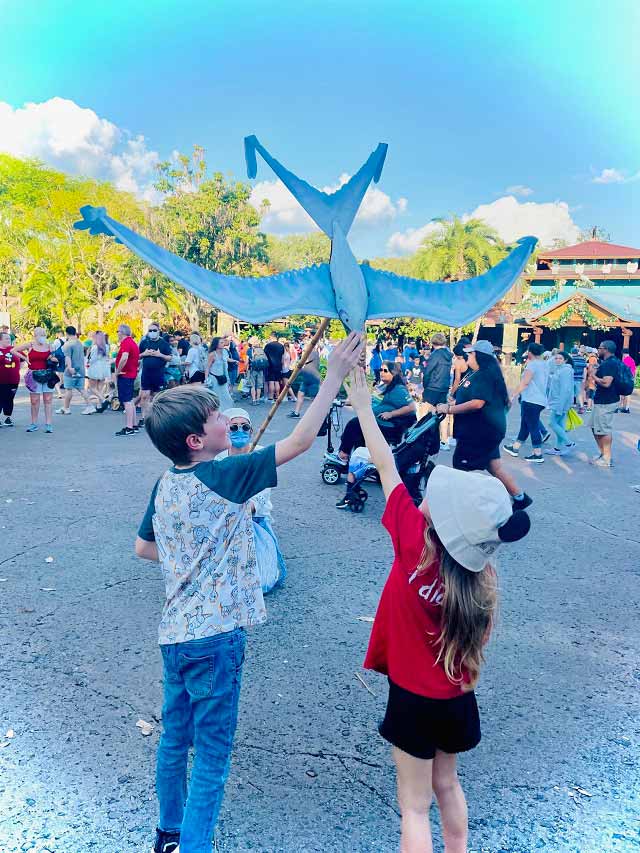 Now and then, a bird may even swoop down to touch the outstretched fingers of children in the audience! It is a magical change for children to get to play and interact for a bit after so much sitting and absorbing.
It is an experience where you can spend as much or as little time enjoying as you want during each set. There is no need to be lined up early or to stay the entire time, which adds a lovely element of flexibility to the experience.
Be Part of the Story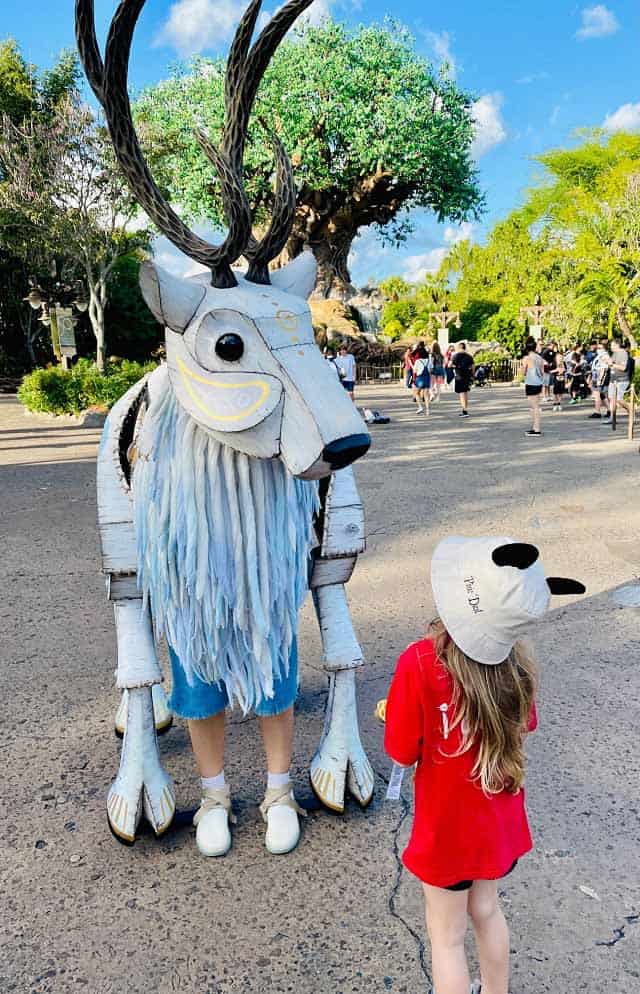 If you are lucky, you may even get to take part in a storyline! Some of the puppets have quests to send Guests on. The adult reindeer we met asked the children, including my own little girl, if they could help her find her baby reindeer. The search was on!
My little one looked carefully around discovery island, and low and behold, she discovered a baby reindeer. She rushed to find the big deer again and make her report.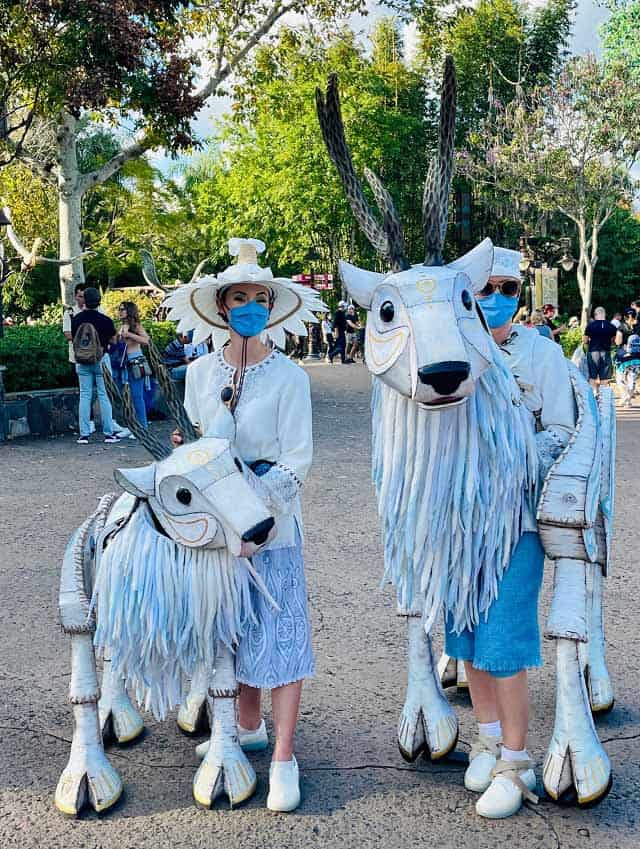 Sure enough, the big deer followed my little one and several other children who had also made the discovery to be reunited with her fawn! It was a fun little adventure with a happy ending.
There are other parent-baby puppet pairings. So, I would not be surprised if it is possible that a similar story may occur at random for the arctic foxes, the polar bears, or the penguins as well.
Be Part of the Magic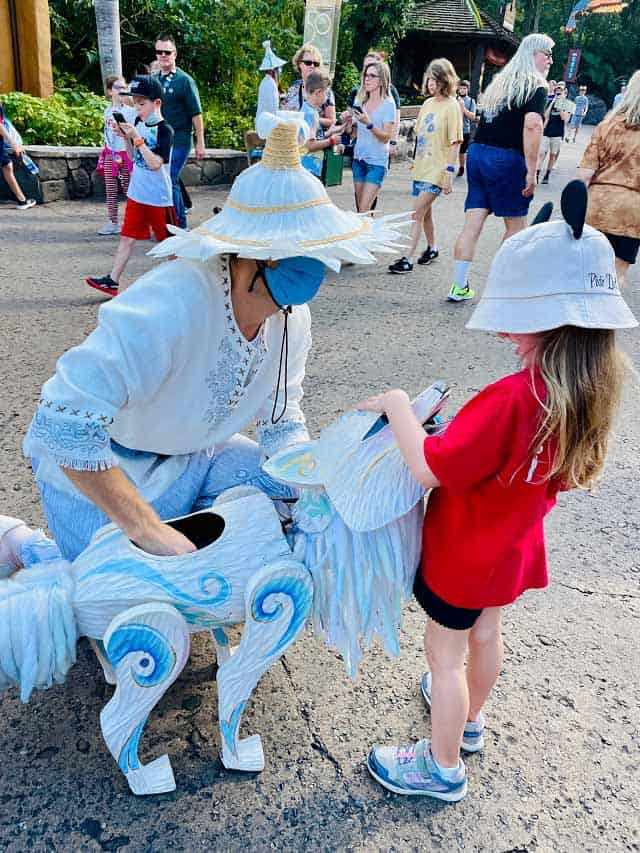 We also experienced what I felt was a bit of Pixie Dust. You see, my little boy adores penguins. They are his very favorite thing in the animal kingdom.
My little girl asked the arctic fox handler if the penguins would be coming and said she really wanted her brother to see them. The Cast Member kindly informed us that the penguin family would be appearing at the last show of the day, which was coming up about 20 minutes after the current set. She had a twinkle in her eye when she said they might even stop and play with us.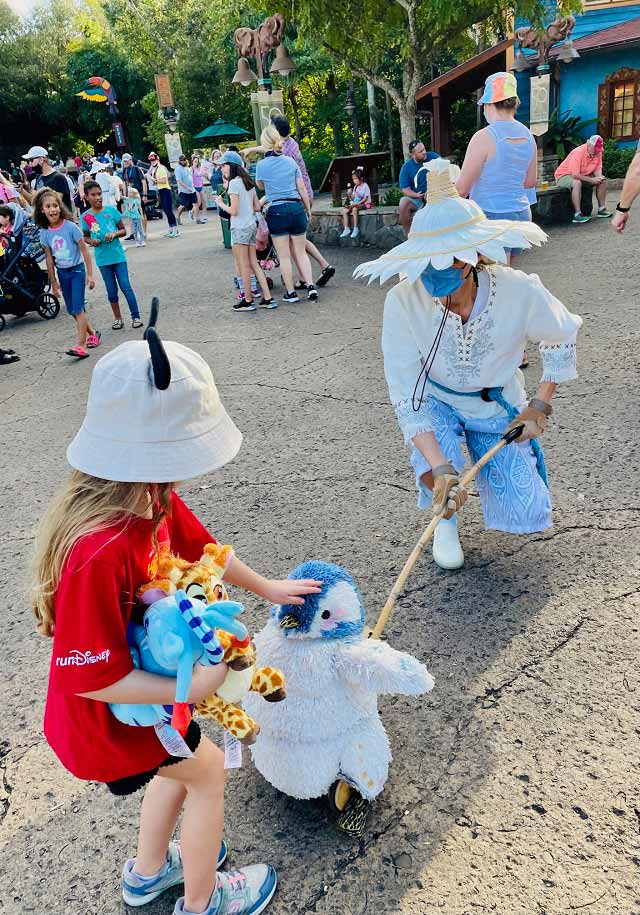 So, we called my husband and son who were on a quest to ride Everest as many times in a row as they could stand. We asked them to take a break and make their way over for a surprise! They had great timing and arrived right in time to see the penguins emerge.
My little girl grabbed his hand and excitedly took him to see the baby penguins. When we arrived, the puppeteer handling the baby penguins said she had heard he liked penguins and asked him if he would like to learn to make the magic happen himself!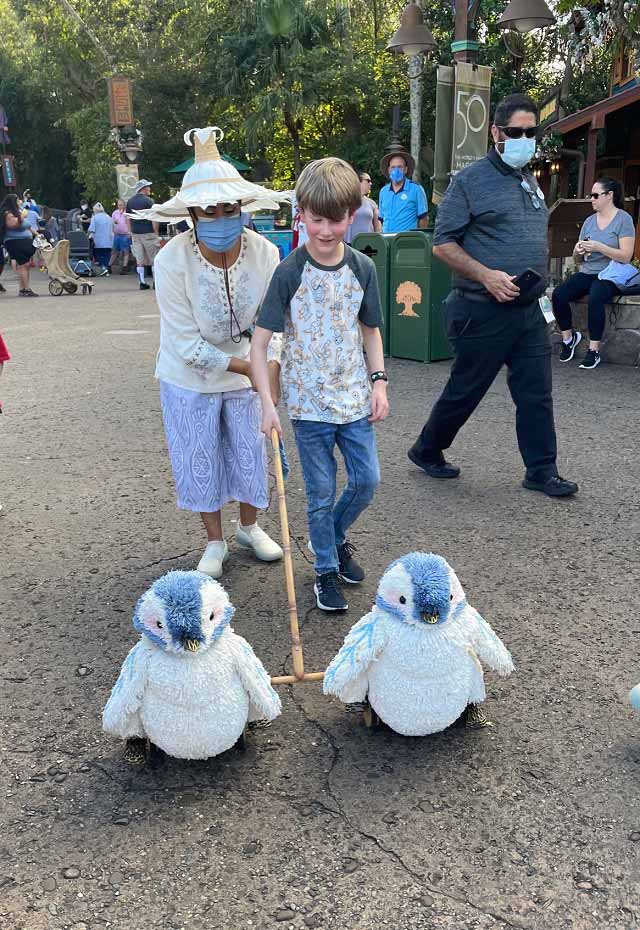 She taught him how to handle the baby penguins and allowed him to pilot them around discovery island under her guidance. It was a lovely surprise, and it made his day (and mine, too).
Of course, when that kind of magic happens, it is important to leave a Cast Compliment! See how you can do that here.
Final Thoughts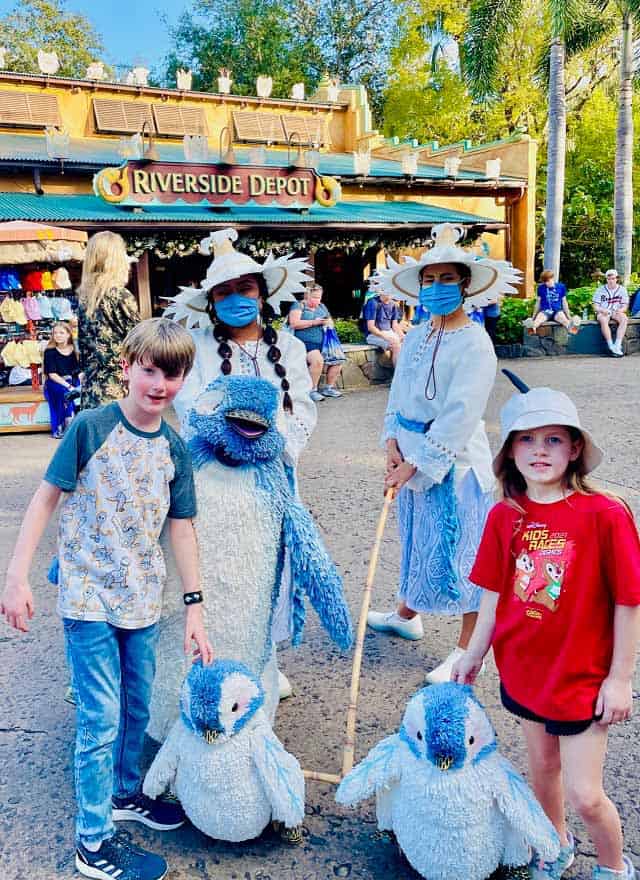 My children still talk about Merry Menagerie fondly as a highlight of their trip. It is something so simple, yet so charming and fun to watch, or if you are lucky, to interact with.
We are happy to hear the Merry Menagerie is returning in 2022. We even toyed with taking another holiday trip so that we can enjoy it along with our other holiday favorites again while our youngsters are little.
Have you ever enjoyed the Merry Menagerie? Did you find it charming? Do you plan to try to spot it on an upcoming trip? Let us know in the comments. Or you can join the conversation and drop photos on Facebook.