Disney's Hollywood Studios celebrates the holidays in unique ways. You don't want to miss it this year!
Hollywood Boulevard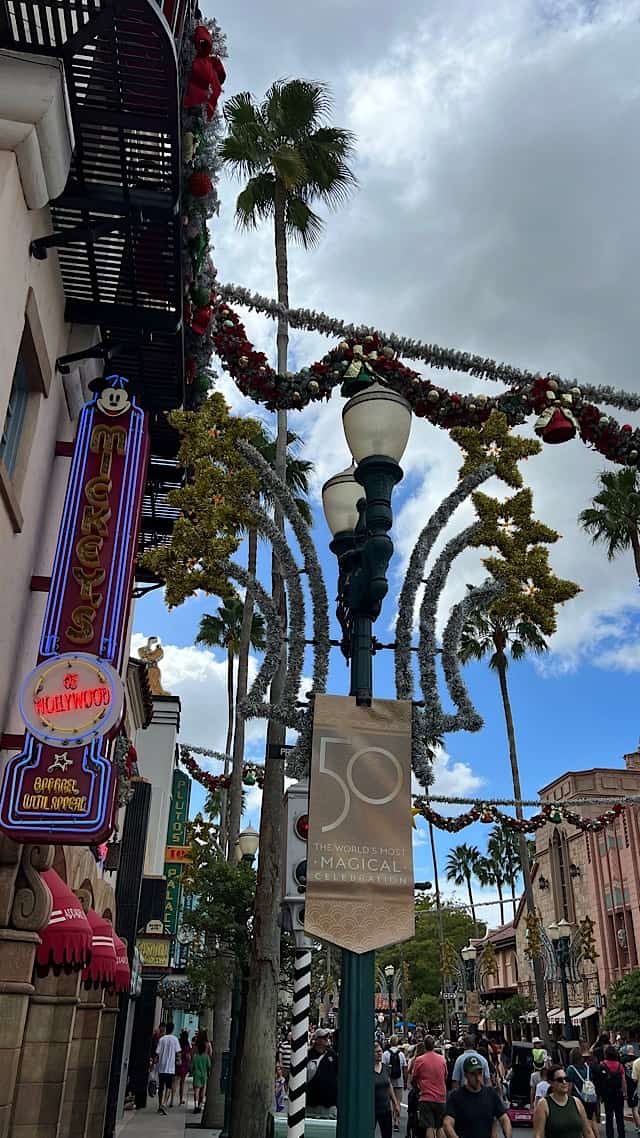 When you step inside Disney's Hollywood Boulevard, you step back in time to the golden age of Hollywood with its vintage glamour of the silver screen actors and actresses. The nostalgia and glitzy charm are weaved into the buildings, overall design, and special touches found everywhere.
Disney's Hollywood Studios has a variety of one-of-a-kind holiday decorations. As you enter the park and stroll down Hollywood Boulevard, you can't miss the shiny tinsel, colorful ornaments, and lights everywhere.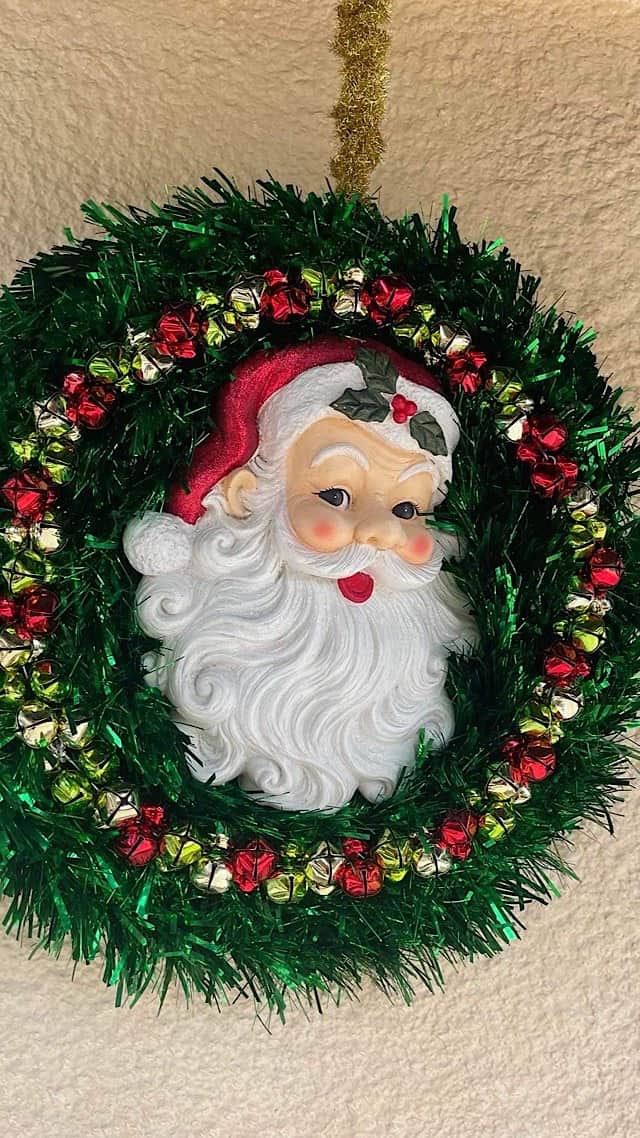 The windows along Hollywood Boulevard are absolutely amazing during the holidays. Be sure to check them out! On the Celebrity 5 & 10 Shop, there are even "dancing Rockettes."
Step into the golden era of Hollywood as you enter Disney's Hollywood Studios.
Virtually everywhere in the park takes guests back to the golden era of Hollywood. You'll see decorated Christmas trees, retro wreaths and garland, and so much more!
Toy Story Land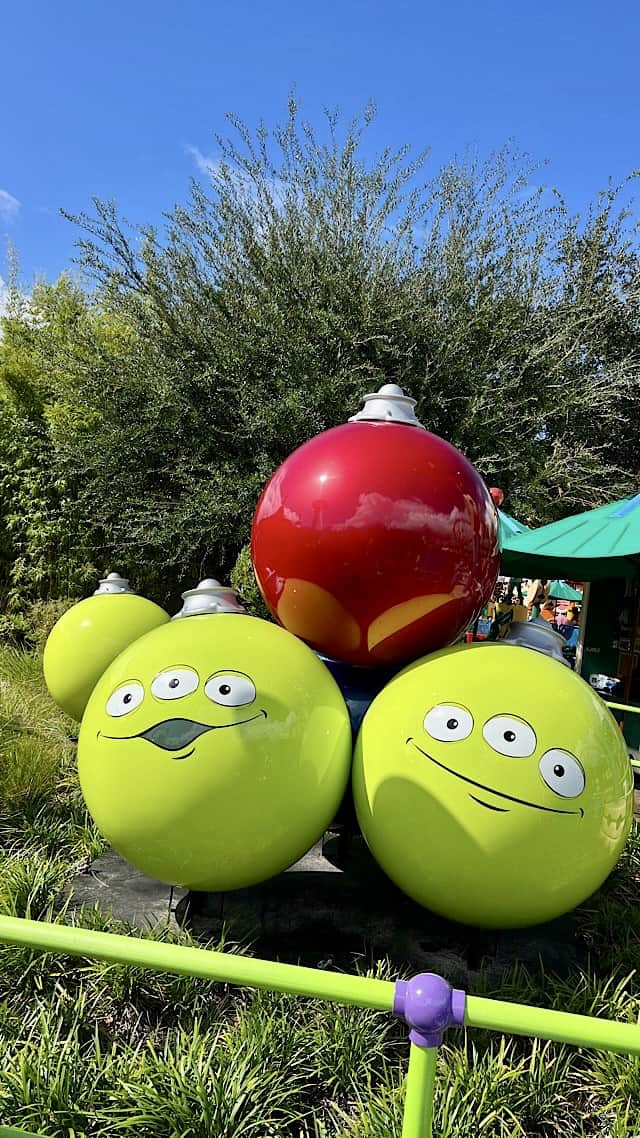 Although most of the park is decked out in everything vintage, Toy Story Land is the exception. With its overhead lights year-round and other details, it's one of the most themed lands ever.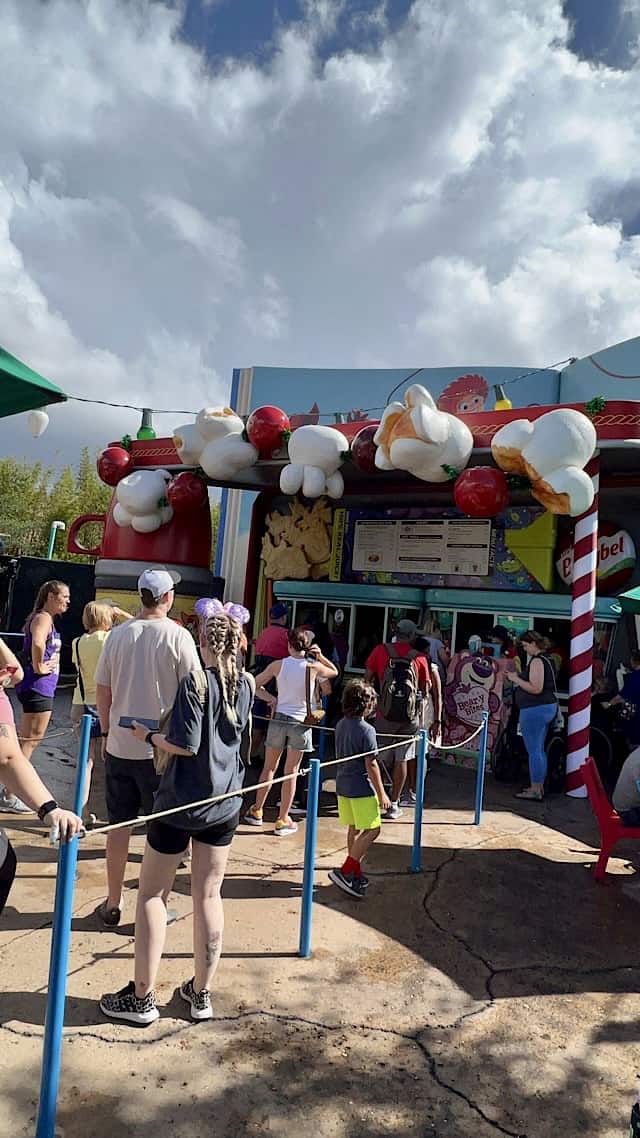 Don't miss the extra holiday touches here though. First, favorite Toy Story characters greet guests with a scarf or other holiday touches.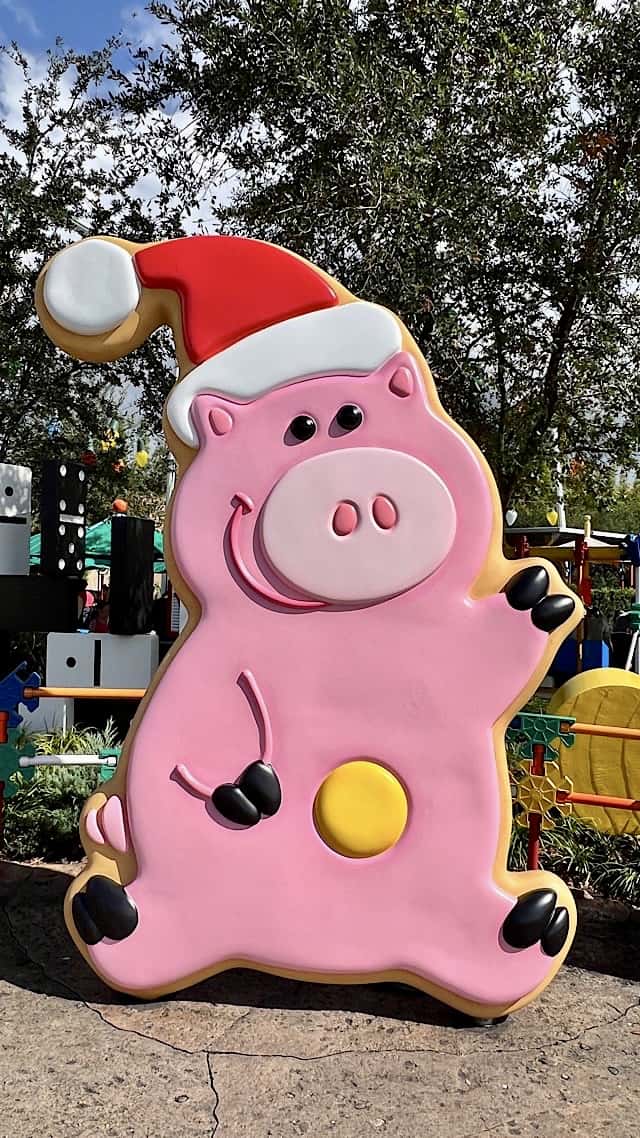 Look out for the alien ornaments and Hamm cookie display.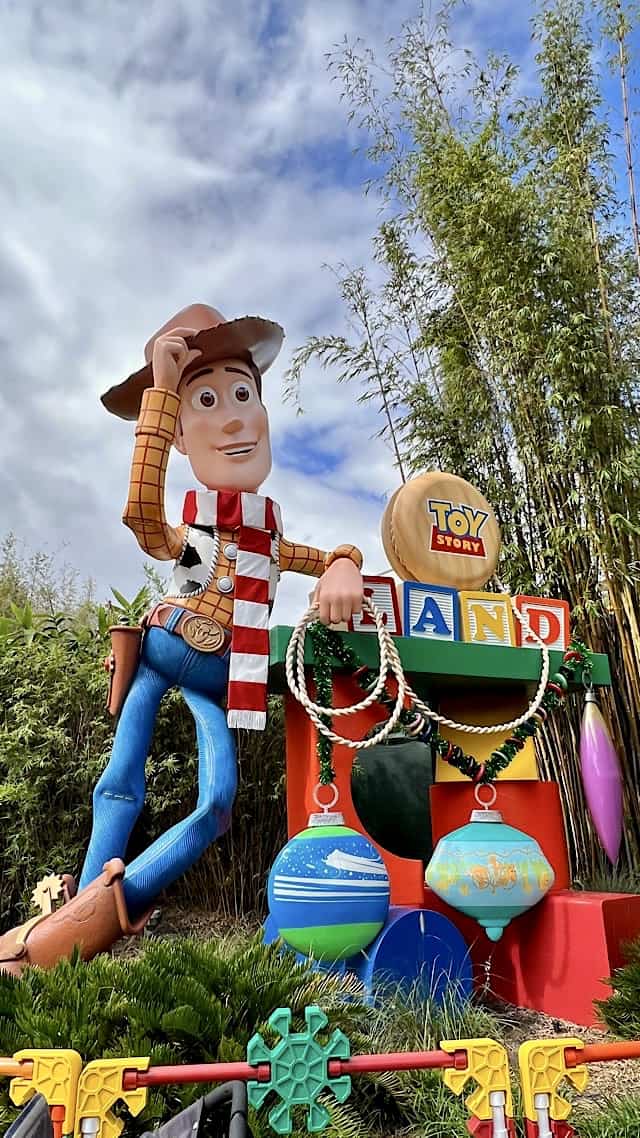 Then, check out Rex as you approach Slinky. He is ready for fun sporting his party antlers! Although Woody always greets guests at the entrance of Toy Story Land, he receives a makeover for the holidays.
Sunset Boulevard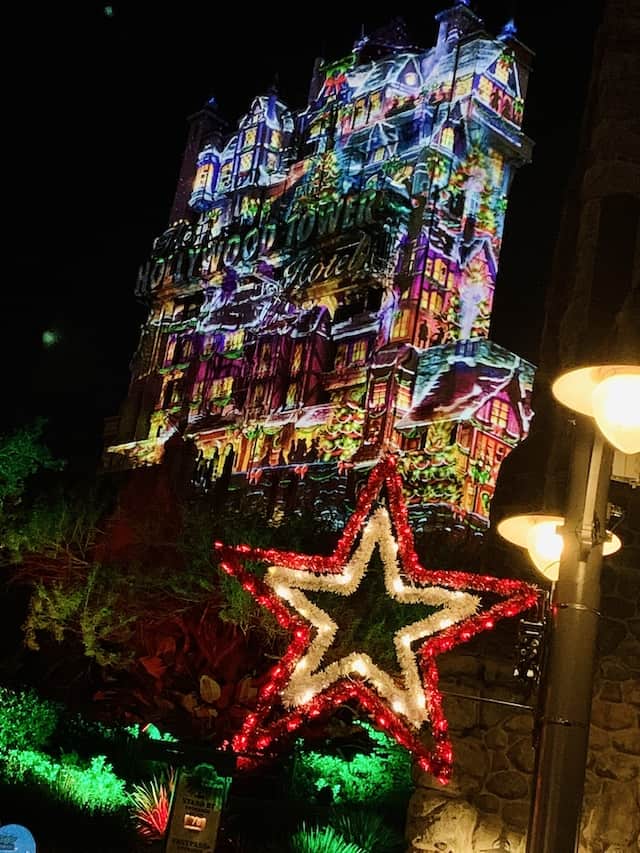 Gaze in wonder as the Hollywood Tower Hotel is transformed nightly by holiday projections, alternating with the Beacon of Magic. The holiday projections are my favorite with a festive light show and music.
Look for snow on Sunset Boulevard this holiday season
When strolling down Sunset Boulevard, you can't miss the tinsel stars lining this wonderful street. In the evenings, make sure to stop and take them in. And did you realize it snows here? That's right, "snow" is created using machines. This makes pictures extra special during the holidays.
Vintage Decorations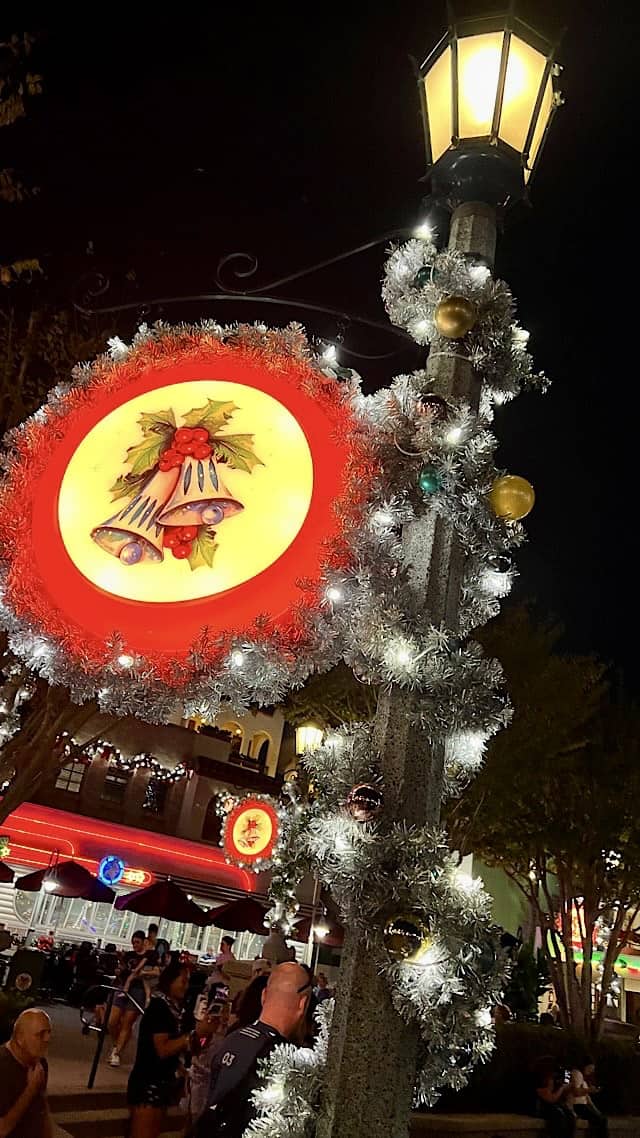 When I (Susan) was a child, my mom collected vintage toys, so Hollywood Studios brings back those wonderful memories. Not only that, but I had a similar antique poodle set to the one displayed near Hollywood & Vine.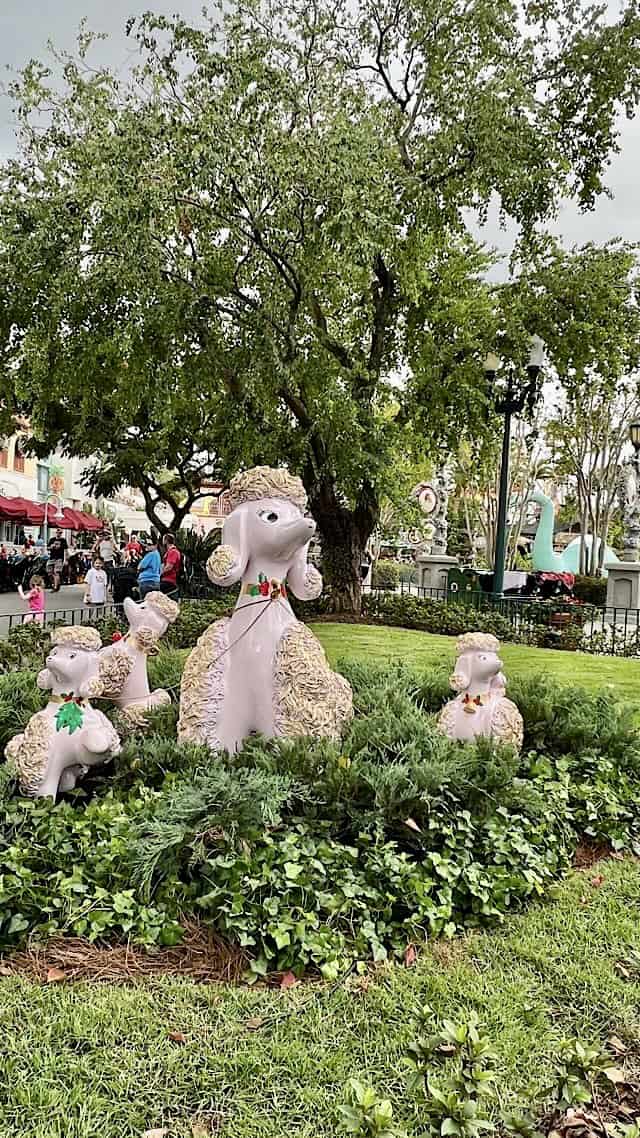 Don't miss the adorable China dolls in front of the Hollywood Brown Derby and an adorable deer decoration.
Santa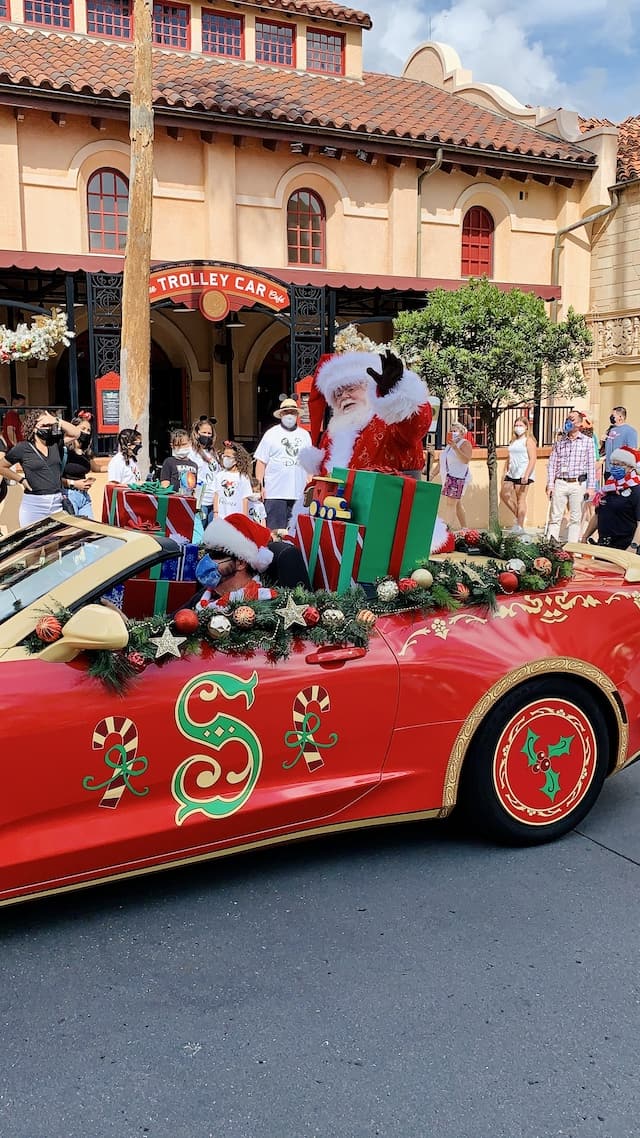 Disney's Hollywood Studios offers a merry motorcade to the delight of Guests. Guests are greeted by elves parading through the streets with presents and streamers announcing the arrival of jolly ole' St. Nick. I love seeing Mickey and his pals, too.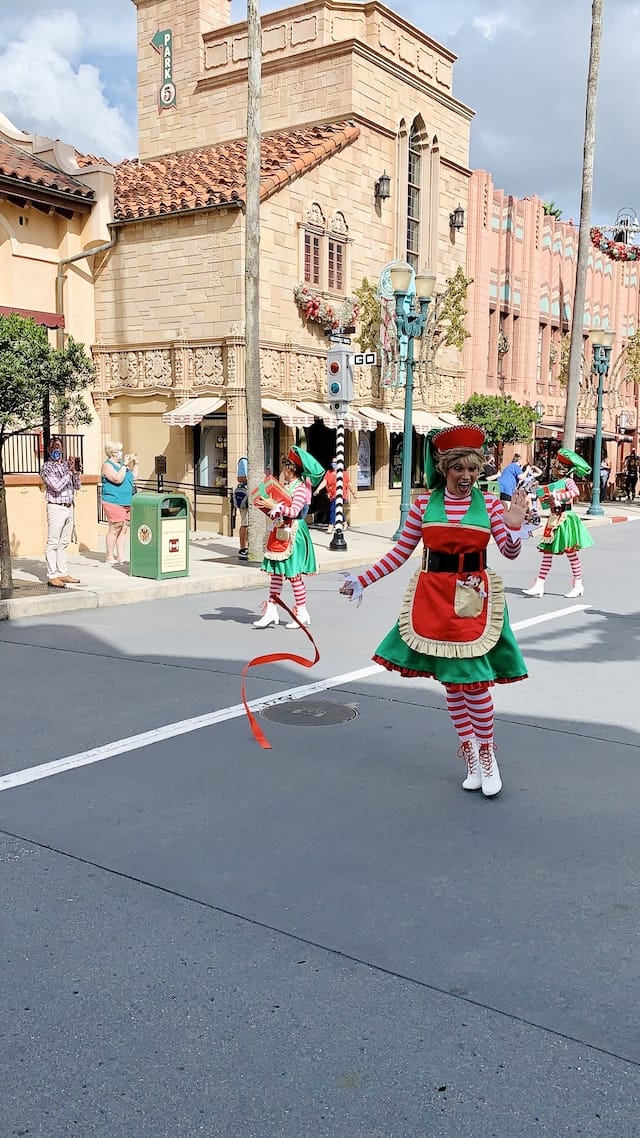 Also, as part of this motorcade, Guests may spot Mickey's favorite pal Pluto and dancing reindeer.
Frozen Sing Along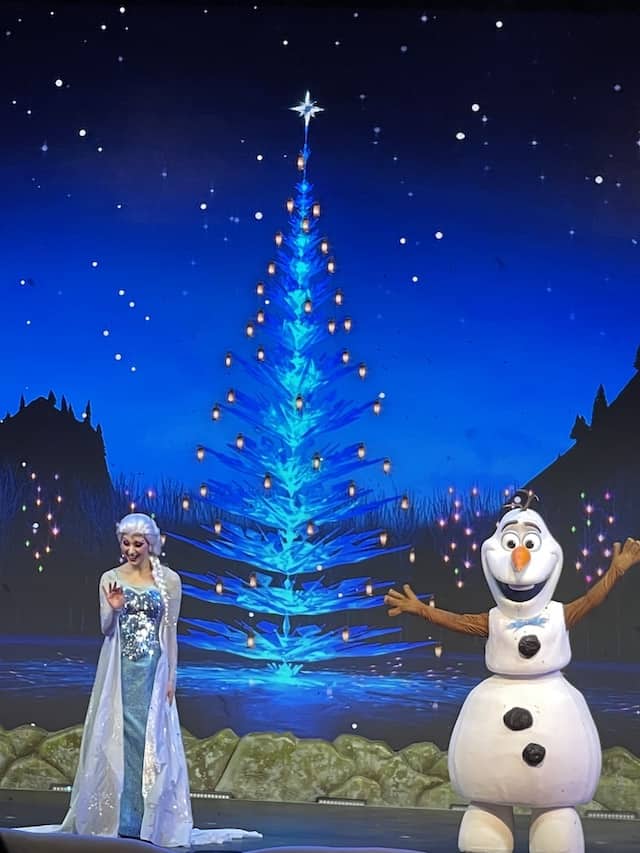 In the For the First Time in Forever: A Frozen Sing-Along Celebration, guests listen as the Royal Historians of Arendelle recount the frosty story of their enchanted kingdom. Watch as thrilling moments from the movie play on-screen, then cheer as Anna, Elsa and Kristoff appear to sing along with the audience!
All of our Arendelle pals join in with the "Ring in the Season" song. One of my personal favorites is Olaf reminiscing of "That Time of Year." The adorable kittens in holiday sweaters are worth the time waiting line for this show. Look forward to an unforgettable holiday finale featuring everyone's favorite snowman, Olaf.
Echo Lake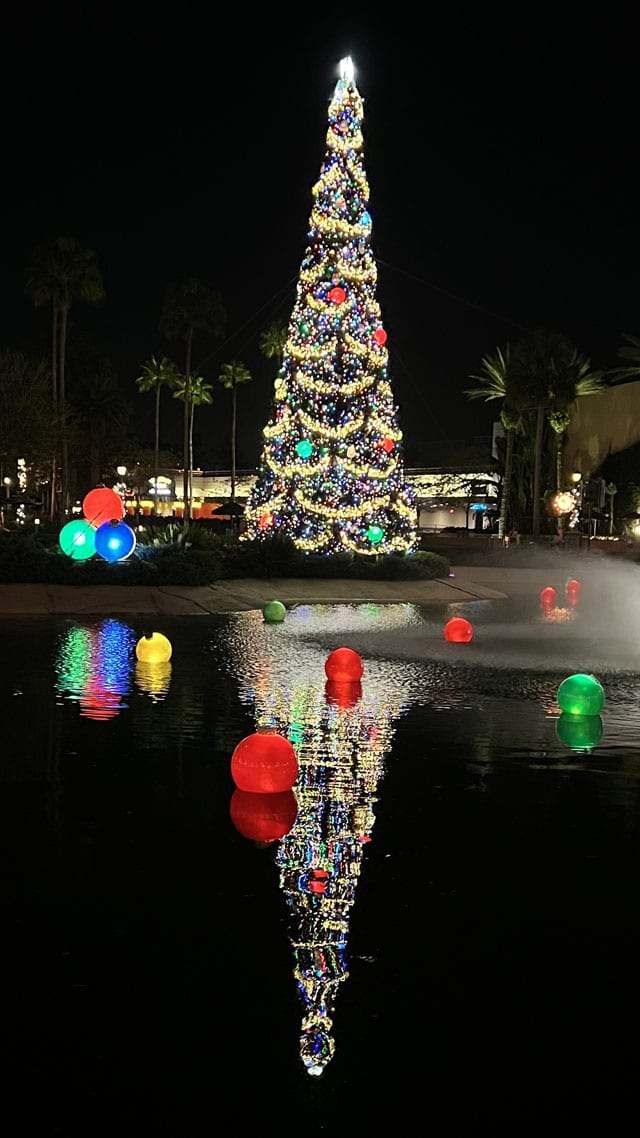 The iconic Christmas tree returns to Echo Lake. Even Gertie is ready for the holiday season but with a slight twist. On the ornament hanging from Gertie's mouth is the 50th logo in honor of Walt Disney World's 50th Anniversary celebration.
Try and get a picture of the tree and its reflection from the water at night. It's breathtaking! There are also "floating" ornaments on the lake adding to holiday magic.
Holiday Shots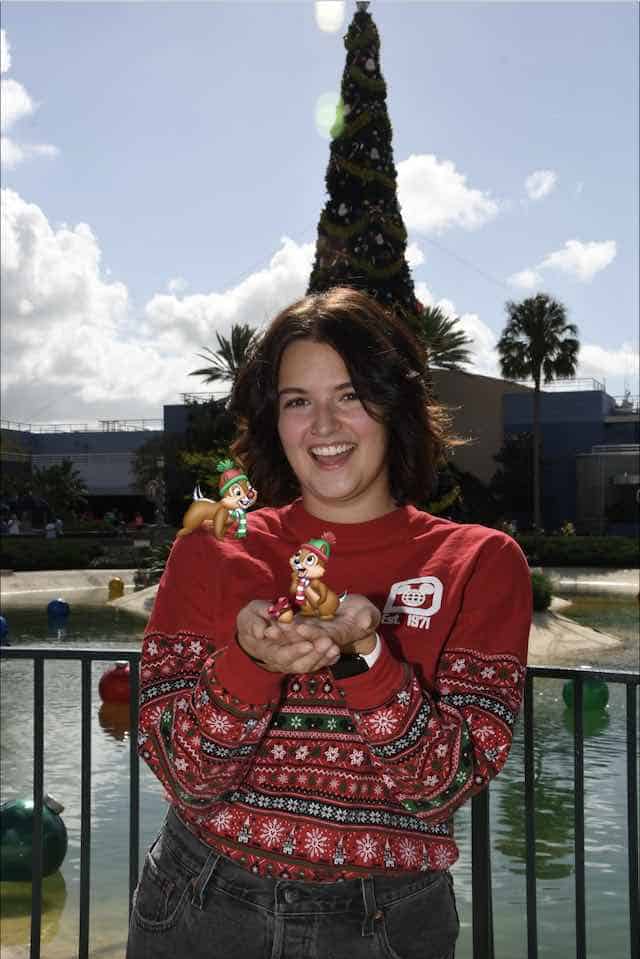 If you go early enough to Disney, you can create your Christmas card picture with holiday backdrops. Echo Lake is my favorite spot for pictures. Often, you'll find Disney PhotoPass photographers here.
In addition to backdrops, such as the Christmas tree, there are holiday magic shots too! Take at the picture above with the adorable Chip and Dale. This cute picture is available with Disney PhotoPass photographers in two locations, the Tailor to the Stars and Keystone Clothiers on Hollywood Boulevard and at Echo Lake. You'll also find Santa's Naughty and Nice list shot at both of these locations.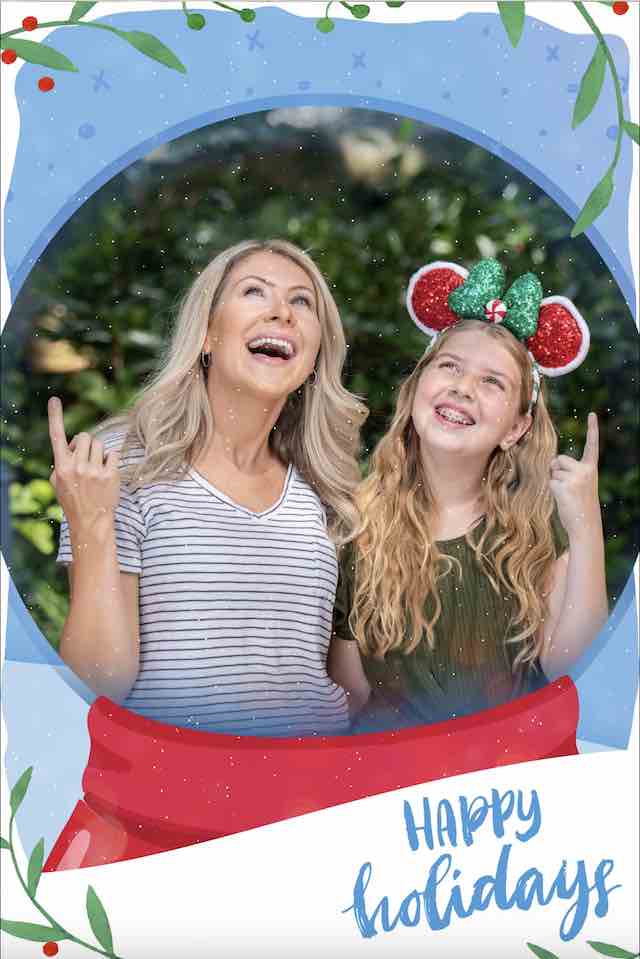 Next, Tink is wearing a holiday gown adding holiday pixie dust to your picture. Disney PhotoPass photographers along Hollywood Boulevard and Sunset Boulevard capture this picture. The snow globe magic shot is found at these locations also.
Last, but not least, there's a mistletoe magic shot just for the holiday season. Take a look at Disney's Hollywood Studios Magic Shots.
Holiday Dining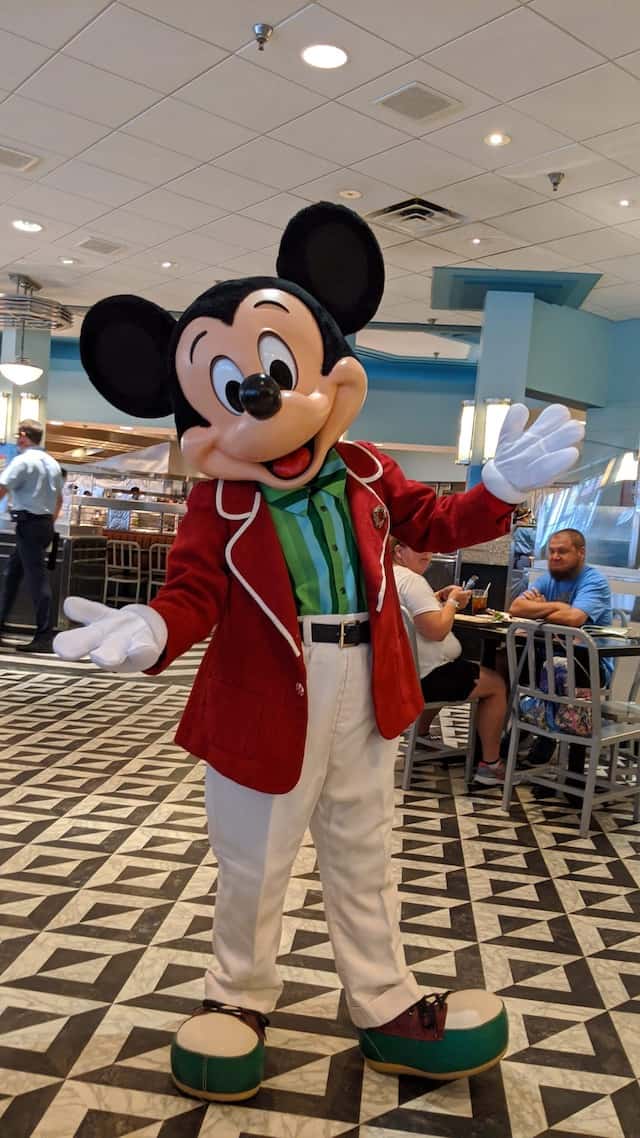 Would you like to meet your favorite Disney pals sporting their finest Christmas outfits without waiting in line? You can do that while eating a delicious meal at Disney's Hollywood & Vine. Hollywood & Vine is a table-service restaurant that is located by Echo Lake at Disney's Hollywood Studios. This is a character meal that features Disney Junior characters as breakfast is served. Check out Monica's review of Minnie's Holiday Dine HERE.
Here, you'll meet and interact with Mickey, Minnie, Pluto, and my favorite, Santa Goofy. They are very personable and take time with every table. On my last visit, they came to our table two times!
Merchandise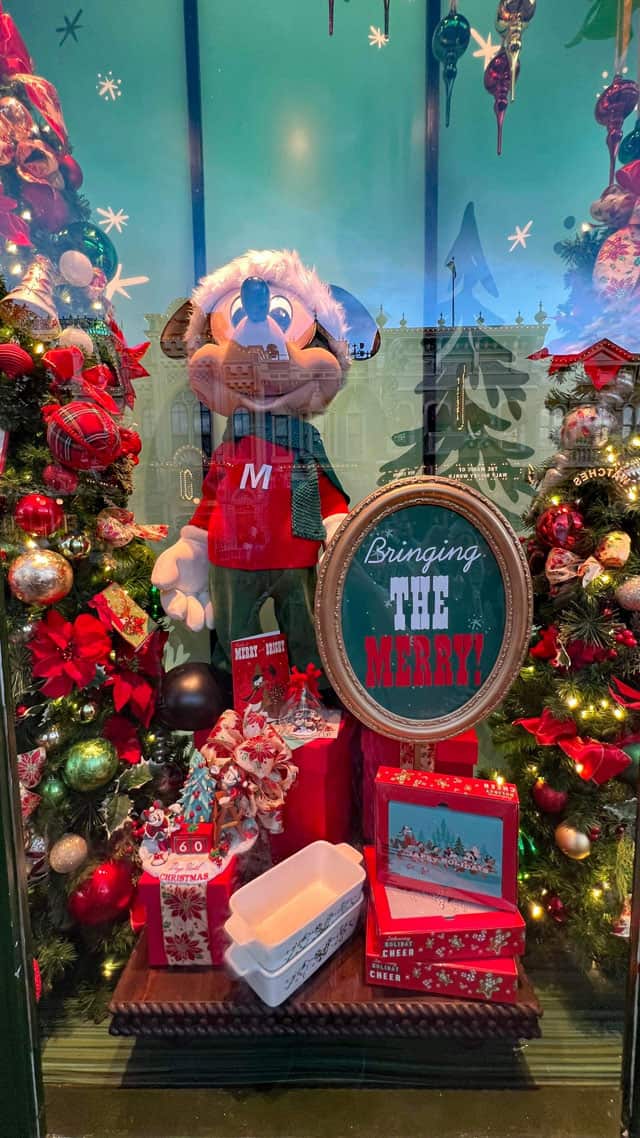 There is so much wonderful Disney holiday merchandise. While you can buy some of it online, purchasing your favorite item on vacation is a great way to remember it. Most of the merchandise found here isn't exclusive to this park, but some of the things are. You'll find holiday Star Wars merchandise along with Disney's Hollywood Studios Starbucks items.
Check out the top reasons to visit Disney's Animal Kingdom HERE and Magic Kingdom HERE.
What is your favorite thing about visiting Disney's Hollywood Studios during the holidays? Have you been before or are you thinking about going? Please share your thoughts in the comments below or on our Facebook Page.