Are you a Star Wars fan? Check out this family-friendly review of Oga's Cantina to see if this is worth adding to your next trip to Disney's Hollywood Studios.
Oga's Cantina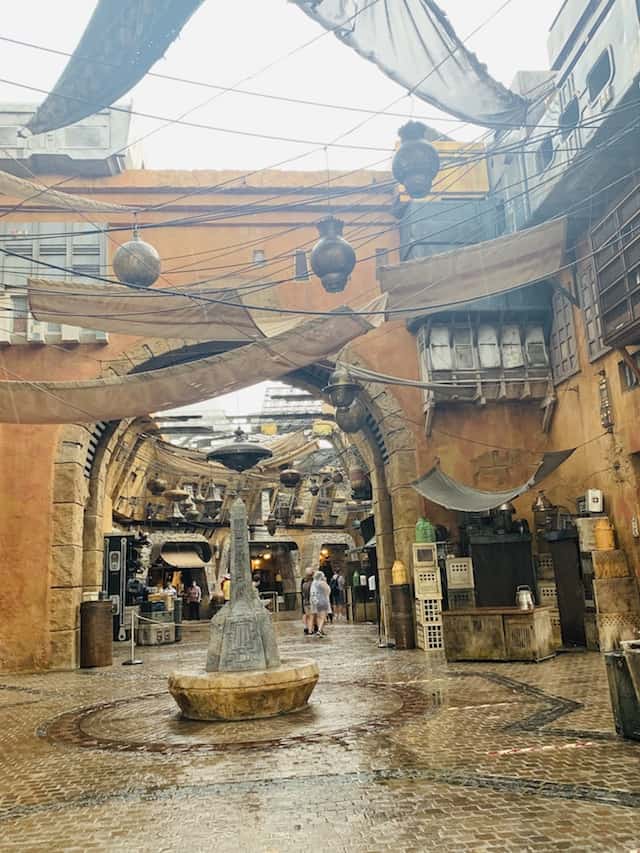 Oga's Cantina is located in the immersive Star Wars: Galaxy Edge at Disney's Hollywood Studios. At Oga's Cantina, guests enjoy the local Batuu cantina. Bounty hunters, smugglers, rogue traders, and weary travelers of all ages come together to refuel and enjoy music. 
Oga's menu is full of exotic concoctions and snacks for the young and young at heart. The cantina is a welcome rest stop before your next galactic journey. My (Donna) children are HUGE Star Wars fans, and they were enamored with the thought of stepping into this immersive environment.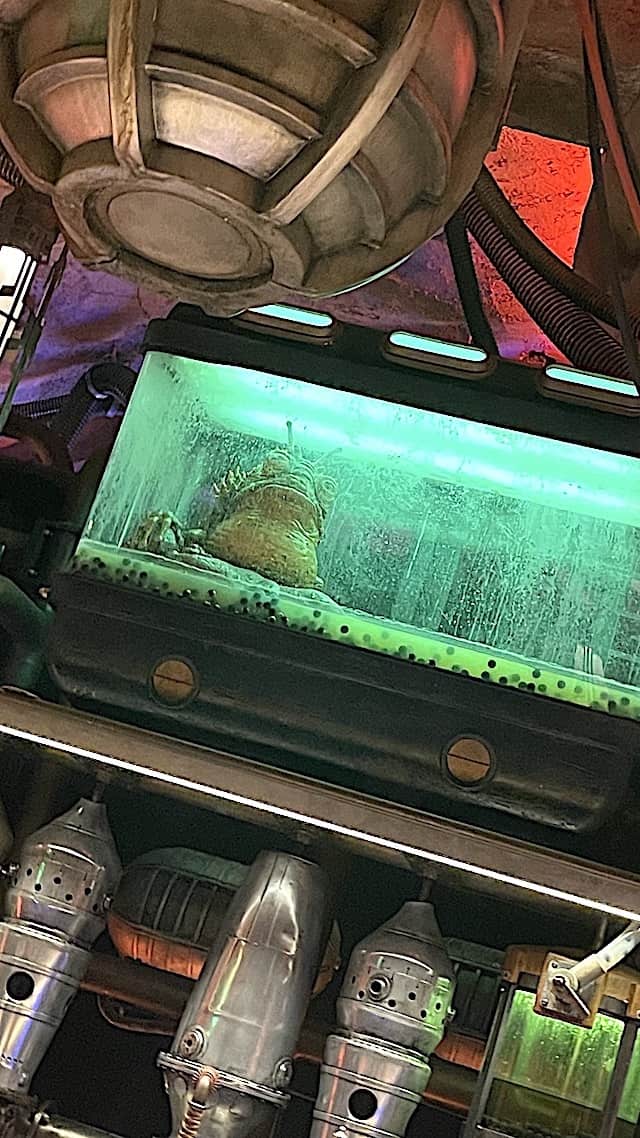 I did wonder if this would be a fun environment for kids or if it would be filled with primarily adults. The menu is also a bit interesting. I was curious if my pickiest diner would enjoy the mocktails on this menu. Join me as we step into immersive Oga's Cantina with this review from a teenager and pre-teen.
Be sure to read Susan's full review of Oga's Cantina HERE.
Checking In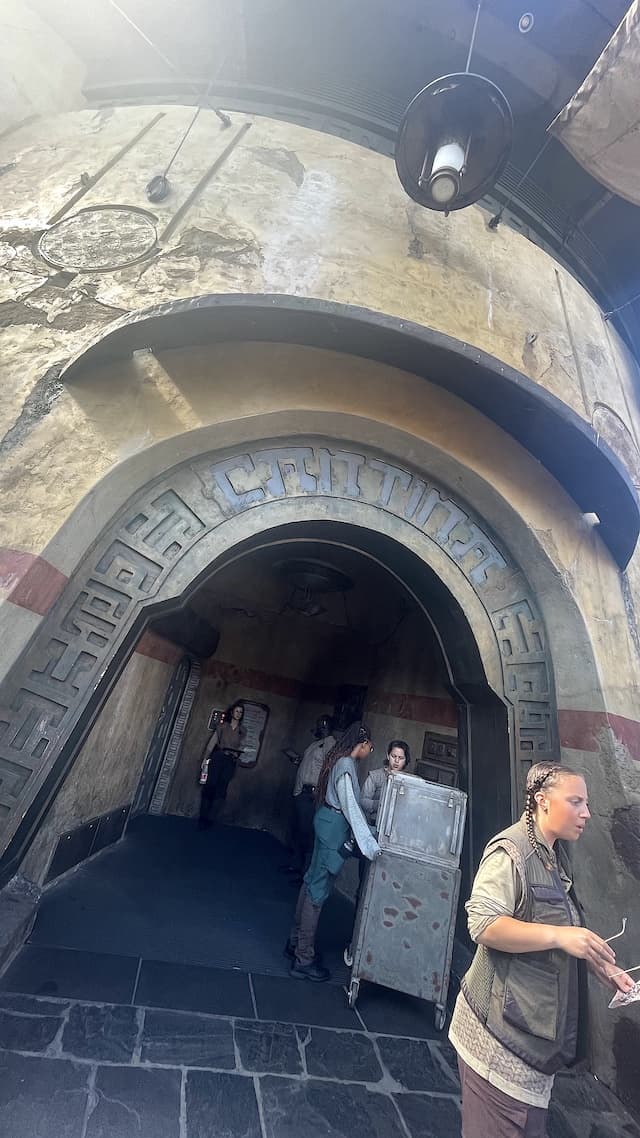 As you walk through Galaxy's Edge with the Millenium Falcon behind you, you will find Oga's Cantina on your left-hand side. Advanced Dining Reservations are highly recommended for Oga's Cantina. You can either check in on your mobile device through the My Disney Experience app or directly with a Cast Member in front of Oga's Cantina.
Even after you check in, you may still be waiting. We visited Oga's Cantina on two separate occasions. Both reservations were for early morning, and we waited roughly 15-20 minutes to be called. A Cast Member called names to welcome guests into the cantina.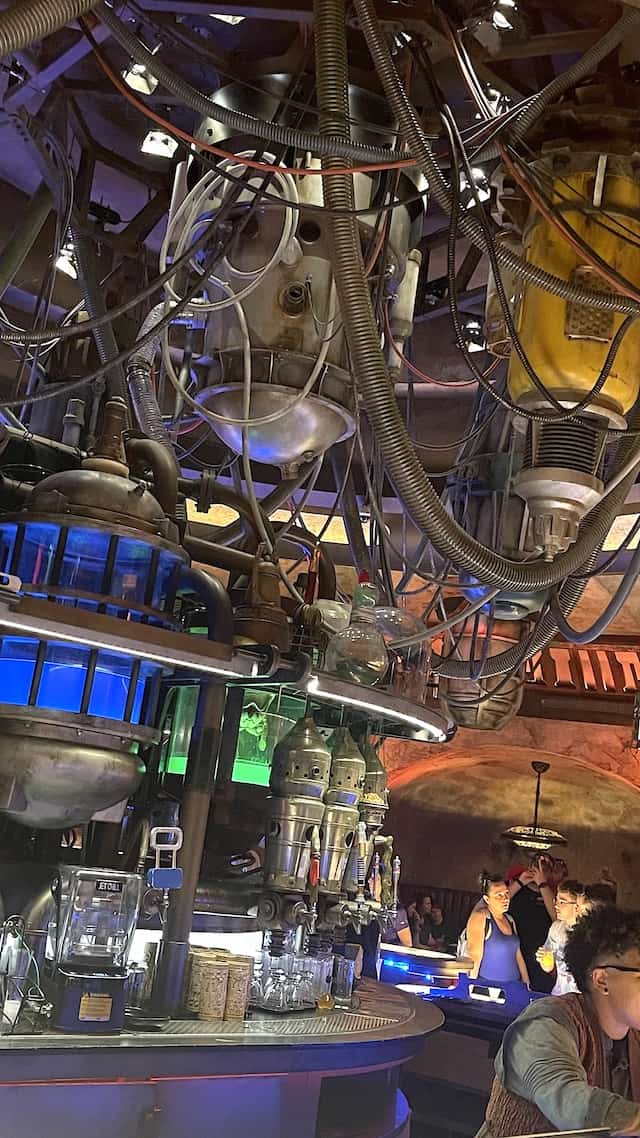 One thing to keep in mind when stopping by Oga's Cantina is that seating is very unique. Guests will join fellow guests at the bar, at high-top tables, or at booths. Only guests seated at booths can sit down at Oga's Cantina. Guests that are at both high-top tables and at the bar are invited to stand while dining at Oga's Cantina.
One thing to keep in mind when stopping by Oga's Cantina is that seating is very unique.
Atmosphere Review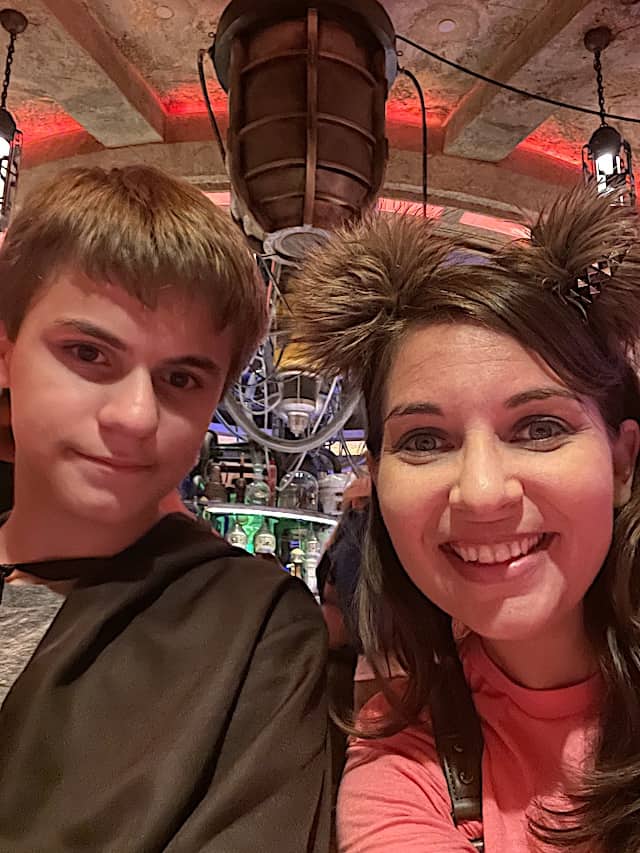 My (Donna) son, Eric, is fourteen and it is an understatement to say that he is a Star Wars fan. When he is not watching Star Wars films, he is battling friends with his light sabers in the backyard. He is not a fan of dining reservations while at Disney Parks. He is always ready to enjoy the next big ride.
When I first mentioned a dining reservation at Oga's Cantina, his initial response was no. That is until I shared a few images from Susan's post about the atmosphere of this cantina. When Eric first saw DJ R3X in photos, he was hooked. He first saw DJ R3X while watching the Disney+ show, Behind the Attraction.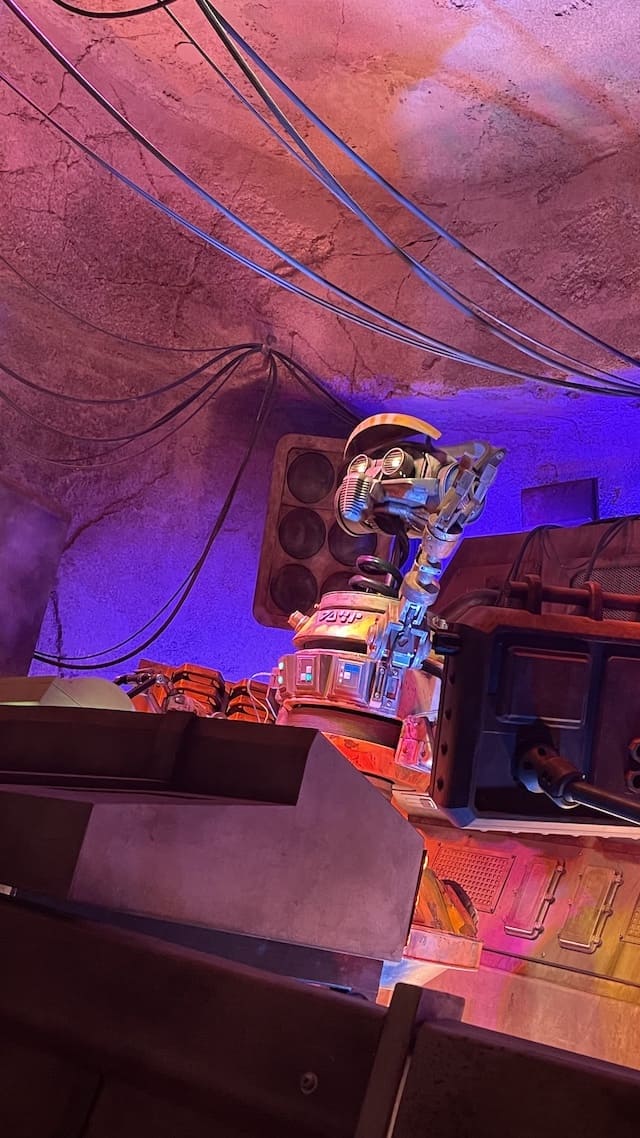 Previously R3X first appeared in Disney Parks as a piloted Starspeeder 3000 on the epic attraction, Star Tours. R3X was removed from Star Tours and reprogrammed at the Droid Depot to serve as the coolest DJ in this galaxy far, far away.
So a dining reservation was made and we made plans to attend on his solo trip with me to Walt Disney World. The day that we visited, we were seated at a booth with fellow travelers. Eric was overjoyed that we sat near DJ R3X. This made his trip along with the overall theming of the cantina.
Beverage Review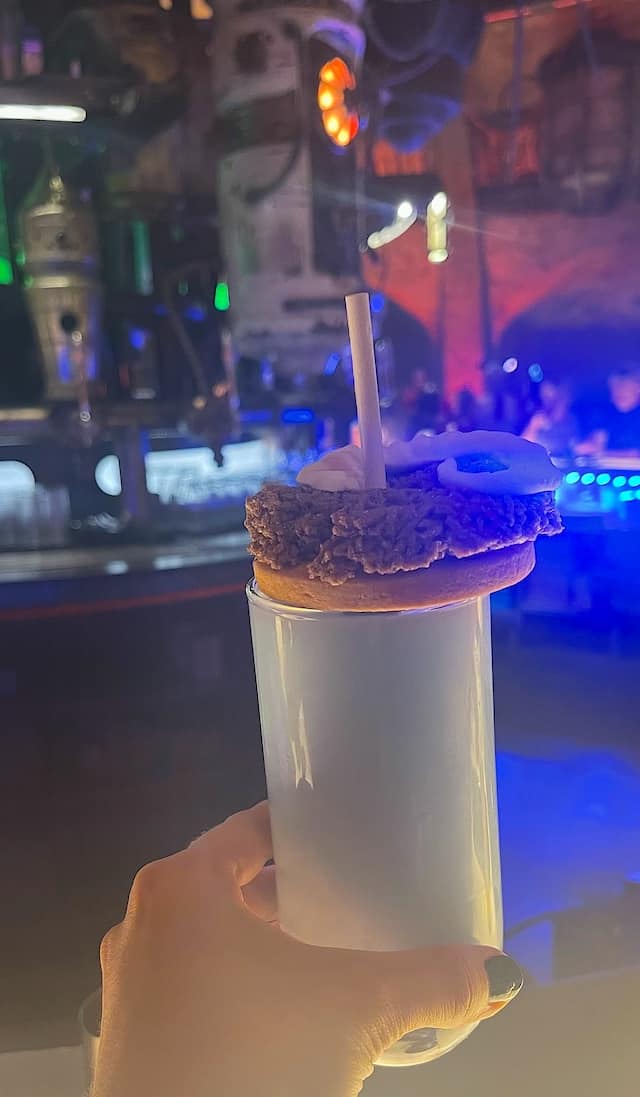 Eric enjoyed talking with fellow travelers at our table. To be honest, I (Donna) was a bit lost in their conversation, but it made this momma's heart happy to see Eric completely immersed in this Star Wars environment. Eric ordered the Blue Bantha. This non-alcoholic beverage is blue milk served cold and topped off with a Bantha-inspired vanilla-butter sugar cookie.
The consistency of the blue milk is a bit different and rather thick. This was a big win with my Star Wars fan, though. He loved everything about the experience. When the sun set we returned across from Oga's Cantina and found the best location to have Star Wars photos taken. Check out the full details HERE.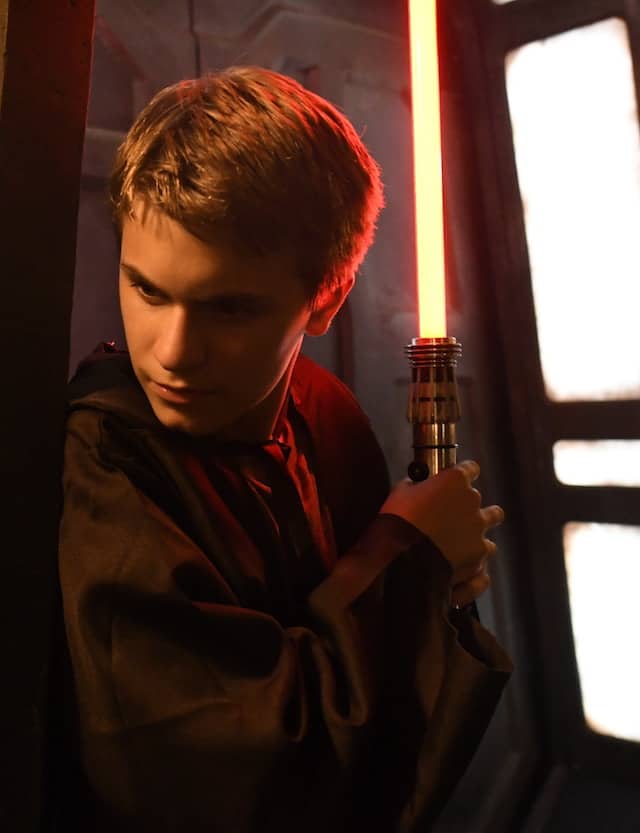 This entire day at Galaxy's Edge was a dream come true for my son. Starting the day with Oga's Cantina really set the stage for an epic day for both my son and myself.
Pre-Teen Review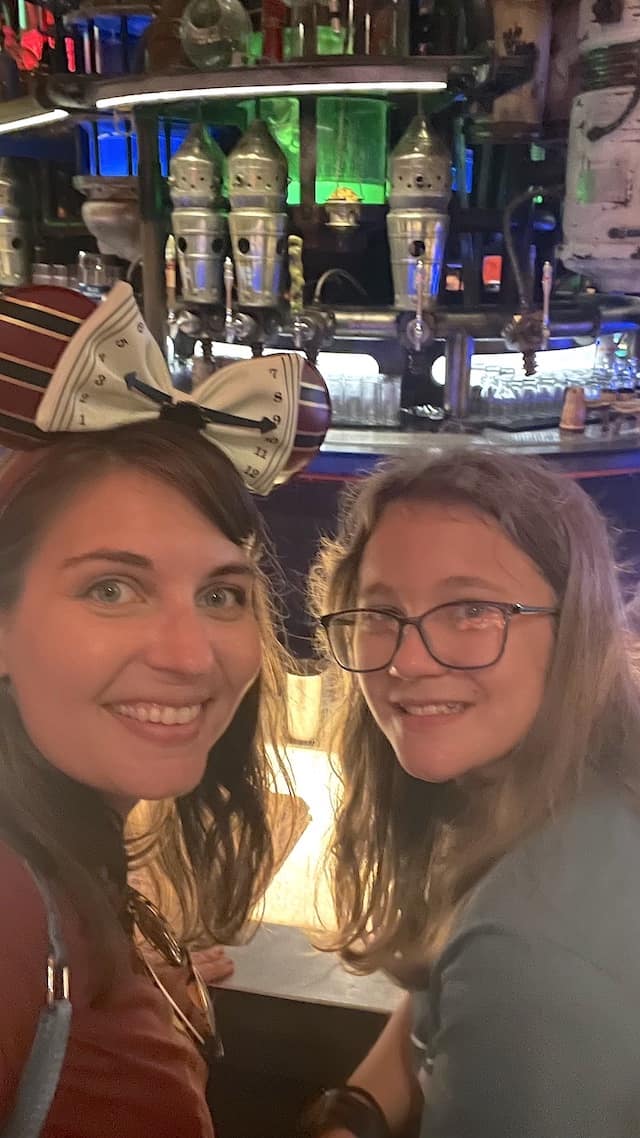 During our next trip to Oga's Cantina my pre-teen daughter, Hannah, and I (Donna) stood at the bar. When we read Susan's review, we were not interested in trying the limited food options. Hannah wanted to try the Blue Bantha milk that my son had tried previously. She greatly enjoyed the Bantha cookie, but the blue milk was not a hit.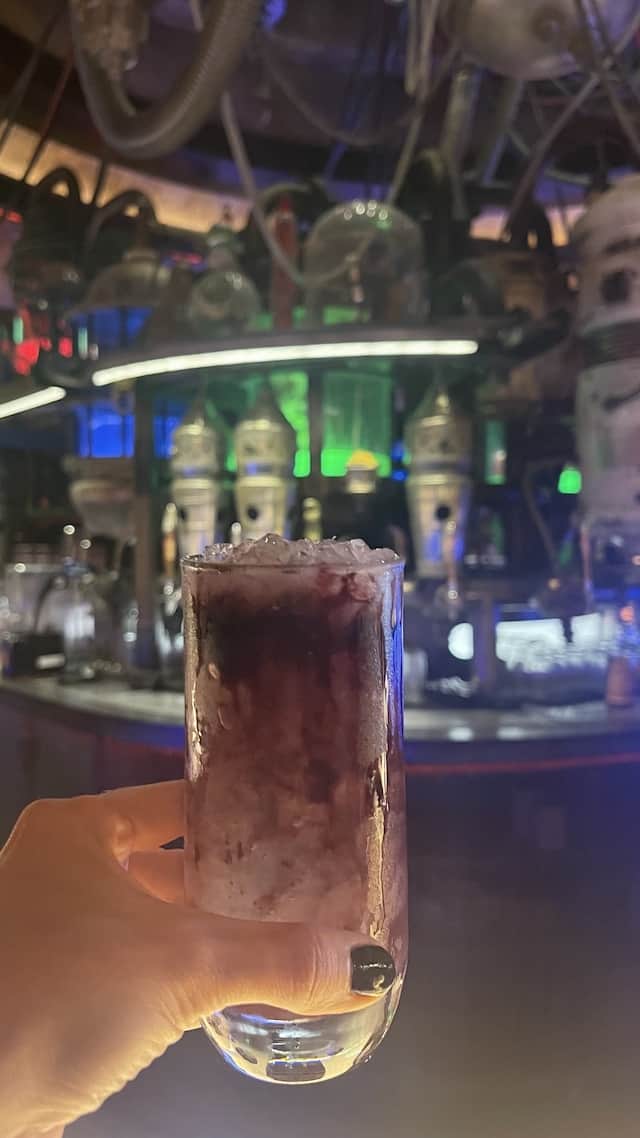 The non-alcoholic Hyperdrive (Punch It!) is quite refreshing. This is with Powerade mountain berry blast, white cranberry juice, black cherry puree, and sprite. Both of us greatly enjoyed this drink.
My daughter does like Star Wars, but the overall atmosphere was not quite as impressive for her. She disliked standing at the bar and found the atmosphere too busy for her preference.
Overall Review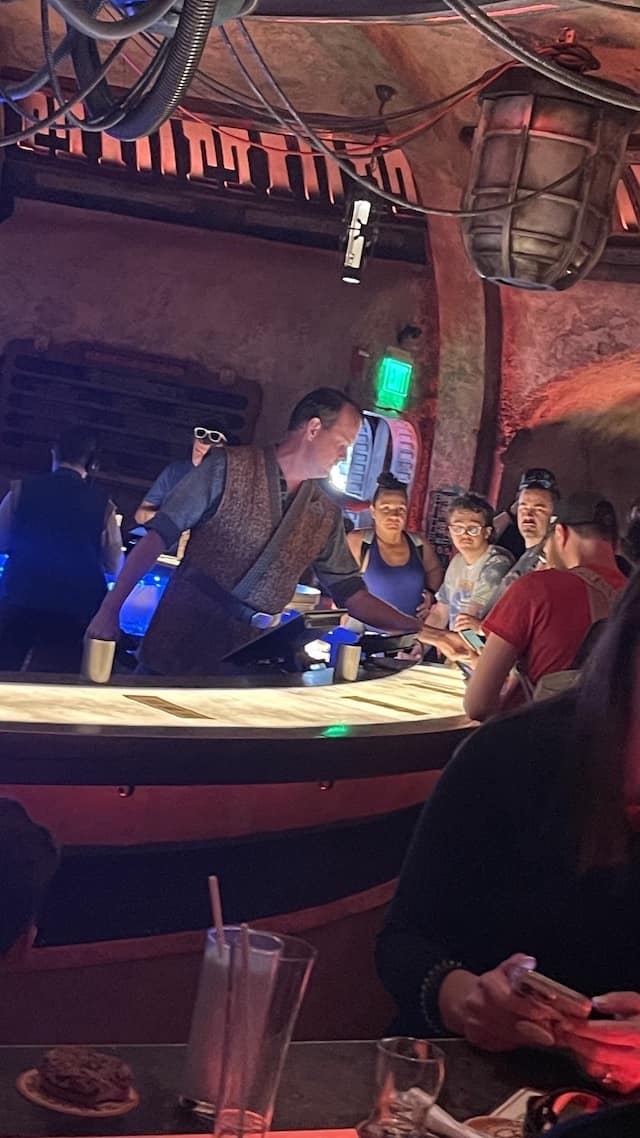 Overall the atmosphere and theming of Oga's Cantina is worth the dining reservation for big Star Wars fans. I was delighted that vibe was fun for both adult and even younger Star Wars fans as well. It is important to keep in mind the unique appetizer menu and the seating arrangements.
Overall the atmosphere and theming of Oga's Cantina is worth the dining reservation for big Star Wars fans.
My son wants to return to Oga's Cantina during our next visit. This was a great experience for my pre-teen daughter, but it was a one-and-done for her. Overall, there is nothing quite like the atmosphere of Oga's Cantina.
Have you visited Oga's Cantina before? Will you be bringing your whole family to Oga's Cantina during your next trip to Disney's Hollywood Studios? Share your thoughts with us on our Facebook Page.

Are you planning a vacation? Reach out to our trusted travel agency sponsor Authorized Disney Vacation Planner
Mouse Class Travel
!