"Come little children…" a new Halloween Calendar has arrived just in time for the spooky season. Our friends at Insight Editions gifted me with their newest Halloween lineup featuring Hocus Pocus and Harry Potter. Join me as I take you on an adventure of mementos and goodies!
Insight Editions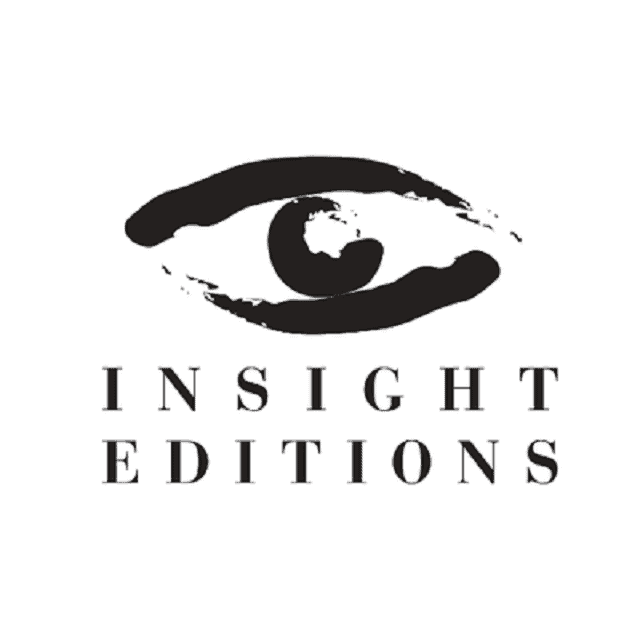 Insight Editions is a bestselling publisher of books and collectibles that push the boundaries of creativity, design, and production as seen through its many products. Through its licensed publishing program, Insight Editions produces unique books and products that provide meaningful ways to engage with characters and stories for all ages.
Insight Editions manifests its dedication to sustainability and conservation through publishing partnerships with organizations such as Jane Goodall Institute, the National Parks Association, Mission Blue and Roots of Peace.
I (Marisol) have been very fortunate to have reviewed three different cookbooks gifted to me. You can read about my review on Cooking with Deadpool Cookbook which was my first cookbook review complete with a video of me cooking one of the recipes in my very own kitchen! You can read more about it HERE.
I also reviewed both the Disney Villains Devilishly Delicious Cookbook as well as the Star Wars Galactic Cookbook. Additionally last holiday season, I received the traditional Nightmare Before Christmas Advent Calendar.
Advent Calendars
Advent Calendars were first introduced in the 19th century. Traditionally, Christian families in France celebrate the Advent season as do other countries around the world. This is the time of waiting and preparation for the celebration of the Nativity of Christ at Christmas. Advent Calendars have become very popular among children as it is a special calendar used to count the days of Advent in anticipation of Christmas. For example, each day can hold a small toy or a piece of candy.
Within the last several years, Advent Calendars have become widely popular here in the United States. In fact, they are now marketable towards children, adults, and even pets!
Traditionally, the first day to open and begin Advent Calendars is on December 1st as the calendar includes 25 days of treats. Interested in learning more Christmas traditions during the holiday season at Epcot's World Showcase Storytellers? CLICK HERE.
However, it has now also become quite popular for Halloween countdown calendars to also exist leading up to the spooktacular holiday itself.
Hocus Pocus: 13 Frights of Halloween Calendar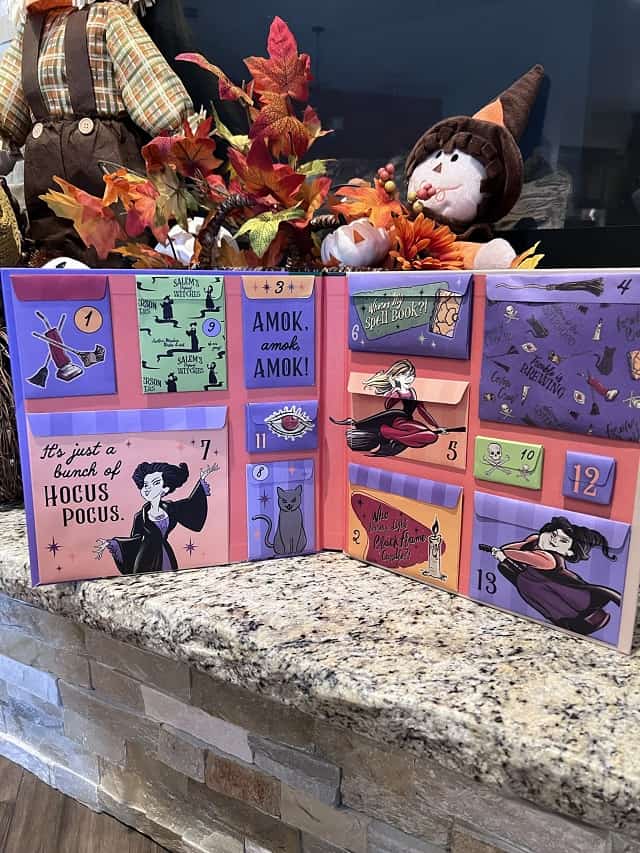 This year's Hocus Pocus: 13 Frights of Halloween Calendar includes a variety of mementos, decorations, mini books and other tricks and treats! The calendar includes 13 daily surprises leading up to All Hallow's Eve. How appropriate: the number 13 is usually tied into Halloween as being superstitious!
As I (Marisol) received my copy of Hocus Pocus: 13 Frights of Halloween Calendar, my daughter and I opened all thirteen envelopes before beginning on October 19th in order to review and share our experiences. We were quite excited and eager as we each took turns opening a new day and envelope. We truly had no idea what to expect!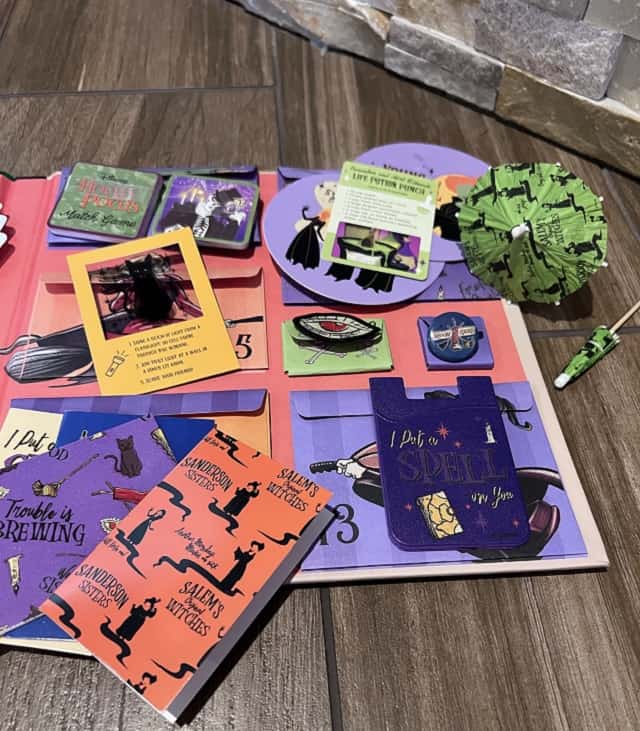 Each envelope is dedicated to either a character from the film and/or a character with a well-known line from the film such as Winifred's famous line, "Another glorious morning. Makes me sick." I do not want to give all all thirteen surprises, but I would like to highlight some of our favorites. They include a Books keychain, coasters with Hocus Pocus featuring tiki umbrellas for drinks, and and ID holder adhesive for phones.
The only complaint that I have is that the pockets were numbered 1-13.  I would have preferred them to be numbered 19-31 so that the calendar can begin on the 19th of October and ending on Halloween, October 31st. 
The Hocus Pocus: 13 Frights of Halloween Calendar retails for $22.49 on Amazon.
Hocus Pocus Tarot Cards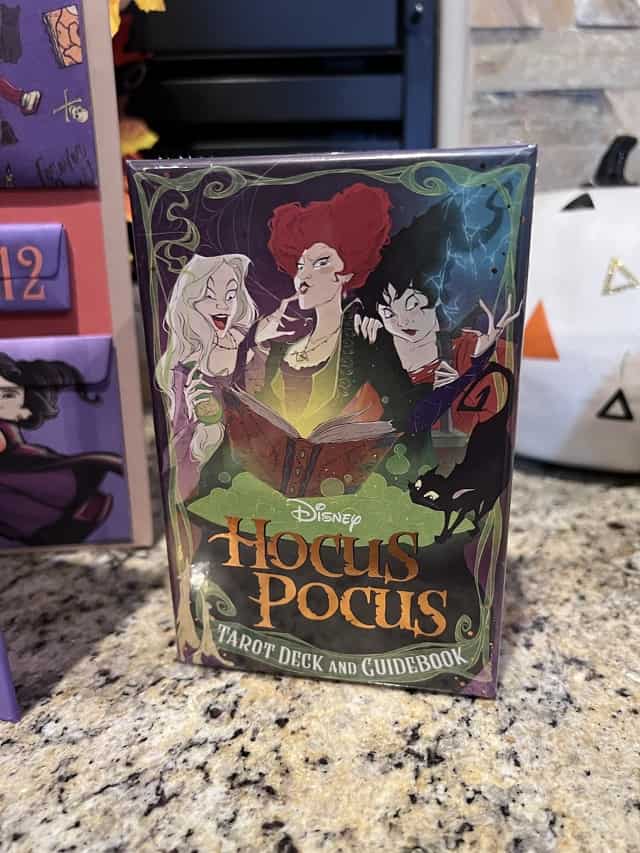 In addition to the countdown calendar, I also received Hocus Pocus: The Official Tarot Deck and Guidebook: (Tarot Cards, Tarot for Beginners).
The deck features original illustrations of the Sanderson sisters and the world of Hocus Pocus. It matches characters from the film with tarot archetypes, making it a fresh interpretation of a traditional tarot deck. The deluxe set of 78 cards consists of both major and minor arcana. It is perfect for anyone beginning their tarot practice, as well as for experienced practitioners.
Each card features a full color illustration of a character from the film Hocus Pocus, including the Sanderson sisters, the Dennison siblings, Ernie, Billie Butcherson and more. Lastly, it also includes a 128 page guidebook with explanations of each card's meaning and simple spreads for easy readings.
The Hocus Pocus: The Official Tarot Deck and Guidebook retails for $17.49 on Amazon.
Harry Potter Dark Arts: Countdown to Halloween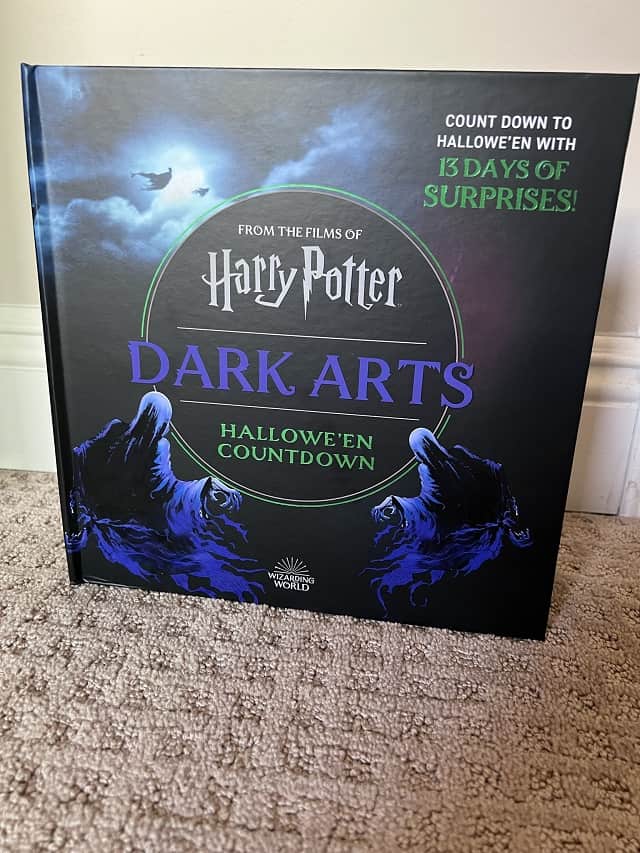 Calling all Harry Potter fans. Don't worry Potterheads, you have not been forgotten this spooktacular Halloween season! Insight Editions has also introduced the Harry Potter Dark Arts: Countdown to Halloween Calendar, a 13-day countdown calendar leading up to Halloween night.
This Halloween calendar is inspired by the Dark Arts as each of the 13 pockets include keepsakes, behind the scenes secrets and facts about curses that are connected to its villain such as Voldemort and Bellatrix Lestrange.  Some of our personal favorite trinkets was the ID holder adhesive for phones and the Slytherin keychain. 
I would definitely recommend this calendar if you are a Harry Potter fan leaning more towards the Dark Arts as Harry, Hermione and Ron are not featured in this countdown calendar.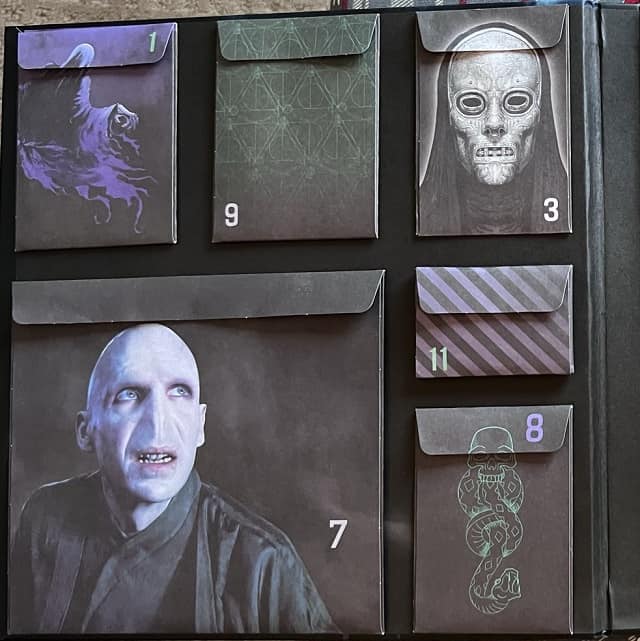 After Halloween season ends, Harry Potter fans can continue their holiday celebrations with Harry Potter: A Hogwarts Christmas Pop-Up and Harry Potter: Holiday Magic: The Official Advent Calendar. They are are also available on Amazon and the Insight Editions website.
The Harry Potter Dark Arts: Countdown to Halloween Calendar retails for $17.49 on Amazon.
Of the three items that Insight Editions gifted me to review, my favorite was the Hocus Pocus: 13 Frights of Halloween Calendar. I am a big Hocus Pocus fan and how perfect as Disney+ just released Hocus Pocus 2 almost a week ago!
Will you be purchasing any of the three items that I reviewed leading up to Halloween season? Let us know in the comments on Facebook and in our Facebook group.