"What's this…what's this?… a new Advent Calendar just in time for the holiday season. Our friends at Insight Editions gifted me with their newest Advent Calendar featuring our friends that live in Halloweentown. Join me as I take you on an adventure of mementos and goodies!
Insight Editions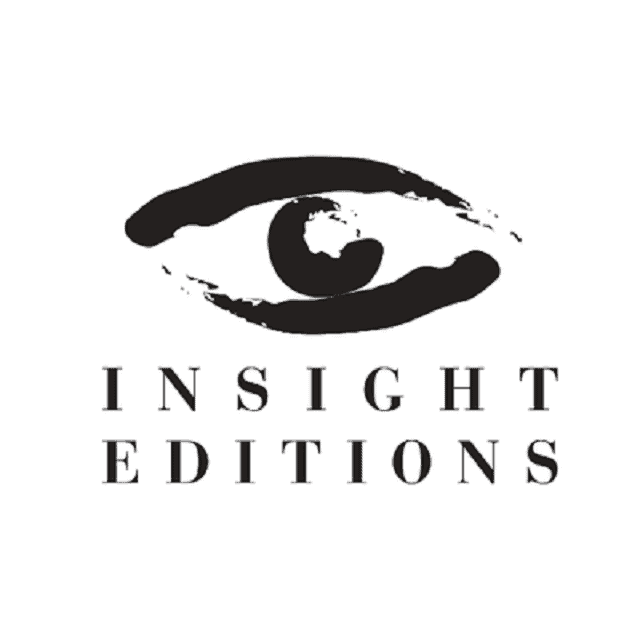 Insight Editions is a bestselling publisher of books and collectibles that push the boundaries of creativity, design, and production as seen through its many products.
Through its licensed publishing program, Insight Editions produces unique books and products that provide meaningful ways to engage with characters and stories for all ages!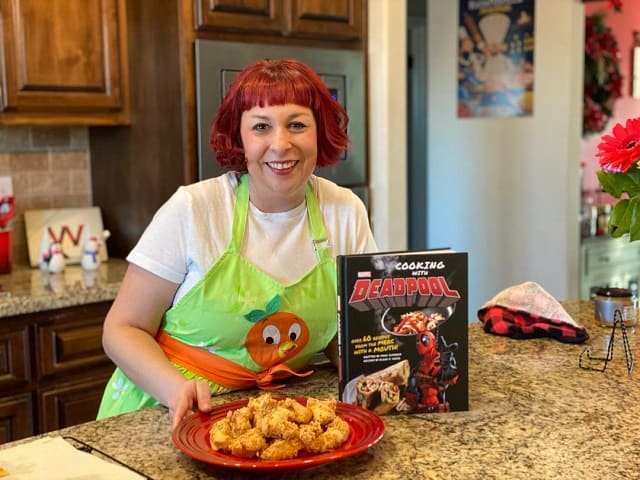 Insight Editions manifests its dedication to sustainability and conservation through publishing partnerships with organizations such as Jane Goodall Institute, The National Parks Association, Mission Blue, and Roots of Peace.
I have been very fortunate to have reviewed two different cookbooks gifted to me. You can read about my review on Cooking with Deadpool Cookbook HERE as well as the Star Wars Galactic Cookbook HERE.
The Nightmare Before Christmas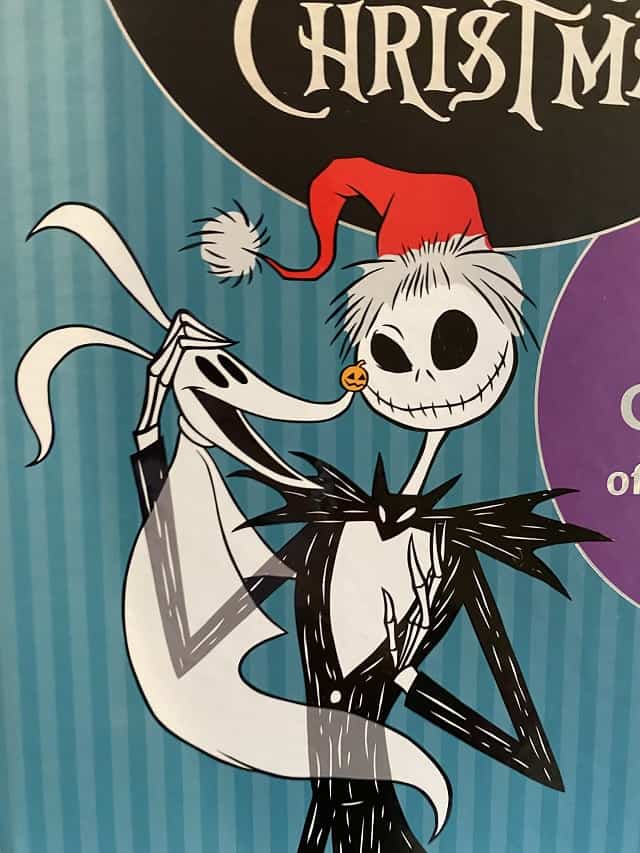 Tim Burton's stop-motion animated musical dark fantasy holiday film was first released in 1993. It was not until years later that the film itself became a cult classic among fans.
The Nightmare Before Christmas originated in a poem written by Burton in 1982 while he was working as an animator at Walt Disney Productions.
The film follows Jack, the Pumpkin King, who is the leader in Halloweentown and has grown tired of celebrating Halloween. In the film, he encounters Christmastown and he suddenly becomes obsessed with celebrating the holiday.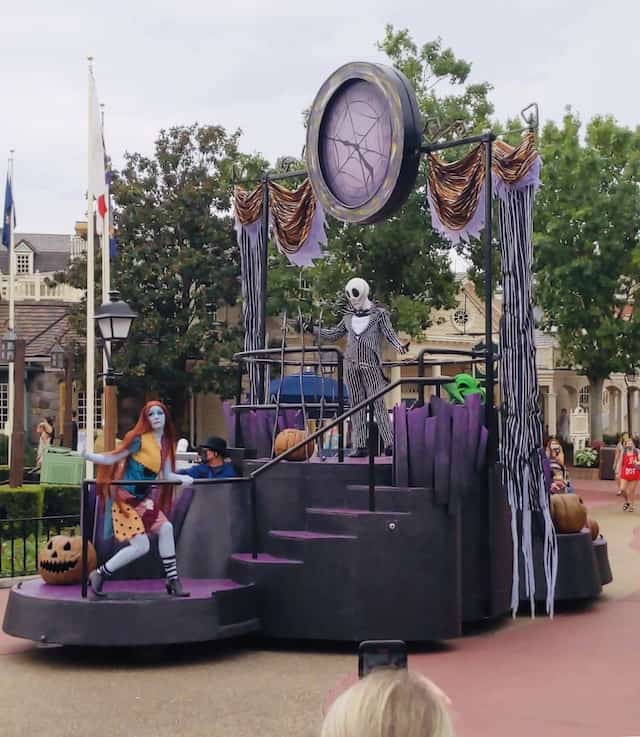 The cast of actors include Chris Sarandon, Catherine O'Hara, William Hickey, Ken Page, Paul Reubens, Glenn Shadix, and Ed Ivory. The music for the film is written by Danny Elfman, who also provides the singing voice for Jack.
Haunted Mansion Holiday Overlay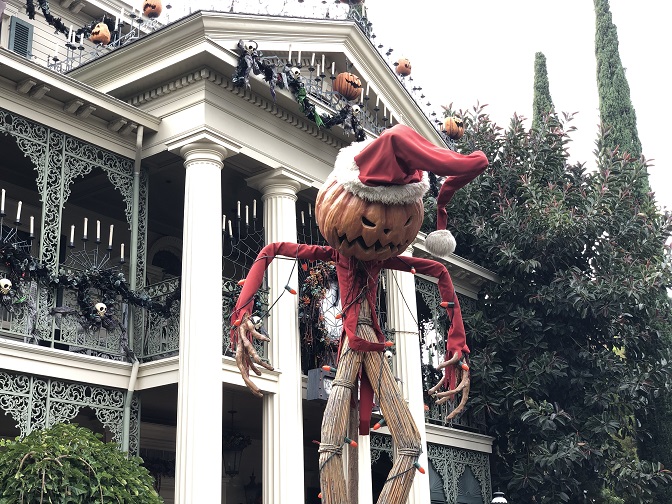 During the seasons of Halloween and Christmas time, the residents of the Haunted Mansion temporarily relocate as the residents of Halloweentown take residency for the two special holiday seasons. From the first moment that guests enter the hallway that takes them into the stretching room, guests are immersed with nods to the animated film itself.
Many of the characters of the film can be see throughout the attraction as they truly do take over the Haunted Mansion! This year marks a special milestone as the fan favorite holiday overlay celebrates its 20th anniversary and there are many ways to celebrate the occasion! You can read more about the celebrations and festivities regarding the overlay HERE.
Advent Calendars During Christmas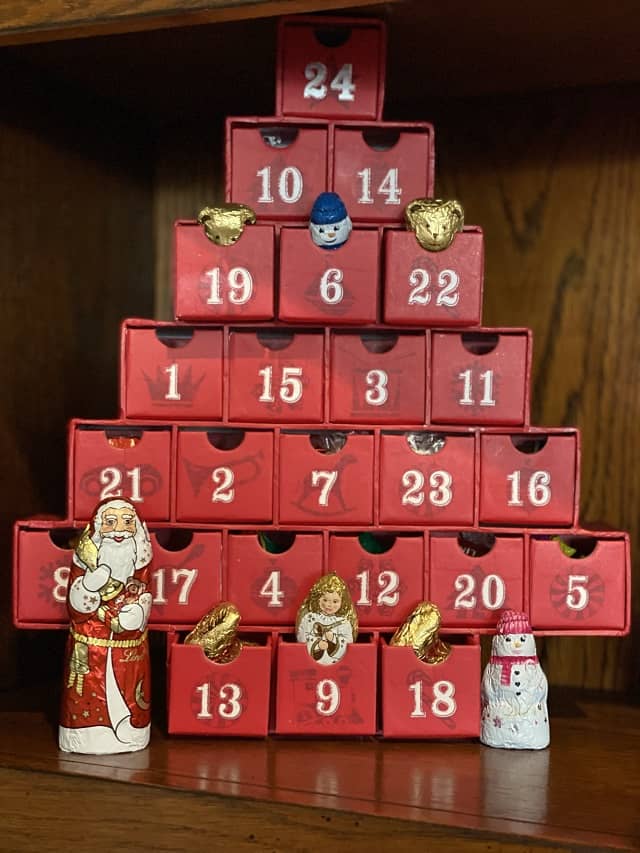 Advent Calendars were first introduced in the 19th century. Traditionally, Christian families in France celebrate the Advent season as do other countries around the world. This is the time of waiting and preparation for the celebration of the Nativity of Christ at Christmas.
Advent Calendars are very popular among children. It is a special calendar used to count the days of Advent in anticipation of Christmas. For example, each day can hold a small toy or piece of candy.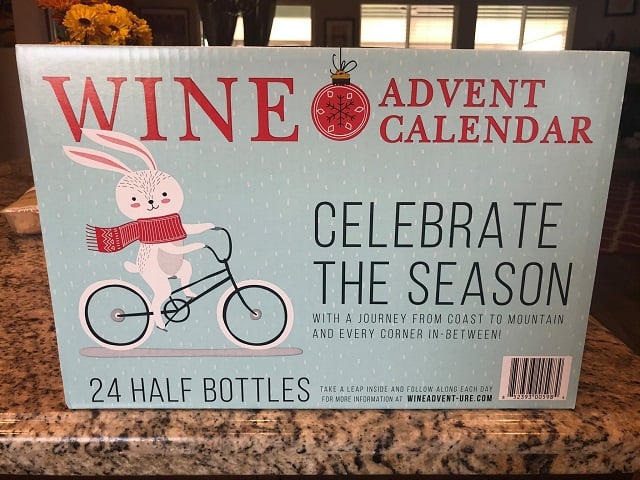 Within the last several years, Advent Calendars have become widely popular here in the United States. In fact, they are now marketable towards adults as I have seen wine and beer Advent Calendars.
This year, even our dogs are joining in on the festivities as we countdown to Christmas with their very own calendar!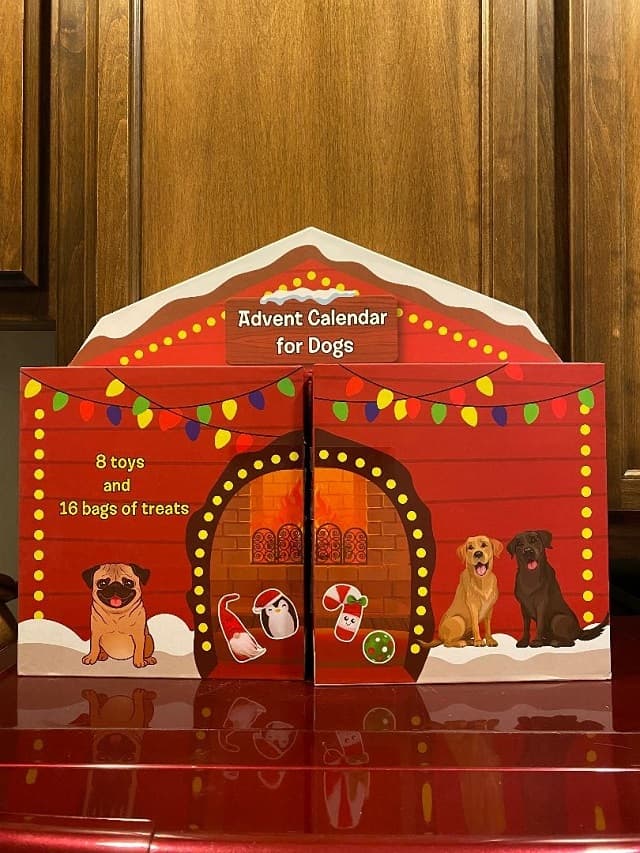 This year the Advent season begins on November 28, 2021 and ends on December 24, 2021.
The Nightmare Before Christmas Advent Calendar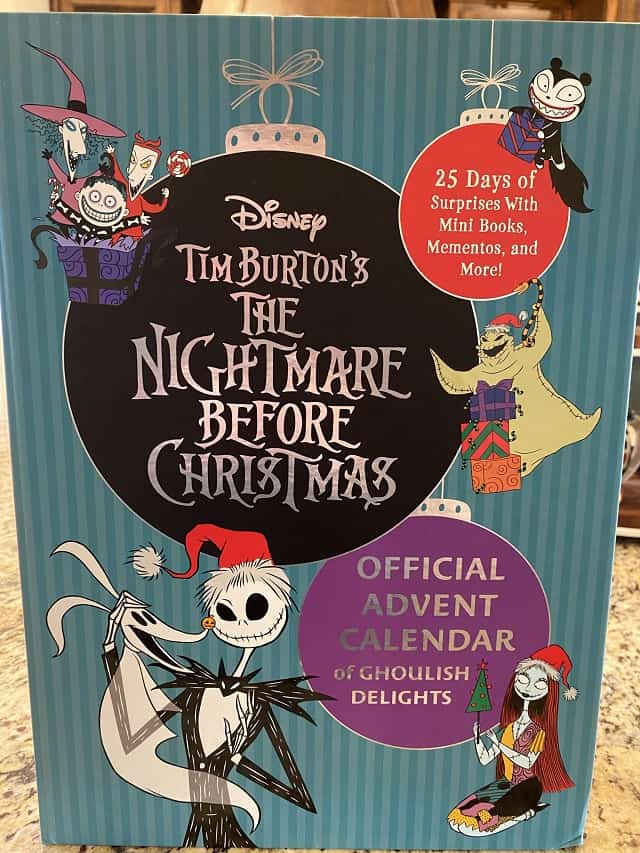 I received a surprise package from Insight Editions to find an advent calendar devoted to one of my favorite films!
In fact, many of my Halloween décor in my own household aligns and reflects perfectly with the animated film, so to my delight I could not wait to open up each day in the Advent Calendar that I received!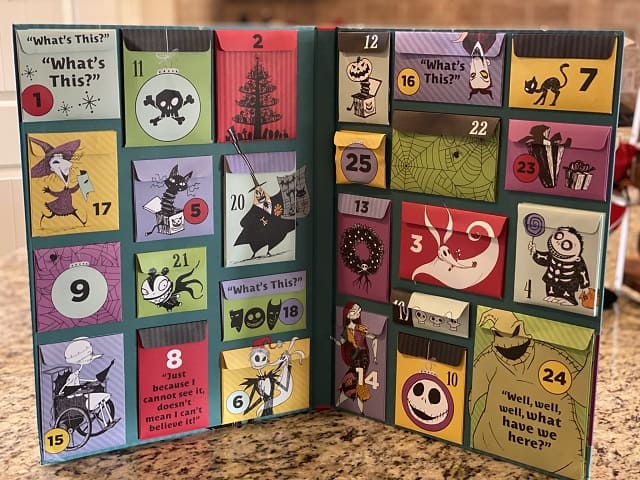 Typically, you are to begin opening your first day's goodies on December 1st as calendar should include 25 days of treats.
However, since I am reviewing the calendar so you are able to purchase this holiday season, I went ahead and opened up all 25 days!
The kids and I were excited and eager as each one of us took turns opening a day. It felt like Christmas morning not knowing what to expect!
Before delving into each day's goodies, I want to take a moment to show appreciation for the vivid colors, designs and depiction of the Nightmare Before Christmas characters inside the calendar itself.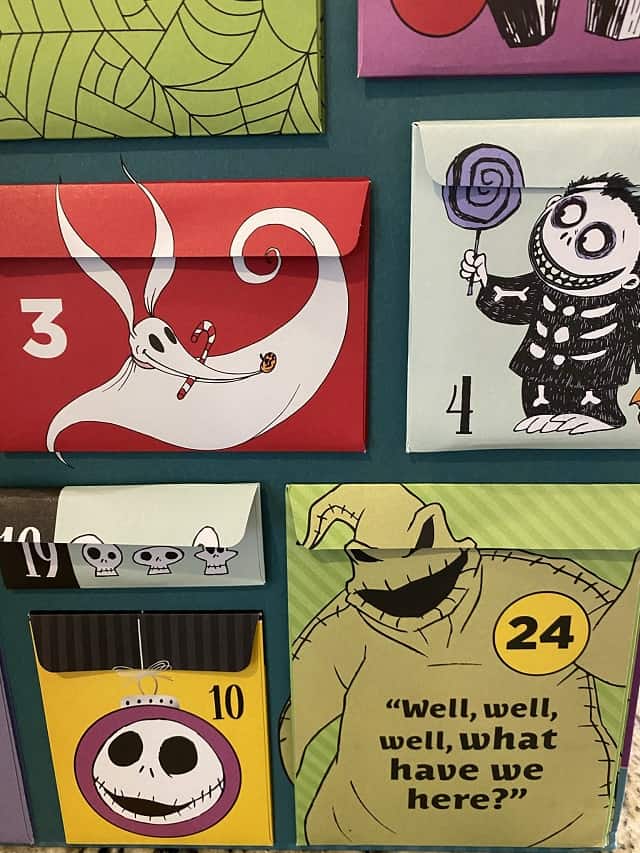 Each envelope is dedicated to either a character from the film and/or a character with a well-known line from the film such as "Well, well, well… what have we here?" as personified by none other than Oogie Boogie himself!
25 Days of Surprises!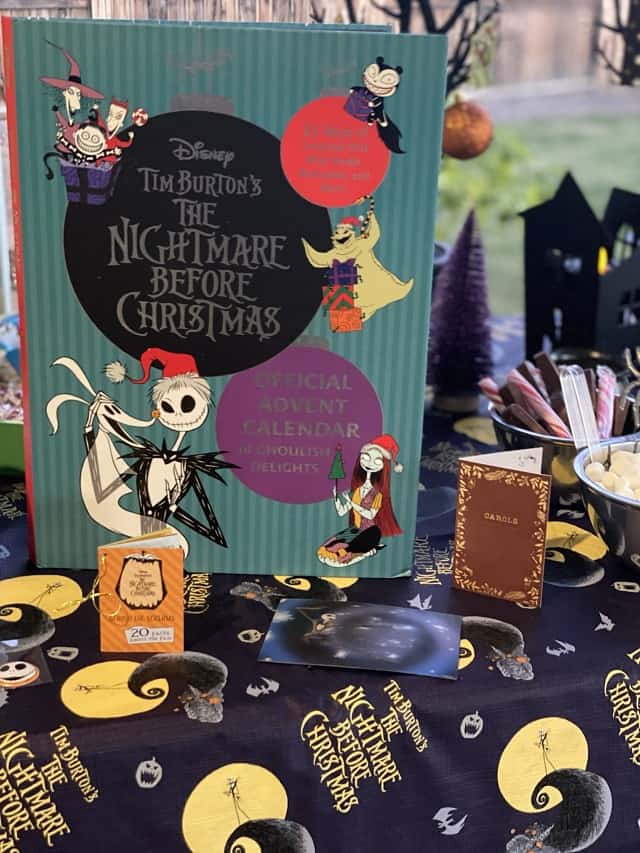 So, what is exactly included in the Nightmare Before Christmas Advent Calendar?
Well, I do not want to give away all 25 surprises, but I would like to highlight some of my favorites! I immediately thought to myself how fun would it be to have a hot cocoa bar dedicated to the film and the calendar itself while making it a movie night in the backyard!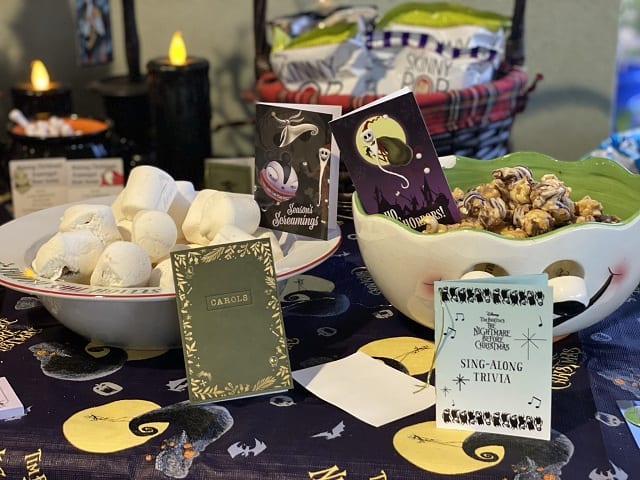 For the hot cocoa bar, I set out various goodies such as cookies, marshmallows and chocolate and peppermint spoons to enjoy while sipping on some hot cocoa.
For the décor on the table itself, not only did I utilize my Halloween decorations, but I also incorporated most of the trinkets that were included in the calendar such as the different ornaments of Sally, Jack and Zero.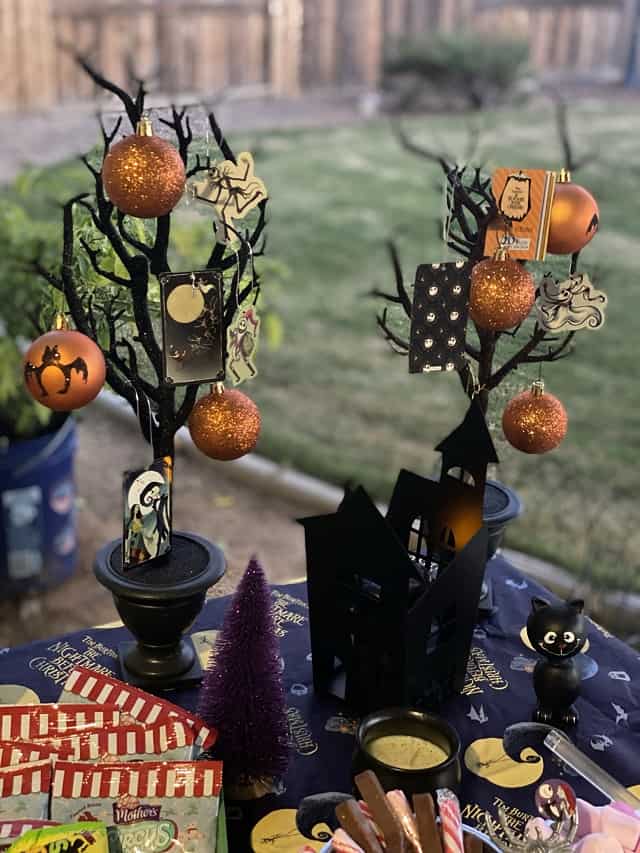 Additionally, there were many different mini books and mementos such as a caroling book, trivia questions from the film, gift tags, Christmas cards, a 3d postcard and many more!
Wait until you reach Day 25! You will find yourself having to flip a coin on who claims that days memento!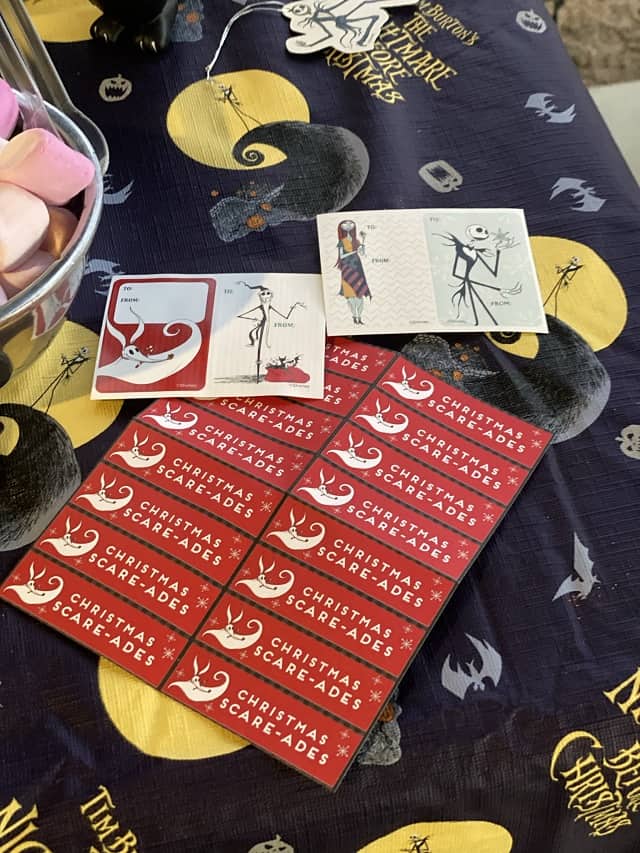 I am very thankful to our friends at Insight Editions for gifting me the new Nightmare Before Christmas Advent Calendar. It is now available for purchase!
Currently the calendar can be purchased for $19.01 through Amazon.com. It can also be found on the Insight Editions website.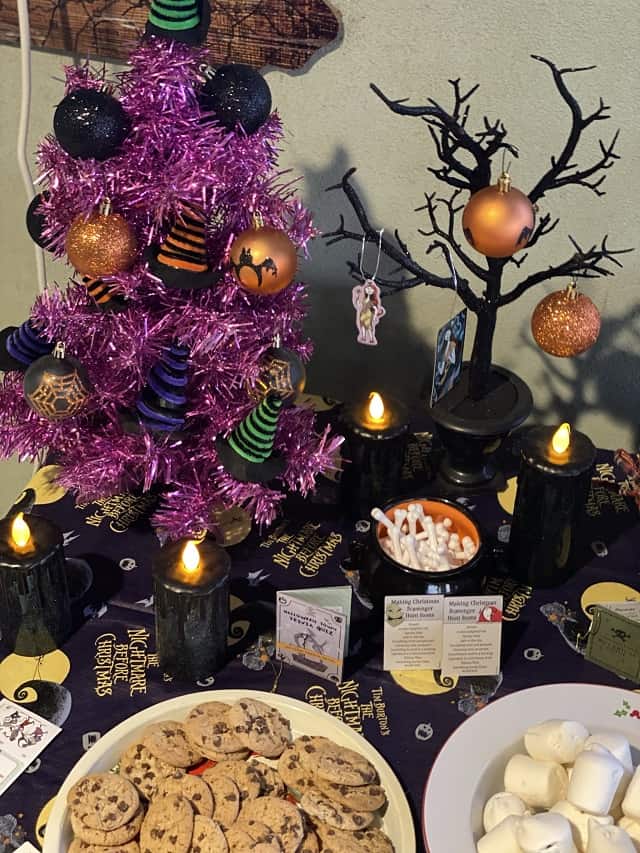 Will you be purchasing the new Nightmare Before Christmas Advent Calendar made by Insight Editions? Do you have an Advent Calendar this year in your home? Let us know in the comments on Facebook and in our Facebook group.