Do you or someone you are traveling with have a food allergy? Can you still have a good time at Mickey's Not So Scary Halloween Party? What treats are there available to you? Read on to find out everything you need to know about what the Halloween Party has to offer you!
Navigating Disney With Allergies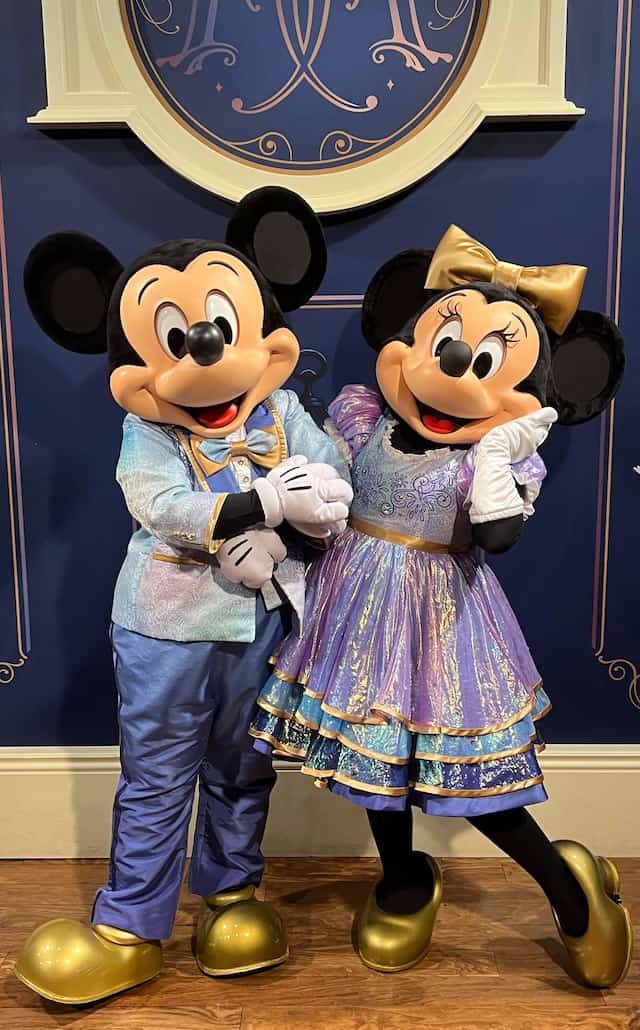 Navigating any food allergy can be challenging and stressful. I (Heather) have a child with food allergies. I know how much anxiety can be brought on by trying to find "safe" foods when dining out or even just grocery shopping. One place we have become more comfortable with dining out is Disney World. Disney World is very accommodating to food allergies. This is such a huge relief!
On Disney's website you will find their allergy statement. It reads:
About our allergy-friendly menu items: Guests may consult with a chef or special diets trained Cast Members before placing an order. We use reasonable efforts in our sourcing, preparation and handling procedures to avoid the introduction of the named allergens into allergy-friendly menu choices.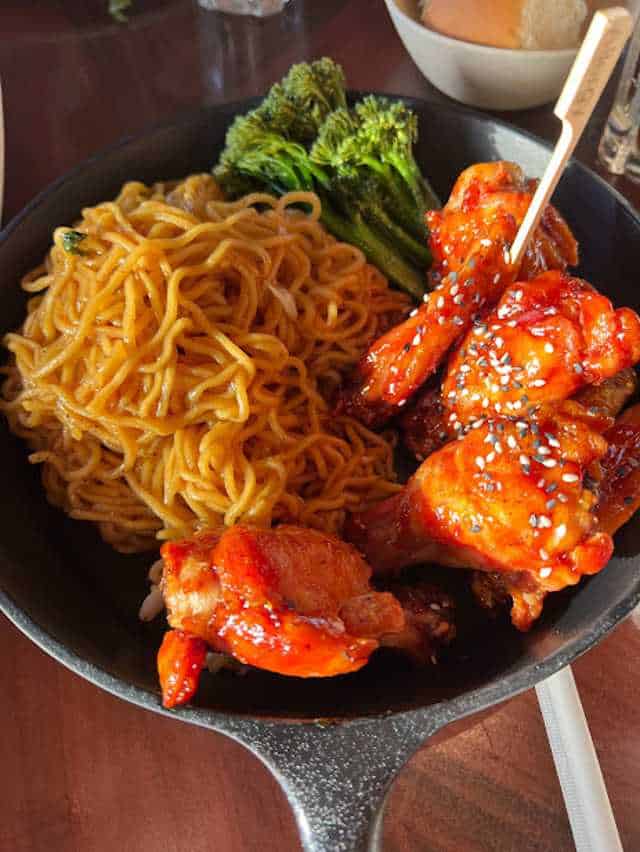 While we take steps to prevent cross-contact, we do not have seperate allergy-friendly kitchens and are unable to guarantee that a menu item is completely free of allergens. Allergy-friendly offerings are reliant on supplier ingredient labels. We cannot guarantee the accuracy of the contents of each food item.
Allergen advisory statements (e.g., "may contain") are not regulated and therefore not taken into consideration when developing allergy-friendly meals. It is ultimately our Gusts' discretion to make an informed choice based upon their individual dietary needs.
Check out my past reviews from when we dined at 'Ohana and Tusker House while navigating food allergies at Disney.
Mickey's Not So Scary Halloween Party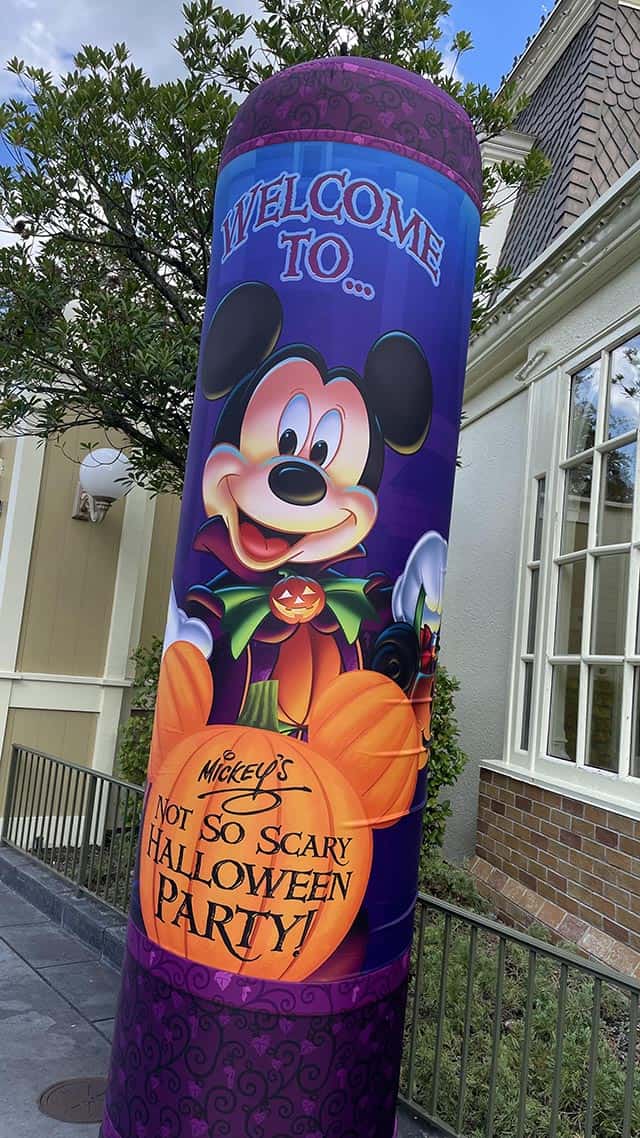 The incredible Halloween-themed event is back at Disney World after a two-year break! This party boasts parades, stage shows, special fireworks, character meets, trick-or-treating, and SO much more.
You can see the dates and pricing for 2022 HERE and what new updates will take place HERE. Be sure to check out the full foodie guide and the dessert party for Mickey's Not So Scary Halloween Party. Reservations for dessert parties and table service meals are now available to book!
Here is what our party looked like with a food allergy.
Allergy Friendly Specific Bag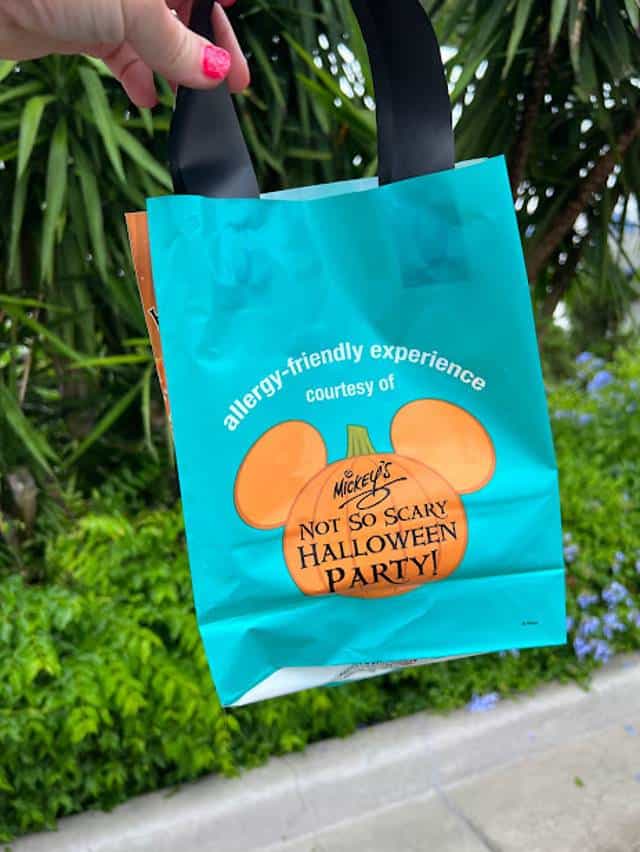 When you first scan in and receive your event bracelet, you will be directed to get your treat bag. This will depend on where you scan in for the party (just arriving to the park or if you have been at the park throughout the day).
We had arrived just for the party, so we came through the main entrance. Due to the fact that it was raining, the treat bag distribution and first candy stop were in Tomorrowland Terrace.
When going through the line, we just had to ask for an allergy friendly bag. The cast member stated that we could still receive a 50th treat bag as well. This was nice as they are made out of a more durable material and make a great keepsake!
Allergy Friendly Tokens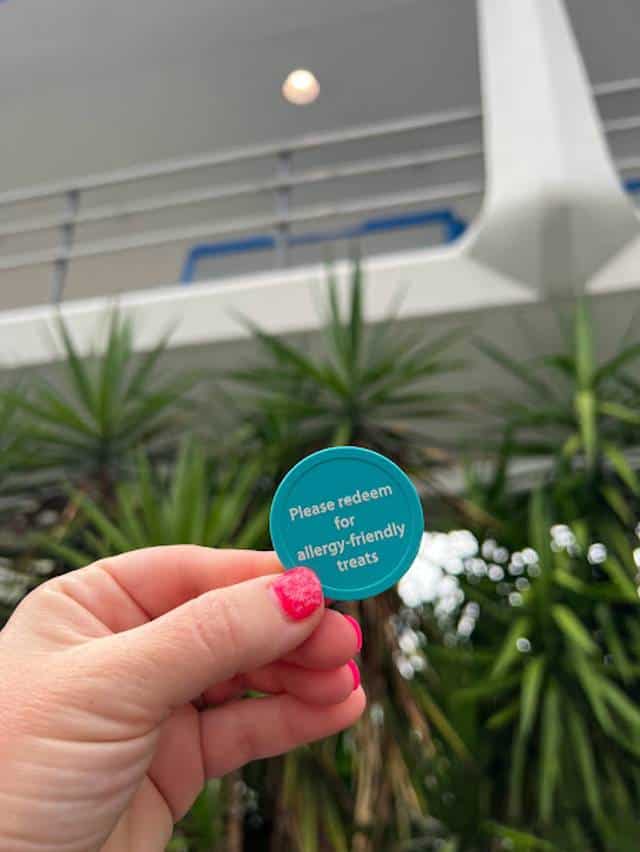 After my son got his bag, he received his first token. At each candy stop we were told to ask for a token. These tokens would be given instead of candy.
Sometimes they would just be given to us when a Cast Member saw the teal bag, and other times we would need to ask for them. Unfortunately, early into the night, we were told there was a shortage of tokens. THEY RAN OUT OF TOKENS!
They ran out of Teal Tokens early into the party.
My son was no longer able to receive anything at the trick-or treat spots. However, they said he would still be given candy upon redeeming the tokens. I am glad this was done, but still a little disappointing for him to not be able to trick-or-treat like the others. I suggest trick-or-treating early in the night if you have someone with allergies.
Redeeming Your Allergy Friendly Tokens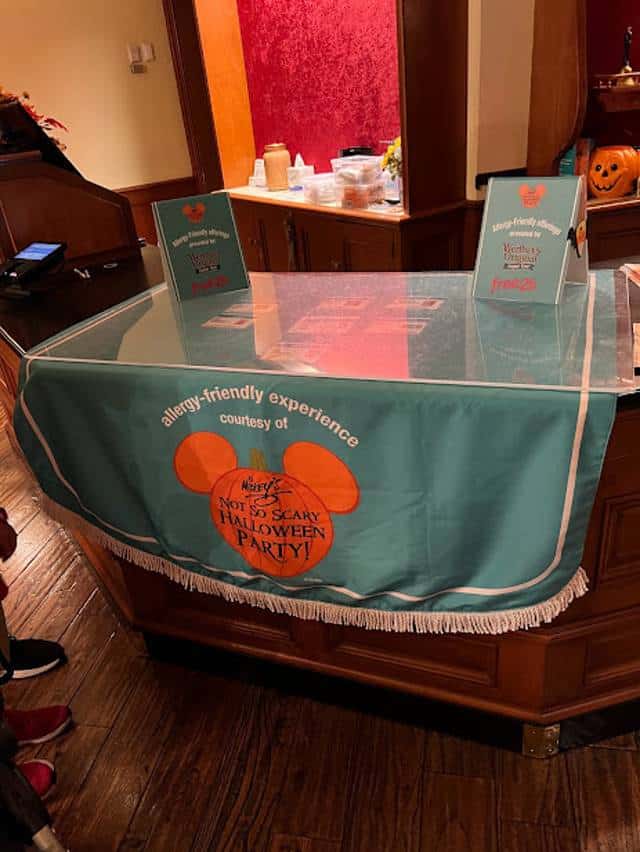 Once you have collected your tokens, you can then redeem them for allergy friendly candy. These locations are open throughout the night.
You can redeem them at the Liberty Square Ticket Office (near The Hall of Presidents in Liberty Square) or the Chamber of Commerce (near City Hall on Main Street, U.S.A.). The Cast Members at these locations were surprised to find that other Cast Members were reporting "running out of tokens." They still gave us candy even though we only received FOUR tokens due to the shortage.
Candy options when redeeming can vary, but on the night we attended we had seven options. These included Enjoy Life Ricemilk Crunch Chocolate Bar, Smarties, Enjoy Life Dark Chocolate Bar, Gummy Bears, Organic Pops, Free2B Dark Chocolate Sun Cup, and Enjoy Life Cocoa Loco Chewy Bar.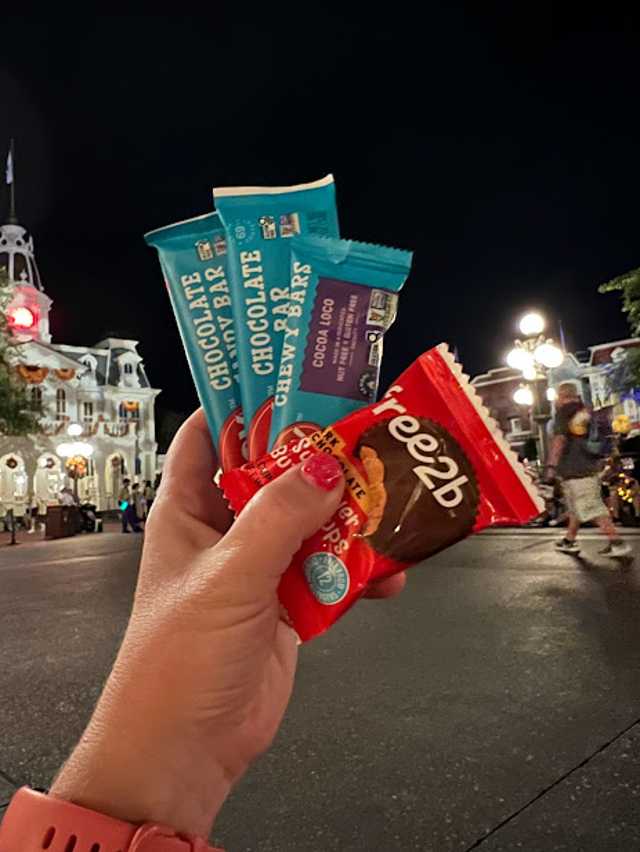 I was happy to see this variety of choices, as we enjoy these brands at home! I am sure many other parents and people navigating food allergies love these options as well.
We were able to choose which candies we would like. We chose all the chocolates and the Gummy Bears. We were given just about two of everything we asked for.
Final Thoughts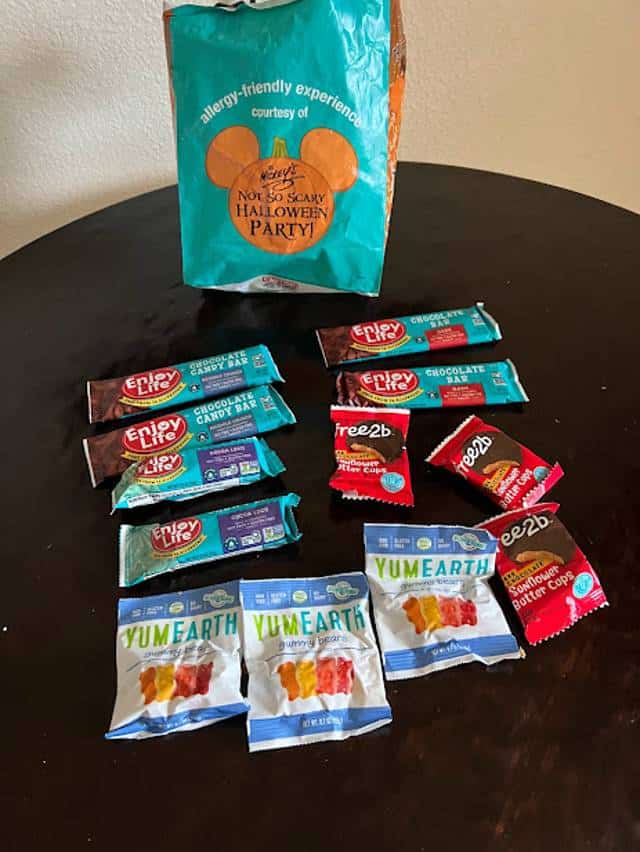 Compared to what my other son received at the regular candy stops, it seems the allergy friendly option had a little less volume. However, the allergy friendly options were full size candy bars.
It is a little disappointing that one of my kids can walk away with his bag overflowing with candy and the other has just a few items. I am fortunate that my youngest is not old enough to grasp the concept of everything yet, but I am sure this could be a struggle for some families.
Please don't get me wrong, I think it is absolutely fabulous that any allergy friendly option is offered. I love that they offer something. Allergies are challenging, and this option gives us some normalcy. Our family had so much fun, and overall had a great night at the party. We can't wait to return next year to trick-or-treat in Magic Kingdom again!
Have you Trick-or-Treated at Mickey's Not So Scary Halloween Party with a food allergy? Do you plan to Trick-or-Treat at the Halloween Party with a food allergy? How do you feel Disney does with this? Let us know on the Kenny the Pirate Facebook page. Don't forget to join the KtP crew page too!