Are you wondering whether or not to buy Disney's new MagicBand+? Here is a recent review to help you decide.
MagicBand+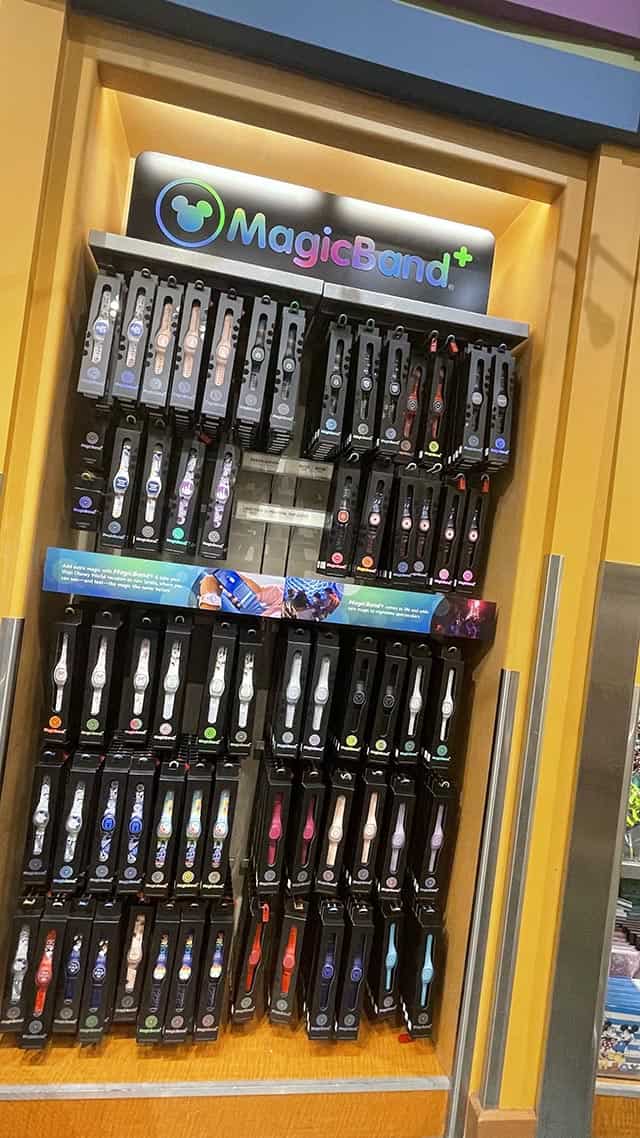 Disney's MagicBand+ officially made its highly anticipated debut in the parks in late July and is now available to purchase online and throughout all of the Disney theme parks. The release was so popular that guests had to wait in long lines just to purchase one. There are so many fun and cute designs available as well that it is hard to choose which one you really want!
The new band lights up and interacts with firework shows, Disney's Fab 50 character statues, and offers guests fun interactive games that you can do with the statues and an incredible Bounty Hunter experience over at Disney's Hollywood Studios. So, you might be wondering to yourself, are they worth it?
Pricing and other details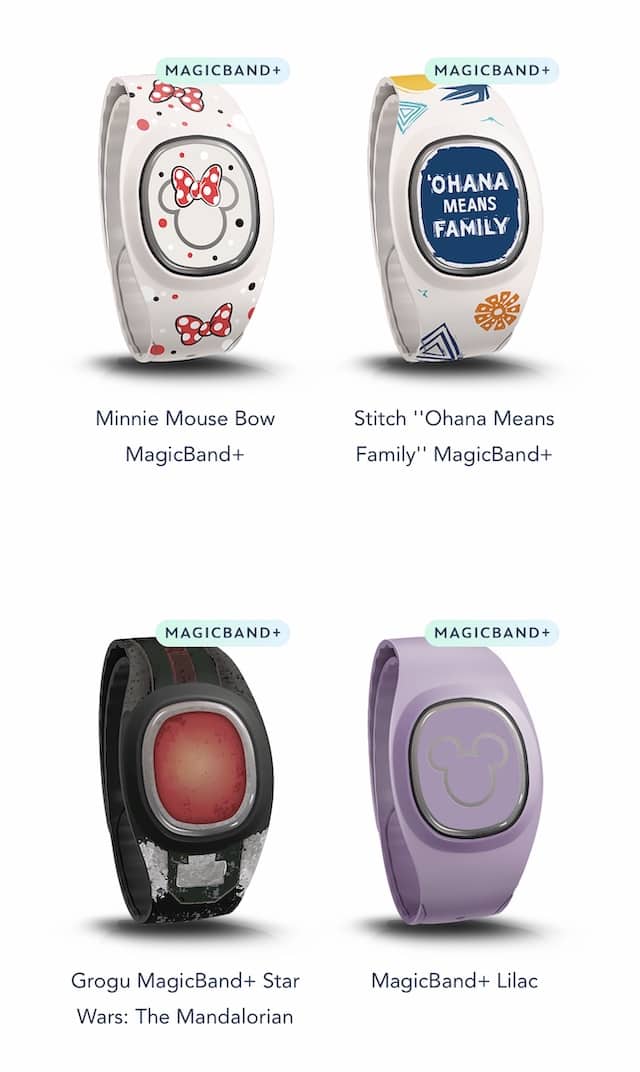 If you are planning to purchase a MagicBand+, they do come at a higher price than regular MagicBands. Select guests including Disney Annual Passholders and Disney resort guests (pre-arrival) can get them at a discounted price.
If you are looking to purchase them online or in the theme parks, expect to pay $34.99 (solid colored) and $44.99 (designs). The other thing you need to be aware of if you are looking to purchase one is that these are yet another device of yours that will need to be charged.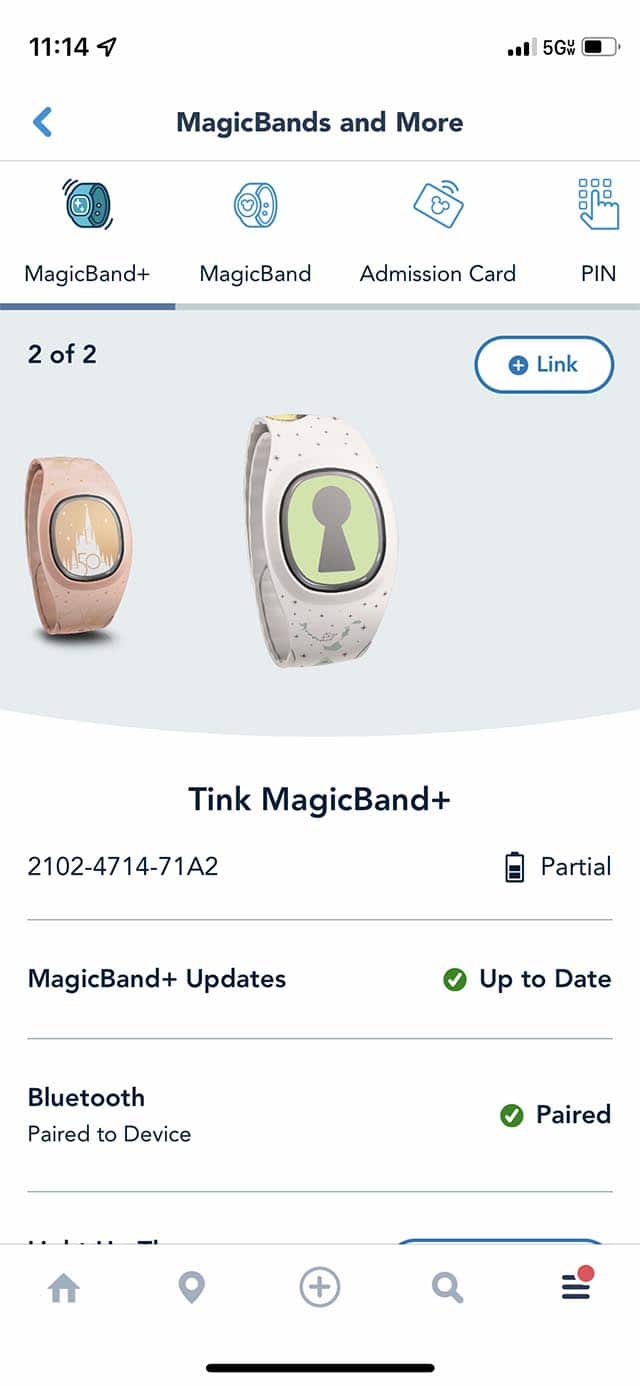 Disney's MagicBand+ can remain charged for 1 to 3 days.
Disney shared that the new MagicBand+ can last anywhere from 1 to 3 days. While it might be handy to have a spare charger with you during the day, I found that is not necessary. If you happen to forget a charger or find yourself needing one, Disney has you covered. Of course that comes with a price, and you will have to purchase that at an extra charge!
The screenshot above shows how my MagicBand+ was doing after a full day of being at EPCOT and Hollywood Studios. We interacted with some statues and played the Bounty Hunter game. We even noticed that the MagicBand+ lights up on certain attractions! You can see that the MagicBand+ is showing it as having a "Partial" charge but still pretty good! We left them on all day long and did not charge them once.
Fab 50 Character Statues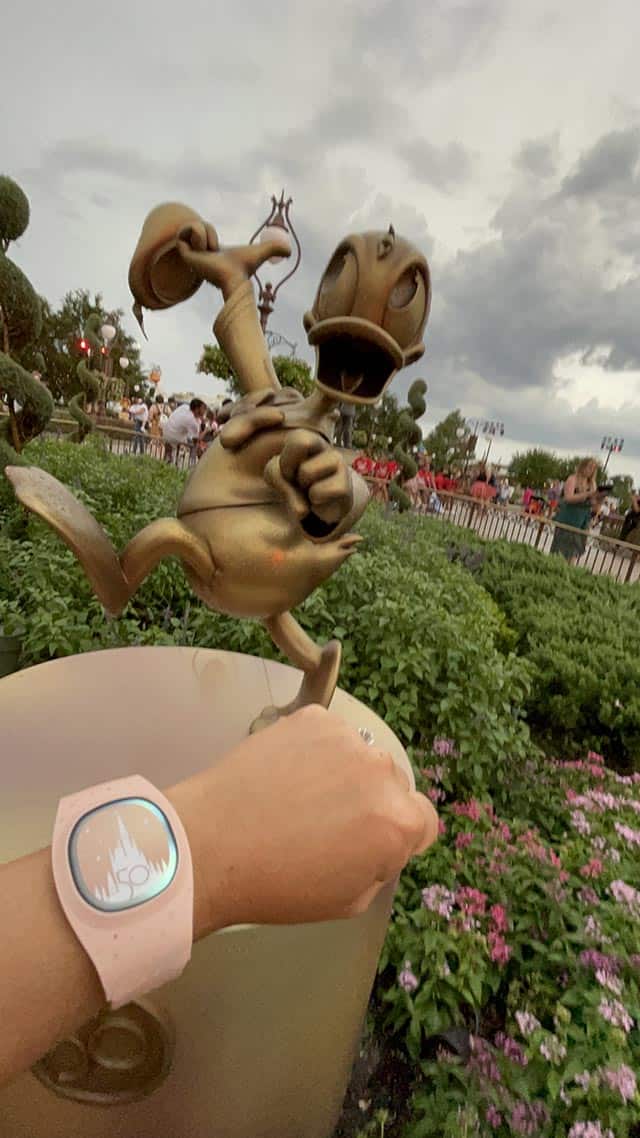 I (Maggie) purchased a new MagicBand+ for myself and my son the day they were available to purchase. Despite known delays for many guests, we received our MagicBand+ just days before our trip. We were so excited to try them out!
Our first experience was at the Magic Kingdom. My son and I tried interacting with several different statues, including Lady & the Tramp, Dumbo, Minnie Mouse, Chip 'n' Dale and Donald Duck. Out of all five of those statues, we heard interactions from only four of them, and Minnie Mouse was by far the best.
Sometimes just walking past a statue was enough to make our MagicBand+ light up and vibrate. Other times, we heard the statue interact, but by the time we realized it was doing something, the interaction was already over. After trying to make it work again, we got nothing.
We tried waving at the statue some more, walking past it, and jumping to trigger some sort of interaction and it still fell flat.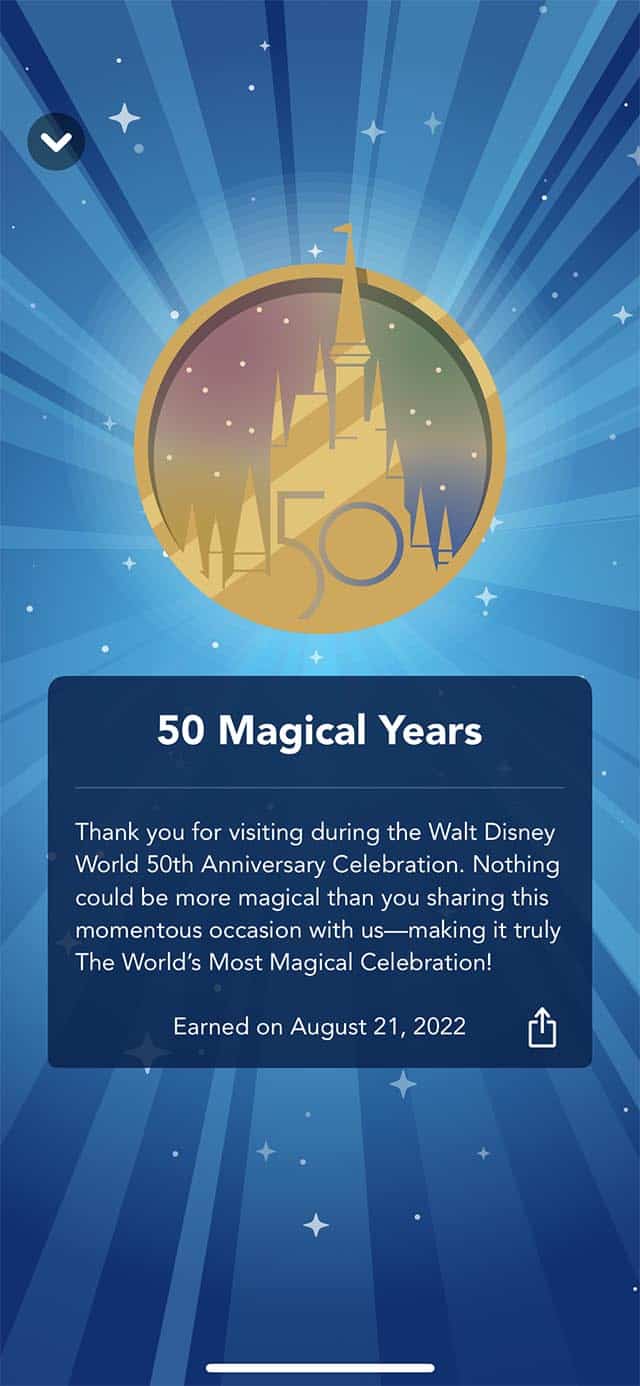 What was the interaction really like? While it is definitely cute and kind of cool to see, I am not sure that the 12 second interaction of Minnie Mouse saying, "Oh my, look at all of the happy faces! Have fun everyone!" is really worth the $44.99 price tag, especially if it really only worked one out of maybe five or more times trying to just get it to do something.
It is worth mentioning that we did not attempt to try playing the interactive game, Disney's Fab 50 Quest, but we did still manage to get a special achievement. Had we taken the time to stop and play this game, I think we would have had a chance to enjoy the MagicBand+ more and get a little more fun out of them.
Star Wars: Batuu Bounty Hunters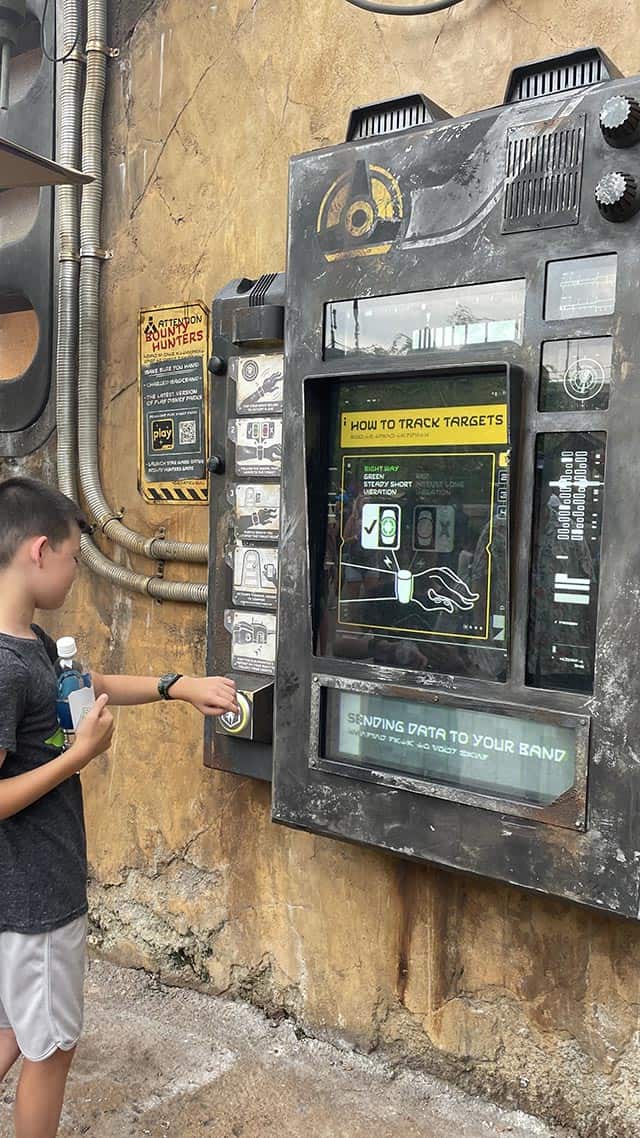 Next, my son and I decided to try and do the Star Wars: Batuu Bounty Hunters experience at Disney's Hollywood Studios. To begin, go to Star Wars: Galaxy's Edge and scan your MagicBand+ at the location pictured above.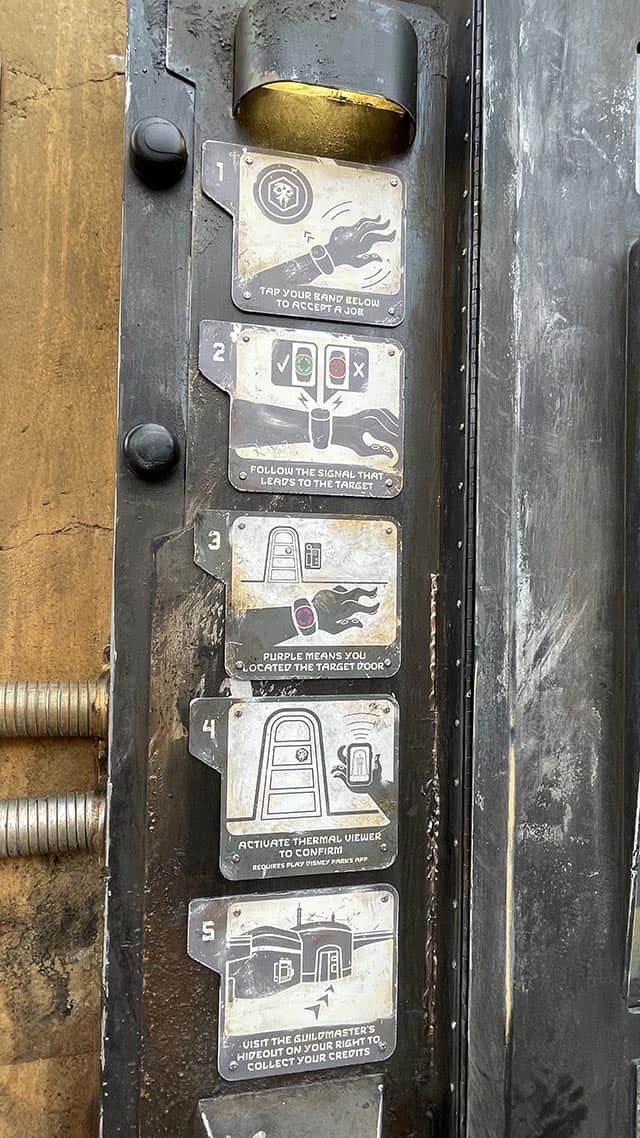 The directions are located right next to where you begin. Scan your band to accept a job, then follow your MagicBand+ around Galaxy's Edge to look for your targets.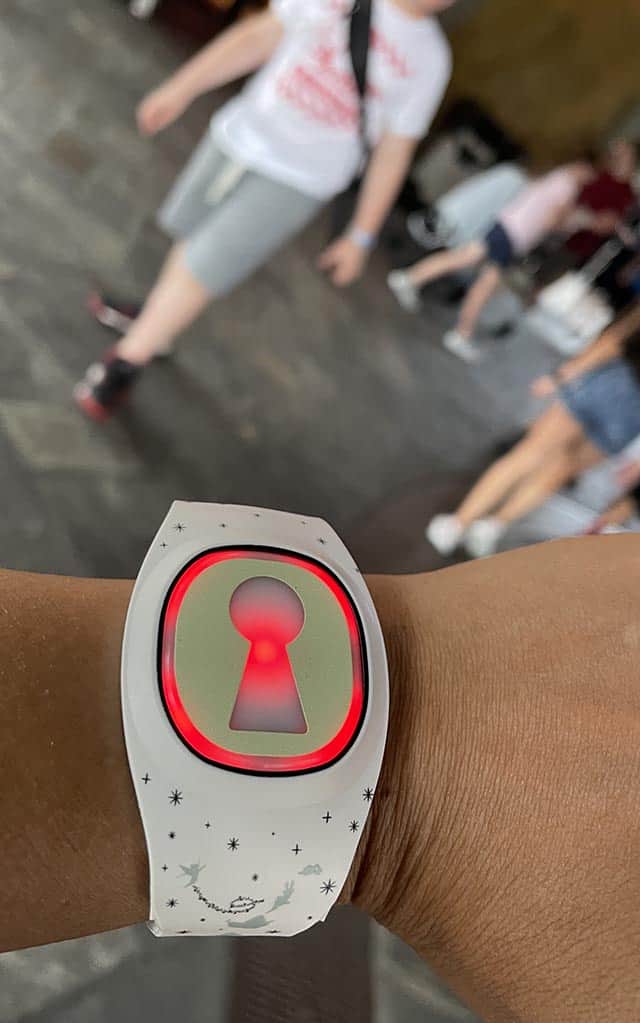 Your band will light up and vibrate as you walk around Galaxy's Edge looking for your targets. If it's red, that means you are too far away. If it's green, it means you are close. Once it turns purple, it means you have located your bounty!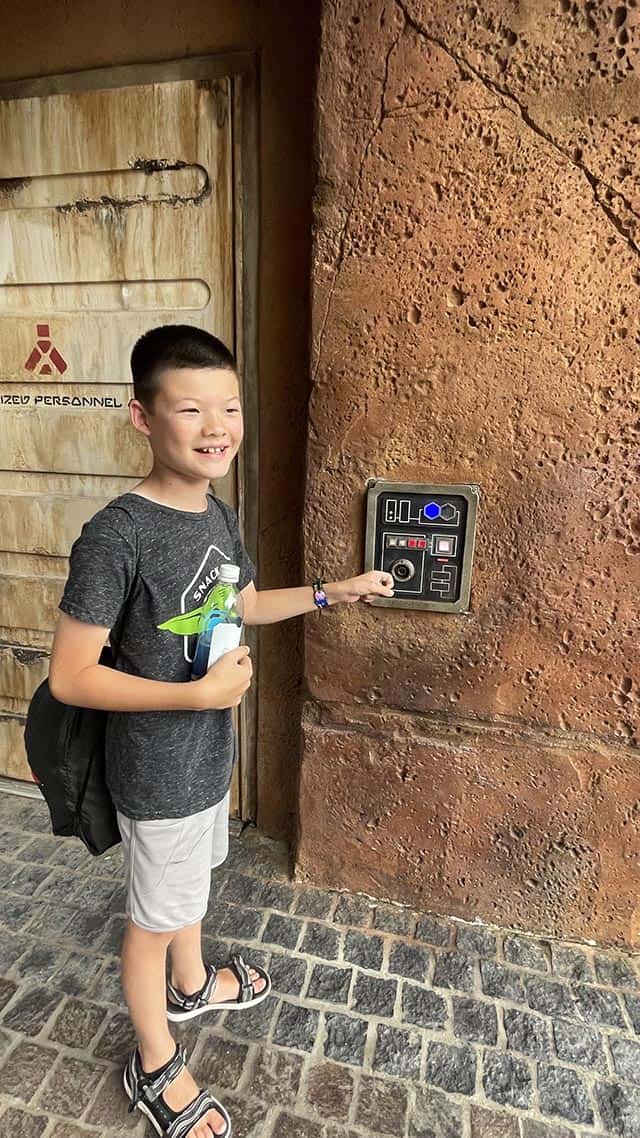 From our experience, we found that targets varied. Sometimes they can look like the places pictured above, but one huge tip we found was to look for this symbol pictured below. If you see a symbol like the one shown here, your MagicBand+ will be lighting up and vibrating faster and faster.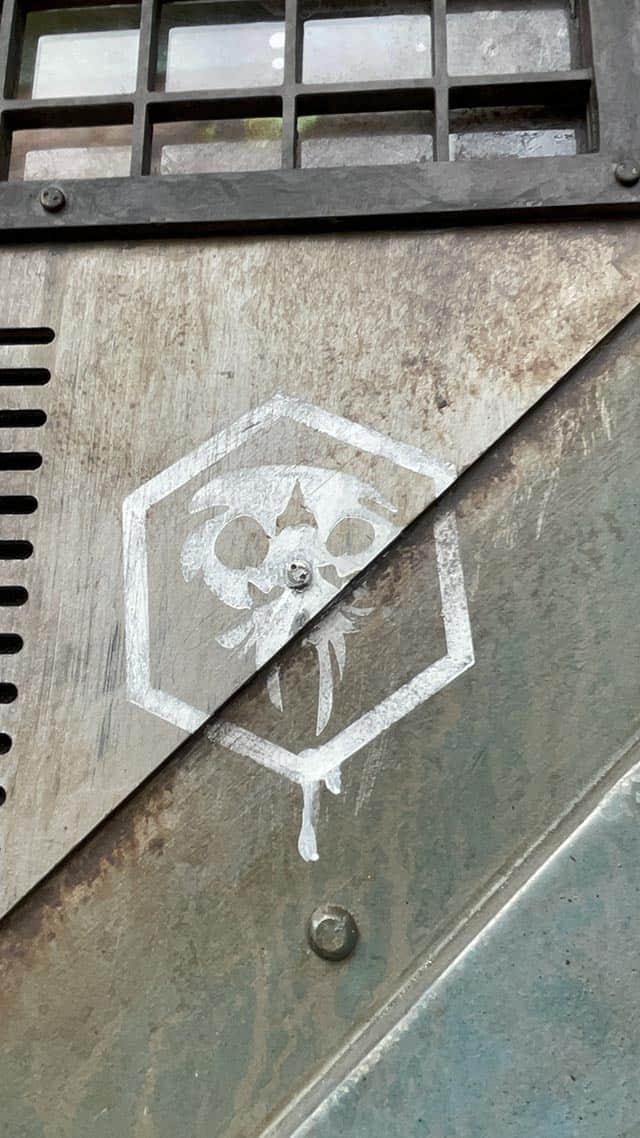 Sometimes all it takes is simply walking by these targets, but we found that other times we had to actually scan the target. Once you have located your bounty, return to the location next to where your journey began and scan your band.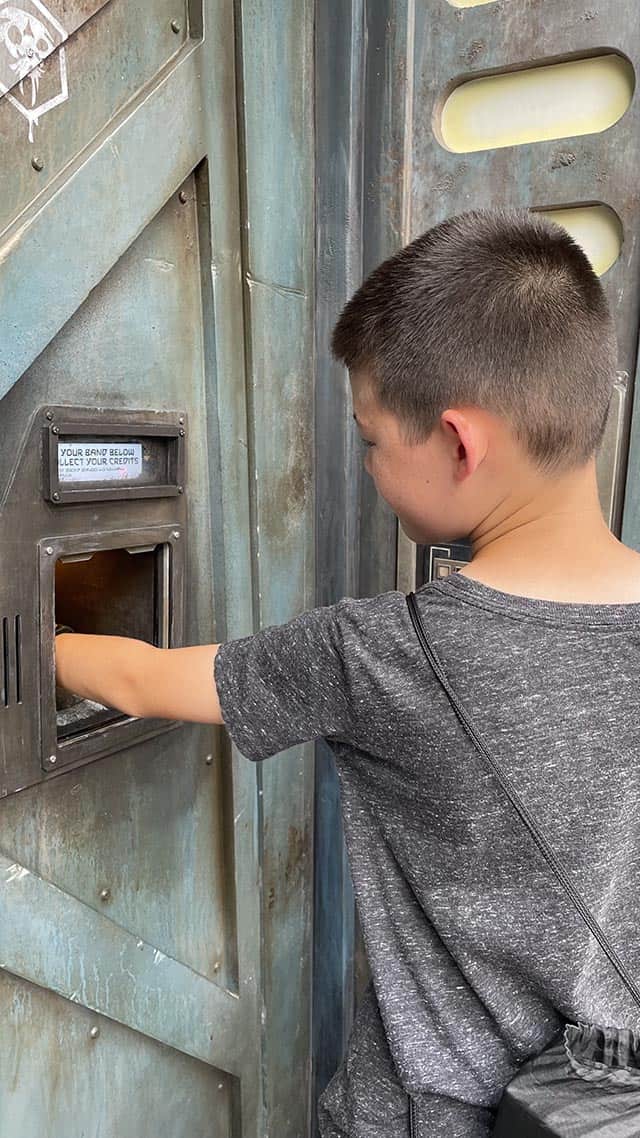 Here, it will detect the bounty that you have found and distribute your credits. Each bounty found is worth a different amount of credits. Once you receive your credits, go back and accept another job and repeat what you just did before.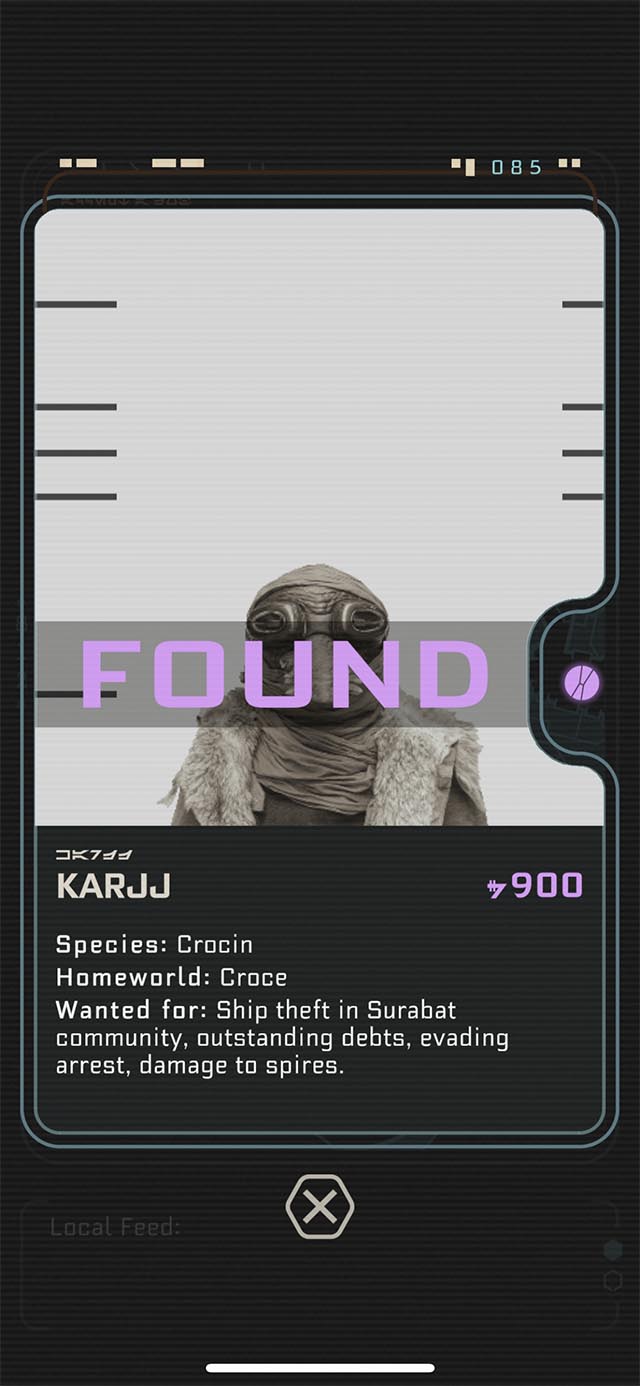 My son and I enjoyed this experience once we figured out how it all worked. It was fun walking around Galaxy's Edge trying to find our targets. It's a great way to pass some time as well if you find that you have some downtime between riding some attractions or seeing shows. We both enjoyed this more than interacting with the statues throughout each of the theme parks.
Are they worth it?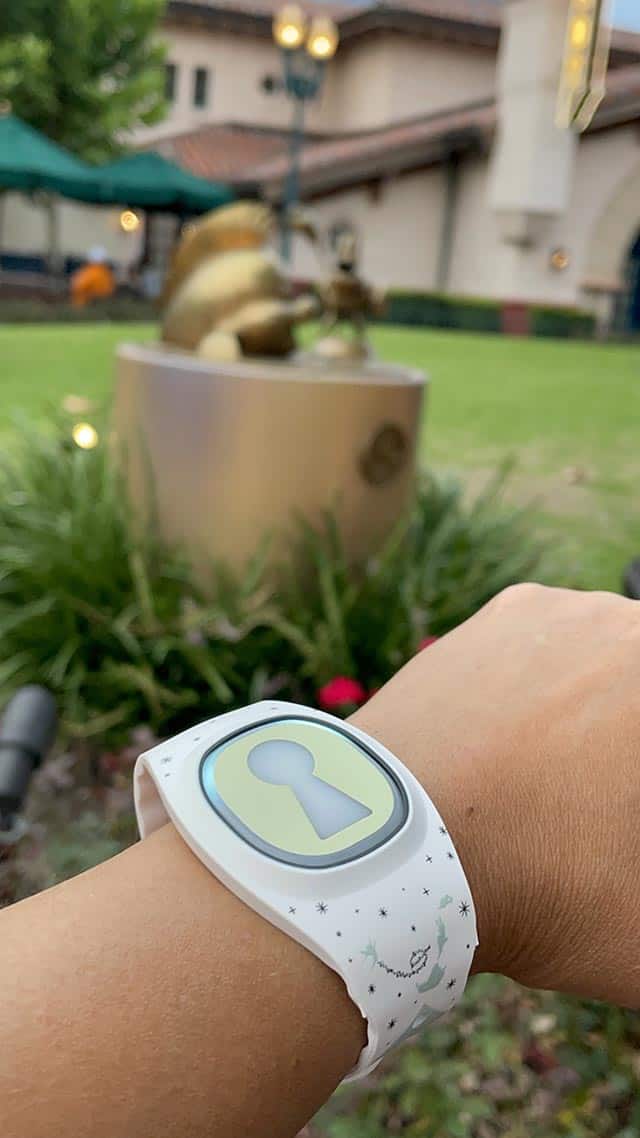 Are they worth all of the hype that was brought with their release? I suppose that depends on what you expect to do with them. If you do not plan on interacting with any of the statues or playing any of the games, then I would say they are definitely not worth it. The regular MagicBands will do everything that a MagicBand+ will do with the exception of all of the interactions.
While seeing them light up during fireworks is fun, it's pretty easy to forget about it all together because you are focusing more on the actual fireworks in front of you. The same goes for having them in the parks. There were several times I completely forgot about it because our attention was simply towards something else. Plus, if you are like me, I really prefer to not play games on the app because they are just a drain on your phone battery.
Overall, I would recommend saving your money and spending it on something else like a character meal or maybe some other Enchanting Extra to do during your vacation. Not having a MagicBand+ definitely will not take anything away from your Disney World vacation, but it does have the potential to add some fun memories.
Have you purchased a MagicBand+? Do you think they are worth the high price or were you not impressed? Tell us about it in the comments below or on our Facebook page.