Are you wondering about taking the family to see Disney's Frozen musical? Check out our details on this show here.
Frozen Cut Short on Broadway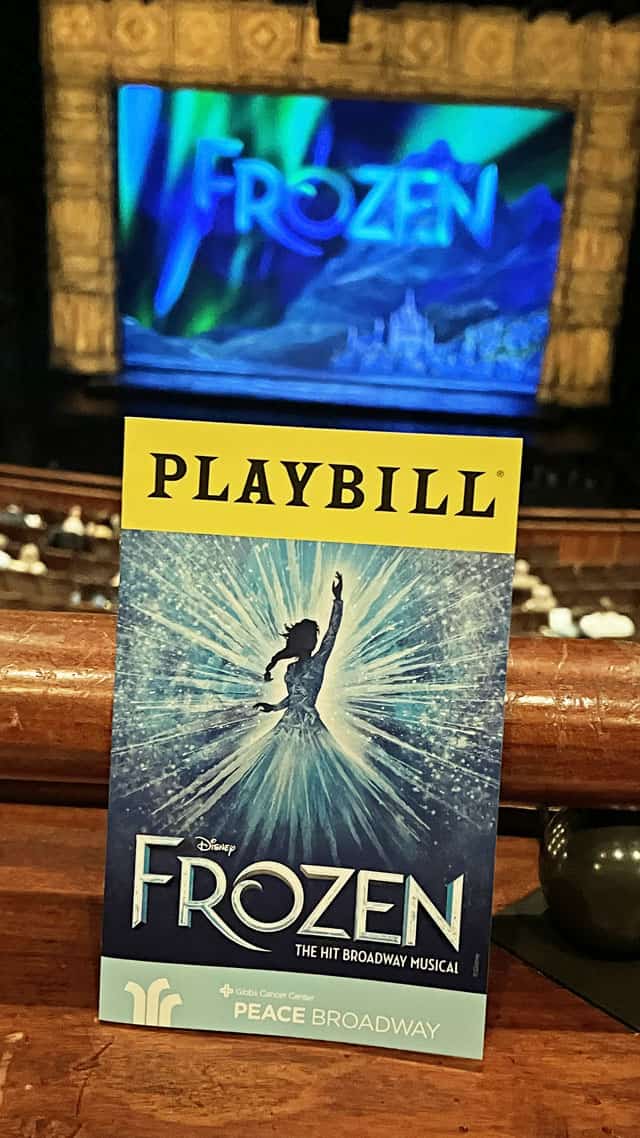 In 2020, Disney announced that musical production, Frozen, wouldn't return to Broadway. Many were disappointed with this news. However, Disney's Frozen Musical took it on the road touring beginning with the 2021-2022 season. This thrilled many Frozen fans who didn't get a chance to see it on Broadway, including me (Susan).
Purchasing Tickets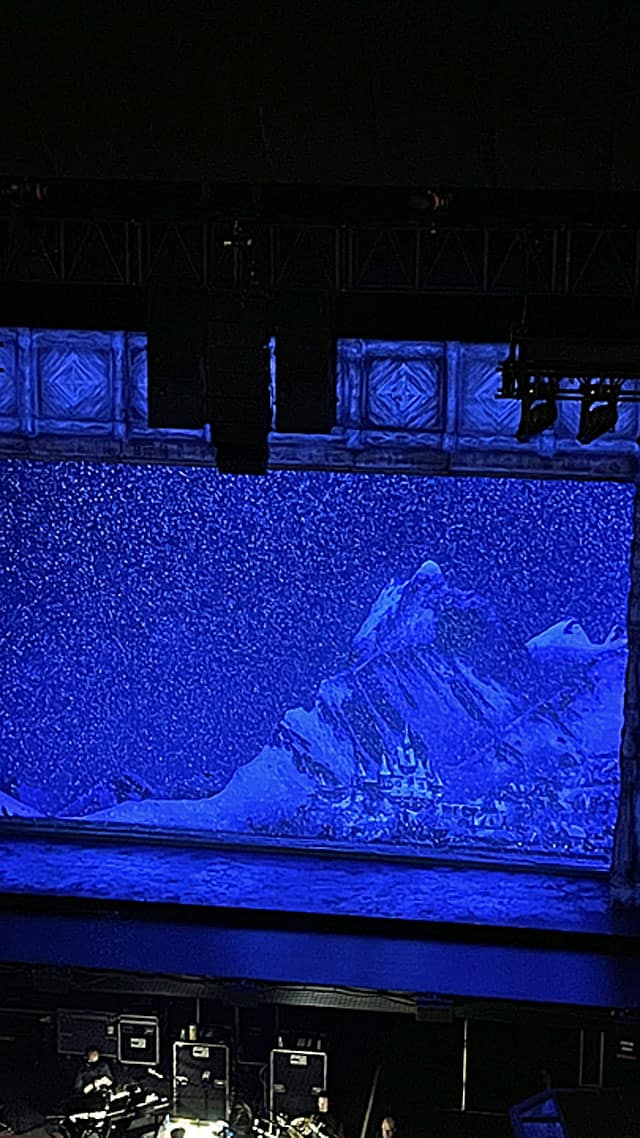 The official Disney the Musical tickets page has the most up-to-date information about the FROZEN tour. Also, you can register to receive email from Disney Theatrical Productions for advance notice when the show comes to your area.
This is an incredibly popular show so purchase tickets in advance to ensure the best seating locations. However, if you spot a show at the least minute, seats will be on sale until performance time, based on availability.
Ticket tip: Be sure to purchase tickets for this show and other Broadway shows either from the official FROZEN website or directly from your venue. If you purchase them from a ticket broker or any third party, there's no guarantee that the tickets are authentic.
In addition, the venue will be unable to reprint or replace lost or stolen tickets purchased from a third party and will be unable to contact guests with updates regarding the performance. When purchasing from my local venue, they can easily look them up and reprint tickets.
Be sure to purchase your tickets from your local venue or the official Frozen website.
Inspiration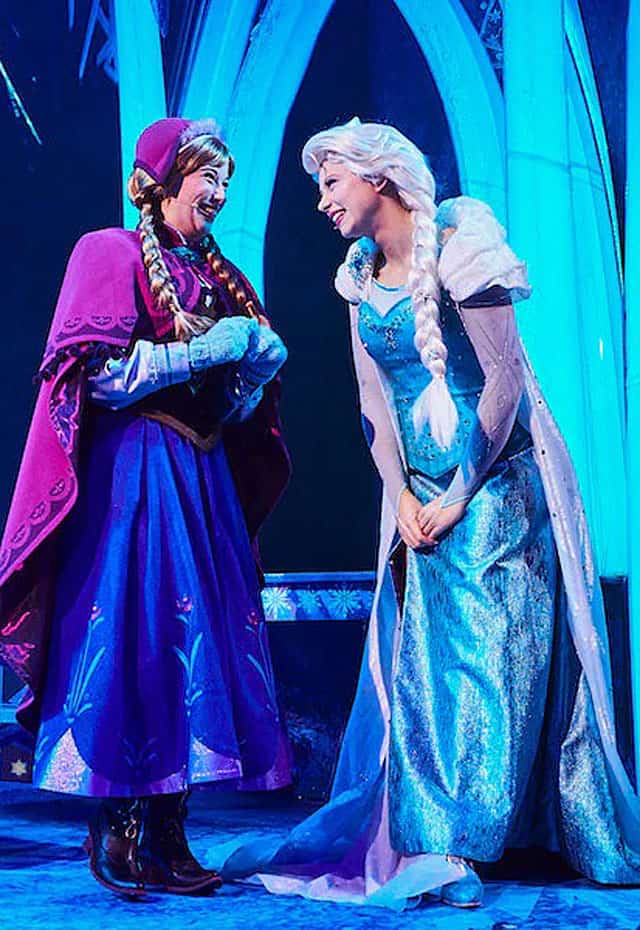 Frozen: The Broadway Musical is an adaptation of the beloved Disney movie family-friendly audience love. But, it's also a wonderful stand-alone musical with its own twist on the familiar story, still enchanting viewers with the heartwarming fairy tale of two sisters.
At the beginning of the show, the story was set in a tender way. It highlighted two child actors playing the young sisters and showcased each of their talents even at a young age.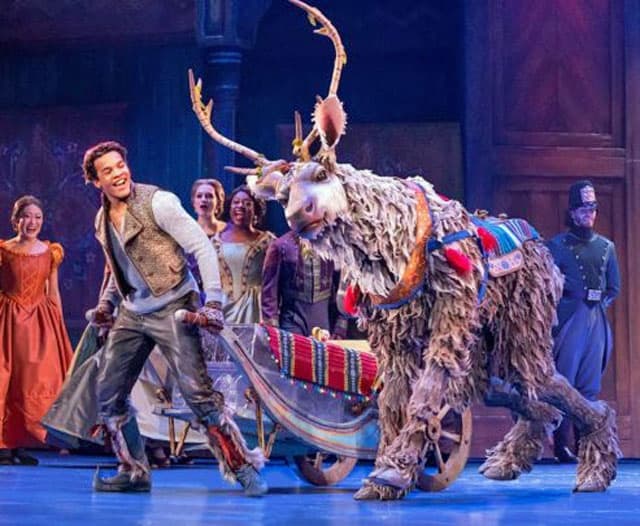 Then, the opening number reveals more about their family dynamics, compared to the movie. The key details added were about the death of their parents. It was cool that we learned a new backstory about the girls' mother. Like Elsa, Queen Iduna dealt with magic and the hidden people in her earlier years.
Another standout was the amazing ensemble members. They keep the show moving through large musical numbers and dancing with most of the company on stage. I (Susan) enjoyed this addition to the story instead of having a main character centered movie musical, bringing it alive on the stage. The ensemble shone throughout the show.
Music and Merchandise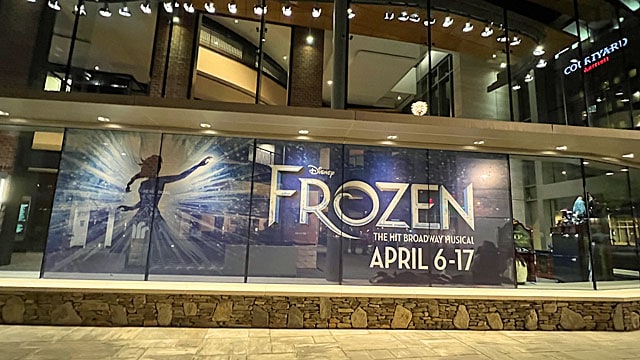 Enjoy the Original Broadway Cast Recording of FROZEN, now available to stream or download from iTunes and other music platforms. This album includes 12 brand new songs written just for the Broadway show as well as 7 songs from the film, including the Academy-Award winning "Let It Go."
Your little princesses will be singing along to their favorite tunes.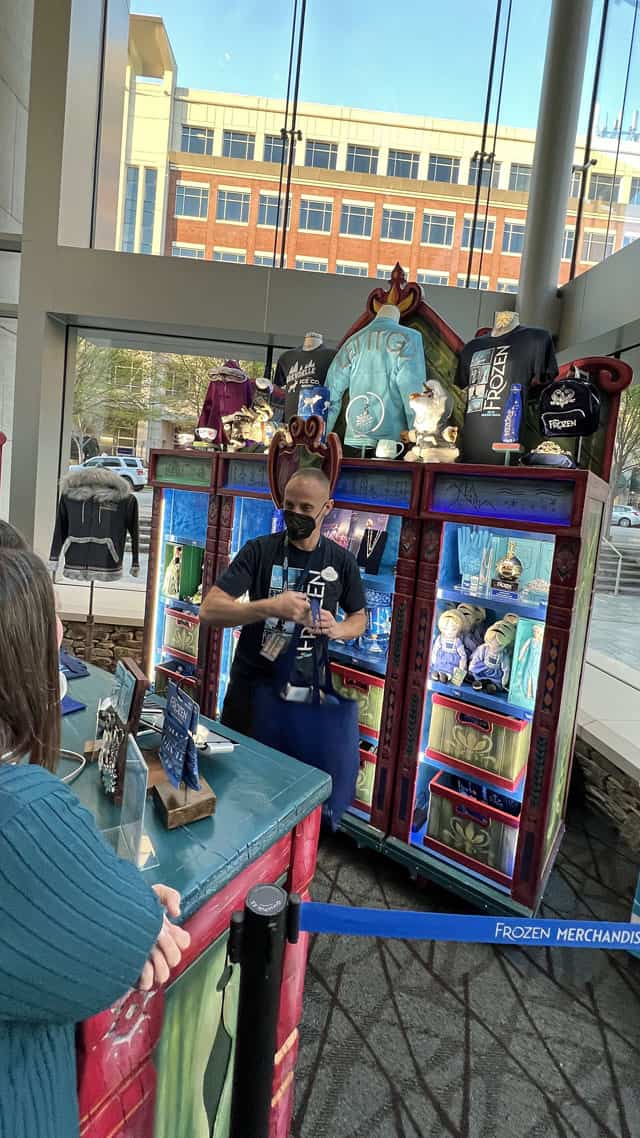 As with other Broadway shows, there's a large variety of Frozen merchandise available before, during intermission, and after the show. However, the merchandise lines can get long.
If you don't want to wait, you can also get official FROZEN merchandise online on the Frozen the Musical website.
Meeting the Cast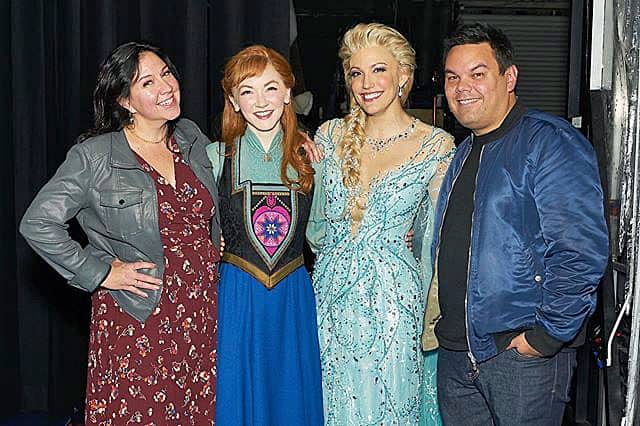 For many guests, part of the fun of going to a Broadway show is meeting members of the cast at the Stage Door. Following the performance, some actors from FROZEN may be available to sign autographs and sometimes even pose for photos. Ask an usher for directions to the Stage Door.
It's easier to meet the cast during evening performances. At our local theater, they do not meet guests after the show for the afternoon matinee.
Note: You can meet the cast at the stage door after most performances.
Thoughts on Frozen the Musical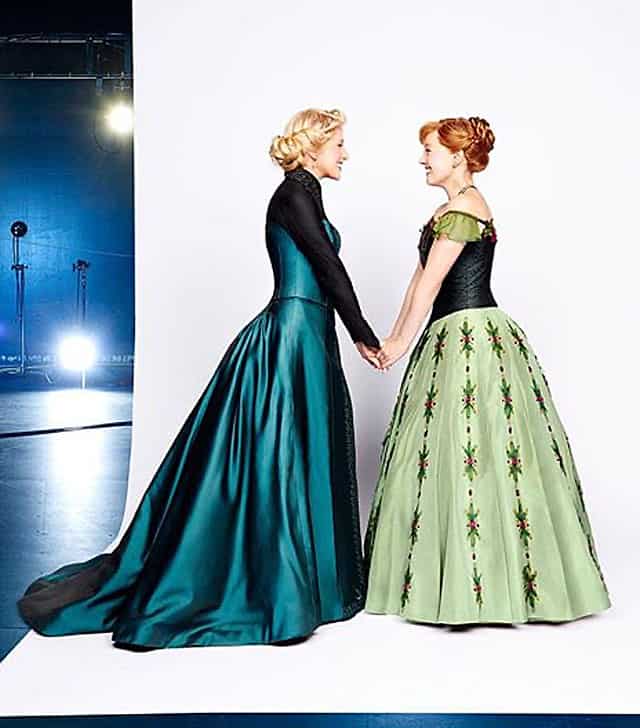 While Frozen didn't have the flash of Aladdin musical or the puppetry of the phenomenal Lion King musical production, this show is not to be missed! Frozen: the Musical stands out with wit, humor, and heart. The tale of two sisters is wonderfully developed. While I love the wildly popular "Let it Go" song performed by Elsa, Anna is the star of this show!
Frozen: the Musical is a must see show!
As with other musical productions, there is plenty of singing, dancing, and colorful backdrops. Another aspect of this show that stands out is the special effects. I won't share spoilers, but I'll just say Elsa has some magic up her sleeves. My sister, Pam, and I were pleasantly surprised at just how much we loved this show.
Olaf, Sven, and all of the other characters were so wonderful! We enjoyed each actor portrayal of our favorite Frozen friends.
Catch a Touring Show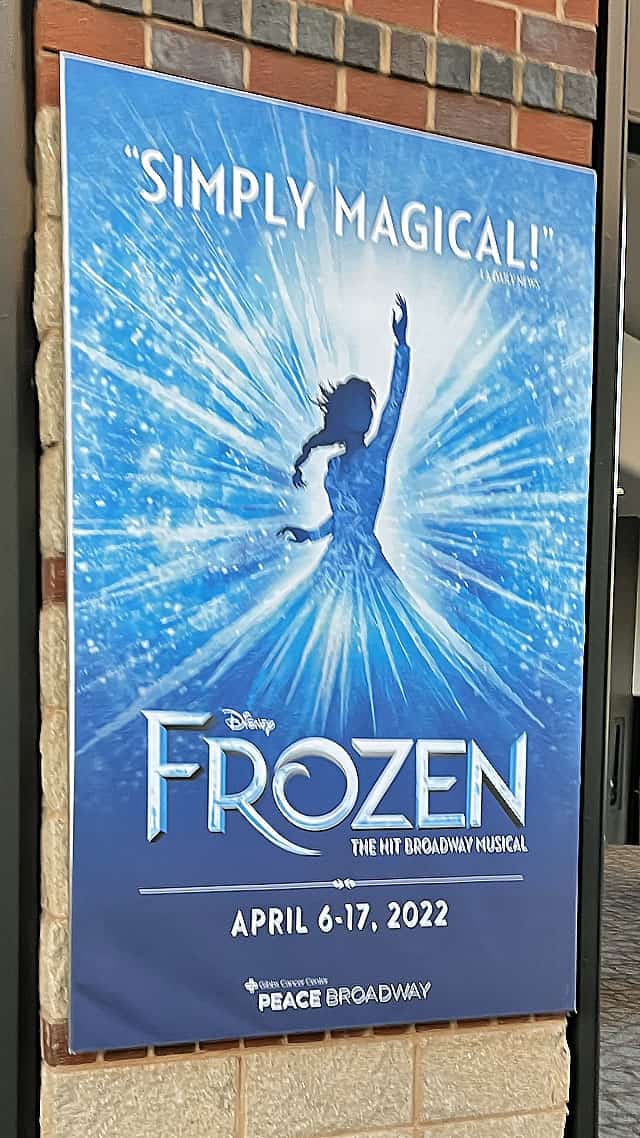 It's a show great for Frozen fans of all ages and is very kid-friendly. There were so many little Elsa and Anna's decked out to see the show. It was adorable! If you're thinking about seeing it, I hope you'll give it a chance and let us know what you think.
If you've been to Broadway musicals in New York City, then you know how beautiful and intimate these theaters are along with the top-notch talent. However, if you're wondering if touring shows are worth seeing, they definitely are!
Other Disney Broadway Musicals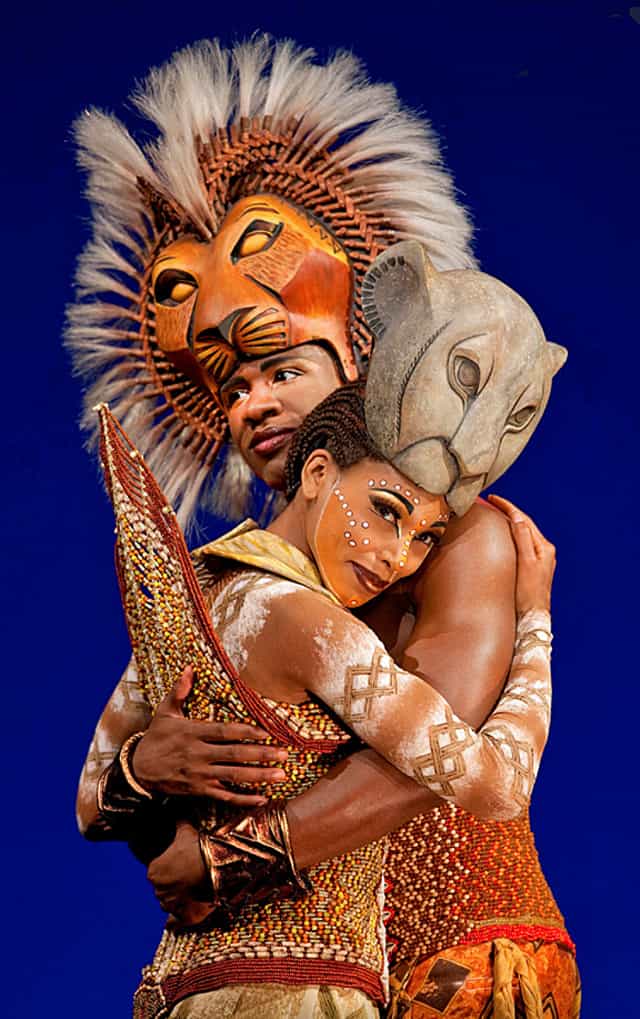 If you've seen the movie, you realize what a meaningful and yet sad story the the circle of life is. At an early age, Simba's father is killed in a tragedy orchestrated by Simba's evil uncle, Scar. After killing Simba's father, Scar takes over leadership of the pride.
A stage adaptation of the Academy Award-winning 1994 Disney film The Lion King is the story of a young lion prince living in the African Pride Lands.
Lion King boasts being the third longest running show on Broadway!
To read more about this wonderful show with the most amazing puppetry you've ever seen, read HERE.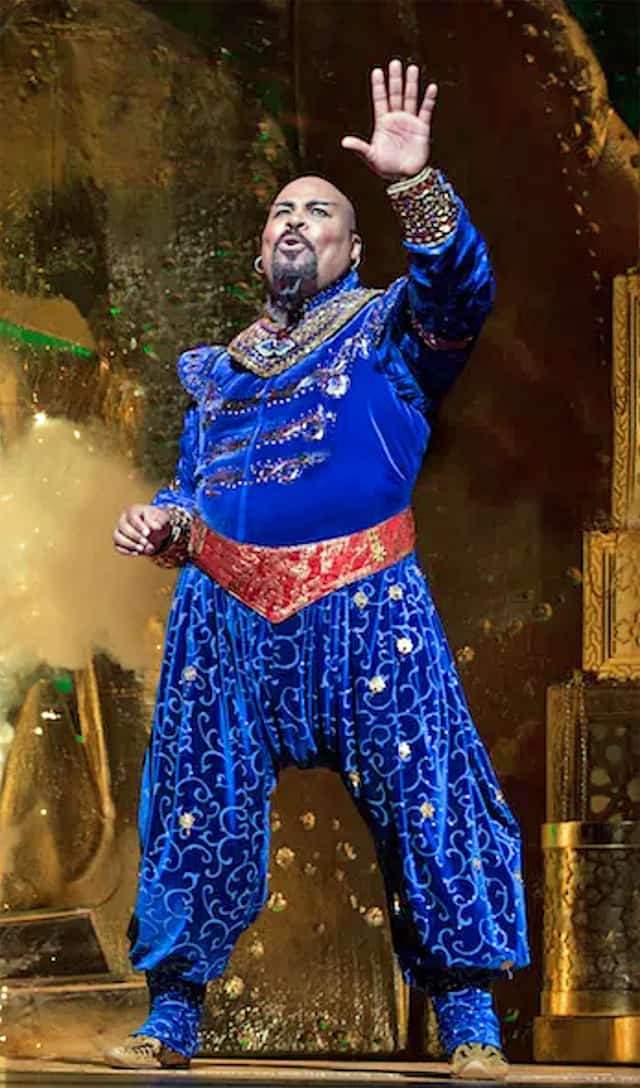 The Aladdin musical is based on the 1992 Oscar-winning animated film Aladdin. Aladdin the Broadway Musical officially opened on March 20, 2014. This wonderful production received 5 Tony Awards nominations in 2014. These nominations included Best Musical.
Aladdin is my favorite Disney musical ever, and a large part of that is the flamboyant Genie. James Monroe Iglehart, the original Broadway Genie, won best actor that year! To read more about the Aladdin Broadway (and touring) show, read HERE.
What do you think of Disney musicals? Do you try and see them all? Please let us know in the comments below and on Facebook.

Source: Frozenthemusical.com