Read more to learn about how you can get the perfect view for nightly fireworks!
Nighttime Spectaculars at Disney World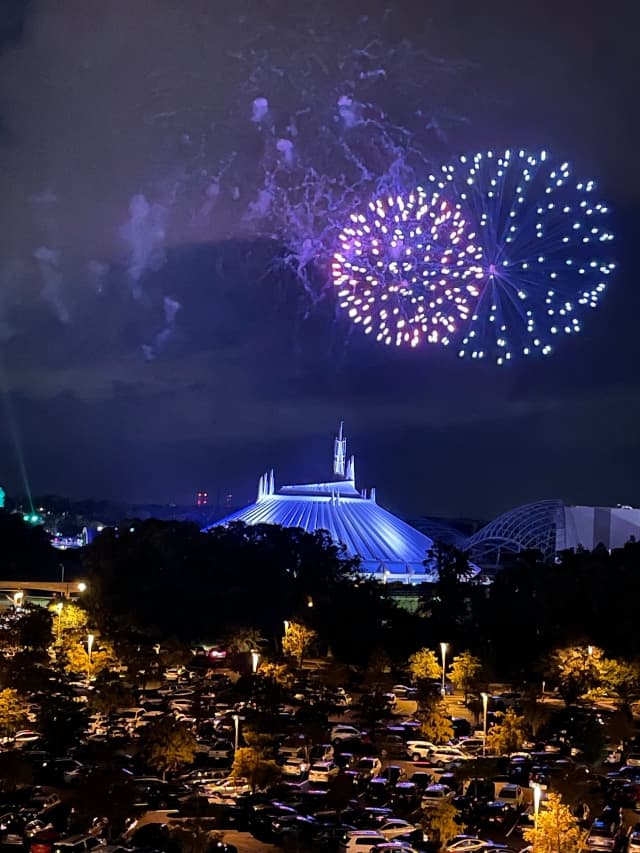 One of the most popular ways to end a great day at Walt Disney World is with a nighttime show. While there have been many changes to offerings over the past few years, these shows are still very popular and draw huge crowds!
Currently, guests can catch Disney Enchantment at the Magic Kingdom, Harmonious at EPCOT, and the Electrical Water Pageant at select resort locations on property.
As of this article's publishing, Tree of Life Awakenings, Fantasmic!, Star Wars: A Galactic Spectacular, and Once Upon a Time are listed as temporarily unavailable on Disney's website.
Viewing Locations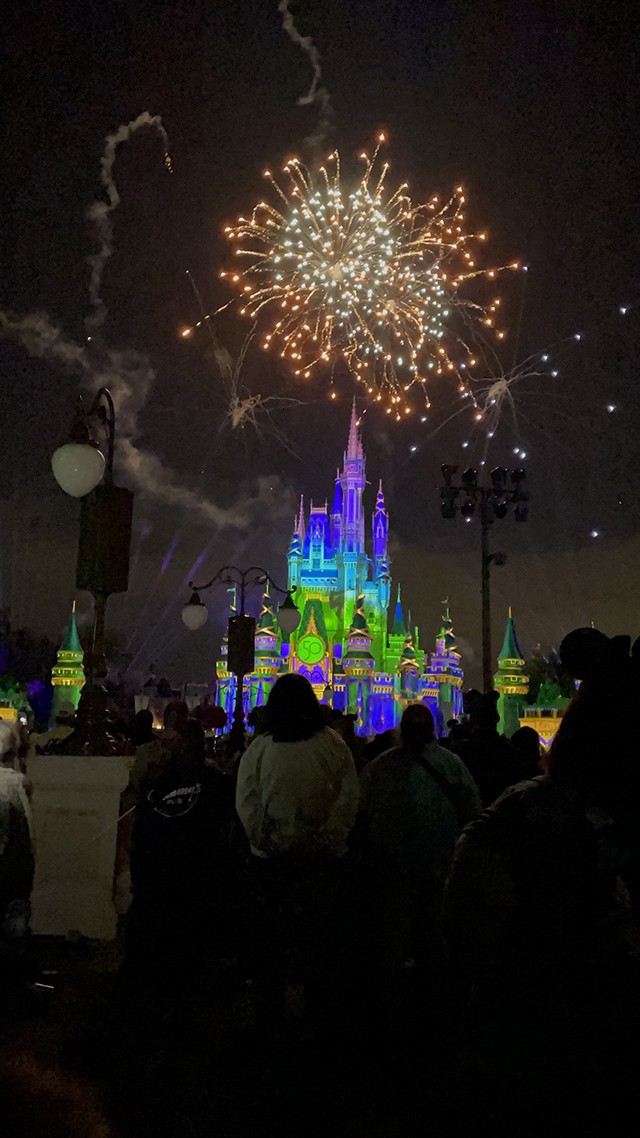 When planning to attend a nighttime spectacular, it is important to consider high quality viewing locations. A great viewing location for a show allows you to see all of the best elements: the fireworks, any projections, and any live performers or other stylistic elements of the show. A great view is also not obstructed by outside elements (trees, buildings, etc.) and is also not obstructed by large crowds of people.
Some of the best viewing locations fill up quickly and require guests to stake out their territory potentially hours before the show begins. Other view locations have premium price tags, as they are attached to a dining package or dessert party. While both options work for various touring groups and trips, it is even better when you can find a spot that requires little waiting time and has no premium price tag!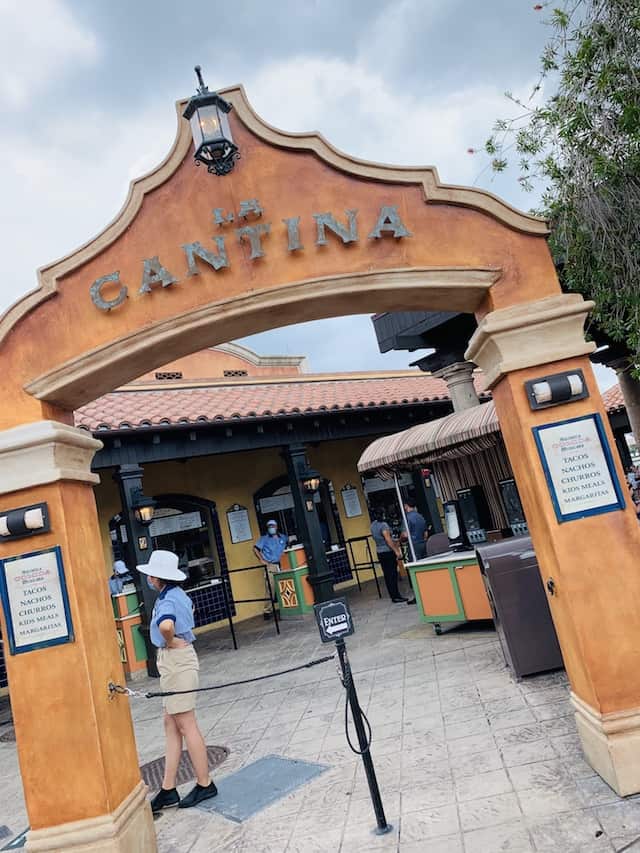 Overall, it is important to strike a balance between viewing experience and cost (time and/or monetary cost). On a recent Disney trip, I was able to strike the perfect balance between these two elements and found the perfect spot for viewing the HarmonioUS show: from the dining area of La Cantina de San Angel.
Location and Food Offerings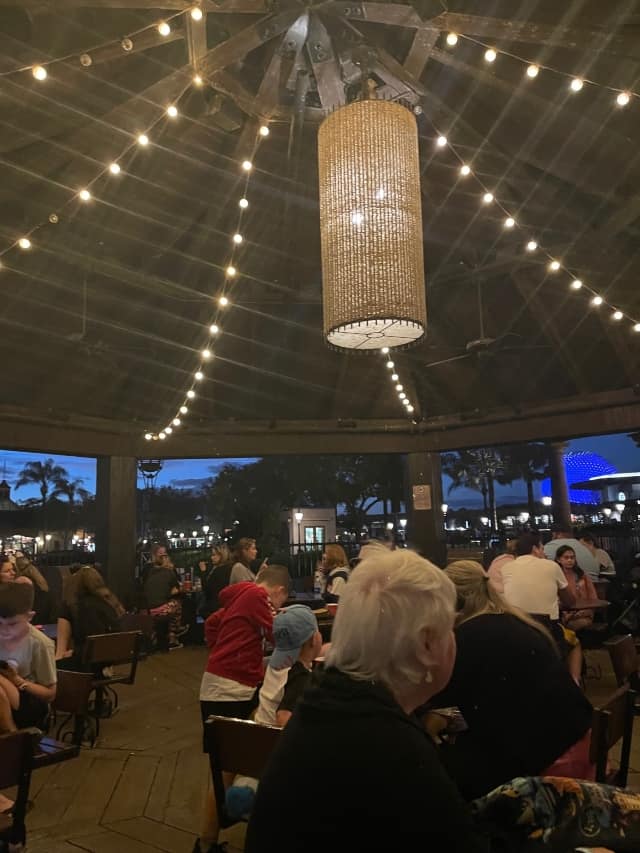 La Cantina de San Angel in is located in the Mexico Pavilion at EPCOT. Once you enter into Mexico, the restaurant is right on the World Showcase Lagoon. The restaurant serves authentic Mexican cuisine in a quick service style. Menu options include tacos, nachos, rice bowls, empanadas, churros, margaritas, and other delicious Mexican cuisine. The food prices are very affordable and portions are large!
Jamie previously wrote a fabulous and very comprehensive review of this restaurant, which you can read here. She covers many different menu options, options for eating locations, and the overall atmosphere and value of the restaurant.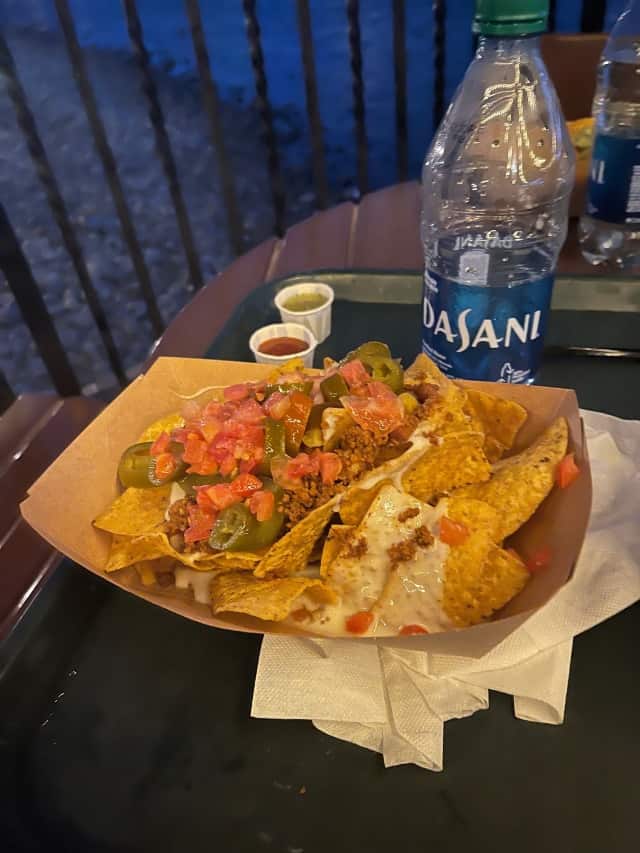 I ordered the beef nachos during my visit. This entree included tortilla chips topped with white nacho cheese, ground beef and beans, tomatoes, jalapenos, and sour cream for $14.25. Guests can add guacamole for $2.00.
Fireworks Experience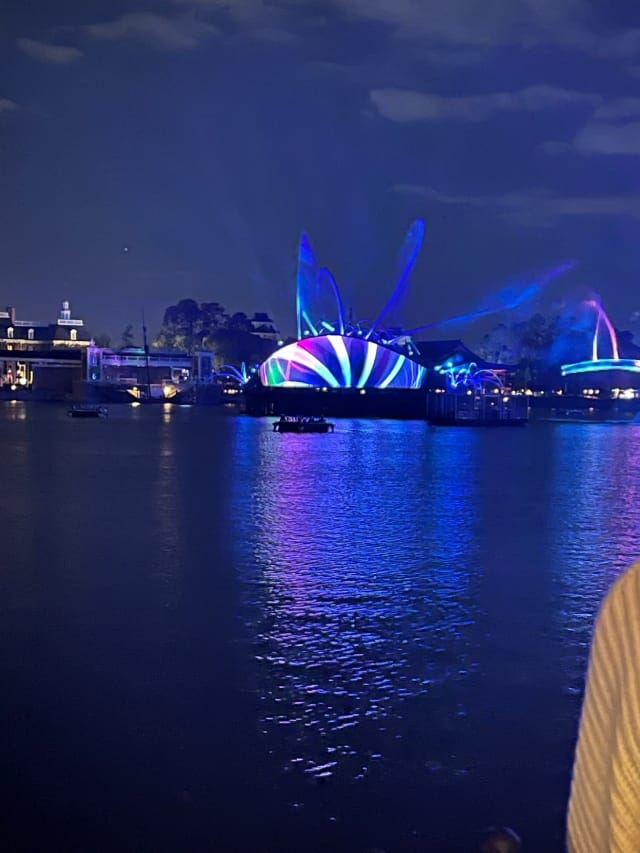 I visited during a particularly busy stretch of time over spring break season. My original plan was to try to get a Rose and Crown Fireworks dining package, but I was unable to snag this reservation as we planned a very last minute trip.
We decided that we still wanted to try to combine our dinner with fireworks viewing. After doing some research and after reading Jamie's article, I decided that La Cantina de San Angel might be a perfect spot for viewing HarmonioUS. Particularly, I knew that if we were able to grab a table on the edge of the water, we'd have a great shot and viewing the fireworks and projections on the barges.
The fireworks were scheduled for 9 p.m. We got in line for our food at La Cantina around 7:30 p.m. My sister grabbed a table right by the water when she saw it come available while my mom and I ordered and waited for our food.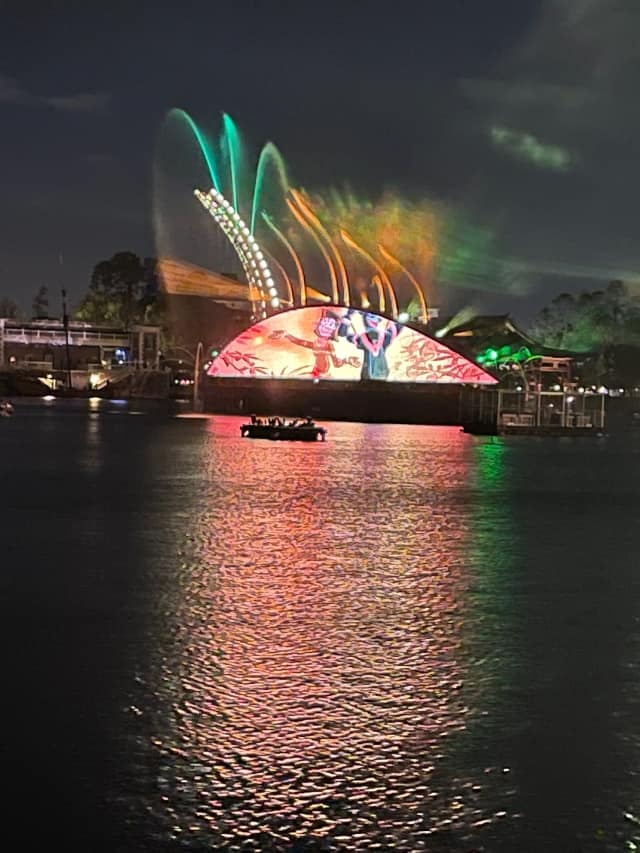 My nachos were good, but I wouldn't say that they were the best food from the Mexico Pavilion I experienced that particular day. The meal, however, was very affordable and filling.
As the time got closer and closer to 9 p.m., it started to get more crowded in our area. While we could have remained seated at our table and had a perfect view of the show, a large student group arrived right before 9 and started to line up standing near the edge. We decided to stand by our table and had a perfect view that cost us nothing except for the cost of our meal!
Final Tips and Tricks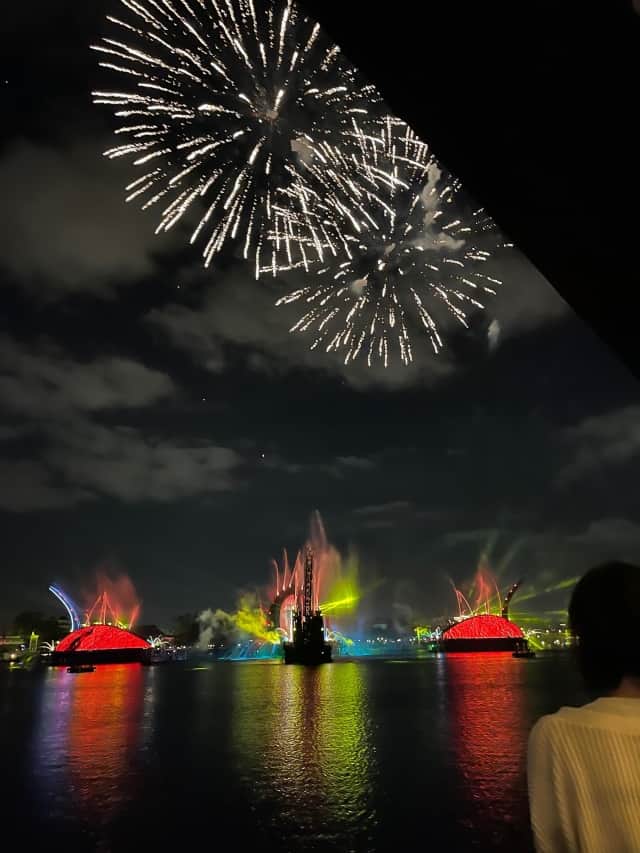 Ultimately, I would recommend checking out La Cantina de San Angel as a great viewing location for the HarmonioUS fireworks. While it required about an hour and a half of our time to find our table and save our place until the beginning of the show, much of that time was filled with eating, which we would need to be doing anyway.
I would strongly recommend showing up at least an hour and a half in advance, as this area does get crowded and tables fill up quickly closer to the start of the fireworks. Grabbing a table right by the water's edge is most ideal just in case you need to stand like we did because the space is getting very crowded.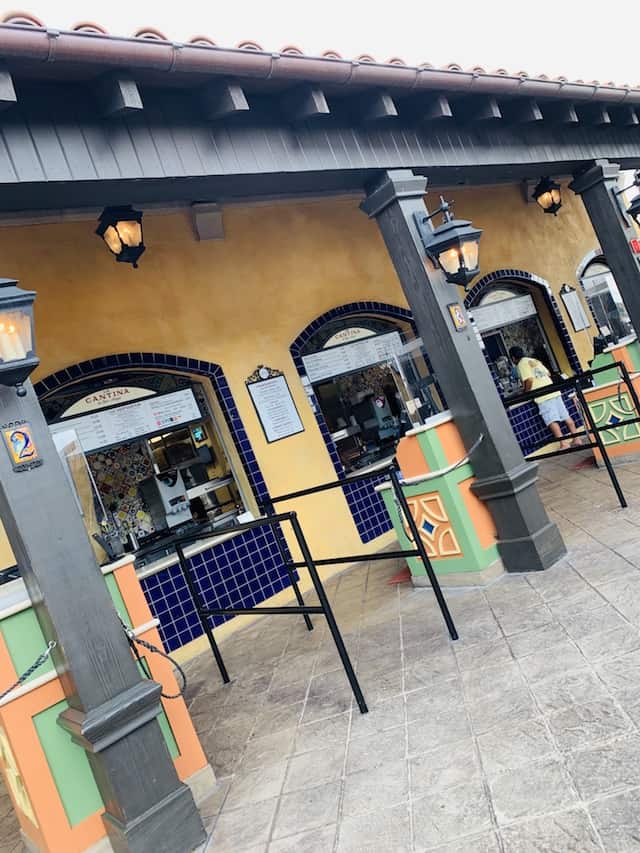 Because this space does require a time sacrifice in exchange for a "free" perfect viewing spot, I would consider waiting this long only if the conditions were right for my travel group. I likely would not have waited an hour and a half at a table with my small children. I also wouldn't wait if I had more attractions or food booths to accomplish on a short trip to EPCOT.
It is all about determining what your group personally needs and values most and going from there. For this particular trip, we valued a great fireworks spot and easily enjoy a leisurely paced meal.
Have you experienced La Cantina de San Angel during the HarmonioUS fireworks? What was your experience like? Do you enjoy the restaurant in general? Do you have any other favorite viewing locations or advice for catching the perfect view of HarmonioUS? Comment below or continue the conversation on our Facebook page.

Are you planning a vacation? Reach out to our trusted travel agency sponsor Authorized Disney Vacation Planner
Mouse Class Travel
!