Hungry and looking for a delicious meal? Look no further than this restaurant…no reservations needed!
Disney Dining Options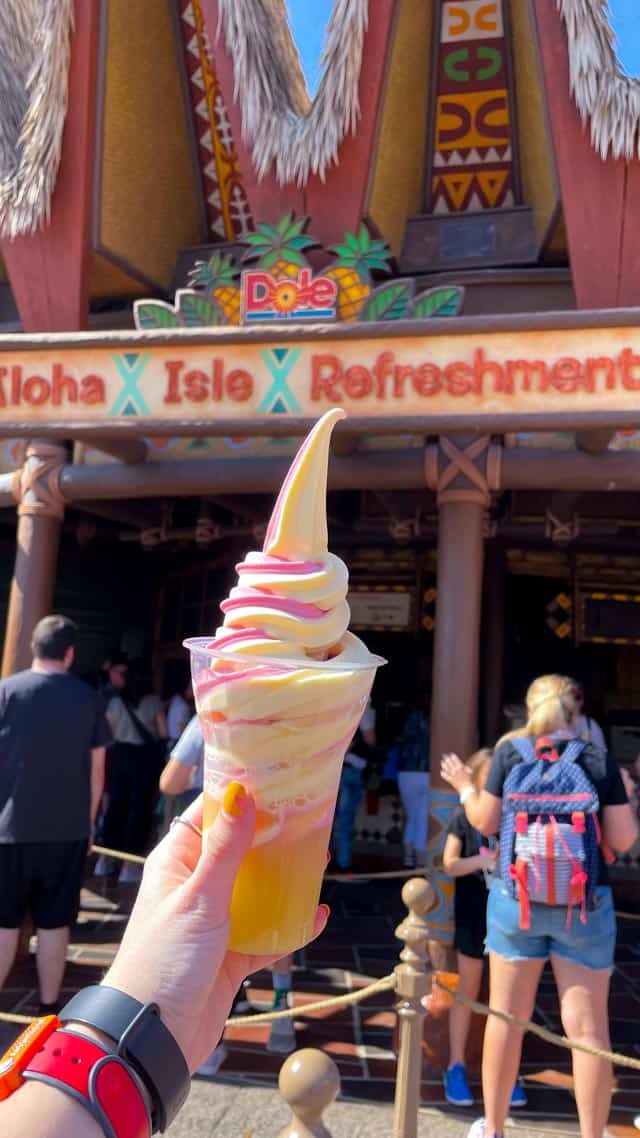 Disney fans know that one of the best parts of a trip to Disney World is planning out all of the meals and experiences! There are so many options for different personalities, tastes, and budgets.
Disney has three "categories" of dining: table service, quick service, and snacks. Snacks, like the classic Dole Whip or even many EPCOT festival items, are often found throughout the resort at food carts and other walk up locations. It is possible (and often suggested) to mobile order popular snacks, but it is also just as possible to walk up and order a snack on the spot. Snacks require very little planning at Disney.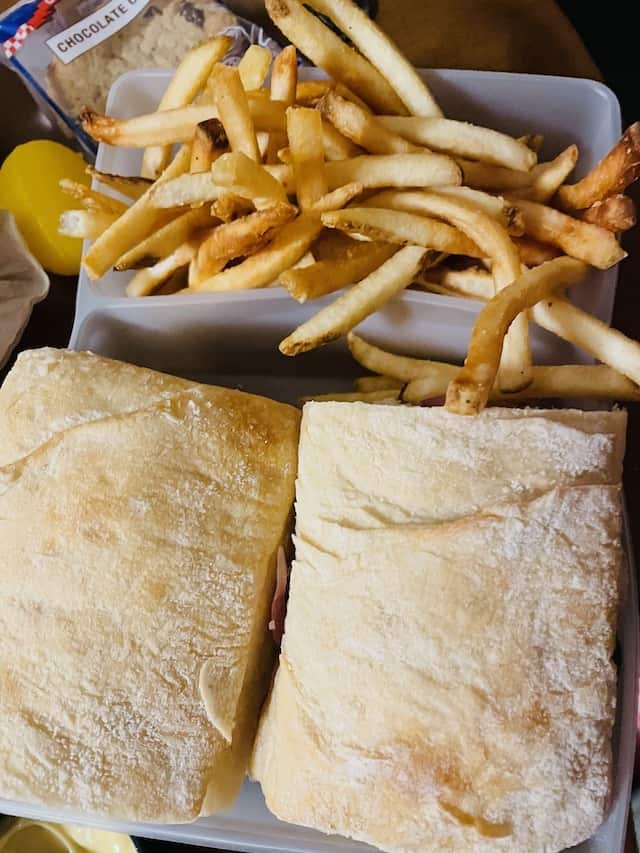 Quick service meals are similar to snacks in that they require very little planning but are more substantial than a snack. A corn dog nuggets meal at Casey's or a meal at EPCOT's newest offering, Connections Cafe and Eatery, fits this bill. Mobile ordering is more readily available for quick service and is strongly recommended, especially during busy days!
Finally, table service restaurants are sit down experiences that usually require an advanced dining reservation. Currently, advanced dining reservations open up 60 days prior to the intended arrival date. Guests of select resort hotels can book dining experiences for the length of their stay up to 10 days. Off-site and day guests must book 60 days prior through a day by day process. Reservations open up at approximately 6 a.m. every morning.
Disney Springs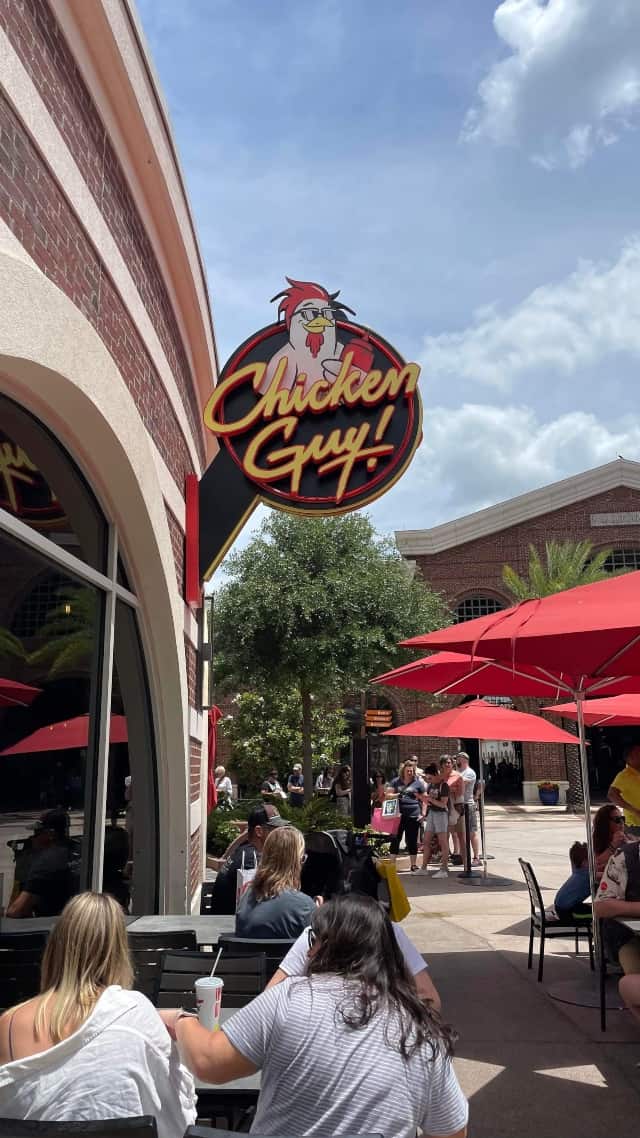 Disney Springs offers many great options for dining in all three dining categories. While I personally enjoy a table service meal, I very much appreciate the flexibility and ease provided by quick service. Sometimes it is difficult to plan every meal 60 days ahead and nice to build flexibility into a touring plan.
While there are so many great options at Disney Springs for quick service dining, by far my favorite quick service restaurant that requires no advanced reservations is Chicken Guy!
Chicken Guy! Location and Design
Chicken Guy! by famous chefs Guy Fieri and Robert Earl, is a franchise based restaurant located by Planet Hollywood in Disney Springs.
Offering both indoor and outdoor seating options, Chicken Guy! has a fresh design that will attract guests. Bright colors and fun chicken designs fill the interior of the restaurant. There is even a life-sized image of Guy Fieri himself holding a chicken near the counter!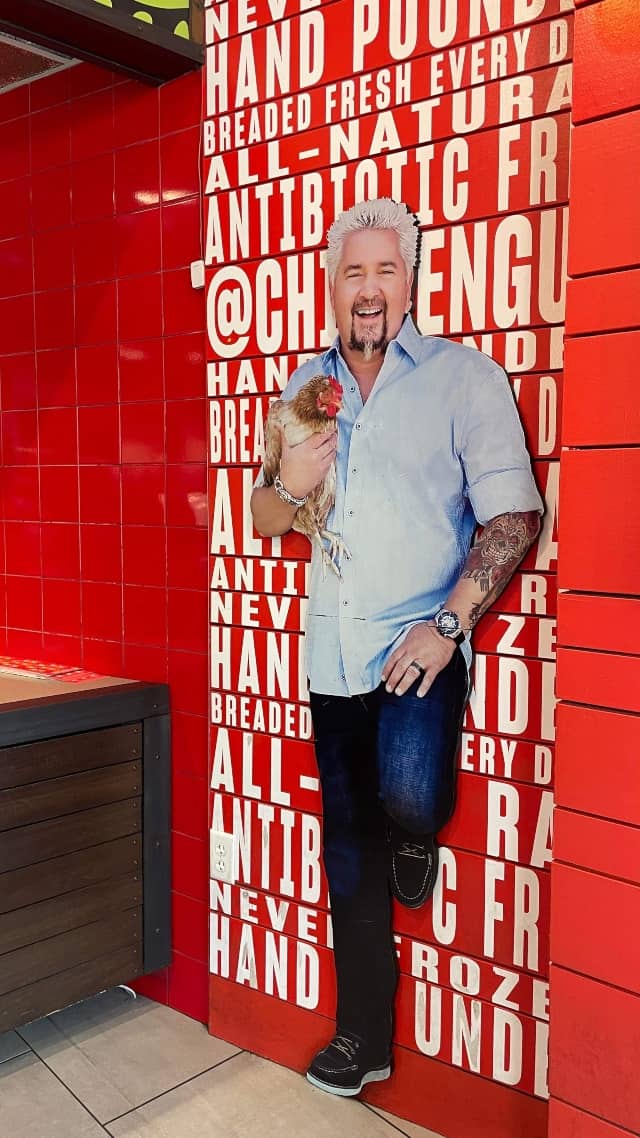 Seating options include booths, tables, and tall tables/individual bar seats that look out onto the patio. While the design is fresh and fun, the overall space is a little small inside. This quick service restaurant is frequently busy, so it is great that there are both indoor and outdoor seating options to maximize your ability to get a table.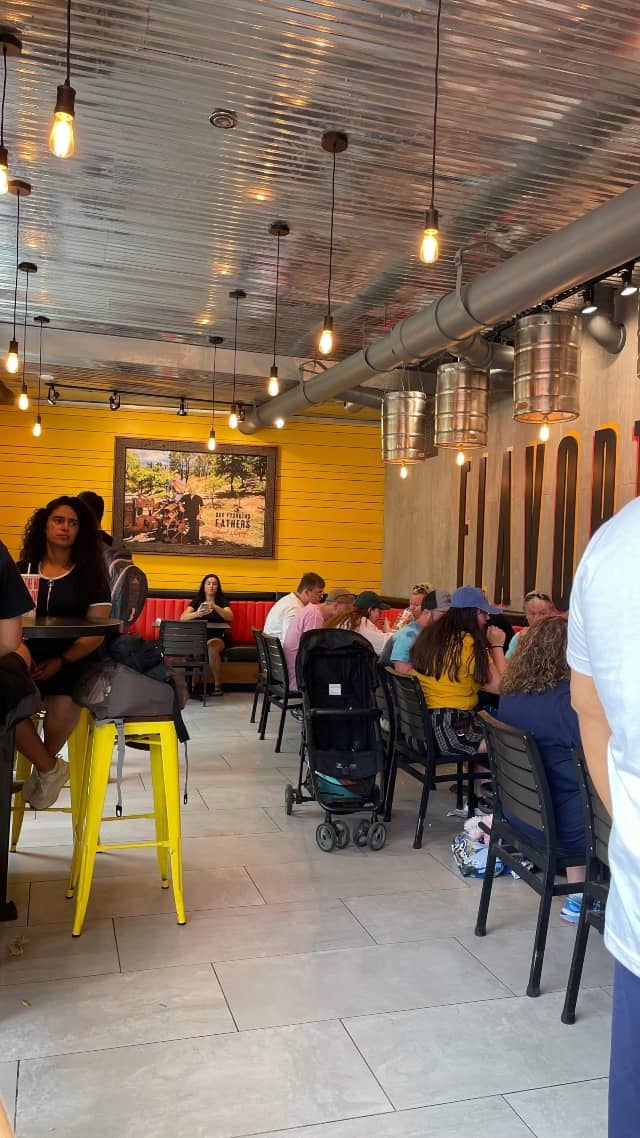 Restaurant Menu
As implied by the restaurant's name, the star of the menu is chicken! The menu is divided into three major categories for entrees: sandwiches, tenders, and salad bowls.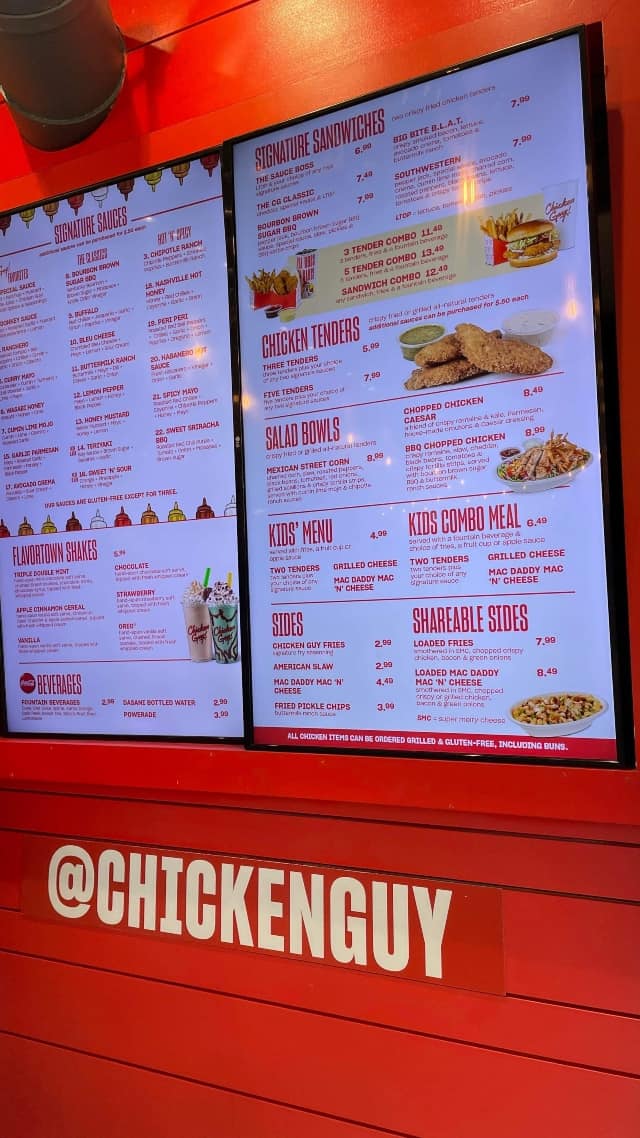 Sandwiches are created by placing two tenders on a bun with the following options offered:
The Sauce Boss- Lettuce, Tomato, Onion, and Pickle and your choice of any two signature sauces
The CG Classic- Cheddar, Special Sauce, and Lettuce, Tomato, Onion, and Pickle
Bourbon Brown Sugar BBQ- Pepper jack, bourbon brown sugar BBQ sauce, special sauce, onion, pickles, and BBQ chips
Big Bite B.L.A.T.- Crispy smoked bacon, lettuce, avocado crema, tomatoes, and buttermilk ranch
Southwestern- Pepper jack, special sauce, avocado crema, cumin lime marinated corn, roasted peppers, black beans, lettuce, tomatoes, and crispy tortilla strips.
Salad bowls can be made with crispy fried or grilled tenders and include:
Mexican Street Corn- charred corn, slaw, roasted peppers, black beans, tomatoes, red onions, grilled scallions and crispy torilla strips, served with cumin-lime mojo and chipotle ranch sauces
Chopped Chicken Caesar- a blend of crispy romaine and kale, Parmesan, house-made croutons & Caesar dressing
BBQ Chopped Chicken- crispy romaine, slaw, cheddar, black beans, tomatoes and crispy tortilla strips, served with bourbon brown sugar BBQ and buttermilk ranch sauces
The best item on the menu for me, however, is the classic tender option. Chicken tenders can be ordered in either a three tender size or five tender size. Each order includes your choice of any two signature sauces.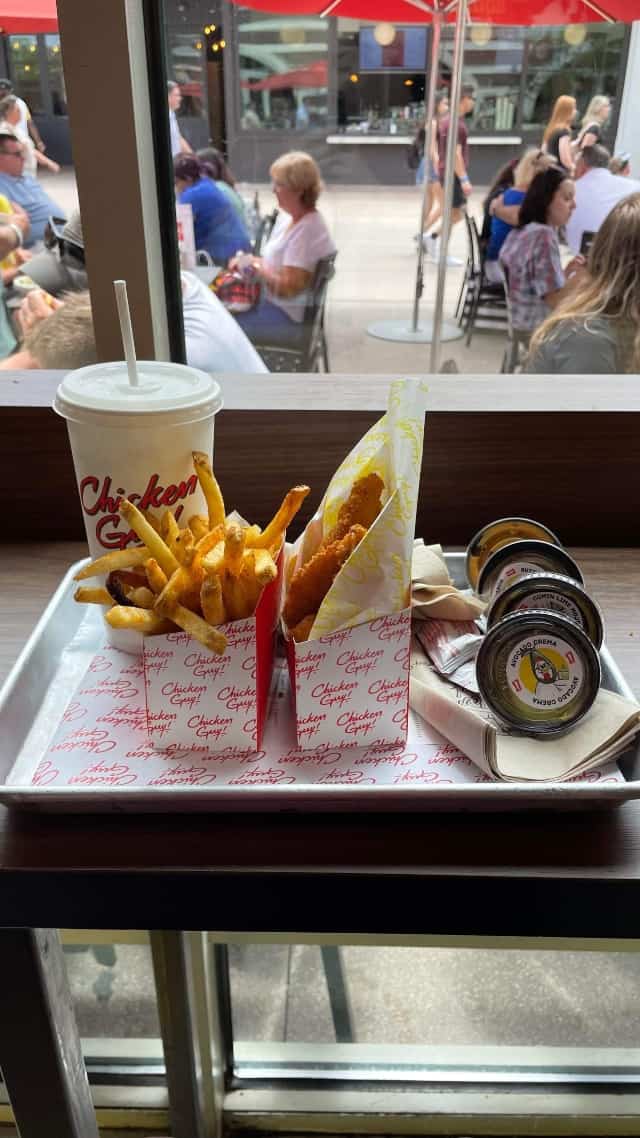 A kid's menu is offered with tenders, grilled cheese, and Mac and Cheese on the menu.
Sides include Chicken Guy fries with signature fry seasoning, American slaw, Mac Daddy Mac 'N Cheese, Fried Pickle Chips, Loaded Fries, and Loaded Mac Daddy Mac 'N Cheese.
Flavortown Shakes, Fountain Beverages, and Dasani Bottled Water are also available for purchase.
Signature Sauces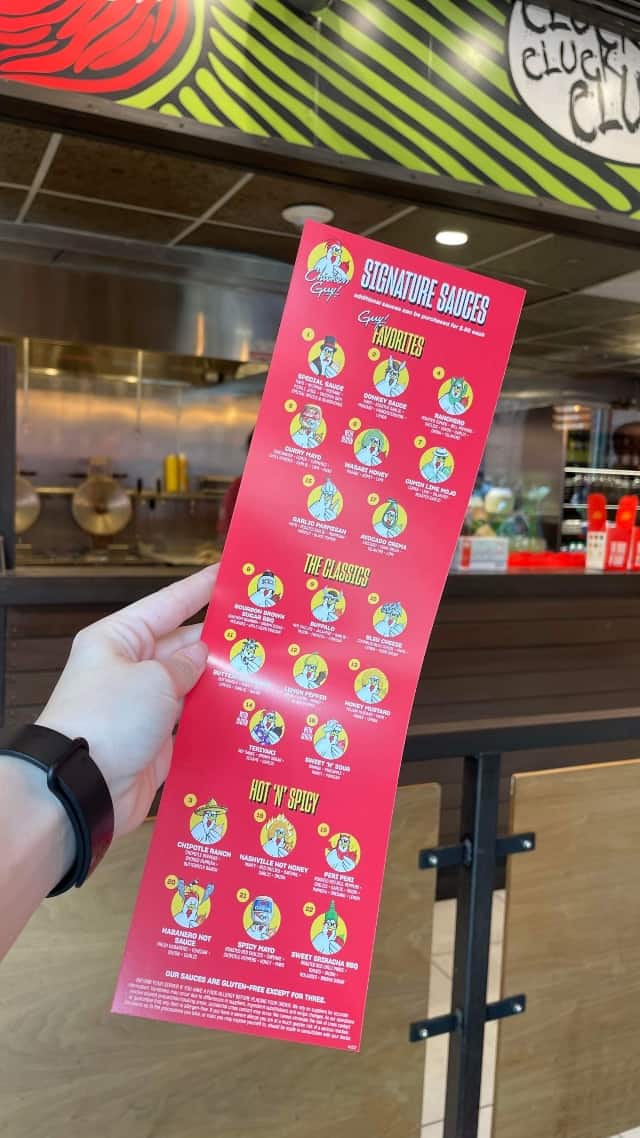 The best part of Chicken Guy! is the 22 signature sauces! I personally think that all of the food here is simply just a vehicle to deliver all of the delicious sauce.
Sauces are divided into three categories: Guy! Favorites, The Classics, and Hot 'N Spicy. They include:
Guy! Favorites:
Special Sauce
Donkey Sauce
Ranchero
Curry Mayo
Wasabi Honey
Cumin Lime Mojo
Garlic Parmesan
Avocado Crema
The Classics:
Bourbon Brown Sugar BBQ
Buffalo
Bleu Cheese
Buttermilk Ranch
Lemon Pepper
Honey Mustard
Teriyaki
Sweet 'N Sour
Hot 'N Spicy:
Chipotle Ranch
Nashville Hot Honey
Peri Peri
Habanero Hot Sauce
Spicy Mayo
Sweet Sriracha BBQ
Mobile Ordering Offered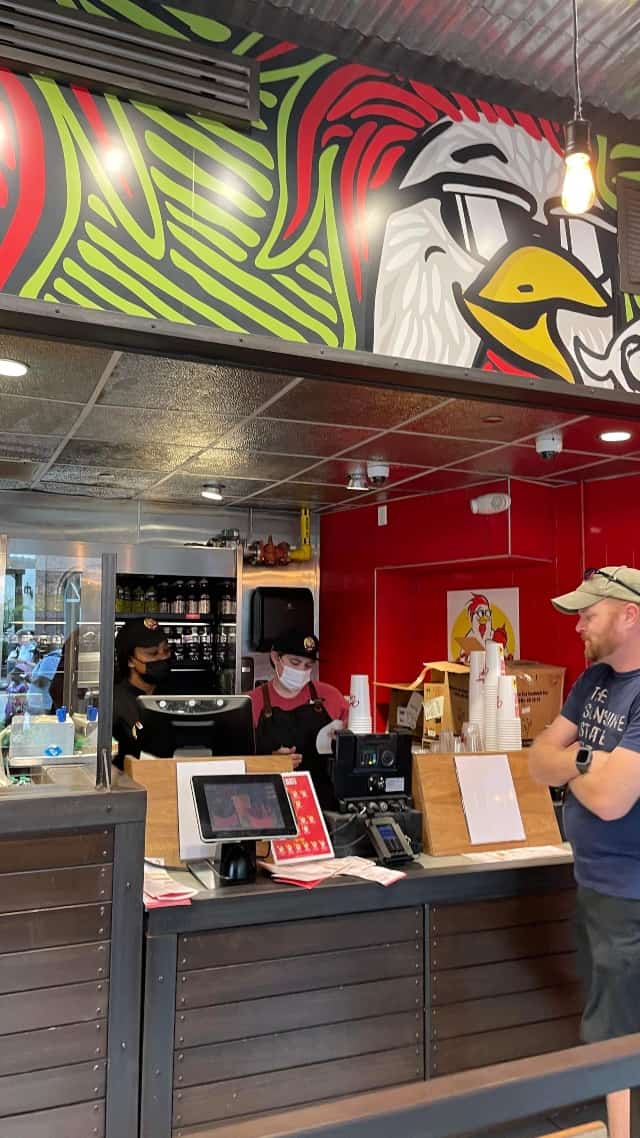 One of the best parts about Chicken Guy! is that you can mobile order your food! However, this is NOT done the traditional Disney way! You won't find the option to mobile order Chicken Guy! on the Disney app, but you will find it on the Chicken Guy! website. Search for Disney Springs on the Chicken Guy! website and choose order online.
We ordered our food through the website on a recent trip, and we were able to completely bypass the line that snaked outside and around the corner! While walk ups are definitely the norm, mobile ordering is quick and easy and we would highly recommend it!
Overall Experience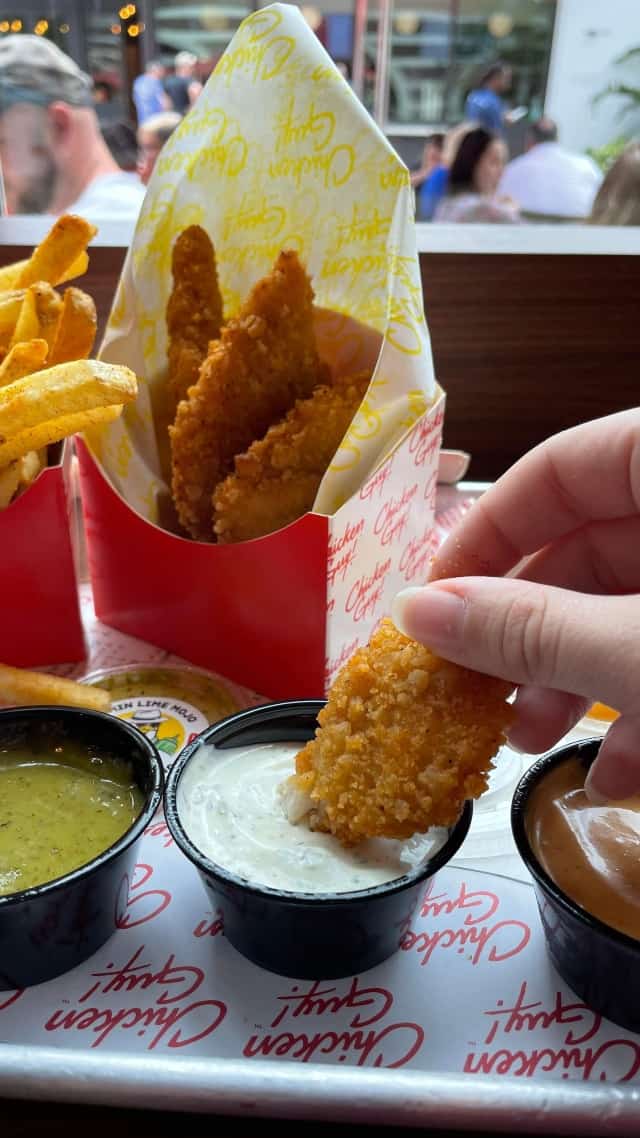 My experience at Chicken Guy! was stellar! I ordered the chicken tenders and fries (and as many sauces as humanly possible) and absolutely loved every bite. These are chicken tenders that I frequently think about in my non-Disney life. I would go out of my way to travel to Disney Springs just for Chicken Guy!
Put this restaurant on your must try list for your next trip to Disney. With no reservations needed, a no-fuss menu at affordable prices, and sauces that are out of this world, Chicken Guy! might be one of my favorite quick service options in all of Walt Disney World!
Have you tried Chicken Guy? What is your favorite sauce? Did you have a good experience at this restaurant? Comment below or on our Facebook page to continue this delicious conversation!

Are you planning a vacation? Reach out to our trusted travel agency sponsor Authorized Disney Vacation Planner
Mouse Class Travel
!