If you are looking for an enchanting and relaxing way to watch fireworks at Walt Disney World, you should definitely consider booking this experience!
Dessert and firework experiences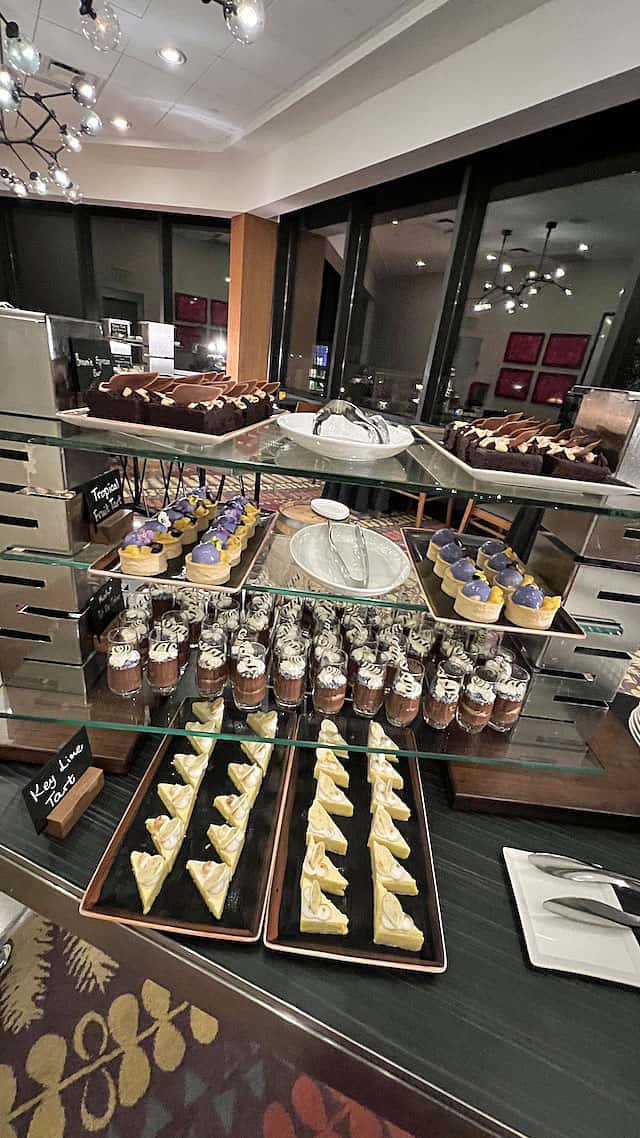 Walt Disney World has only a few dessert parties and firework experiences available right now. These are a terrific way to get away from the firework crowds and enjoy watching Disney's Enchantment or EPCOT's Harmonious in a reserved setting while also enjoying something to eat and drink.
Dessert and firework experiences at Walt Disney World include the following:
Resorts
Magic Kingdom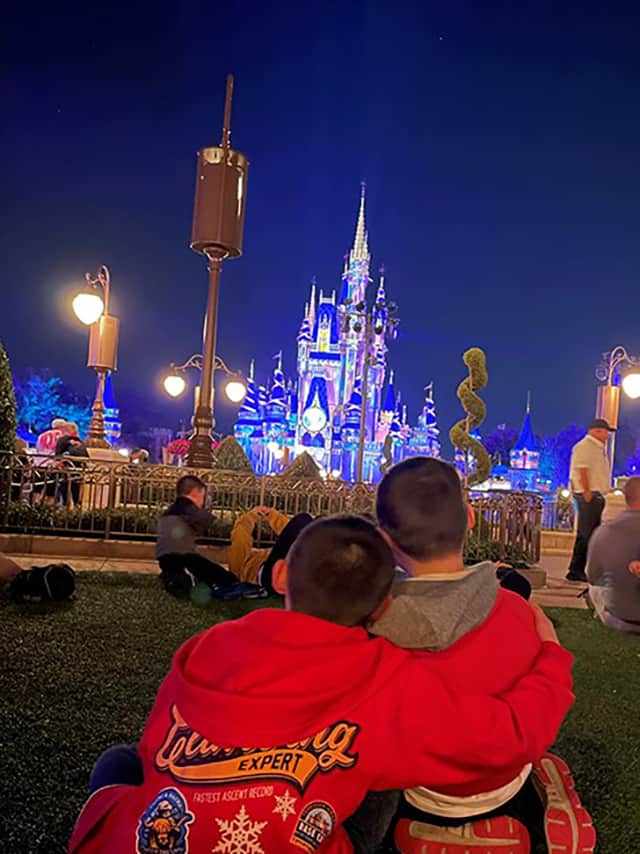 Ferrytale Fireworks: A Sparkling Dessert Cruise
Magic Kingdom 50th Fireworks Dessert Parties: Disney Enchantment Treats & Seats
EPCOT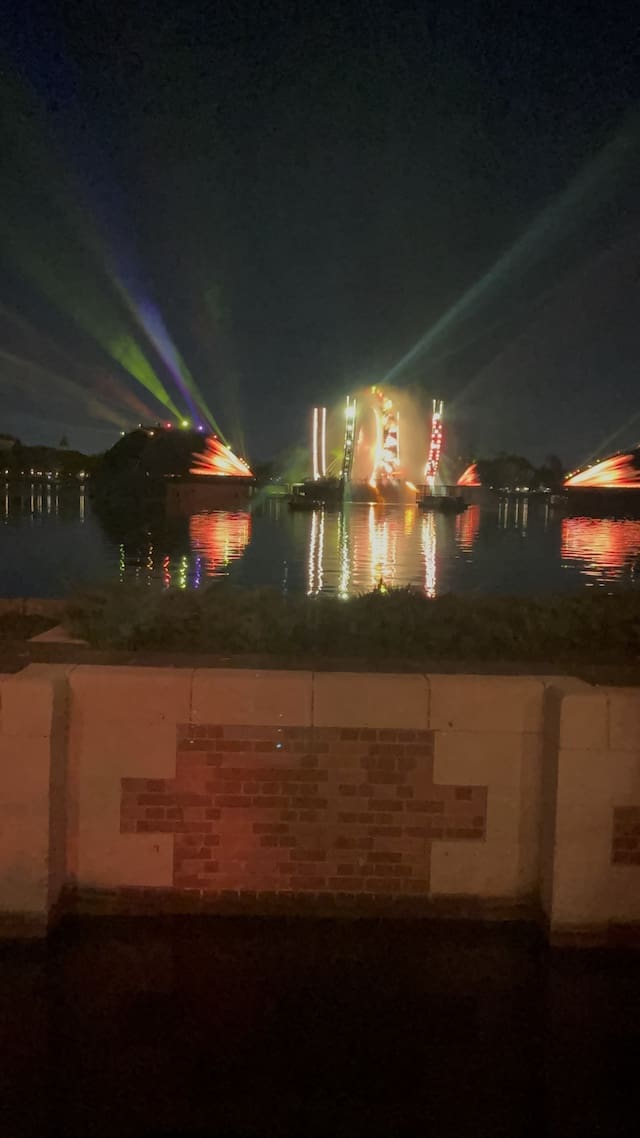 Spice Road Table Fireworks Dining Package
Noticeably absent from the above list are packages for Fantasmic and the Star Wars: A Galactic Spectacular over at Disney's Hollywood Studios. Neither of these shows have returned since the parks have reopened, and let's just say we need them back soon!
Ferrytale Fireworks: A Sparkling Dessert Cruise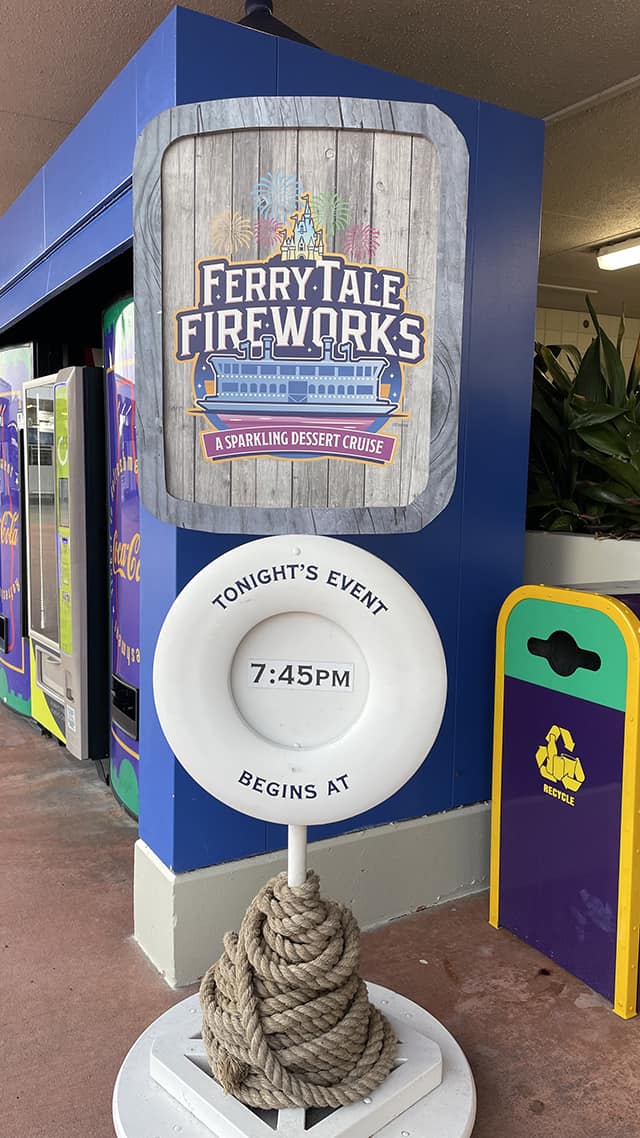 During a recent trip, I (Maggie) was delighted to attend Disney's Ferrytale Fireworks: A Sparkling Dessert Cruise. Here is why I think it is one of the best experiences available.
If you have children or enjoy being a kid yourself, I definitely recommend booking this experience!
Checking In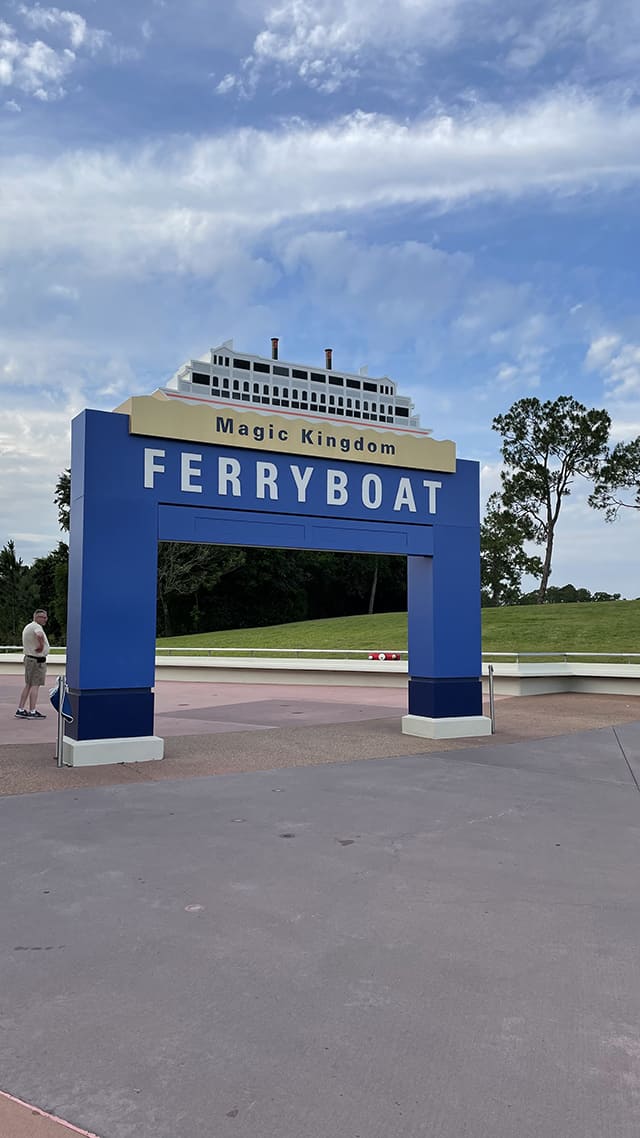 Check-in for this event is to the left of the Ferryboat launch at the Transportation and Ticket Center. According to Disney's description of the event, the boat sets sail 50 minutes prior to fireworks.
We checked in at 7:25 pm and Cast Members informed us that we would leave at 7:45 p.m. However, we actually did not leave until much later. Upon checking in, we received these lanyards indicating we were guests of the Ferrytale Cruise.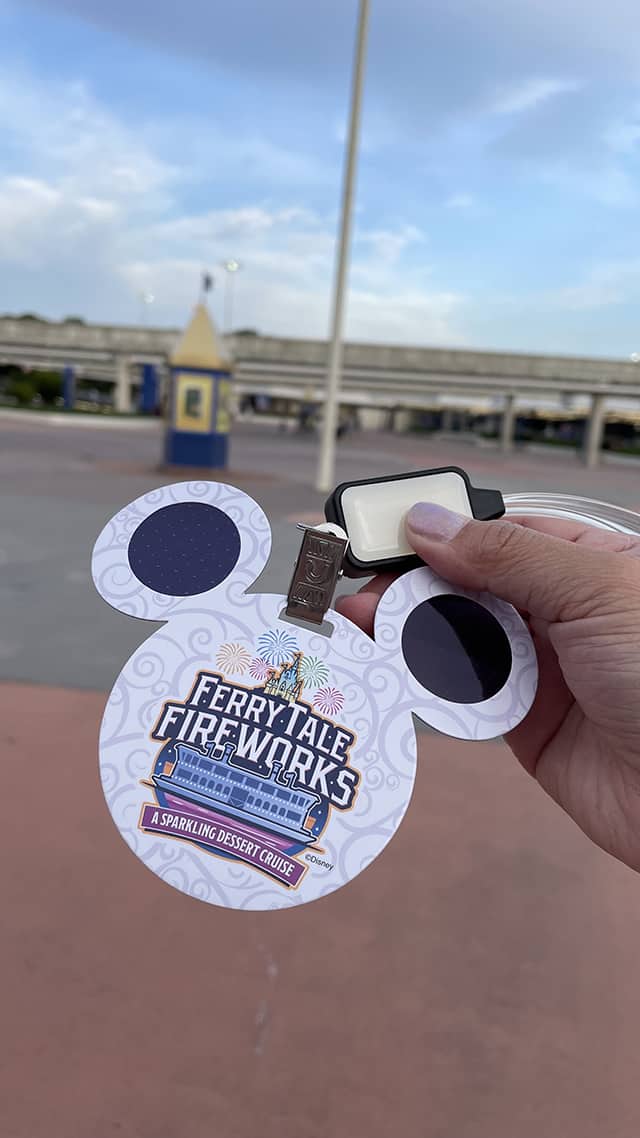 If you turn it over, you can see that this is not just an ordinary lanyard. Something magical happens when you look through the Mickey ears! 'Mickey Mouse will be in each burst of light, making the sky an enchanting sight!' This was such a fun addition and the lanyards also glow!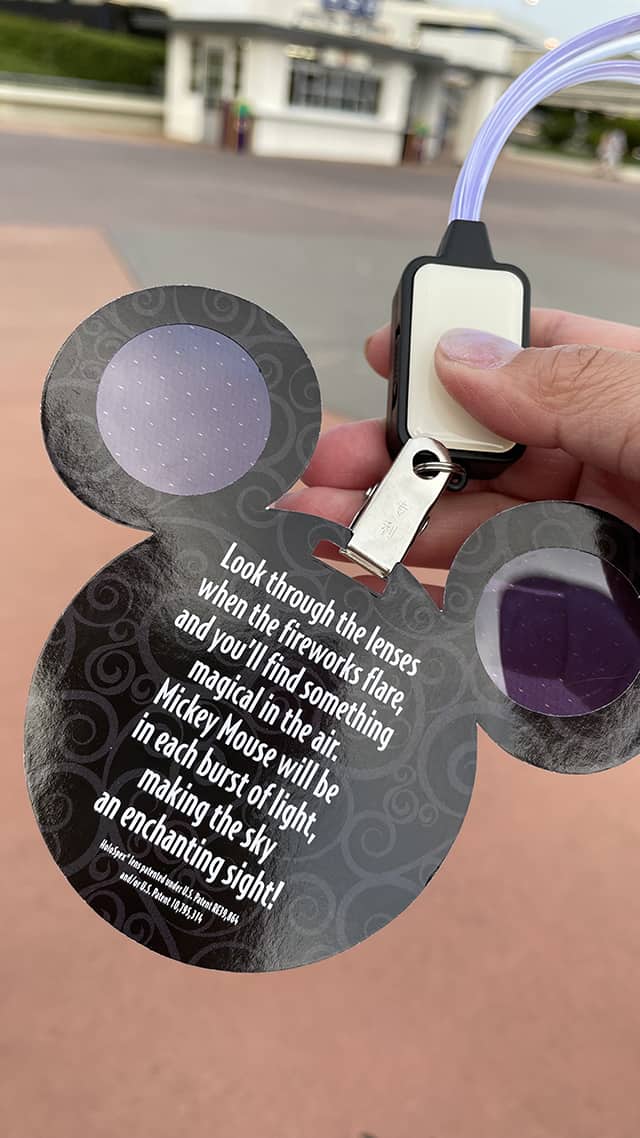 As we waited to board, we were told we could wait in the area pictured below. Restrooms are available here. Cast Members told us several times only one restroom is available once you board, so it's a good idea to use restrooms here prior to sailing.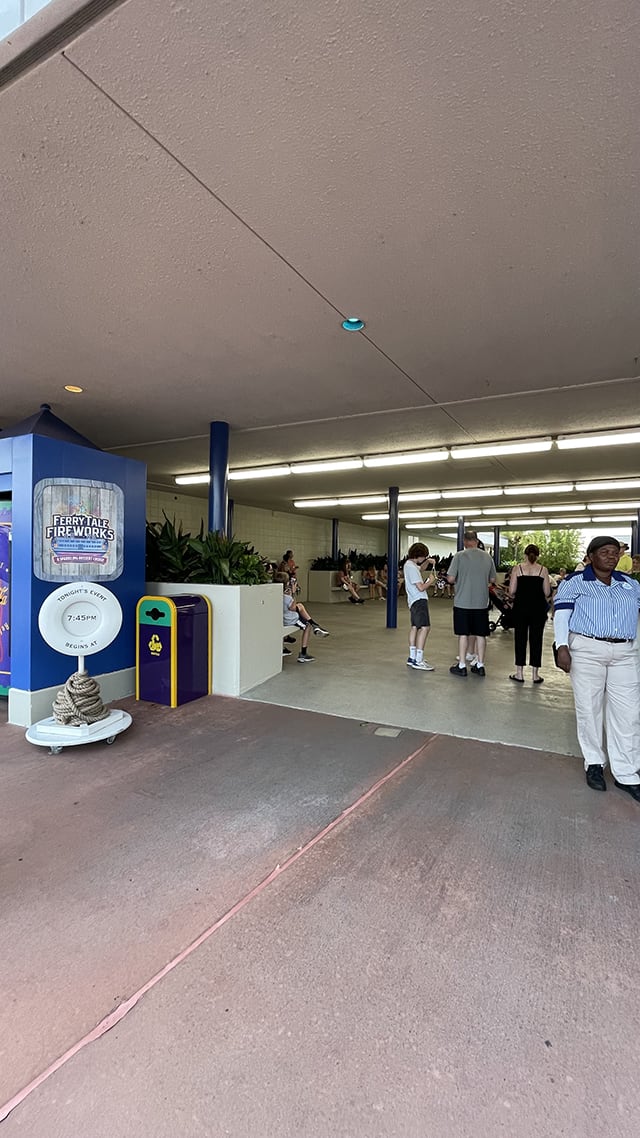 This waiting area became pretty full very quickly and, at times, felt rather crowded. Unless it is raining or really sunny, there is no real advantage to waiting in here. Feel free to step out and wait outside if you want some breathing space. Many people were trying to line up to be right behind the rope to be the first guests on the ferryboat. This is not necessary and there is no real advantage to being first in line.
Everyone is going on the same ferryboat. There is plenty of seating available on both levels, and when it comes down to it, once fireworks begin, mostly everyone is standing and looking out from the sides anyway.
Boarding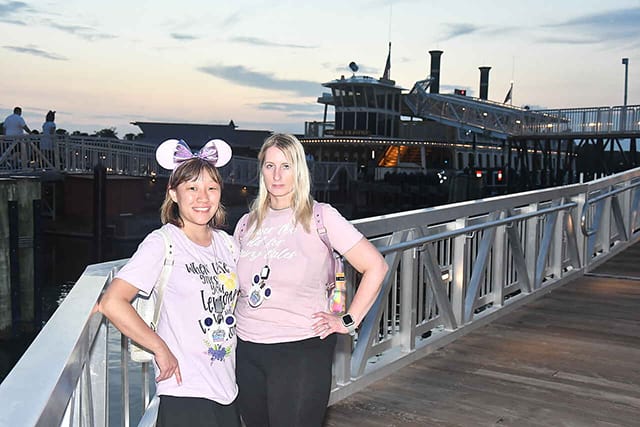 Even though it says the ferryboat will set sail at 7:45 pm, we actually did not board until almost 8:20 pm. This could possibly be due to the fact this is exactly one hour before Disney's Enchantment. Once the time for fireworks change, it could leave at 7:45 pm, so do keep this in mind.
Before going on the ferryboat, there is a PhotoPass photographer available if you choose to have a picture taken.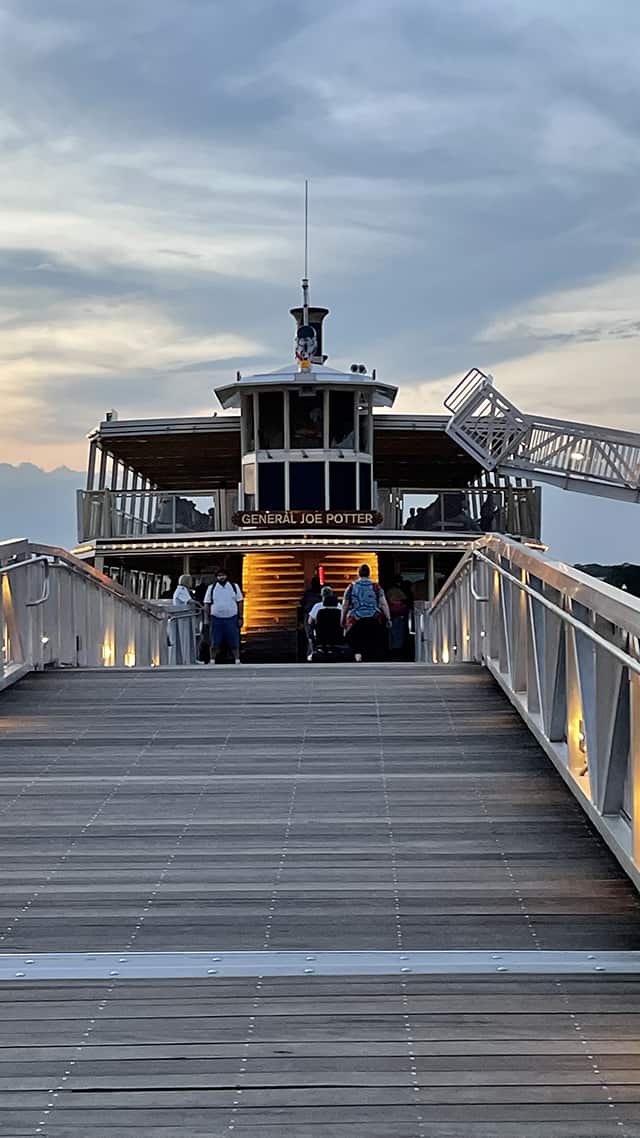 Guests are free to sit wherever they would like and can explore the ferryboat. A number of tables are located all around the ferryboat and there is a table for drinks along with a main table where you will find dessert and food. There are no seats at any tables, but plenty of seating on the ferryboat.
What is available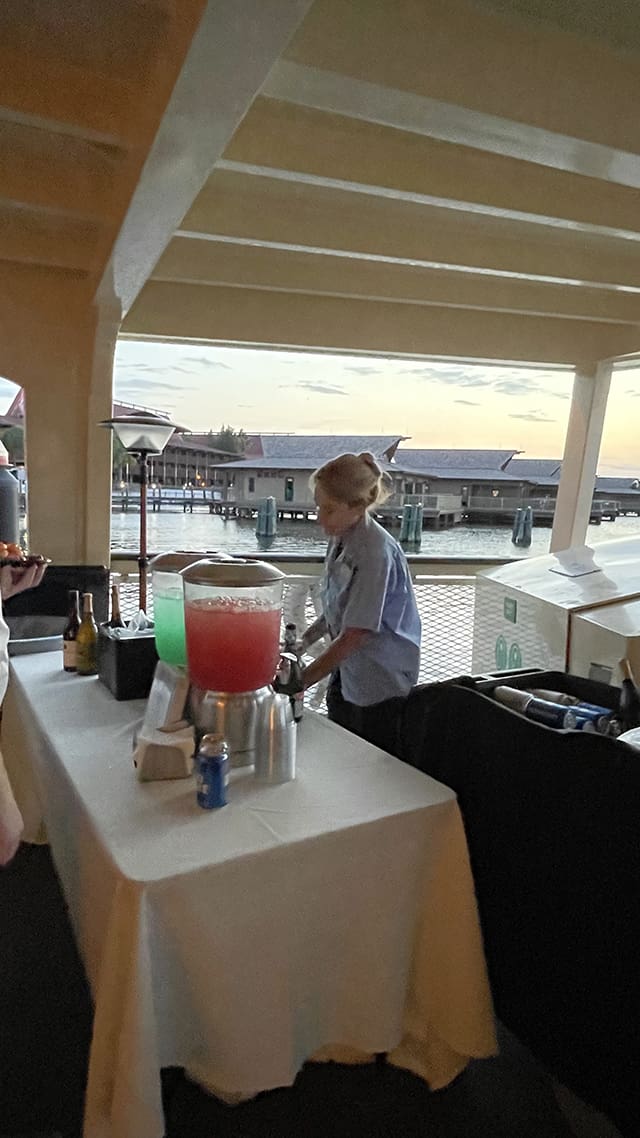 There are a variety of drinks available including beer, wine, fruit punches, water and coffee.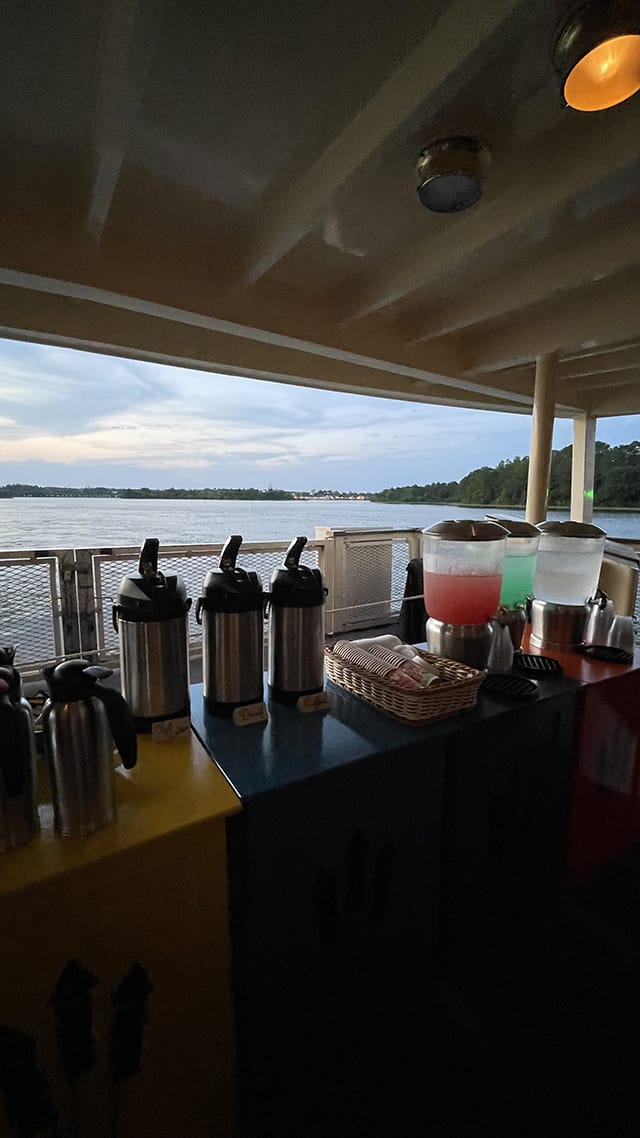 While not required, tipping is accepted and welcomed. One thing to keep in mind is gratuity is already included in the price for tickets to this event.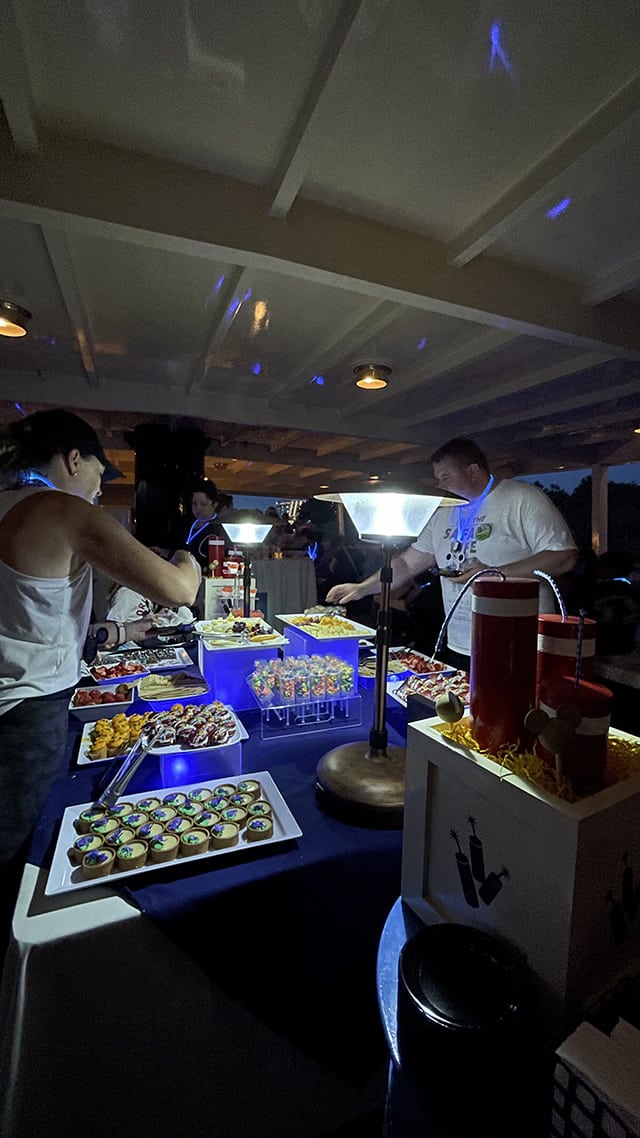 There is a wide variety of food and dessert available as you can see in the picture above. There is a table on both levels of the ferryboat and both have the same items, so you are not missing anything by not going to the other one.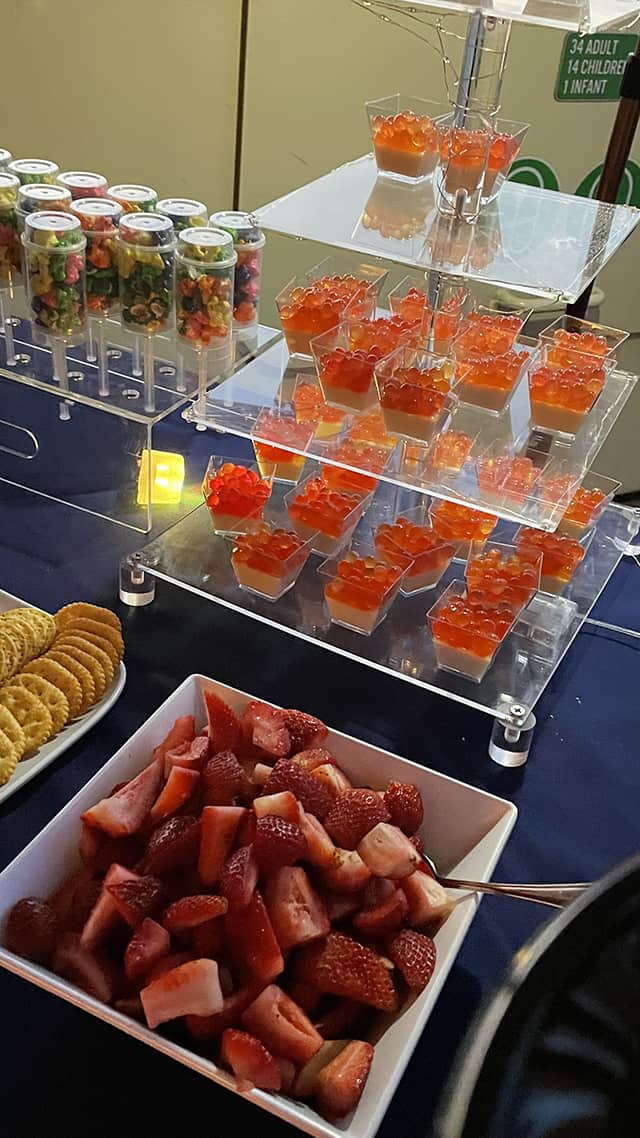 One nice thing about this party is that there are also cheese, crackers, snacks and a variety of fresh fruit available. My kids would enjoy this and I'm sure others would as well. When we tried the After-Party at the Magic Kingdom, neither of my boys ate a single thing. Here, they would definitely eat just about everything that was offered.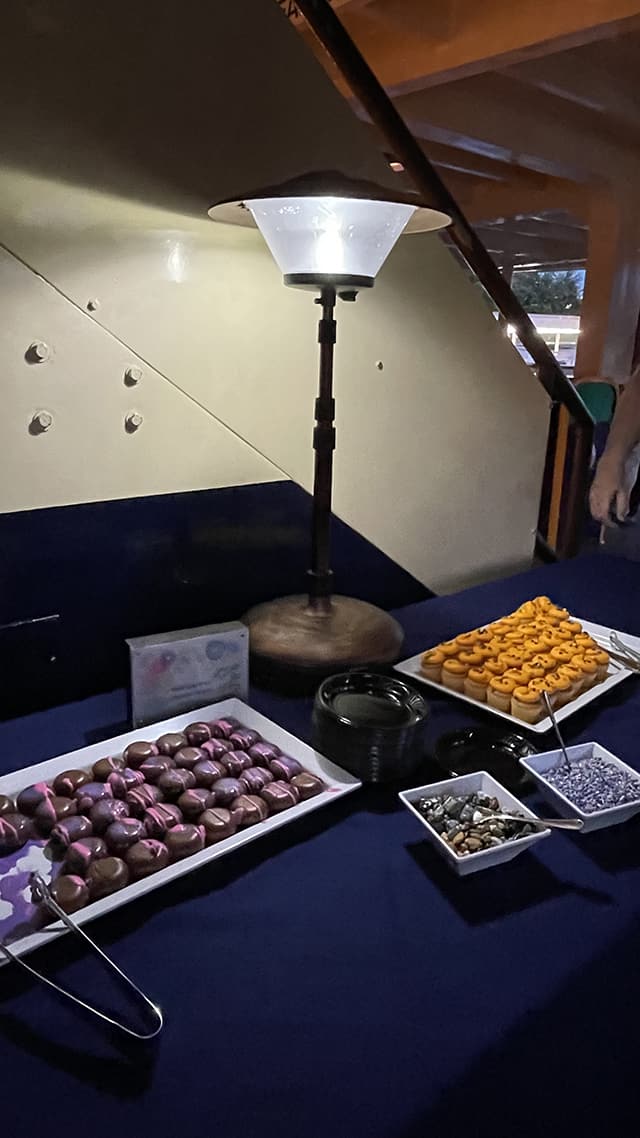 Desserts included the following:
Red Velvet WOW! Pie
Brownie BURST! Bites
Cherry BOOM! Cream Puff
Grand Finale Key Lime Tart
Build Your Own Chocolate Mousse Explosion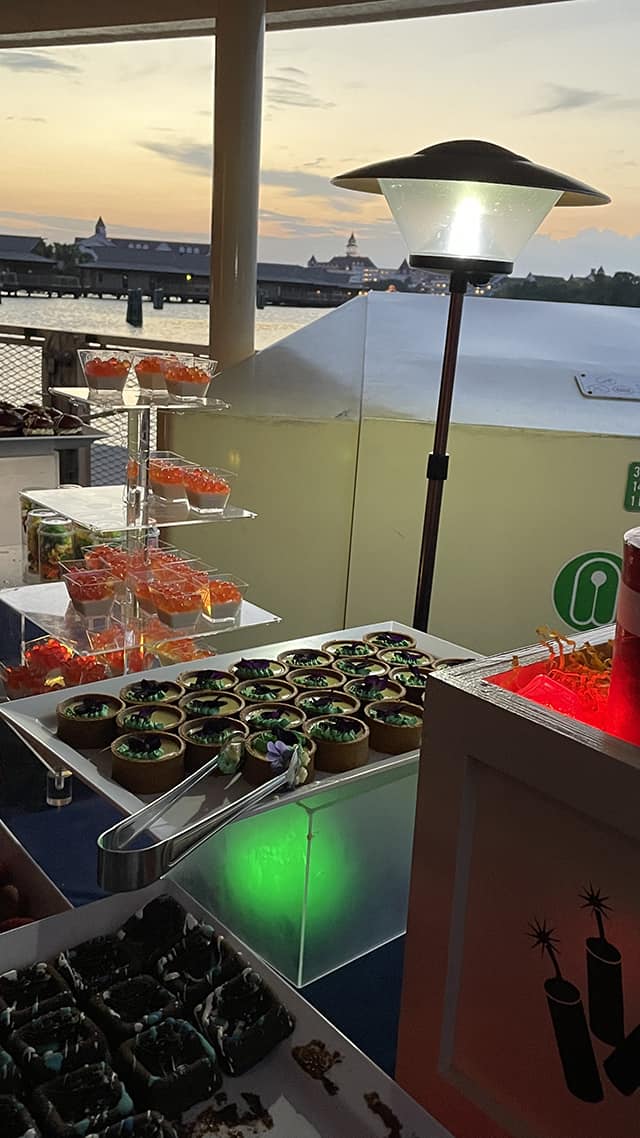 There were more than enough treats and food for everyone on board, and guests were free to have as much as they liked. I love the firework theming of the dessert names and firework decorations on the tables.
A fun activity for the young and the kid in you!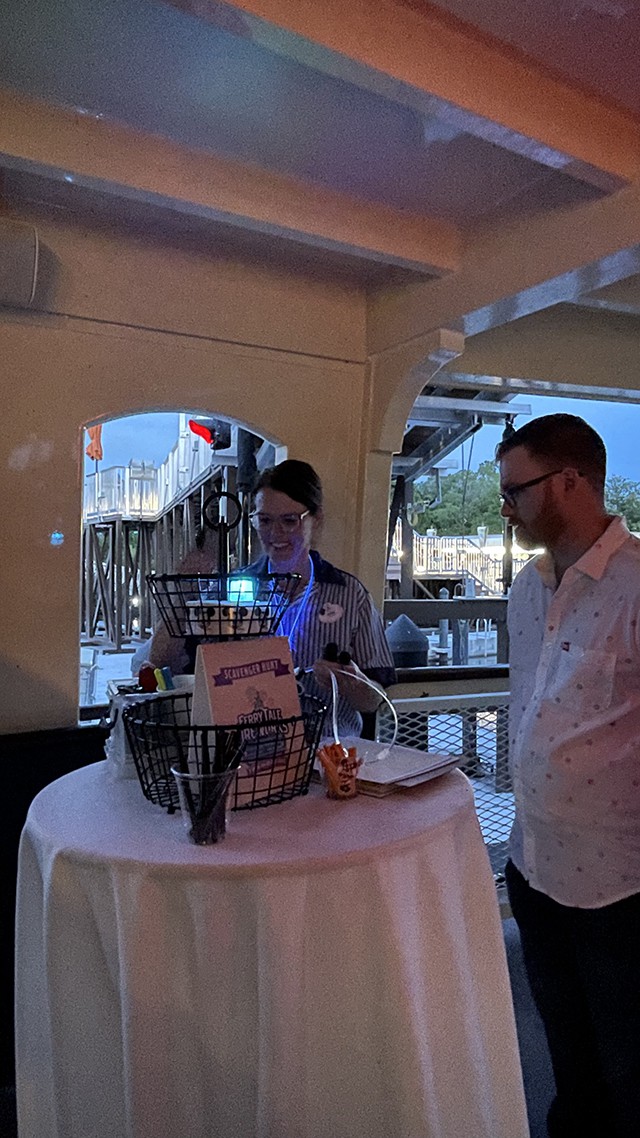 There is a scavenger hunt for the young children on board and adults who are still a kid at heart. To participate, all you have to do is see a Cast Member on board at this table here at the beginning of the cruise.
They will give you a flashlight, pencil and paper and instruct you to find hidden letters all over the ferryboat. You have to use your flashlight to reveal the letters. It is a little tricky, and it will definitely keep your children entertained while they are waiting to see the fireworks. Once you find all of the letters, unscramble them to reveal a Disney inspired word and win a prize!
What does it cost?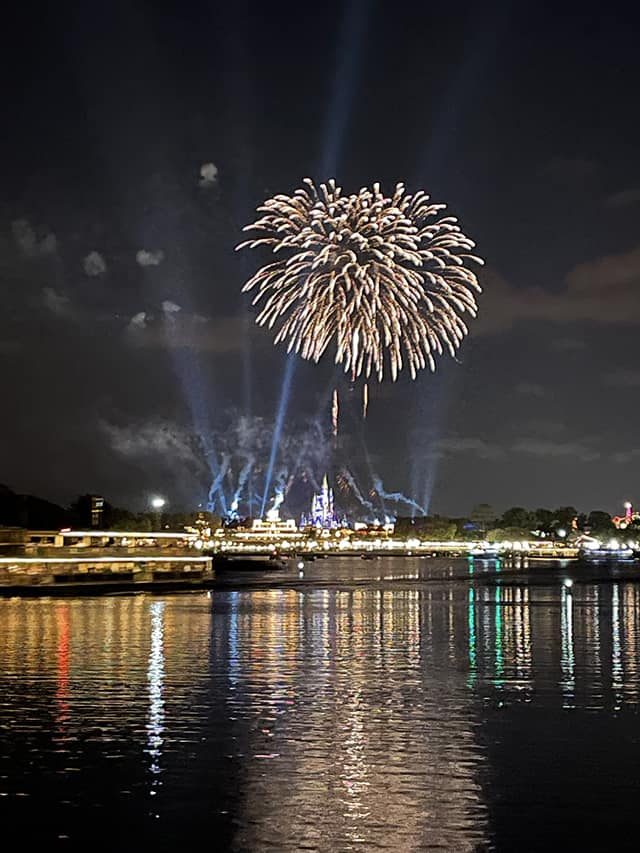 This experience is available to guests on select Wednesday and Saturday nights. Admission is $99 for adults and $69 for children ages 3 to 9 (tax and gratuity included) and even includes a special takeaway surprise. Advance reservations are highly recommended.
For comparison purposes, Celebration at the Top at the California Grill is the most expensive and probably the most exclusive experience. Guests can expect to pay $129 per person and this experience is not kid friendly.
Dessert parties at the Magic Kingdom cost the same as this experience, but remember that park reservations and park admission is also required. Disney Enchantment's Treats & Seats experience is a little more expensive at $114 per person and $69 per child, but you also have a guaranteed seat.
If you want to experience Harmonious over at EPCOT, those dining experiences cost a little less beginning at $72 per person and $31/per child (Spice Road Table) and $89 per person and $39 per child (Rose & Crown).
Final Thoughts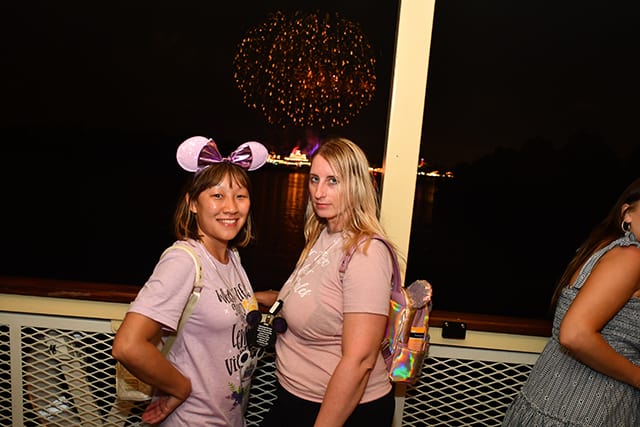 Having been lucky enough to participate in at least four special dining/firework experiences available, I have to say that this one was my favorites and quite possibly one of the best experiences Disney is currently offering.
Book this experience if you love watching fireworks from a unique setting, enjoy dessert cruises and want to get away from the fireworks crowds on Main Street U.S.A.
Having done the Enchantment After-Party, while the view was spectacular, I almost wish we would have done this one instead. Thinking of my children in particular, there was a better variety of food choices for children and there was plenty of entertainment while you waited for fireworks. If seeing the castle projections is important to you, parties at the Magic Kingdom would be better.
At this party, guests also have the added bonus of being able to see the Electrical Water Pageant!
Once fireworks begin, there is a PhotoPass photographer on board available to take pictures with the fireworks behind you. I thought it was a nice addition and memory to have from the trip.
One Last Treat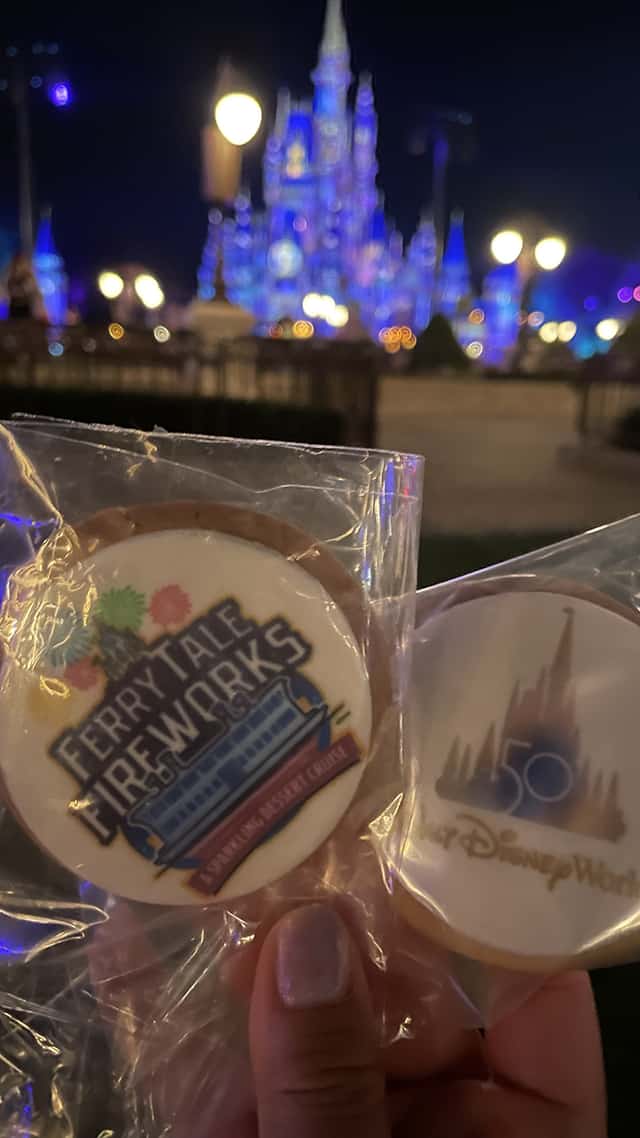 After fireworks were over and as we exited the ferryboat, Cast Members passed out some treats to the guests. I love how they were decorated specifically for Ferrytale Fireworks and Disney's 50th anniversary! On our particular night, Magic Kingdom had Extended Evening Hours, so we were able to enjoy our treats while sitting on the hub grass in front of Cinderella Castle. It was the perfect ending to our Ferrytale Fireworks cruise.
Have you been on the Ferrytale Fireworks Dessert Cruise? Do you plan on booking one for a future trip? Tell us about it in the comments below or on our Facebook page.

Are you planning a vacation? Reach out to our trusted travel agency sponsor Authorized Disney Vacation Planner
Mouse Class Travel
!