LATEST VIDEOS
Subscribe to my Youtube!
LIVE - Just Mousing Around
Just Mousing Around - LIVE
LIVE - Just Mousing Around
Are you curious how Disney thrill ride compares? If so, check out our rankings by thrill level and let us know your thoughts. Do you agree with our list?
Disney World Attractions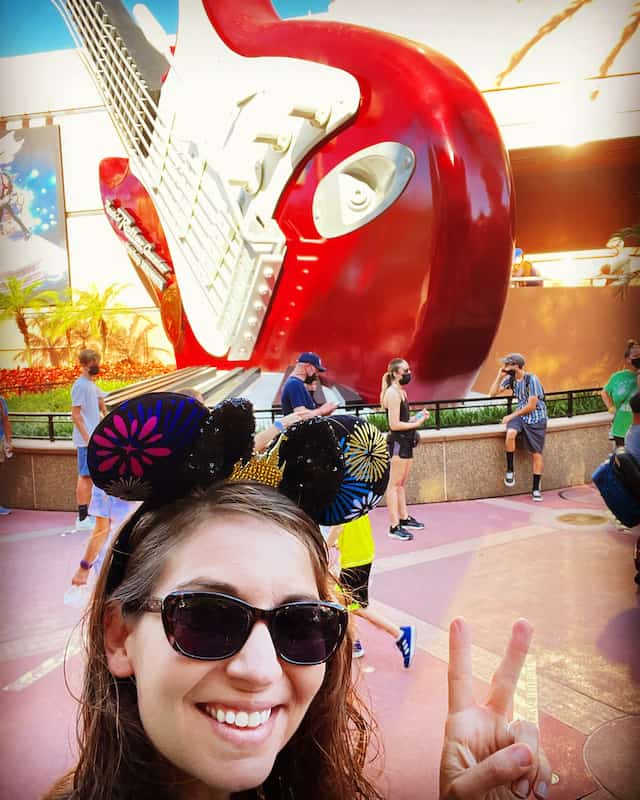 What makes a "thrill" attraction? When most people think of these attractions, they think of rides that are terrifying and get your heart pumping! However, the simplest definition of a thrilling attraction is: "an amusement attraction that is very exciting."
This article looks at each of Disney World's roller coaster and lists them from the least to most thrilling. Disney has so many wonderful roller coasters. Take a look at our list, and let us know if you agree with these rankings. Hopefully this will help you decide if you and/or your children are ready for these coasters or not.
7 – The Barnstormer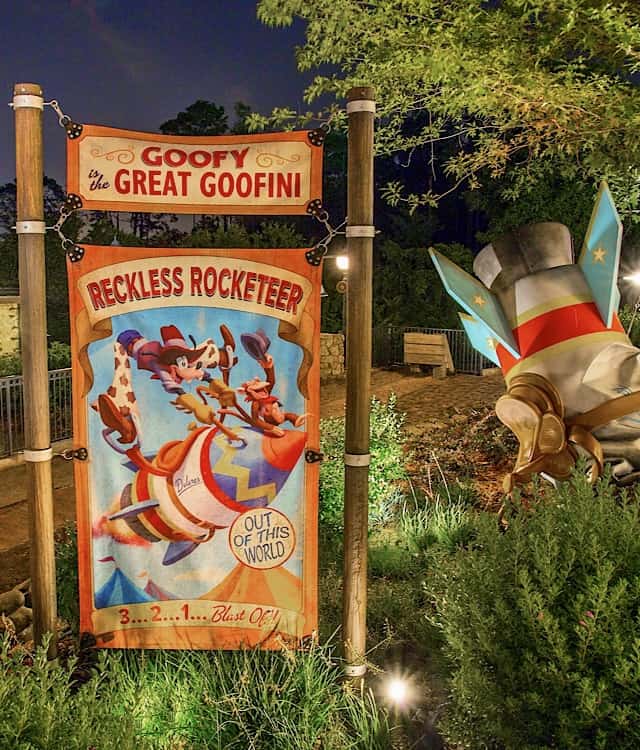 The Barnstormer is located in Fantasyland at Disney's Magic Kingdom. Climb aboard a wacky stunt plane and hold on tight as you take to the skies above Fantasyland. It's really fun riding when you "burst" through the sign! Although this is a junior coaster, I was surprised how fast it moves!
However, there is nothing to prevent kids of all ages from riding. Minimum height for Barnstormer is 35 inches and this roller coaster lasts 2 minutes. Barnstormer is the least "thrilling" Disney World coaster. Also, this is a great starting roller coaster for younger guests to ride.
6 – Seven Dwarfs Mine Train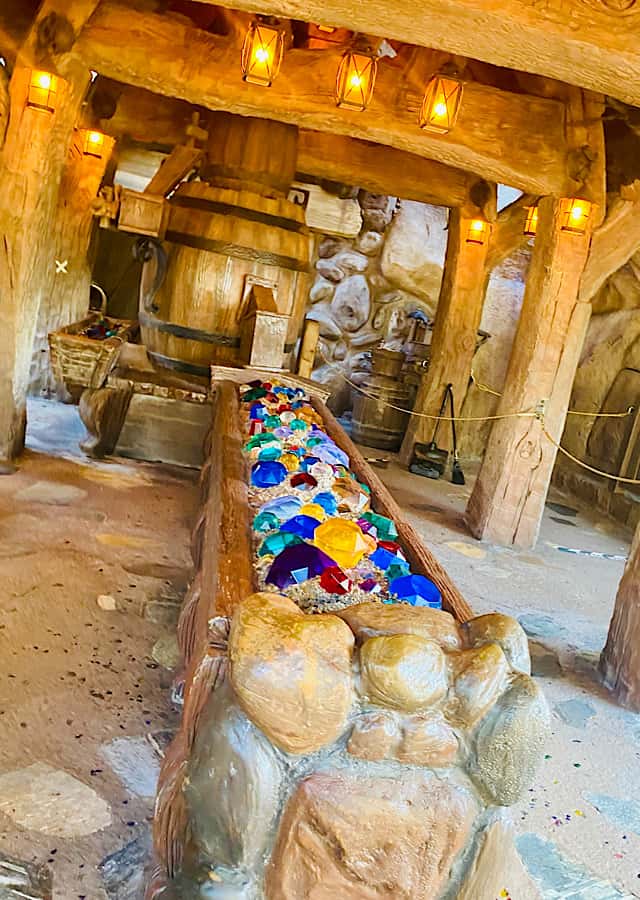 Also in Magic Kingdom's fantasyland, look for the Seven Dwarfs Mine Train. This is the only roller coaster at Disney World where the ride cars swing from side to side while whirling though an age-old mountain. Then, journey through a dark mine sparkling with glittery jewels. Not only that, but you'll see the adorable Seven Dwarfs whistling and singing while they work. 
This attraction moves faster and has higher hills and sideways tracks than the Barnstormer. However, it is the the smoothest ride ever! Guests must be 38 inches or taller to ride Seven Dwarfs Mine Train, and lasts 3 minutes. Check out a virtual experience of Seven Dwarfs Mine Train HERE.
5 – Slinky Dog Dash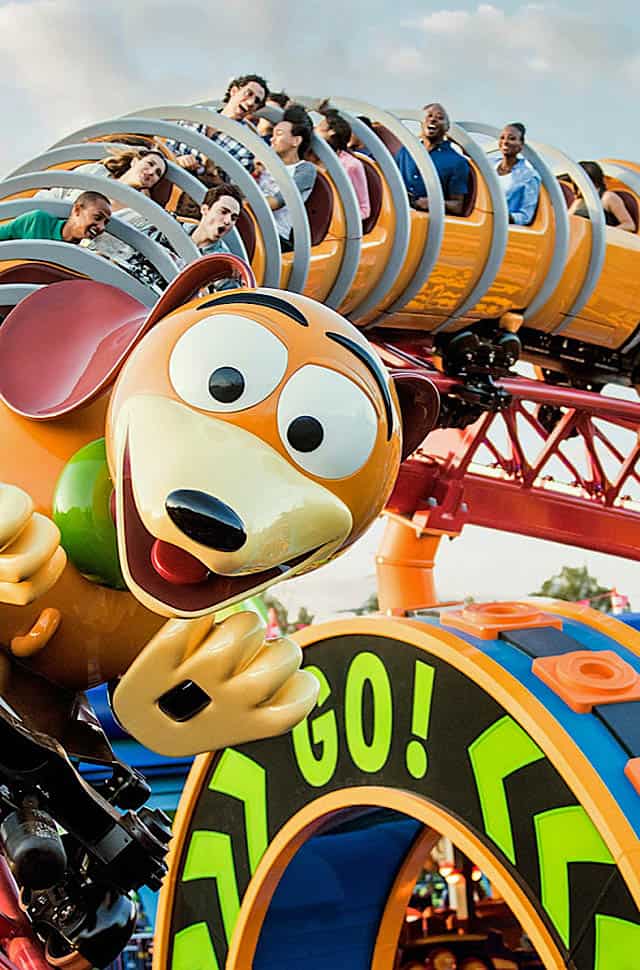 Slinky Dog Dash, located in Toy Story Land in Hollywood Studios, is a coaster "built by Andy" in his backyard. You'll feel exactly as though you're on a coaster built by a kid; there are lots of fun curves and hills to zoom up and down. This coaster is definitely more thrilling than Seven Dwarfs Mine train, but also gives riders an extremely smooth ride.
Try this one at night to experience all the lights of this fun attraction. There is a minimum height of 38 inches to ride Slinky Dog Dash. This popular ride lasts 2 minutes. Watch Slinky Dog Dash video ride HERE.
4 – Big Thunder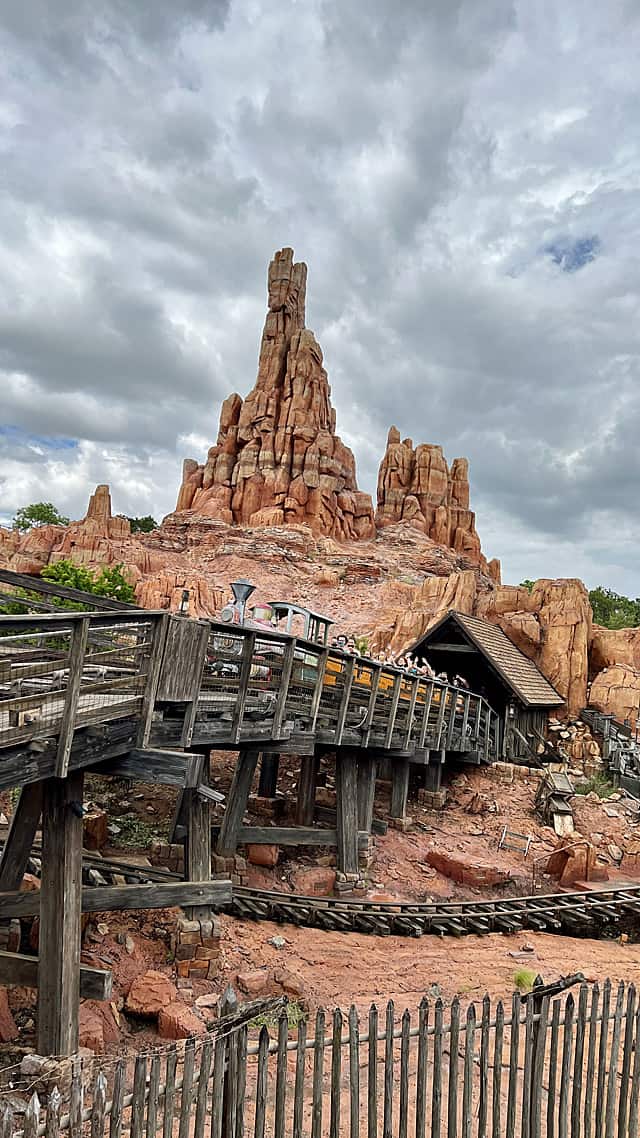 After you arrive at the legendary Big Thunder Mining Company, guests descend into an abandoned mine shaft and board your train. As you enter the cavern, the engine speeds up along the rickety track. Dodge exploding dynamite and falling boulders as you swoop around turns, drop into canyons and dart through the mysterious ghost town of Tumbleweed.
Although this coaster is designed for children and adults, parts of this attraction are quite bumpy and go through dark loud places as the the train clicks up the mountain. Try riding Big Thunder at night for an even more thrilling experience! Check out this virtual "ride along" for an at home ride through the wilderness! Height requirement for this wild ride is a minimum of 40 inches. Big Thunder is Disney's longest coaster lasting 3.5 minutes.
3 – Expedition Everest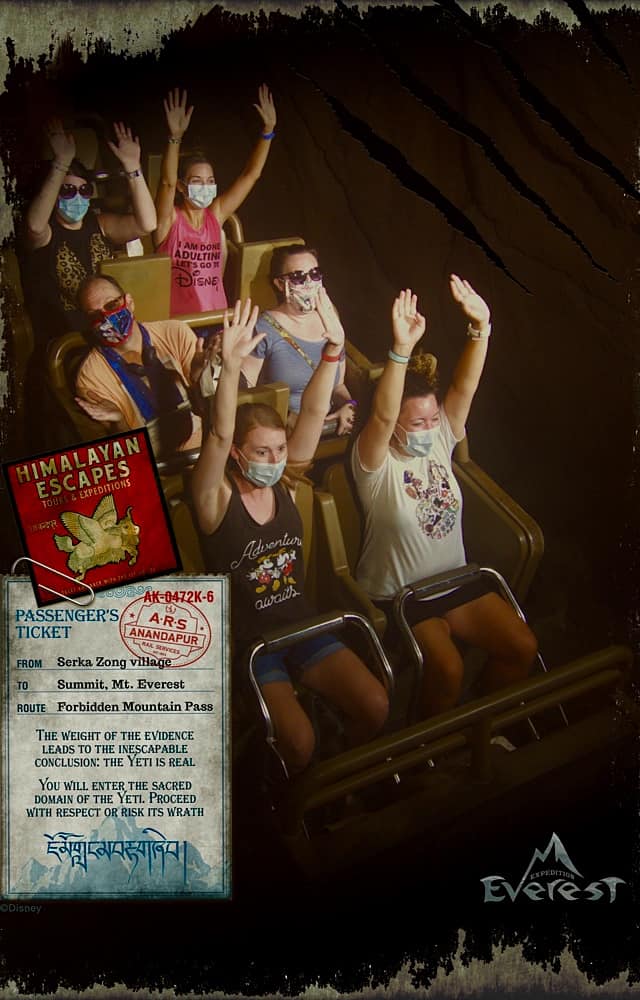 Yeti or not, we're moving to the next Disney coaster, Expedition Everest in Disney's Animal Kingdom. Wander into a Tibetan village at the base of Mount Everest and board a train to the "top of the world." After a steep ascent, trains picks up speed and race into the darkness. Without warning, a broken and twisted track appears in front of you. Brace yourself as you plummet backward into total darkness. Inside the cavern, you'll see the huge growling shadow of the Yeti!
Some parts of Expedition Everest – Legend of the Forbidden Mountain may be scary for children. This attraction features loud noises, fast drops, high speeds, dark places and frightening creature effects. Guests must be at least 44 inches to ride Expedition Everest. For those brave enough to ride, it lasts 3 minutes. This ride can cause motion sickness, especially when going backwards. To experience the "Yeti Coaster" virtually, go HERE.
2 – Space Mountain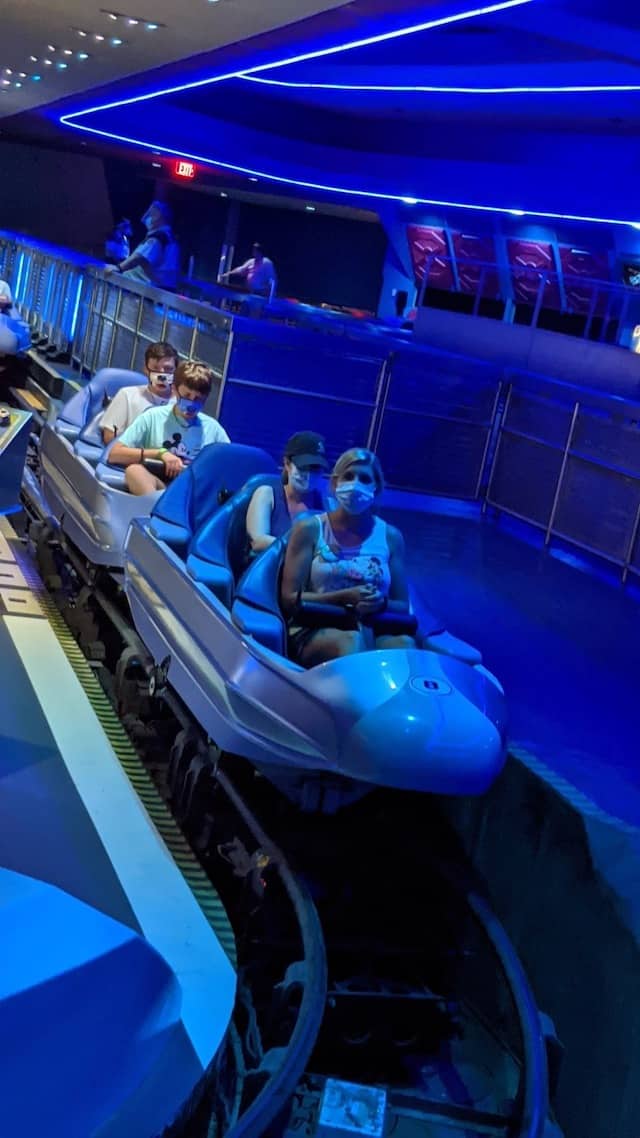 Space Mountain is an indoor roller coaster designed to have you feel as though you are blasting off into outer space and zooming around in a rocket! Fly past shooting stars, and drop down into complete darkness on this out of this world adventure! This ride isn't for young children. Guests remain in darkness the entire ride and certain twists and turns are quite jerky.
It's also not for those with back or neck injuries. Although the ride itself doesn't go that fast, it sure feels like it! Minimum height for this thrill ride is 44 inches and it lasts 3 minutes. To see a video of Space Mountain with the light on, read HERE.
1 – Rock 'n' Roller Coaster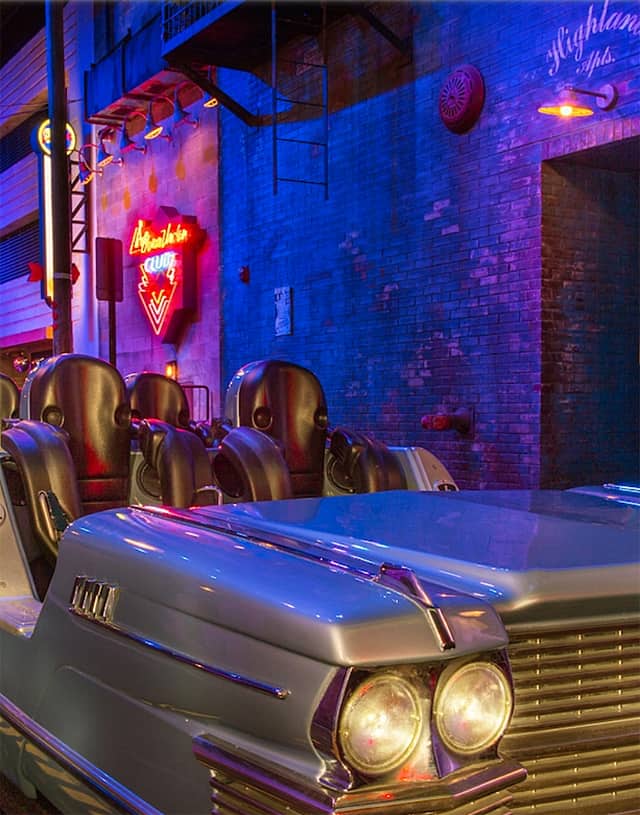 In Rock 'n' Roller Coaster, you'll board a stretch limo and race through the streets of Los Angeles while listening to Aerosmith rock out! This coaster features Walt Disney Worlds only inversions; 2 rollover loops and 1 corkscrew.  Rock 'n' Roller Coaster launches guests from 0 to 60 mph in three seconds and straight into an inversion! It really takes your breath away!
It's also a smooth ride and requires guests to be a minimum of 48 inches tall. Whenever I (Susan) ride it, I'm thankful it only lasts 2 minutes. This ride is not for everyone and is the most thrilling Disney World roller coaster. For a cool look at the science behind Rock 'n' Roller coaster, read HERE.
Do you agree with our rankings? What is your favorite Disney roller coaster and why? Do you prefer more or less thrilling rides? Please let us know who you voted for on KtP Facebook Page, or join our crew and tell us there!

Are you planning a vacation? Reach out to our trusted travel agency sponsor Authorized Disney Vacation Planner
Mouse Class Travel
!