With thrilling attractions like Tower of Terror and Rock 'n' Rollercoaster and an entire land dedicated to Star Wars, it can be hard for young kids to enjoy Hollywood Studios. Here are the best activities for kids to enjoy at Hollywood Studios.
Before I begin I feel I must add this disclaimer: yes, kids can enjoy Star Wars and Tower of Terror! My own kids love to scare themselves silly on Tower of Terror as soon as they reach the 40″ height requirement (usually around the age of 4). I'm focusing on the activities and Intellectual Property that are specifically geared towards young children.
Disney Junior Play and Dance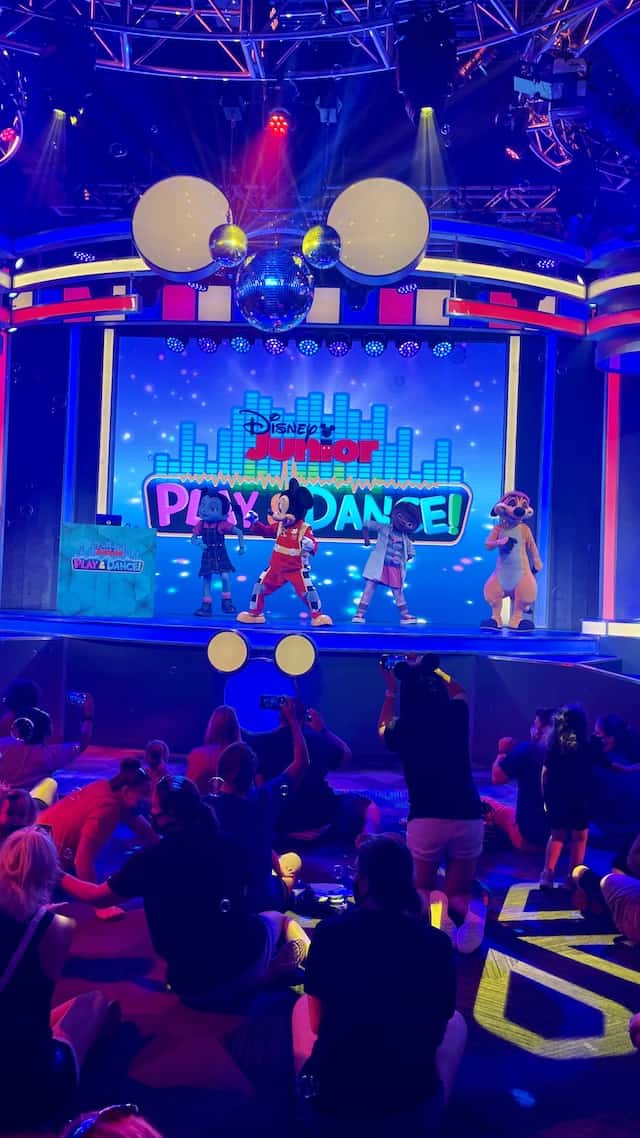 The Disney Junior Play and Dance is a 10 minute show that runs throughout the day in the Animation Courtyard next to Star Wars Launch Bay. A DJ will play some kid-favorite tunes and get everyone pumped up to see their favorite Disney Junior characters.
One by one, each character comes out in its own "set" while their music plays. Kids and adults alike are encouraged to sign and dance along. Doc McStuffins, Vampirina, Timon, and Mickey all come out together at the end for one final song as bubbles fall from the ceiling.
It's a cute show that gets kids up and moving. There are also some benches along the back for parents to sit down for a few minutes.
Disney Junior Character Sightings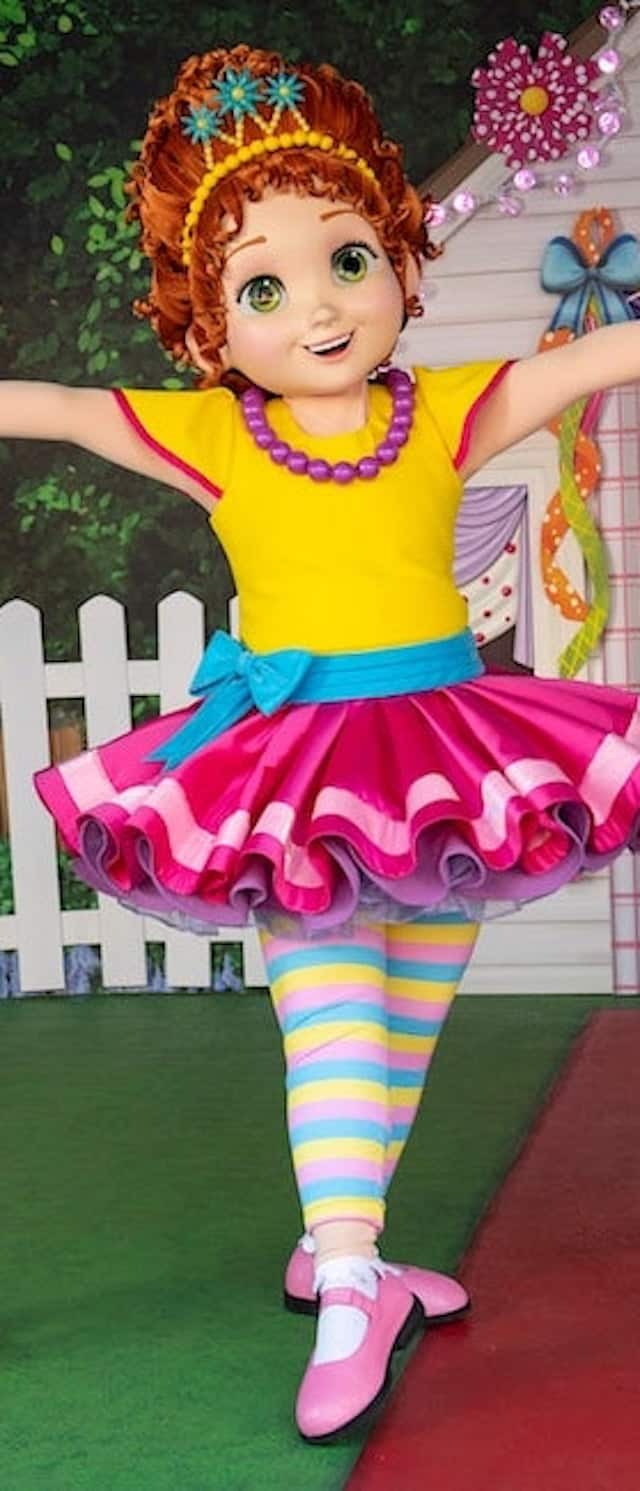 Upon exiting the show, you will find four outdoor backdrops for Disney Junior character sightings! Fancy Nancy, Vampirina, and Doc McStuffins will be there to greet your kids throughout the day. When character meets were not available, these were just sad little areas that reminded us all of what once was.
These sightings are from a distance, meaning no hugs and autographs. Still, it is wonderful to see these television characters represented in the parks.As an added bonus, these sightings are outdoors so no masks are required for photos!
Hollywood and Vine breakfast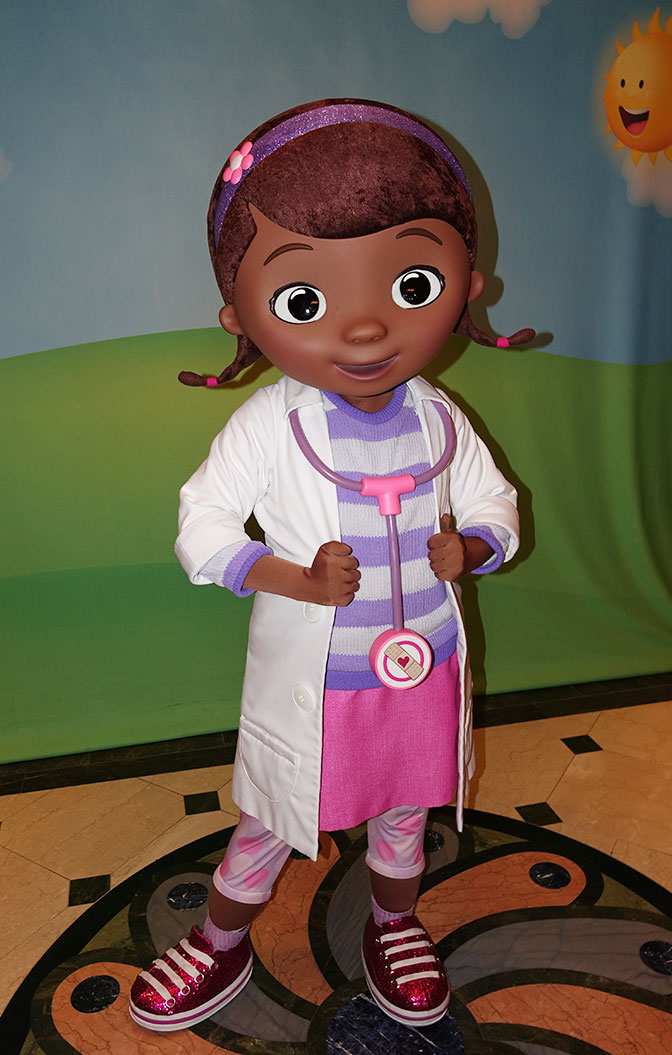 To continue the Disney Junior theme, you can catch your favorite friends at breakfast at Hollywood and Vine. You can enjoy a hot meal and visit with these same friends from a distance.
I personally would not do the breakfast for the simple fact that you can meet them for free elsewhere in the park. It's expensive and eats up a large chunk of the morning. Instead I would do both the Play and Dance and character sightings and be done with it all in about 30-45 minutes.
However, the breakfast is good to knock out two activities at once: eating and meeting!
Toy Story Land – all of it!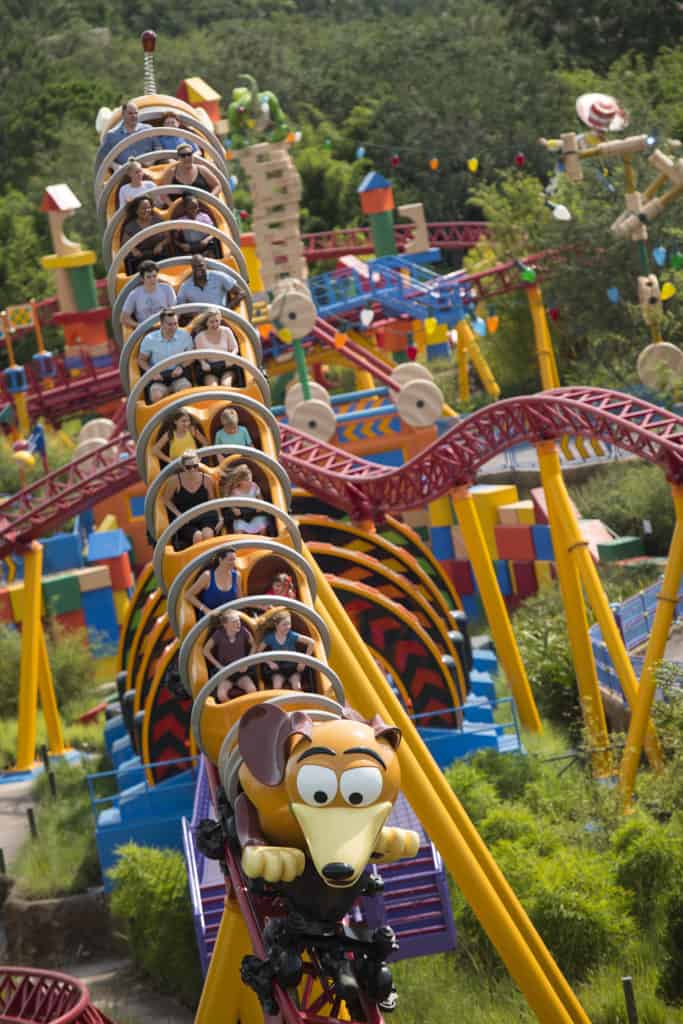 I absolutely love Toy Story Land. It is such a cute area, and as a child of the 90s I appreciate Toy Story for what it was when I was growing and what it is now as I raise my own kids.
The wonderful thing about this area is that there are very low height requirements. Slinky Dog Dash is the only attraction in the land with a height requirement: 38″. Many children are able to ride that by the time they are 3 years old. Toy Story Mania and Alien Swirling Saucers can be enjoyed by children of all heights.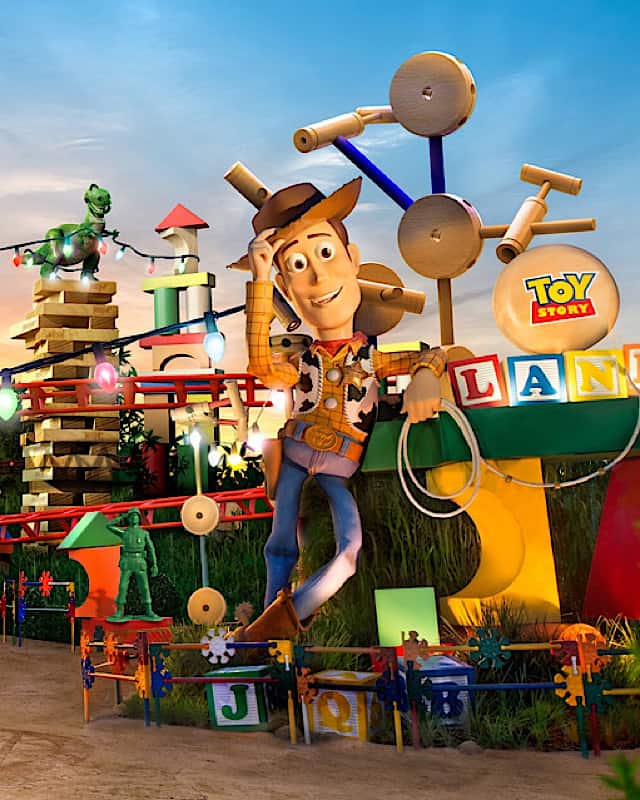 And, can we just talk about the theme? Oh, it is so adorable! There is so much to see from the giant lights that grab your attention as you first walk in to the smallest of details. Imagineers did a wonderful job capturing the essence of Andy's backyard.
There is so much to see and explore that kids could spend hours checking everything out in addition to riding along in Andy's backyard. Visiting at night is my favorite because the area is all lit up!
Lightning McQueen's Racing Academy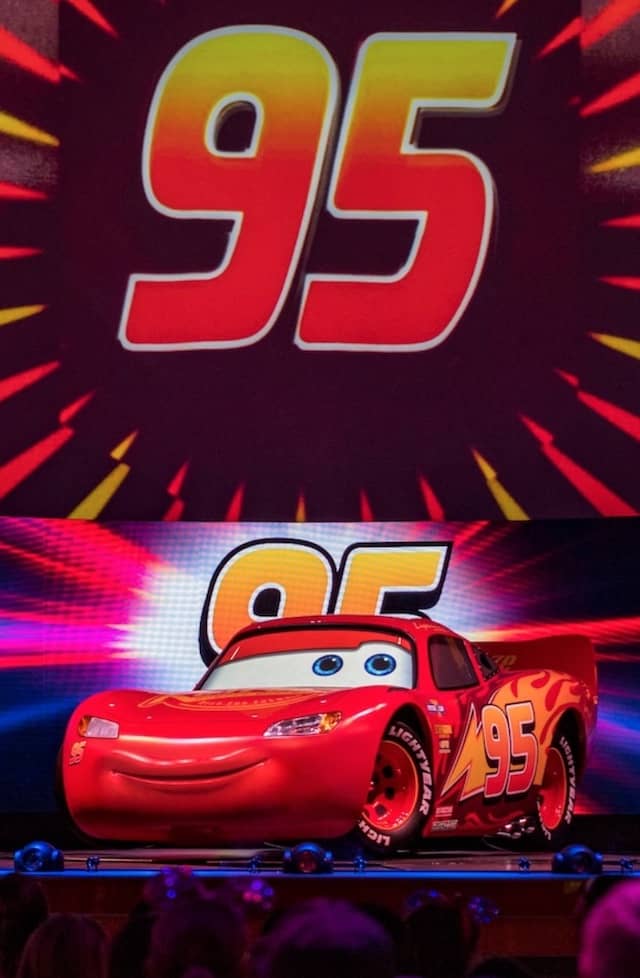 Tucked behind Rock 'n' Rollercoaster sits Lightning McQueen's Racing Academy. It's a 10 minute show featuring none other than Lightning McQueen! Ka-chow! Kids come face to face with him as he shares the things he has learned during his career as a race car.
This is a first-of-its-kind show using a simulator and wrap around screen. I've always thought if Rock 'n' Rollercoaster were to be rethemed it would still feature a cars theme. Although the height requirement is too tall for those who would likely enjoy Lightning McQueen, these two attractions fit nicely together.
If you are splitting up the family due to height requirements, you can take your young one to Lightning McQueen while the others ride Rock 'n' Rollercoaster or Tower of Terror.
Frozen Sing-Along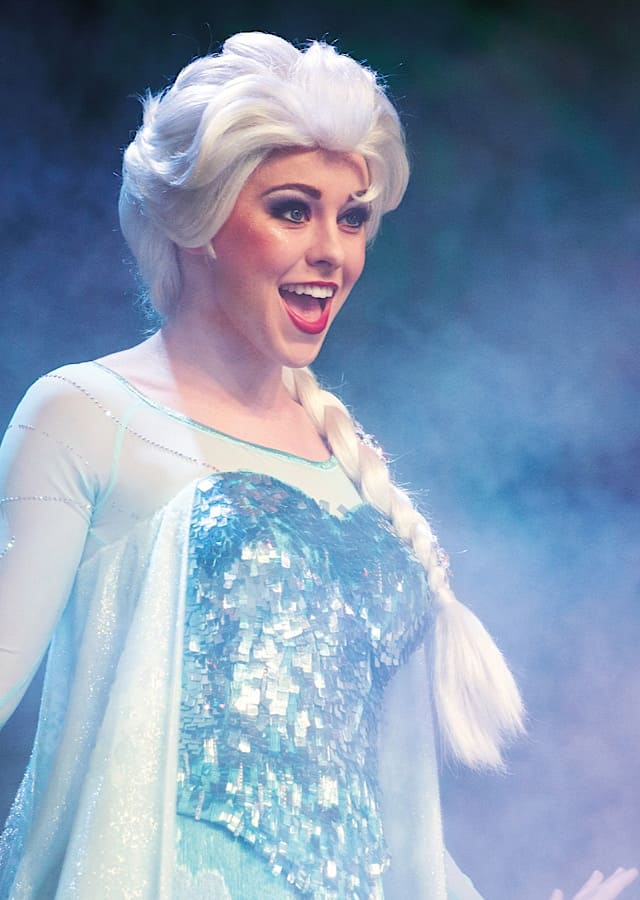 For the princess-loving kiddos out there, Frozen Sing-Along brings royalty to Hollywood in this cute sing along show.
Arendelle historians retell the story of Anna, Elsa, and all their friends with some singing throughout the show. The historians are actually very funny, and what parent doesn't love to sing along to Frozen songs? Frozen Sing-Along is a hit with both kids and adults.
The grand finale includes snoap! However, be aware that the show has not been updated to include Frozen 2 songs or references. There is a holiday version though so if you are heading to Disney in the months of November and December there is a slightly different ending.
Mickey and Minnie's Runaway Railway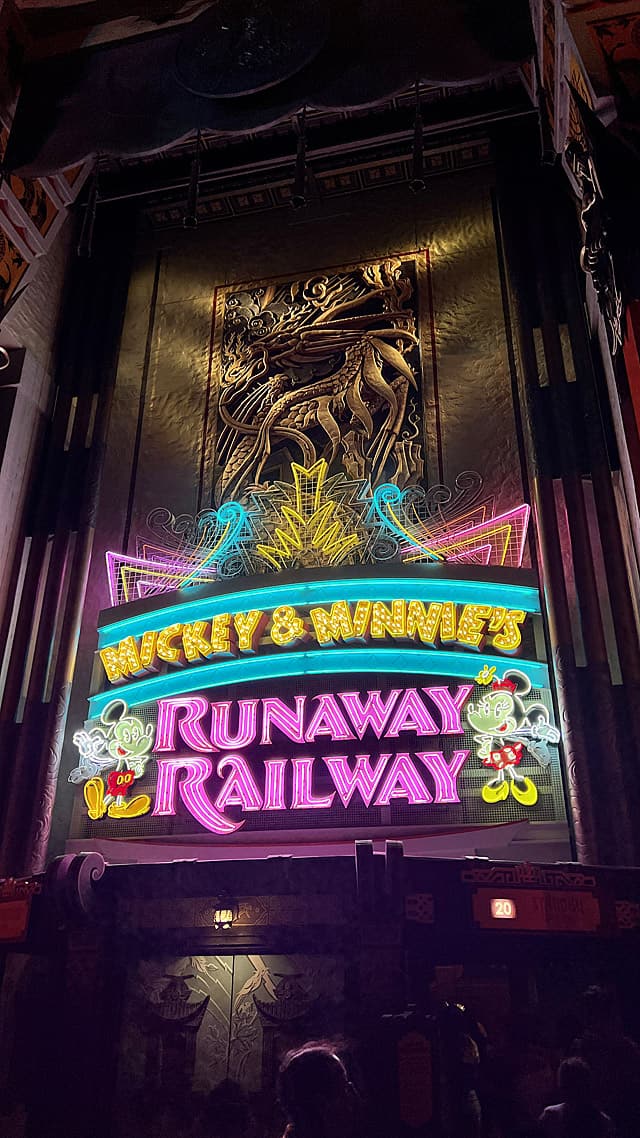 How could I talk about things for kids to do and not talk about this ride?! Replacing The Great Movie Ride, this attraction is much more kid-friendly than its predecessor. The ride follows Mickey and Minnie as they set out on the perfect picnic. But with Goofy as conductor, things don't go as planned.
This adorable ride features thrills, fun animation (I'm a fan), and the first-ever ride featuring our favorite mice.
Motorcades and other Character Sightings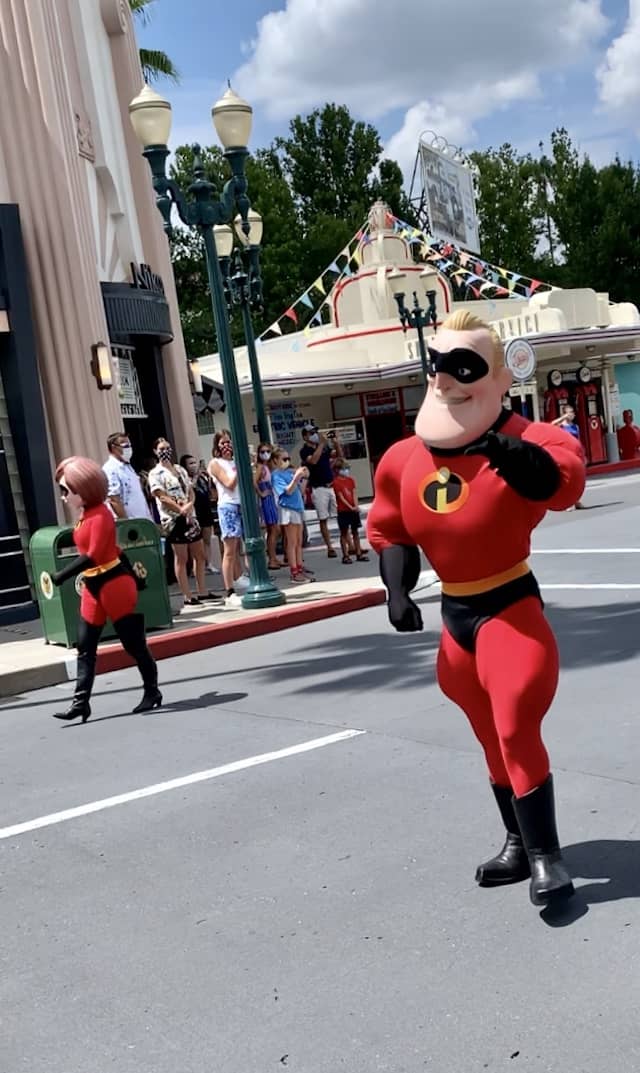 Throughout the day children of all ages can watch as their favorite Disney characters parade throughout Hollywood Studios on foot and in vehicles. Mickey, Minnie, and tons of Pixar friends will wave to you as they pass by.
These motorcades are subject to change and schedules may change based on the date. Stay up to date with Character Locator.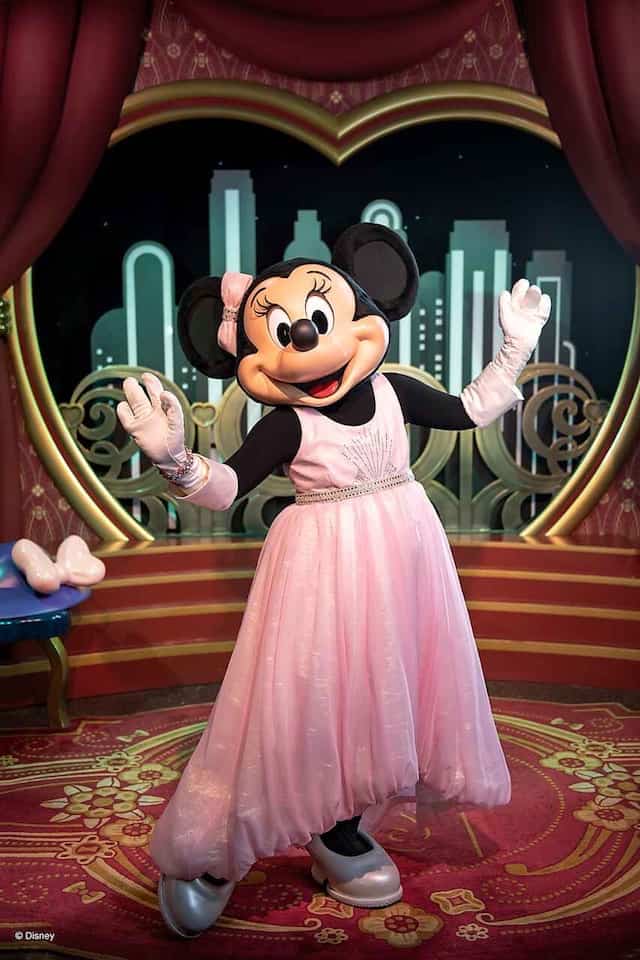 In addition to the motorcades, Minnie meets in her pink gown at Red Carpet Dreams! Doesn't she look absolutely stunning? I am a kid at heart because I love to meet characters. My kids really enjoy it as well – especially my younger two. There is just something so special about your babies meeting their favorite characters.
Nighttime Entertainment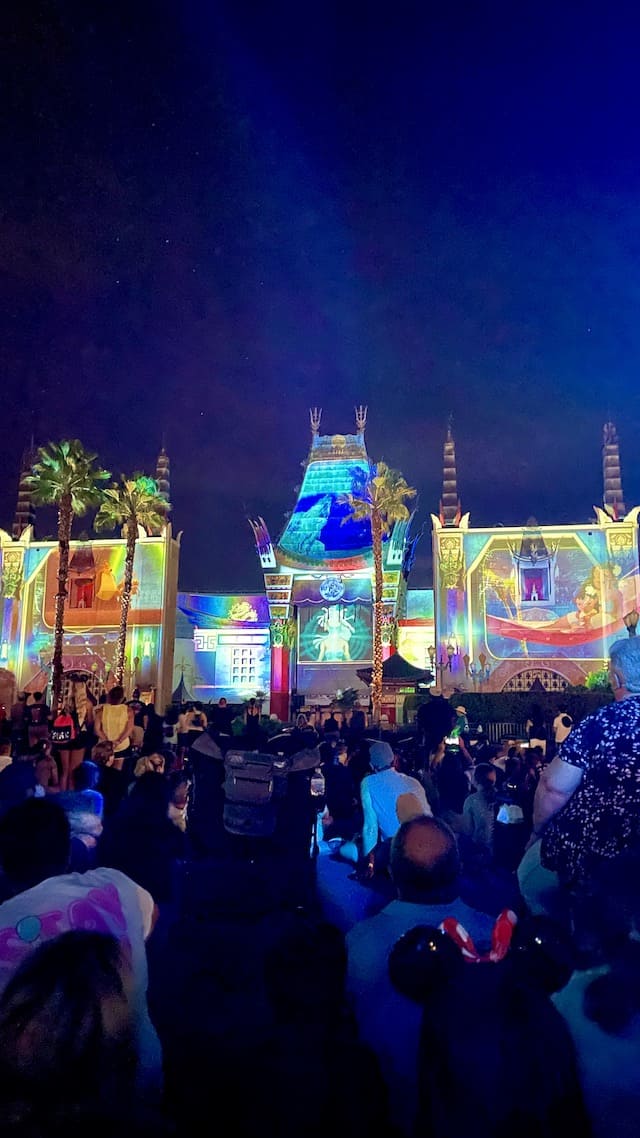 Hollywood Studios provides two nighttime shows on the Chinese Theater. The first, Disney Movie Magic, allow you to relive your favorite Disney movie moments with projections on the theater. Scenes from Beauty and the Beast, Mary Poppins, Guardians of the Galaxy, and the new live-action Mulan all bring the magic of Hollywood to the theater. There are some movie references that younger kids may not have seen, but overall, most are kid movies.
The second, Wonderful World of Animation, is a tribute to Mickey Mouse and other animated films. Hollywood Studios really does celebrate the magic of movies and the role they play in our lives. Kids in particular hold strong connections to these films, and they love to point out all the scenes on the theater during the show.
These shows are great because they are on the front of the Chinese Theater and people sit on the ground. Little ones will be able to see the show much better compared to shows like Enchantment or Harmonious. It's also not as crowded! You can get your spot 5-10 minutes before the shows start with ease.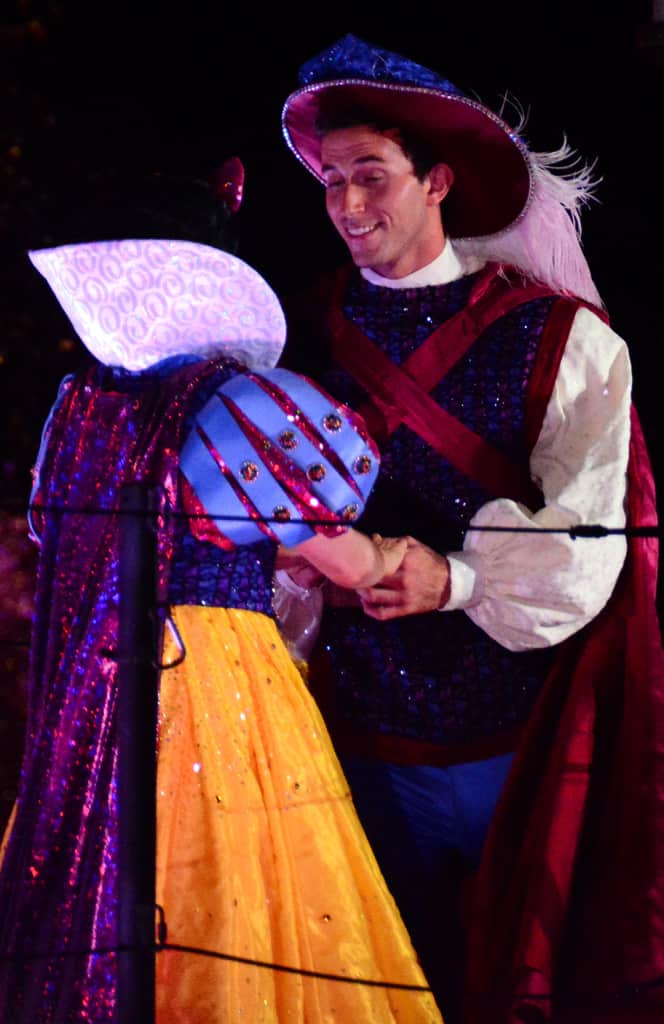 Disney has announced Fantasmic! will return in 2022! This nighttime show features fireworks, adventure, and all our favorite Disney characters. It is not to be missed!
Are there any attractions at Hollywood Studios that your kids love to do? Let us know in the comments below and on Facebook.