Disney is sharing a ton of new updates for the Star Wars: Galactic Starcruiser hotel at Disney World. From a delayed debut and model display to a video of a REAL lightsaber, check it all out on this May the 4th!
Star Wars: Galactic Starcruiser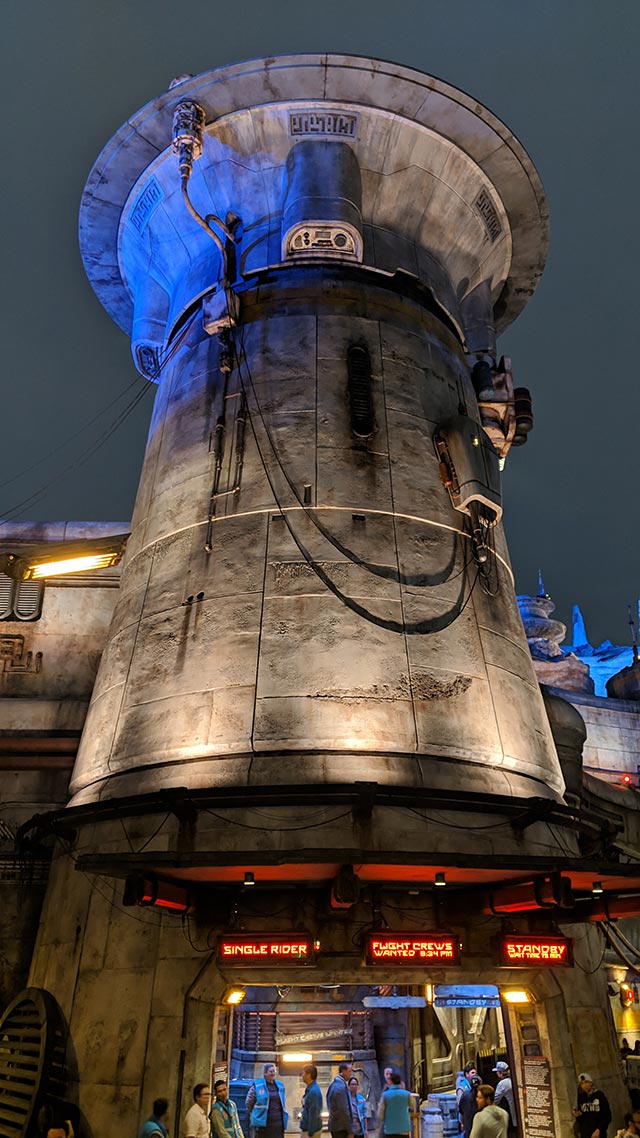 Fans and Guests climb aboard the Galactic Starcruiser Hotel for the ride of their life! Disney gives guests a totally immersive vacation including a two-night, cruise-style itinerary.
Here Guests become the hero of their own adventure in an experience that surrounds guests in Star Wars storytelling 24 hours a day!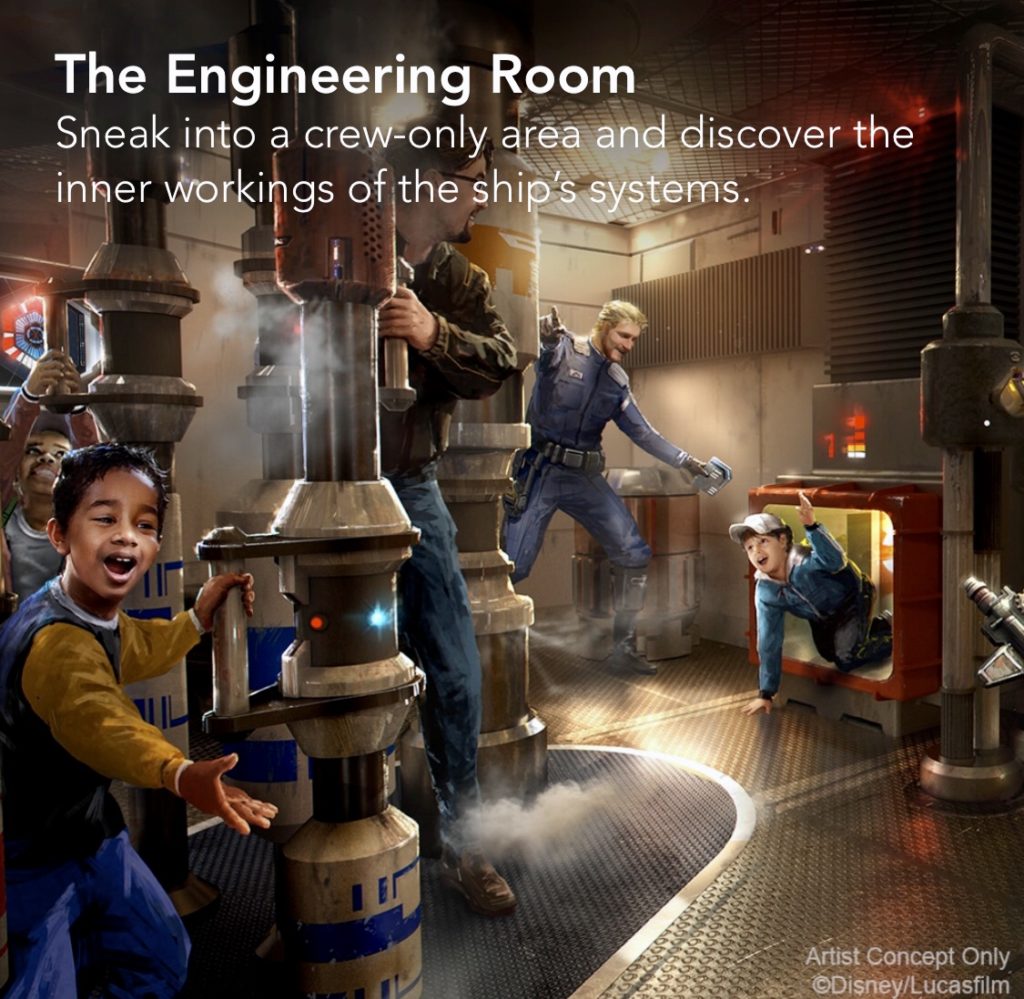 The hotel was originally set to open in 2021, and Disney was preparing for the opening by hiring new Cast Members for the hotel.
Unfortunately, we have learned today that we will have to wait a bit longer to enter this new galaxy. Now, Disney plans to debut the new hotel in 2022. We do not have any further details about when in 2022, but we will be sure to update when we do!
Your Adventure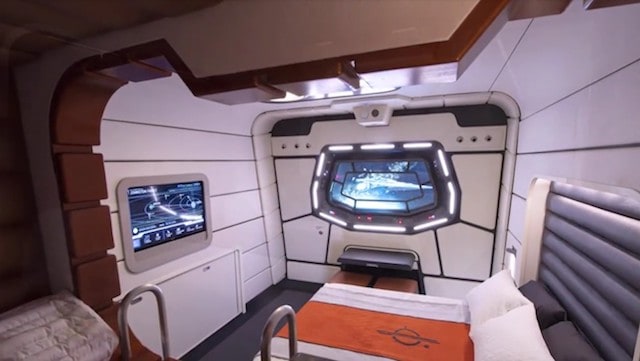 Disney Parks Blog is sharing some new information on what we can expect to experience in the Galactic Starcruiser.
Your adventure begins at the Star Wars: Galactic Starcruiser terminal at Walt Disney World, where you'll gather with fellow passengers before departing for your intergalactic destination. You'll soon enter a special Launch Pod and leave your world behind as you make a hyperspace jump to a galaxy far, far away.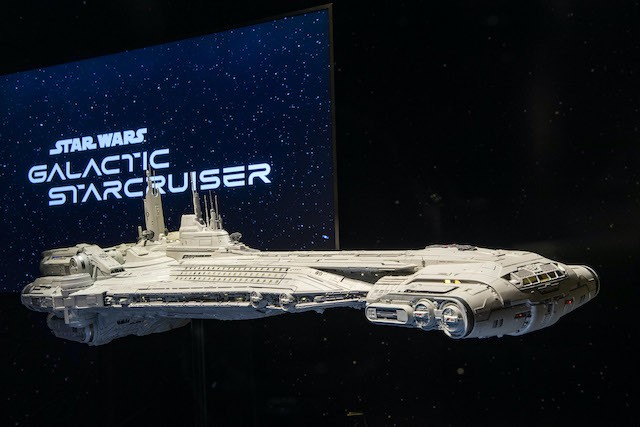 You'll watch through viewports as you approach the massive and magnificent Halcyon starcruiser, which will be your home for the next two nights. For a limited time, Disney's Hollywood Studios guests can now see a model of the ship on display inside Walt Disney Presents – another special May the 4th surprise!
When the Launch Pod's airlock slides open, you'll take your first step into a galaxy far, far away as Star Wars: Galactic Starcruiser comes to life all around you. During your stay aboard this glamorous ship, you may interact with an eclectic group of characters both familiar and new, possibly including the starcruiser's strong and charismatic captain, a plucky ship's mechanic and a galactic superstar who can captivate an entire room with the crook of one jewel-encrusted purple Twi'lek finger.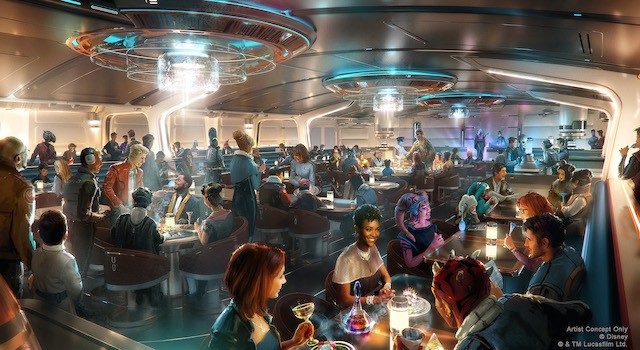 This singing sensation will be a featured performer during one of your exquisite dining experiences inside the Crown of Corellia Dining Room, which you can see in this artist concept rendering we're sharing today for the first time. The enticing supper club's name is an homage to Corellia, the planet known galaxy-wide for its shipyards that gave us not only the Halcyon starcruiser, but also the Millennium Falcon. The dining room is a bright and welcoming hall that will offer breakfast and lunch to passengers before transitioning each evening into a lavish multi-course menu of both otherworldly and familiar origins.
As your journey continues, you'll have the opportunity to train in the ancient ways of the lightsaber, learn more about the inner workings of the Halcyon starcruiser and even jump on a transport to the planet Batuu to further your adventure inside Star Wars: Galaxy's Edge. This isn't storytelling – it's storyliving, where you'll see, feel and live Star Wars in a whole new way.
REAL lightsaber
Disney teased a new technology that mimicked a real lightsaber, and now we have a brand new look! Here is a video of Rey with the lightsaber:
Light. Darkness. A balance.
From Disney, "Yes, that's a new type of lightsaber Rey is holding in her hand, created by Walt Disney Imagineering Research and Development. Guests who experience Star Wars: Galactic Starcruiser will be the first to see it in action – along with so much more – starting in 2022 when this amazing new two-night adventure debuts.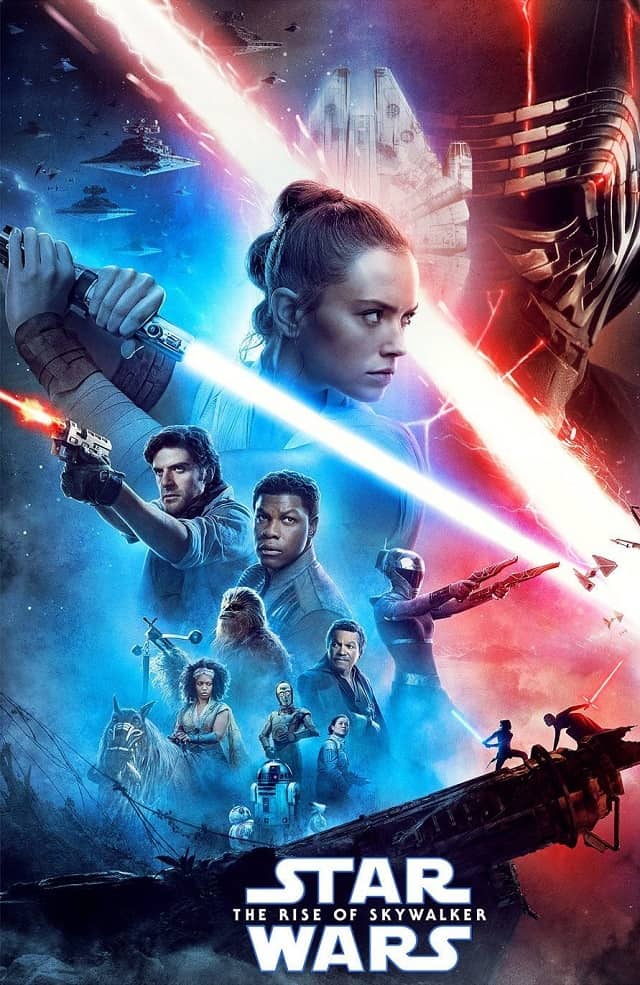 Watching that lightsaber activate right before your eyes will be just one of the countless ways that, from the moment you arrive to the moment you depart, you'll be plunged into a Star Wars story where your decisions and actions – or even the casual conversations you may have – determine how your personal journey unfolds."
You heard it here first! Guests on the Galactic Starcruiser will be the first to experience this amazing lightsaber technology! Start saving those Imperial Credits!
Are you planning a vacation? Reach out to our trusted travel agency sponsor Authorized Disney Vacation Planner
Mouse Class Travel
!