LATEST VIDEOS
Subscribe to my Youtube!
LIVE - Just Mousing Around
LIVE - Just Mousing Around Tonight!
Has your family participated in the Wilderness Explorer program at Disney's Animal Kingdom? Check out this fun and FREE activity that is fun for both the young and the young at heart.
What is the Wilderness Explorer Program?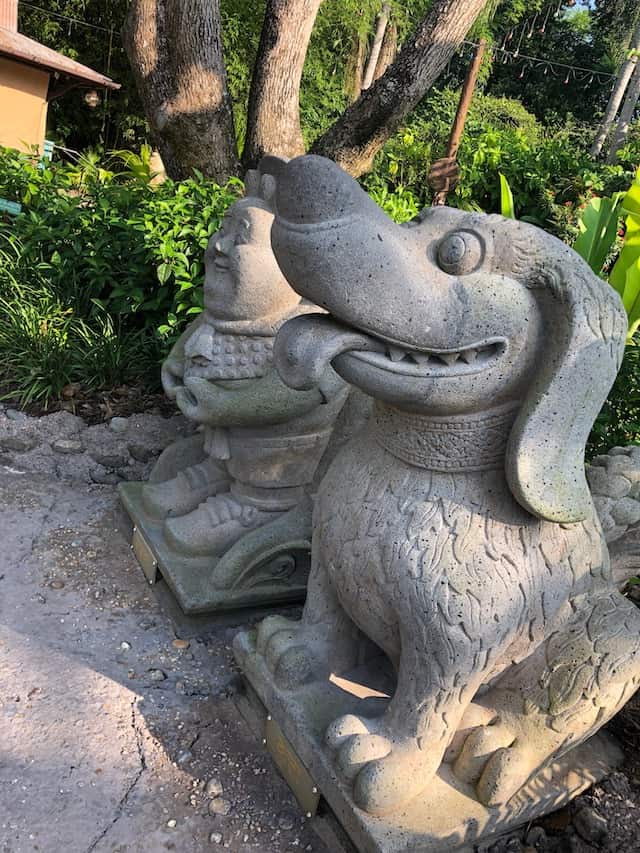 Disney fans may remember Russell from the Pixar movie UP. Young Russell is a Junior Wilderness Explorer who is missing only one badge to become a Senior Wilderness Explorer.
In an effort to earn his final badge in "Assisting the Elderly," Russell meets Mr. Fredricksen. "Adventure is out there" for this duo as they travel to Paradise Falls.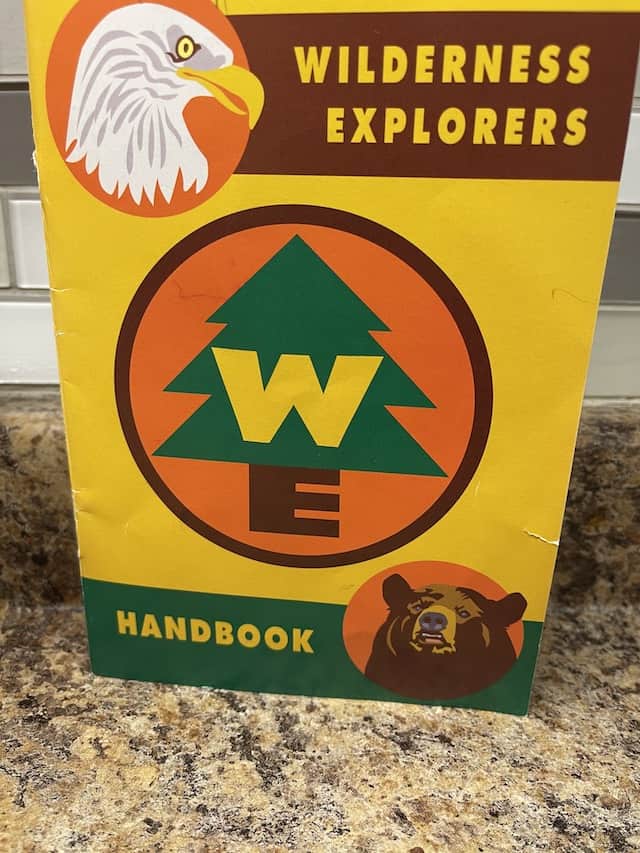 In an effort to encourage curiosity and adventure, Disney's' Animal Kingdom developed the Wilderness Explorers program.
This is a FREE program for all Guests visiting Disney's Animal Kingdom. There are over 20 badge locations scattered throughout the Park. At each location, Wilderness Explorers will use their handbook to learn about animals, conservation, plant life, and animal nutrition.
Getting Started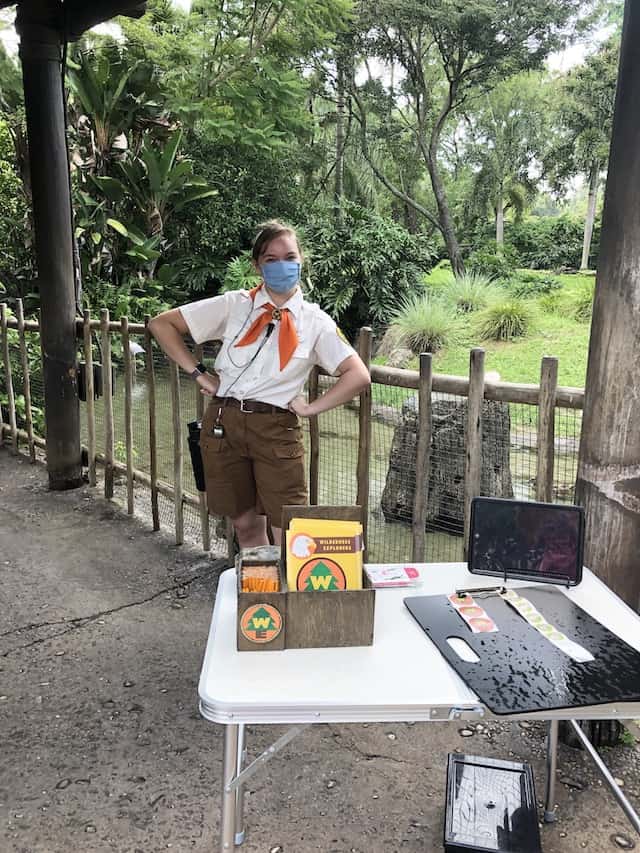 So you want to be a Wilderness Explorer? Getting started is very easy. Simply find a Troop Leader dressed in this official Wilderness Explorer uniform. They are located at 29 various locations throughout Disney's Animal Kingdom.
The official "Wilderness Explorer Handbook" encourages explorers to start at the Wilderness Explorers Headquarters near the entrance to Animal Kingdom. We found ourselves in Dinoland and spotted a Troop Leader. He happily got us started on our Wilderness Explorer program.
You will receive a Wilderness Explorers Handbook and lead you in reciting the Wilderness Explorer motto: "A Wilderness Explorer is a friend to all, be it plants or fish or tiny mole."
How Much Time Does This Require?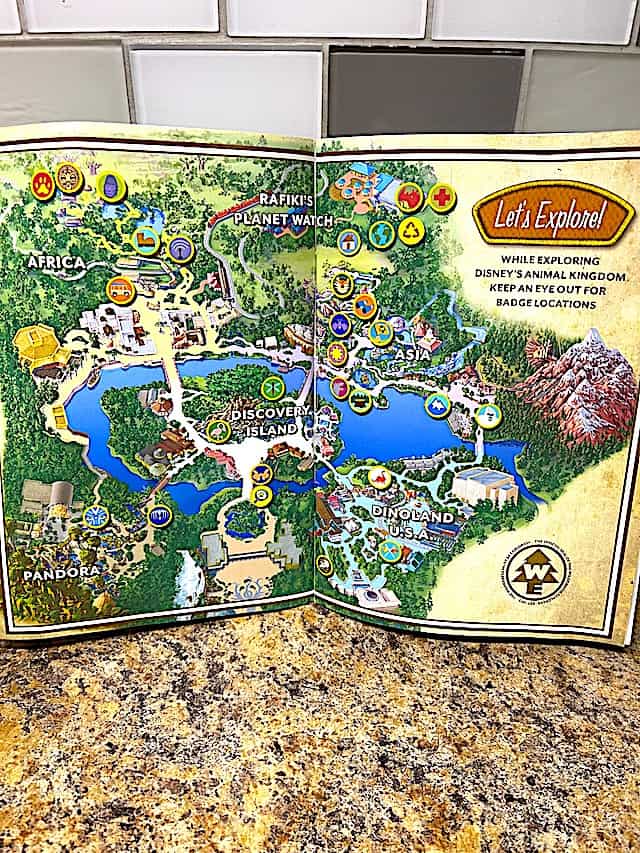 This is a self-guided program that allows Guests to spend as much or as little time as they would like. The majority of our Badges were earned in about 5 to 10 minutes. This was great for my youngest child to help keep her attention.
Our older children often had additional questions. The Troop Leaders were great at answering these question while encouraging each child to continue learning at home.
Entrance Badge Locations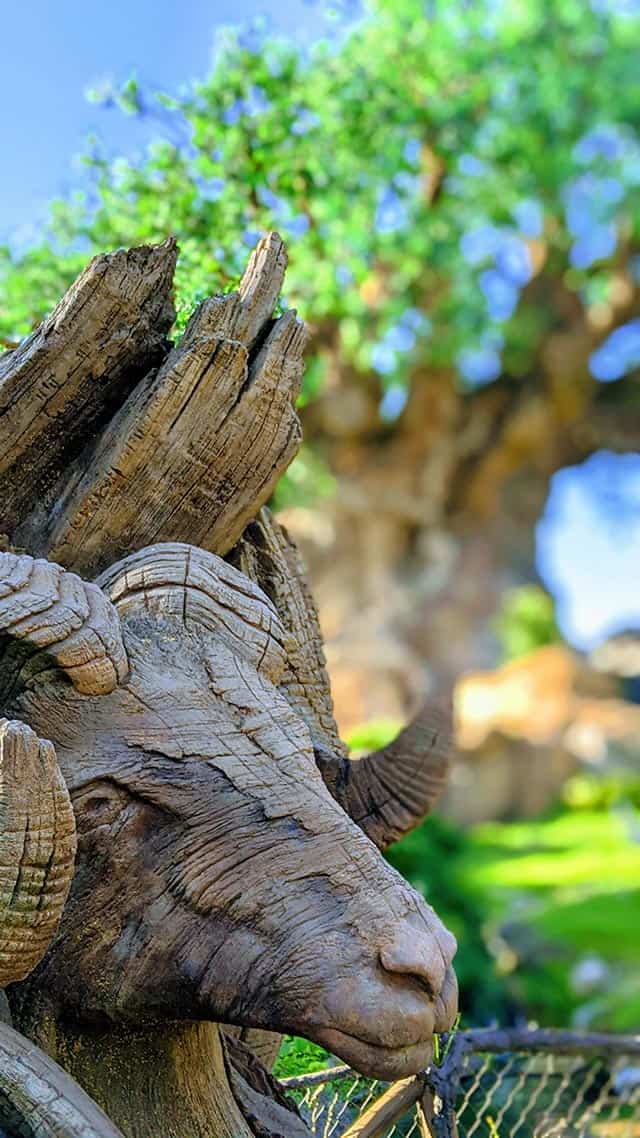 Badge locations can be found throughout the Animal Kingdom. At the Wilderness Explorer Headquarters at the front of the Park, Explorers are invited to pledge to be "a friend to all!"
At this location, Explorers will learn the Wilderness Call that they may use to greet fellow Explorers. I may have been more excited about this than my kids. I greeted all fellow Explorers with the call much to my pre-teen's embarrassment.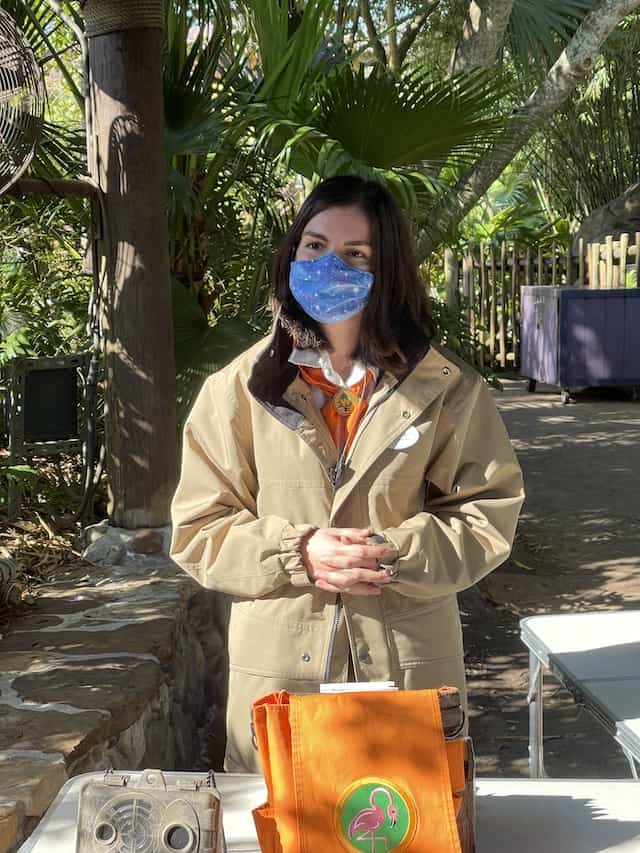 Two badge locations can be found at Discovery Island. The Insect Badge is found near the exit of "It's Tough To Be a Bug." The other is the Flamingo Badge which, as you guessed, is located near the flamingo habitat.
As you exit the Animal Kingdom, visit the Animal Find Badge location. As you travel through the Park, circle all of the animals that you find. Simply share your findings with the Troop Leader to earn your Animal Find Badge.
Locations in Pandora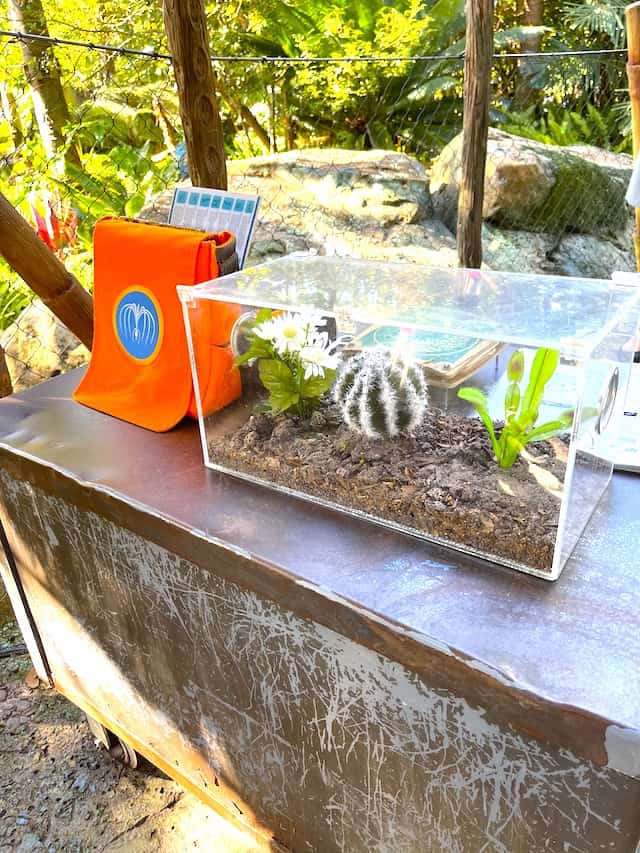 In the Land of Pandora, Explorers can find 2 Badge locations. The first that we visited was the Ecology Badge. The Land of Pandora is simply stunning and this badge helped us learn how the plants and animals of Pandora were connected.
Also in Pandora we learned about the interesting Botany of the land. We learned of the beautiful Flaska Reclinata responds to touch. See how it responds to touch on your next visit to Pandora.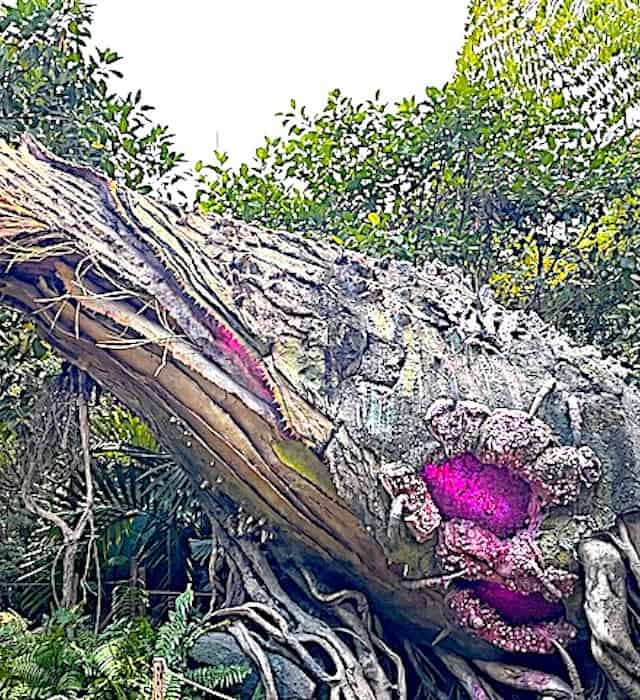 These two locations were among our favorite badges.
Dinoland Badges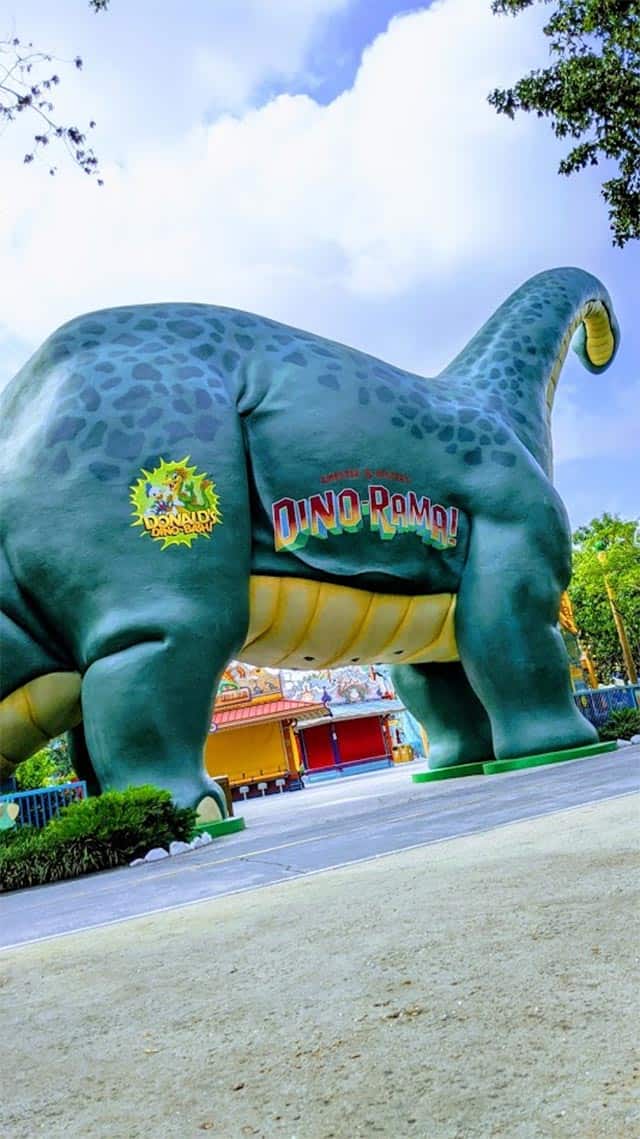 Dinoland has 3 separate badge locations. The first location we visited was for the Signaling Badge. This was located at the main entrance to Chester and Hester's Dinosaur Treasures. My kids loved this fun and interactive game.
The next location is near the Boneyard. To earn the Dinosaur badge, my kids were given the task of identifying a few different dinosaurs. The final Badge location is found near the Dinosaur ride. Wilderness Explorers can earn their Fossil Badge by learning the importance of fossils.
Badge Locations in Asia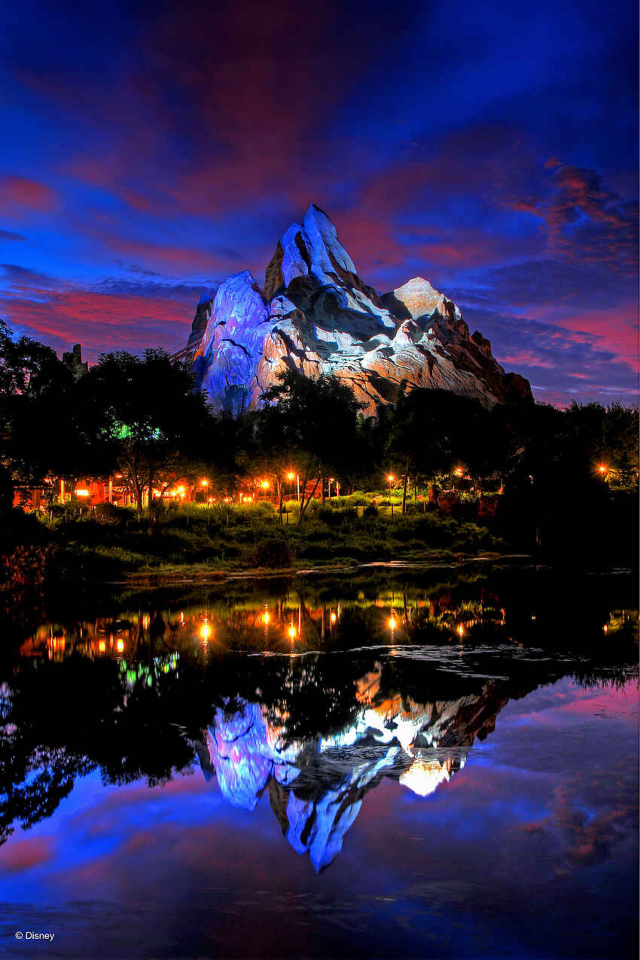 The area of Asia has the largest grouping of badge locations with a total of 9. Wilderness Explorers can learn about the Asian culture near the Yak and Yeti Restaurant. To earn the Forestry Badge, Explorers will learn the importance of protecting our world's forests.
Asia has the largest badge locations with a total of 9.
Get ready to learn about a few native animals to Asia with the Bat Badge, Tiger Badge, and Birding Badge. My kids especially loved the Yeti Badge where they learned how a bit of Asian folklore that inspired one of their favorite attractions.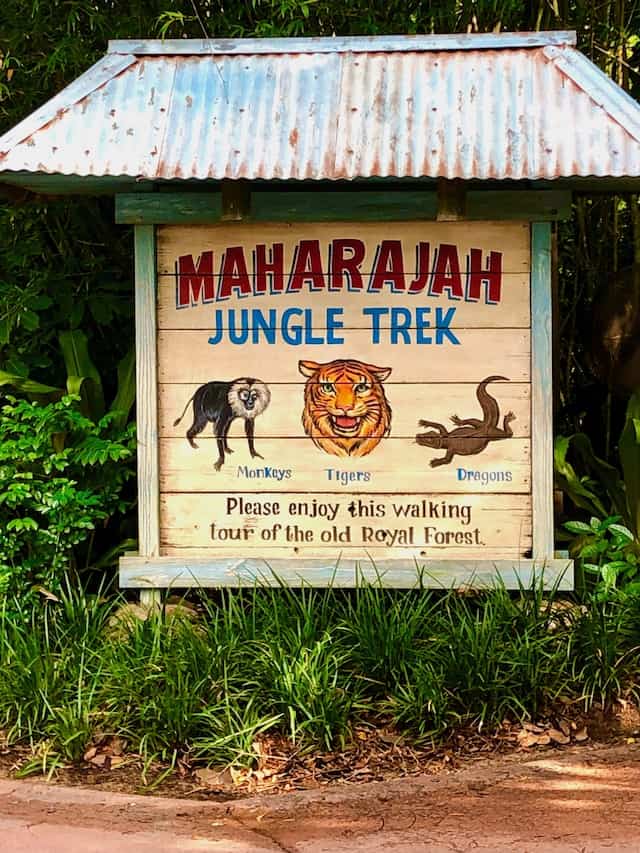 Prepare to scale a mountain as you earn your Mt. Everest Badge. This is of course located near the Expedition Everest attraction. You will be on the hunt for a list of needed supplies for ascent to the top of the mountain.
The Explorer Badge is a must for every Wilderness Explorer. Explorers can learn the history of Wilderness Explorers from the first troop to explore the Maharajah Jungle Trek. To earn the Animal Call Badge, Wilderness Explorers will learn the various calls of animals. This is located near the leader post in Asia.
Africa Badge Locations
Get ready to explore the Savanna as you earn the Safari Badge. This is a great badge to earn before going on the Kilimanjaro Safari. Explorers will learn about a few of the animals that they may see along the safari.
Head over to Gorilla Falls Exploration Trail to earn the Ham Radio Badge, Tracking Badge, Hiking Badge, and the Gorilla Badge. Wilderness Explorers can also learn more of the African Culture at the savanna overlook on Gorilla Falls Exploration Trail.
Rafiki's Planet Watch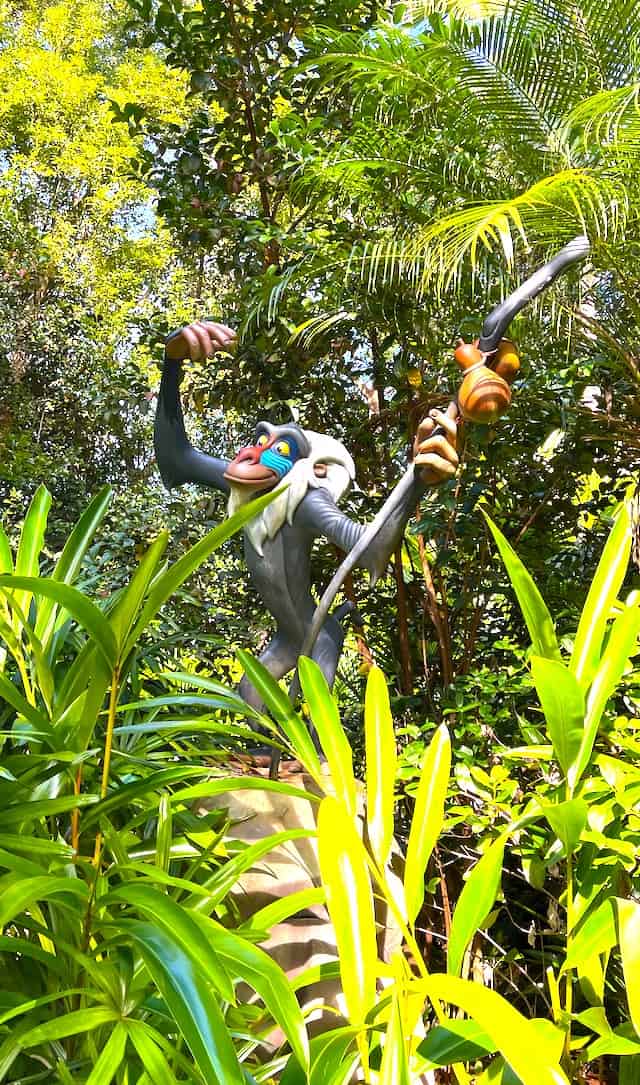 Hop aboard the Wilderness Express Train to journey to Rafiki's Planet Watch. This does take an extra detour to arrive by train, but it is definitely worth it. At this location Wilderness Explorers can earn the Habitat Badge. While here, be on the lookout for animal friends in your own backyard.
Along the trail to the Conservation Station, Wilderness Explores can earn both the Conservation Badge and the Recycling Badge. This is a great way to learn how we can all help to protect our earth.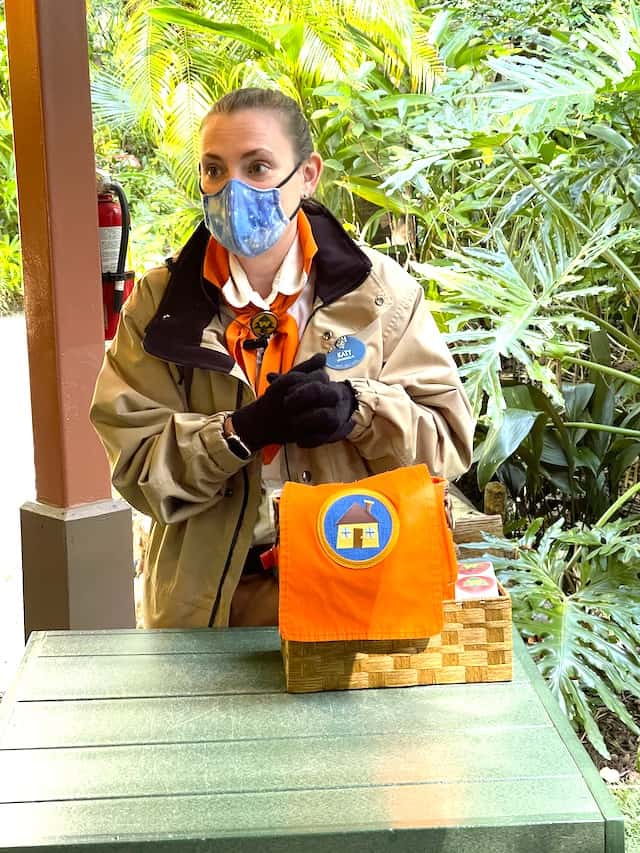 At the Conservation Station, Wilderness Explorers can earn their Animal Nutrition Badge and the Veterinary Badge. While inside the Conservation Station, try your artistic hand at the Animation Experience.
Our Review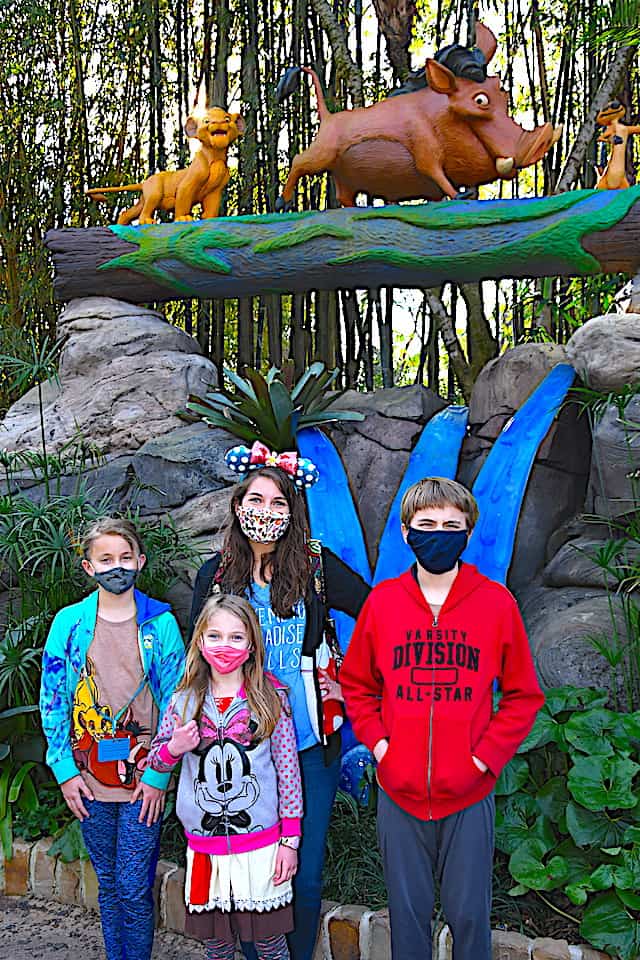 Our family greatly enjoyed this program, and we loved seeing many other fellow Wilderness Explorers throughout the day. We even saw a large group of about 10 adults all wearing their Wilderness Explorer hats ready to earn their badges.
Wilderness Explorer Program is a great way to add educational entertainment to your time at the Animal Kingdom.
Animal Kingdom is definitely a different Park without the added entertainment of both Festival of the Lion King and Finding Nemo the Musical. Several Disney Guests have commented that Animal Kingdom is a half-day park.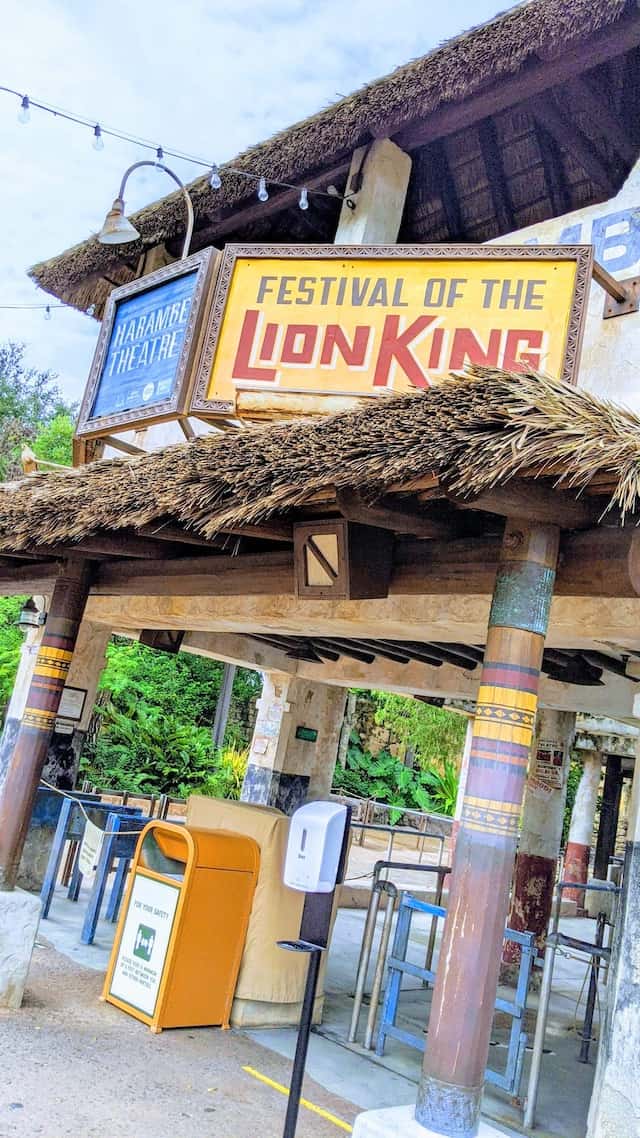 Taking time throughout the Park to enjoy the Wilderness Explorer program is a great way to add educational entertainment into your Park day. My young Wilderness Explorers were able to earn 20 badges. They are only 9 badges away from becoming Senior Wilderness Explorers.
They already have plans to bring their Wilderness Explorer handbooks on our next trip to Disney's Animal Kingdom.
Have you participated in the Wilderness Explorers program before? Which was your favorite badge to complete? Will you become a Wilderness Explorer on your next trip to the Animal Kingdom? Share your thoughts with us on our Facebook Page.
Are you planning a vacation? Reach out to our trusted travel agency sponsor Authorized Disney Vacation Planner
Mouse Class Travel
!