"Happy Merry Holly Jolly Season's Greetings Here, I'm wondering what your family does at that time of year!" The holidays are rapidly approaching, and while this year's festivities may look very different for a lot of people, that doesn't mean we can't find fun new ways to ring in the season!
The holidays are my favorite time of year! I love hearing Christmas music playing on the radio, driving through my local neighborhoods to look at Christmas lights and picking out the perfect gifts for my family and friends.
It's a season to be thankful for all that we have. If 2020 has taught me anything, it's that all the things in my life that I thought were "important" turned out to be very unimportant. All I really needed was my family and friends.
Holiday Traditions
I asked my fellow writers to share their family's traditions during the holidays, in hopes I might find some new things to do this year.
They did not disappoint! I loved reading their stories, and I hope you will too! Perhaps you just might find a new tradition to start with your own family at home this year!
Marisol
We have so many family traditions throughout the holiday season! Our girls open their daily Advent Calendar and we light the Advent wreath each Sunday.
We also celebrate the feast of St. Nicholas and St. Lucia. On the 12th of December, my girls dress up in their traditional Mexican dresses and take roses our to Our Lady of Guadalupe for her feast day.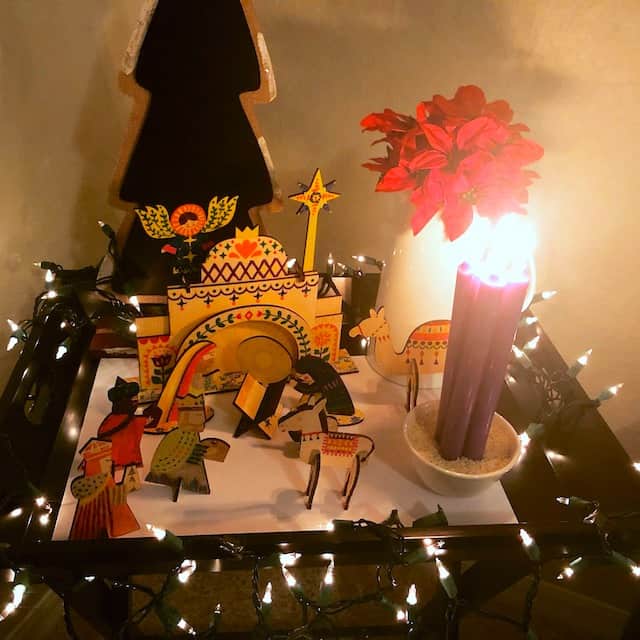 On Christmas Eve, we attend Midnight Mass. December is very busy for us! We also love to decorate our gingerbread houses, and we throw an annual Christmas party (9 years running!) at our house with close friends and family.
The last 8 years we enjoyed a potluck dinner, followed by arts and crafts, then caroling around the neighborhood and coming back to the house for hot chocolate only to find Santa and Mrs. Claus in our living room!
We finished the evening with Santa reading the kids "Twas the Night Before Christmas." As of last year, as some of the kids are growing up, we began the new tradition of arts and crafts complete with a full hot cocoa bar and a movie night.
Last year's theme and movie was "The Grinch." Christmas is certainly my favorite time of year full of traditions that I hope my girl's continue with their own families in the future.
Jaelyn
Since I was born (1991), my dad has taken a sliver of the Christmas tree stump from the tree we chose for the year and decorated it with highlights of the year.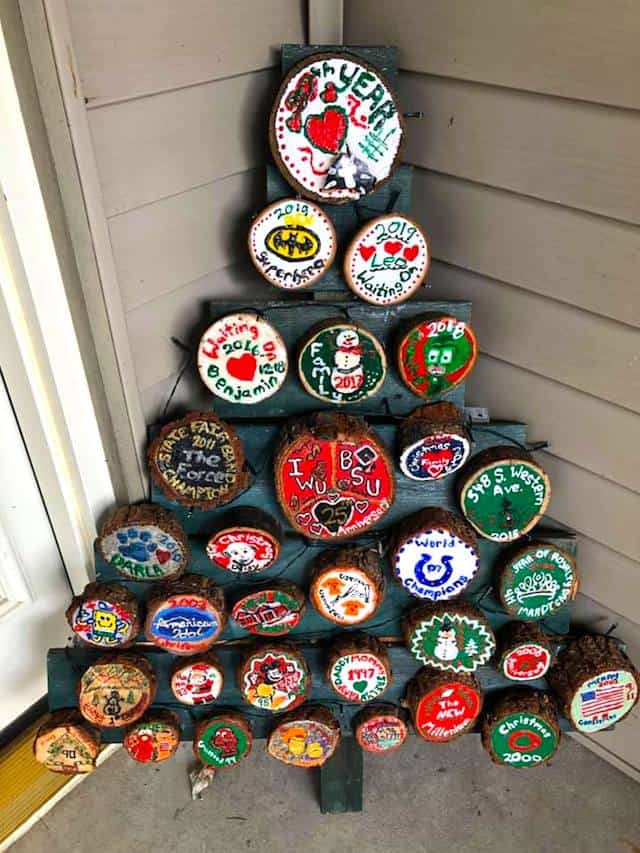 My mom and dad now have a collection of tree stumps that range from baby's first Christmas (mine), to pictures of our favorite Disney characters (Toy Story in 1996), to tree stumps celebrating all major milestones of the past 30 years (weddings, anniversaries, graduations, births of grandchildren, etc.) It is one of my favorite traditions!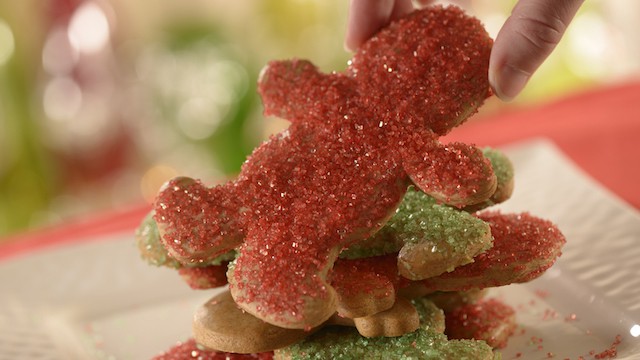 We love baking Christmas cookies, leaving out "reindeer dust" and cookies for Santa. We also have a Griswold Family Christmas party with all of our friends!
On Christmas Eve, we attend the late church service, order out pizza and wear our new pajamas while enjoying a Christmas movie.
Christina
Christmas has always been one of my favorite times of the the year! My family has had many traditions over the years. We love to put on the Netflix 'Holiday for Your Home Yule Log' and decorate our Christmas tree.
Our cats even get in on the fun!
We make sure to run through our Christmas movie list which must include 'The National Lampoon's Christmas Vacation'.
A few years ago, I started a cookie exchange tradition at my firm. Anyone who wants to come signs up and bakes the designated amount of cookies.
We then munch on delicious appetizers and sip hot cocoa (with all the fixins') while we play Christmas Jeopardy and collect our cookies to take home.
I am so sad this year had to be cancelled, but hopefully the tradition will live on when things return to "normal".
Even though I can't host a cookie exchange this year, that doesn't mean I won't still be baking a ton of festive cookies!
Every year I make sugar cookie cutouts that are amazing! I also bought a ton of sprinkles from Joann's this year to decorate them with.
If you're looking for a good sugar cookie recipe that isn't sickly-sweet, these are for you!
Sugar Cookie Recipe
On Christmas Eve, my family attends the "midnight Mass of Christmas" (which is really 10:00pm). My dad has been the choir director at our church for over 30 years, and my whole family sings.
When we get home, we make a bunch of appetizers and finger foods and watch 'The Muppet Christmas Carol' until we fall asleep. These traditions are so near and dear to my heart and I look forward to them every year!
Heather
On Christmas Eve, we get new Christmas pajamas! We all get cozy in our new jammies and snuggle up and watch a Christmas movie. We don't always watch the same one every year, but usually one of the following: 'Santa Clause', 'Home Alone', 'Polar Express' or 'The Grinch'.
Maggie
I always try and make some kinds of Christmas cookies with the boys and we love watching Christmas movies together, especially Disney Christmas movies!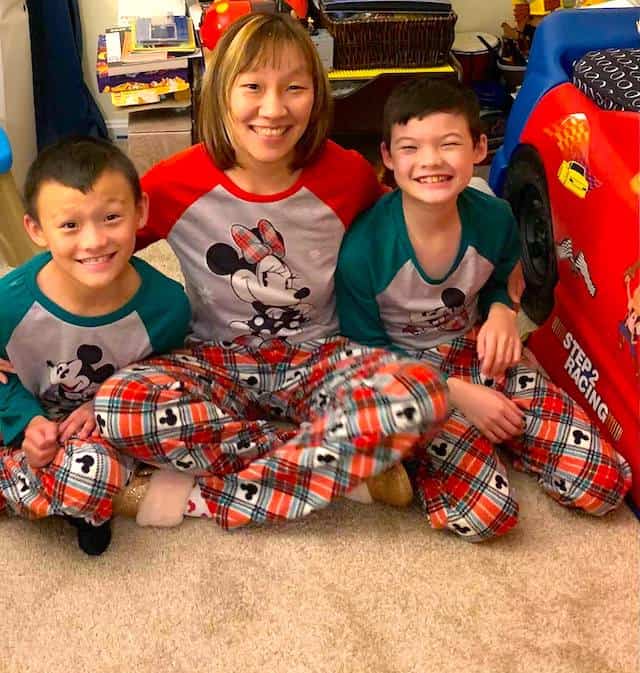 I'll usually take off work then so I can spend all of my time with the family at home. We love just being together during this time of year!
Rebecca
My family loves to watch Mickey's Christmas Carol and Christmas Eve on Sesame Street! Also, we always have to bake Grand Floridian's gingerbread cookies!
Normally, we go to see a movie on Christmas Day or Christmas Eve, but this year we will stay home and watch Soul!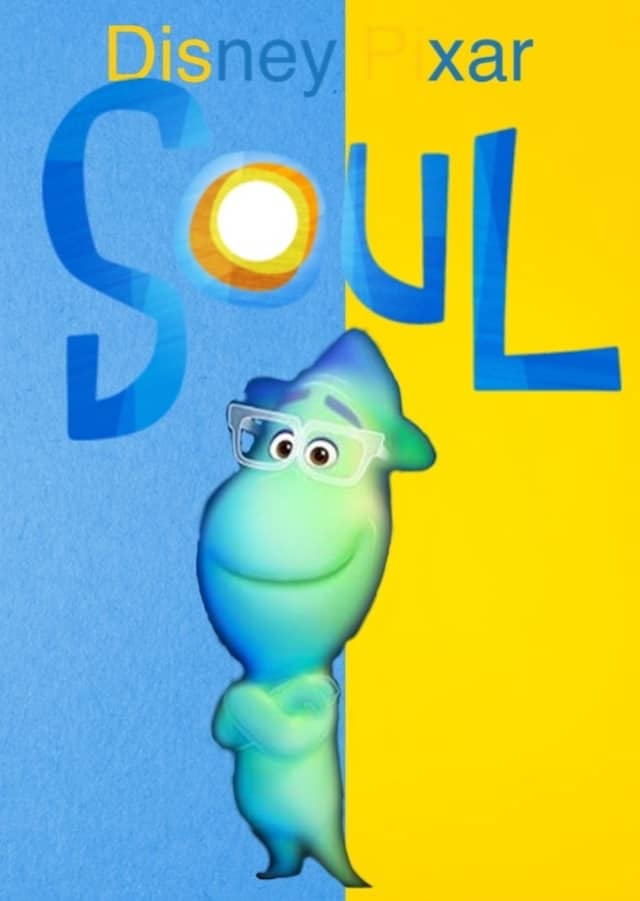 Kate
A few years ago, we started a new tradition of decorating a Disney tree. To enhance it, we started taking a special ornament along on our Disney trips to collect character signatures.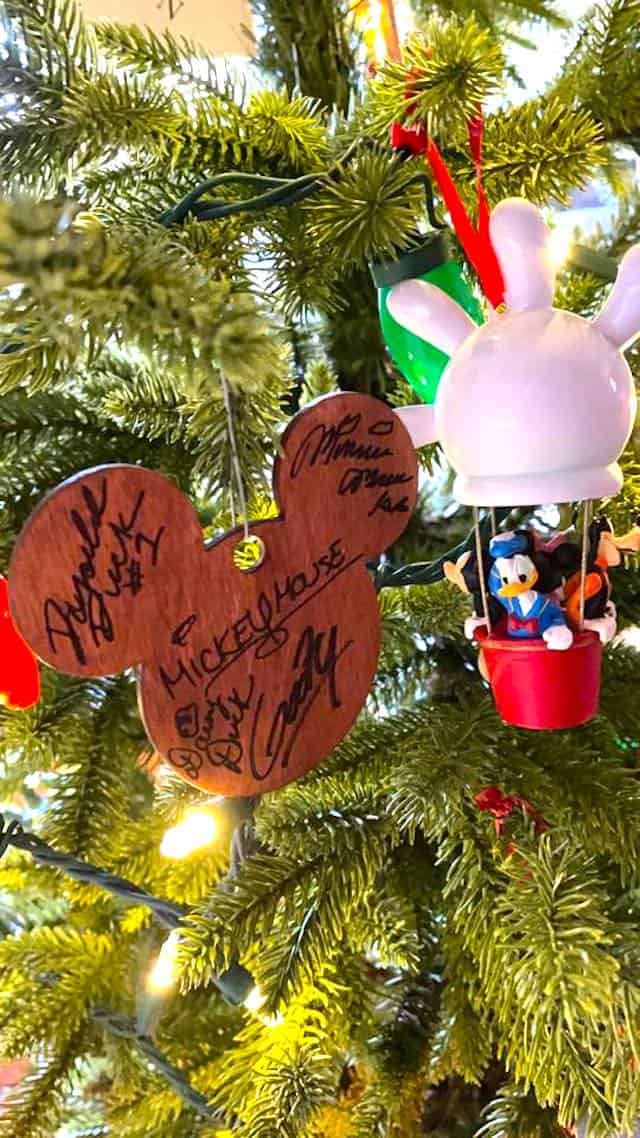 We also get a Disney ornament (or maybe a few) to commemorate our trips. Now we have fun decorating it and reminiscing about our adventures!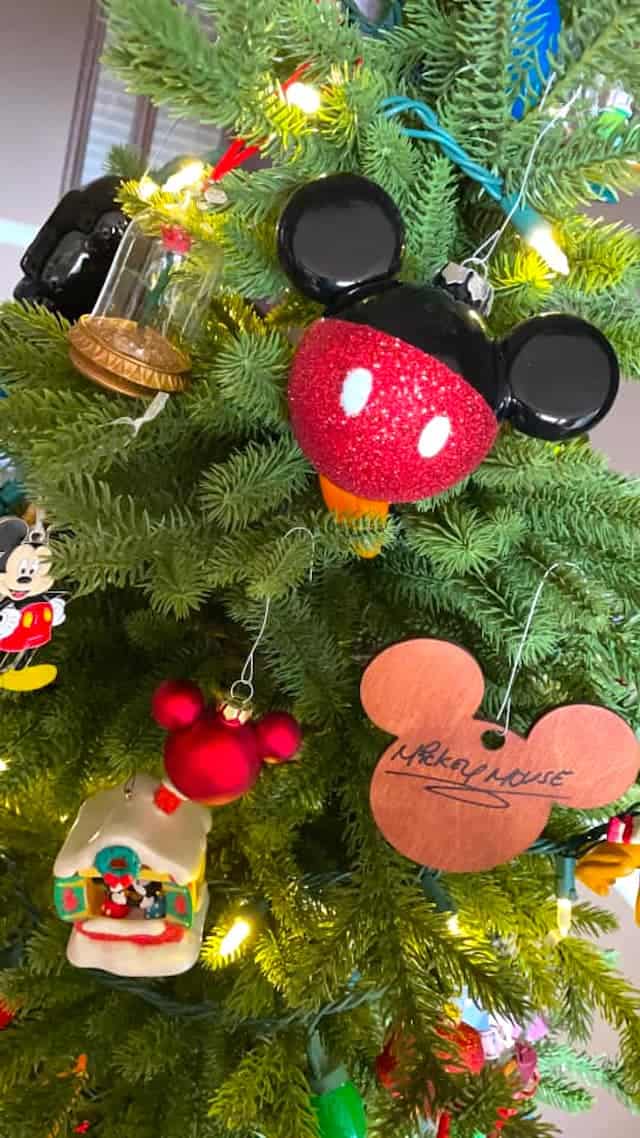 Jessica
Our family enjoys going to a local tree farm to cut down our tree each year. We decorate together and enjoy sharing memories as we hang ornaments.
We have many handmade ornaments that our children have created and we also collect ornaments to remember fun family adventures we take together.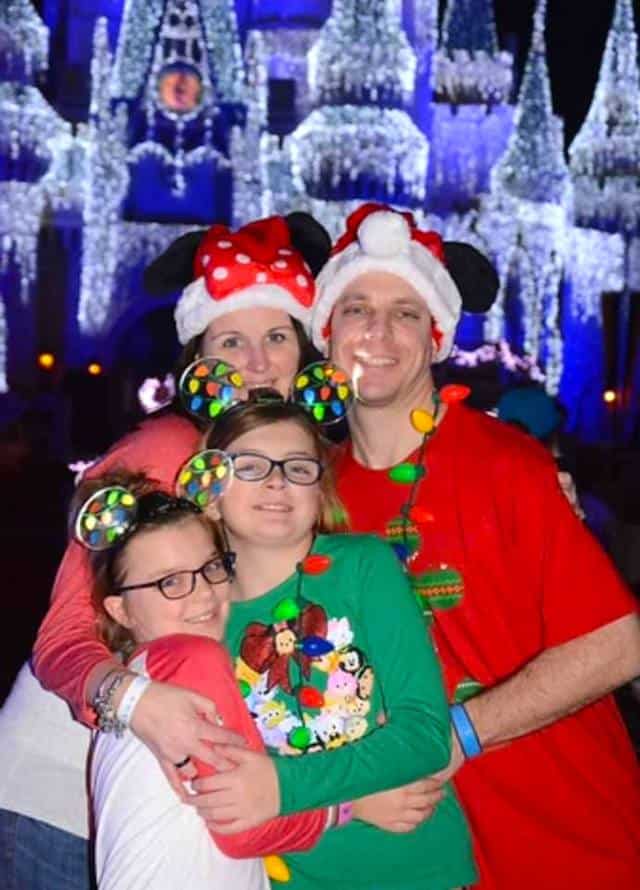 Our elf always brings matching Christmas pajamas on Christmas Eve. On Christmas Day, we enjoy hanging out in our jammies while playing board games and watching movies.
Susan
During the Christmas season, we always look forward to watching Christmas movies and listening to Christmas songs. Some of our favorite movies are 'The Christmas Story', ' The Santa Clause', and 'It's A Wonderful Life'.
Although my father passed away, we watch 'It's A Wonderful Life' in his memory. My children are grown, but Santa still brings presents and fills their stockings.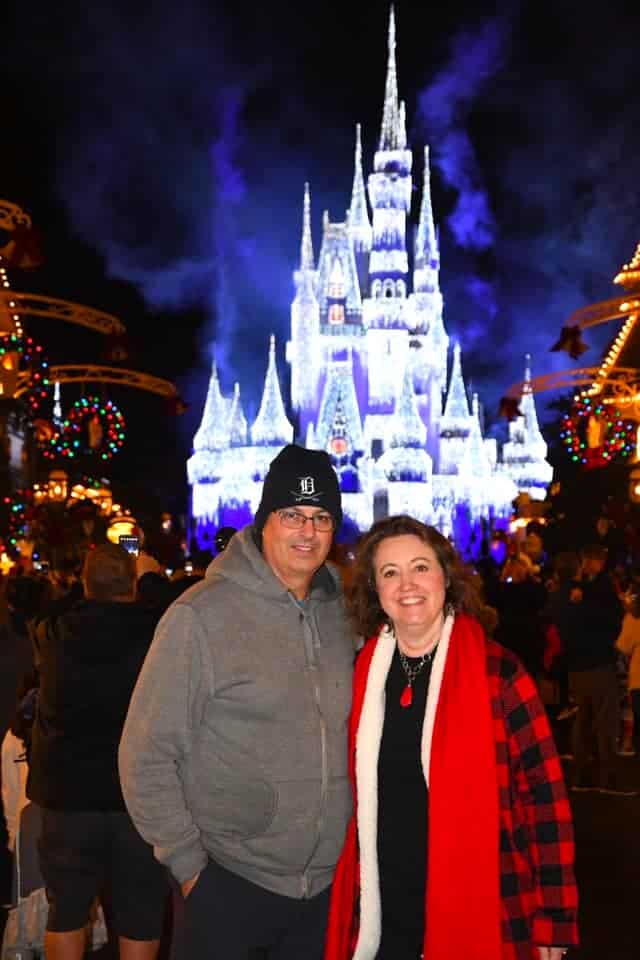 My husband reads the story of Christ's birth from the Bible each year, and we make a cake that says "Happy Birthday Jesus."
Monica
Our big holiday tradition every year is our Polar Express movie night. We get out our new Christmas pajamas for the first time. I make a ton of snack food (like s'mores trains, plus white chocolate and M&Ms drizzled over popcorn) and hot chocolate and we watch the movie.
We make sure all the Christmas lights are on, and it's a major plus if it's snowing that night! It's a really special tradition for us, and I'm glad we can still have it this year.
Donna
A couple of days before Christmas, we schedule a "Pajama Day." This is a day where there is no hustling or bustling (sounds a lot like 2020). We simply stay home and enjoy a Santa Clause Movie marathon while making crafts, treats, and loads of memories.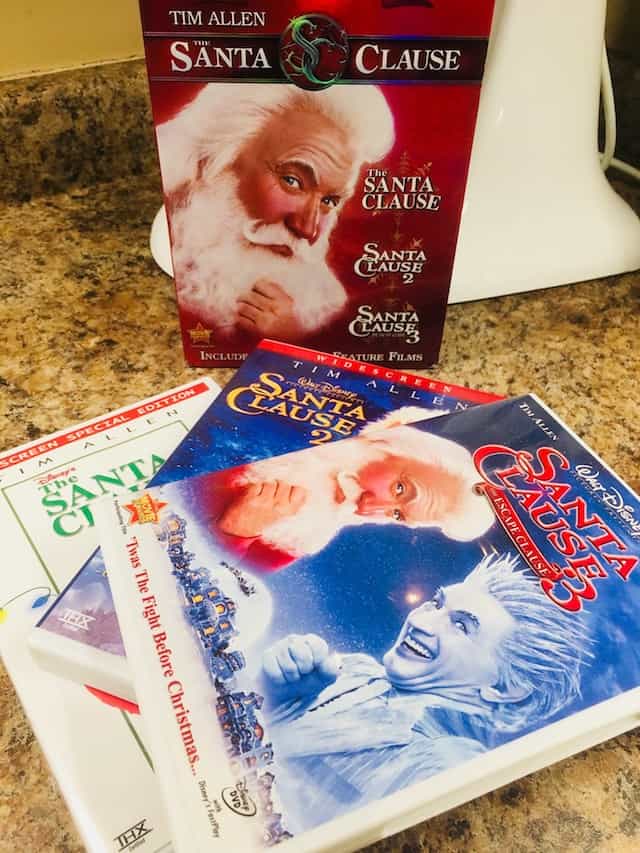 One of my kid's favorite activities is making Cinnamon Dough ornaments.
Ingredients:
1 cup ground cinnamon
1 tbs ground cloves
1 tbs ground nutmeg
Mix these ingredients together and then add:
3/4 cup applesauce
2 tbs glue
Mix this together and form into a round ball. Lightly dust your cutting board and rolling pin with flour and roll out your Cinnamon Dough. Use cookie cutters to cut out the desired shapes and use the end of a straw to form a small hole to use for hanging the ornament.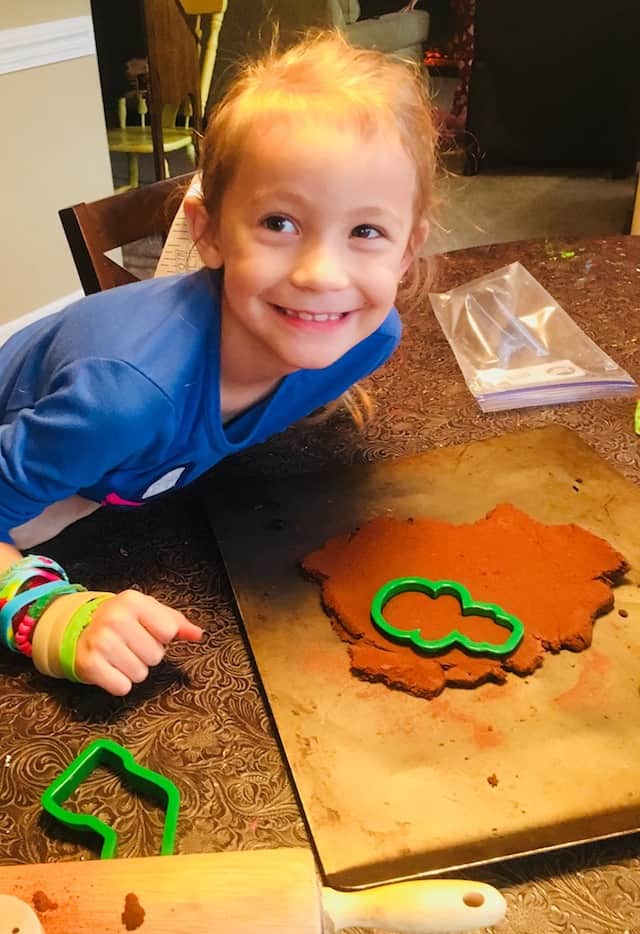 After all of the Cinnamon Dough has been shaped into ornaments, simply place on a cookie sheet and bake at 200° for 2 hours. Your house will smell AMAZING!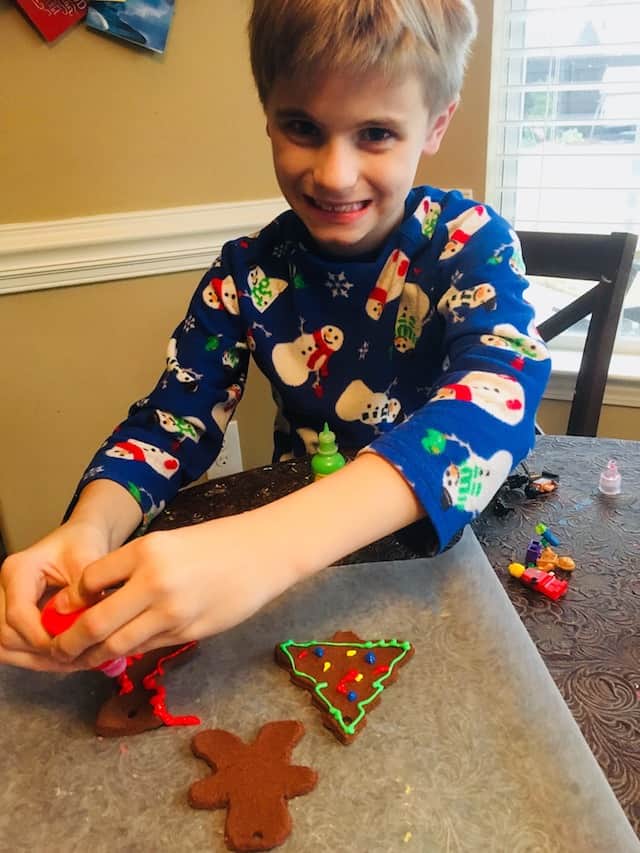 Once they have baked and cooled, have fun using puffy paint to decorate your ornaments. The puffy paint does need to dry overnight before the ornaments may be hung. Merry Christmas and have fun decorating!
No matter what holiday you celebrate at this time of year, all of us at KennythePirate wish you and your family a very HEALTHY and happy Holiday this season!
Did you find our family Christmas traditions interesting? What traditions do you have with your own family? Let u know on our Facebook Page! We'd love to hear what makes your holidays bright!
-Christina
Are you planning a vacation? Reach out to our trusted travel agency sponsor Authorized Disney Vacation Planner
Mouse Class Travel
!