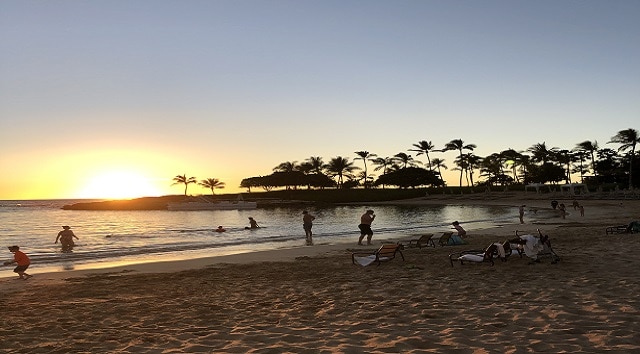 Join me as I take you on part two of my adventure series of our experience at Disney's Aulani Resort located Hawaii.
Pre-Pandemic v. Today
I also wanted to make a note that our trip was taken in December 2019 prior to the pandemic. Little did we know how our lives would change a couple of months later.
Therefore, my experiences from December may look a bit different when they reopened in November 2020.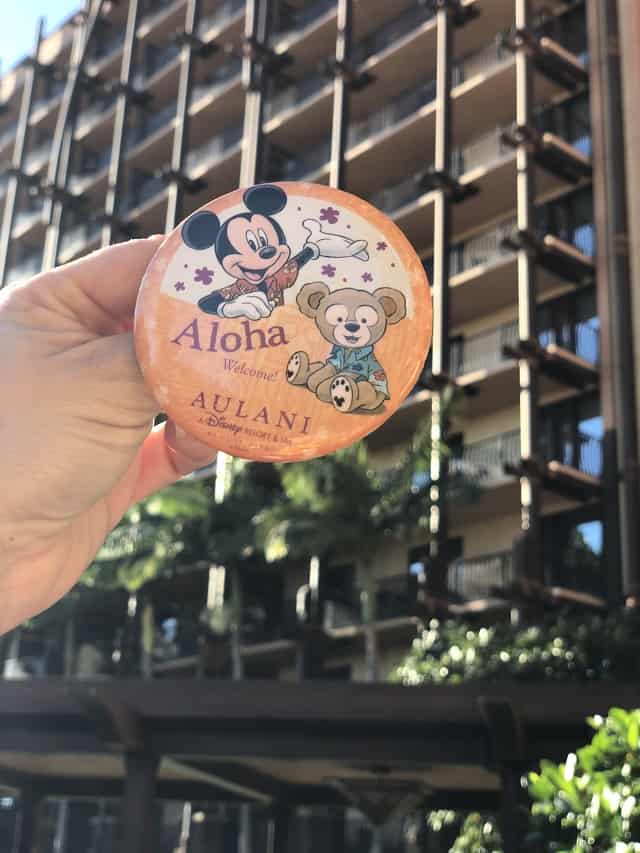 You can read the first part of my experience and trip planning HERE. This is a great place to start when planning a vacation to this beautiful resort in Hawaii.
In this article I will focus on our experiences with the beach area, the pools and our private photo shoot on the beach!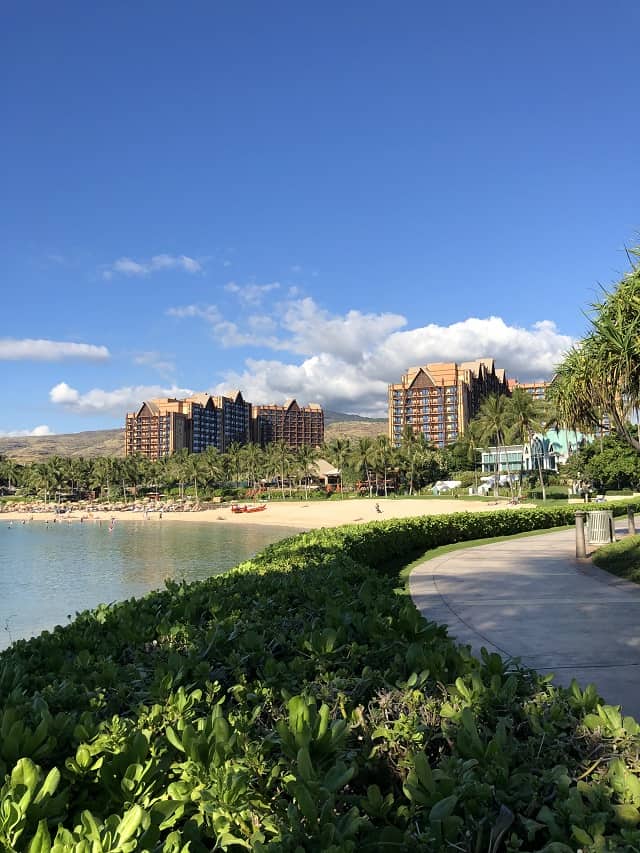 When I begin to look at the millions of pictures that I took on my phone during our trip, I can't help but smile at the abundance of beautiful memories that my family made.
Waikolohe Stream
I have always had quite the fascination with lazy rivers. I have always seen pictures and videos of them, but I had never been in one myself. My dream is to glide along the lazy river on a tube while holding a cocktail in my hand. Amazing, right?!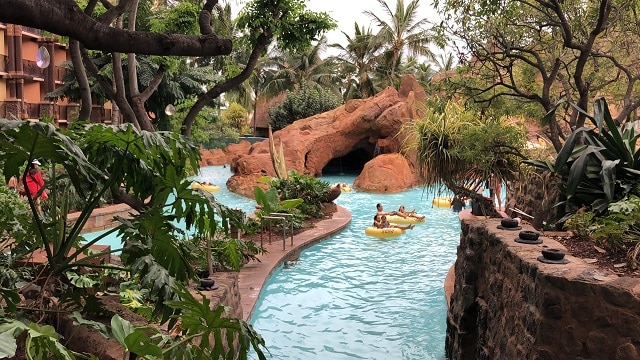 Well, I was able to accomplish two of three. Note to everyone, that you can not have any type of beverage or food in hand while riding on the lazy river!
One of the things that you will notice when you arrive at Aulani is that in order to use the pools, guests will be provided with a wristband that changes on a daily basis. This allows the Cast Members to identify those that are using the facilities, such as the pools and lazy river, are in fact guests staying at the resort that day.
My girls and I would add and keep our wristband during the duration of our stay. After a couple of days, we had quite the colorful collection going and many people quickly took notice and would comment on them.
Pools
The main pool at the resort is Ka Maka Grotto which is an infinity-edge pool that overlooks the Ko Olina Beach. This is the pool you want to make sure that you are at, especially at sunset. The colors are mesmerizing and they make the most beautiful picturesque backgrounds!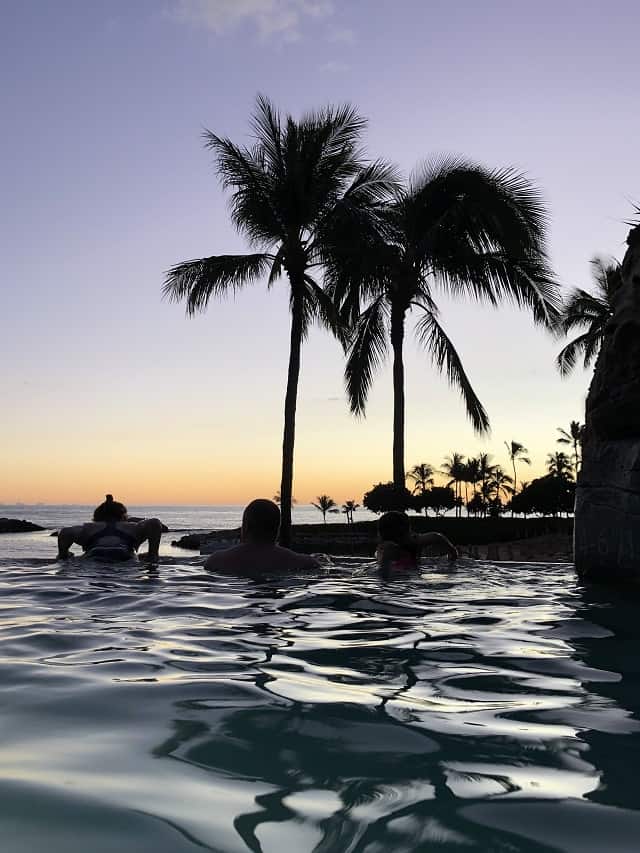 Keiki Cove Splash Zone is an interactive splash zone for kids as well as the Menehune Bridge that also includes two slides and a play structure. For Guests 18 and older, the pool to visit is Wailana pool. It is nicely secluded area that gives it a private ambiance.
Lastly, Waikolohe Pool is a 8200 square feet pool that includes a thrilling tunnel body slide for the more adventure ones. This pool area is very nice for the entire family to enjoy.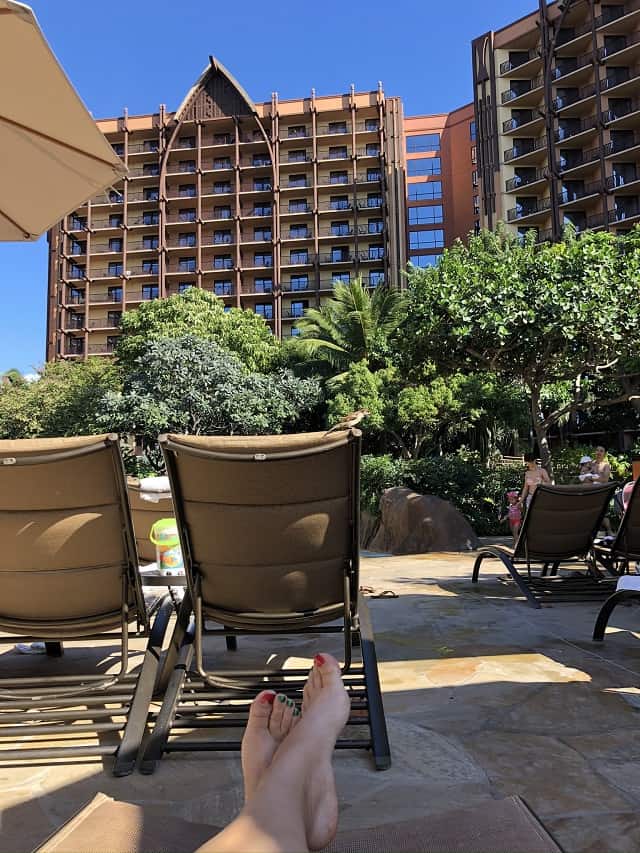 Rainbow Reef
While we visited Aulani in December, the resort itself was going through a massive refurbishment. Unfortunately, this was one of the areas that was closed during our stay.
This private snorkeling lagoon is an extra expense for guests. Keep in mind that children under the age of 11 must be accompanied by an adult.
Ko Olina Beach
Aulani sits on the beautiful beaches of Ko Olina which is located in O'ahu. You know those beautiful pictures of the perfect sunset with the ocean waves and palm trees? That is exactly what you will find on these beaches.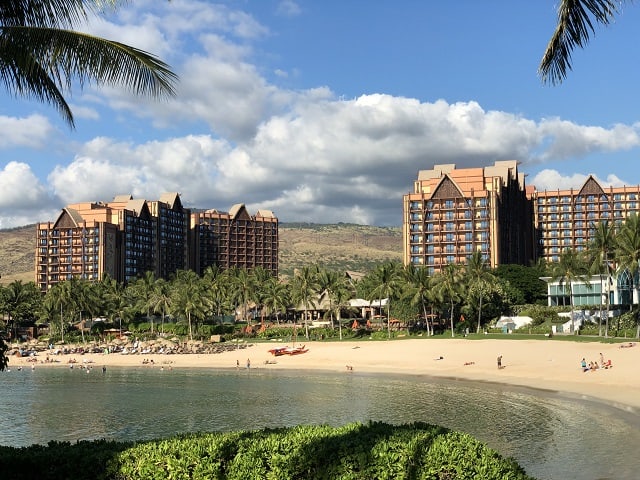 Our family spent each day and evening on the beach as it was so easy to frolic around in the sand and in the water. I always felt that our girls were safe while playing in the ocean.
Makiki Joe's, which is situated on the beach, offers a wide selection of beach essentials. Some of them are complimentary for resort guests, such as boogie boards, sand toys, and life jackets.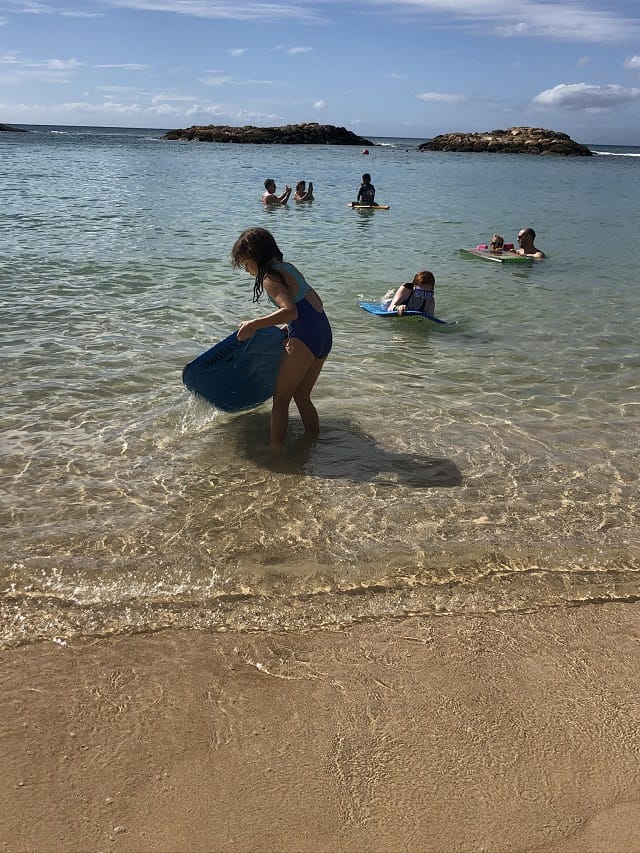 They also offer other rentals for an additional cost such as snorkel sets and stand-up paddle boards. In fact, our family partook of the latter activity!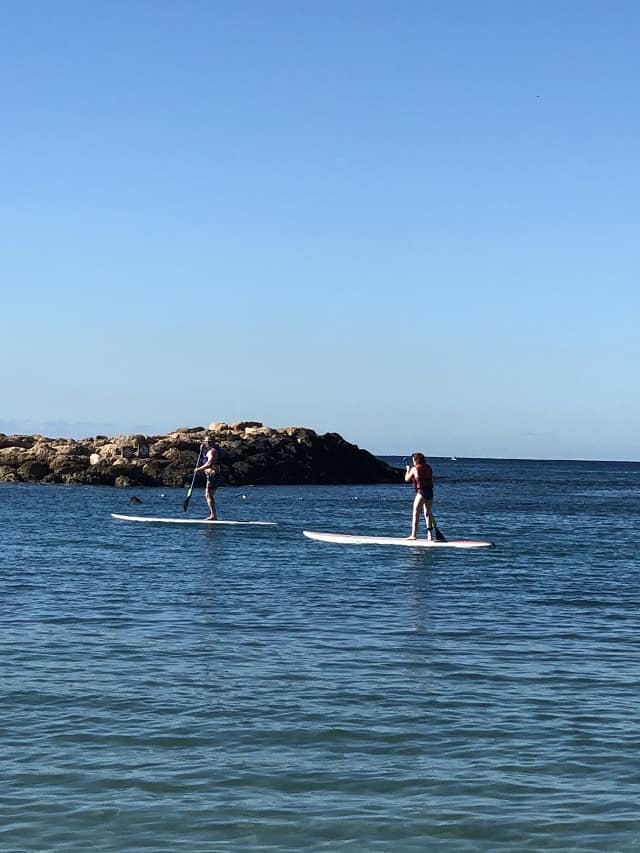 One of the adventurous parts of our family is that when we travel, we like to partake in an activity that we have never done before. Well, for this trip it was stand-up paddle board!
I'm not going to lie when I say that it took me a bit to figure out how to get on it, maneuver it and then get back to shore!
Disney PhotoPass Photography
One can not be on the beach and not bring themselves to taking an abundance of pictures especially at every different angle as the scenery is so mesmerizing! Therefore, you might want to think about purchasing the Disney PhotoPass.
Some of us are very familiar with Disney PhotoPass at the Disney parks, and it works very similar at Aulani. Simply pick up a DisneyPhoto Pass card from a PhotoPass photographer and they will capture your memories with characters around the resort, around the pool areas and down at the beach and even of the kids inside the kids club!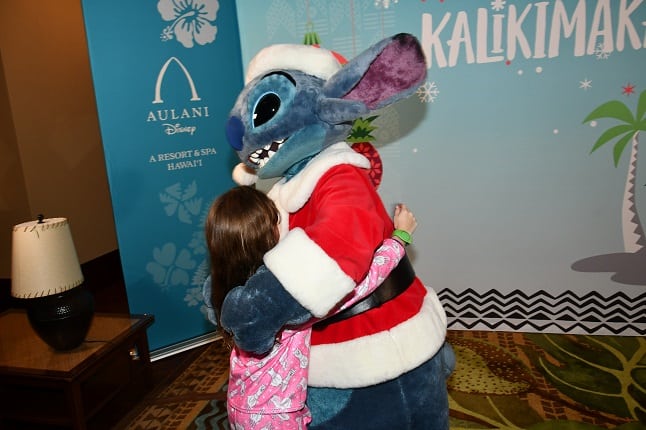 One of the wonderful perks of having a Disney PhotoPass photographer capture images of your visit to Aulani is how they are present on the beach before, during and after sunset. It's as if you are having a mini professional photo shoot on the beach!
Disney PhotoPass Packages
Here are some of the options that Disney PhotoPass offers:
Disney PhotoPass Digital Photo Download
Enjoy all your photos captured by our team of Photographers during your stay at Aulani Resort (dining photos not included). Price: $99
Disney Dining Digital Photo Download
Enjoy all your photos captured at one (1) Disney dining experience. Price: $35
Dining Print Package
Enjoy a print package featuring a 6" x 8" commemorative Character photo. Price: $35
Disney Dining Digital Photo Download and Dining Print Package
Best Value! Both the Disney Dining Digital Photo Download and the Dining Print Package as described above. Price: $45
Aulani Print Package
Keep treasured memories of your stay at Aulani Resort with a package of one 5″ x 7″ print and 2 sets of 4″ x 6″ photos. (A set is 2 copies of one photo.) Price: $27
Another dream of mine was to always take pictures outside professionally. How perfect would the pictures be if we took them during our trip to Aulani and on the beach?!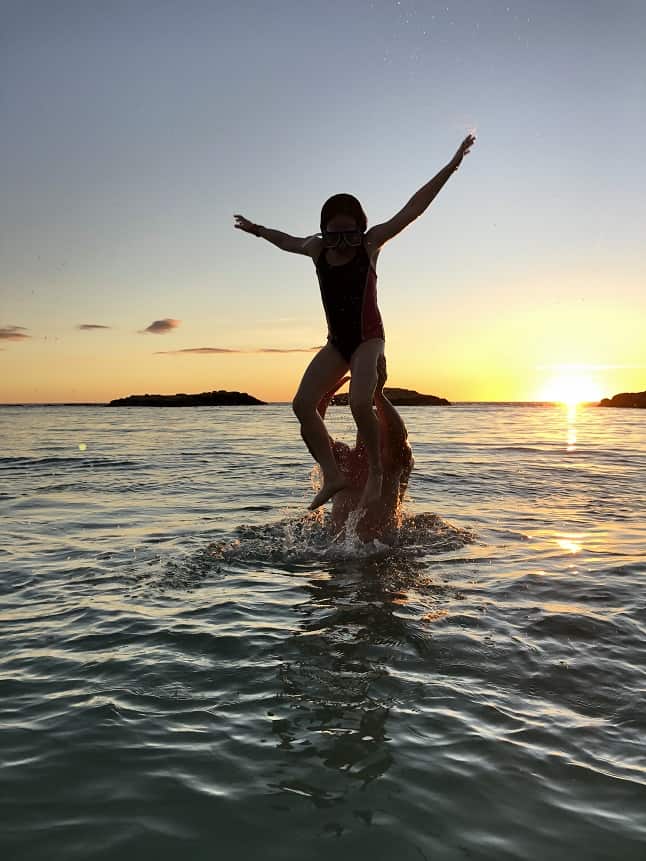 Luckily, Disney PhotoPass came to my rescue and we were able to schedule a private session for my family.
Private photo sessions last anywhere between 20 to 40 minutes and include as many poses as time permits. And the awesome part is that all the images are yours to keep on a disc!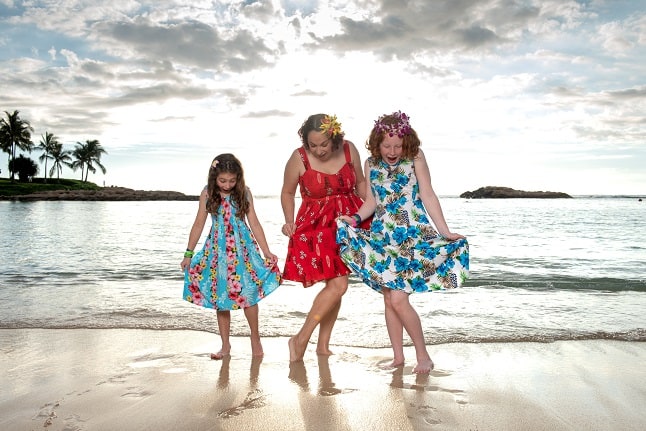 Our family decided on the 20 minute photo shoot as my husband does not have the patience to sit through many photos! To be honest with you, it was plenty of time to take pictures, as our girls took pictures by themselves, together, my husband and I took pictures together and of course, many pictures together as a family.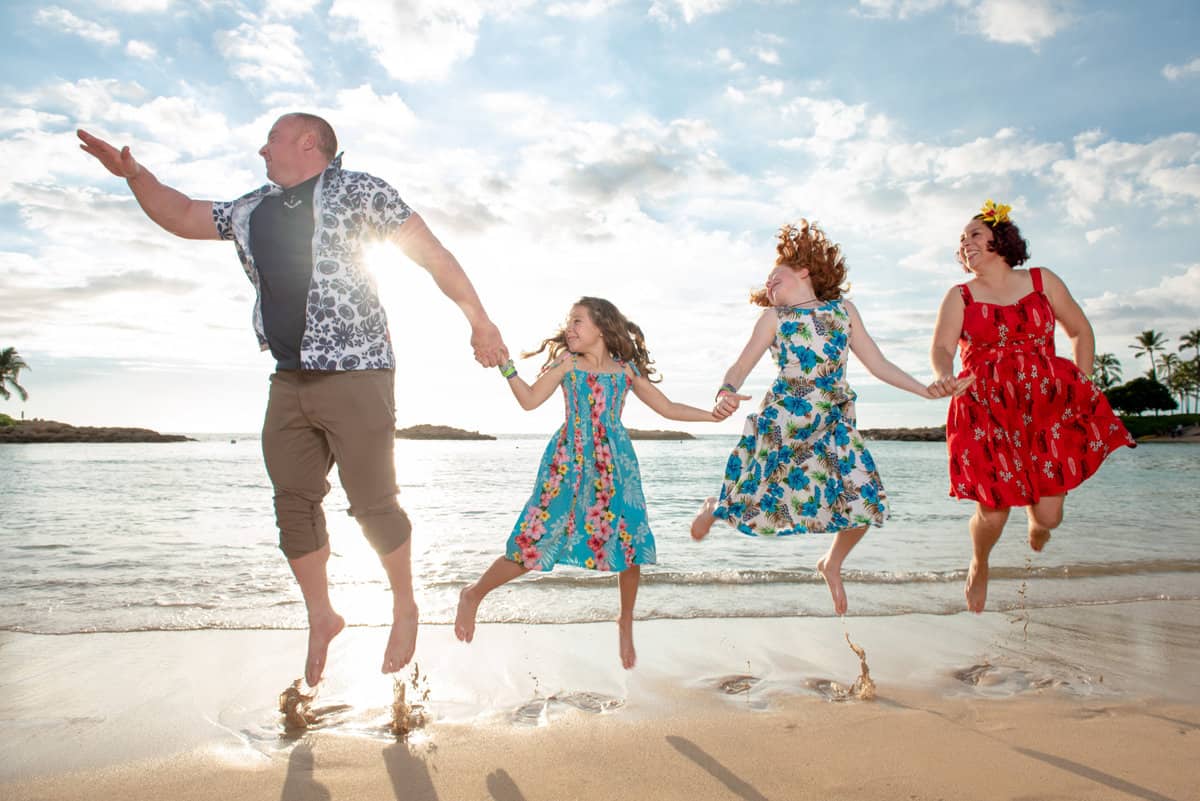 The pictures that we took were AMAZING! I now have a gallery of our photo shoot above our fireplace and around the our living room. Mission and dream accomplished!
I can't recommend the private photo session enough! We had such a wonderful time as you can see by the pictures. The background is the cherry on top!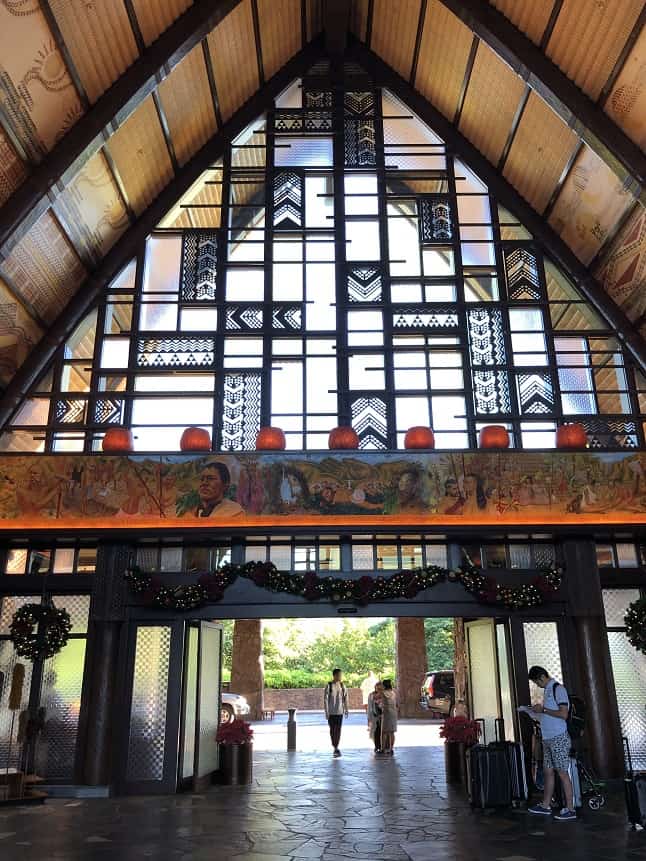 Our Adventures Continue
For my next installment of my review and experience at Aulani, I will be focusing on activities such as making your own Mickey ears, purchasing and eating the Instagram worthy Mickey shaped sno-cones and our adventure in viewing the giant sea turtles right down the street from Aulani.
You can also click HERE to read on our experience of visiting Pearl Harbor.
Have you visited Aulani before or planning a trip to visit? We would love to hear your experience. Share them with us in the comments or on the official KtP facebook page.
-Marisol White