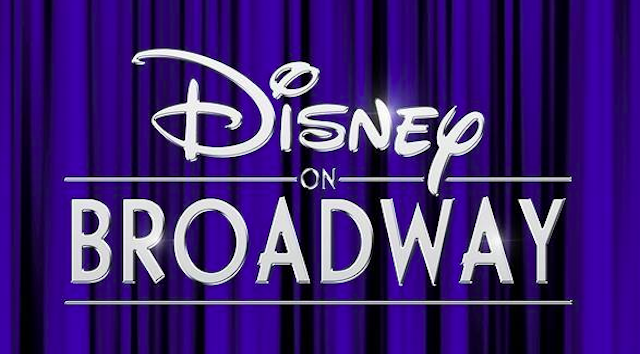 Disney on Broadway is keeping us entertained and helping us stay active at home by sharing three Get Up And Go choreography videos. These dance tutorials from the musicals, The Lion King, Aladdin and Newsies will have your whole family singing, dancing and laughing.
Get Up And Go is a wellness & fitness program encouraging active lifestyles through dance, inspired by Disney Broadway shows. The program supports Disney's healthy living commitment to inspire kids and families to stay healthy.
Disney on Broadway encourages dancers to wear comfortable clothing and sneakers and they also include this disclaimer in each of their tutorial videos.
Disclaimer: The modified choreography featured in this video is intended to encourage active lifestyles through dance. It is important to pay attention, be aware of your surroundings and your body and be sure to consult your physician before taking part in any physical activity. The choreography performed in this video is executed by trained dance professionals. Children under the age of 12 should not participate without adult supervision. Children under the age of 18 should get parental permission before attempting the choreography presented in this video.
The Lion King
Ruthlyn Salomons, Resident Dance Supervisor is joined by Dance Captains, Kellen Stancil and Bravita Threatt to provide step by step choreography for the song "He Lives in You" from Act II of The Lion King on Broadway.
Salomons reminds new dancers, "Don't worry too much about getting the steps perfectly. The most important thing to do today is have fun while trying something new."
The tutorial transforms dance moves like the Ebonga, Muscle Man Pose, and Javelin Throw into a beautiful dance performance of "He Lives in You".
If you are looking for additional ways to enjoy The Lion King Broadway at home, be sure to check out our article on The Lion King Experience. This free program was originally designed to use in the traditional classroom setting but has been adapted for children and families to complete together at home.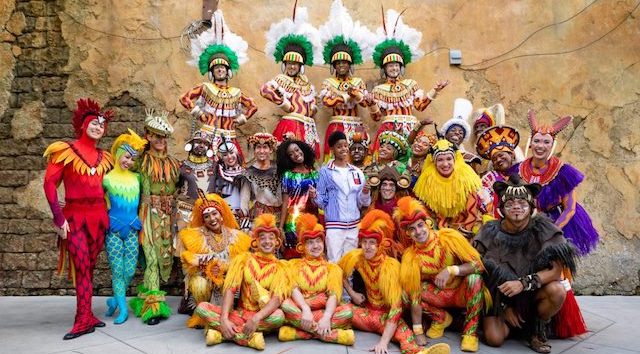 All Disney Lion King fans should also watch the Special At-Home Edition of the Festival of the Lion King. This unique performance features cast from their backyards, living rooms, and neighborhoods across the country.
Aladdin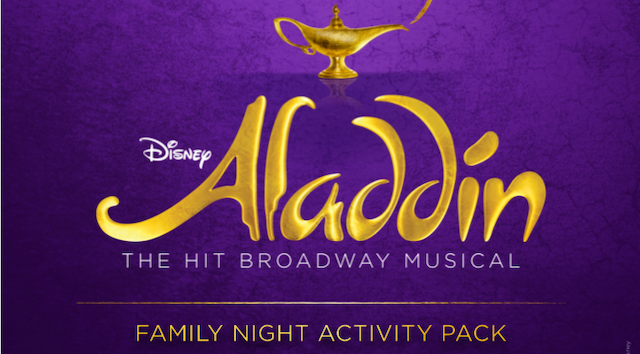 Last month we shared a variety of at home activities and ideas to try from Aladdin the Broadway Musical. Learning the choreography to the dance "Arabian Nights" is a perfect addition to an at home afternoon full of Aladdin-themed fun!
Nikki Long, Dance Captain for Aladdin on Broadway is joined by ensemble Cast Members Jennifer Rias and Donald Jones to provide a step by step dance tutorial for "Arabian Nights."
My theater-loving children thought this was the easiest dance of the three featured today. They loved that Nikki used song lyrics while teaching the dance moves.
Newsies
You will need to gather a few pieces of newspaper before beginning this dance tutorial. Newsies is based on the real life story of the Newsboys strike of 1899 where the Newsboys rallied together against the powerful newspaper owners.
In this step by step dance tutorial, Christopher Gattelli, the choreographer for the Broadway Musical Newsies, along with members of the cast teach us the choreography to the Act I closing song, "Seize the Day."
There were a lot of laughs and bloopers as we attempted dancing on newspaper at our house along with the Newsies cast.
Disney on Broadway also invites fans to join them live on Instagram every Monday at 3:00 ET for additional choreography tutorials, songs, and interviews from Disney on Broadway stars.
Which dance will your family be trying first? Tell us in the comments below, on the Kenny the Pirate Facebook Page, or in our exclusive KtP Crew Facebook Group!
Jess Watkins
Jess is an experienced Disney traveler, wife, mom of two beautiful girls, and golden-doodle Maui. Disney World has always been her Happy Place. She embraces the motto 'Hakuna Matata' and looks forward to sharing her love of all things Disney with you!