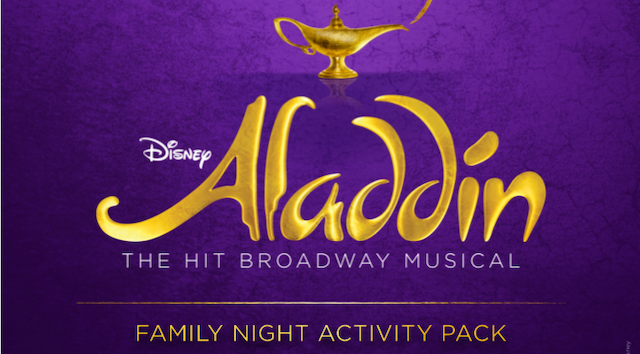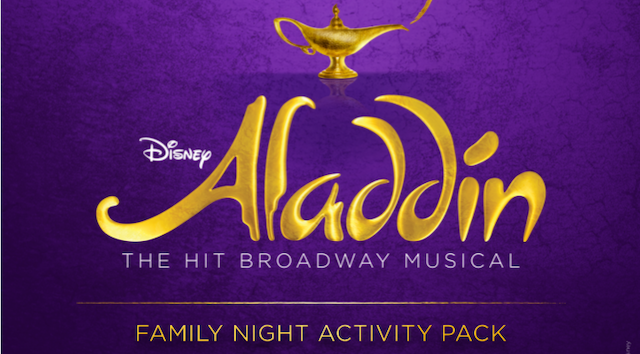 Aladdin the Broadway Musical shows have been canceled due to COVID-19, but we now have a way to bring home a bit of the fun and magic of Aladdin to our homes. Read about how you can bring home great activities, view never-before-seen videos of the show, and even sing-along with the cast.
Sing-Along
One of my all-time favorite Disney songs is from Aladdin. I absolutely love the song "Prince Ali." This song will have you tapping your feet, dancing throughout your home, and you will be singing of the greatness of Prince Ali.
This sing-along edition will have you singing that Prince Ali is "stronger than 10 regular men definitely."
The best part is that you can sing as loud as you like and nobody will be there to judge you. You have our permission to belt it out as if you were on the Broadway stage.
Activities
There is an activity pack that has so many great activities for you and your family to have an Aladdin Party Night at home.
Story Synopsis
In the activity pack, you will find a synopsis for the play which is very similar to that of the live-action movie Aladdin that was released in 2019. It is interesting that the moment is mentioned in the first synopsis that Aladdin's mother is the driving force for Aladdin to turn away from a life of theft.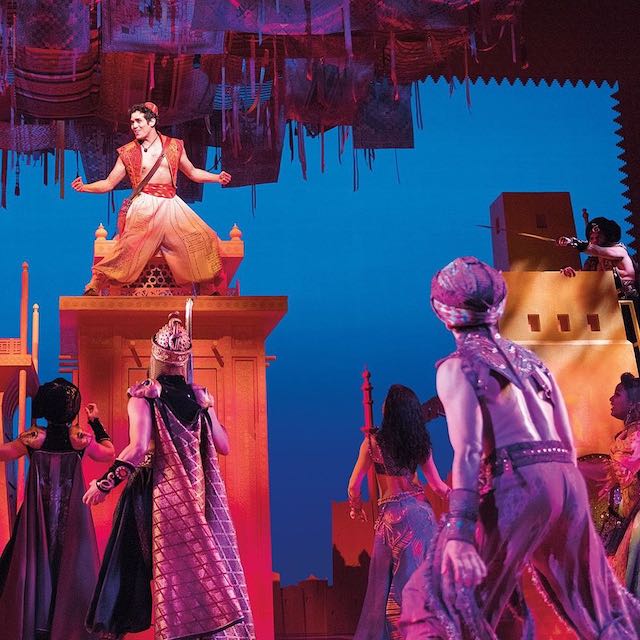 This would be a lot of fun for different members of your family to act out as you read along.
Cast of Characters
Aladdin, of course, has his favorite sidekick, Abu, but the Broadway musical also introduces to a few new friends such as Babkak, who thinks only of food. Omar is a fellow thief who is a bit more shy than the others. Kassim is "tough as nails" and is also a thief. It is interesting to see how these additional characters add to this beloved story.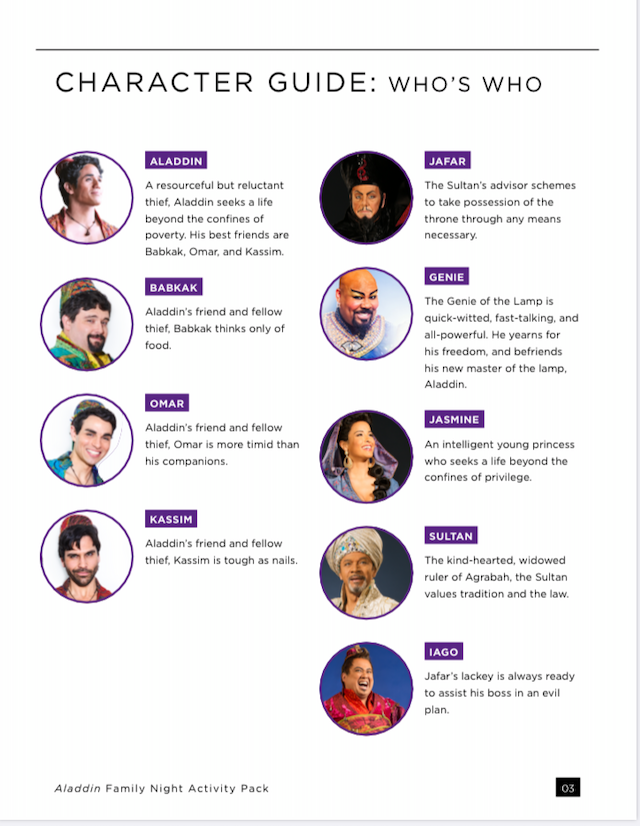 Prop History: Magic Lamp
The magic lamp is the most recognizable prop from the movie and the Broadway show. Learn how they constructed the lamp using a 3D printer and the ways that they have reinforced it for durability.
Journey to Broadway
Learn a little bit about the history of bringing this classic tale both in animation and to the Broadway stage. The animated version first premiered in 1992 and due to the high success, it was brought to the Broadway stage in 2009.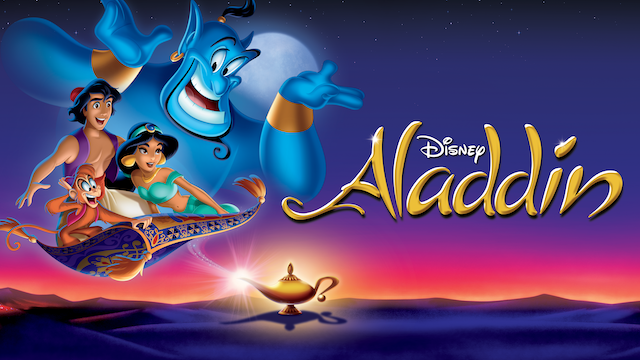 Prop History: Jasmine's Crown
Learn 5 interesting facts of the beautiful crown that Princess Jasmine wears.
In-Theatre Activity
You can chat with your family or FaceTime a Disney friend and ask each other these great questions regarding the Broadway musical.
Some of these questions may have you scratching your head and thinking outside the box. For example, "how would you make a carpet fly onstage" and "what play could you create from a special moment in your own life."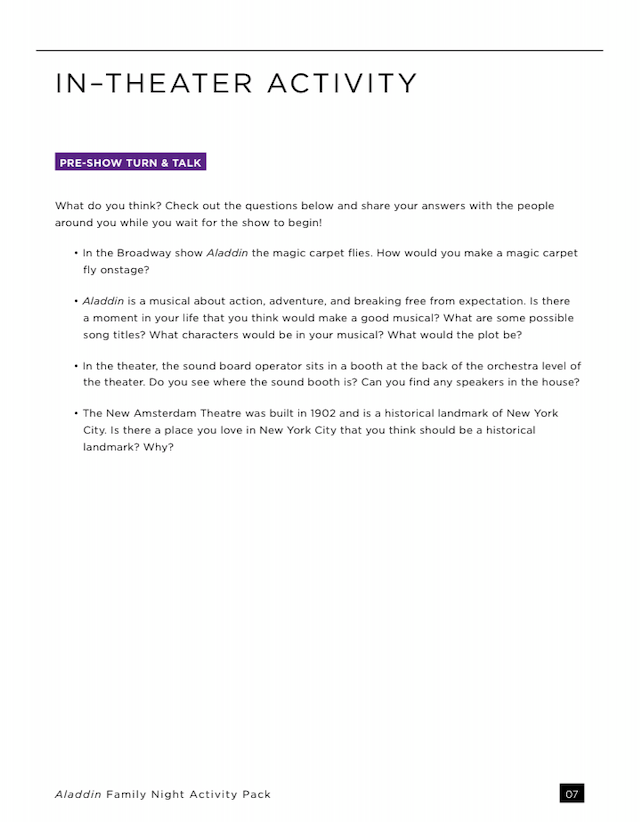 Coloring Page
Host a family coloring contest and create your own magical lamp. At the end, share with each other what your 3 wishes would be.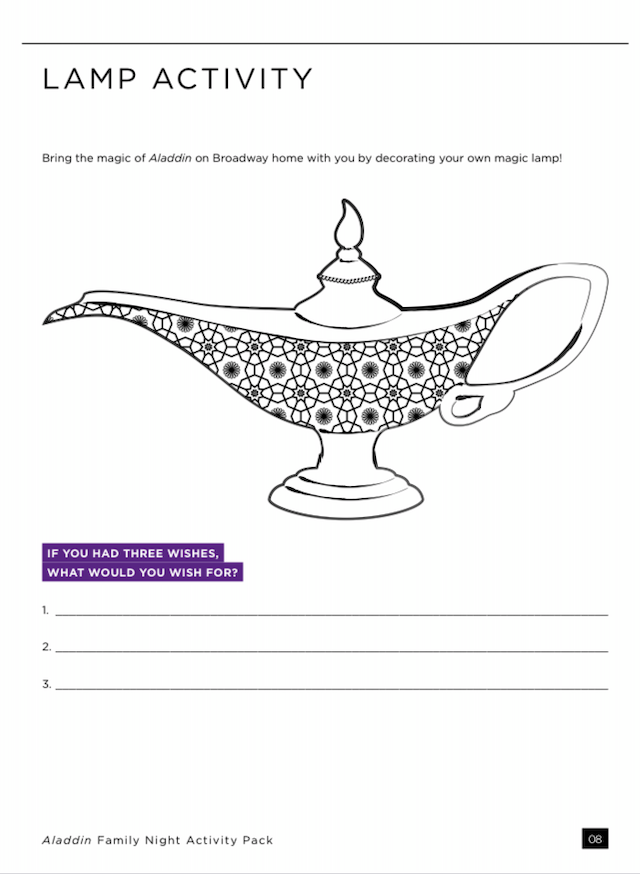 Friend Like Me
View the upbeat song "Friend Like Me" like never before. This 360-degree view allows you to see the stage, the cast, and learn some interesting facts about this Broadway musical.
We would love to hear about your family's In-Home theatre night with Aladdin. Please share your memories and photos with our KtP Planning Page and on our Facebook page.