Disney is releasing exciting information about the upcoming Marvel Avenger Campus at Disneyland Resort. This includes breaking news of a thrilling Spider-Man Adventure and Build your own Spider-Bot! Read all the details here…
Have you ever wondered what it would be like to sling a web like Spiderman? Well, Disney announced a new adventure called Web Slingers: A Spider-Man Adventure to give you a chance to do just that! Don't know about you, but I think that is SOO cool to show off some Spidey skills!
Backstory for the Ride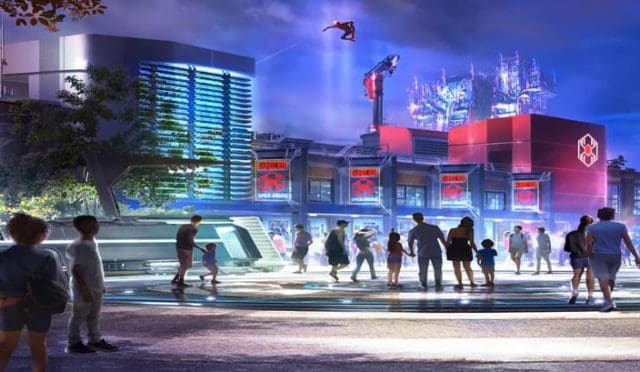 This attraction features a combination of physical and virtual settings! Disney states that "At the Worldwide Engineering Brigade also known as WEB, Tony Stark has assembled bright innovators like Peter Parker to invent new technologies and equip everyday people to become Super Heroes. WEB will house the new WEB SLINGERS: A Spider-Man Adventure, the first Disney ride-through attraction to feature this iconic Super Hero."
The Mission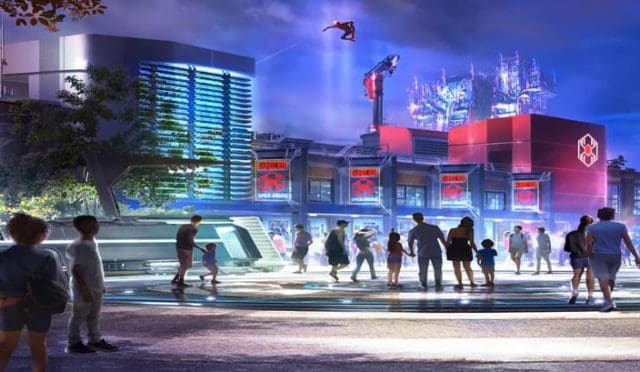 At the pre-show, guests will be given 3D glasses to wear in the WEB Slinger vehicles. Peter demonstrates the spider-bots, only that's when things get crazy! Every guest will team up with Spider-Man to assist capturing Spider-Bots that have overtaken the campus.
Can you imagine having super hero powers? These vehicles really do make you feel like you do as you sling webs just like Spidey!
Earning Points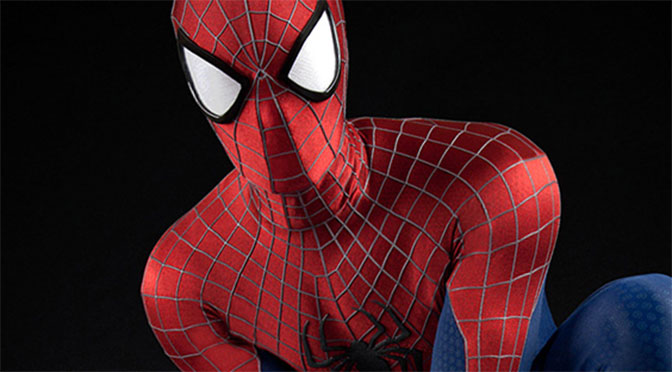 Per Marvel.com: "[Players] are awarded bonus points depending on what state the Spider-Bots are in when you stop them," Strong continued. "When they go to start destroying the environment, [like] eating things, they start to glow red. When they're about to self-replicate, they start to glow blue.
When they get into The Collector's crazy alien goo, they become unstable and green. There's even a handful of gold bots that escape the lab with heat shielding on them. Those are worth a lot of points."
Another innovative element of this attraction is not only do you earn individual scores, but also team scores! It's crucial that you work together. This requires developing and adjusting plans to defeat the bots.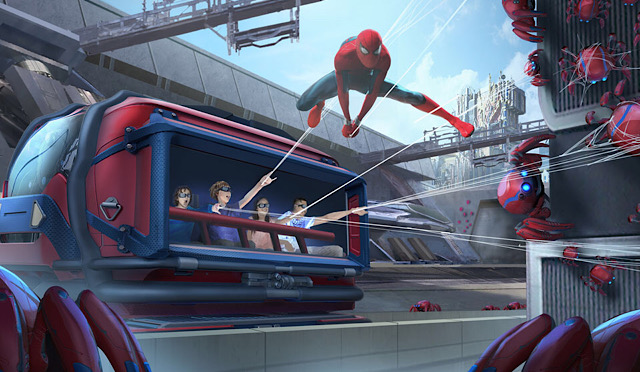 Per Marvel.com: Additionally, the "webs actually allow you to not just blast spider bots but interact with the environments. You can pull doors off of shipping containers. You can activate conveyor belts. You can grab onto things and move them around. The level of control that you have is amazing."
And for those players who are looking to unlock hidden things you might not find the first time, "There are so many fun things to discover along the way, layers, and layers, and layers of gameplay for our die-hard gamers, and layers, and layers, and layers of fun for comic fans, just really leaning into all of the details that this world has," Strong hinted.
Spider-Man Star Included in Ride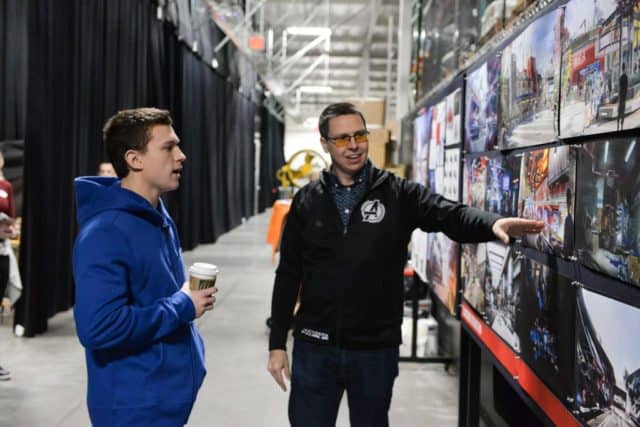 Tom Holland returns as Spider-Man for this attraction which adds so much to the theming! I can't wait to experience this attraction with him by my side! Also, Disney has announced that there are no ride height requirements. This creates a truly family friendly attraction that everyone can enjoy!
More Avenger Campus Details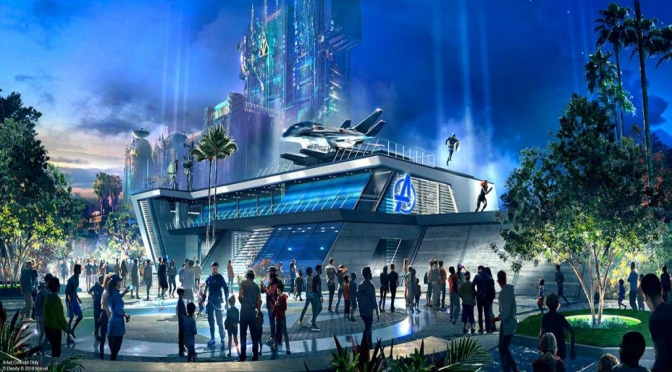 The writing team for KtP has shared recently released details. Read here to find details on opening date. Second, a fellow writer recently reported yummy food offerings here. Third, Disney has announced two new characters coming to the Avengers Campus.
Spider-Bots Available for Purchase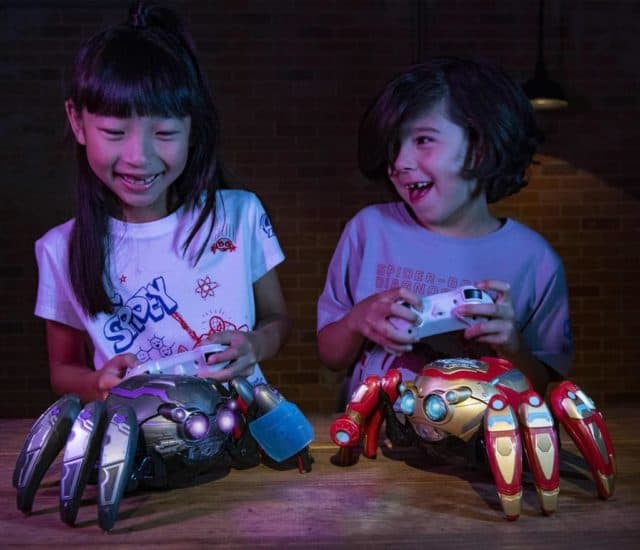 Located across from the attraction will be WEB Suppliers. You can check out all the latest WEB inventions, including the the mischievous spider-bots. The interactive bots are powered by remote control with eight articulated legs that move backward and forward.
According to Marvel.com, "Guests can also customize their Spider-Bot with tactical upgrades to harness the powers and styles from Super Heroes like Black Panther, Iron Man, Black Widow, Ant-Man, and The Wasp. Control the bots on your own, or let them battle other bots! " I anticipate these being a huge hit for kids of all ages!
Are you as excited as I am for the new Marvel Avengers Campus? Please let us know your thoughts on the KtP Facebook Page. Check back for more details as they're released on KtP Facebook Page also. Feel free to share this information also by clicking the large blue Facebook button below.
Are you planning a vacation? Reach out to our trusted travel agency sponsor Authorized Disney Vacation Planner
Mouse Class Travel
!