The Marvel Avengers Campus at Disney California Adventure Park has an opening date!! Read on to see when you can team up with your favorite Avengers!
Who is visiting Disneyland this summer? We have known for a while about the opening of Marvel Avengers Campus at California Adventure, which is in Disneyland. However, all the information we had was that it would open "this summer."
Over Christmas, we got some updates about some of the attractions and food options that would open when the Campus opened.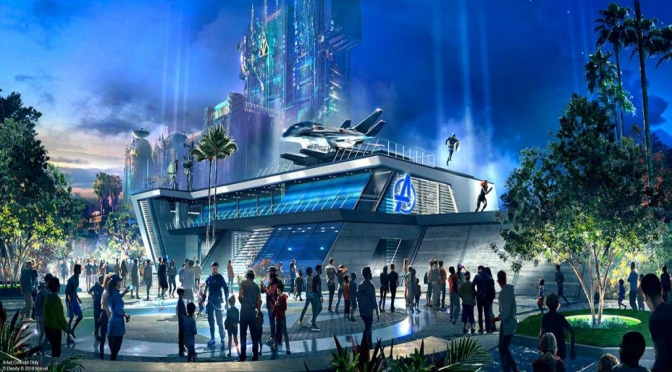 According to Disney Parks Blog, the campus will be home to a variety of new experiences giving guests the chance to feel the power, adventure, and exhilaration of teaming up with some of their favorite Super Heroes including:
The Worldwide Engineering Brigade – also known as "WEB" – which will house the new Spider-Man attraction where guests can sling webs alongside Spider-Man himself.
Pym Test Kitchen, an all-new eatery, where Pym Technologies Researchers are using Ant-Man and the Wasp's growing and shrinking technology to create super-sized and super small foods.
Heroic encounters throughout the campus where guests can team up with some of their favorite Super Heroes including Spider-Man, Black Widow, Doctor Strange, the Guardians of the Galaxy, Black Panther and the Dora Milaje, Thor and Loki, Iron Man and for the first time, Ant-Man and The Wasp.
We also learned that when the Avenger Campus opens, guests will be able to see Spider-man swing above them throughout the area. There will be some cool stunt robotic technology used for this!
A few years ago, Disney released a video of these stunt robots in action. It's the latest in audio-animatronic technology from the Disney Imagineers!
These robots can fly through the air and perform stunts flawlessly.
So when can you experience Marvel Avengers Campus?
Beginning July 18, 2020, guests visiting Disney California Adventure Park will have the opportunity to team up with Avengers!
The July date only applies to the first phase of the Campus. Phase two still has a few more years left before opening.
Are you excited about the opening of Marvel Avengers Campus? Will you be visiting this summer? Let us know on facebook!
-Monica