If you ask my children what their favorite part from our most recent Disney World trip was, they will probably tell you it was building a droid at Droid Depot. Wondering what it is all about? I have all of the details about our experience here!
What is Droid Depot?
Droid Depot is located in Star War's Galaxy's Edge at Disney's Hollywood Studios and also in Star War's Galaxy's Edge at Disneyland Park. The experiences are the same in both parks.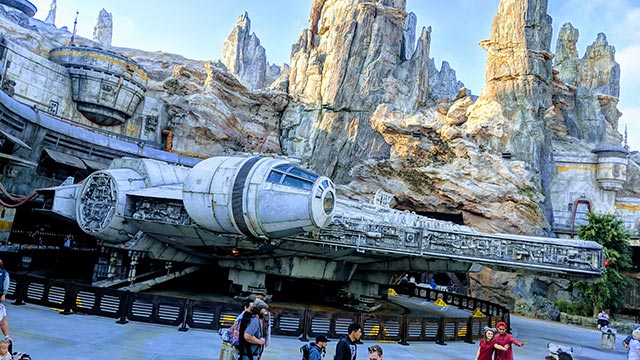 Guests get to build their very own droid at Black Spire Outpost's industrial depot! Not only do you get to build one, but but you also get to customize it how you want, right down to the color!
After entering Droid Depot, guests are immersed in the busy environment of droids being built, guests picking out what kind of droid they want to build, and parts moving on a conveyor belt in front.
Make sure you look up because droid parts are moving above all over the shop!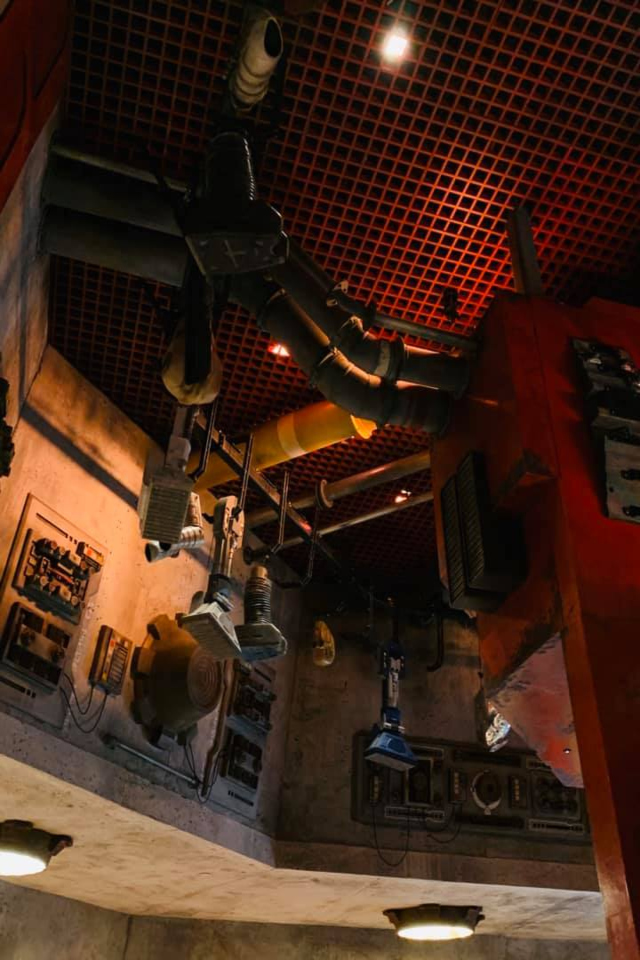 Cost
Let's look at how much the experience costs. Each astromech droid unit is $99.99, plus tax. The cost includes the following:
carry box and instructions
personality-affiliation chips and other accessories available for an additional charge
if you want a backpack to carry your droid in, those are $49.99 (backpacks are eligible for an Annual Pass discount).
Things to know before you go
From Walt Disney World's website, the experience area is limited to the builder and one Guest – at least one person in the party must be age 14 or older. It is also important to know that only the builder can build a droid; the guest of the builder may not build a droid.
So, when we went, I took my two sons and made a reservation for 2 participants, even though our family of four was all going.
A credit card is required at the time to hold your reservation, but it will not be charged until after you participate.
Disney highly recommends making reservations and these can be made up to 180 days in advance. However, at the time of writing this article, I checked availability for February 23rd and there are several times available.
I feel like it is relatively easy to obtain a reservation.It seems like if you were to walk up without a reservation, it would still be possible.
Check-in
Our reservation was for 11:15 a.m. I checked in around 11:00 a.m., as it recommends checking in no earlier than 15 minutes prior to the reservation. Each person in the party must be present.
Once entering Droid Depot, the first thing you will see are two separate lines. One is for stand-by guests and the other is for guests who have reservations.
We had reservations, and I honestly found no difference between the two lines at the time we visited. Both lines seemed equally long, but they moved reasonably well and we were able to check in. Our entire wait was probably ten minutes.
Choosing your droid
Once you are checked in, the first decision you have to make is whether or not you want to build a BB-Series (think BB-8) or R-Series (think R2-D2).
A BB-Series contains the following parts:
Dome
Dome Connection Plate
Body Sphere
Motivator
The R-Series contains:
Dome
Body
Center Leg
Set of Side-Legs
Both of my boys decided to build a BB-Series, like BB-8. The first thing they did was pick out the individual parts from the moving conveyor belt that was moving in front of us.
This was one of the cooler things about the experience because all you see are hundreds of droid parts moving along right in front of you along a conveyor belt!
Then it was time to choose the color of our droid. What color do you want your droid? Blue? Red? Purple? Orange? Black? There are so many choices to choose from! It is, after all, your personal droid.
Once you choose your parts and have everything in your basket, a Cast Member will call you over when a station is available. You are now ready to start building!
Building your droid
At your build station, the guest who is building follows instructions and begins assembling their droid. Now, I will be the first one to admit that I cannot even follow simple Lego instructions. However, the actual building process was not overwhelming. If you get stuck, Cast Members are there to assist you.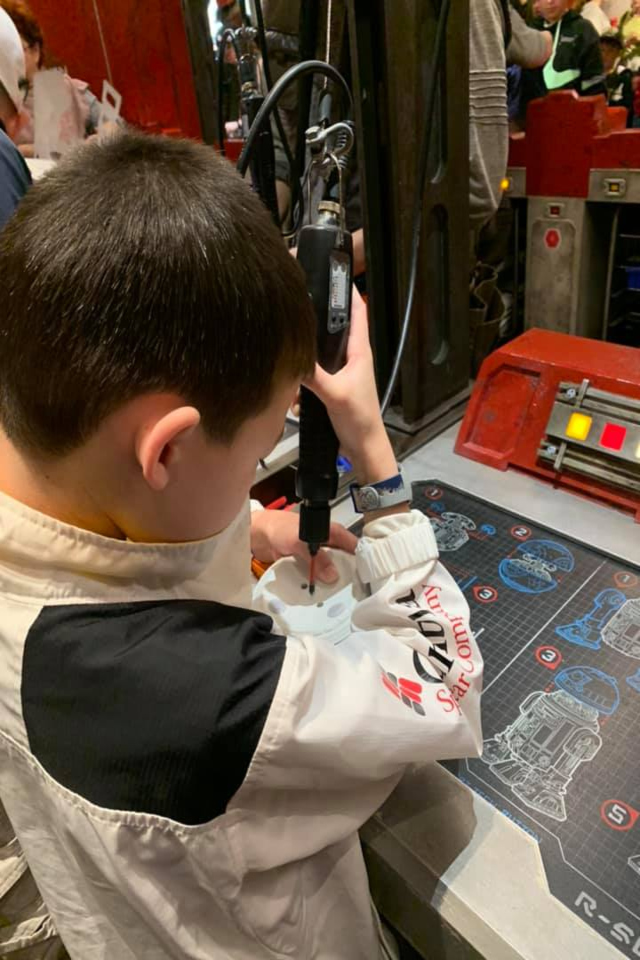 My boys had no problem following the instructions on the placemat in front of them and only needed a little bit of help. They are nine and seven years old. Disney recommends this experience for guests ages 3+.
Once your droid has been assembled, it is paired with a remote and activated! It comes to life before your very eyes.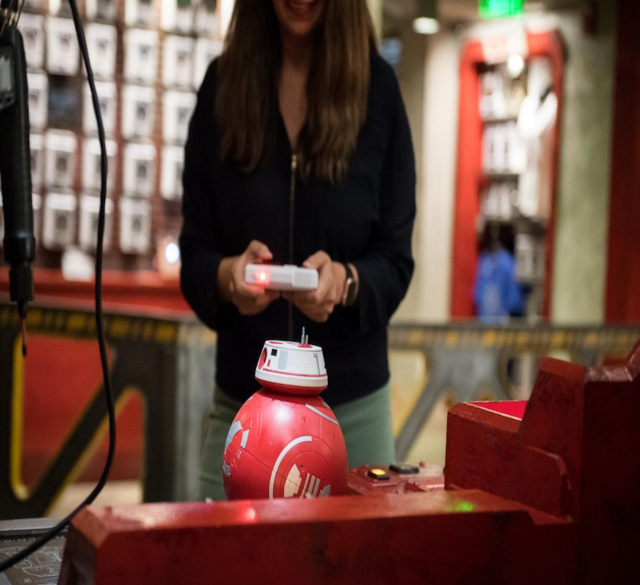 Accessories for your droid
After the droids were complete, we had an opportunity to browse additional accessories for the droids. I thought with the experience, personality chips and backpacks, my boys had plenty, so we did not buy any other accessories that were available.
However, if you want to, there are plenty of other parts, chips, and accessories available in the shop. There seemed to be more accessories for the R-series than the BB-Series in my opinion, but then again I did not really take the time to look.
After our experience at Droid Depot
The fun thing about the experience is the adventure does not stop after you build your droid. It keeps going!
Using the remote control to control your droid in the theme parks is prohibited, but Cast Members encourage guests to carry their droids around with them to allow them to interact with the elements in Galaxy's Edge.
While walking around Galaxy's Edge, my boys had their droids in their backpacks and they would beep-boop-beep all the time and move about depending on what was around us.
Thanks to Bluetooth technology, the droids can communicate with other units or elements and objects on Batuu.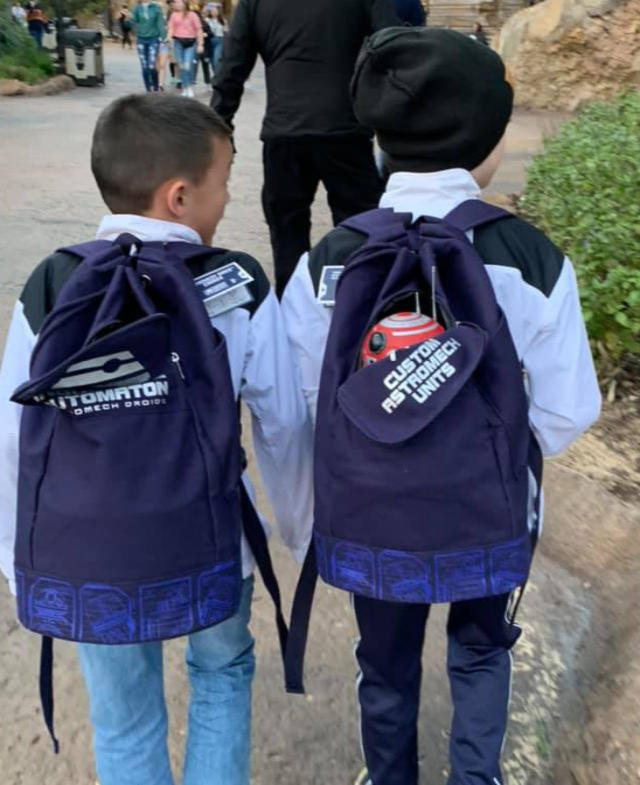 Sometimes it seemed like they were happy and excited and other times they seemed frightened or unsure. Maybe they saw Kylo Ren or Darth Vader! They wanted to stay away from them for sure.
There is also a separate droid play area near Droid Depot where guests can play with their new droids. This is the only place that you can take your droid out and play with it while in the park. A lot of people just liked watching the kids (and adults) play.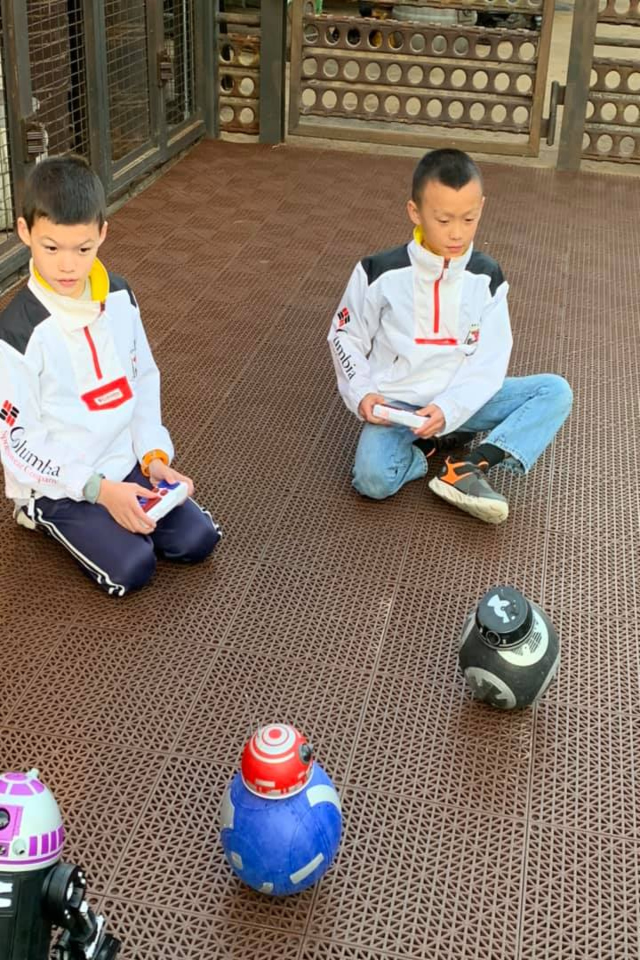 Final Thoughts
So, what are my thoughts of the entire experience? I loved it! If you are willing and able to spend money on a fun experience, I would highly recommend it, especially if you are a Star Wars fan.
I am not the biggest Star Wars fan, but with this, Rise of the Resistance, the Mandalorian on Disney+, and our recent Star Wars Day at Sea cruise, I'm definitely liking it a lot more than I ever have before.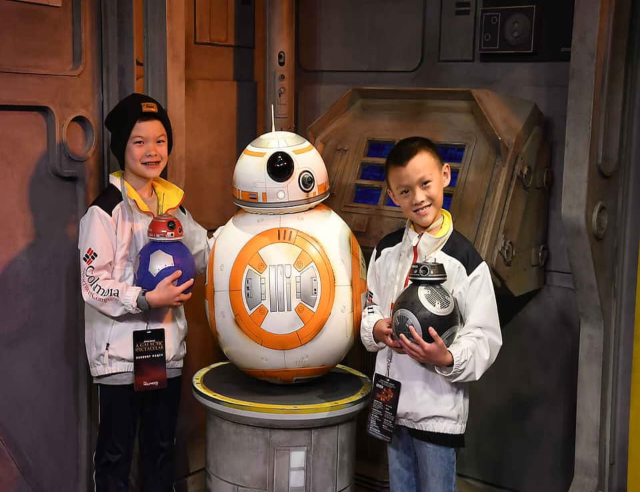 It's worth mentioning the BB-Series seems a little more difficult to operate than the R-Series. I say this because after about five minutes of no activity or if the unit is not active on Batuu, the droid "goes to sleep".
The only way to wake it back up is by opening the entire unit, shutting it off and turning it back on again. It sounds like a simple thing to do, but the BB-series are somewhat difficult to open and we found ourselves taking the droids apart over and over again after it went to sleep. After the tenth time of doing it during the day, the whole process can get a little old and kids (and parents) can become easily frustrated.
Thankfully, my sons figured it out and they can do it themselves now. I even e-mailed Disney to ask if there was a trick to waking them up and apparently, this is it or should I say, "this is the way"?
I hear that the R-Series are easier because their controls are simply on the bottom of the units. No need to struggle opening anything with these droids, but in my opinion, they are not as cute as the BB-Series!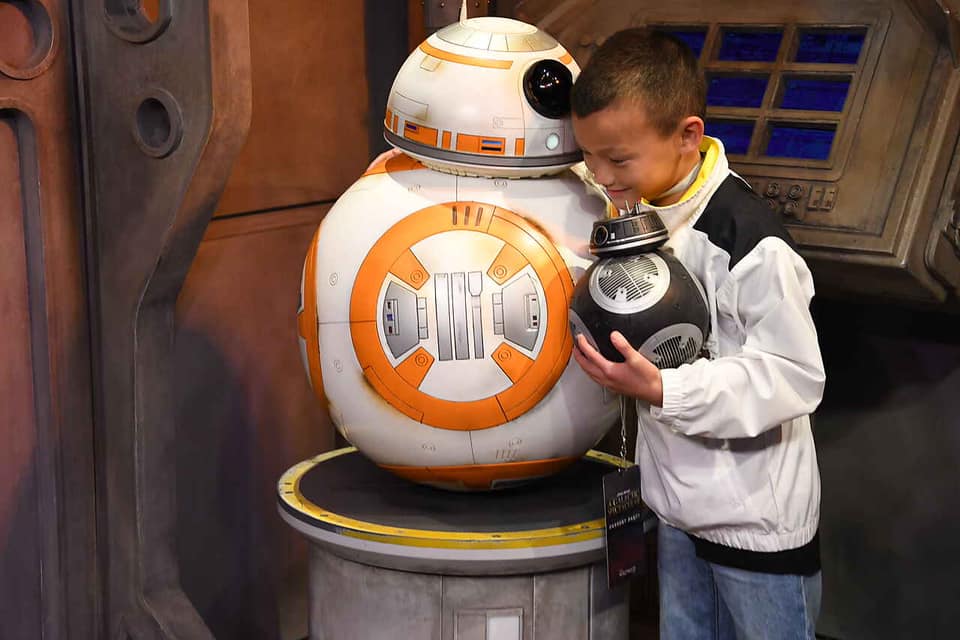 Instruction manuals for both droid units are available online for both Walt Disney World and Disneyland resorts.
My boys loved carrying them around the parks and even introduced their droids to BB-8 later that day. BB-8 was pretty impressed! Overall the experience was memorable and I would probably do it all over again.
Have you built your own droid at Droid Depot? I would love to hear about your experience in the comments or on Facebook. Join Kenny's crew on Facebook and tell us about it too!
Maggie Baltz
Are you planning a vacation? Reach out to our trusted travel agency sponsor Authorized Disney Vacation Planner
Mouse Class Travel
!