The countdown is on for the opening of the first ride showcasing Mickey and his pals. Disney just released Mickey and Minnie's Runaway Railway merchandise, and it is cute! Be sure to check out all of the adorable items below.
Mickey and Minnie's Runaway Railway
I am so excited about this attraction, and I regret that it was not open when we were visited Hollywood Studios last month. This is a great fusion of two of Walt Disney's loves, which are trains and Mickey Mouse.
We have a brief look at Disney World's newest attraction, which you can see HERE. But beware, there are spoilers! If you would rather just read about everything we know so far, go HERE.
Now on to Mickey and Minnie's Runaway Railway merchandise!
My favorite: Mickey and Minnie's Railway Mug
I may have a Disney obsession with park mugs that is now taking over my kitchen. I absolutely love this new mug showcasing Engineer Goofy. What could possibly go wrong with Goofy at the wheel?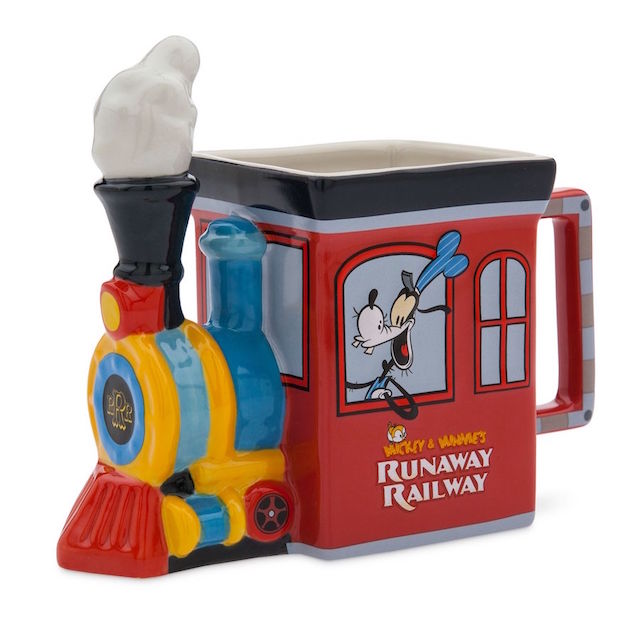 Everybody Get Your Ears On
Every Mouseketeer needs a new themed pair of ears for this new attraction. Disney has delivered a unique pair that showcase Mickey and Minnie on either ear and Engineer Goofy at the wheel in the middle.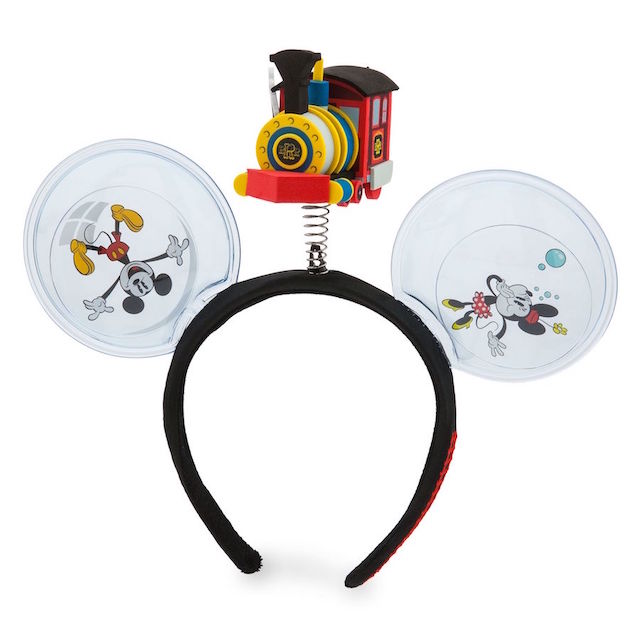 On the side of the ears is embroidered the key phrase from the attraction's theme song, "Nothing Can Stop Us Now." These new ears may cause my mug collection to soon be eclipsed by my growing ear collection.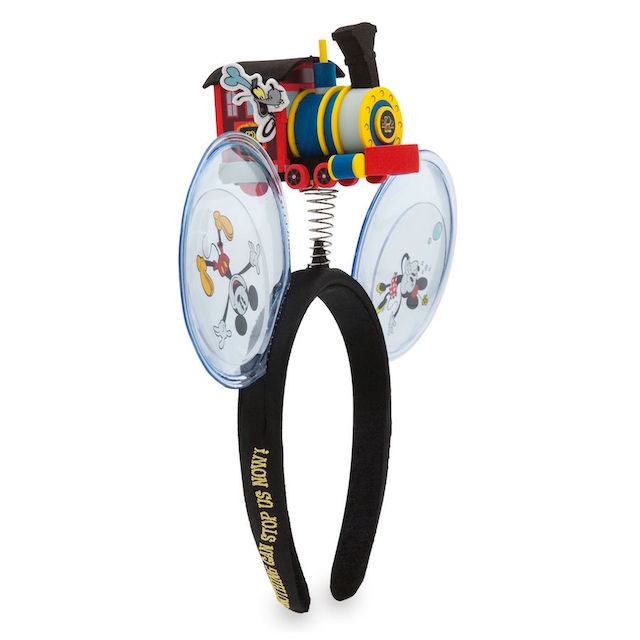 Tee Shirts
Next up in the collection for Mickey and Minnie's Runaway Railway merchandise is tee shirts. Bring a little magic to your wardrobe with these attraction-inspired tee shirts.
MagicBands
You will show up for your FastPass in style with this attraction-themed MagicBand. I absolutely love the wide variety of MagicBands now available, and this is one of my favorites so far.
Mickey and Minnie are featured on one side of the band: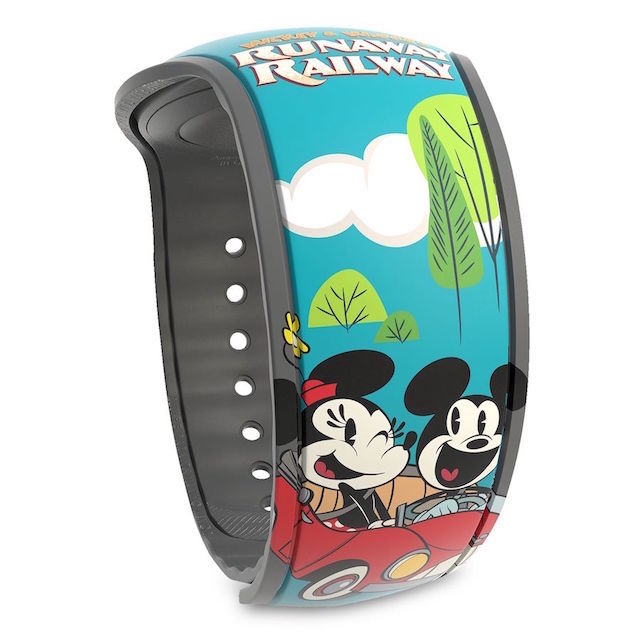 The other side of the Magic Band features Engineer Goofy and Chuuby: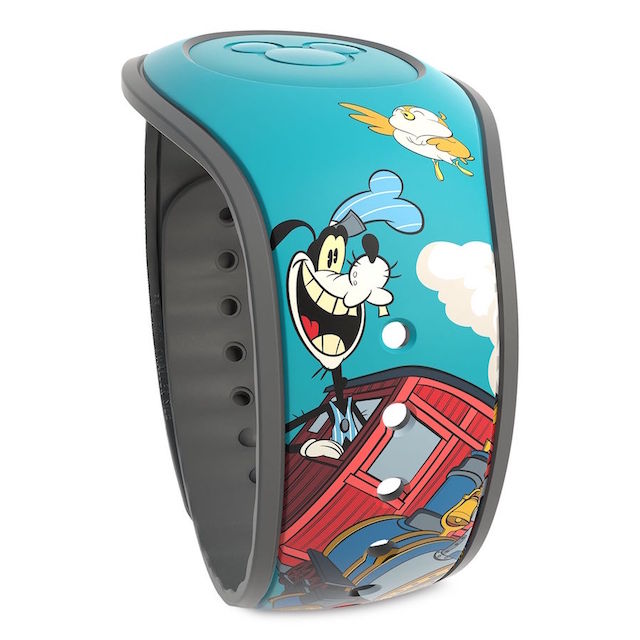 Attraction-Inspired Toys
Why wouldn't toys be included in Mickey and Minnie's Runaway Railway merchandise?
All Aboard! Every junior engineer will be excited to see this train whistle featuring Mickey Mouse.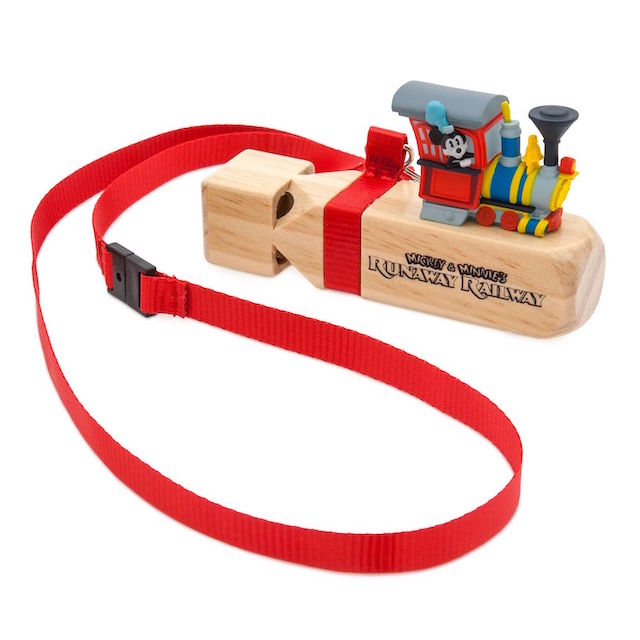 Your young Mousketeer can be in the engineering seat with this adorable pull-back train inspired by the attraction.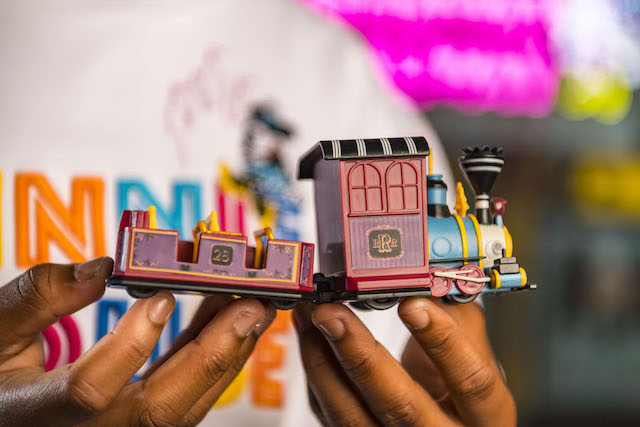 Wishables may be one of the cutest things that have landed since Baby Yoda. Check out the Wishable Open Chase Edition featuring Mickey and Minnie in their car, Engineer Goofy, Daisy, the train, and Chuuby.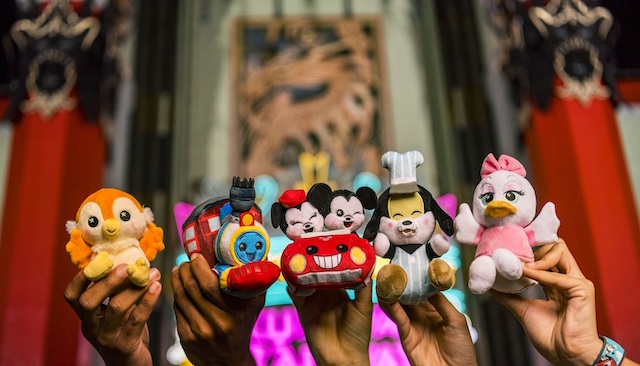 New plush are also available for purchase featuring the stars of Mickey and Minnie's Runaway Railway.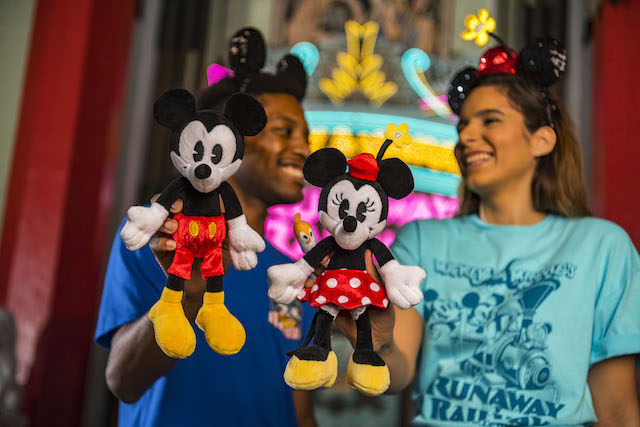 Attraction Souvenirs
The Mickey and Minnie's Runaway Railway merchandise collection also features souvenirs. This Christmas tree ornament is too cute to only display for the holidays.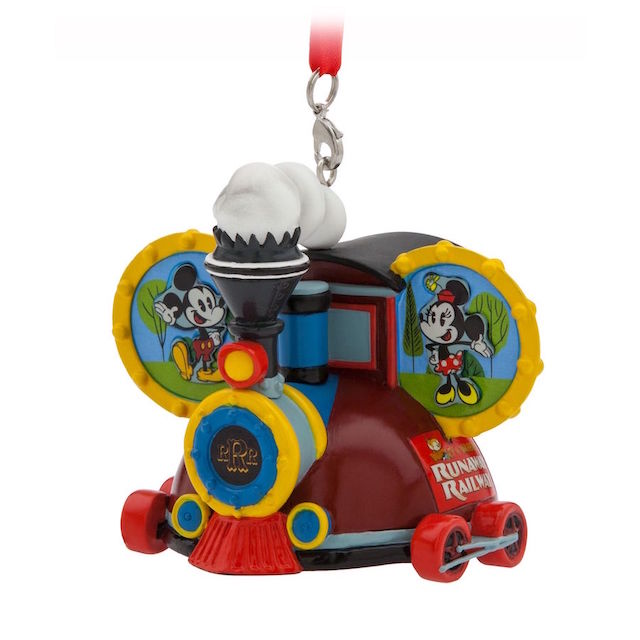 Attention all Pin Collectors: Check out this Opening Day Collector Pin.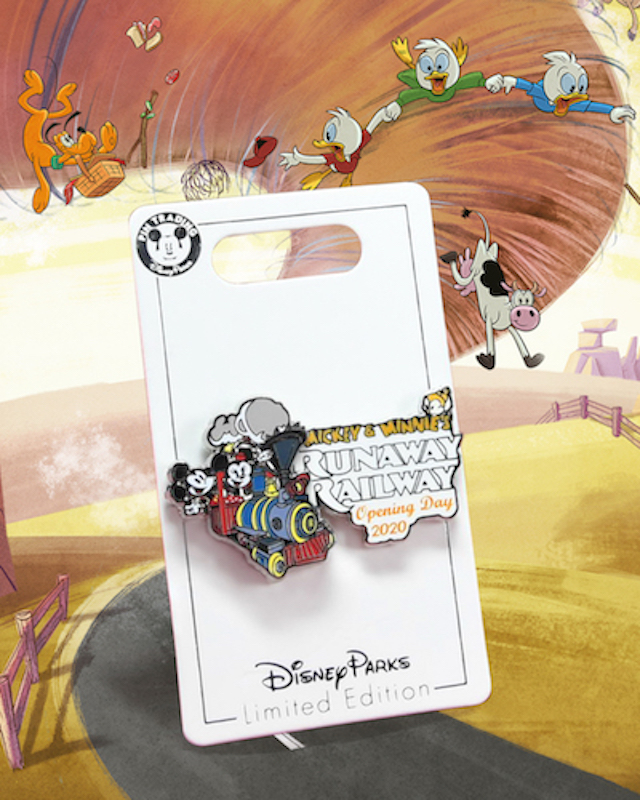 Passholder Exclusives
I love the Mickey and Minnie's Runaway Railway merchandise exclusively for Passholders. The attraction-inspired tee shirt with "Nothing Can Stop Us Now" is a must for all Passholders to remember the opening of this first Mickey Mouse inspired attraction.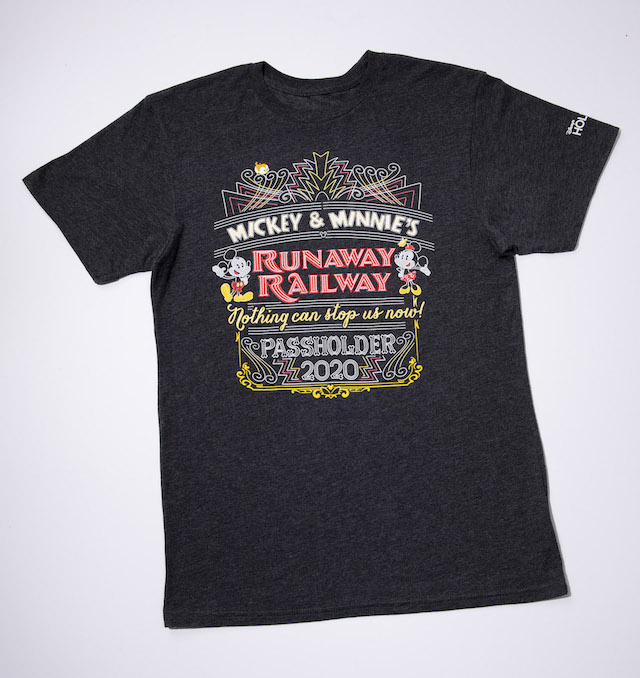 Passholders may also purchase an exclusive MagicBand for Hollywood Studio's newest attraction.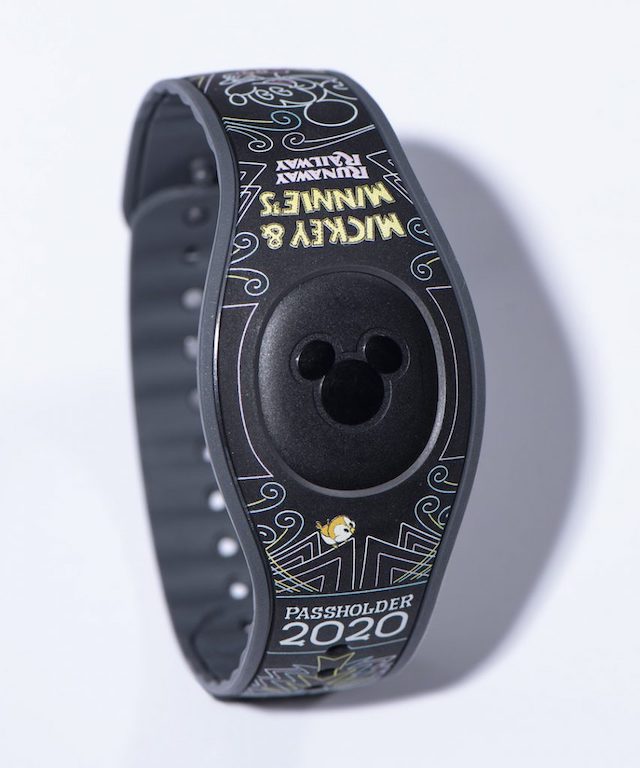 Also available for Passholders is a Mickey and Minnie's Runaway Railway collector pin.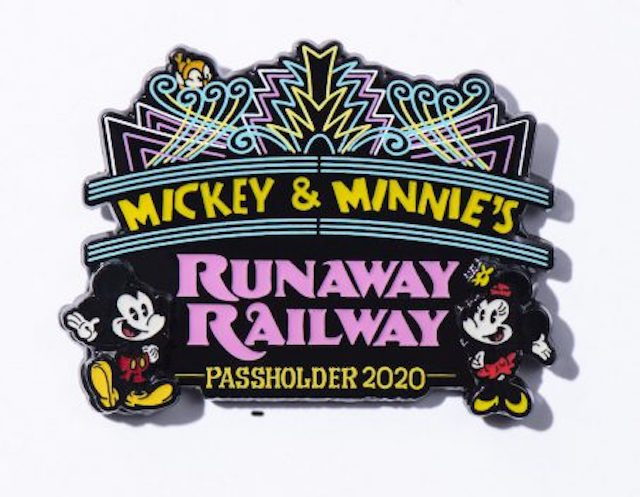 Merchandise Coming Soon
You can grab Mickey and Minnie's Runaway Railway merchandise beginning on March 4, which is the opening day of the attraction. These items will be available while supplies last.
If you will not be in the park on opening day, be sure to check out shopDisney to find select items for this attraction.
Will you be visiting Hollywood Studios on March 4, 2020 to ride this newest attraction? Which merchandise are you most excited about? Share your thoughts and must-have items with our Pirate Crew and on our KtP Crew planning group!