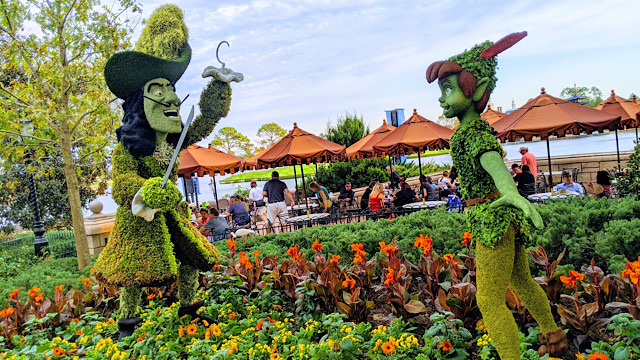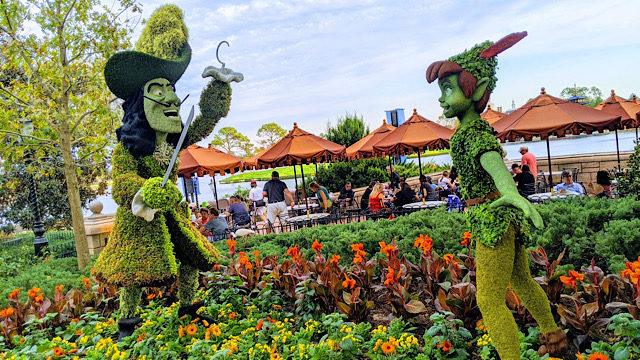 Epcot's International Flower and Garden Festival begins March 4, and runs through June 1, 2020. One of the highlights for many guests is seeing the topiaries each year. We have a sneak peek at the topiaries so far. We'll see some old favorites, and even some new to the festival this year!
The International Festival of Arts just ended, and Walt Disney World Cast Members are wasting no time preparing for the International Flower and Garden Festival to begin! With just one week until the start of the next Festival, there are already several topiaries popping up around the World Showcase.
Every year, guests delight in seeing the remarkable topiaries created for the Flower and Garden Festival. Topiaries are "living statues," and in Disney World, they are often shaped like our favorite Disney Characters.
There are topiaries throughout Epcot during the Flower and Garden Festival. In the World Showcase however, guests can usually find topiaries shaped like the characters that come from stories that are special to the different countries represented.
Let's take a tour around the World Showcase and see what "shrubs of art" are already in place.
Canada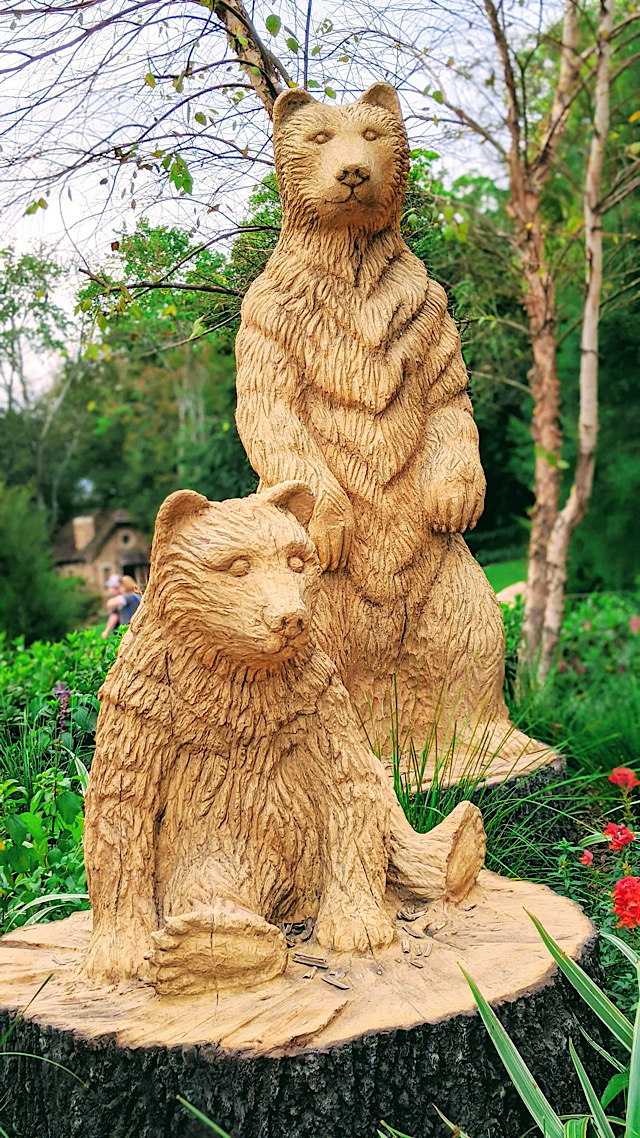 Look at these adorable bears! While true that they are unlike the living topiaries we'll see throughout the rest of the festival, these wooden carved bears are amazing. The detail is incredible!
United Kingdom
I'm trying to remain neutral, I really am, but I think that The UK Pavilion just might have the best topiaries. These are my favorite of the ones that in place already anyway!
First up, let's visit the Hundred Acre Wood.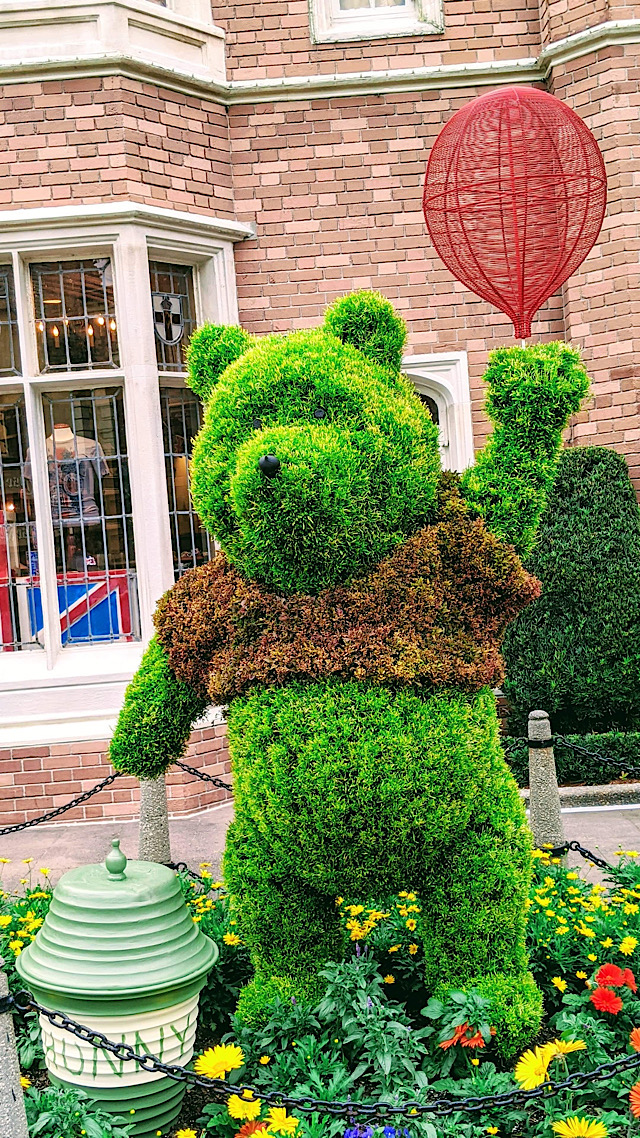 Pooh is a returning topiary, but a favorite of many. There's just something about this silly old bear that makes me smile.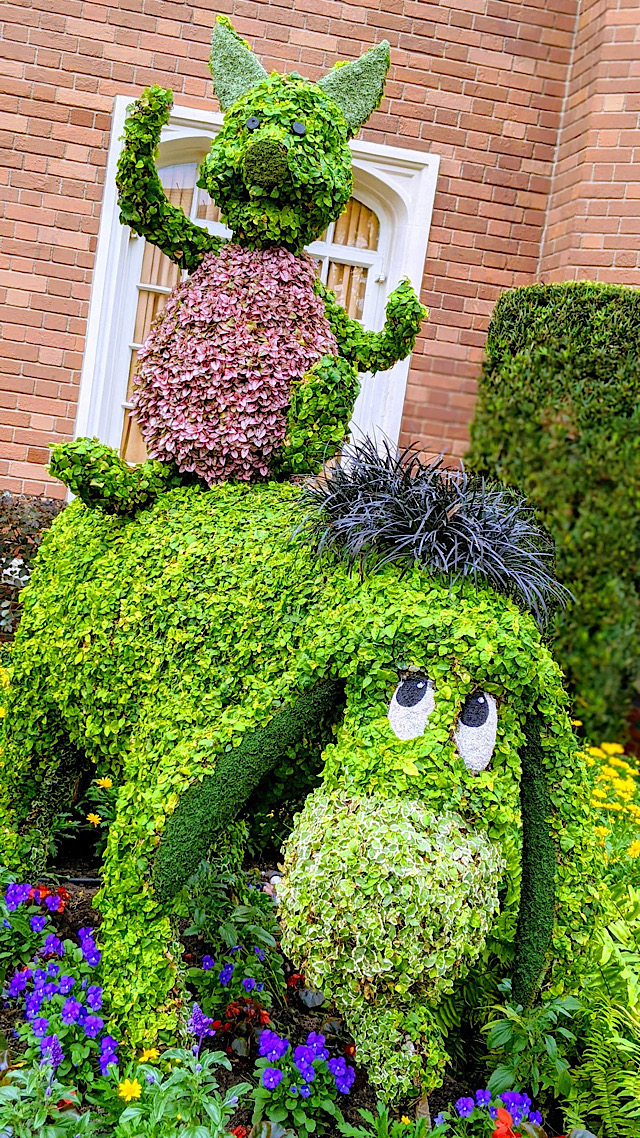 It's hard to be gloomy with friends like these! Although these two were featured together last year, they look slightly different this year, with color on Piglet's stomach and a different pose for the pair.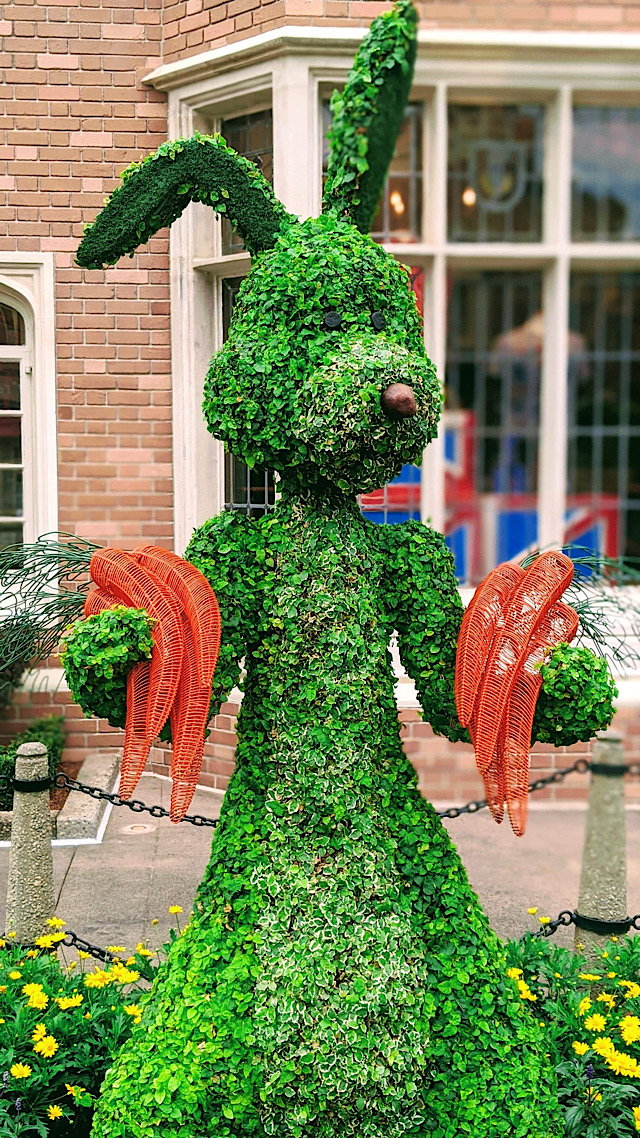 Here's Rabbit, carrying his carrots (of course!)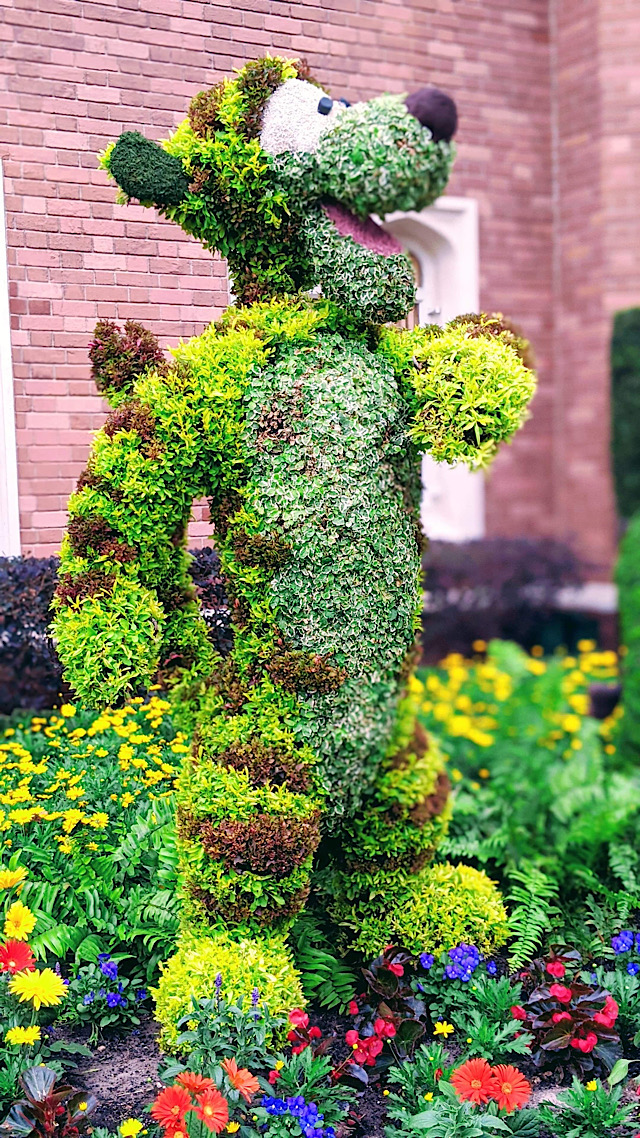 The wonderful thing about this Tigger is that he is stunning! I love the flowers around his feet, his stripes, and even the attention to detail with his colored tongue.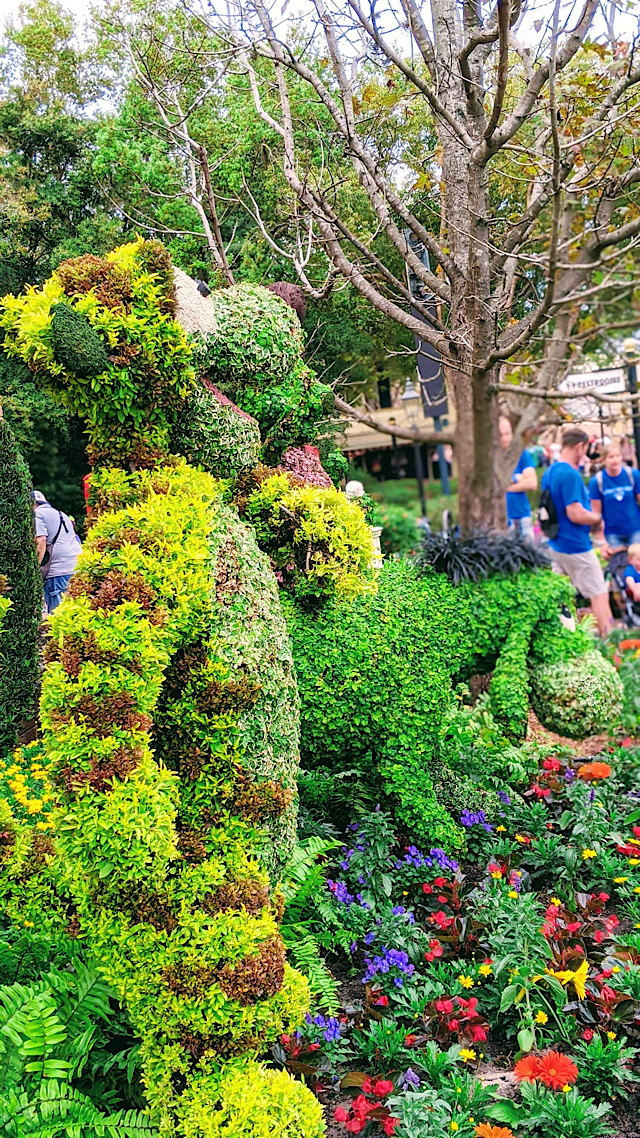 Continuing in the United Kingdom Pavilion we see Peter Pan, Captain Hook, and of course, Tinker Bell. Peter Pan has a new look for 2020.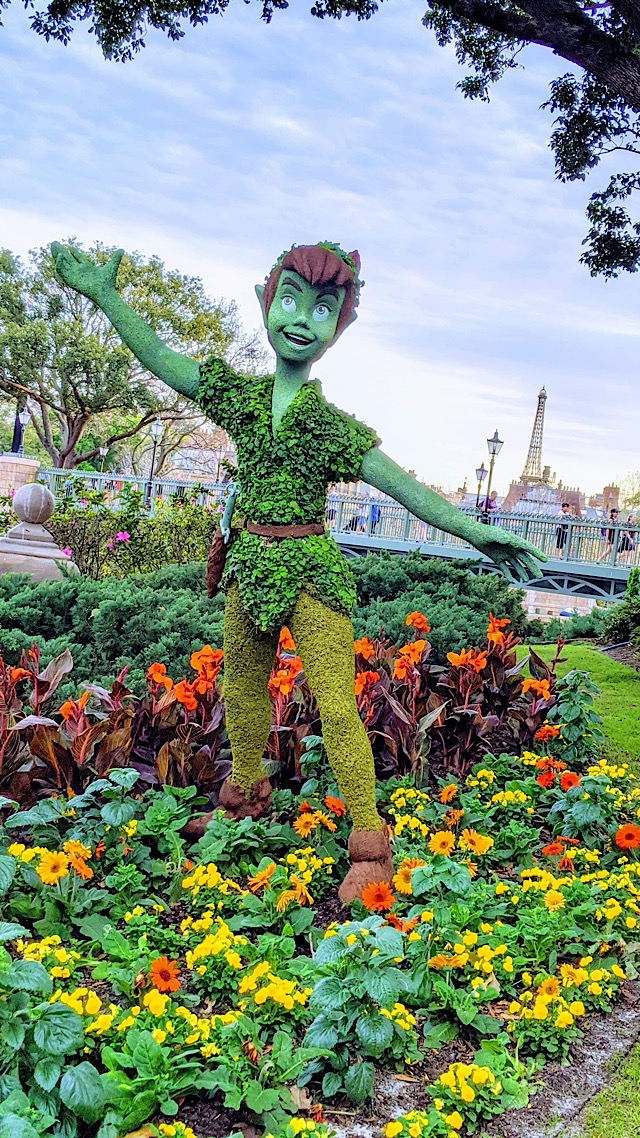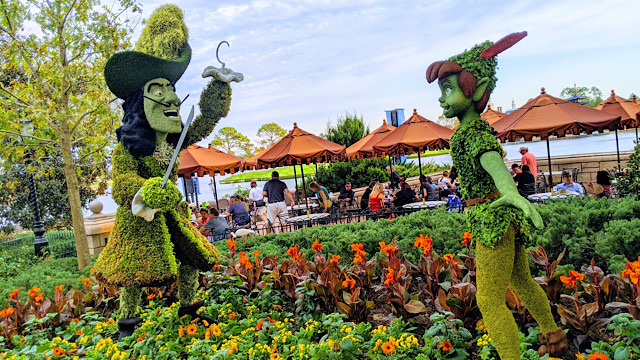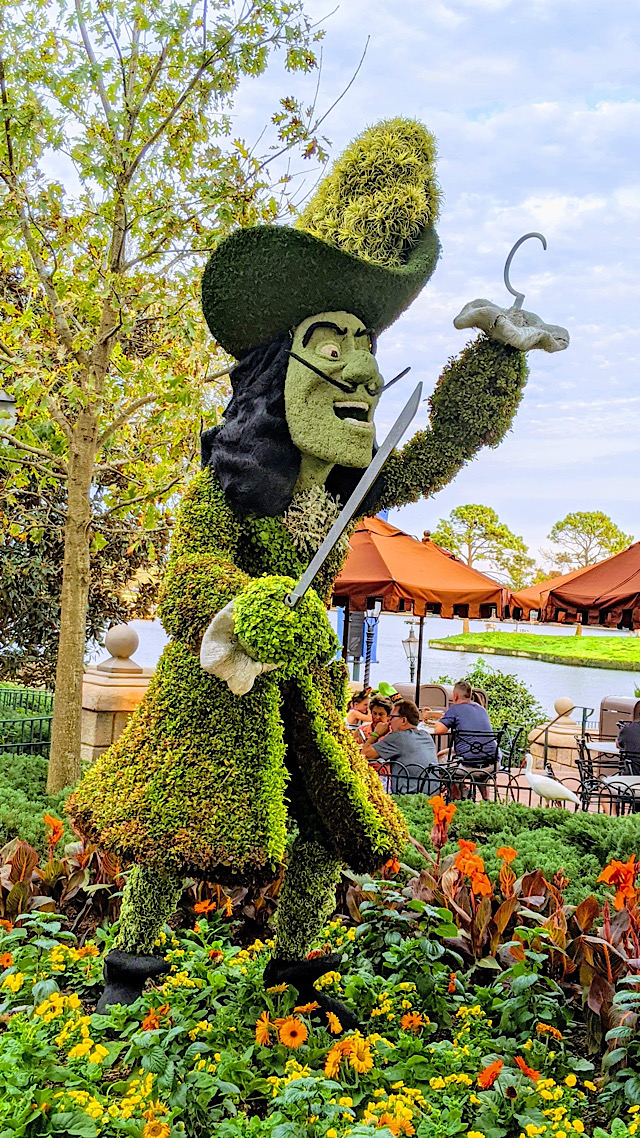 Tinker Bell also has a great new look for the 2020 Flower and Garden Festival.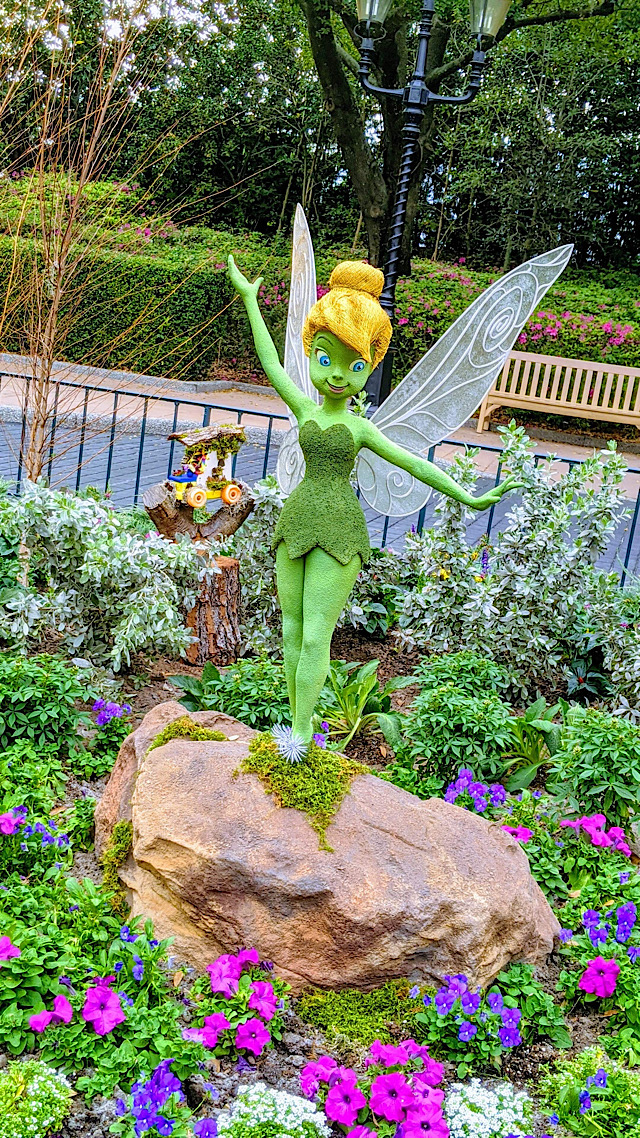 Look at the pom pom flowers on Tink's slippers! No details are spared here!
Up next, our favorite Muppets, Kermit and Miss Piggy.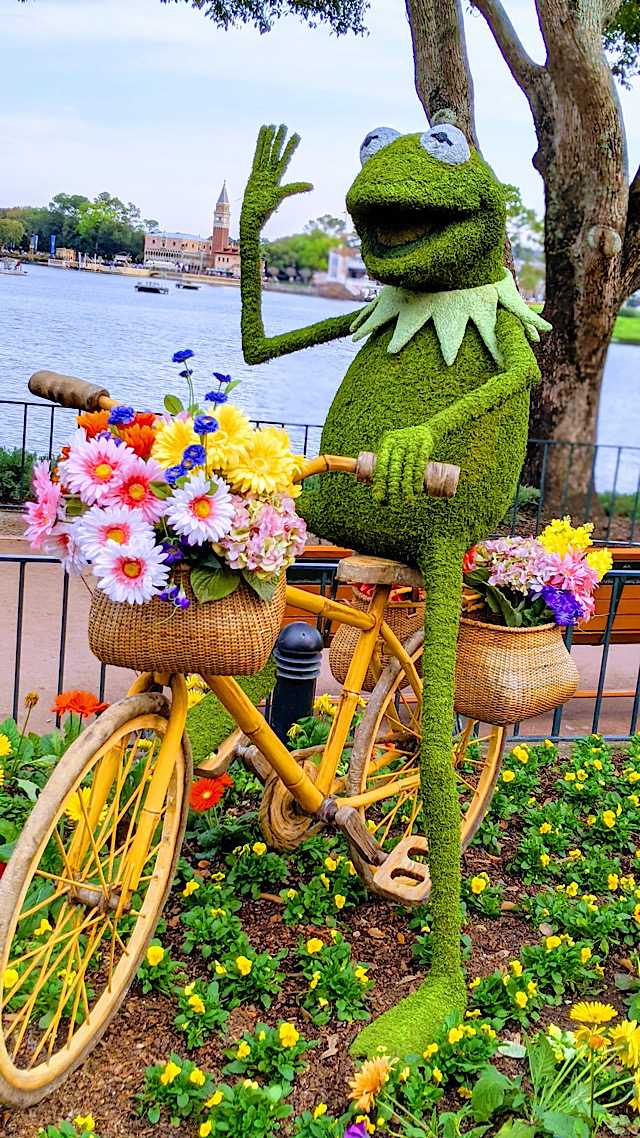 I love that Kermit is waving "hello" to us from his bike!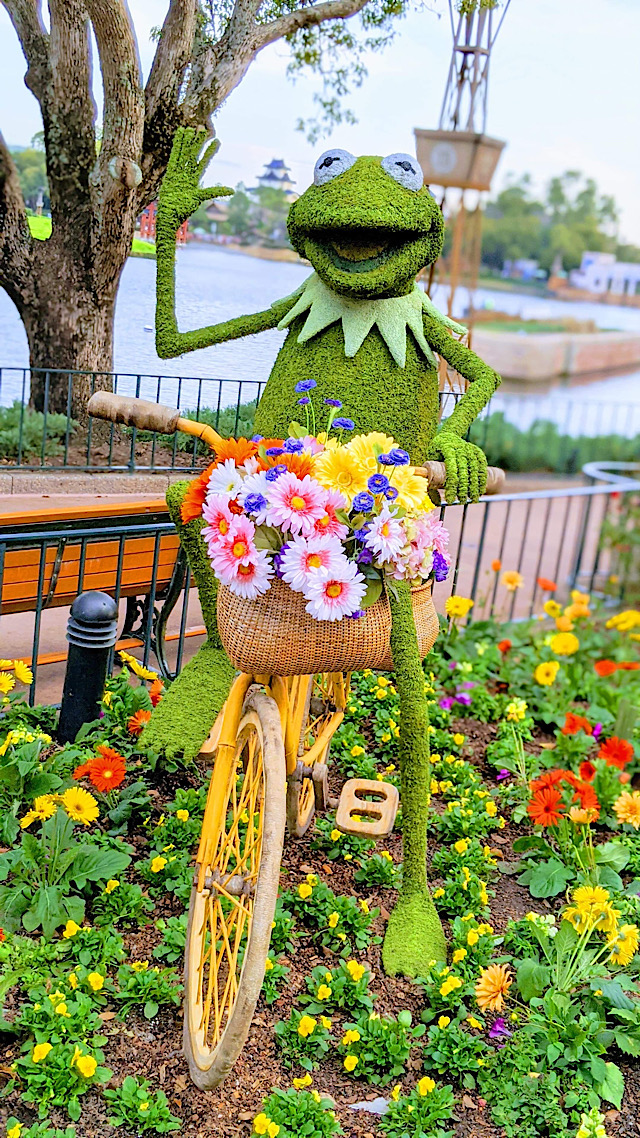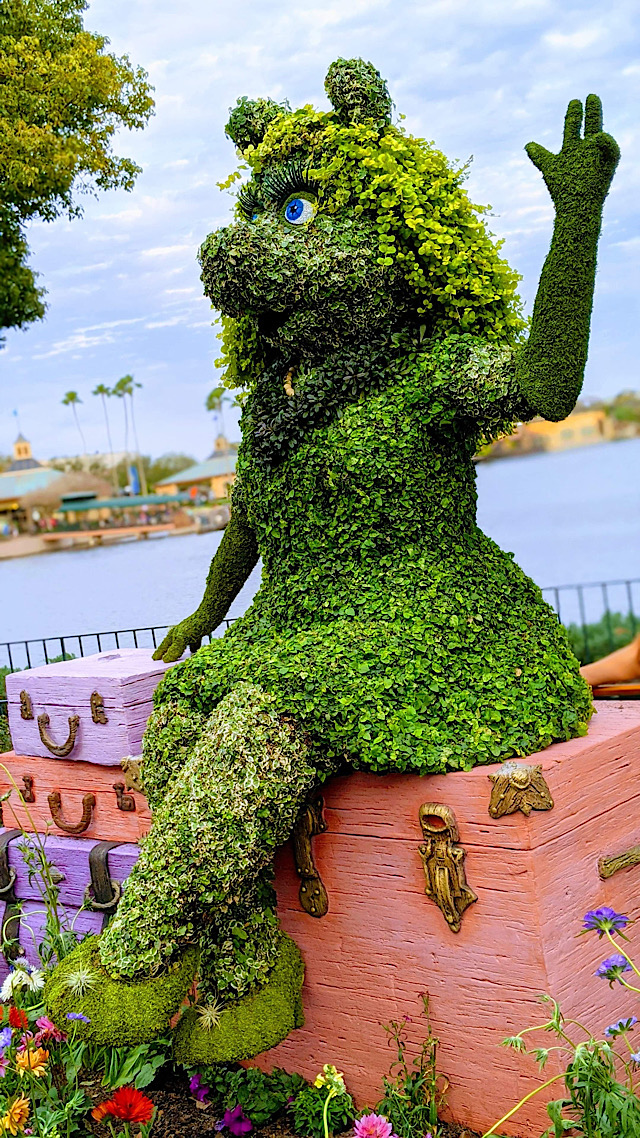 France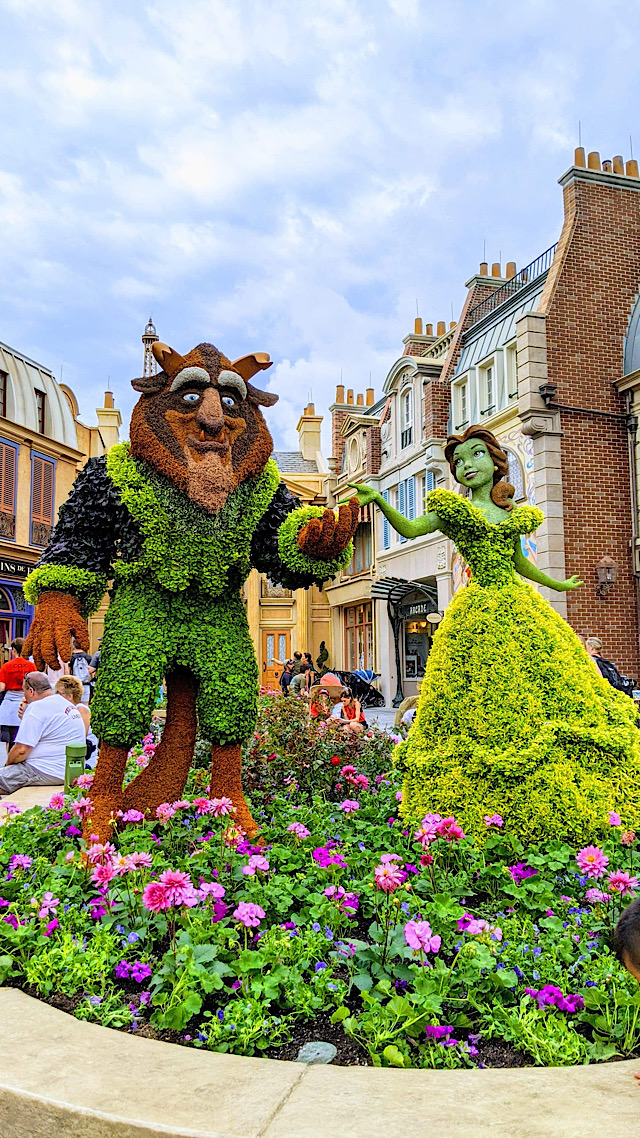 Strolling over to France, you'll see a "tale as old as time" here with Beauty and the Beast. This one is a must see for me every year, and I'm so glad it's back!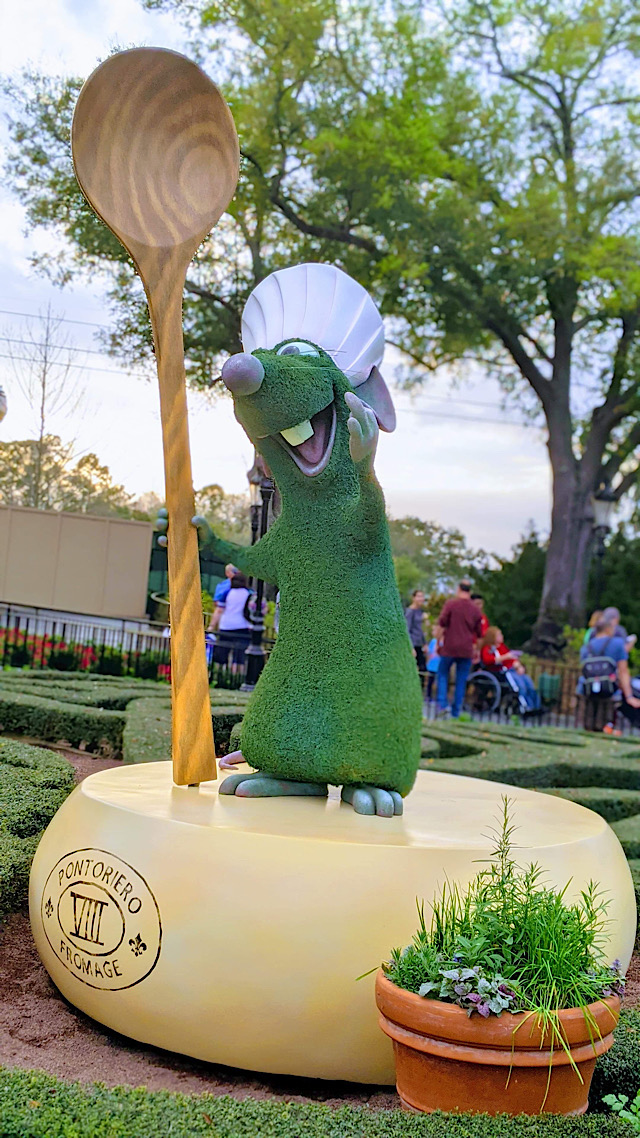 New this year, a Remy topiary! Remy stands on top of some fromage and holds his wooden spoon, ready to cook up a feast!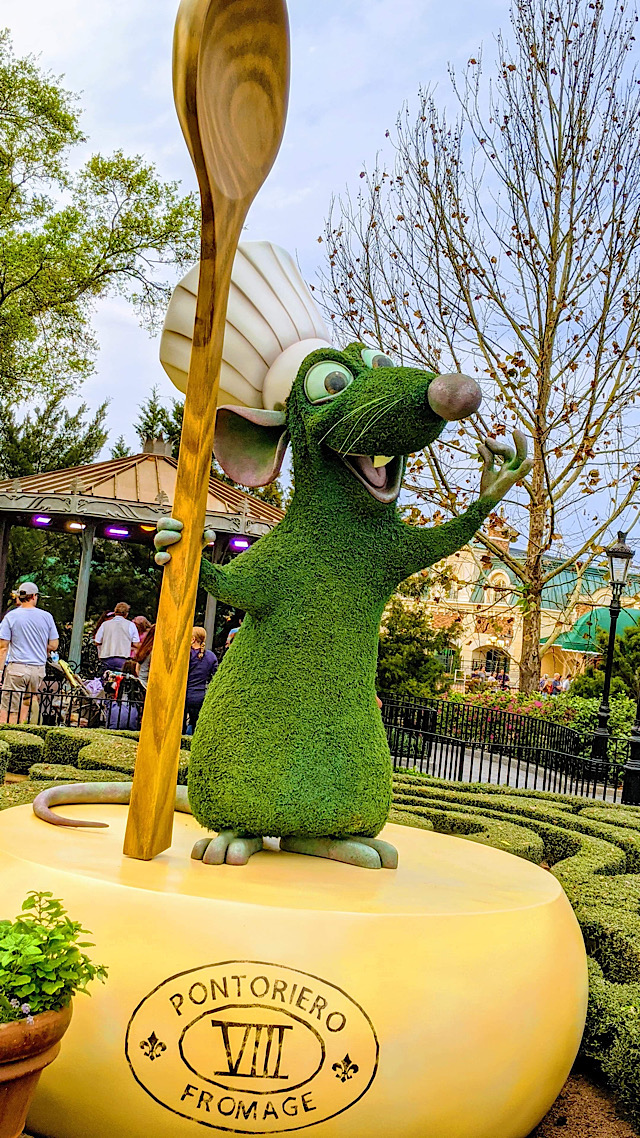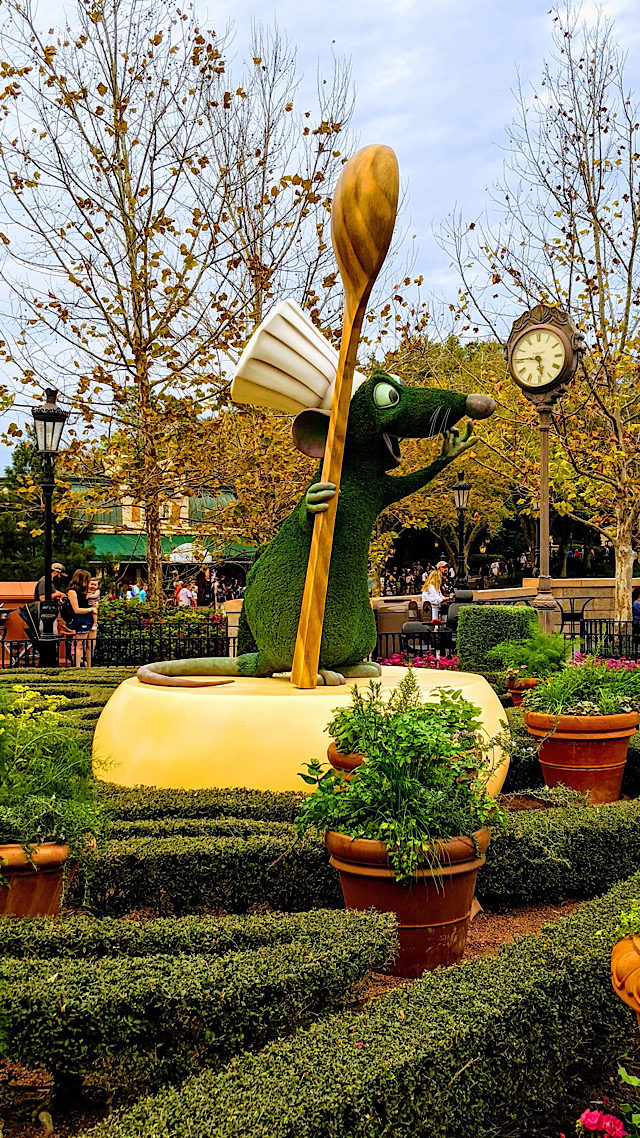 I love to check out the new topiaries each year, and Remy doesn't disappoint!
China
Today our last stop around the World Showcase will take us to China. Here we see one of the countries most beloved animals, the panda bears.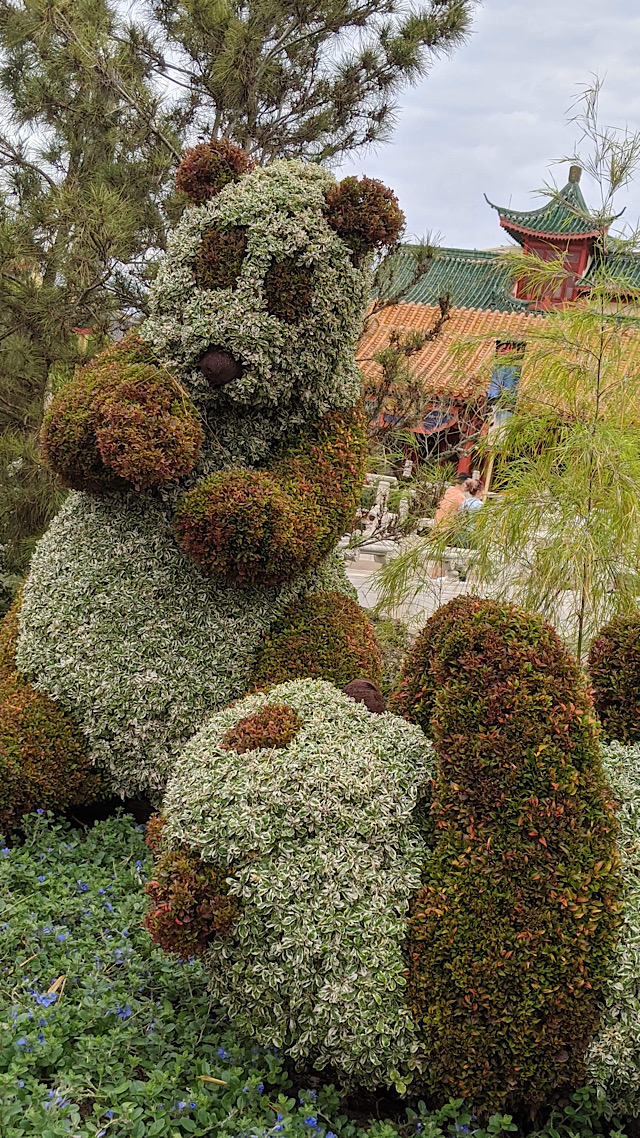 Soak up that sunshine, Pandas!
Our tour ends here for now, but we will be sure to update you on the rest of the topiaries when the Flower and Garden Festival opens on March 4th.
To find out more about the complete list of all of the topiaries for Epcot 2020 International Flower and Garden Festival, click here. You can find each of the topiaries on Character Locator as well.
If you want to visit Epcot for the International Flower and Garden Festival, you'll need a good plan to see it all. We have a guide to the festival that is sure to help you determine what to eat, where to shop, and what to see!
Jamie Fonseca