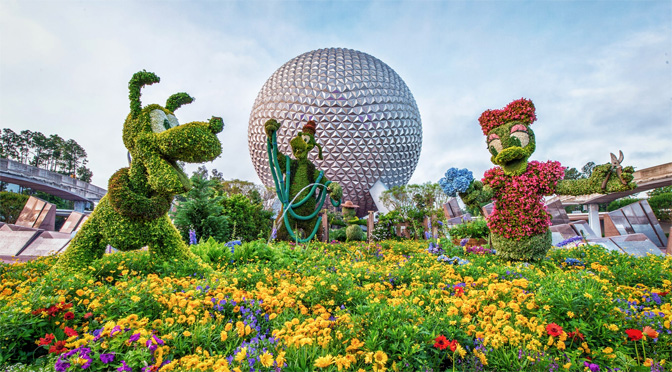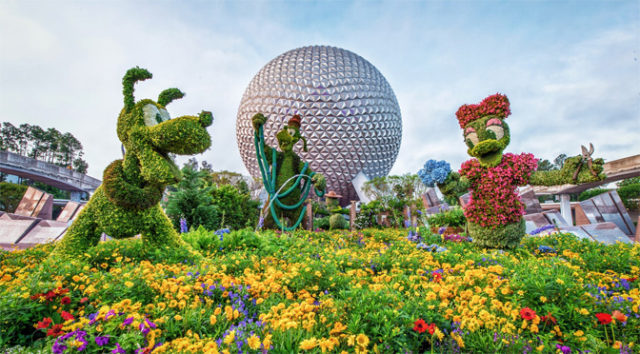 With Epcot's International Festival of the Holidays halfway over and Festival of the Arts starting next month, Disney is getting ready for the next few festivals.
Running from March 4 until June 1, Epcot International Flower and Garden Festival celebrates all things flower and garden!
Rock out to the Garden Rocks Concert Series (performers just announced HERE), enjoy yummy snacks in the World Showcase, and admire all the beautiful flowers and topiaries that are set up around Epcot.
Here is a breakdown of where you can find all the topiary displays plus a list of all the gardens, tours, and exhibits you can participate in during your day at Epcot.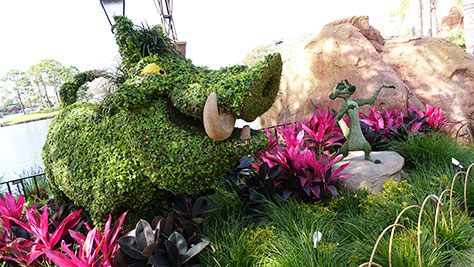 Topiary Displays
Anna and Elsa – Norway Pavilion
Bambi and friends – Canada Pavilion
Beauty and the Beast – France Pavilion
Bo Peep and her sheep with Woody – Future World East
Bold Bromeliads – The Land at Future World East
Bromeliad Dragon – Japan Pavilion
Buzz Lightyear – Mission: SPACE at Future World East
Captain Hook and Peter Pan – United Kingdom Pavilion
Construction Mickey and Minnie with Goofy, Pluto and Chip 'n' Dale – between Future World and World Showcase
Donald and Daisy with Huey, Dewey, and Louie – Showcase Plaza
Fantasia – Sorcerer Mickey, Brooms, Ostriches and Hippo – Imagination at Future World West
Lady and the Tramp – Italy Pavilion
Miss Piggy and Kermit the Frog – between the United Kingdom and Canada Pavilions at the France Pavilions
Pandas – China Pavilion
Pluto and Goofy – between Future World and World Showcase
Remy (NEW!) – France Pavilion
Simba and Friends – Outpost Shop
Snow White and Dopey – Germany Pavilion
Tinker Bell and Fairy Houses – United Kingdom Pavillion
The Three Caballeros – Mexico Pavilion
Topiary Butterflies – Future World West
Topiary Flowers – Main Entrance
Located near the Main Entrance
Winnie-the-Pooh & Friends – United Kingdom Pavillion
Character Locator has photos of each topiary and a map showing exactly where they are located!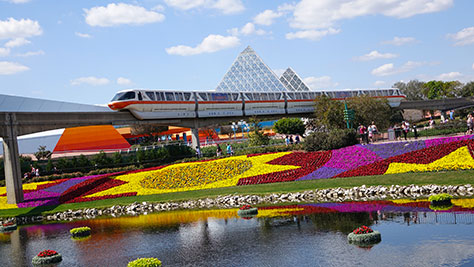 Gardens, Tours, and Exhibits
Become entranced in an aromatic petal paradise. Surround yourself with the beautiful sights and sounds of nature as you weave your way through breathtaking flower beds, plots of plant life and wildlife habitats.
Bamboo Garden – As a member of the grass family, bamboo can be found at the China Pavilion in many colors, patterns and sizes.
Bo Peep's Playtime Training Ground – Gather adults and kids at the Test Track walkway for Toy Story 4- themed engaging and interactive fun.
Bold Bromeliads – Located at the Mexico Pavilion
Bonsai Collection – Take a trip to the Japan Pavilion and discover the ancient art of bonsai with some of the finest living sculptures created by bonsai masters, who carefully shape and tend these miniature works of art—creating peace and balance with the earth.
Chinese Zodiac Natural Sculptures – Located at the China Pavilion
English Tea Garden Presented by Twinings of London® – Discover the history and art of tea blending at this elegant English Tea Garden at the United Kingdom Pavilion, featuring plants important to some of Twinings finest tea blends.
Festival Blooms – Located at Future World, this display boasts thousands of flowers form colorful, living panoramas overlooking Future World's East and West lakes.
Floating Mini-Gardens – Peer upon more than 100 petite plots drifting on the ponds that border the walkway between Future World and the World Showcase.
Garden Italiano – From fresh spaghetti sauce to your favorite pizza topping, this Tuscan kitchen garden at the Italy Pavilion features all the produce and herbs needed to create a classic Italian feast.
Health Full Trail Presented by AdventHealth – Delight in a whimsical area along Imagination Walkway for kids, made to inspire youthful energy and creativity. Your whole family can learn fun and interactive ways to stay healthy at a brand-new playground and outdoor kitchen.
The Honey Bee-Stro – Learn about the importance of honeybees in this immersive garden. You can also enjoy some food options, made possible by their hard work, from the adjoining outdoor kitchen. Find it near Imagination! Pavilion.
Kokedama Garden – Admire fresh expressions of an ancient Japanese art. The Kokedama Garden features skilled bonsai creations.
Shakespeare Garden – Thou shalt adore matching up famous quotes to flowers found within this vibrant garden at the United Kingdom Pavilion. William Shakespeare often used flowers and exotic gardens to help set the scenes for his plays and employed them as symbols and metaphors.
The Goodness Garden Butterfly House Presented by GoGo squeeZ – Visit this foliage-filled exhibit at Future World West to view a kaleidoscope of butterflies and observe several species up close, learning about their life cycles and maybe even witnessing them emerging from chrysalises.
Plant a Garden Perfect for Pollinators – Stop by this display near the Butterfly House and take garden-ready ideas home with you, along with garden crafts and sustainable best practices.
Tropical Rainforest Garden – Visit the Mexico Pavilion and learn how Mexico rainforests are rich with plants and animals that have adapted to a wide variety of light levels and water conditions.
Urban Spice – At the Morocco Pavilion, learn how in many eastern cultures, ancient spices were considered more valuable than gold. Even today, many cultures are defined by their signature spices and herb blends, created from plant leaves, stems, roots, seeds, and flowers.
Are you going to the International Flower & Garden Festival this year? Any new exhibits or tours you want to experience?
-Monica S.