The Beach Pool Play area at Disney's Grand Floridian Resort will begin a refurbishment soon. Read on for the duration and other options available to guests of Disney's Grand Floridian resort during this time.
From Monday, February 10 until March 20, 2020 the beach pool water play area at the Grand Floridian Resort will undergo refurbishment.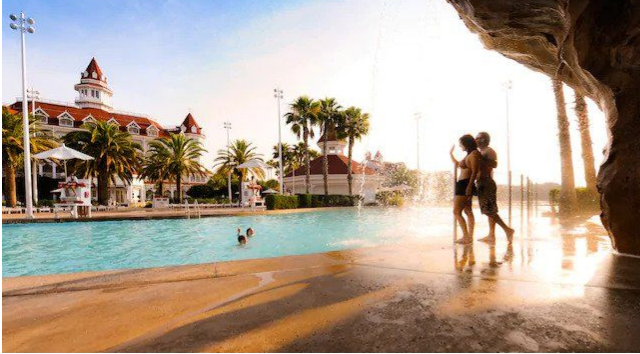 During the refurbishment, guests of the resort will still have access to the main resort pool and the leisure pools at the Grand Floridian.
Guests of the Grand Floridian will also be able to access the Lava Pool play area at Disney's Polynesian Resort, which is a lot of fun! Golf cart transportation will be provided.
The splash areas are a great addition to the pools at moderate and deluxe resorts! I do wish there was a way for big kids to enjoy them as well, particularly if they have younger siblings or cousins who want to play in them!
The Lava Pool at the Polynesian is currently open daily from 10:00 am to 8:00 pm. From March 15 through the completion of the Grand Floridian refurbishment the pool will be open from 9:00 am to 11:00 pm.
Still deciding which resort to book? You can check out my comparison of the Polynesian and the Yacht club! I also reviewed the new Gran Destino Tower at Disney's Coronado Springs Resort.
Other writers have reviewed Art of Animation Suites and 2 bedroom villas at Old Key West!
Are you staying at the Grand Floridian with little ones during this time? Do you plan to make use of the lava pool water play area instead? Or do you find that too inconvenient to hop over to the Polynesian just for a water play area? Let us know in the comments on Facebook.
-Rebecca W Davis