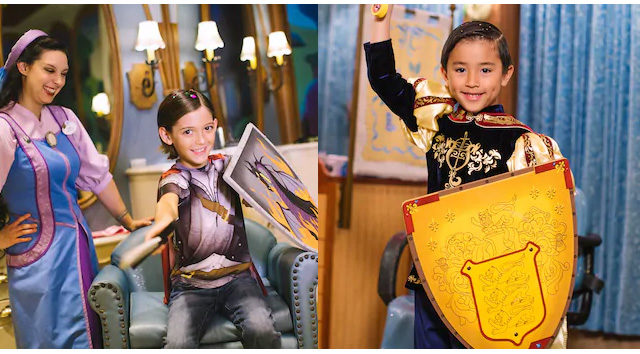 Did you know the Bibbidi Bobbidi Boutique offers other experiences other than dressing up as a princess? There are options for boys or girls who want to experience a makeover that is not of the princess variety.
With the recent news that Pirate's League is closing this summer, you may be wondering what options your child has for dressing up and getting a makeover at Magic Kingdom.
Fear not! Even though the Bibbidi Bobbidi Boutique is geared mainly towards princesses, there are two knight options!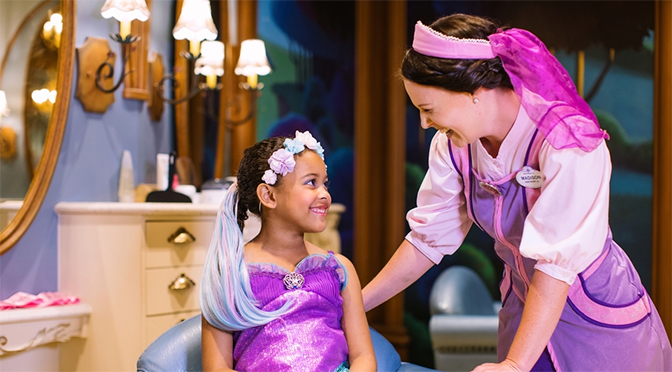 The Bibbidi Bobbidi Boutique is located inside Cinderella Castle at Magic Kingdom. Many guests love to sign their children (between the ages of 3-12) up to get a makeover before a full day of princess meeting or princess character meals, like Cinderella's Royal Table.
There is also a location at Disney Springs. More recently, one just opened up inside the Grand Floridian as well. However, the Magic Kingdom location is the most popular and reservations do book up quickly.
There are many makeover options for princesses. The Crown Package, The Carriage Package, The Castle Package, and the Disney Frozen Deluxe Package are just a few of the makeovers your little princess can receive.
However, there is more to Bibbidi Bobbidi Boutique than princesses!
There are two knight packages available to purchase: regular and deluxe.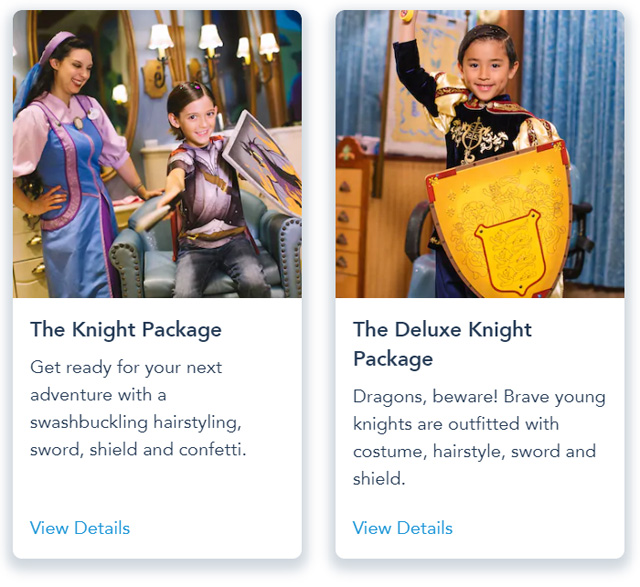 The Knight Package
Your fairy godmother will outfit you with a hairstyle (with gel), sword, shield, and confetti. Priced at $19.99 plus tax, this is very reasonably priced and makes your knight feel involved if another member of your party is getting a princess makeover. We chose this option for my 5 year old son while his younger sister was getting a princess makeover. Our experience is below!
The Deluxe Knight Package
Brave young knights who choose the deluxe package will receive a costume, hairstyle (with gel), sword, and shield. This is priced at $79.99 plus tax because of the value of the costume. If you want to save some money, you could surely find knight costumes online or at Halloween/party supply stores. Then, you can bring it with you and your child can change at the park or wear it to the appointment.
Our Experience
My son was 5 years old when he participated in the knight makeover at Magic Kingdom. His reservation and my daughter's reservation were at the same time, and they were even seated close to each other so it was convenient for the rest of us to watch.
His makeover was over relatively short compared to the princess makeover my daughter received. Of course, unless your child has a head full of long hair, there's not much to work with!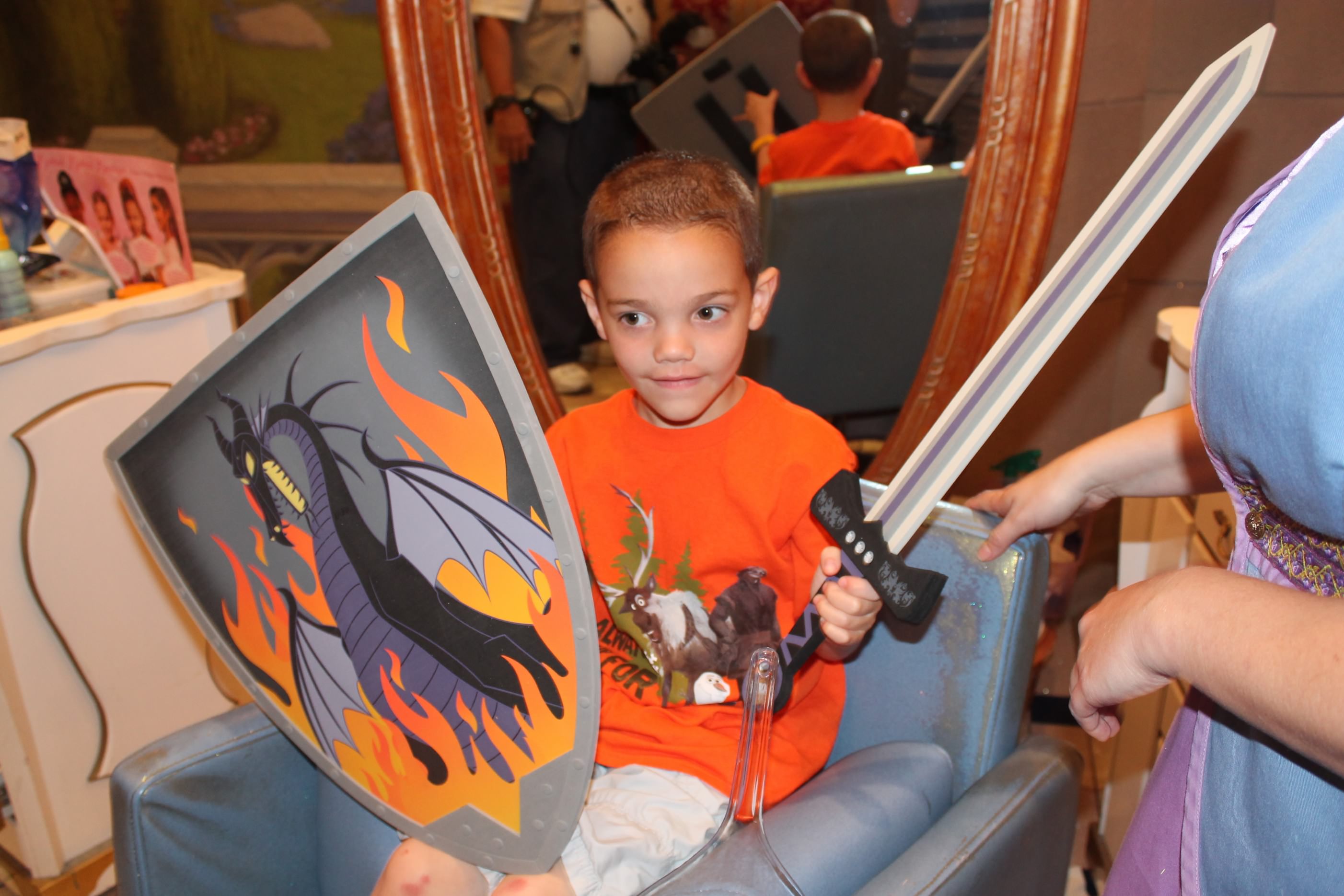 There was a PhotoPass photographer taking photos for us, and she focused on my son when it was his turn. The entire process did not take long for him – maybe 10 to 15 minutes tops. They did his hair first and then gave him his sword and shield. He was doted on by his fairy godmother, who called him a brave knight.
He did not care to get his photo taken next door at the little studio. However, his little sister enjoyed her photo shoot! Make sure you head there after your appointment to get some photos!
There is a PhotoPass studio at Disney Springs if your child gets his or her makeover there! You can select the backdrop, which is a slight advantage over the Magic Kingdom photo studio.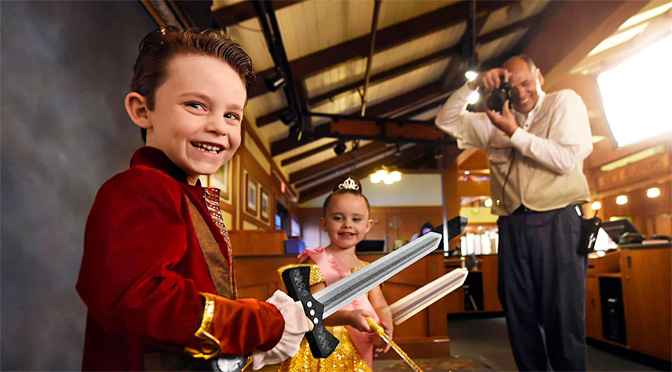 The sword and shield turned out to be great souvenirs to remember our trip! He played with them for over a year before they started to fall apart. They are made out of sturdy foam, but if your kids are rough on their toys, these may not make it too long.
We will be doing the Bibbidi Bobbidi Boutique again this year now that my younger daughter is old enough. However, my son has outgrown this stage, so he won't be getting a knight makeover. I will be sure to share my daughter's experience after our trip!
Has your child ever participated in the knight makeover at Bibbidi Bobbidi Boutique? What did he think of it? Share your experiences and photos with us on the facebook page!
-Monica S.