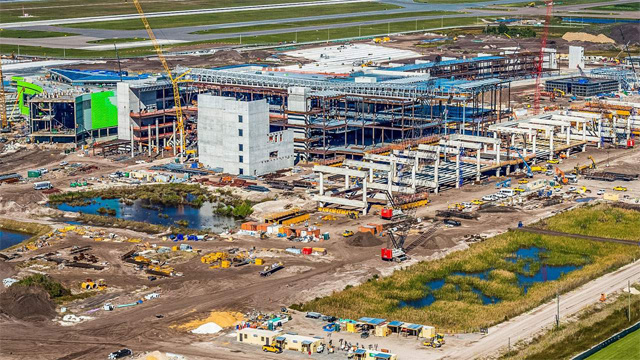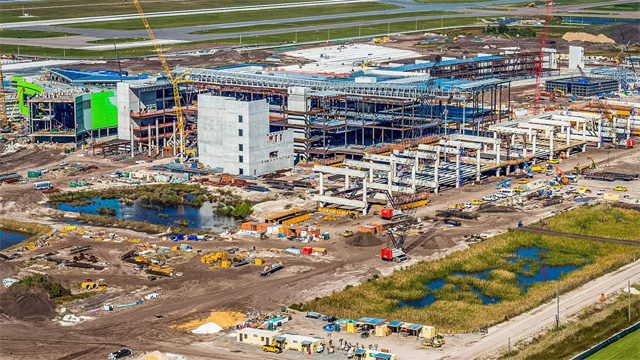 Book those Disney trips! Orlando Airport has released photos of its massive construction project, which will make room for millions of more travelers each year!
Orlando Airport is expanding with the addition of the South Terminal Complex.
The project will be completed in several phases, with the first one being completed in 2021.
During phase one, 19 more gates will be available for travelers. The gates will be able to accommodate 27 aircraft carriers.
Several other key additions will be included in the construction including both indoor and outdoor green spaces, shops, restaurants, and lounge facilities.
Orlando Airport is the tenth busiest airport in the country and this addition will be welcomed by many! As we all know, the airport always seems to be very busy.
Hopefully. this will help spread everyone out a bit more.
40 million travelers travel to Orlando Airport in a year, and this expansion will allow an additional 11 million travelers.
The project overall will cost $4.2 billion.
Another new addition to the airport includes a new program called "Paw Pilots."
Back in September, the Orlando International Airport (MCO) celebrated the kick-off of their new "Paw Pilots" program. A team of 10 therapy dogs and their handlers offer their service to travelers.

Therapy dogs are certified and trained, but in contrast to service dogs, they are meant to be petted! The airport can be stressful for many travelers, and the idea behind the program is for guests to unwind with snuggles and pets before they go to their gates.
The dogs will only be in the main terminal, before the security checkpoints.
Maybe the busyness of the Orlando Airport is a reason you avoid traveling to Disney World by airplane. Or maybe you just can't decide which mode of transportation would be best for you.
Check out our article that helps you consider the pros and cons of both driving and flying to Disney World.
With this new expansion and those cuddly therapy dogs, traveling to Orlando has gotten a bit easier (and cuter)!
What do you think of the construction happening at Orlando Airport? Do you avoid flying into the airport? Share your thoughts below or on the KtP facebook page.
-Monica S.
Source: Click Orlando