Traveling with a baby or toddler provides a unique set of challenges.  Here are the top four on-site Disney Resorts that work best for the infant, toddler, and preschool sets.  
I've highlighted options from four different resort types: value, moderate, deluxe, and deluxe villa. For information about the differences between resort categories, click here.
Value: Art of Animation
When it comes to searching for the best on-site value accommodation for young children, Art of Animation takes the cake. With its fun theming, delicious and easy food options, convenient transportation to the parks, and larger family suites, Art of Animation checks all the boxes for families with children ages 0-5.
When booking at Art of Animation, guests have the opportunity to choose between regular rooms (Little Mermaid themed) or Family Suites (Cars, The Lion King, or Finding Nemo).  The suites are particularly perfect for families with young children because of the larger space and fun theming.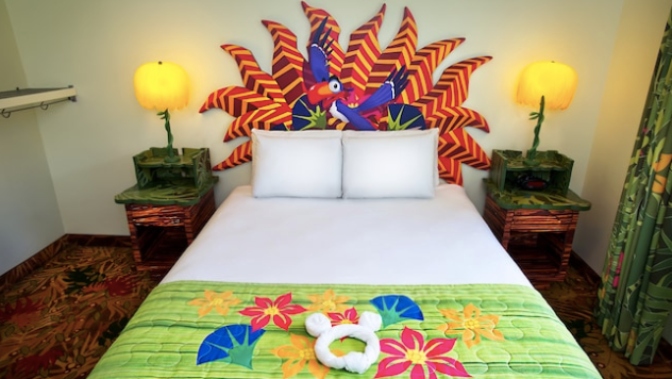 Suites have 1 queen bed, 1 double-sized table bed, and one double-sized sleeper sofa and can sleep up to 6 adults.  The semi-private sleeping spaces are perfect for families with little ones who need to nap or go to bed earlier than the rest of the family.  An extra bathroom and kitchenette are also great perks of the family suites!
The pools at Art of Animation are also perfectly themed for young children. The largest pool, the Big Blue Pool, is located directly behind the Animation Hall lobby and food court between the two Finding Nemo buildings. It features characters from Finding Nemo and has a toddler water play area.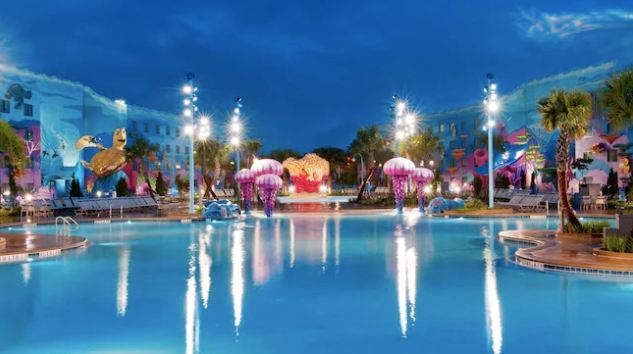 The Cozy Cone Pool is located between the two buildings that make up the Cars section of the resort. Themed based upon the Cozy Cone Motel from the Cars franchise, the pool features giant traffic cones like the accommodations from the movie. This is a quiet pool.
The third pool is located in the Little Mermaid section of the resort. It is also a quiet pool that features large sculptures of King Triton and Ursula.
While there are no table-service restaurant options at Art of Animation, Landscape of Flavors, the food court at the resort, is a surefire hit with everyone in your party – including your youngest travelers.  There are five different stations including pizza and pasta, burgers, etc.  This is perfect if everyone in your party wants to eat something different!
Finally, one of the newest perks of staying at Art of Animation is access to Disney's Skyliner.  The Skyliner will allow guests to easily travel to Hollywood Studios and Epcot from the resort.  Guests can even keep their strollers unfolded on the Skyliner, which is perfect for families with little ones!
Moderate: Caribbean Beach
Themed to imitate the atmosphere of the Caribbean islands, Caribbean Beach Resort is an excellent choice for families with young children and the best moderate resort for groups with guests ages 0-5.
Rooms are equipped with two queen-sized beds and a small fold-down bed, which is perfect for older toddlers and preschoolers.  Pirate-themed rooms are also available for booking.  Preschoolers and early elementary-age children particularly love this theming touch.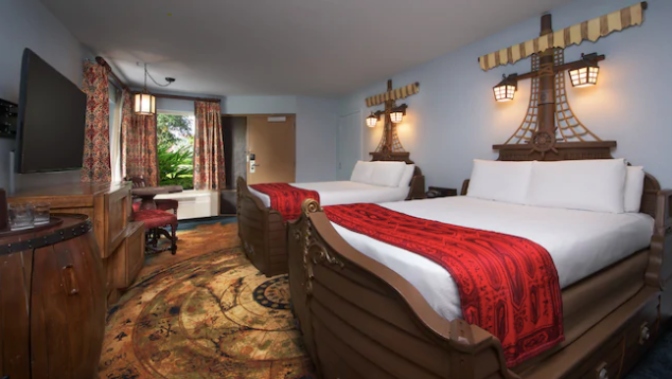 There are six different pools located on the Caribbean Beach property.  Six! The main pool, directly behind the Centertown Market food court area, features two waterslides.  The zero-entry pool is perfect for little ones!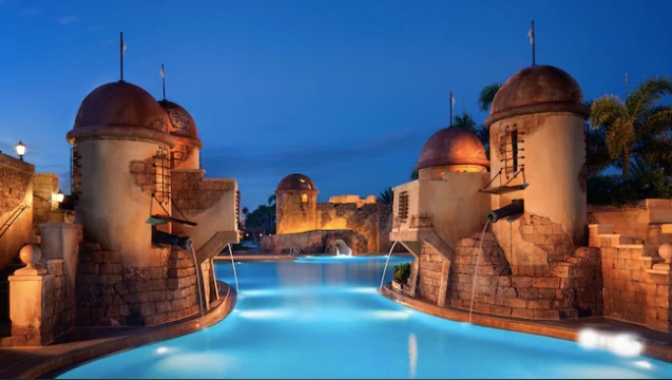 Right beside the main pool is a water play area with a very shallow pool for small children accompanied by a climbing structure with small waterslides and a spilling water bucket. This "splash pad" of sorts is perfect for the youngest guests.
Dining options at Caribbean Beach include Centertown Market, a quick-service food court, Spyglass Grill, a counter-service food choice, and Sebastian's Bistro, the resort's table service option.  The variety of dining options nearby makes grabbing a bite with young children easy!
Caribbean Beach also is located on the Skyliner, which allows for easy transportation and access to Epcot and Hollywood Studios, as well as to other Resorts on the Skyliner circuit.  
For more information about Caribbean Beach, check out this article about the five reasons to stay at this great resort!
Deluxe: Contemporary Resort 
If your party is looking to book a deluxe resort for your next Disney World Stay, the Contemporary simply cannot be beat for families with young children.
First, convenience and access to the parks are absolutely unmatched.  The monorail runs through the Contemporary and is on the circuit, making transportation to the Magic Kingdom, Epcot, and other monorail resorts a snap.
The Contemporary Resort is also within walking distance to the Magic Kingdom.  If your trip will be "Magic Kingdom heavy" and you have small children, staying at the Contemporary will allow you easy access to your room in the middle of the day for a nap break without wasting valuable time traveling to and from your Resort.
Guests staying at the Contemporary Resort can also book accommodations with theme park views.  If you have little ones that turn in early, you can still catch Magic Kingdom's fireworks spectacular from the comfort of your room!
The Contemporary Resort offers many great dining options, but one, in particular, is perfect for kids aged 0-5.  Chef Mickey's serves breakfast, brunch, and dinner and allows guests to eat from a delicious buffet offering while meeting Mickey, Minnie, Goofy, Donald, and Pluto.  A review of Chef Mickey's can be found here.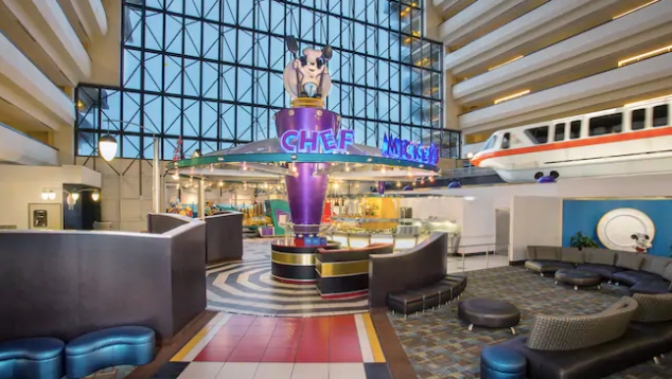 Deluxe Villas: Animal Kingdom Villas at Kidani Village
As a part of the beloved Animal Kingdom Lodge, guests can book villas at Kidani Village or Jambo House.   While both offer excellent options for families, Kidani Village slightly edges out Jambo House for families with small children.
The first perk of staying at a deluxe villa is obviously space.  At Kidani Village, guests can book studios, one-bedroom, two-bedroom, and three-bedroom grand villas.  The one-bedroom villa and larger have two separate bathroom facilities, which is a great perk for families.
Additionally, guests can book savanna view rooms.  Little ones will love to look out and see the animals from their very own resort accommodation.  The theming of the entire Resort adds to the charm of Kidani Village.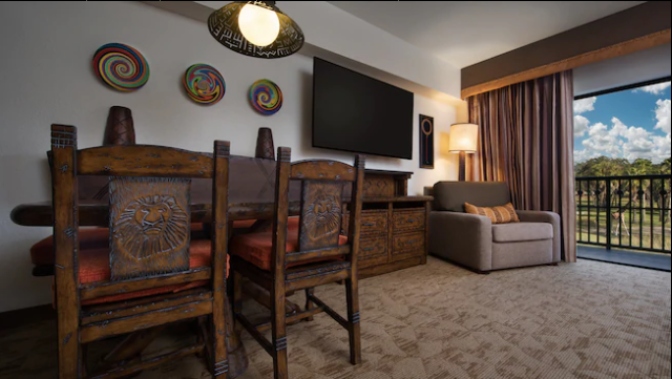 Sanaa, the only restaurant at Kidani Village, offers a chance for guests to sample Indian-African creations while viewing animals on the savanna.  It also offers traditional food options for children.  This allows for adults to sample new and delicious cuisine while guaranteeing food that your child will enjoy as well.   Plus, Sanaa offers a view that can't be beat! Breakfast is newly available at this great restaurant as well.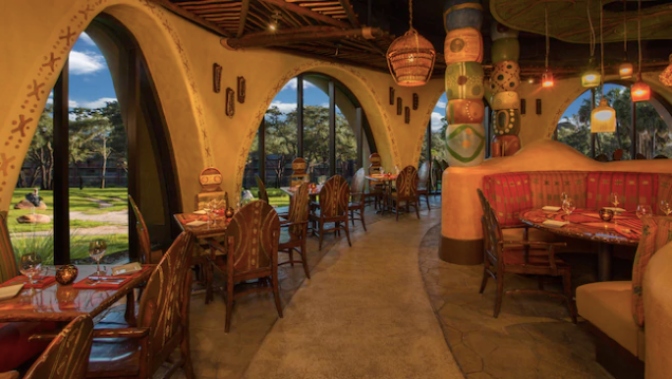 The pool on property, Samawati Springs Pool, offers an exceptional kiddie pool and water play area that young travelers are sure to enjoy.
While access to the other three theme parks can be cumbersome from Animal Kingdom Lodge Villas, Kidani Village is perfect for families who love animals and plan to spend some time at Disney's Animal Kingdom.
Do you have a travel companion aged 0-5?  What is your favorite on-site accommodation for your little one?
-Jaelyn Winkle