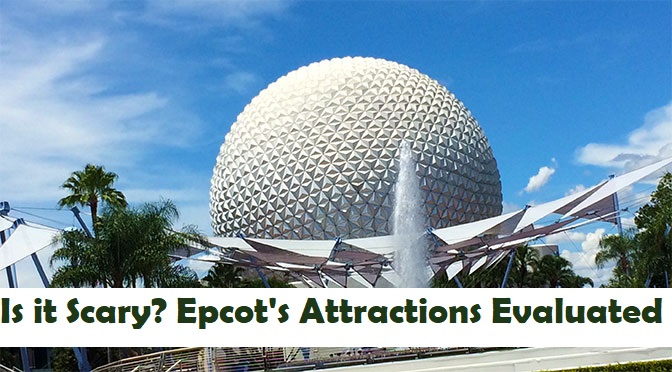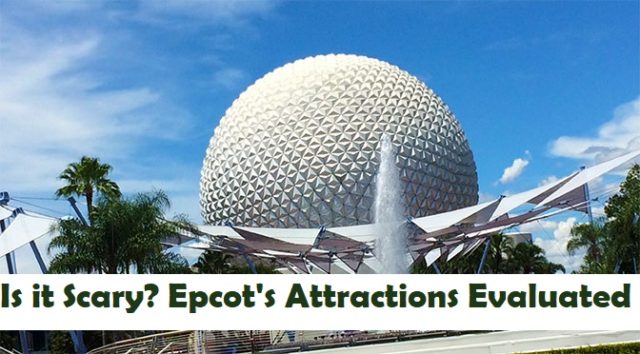 How scary is it? I will evaluate each of Epcot's rides to warn travelers of anything that may be too scary for them or their travel party.
WARNING: This post may contain spoilers, which is good if you are anything like me and like to know what to expect.
If you are anything like me, you get a tiny bit anxious when you try a new attraction.  Is there a hill that will drop my stomach? Will anything jump out at me?  Is the space too tiny and enclosed?
I like to know what I am getting into.  I also want to know if there is anything I should prepare my small children for so that they have a more pleasant ride experience or if we should avoid the attraction altogether.
Keep in mind, everyone's threshold for fears is unique, and you are the best judge of your child's limits. I travel with one child who is scared of nothing and one who is scared of everything, so I have experienced both ends of the spectrum.
Spaceship Earth
Spaceship Earth is a SLOW moving ride that is somewhat of a time machine that goes back through the history of mankind. It is not intended to be scary. It has nothing that jumps out or makes loud, sudden noises. But, there are some things to be aware of.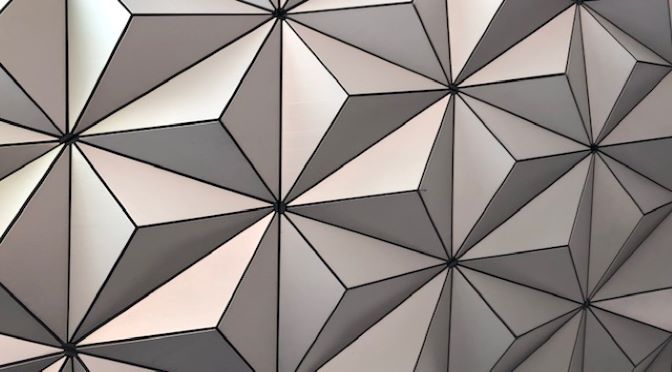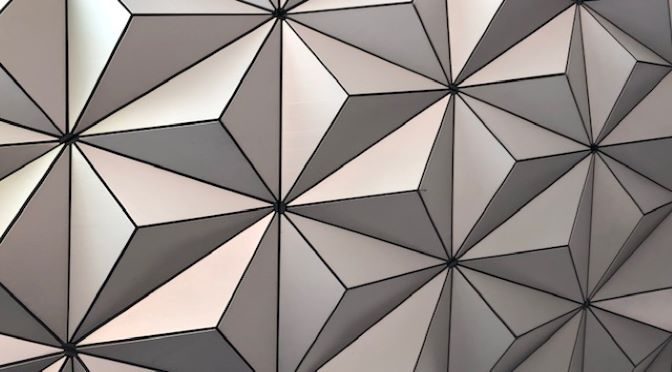 Darkness: It is dark throughout the ride, and there is a moment of near pitch black darkness as you exit the animatronic section and head towards the ride's conclusion. If one of your travelers is afraid of the dark, you may want to take his/her hand as you move past the scene with the computers.
Motion: It is SLOW. It does go backwards at an incline for a little while.
Other: There is a somewhat stormy video clip with some woolly mammoth/mastodons at the beginning of the ride.  It made one of my littlest travelers uneasy, but the other little one took no notice. If you have storm or "monster" weary little ones, you may want to prepare them.
The Seas with Nemo and Friends
This is a dark ride based on the film Finding Nemo.  It is not intended to be scary.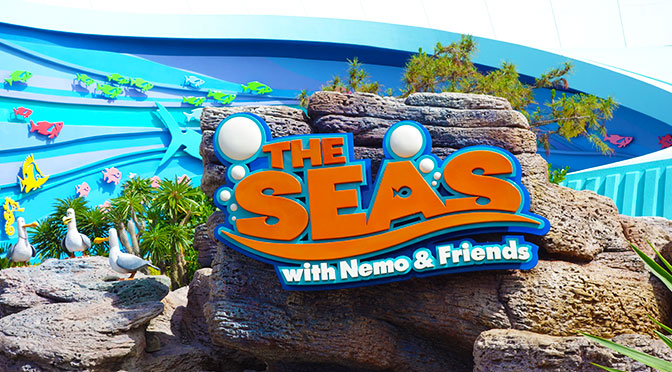 Darkness: It is dark, but not pitch black.  Cartoon characters are on screens the majority of the time.
Motion: Riders travel in a seashell that moves sideways and faces dark ride scenes interspersed with video. There is a part near the end that is supposed to simulate the current the sea turtles ride and that can make people feel a little disoriented.
Sharks: The ride has animated images of sharks.  Even though Bruce is a friendly shark who says "fish are friends, not food," people who are severely afraid of sharks may want to skip this one.
Other: The story line of the ride involves a fish who is separated from his father.  Though he does end up reunited with him, children who have anxiety about being separated from a parent/guardian may benefit from a word of warning.
Living with the Land
Living with the Land is a dark boat ride that winds through video screens and animatronic scenes depicting a variety of settings and ends up in a behind the scene tour of Disney's growing practices. It is not intended to be scary.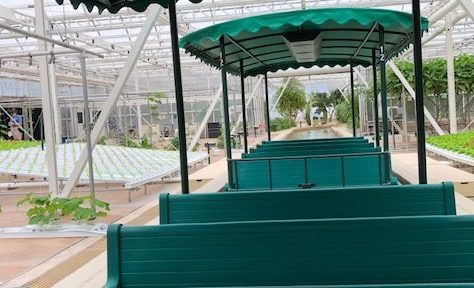 Darkness: This is a dark ride, but it isn't really that dark.  It is dim in some places and quite bright in others.
Lightning: There is a lightning strike depicted on a screen at the beginning of the ride. It may be good to prep those who are fearful of storms.
Insects: There are several insects depicted on a large screen, but it is not meant to be frightening.  There are also several animatronic beetles and butterflies in the rain forest portion of the ride.
Crocodiles: There are some animatronic crocodiles, so those who are nervous about reptiles may appreciate a heads up.
Soarin' Around the World
Soarin' is a hang glider simulator.  While it is not intentionally "scary," there are several "gotcha" moments that might upset some riders.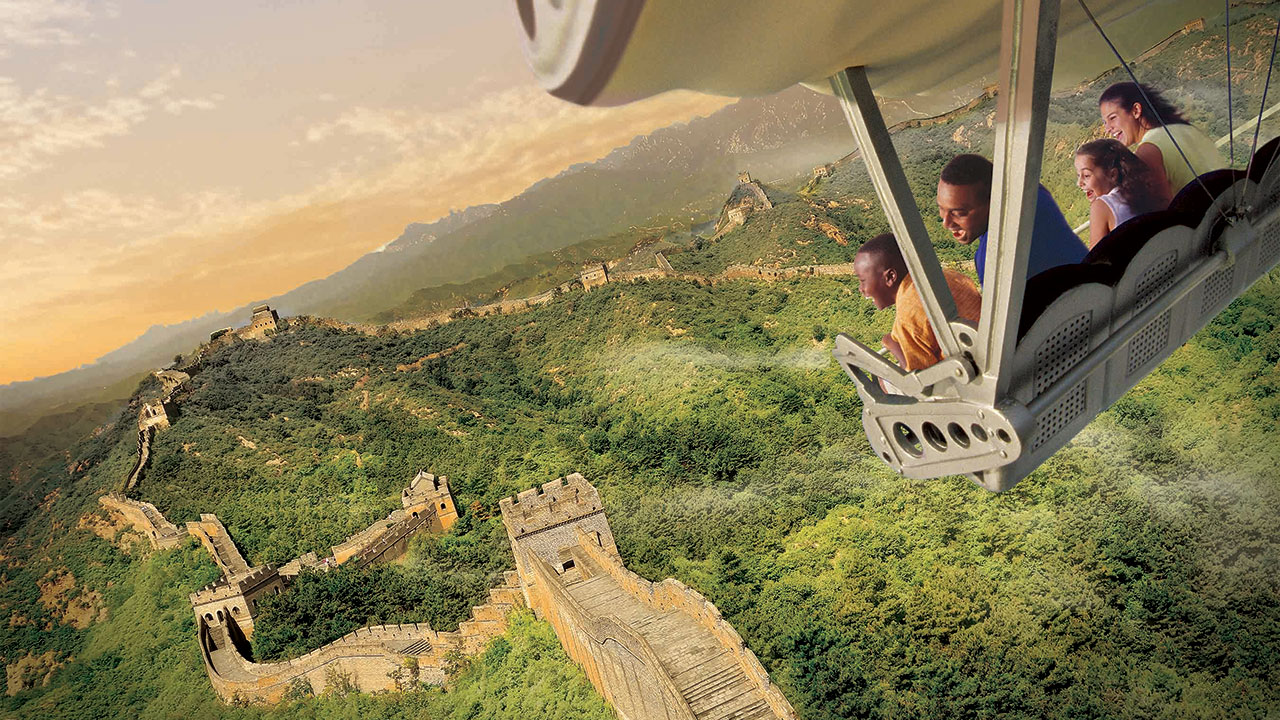 Heights: Soarin' is a flight simulator, but the ride vehicles are actually lifted about 30 feet off the ground.  Those who are nervous about heights may not enjoy it.
Gotcha Moments: There are several "gotcha" moments where something seems to jump out at you or pop into your field of vision quickly as the ride transitions from one location to the next. These instances might make riders jump in surprise.
A whale pops up out of the arctic waters unexpectedly and "splashes" riders
A bird of prey swoops in unexpectedly as riders pass red rock formations
An airplane buzzes in out of nowhere (this is the part that makes my group jump every time)
An elephant throws up sand and blocks everyone's view of Africa
A kite pops up over the Great Wall
Fireworks: Fireworks go off during the last scene, so riders who are weary of fireworks may appreciate being prepared for it.
Test Track
Test Track is a thrill ride where riders design a car then test to see how it performs under various conditions.  It is intentionally thrilling and frightening in some instances.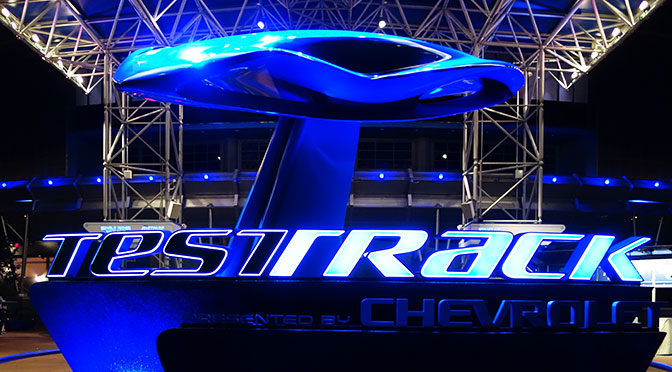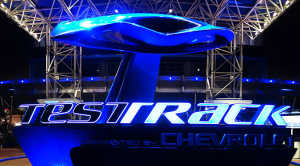 Darkness: Parts of the ride are dark, but not pitch black.
Motion: The ride makes multiple sudden jerks and turns. The conclusion of the ride can have a number of start and stop jerks.
Lightning: A lightning bolt strikes near one side of the ride vehicle, and it might make riders jump in surprise.
Near Misses: A big truck made of lights appears out of nowhere, blares its horn, and makes it seem as if the ride vehicle may crash, but it swerves at the last minute. It makes me jump every time unless I watch for it intentionally. It does not bother my daredevil 5 year old, but I bet it would scare the pants off of his younger sibling.
High Speeds: The ride vehicle finishes its run  by zooming around a racetrack that encircles the building.  It moves at high speeds and stops suddenly.
Mission Space
This ride is a space travel simulator, and it comes equipped with barf bags. It is intentionally intense and may be too much for many guests.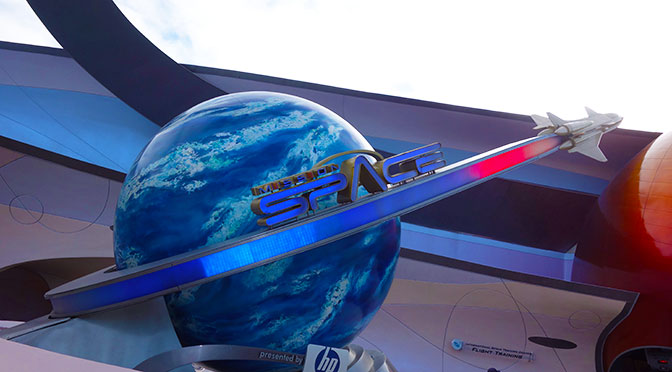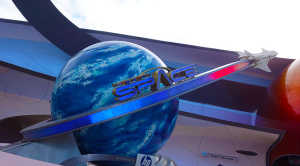 Motion: Green side vs. Orange side
Green: the green side of this ride is a gentler experience.  It simulates a ride to space without the super fast spinning motion that causes the feeling of force pulling at you.
Orange: The orange side spins extremely quickly with enough speed and force to generate a pull.  My little one could barely lift his arms to interact with the buttons.  It made me feel as if it were pulling at the skin on my face.  The ride instruction specifically insist you stare straight forward at the screen while the ride is in motion.  I recommend you follow those instructions to avoid becoming disoriented.
If you have any sort of motion sickness, this is one to skip.  I had a member of my travel party become ill on this ride once.  That said, my 5 year old LOVES it and gets offended if we select the green side.
Claustrophobia: The ride vehicles are small and fully enclosed on both sides.  You are strapped in with overhead harnesses.  Those who are afraid of small spaces will probably be very unhappy on this ride.  I am somewhat claustrophobic, and this ride REALLY bothers me. I have to stare straight forward to keep myself from focusing on the closed in feeling. I suck it up so my thrill-seeking child can ride it, but I do not like it one bit. One of my personal biggest Disney-related fears is this ride breaking down with me inside.
Simulations: The ride simulates a launch into outer space.  It also simulates a crash landing where the riders tip forward, dangling over an edge, which may scare some people.
Journey into Imagination with Figment

Journey into Imagination is a dark ride with animatronics that takes you through the workings of the mind with Dr. Nigel Channing and a purple dragon called Figment as your guide.  This ride is not meant to be scary, BUT it has several startling moments that might affect your child.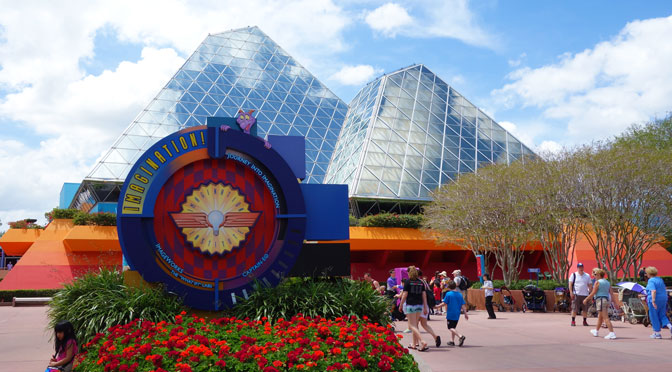 Pitch Black Darkness and Loud Noises: This is a dark ride, but there are some times where it is extremely dark and loud.
Train Whistle-towards the beginning of the ride it goes dark, and you hear a train. The doctor says "Now I've completely lost my train of thought" right before it happens.
Crash– At the end of the ride, it goes pitch black. After several seconds of darkness, riders hear a loud crashing sound, and the ride resumes motion, the lights come up, and the theme song plays again. It occurs after Figment says "Imagination is a blast!" This is the part my 3 year old remembers being frightened by, and the thought of it makes her too anxious to give the ride another try.
Burst of Compressed Air and a Stench: At one point, a burst of air shoots out in your face. It is pretty loud and forceful.  This may startle some riders. Figment says "let the good times roll" then turns into a skunk for this part. It is also stinky, which might disenchant some riders.
Gran Fiesta Tour Starring the Three Caballeros
This is a dark ride in the Mexico Pavilion where a boat winds through the water.  It features Donald Duck and the Three Caballeros. It is not intended to be scary. It is a mixture of animation and animatronics, and most of it is cheerful, colorful, and gentle. It is a favorite of my little one who is afraid of everything.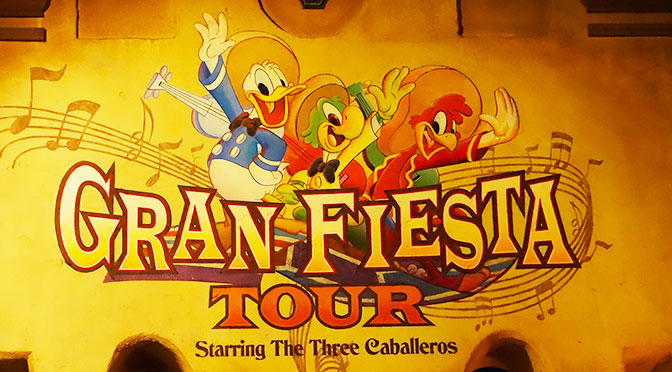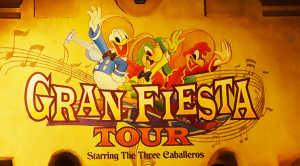 Large Structures: The ride winds past the Mayan Pyramid in the Mexico Pavilion.  Some younger or anxious riders may be weary of it at first.
Skeletons: There is a section of the ride that has some skeletons playing guitars as the town celebrates the Day of the Dead.
Bump!: The boats tend to bump into each other at the conclusion of the ride.
Frozen Ever After
This dark boat ride is based on the hit Frozen film.  It appeals to children, but has several surprises. My littlest traveler has a love/hate relationship with it as a result.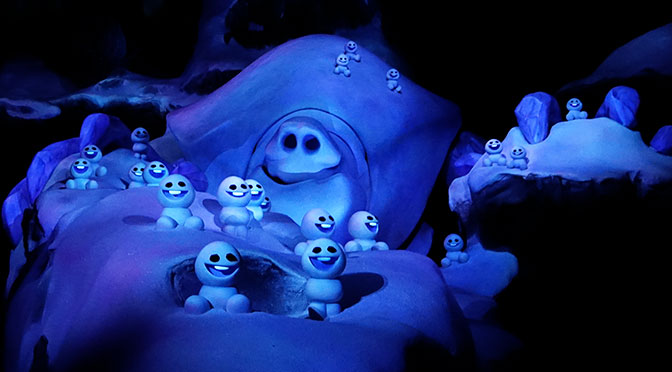 Motion: The ride does move backwards for a short time.
Snow Monster: Marshmallow the snow monster makes an appearance and blows his frosty breath at you. One of my children loves it, the other is afraid of it.
Hill: Marshmallow sends riders sliding down a hill (similar to the one in Pirates of the Caribbean)
Splash: You might get wet.  I have exited the ride bone dry, and I have also exited with one side of my shirt and the seat of my pants pretty wet.  People in the front tend to get the majority of the splash. If you have a child who wants to ride this attraction but cannot stand to have wet sleeves/bottoms, you might want to bring along a change of clothes just in case.
Conclusion
Overall, Epcot's attractions probably boast the fewest thrills of any park, though the upcoming Guardians of the Galaxy should add something interesting to the mix once it opens.  Hopefully this guide will help you to prepare your anxious riders for what to expect and prevent unpleasant experiences.
What Epcot Attractions are Your Favorite?