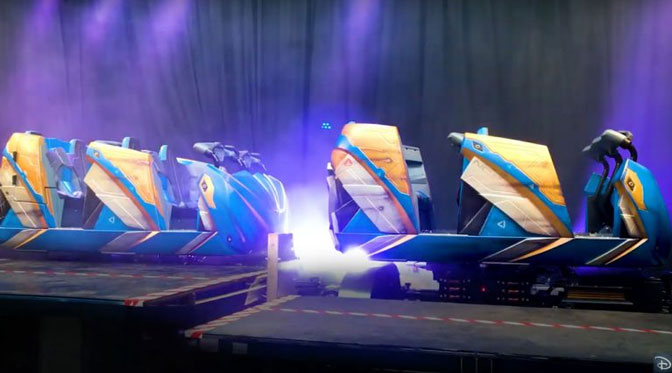 Recently, Disney announced the name of the new Epcot Guardians of the Galaxy roller coaster as "Guardian's of the Galaxy: Cosmic Rewind."  It will be a family-friendly coaster with a ride vehicle that can rotate 360 degrees and it will offer a reverse launch.  Here the video that they just released to the public of the ride vehicle.
It has a classic 70's flashback style with that special Guardians of the Galaxy touch.
The video above, from Walt Disney Imagineering, demonstrates how the vehicle will be capable of rotating to keep you focused on the action around you.  It is said to keep you engaged in the action at all times.
[the_ad id="38585″]
Disney, "At Guardians of the Galaxy: Cosmic Rewind the adventure will start in the "Galaxarium," a planetarium-like exhibition that explores the similarities and mysteries of the formation of Earth's galaxy and Xandar. You'll be invited to learn more about Xandar's treasures – until the moment when the Guardians of the Galaxy arrive, and adventures across the cosmos ensue."
The new Guardians of the Galaxy: Cosmic Rewind coaster will open at some point by October 2021.
The ride vehicle sort of reminds me of what Spider-man and Transformers can do at Universal Orlando, but built on a roller coaster platform.  The ride will be indoors and it taking the place of the former Ellen's Energy Adventure ride.
What do you think of the new coaster vehicles?