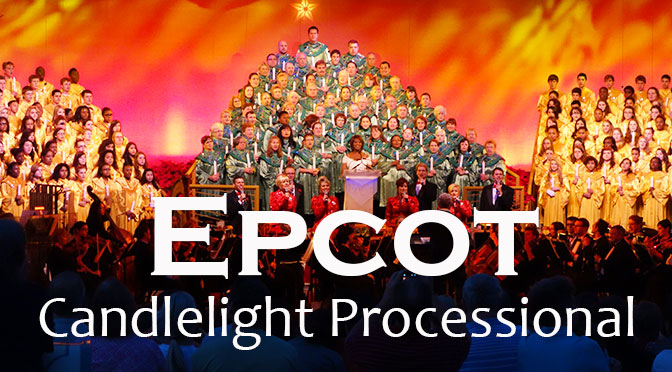 Disney fans have been lucky enough to follow along several live-streams already, such as "Minnie's Wonderful Christmastime Fireworks," "A Frozen Holiday Wish," and "Jingle Bell, Jingle BAM." DisneyParks Blog has just recently announced Candlelight Processional at Epcot will live-stream on December 3rd at 8:10 p.m. EDT.
The live stream of The Candlelight Processional on December 3rd will feature celebrity narrator, Neil Patrick Harris.
The annual show is a holiday tradition and if you have not seen it, the show includes a retelling of the Nativity story featuring a choir, a celebrity narrator, and a live orchestra. A good review of the event can be read about here.
If you want to secure your viewing of the show, dining packages are available, but not necessary. The show is free and included with admission to Epcot.
Guests who are interested in purchasing a dining package can buy one here. By purchasing a dining package, guests can enjoy a meal and have guaranteed seating at the event.
Candlelight dining packages are available for breakfast, lunch and dinner. Meals include an appetizer, entree, dessert or one full buffet, along with a non-alcoholic beverage. Dining packages range from $20 – $85 per person. Packages do sell out quickly so advance reservations are highly recommended.
The 2019 listing of celebrity narrators can be found here and are listed below:
Ming-Na Wen
November 29 through December 1
Neil Patrick Harris
December 2 through December 5
Whoopi Goldberg
December 6 and 7
Isabella Rossellini
December 8 through 10
Chita Rivera
December 11 through 12
Gary Sinise
December 13 through 15
Pat Sajak
December 16 through 18
Warwick Davis
December 19 through 21
Steven Curtis Chapman
December 22 through 24
Edward James Olmos
December 25 and 26
Marlee Matlin
December 27 and 28
Lisa Ling
December 29 and 30
It should be noted that celebrity narrators are subject to change or be canceled without notice.
The Candlelight Processional is one of Epcot's beautiful traditions and is definitely worth seeing! Will you be tuning in to watch? Which of the live streams has been your favorite?
Maggie Baltz