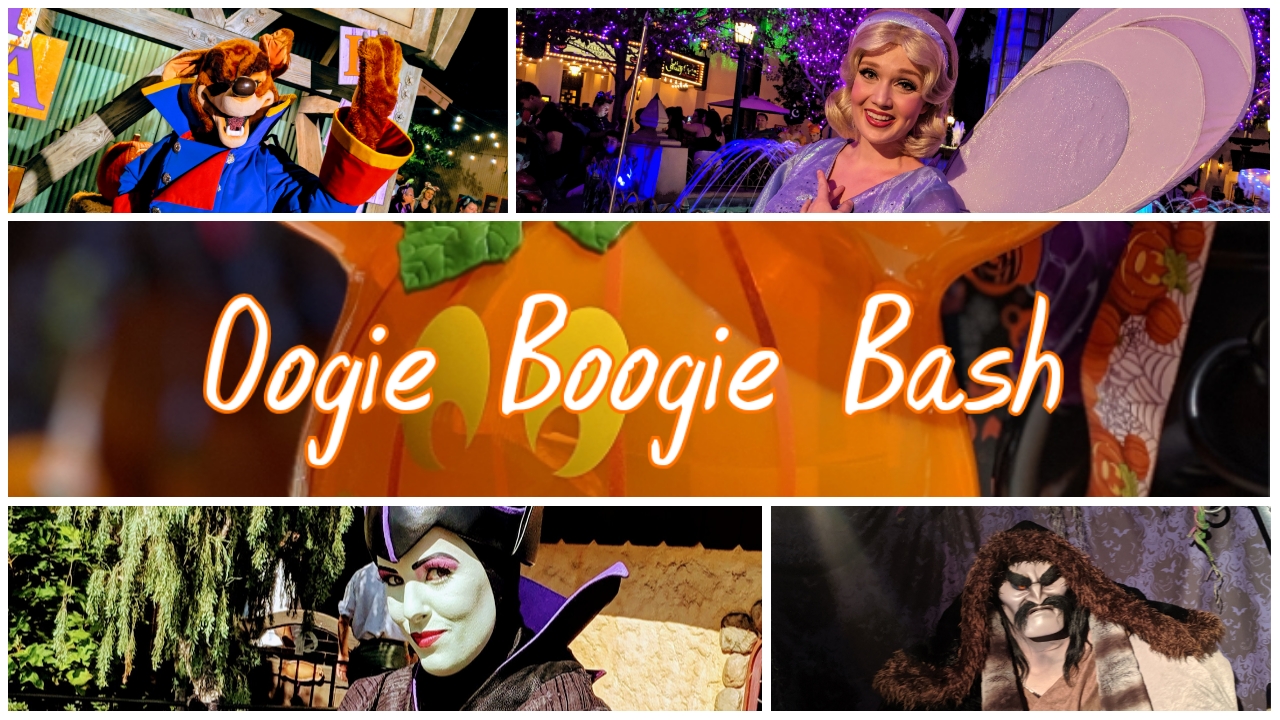 Last week, I attended the first two Ooogie Boogie Bash parties at the Disneyland Resort.  This Halloween party was moved from Disneyland Park to Disney California Adventure, given a new name and a new theme and it took on a distinctly different and darker tone than any that I've attended in the United States.  Here's my review.
For the last several years Mickey's Halloween Party (MHP) was hosted in Disneyland Park.  It had a light and fun vibe which American Disney Parks guests have become familiar.  It's counterpart, Mickey's Not So Scary Halloween Party has a similar approach to the former MHP.  The appeal is in the lighter nods to Halloween with candy and festive, yet familiar Disney characters dressed in their favorite costumes.
[the_ad id="38585″]
With the all-new Oogie Boogie Bash the focus became a bit darker, especially in the new Villains Grove area.  We'll get to that a bit later in the review.  The first night at a party is especially a seemingly disorganized event.  Most Cast Members didn't know what characters would appear or when they would appear.
When we first entered the park, we were diverted to the far right.  We had to scan our digital tickets from my phone, then we were given a ticket, then we were told to take that ticket to the entry area on the right.  It looked like a mess, but it moved pretty quickly.  The Cast Member scanned our ticket, then we received our wristband, then we received a trick or treat bag.  There were no advance treats like Walt Disney World offers early arriving guests.
We were told that we could enter up to 3 hours early, but later we were told we could enter 4 hours early and check in at the Blue Sky Cellar.  That early entry may be helpful, if you don't have a day ticket, but it doesn't help any for guests who are already in the park.  We expected everything to begin promptly at 6:00pm.  It didn't.  Most character meets didn't begin until 6:30pm or later.  Many didn't begin until at least 7:00pm.  My friend and I talked about how we love the 1 hour clear out process at Walt Disney World and how that would help here.
We lined up early for "Kingdom Hearts" characters with a few hundred other people.  We were expecting it to be the actual characters, like Sora.  My buddy was especially looking forward that that because his wife is a huge Kingdom Hearts fan.  When the Cast finally arrived, well into the party time, we learned that we were in line for Goofy and Donald in Kingdom Hearts tribute costumes.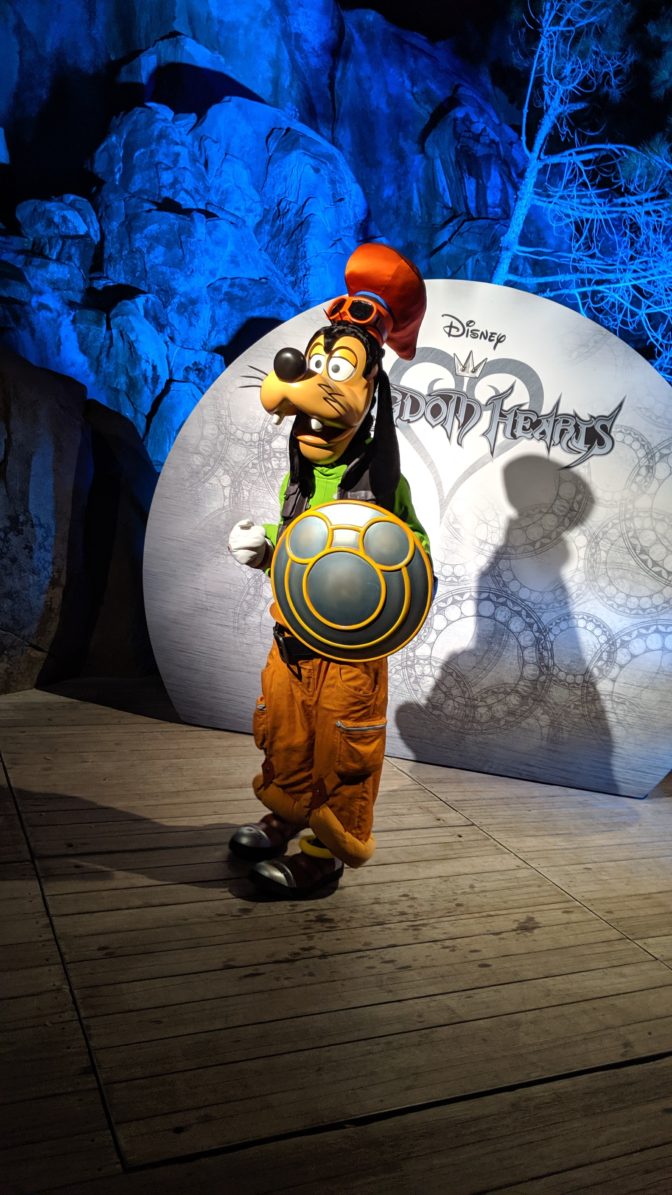 We met a helpful character attendant at that meet and she gave us an idea of what characters to actually expect.  The Disney map only has generic names, so we didn't know who we could meet and characters were a priority to us.  She told us that the Blue Fairy would be meeting, so we darted over to meet her.  At the moment we arrived Snow White was meeting.
We diverted to meet Don Karnage from Ducktales.  He was a part of Disney Afternoons and neither of us had ever met him.  We had just missed his first set, so we doubled back to wait for the Blue Fairy.  She was supposed to be with Pinocchio, but he was a no-show for the first set.  That seemed to be a common refrain during the parties.  Characters were supposed to be somewhere at a certain time, but didn't show up.  Sometimes you'd meet fewer characters, other times they substituted someone.
The Blue Fairy was beautiful, just like you'd expect a fairy to be.  She was very kind and had a thoughtful and caring voice.  We chatted for a moment, posed for photos and then she politely allowed me to quickly take a couple of photos.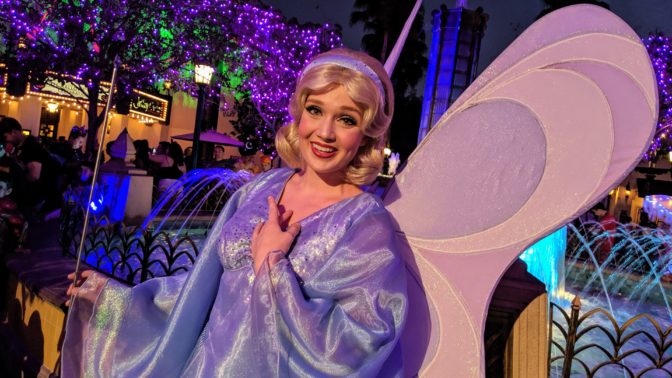 After meeting the Blue Fairy, we headed back to meet Don Karnage.  Two characters I had never met, back to back!  And each one had a very reasonable line.  If they met in Walt Disney World, the line would be measured in hours, not minutes.
Don Karnage and I talked about being pirates.  He loved that I knew one of his signature lines from the series.  "I am a pirate! I don't do "decency"!"  It was fun, I was probably a bit like a giddy little boy at that meet.  It's funny that I've met well over 300 different characters and still get excited to meet new ones.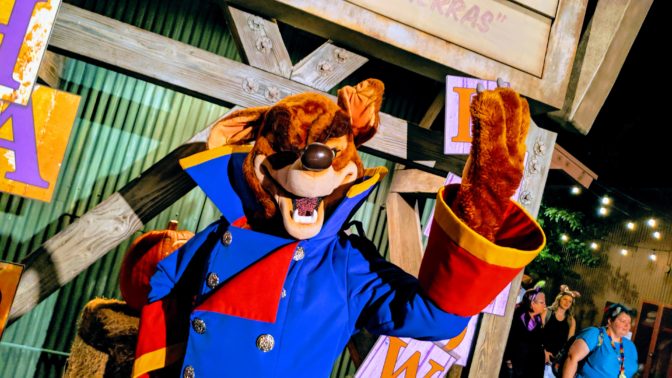 From there we took the short walk over to the Maleficent Treat Trail.  This year, Disney is experimenting with having an interactive, live character, on a stage in the midst of the trick or treating lines.  If you like candy, the treat trails at Disneyland are amazing.  I gathered candy from the five interactive trails and had a full bag before donating it to another guest.  I saved some apples for myself.
Maleficent was truly in character and it did add a bit of fun to what is normally just collecting candy, but many guests wanted to actually MEET these characters.  Some of them meet during the day at Disneyland.  I met Maleficent behind the castle with a very short wait one day, for example.  Here's a short video of an interaction with Maleficent.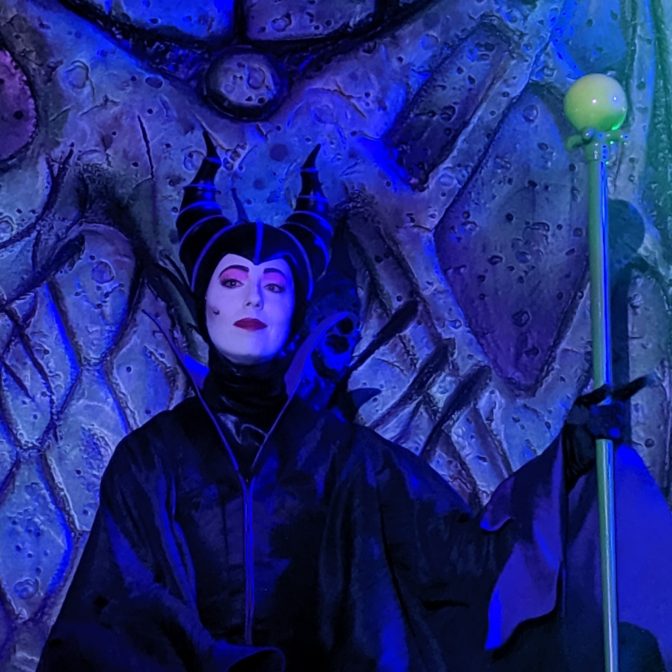 The trick or treat lines are well-dressed for the occasion as well with cauldrons full of candy being "boiled" over a green flame.  The Cast Members are generous with the candy and some stops have options like apples, popcorn or carrots.  It won't take you long to fill a bag of candy, so save it for later in the party.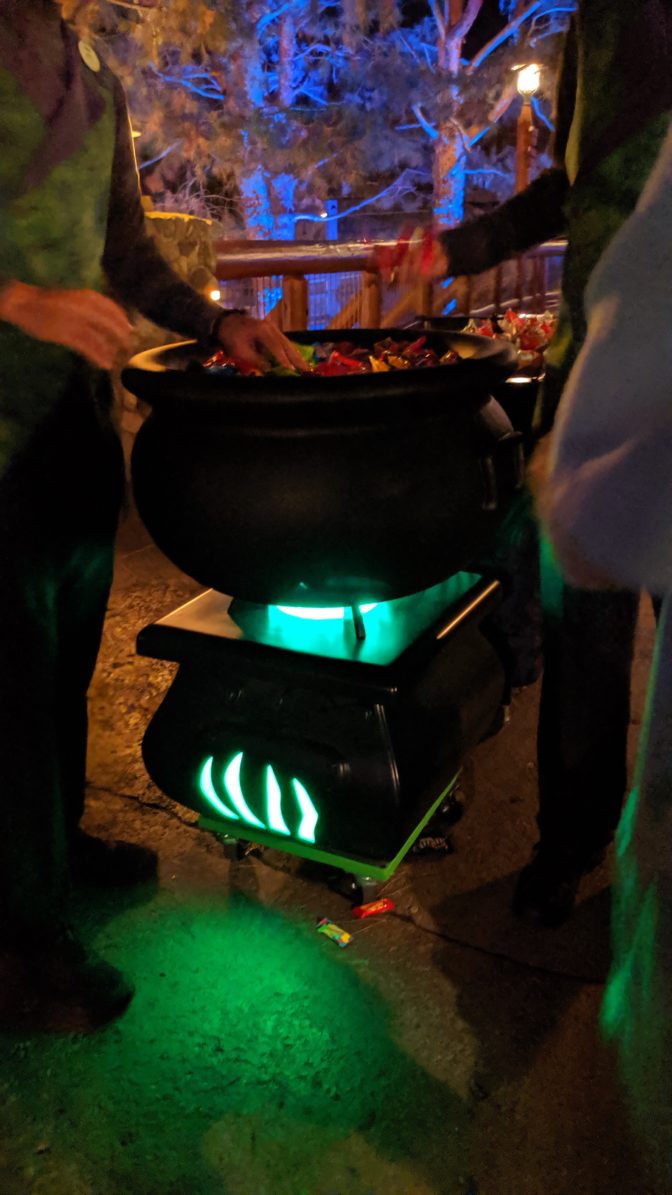 The Queen's Trick or Treat Trail is a short walk from Maleficent's, so we sauntered over to check that out.  Oh, by the way, ALL the info you need including my custom maps are on Character Locator, so you can find your way around!  Queen Grimhilde is busy working on her spell, so don't distract her or you could be the one receiving that spell.  Here's a short video of the Queen's interaction: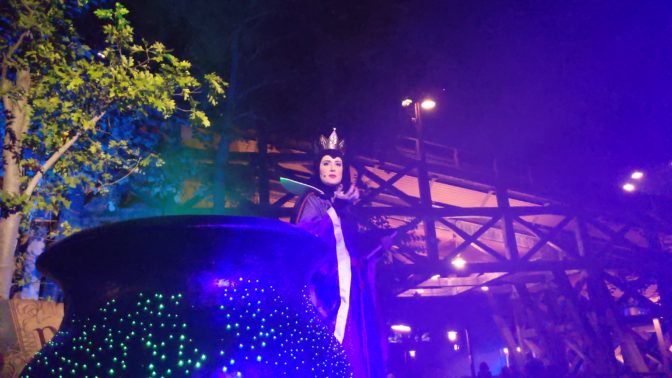 From there, we made our way around to the villains meet and greet line.  We were surprised by how short the line was and how quickly it moved.  That was the case for both parties, as well.  Our first time through we met Prince John and the Sheriff of Nottingham.  The third spot was empty during that meet.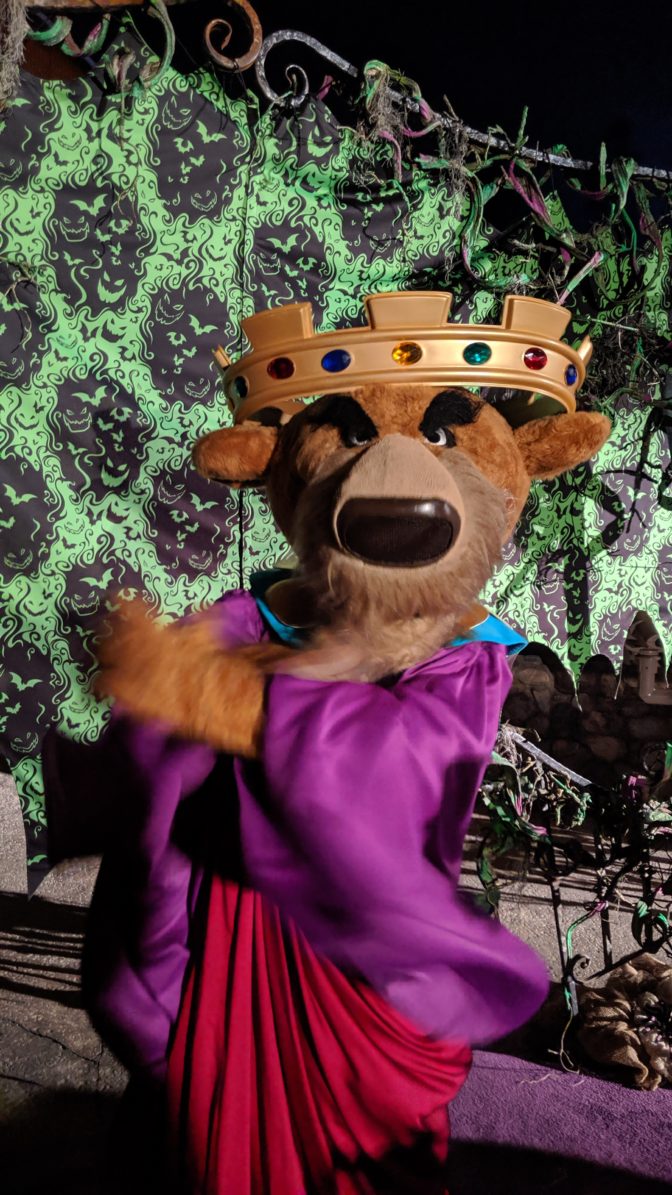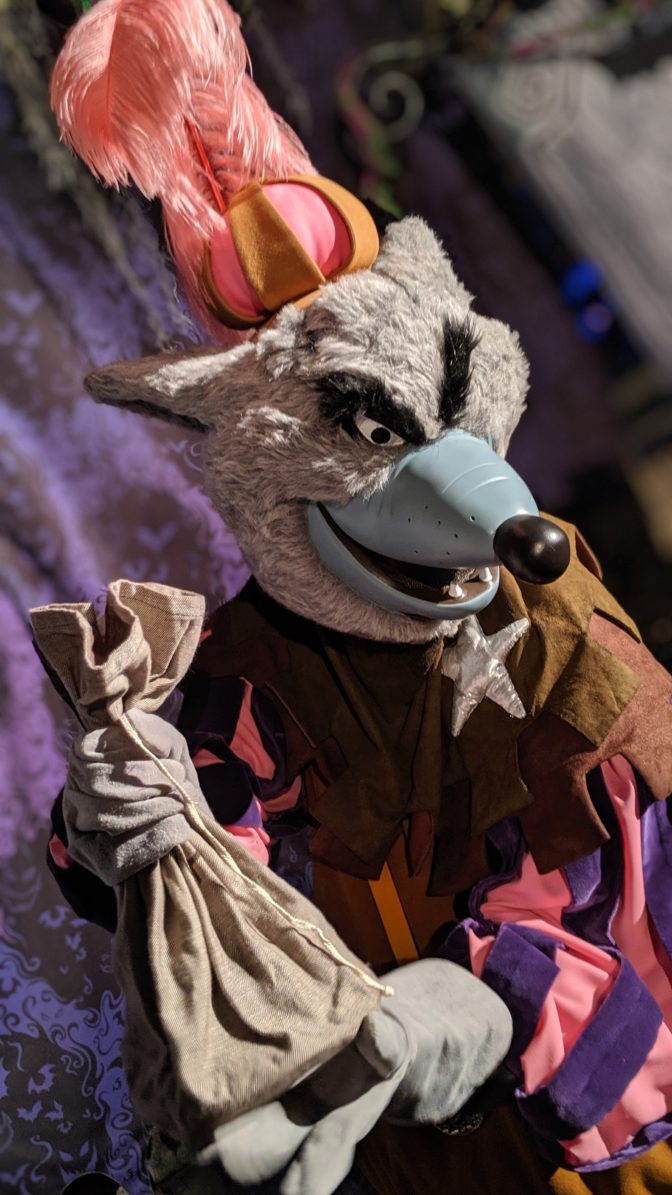 We intended to catch the Frightfully Fun Parade on the second night, but we caught the end of the small and spread out parade near Pixar Pier.  We were excited early in the party because one Cast Member told us the Cheshire Cat would be available for meet and greets, but he was only at the end of the parade.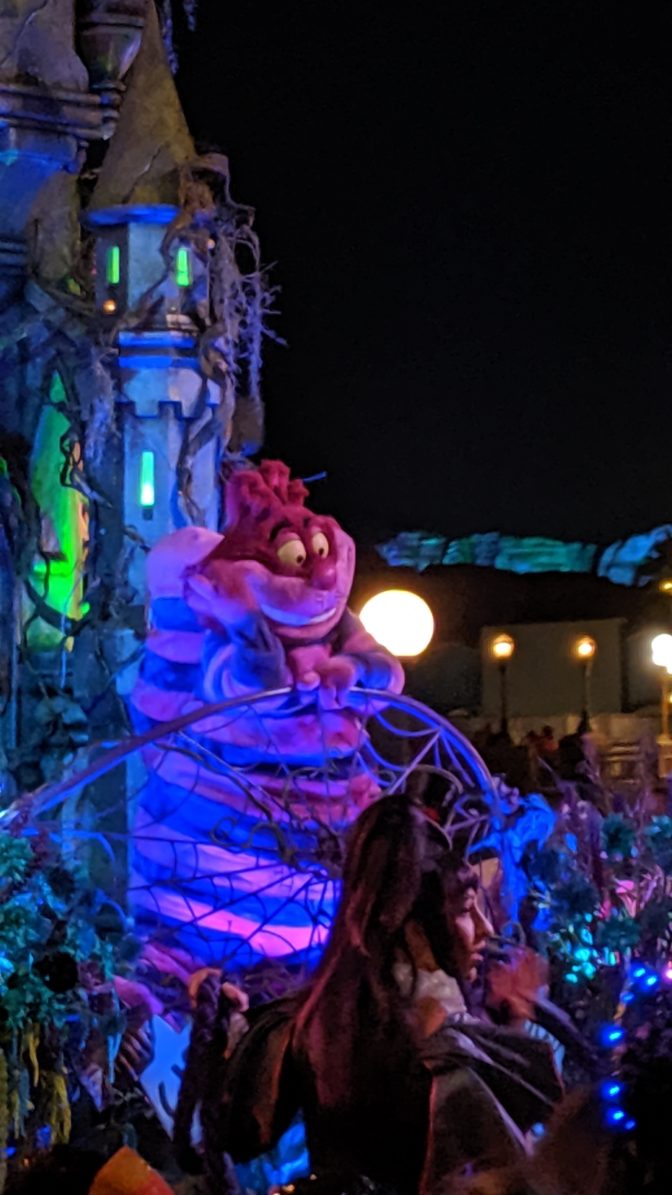 We walked around a bit taking in the sights and found some interesting decorations available in Cars Land.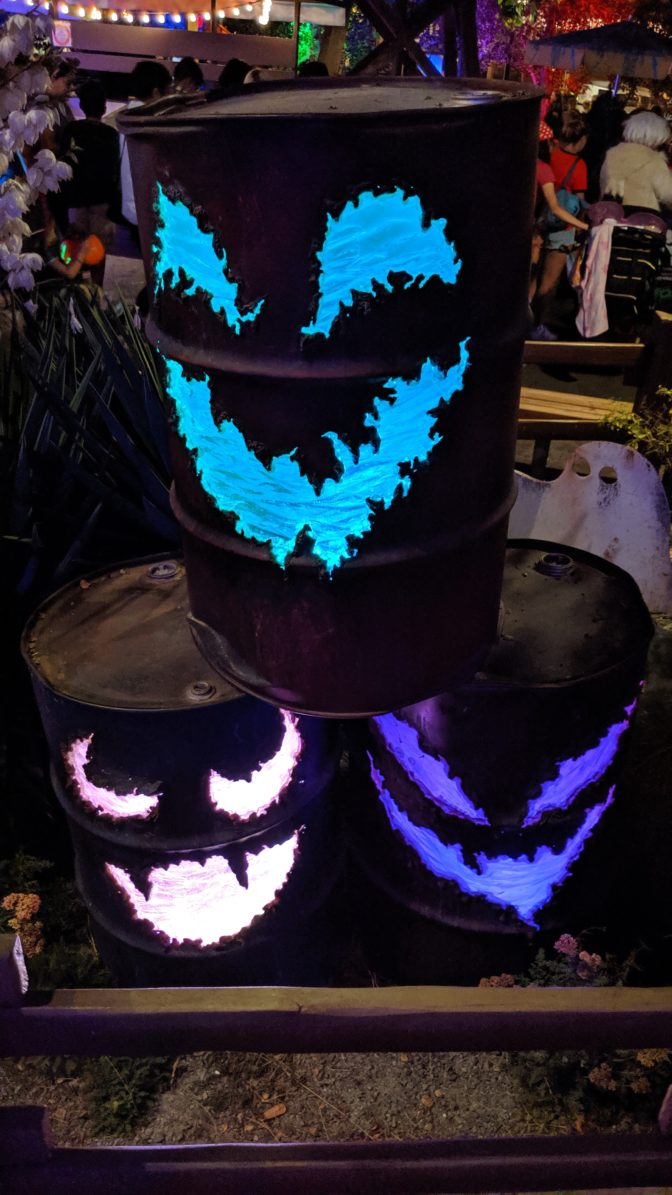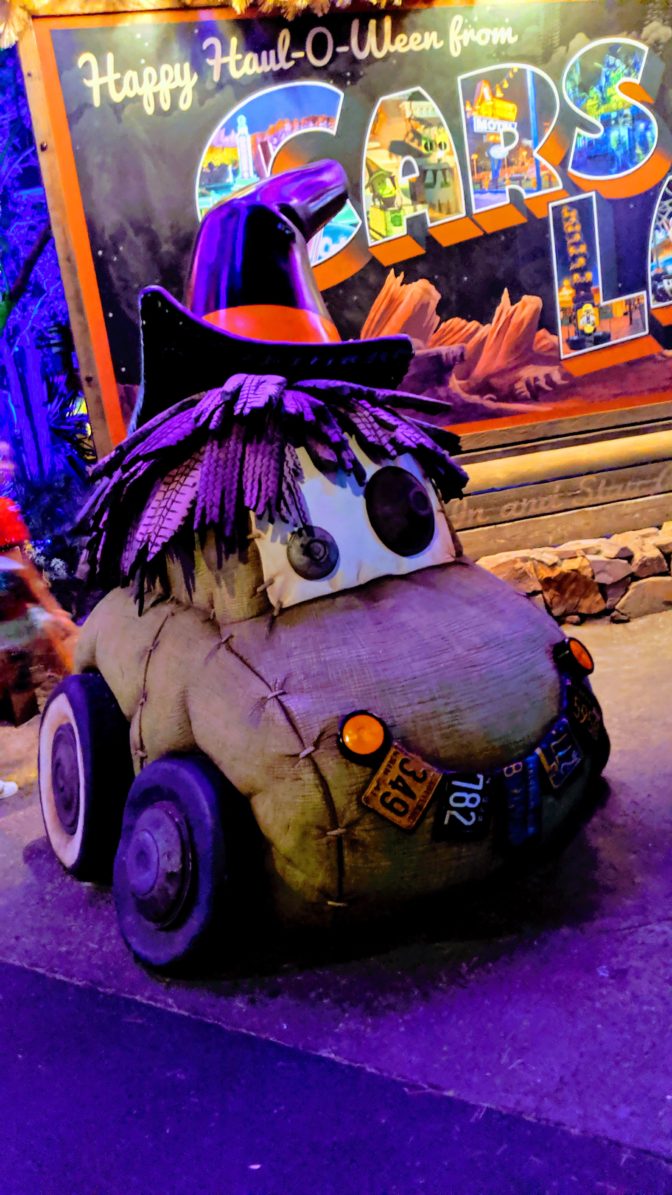 Carthay Circle Theater is covered in constantly moving projections of Halloween fun.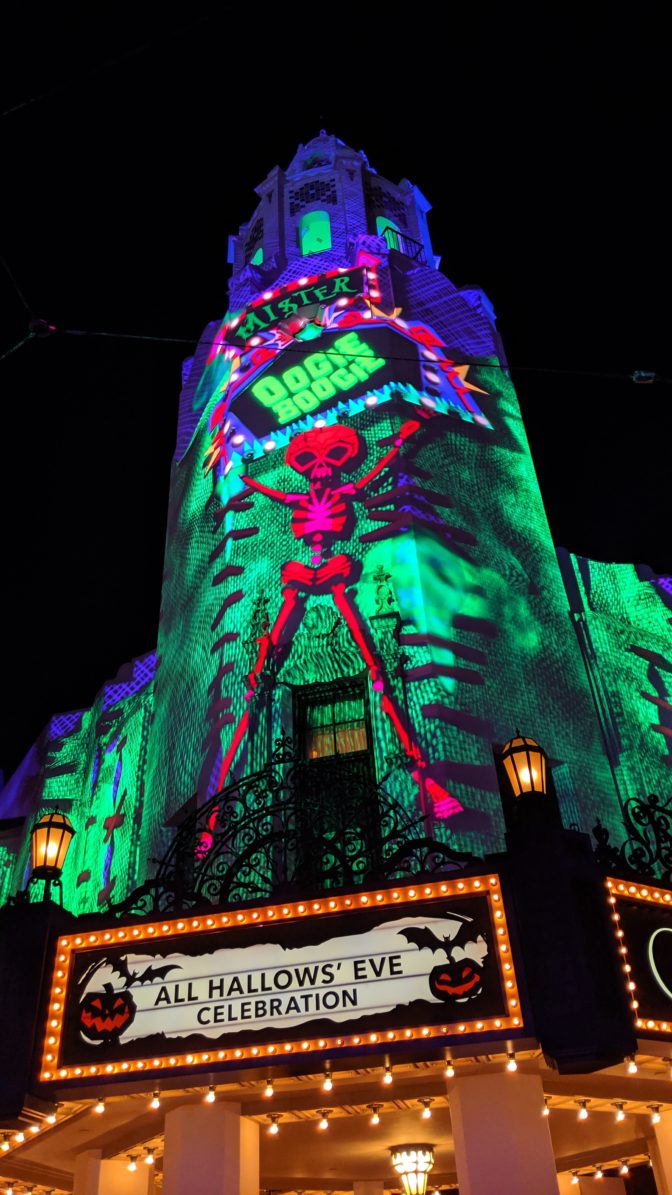 Early in the party, there was a massive line for what people thought was a meet and greet with Oogie Boogie.  It turned out to me a trick or treat trail.  By the time we headed over after the parade, there was almost no line to enter.  The animation building looked amazing inside with Oogie Boogie presenting his gambling motif.  He talks, but doesn't really interact with guests like the live actors.  The interactive trick or treat trails are a fun, yet darker element of the party.  Here's a short video of the Oogie Boogie experience.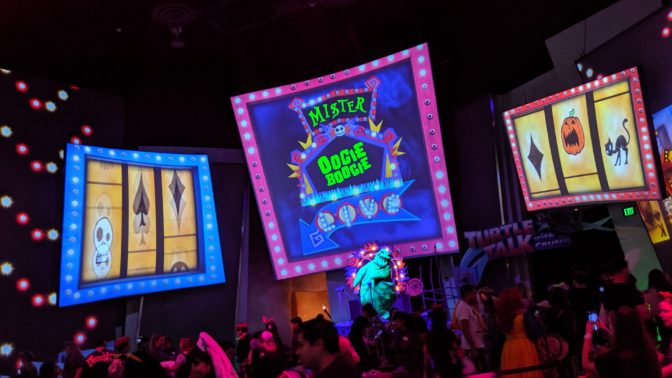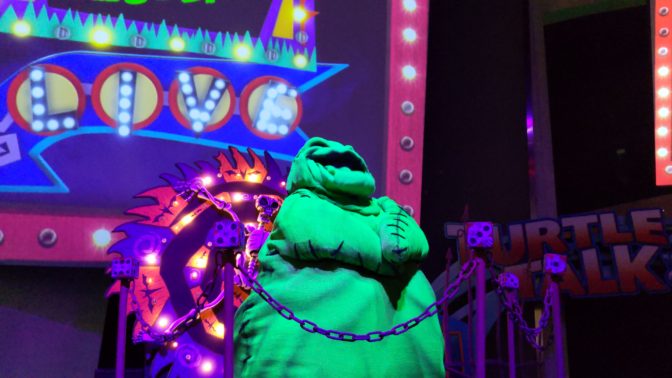 From there we journeyed a short distance over the the Mad Hatter's Trick or Treat Trail.  This trail offers the live action version that was portrayed by Johnny Depp.  I've not personally seen this version of the Mad Hatter in the parks, but it certainly fit the darker tone of the Oogie Boogie Bash very well.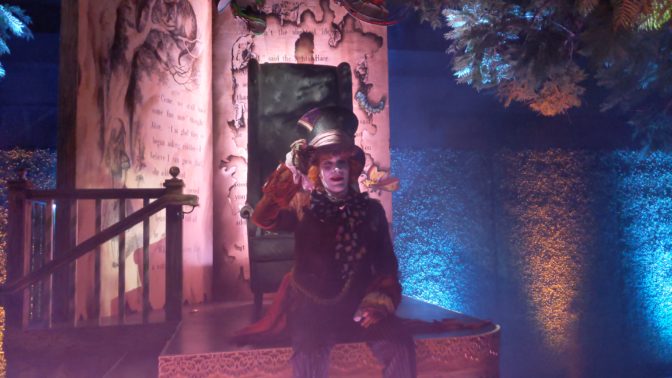 A few steps later, we were at the "Marvel meet and greet."  It was actually a meet and greet with Star-lord and Gamora.  They were rotating through the night.
Close by the Marvel meet is the Dr. Facilier Trick or Treat Trail.  He was very in character and enjoyed interacting with the guests who were collecting candy.  There was no line to speak of here.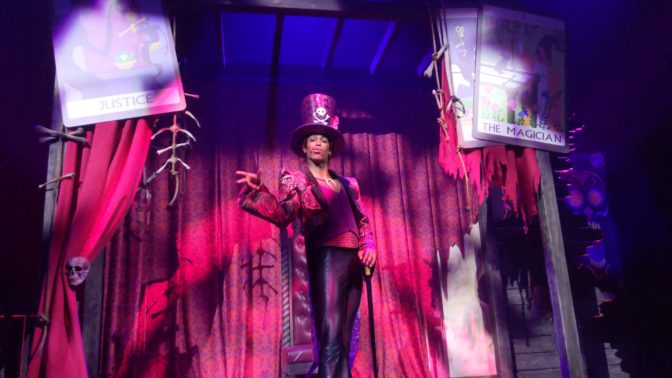 We checked on the DescenDance Party and found it to be very similar to the presentation at Walt Disney World's Mickey's Not So Scary Halloween Party.  A mixture of current pop music, dance music and songs from the Descendants Disney Channel movies.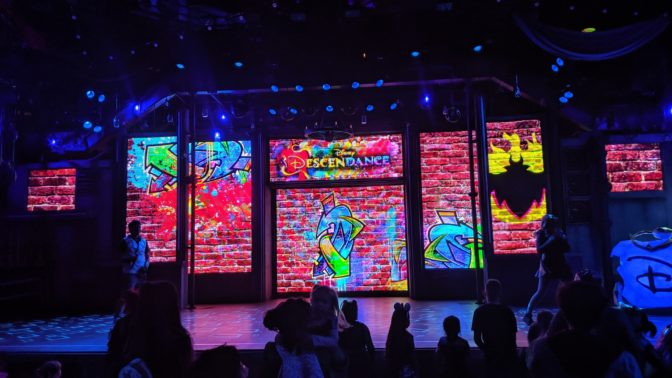 My buddy wanted to go back to see if other villains had arrived at that meet and greet, so we made our way over.  As we passed we saw the longest line of the night was to meet Mickey and Minnie in Halloween costumes.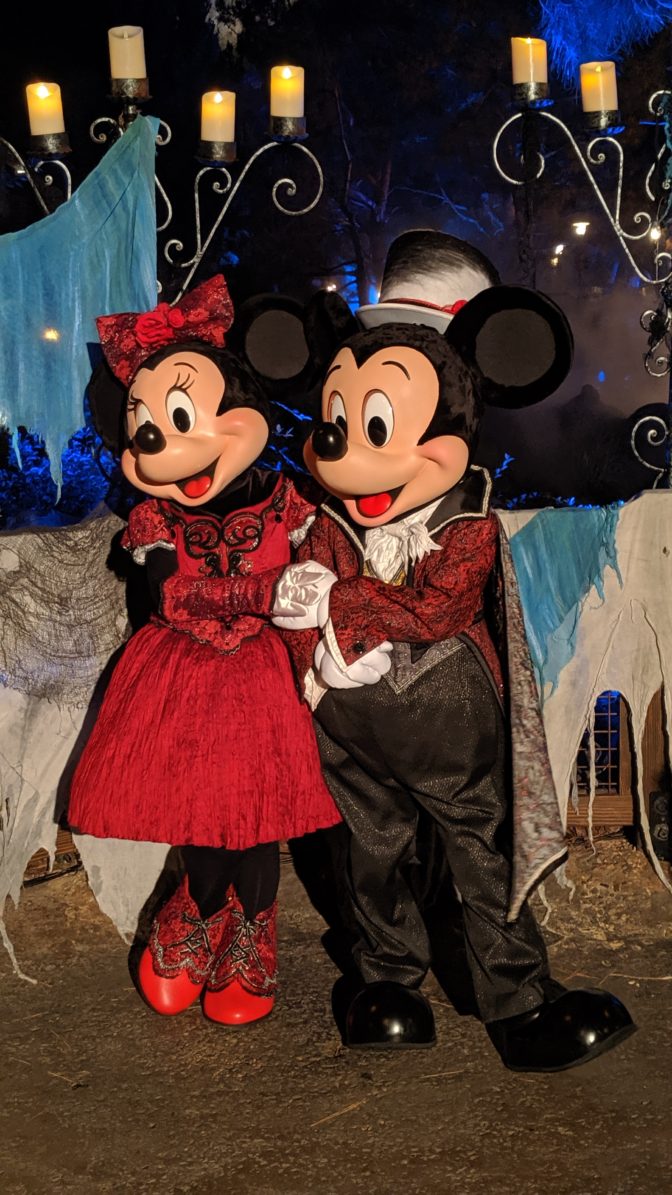 At our second lineup for the villains meet, we found Gov. Ratcliffe, Shan Yu and Judge Claude Frollo.  The line was maybe 15 minutes, if that long.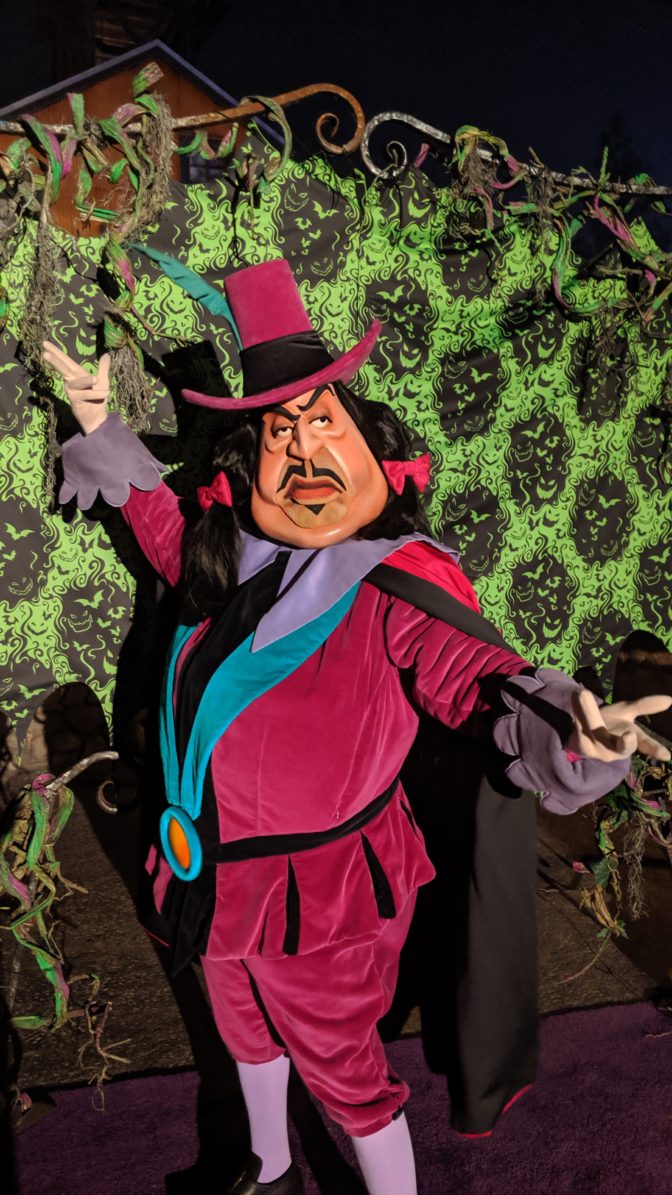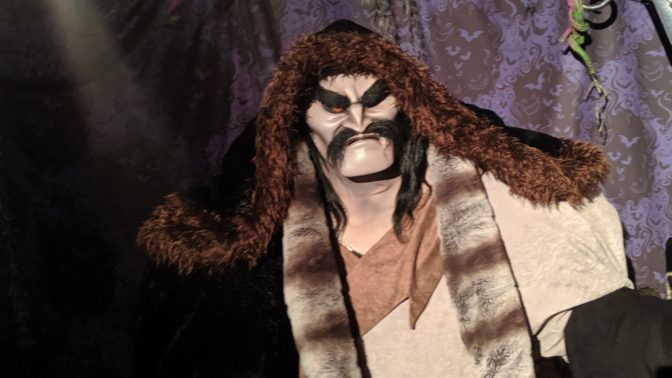 When I looked at the Disneyland app, it called Judge Frollo 'Count Frollo.'  A Twitter friend said that means to count him as a meet and greet.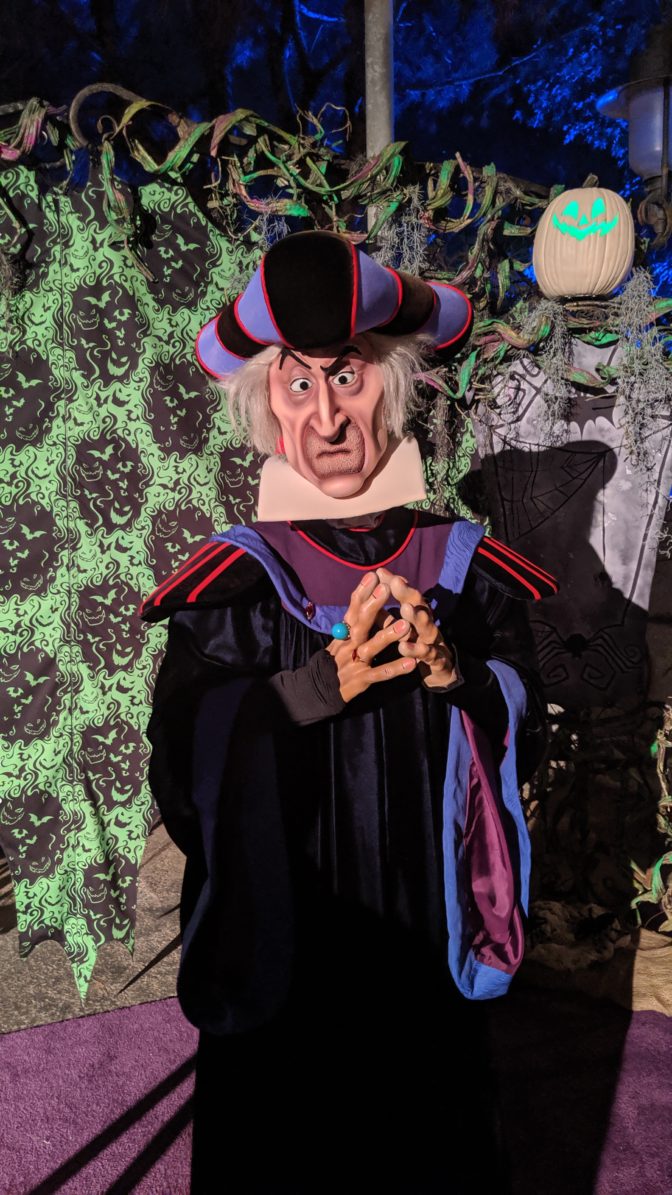 We then made our way over to see Villainous.  It's a new water, fire and projection show that is exclusive to Oogie Boogie Bash.  It isn't your typical good vs evil show that you expect from Disney.  Instead, the little girl is trying to decide if she wants to be a Princess or Disney Villain for Halloween.  Each villain is trying to tempt her to dress as them.   In the end, her Mom is proud of her choice.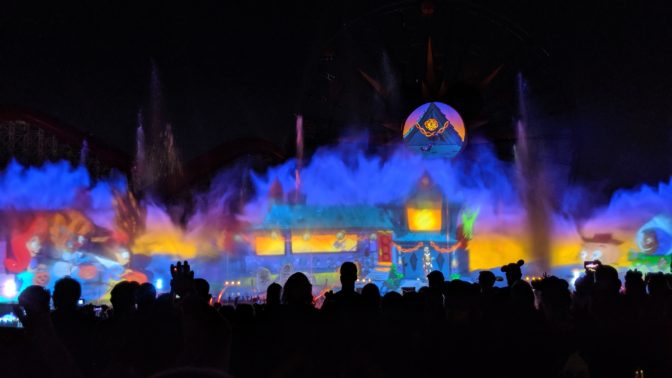 We closed out the night here.  In my second of two posts concerning the Oogie Boogie Bash, I'll walk you through Villains Grove and explain in greater detail why I see this as a darker version of the typical Disney party experience.  Because I say darker, that doesn't mean it isn't better in some ways and needs improvement in others.  I'll give you that explanation in the second post very soon.
Feel free to ask questions and don't forget that all the planning information that you need is on Character Locator!
– KtP