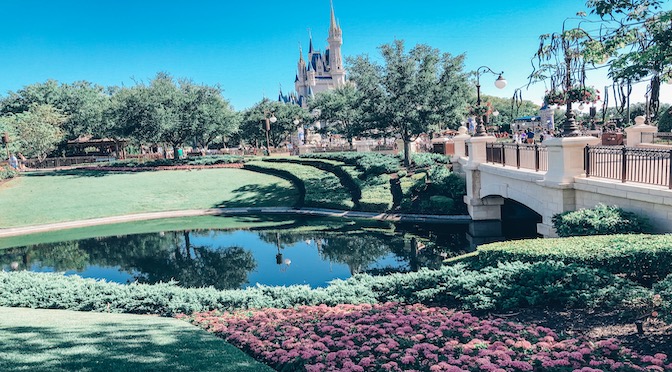 Going to Disney World is exciting and magical, but it's always a good idea to be prepared for any and all circumstances that may arise. Packing a park bag with all of the essentials will make the trip much smoother for you and your family! Here are 10 things I always have in my park bag!
1. Portable Battery Charger for Your Phone 
This is absolutely something I cannot live without on our trips! If you're like me and are constantly taking picture or videos, then you know how quickly the phones battery can die. Once I plug my phone into the battery, it charges it up really quickly and I can still use it while it's being charged! I make sure to charge the portable battery every night at the resort, so it's ready to go the next day!
[the_ad id='41478′]
2. Identification
I personally wouldn't want to take my whole purse (or wallet for that matter) into the park, but a form of payment (if you're not using magic bands to pay) and an I.D. are definitely a necessity.
3. Sealable Plastic Bags
This may seem strange, but trust me…this could save you some money! Ziploc, Hefty, any kind of re-sealable quart size bags are what I pack. If you've eaten at a Table Service restaurant in the park before, especially for breakfast, you know that you get A LOT of food and most of the time, there are leftovers like pastries or fruit. Well, here's where the plastic bags come in handy. Pack those leftovers in these bags, stick them in your big park bag and then you have a snack for later in the day! That saves you from having to buy more food later! Also, it just makes me feel better knowing that the leftovers won't go to waste!
4. Wipes/Hand Sanitizer
Magic Kingdom alone sees over 50,000 people visit PER DAY. That's a lot of people and a lot of germs. We always have antibacterial wipes and hand sanitizer on hand because, you just never know. Better safe than sorry! And this goes especially for those that are taking their babies or little kids! A sick child on a Disney trip is no fun!
5. Sharpie Retractable Pen
This one applies if you are getting autographs from characters. Any kind of retractable Sharpie-type pen really makes it easy on the characters and you. The last time we went to Disney, most of the characters like Pooh and Tigger and Mickey and Minnie that are in costume, were able to handle it easy. Don't forget to get the fine point! That way the autographs don't bleed onto the next page!
6. Refillable Water Canteen
Everybody seems to have one these days, but if you don't, you need one for Disney! Anything that keeps your drink cool, works great! It will keep your drink cold even on the hottest days and then you can refill at Disneys refillable free water stations.
7. Reusable Straw
I am a big believer in recycling and not using as much plastic. But I cannot use a paper straw. It's a total texture thing for me. Once they get a little wet, they start to break down and get really soft which just totally ruins the drink for me. So, for my next visit, I will definitely be packing a reusable straw. There are a lot of different ones to choose from out there and a lot of them fold nicely into a little pouch so they wouldn't take up a lot of room at all in your bag.
8. Ponchos
In Florida, depending on what season you visit, you might see some rain every day. Probably won't last for long, but you want to be prepared. We found ponchos before our last trip at Walmart for literally 99 cents. They worked great and got the job done! They are so tiny when folded so they will fit nicely in your backpack as well!
9. First Aid Bag
All you need is some band-aids, some antibacterial ointment and maybe some Tylenol or Ibuprofen. Put them in a re-sealable bag and you're good to go! Perfect for blisters and cuts and scrapes!
10. Tissues
It's Disney World and it's magical. I can't tell you how many times I (good) cried on our last trip with our two-year-old. Buy some travel packs of tissues! You won't regret it!
Bonus tip: If you have little ones, always pack a change of clothes for them, including shoes! And maybe an extra shirt for yourself as well!
These are my top 10 things that I can't live without in the parks, but what about you? What are your must-haves to pack in your park bag?
-Katie H.