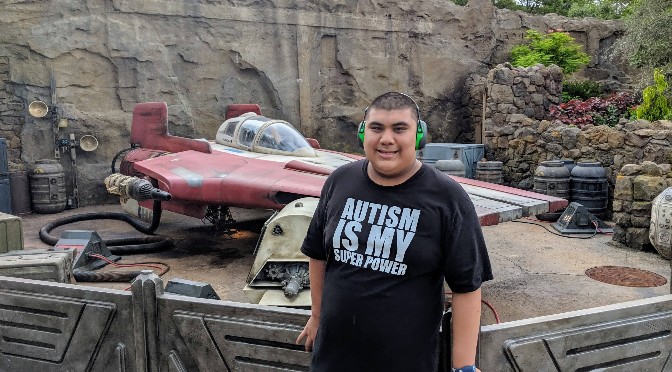 As any family traveling with a loved one with sensory differences knows, new experiences are daunting. We took a chance visiting Galaxy's Edge at Hollywood Studios on its second day of opening, and I'm so glad we did!  (A new feature to the website will be regular articles by a mom with an autistic child.  She will share her tips and experiences on navigating the parks with sensory needs.)

I had originally planned our day to be a short one at Magic Kingdom followed by some resort pool time because Kenny's Crowd Calendar (yay green park!) noted Mickey's Not So Scary Halloween Party would close MK early. But after checking the My Disney Experience app to see stand-by times for Millennium Falcon: Smugglers Run at only 95 minutes at 6 pm, we hopped on a bus for Hollywood Studios!
[the_ad id='41483′]
As soon as we arrived, we obtained a Millennium Falcon Smuggler's Run (MFSR) Disability Access Service (DAS) return time from a blue umbrella Guest Experience cast member. Our return time was 85 minutes later, around 8 pm. Perfect. Now we could walk slowly back to Galaxy's Edge, taking as much time as needed to navigate through the crowd and keep our son's sensory system from getting heat overload.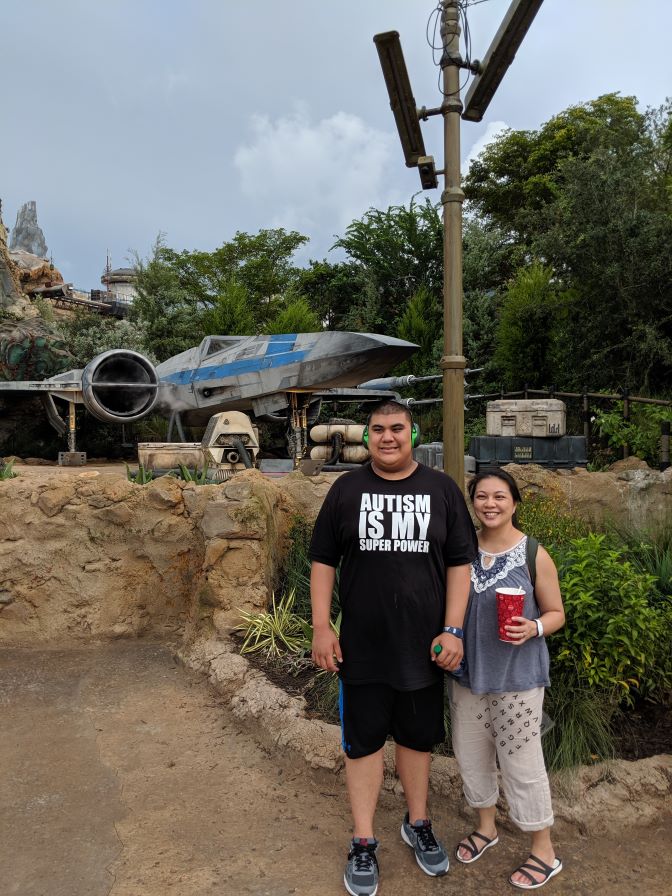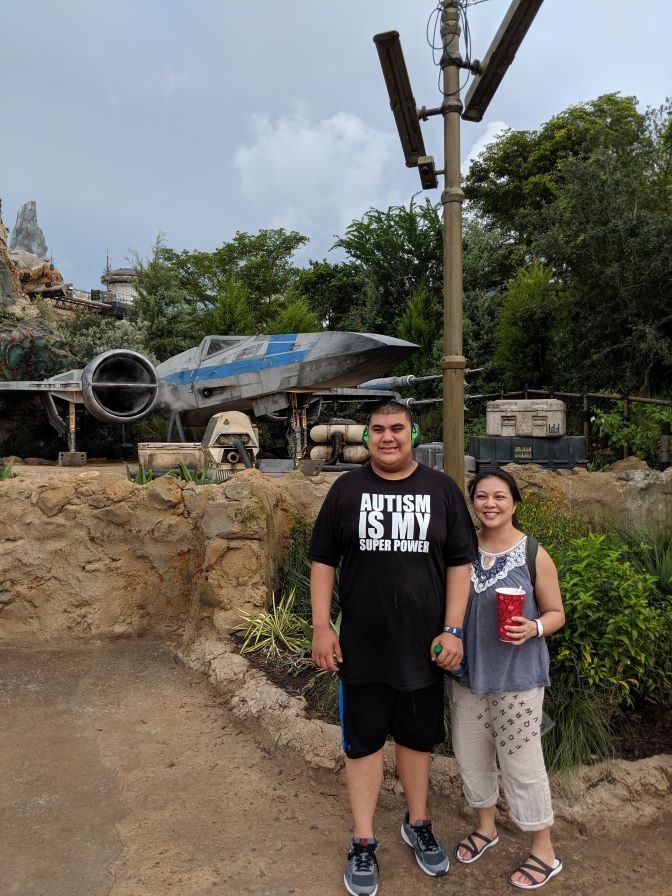 Our first impression of GE is that it was impressively true to the Star Wars aesthetic. We had fun admiring all the details and taking pictures with the various famous props and vehicles from the Star Wars universe. After we were done looking around, there was still 30 minutes remaining on our DAS time; so we went to the closest air-conditioned attraction to help our son stay regulated: Muppet Vision 3D, which is always reliable amusement.
After that cute movie, we walked back to MFSR and approached a cast member at the entrance about where to enter for a DAS return time. "Right this way!" he said and directed us up the single rider entrance. Yay! I was excited and nervous. Would our son enjoy this experience? Would there be a pre-show period of pressure as he tried to keep quiet in a confined space like for Avatar's Flight of the Passage? Would it be hard for him to act out his "role" on the mission? Well, the transition from queue to attraction turned out to be a relaxed series of preshow, hallways and waiting area, easily managed sensory-wise with my young man's trusty earmuffs.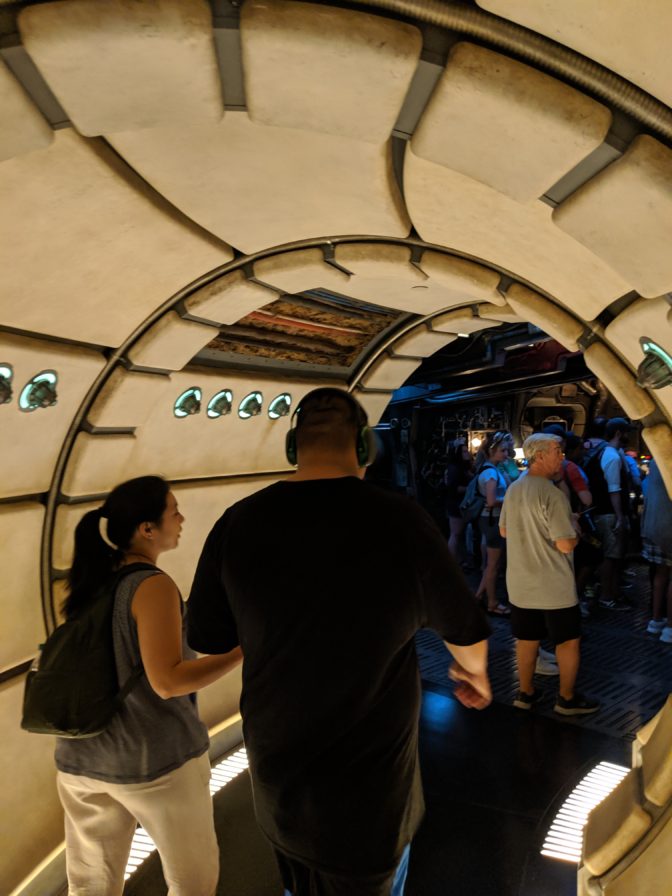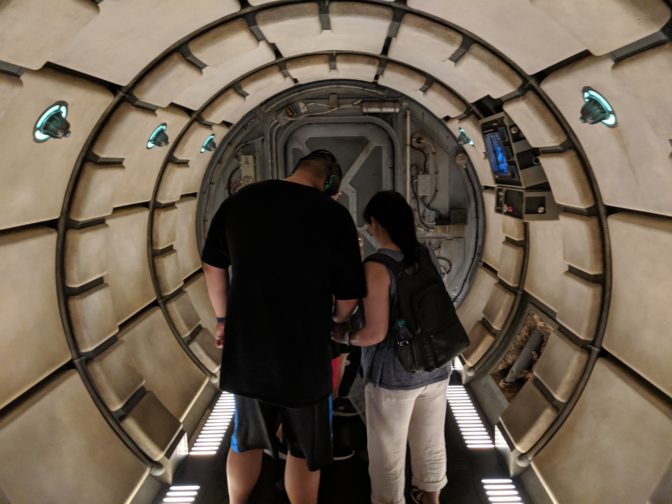 We were each given a mission "ticket." My husband and son were designated "gunners" and I was an "engineer." Some relief for me as I knew these were not the first-row "pilot" tickets that required more effort. I realized later, it's totally fine to switch tickets with other people in your boarding group if they're fine with it too.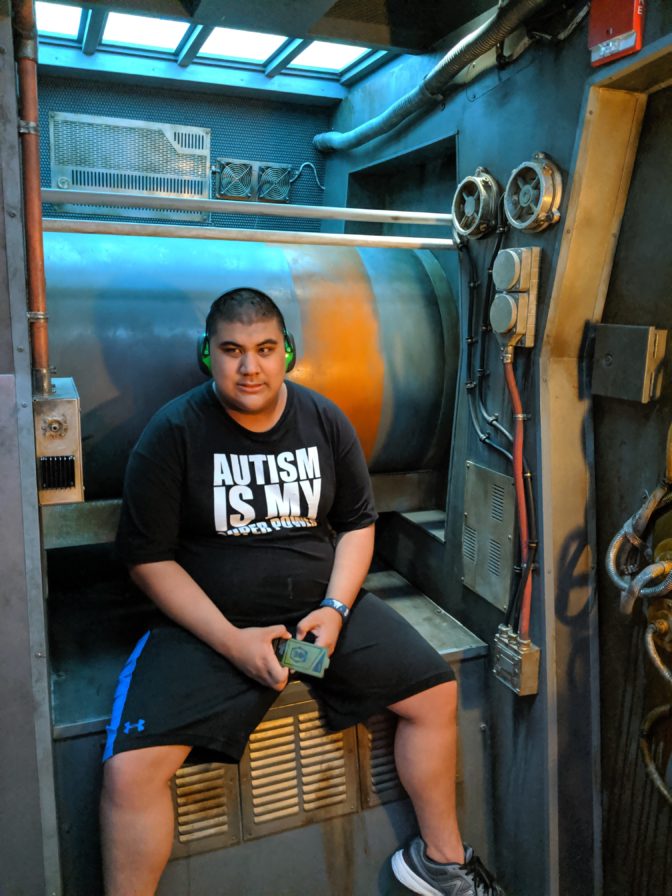 And the ride turned out really fun for all of us! Although yes, how well you do your role does affect your "ride," it isn't catastrophic to everyone's experience if someone doesn't have expert gamer skills. In fact, funny story: the right-side pilot in our crew was an older gentleman who decided he wanted to do nothing on this mission and I mean, literally nothing. There's a part in the beginning when he was supposed to activate warp speed by pulling his lighted lever, but despite his wife repeatedly saying to him "Honey, pull that down!" he just sat there with his hands on his lap then . . . and the whole time. I'm laughing now as I write thinking about how comical the whole thing was. In effect, for our entire mission, we had no right pilot! It was still fun though and my son enjoyed pushing his gunner buttons when they lit up.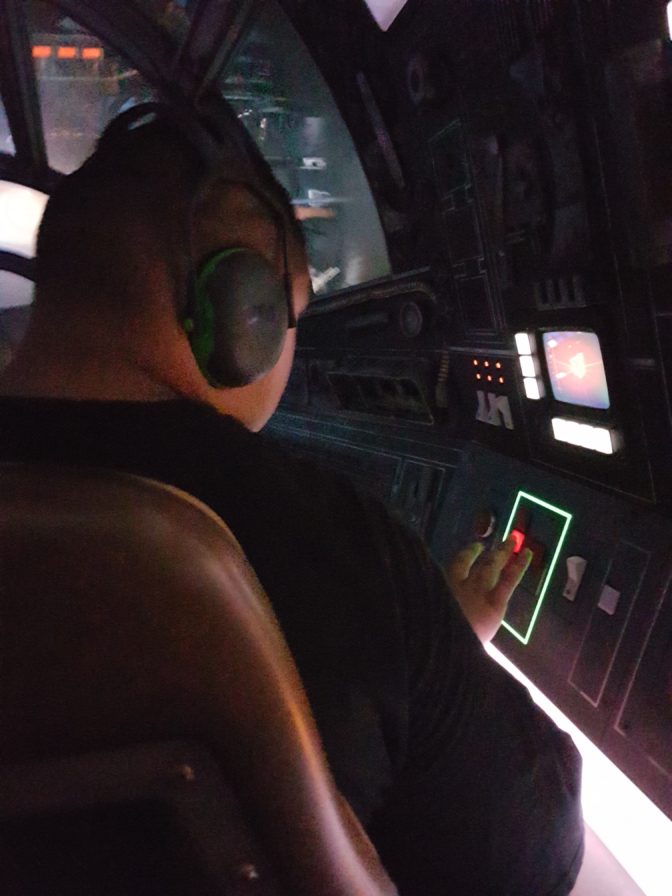 And I think I managed well enough as engineer even though I don't normally like to play video games. It wasn't stressful at all and the scenes were really cool to watch.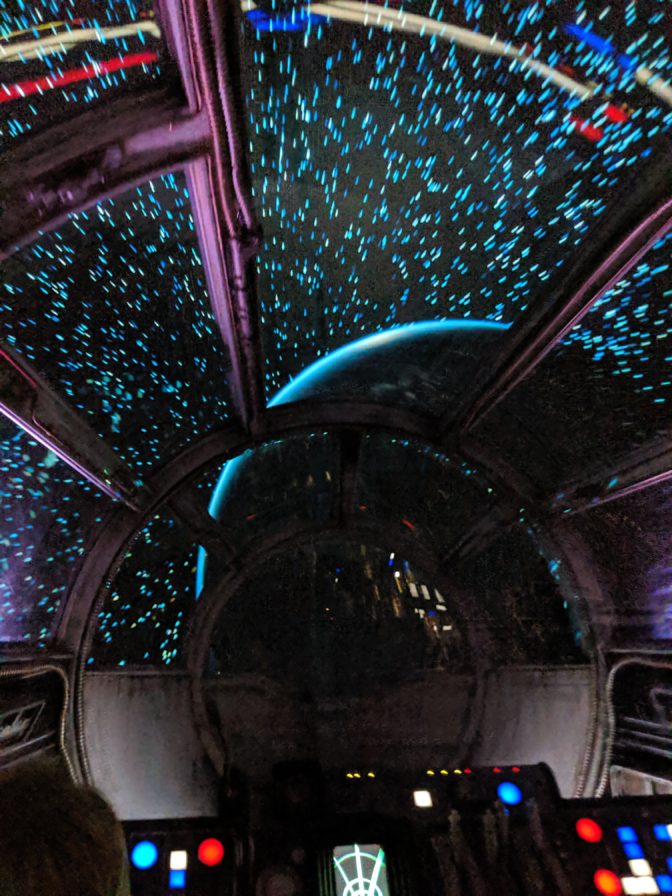 I also think too, there's a point when you just have to concede that you're going to give up some effectiveness in your role if you're also going to watch all the action at the front. No one has two sets of eyes for both the scenes at the front and the buttons on your side at the same time. I suppose if we were on the mission with three other people who really took it seriously, I might have felt differently if they had made comments about how we did. (Note we were able to come back two more evenings on our trip when the stand-by times for this ride was never more than 40 minutes and both times the other three people we rode with were very nice.) The sensory input for this ride is very similar to Star Tours.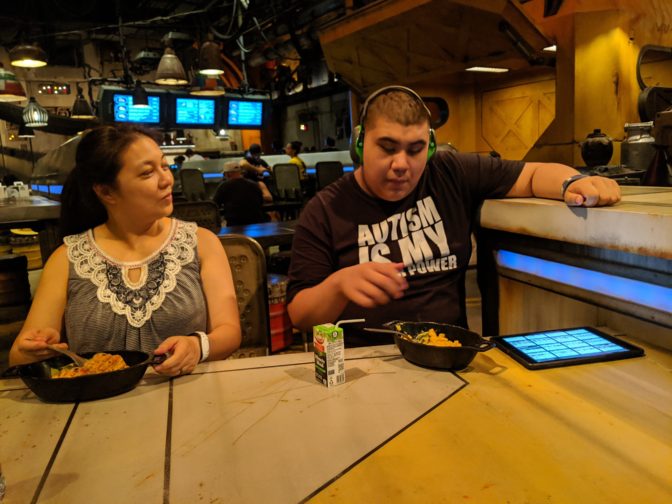 After the ride, we decided to have a light dinner at Docking Bay 7. We ate at a cool table "made" from scrap spaceship wings. It was late – around 8:30 pm – so we were able to get a table with not too much difficulty after ordering. It was quite sensory in Docking Bay 7 though, as there are loud sounds of docking bay doors opening overhead every 15 minutes and all the surfaces are hard, which bounces sound around a lot. However, it also has some tall booths and effective air-conditioning; so this counter restaurant could be a good dining spot for any families needing relief from summer heat. I had the cold shrimp noodles and my son had the mac and cheese. We both thought our food was good. The cast member for our section was funny, asking if we were successful on our smuggling mission and lamenting that she was there working off her debt because her mission had not been successful. The immersive story interactions with Batuu cast members are fun.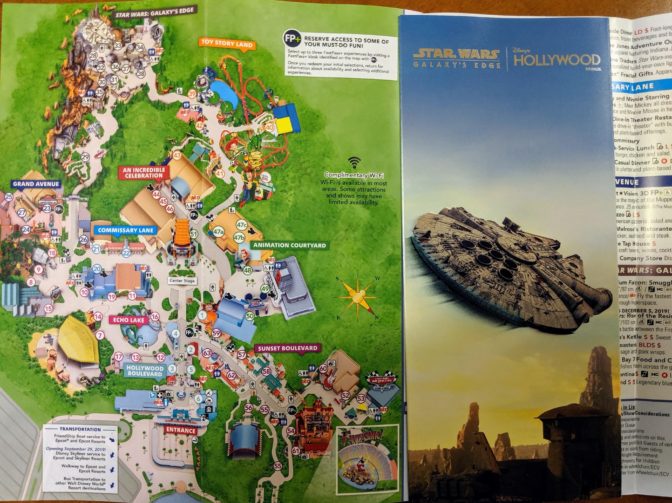 I had been unnecessarily anxious about whether Batuu would be a planet that my non-speaking autistic teen could enjoy; so I hope this little post about our time there encourages another family like ours to give it a try. To the spire!
Have you visited Batuu with a disabled loved one, and how did it go?
Melody Tien Grewal is a loyal Character Locator subscriber, Annual Pass holder, and Disney Vacation Club member. She has been flying to Walt Disney World 2-3 times a year for over 10 years with her husband and non-speaking autistic son.