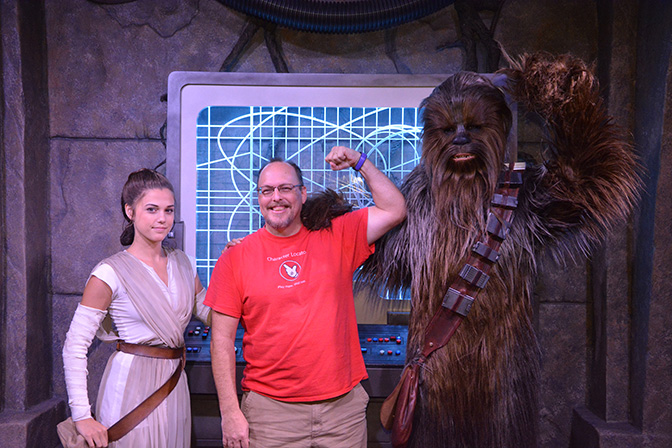 I dropped into Disney's Hollywood Studios yesterday in order to try to meet some Star Wars characters while they offer meet and greets for a limited time.  The reason they are offering meets is that the Star Wars – A Galaxy Far, Far Away stage show is closed through October 22, 2017.  Here's the characters I was able to meet and a little more Star Wars photo love.
Before we begin, let me state that no Star Wars character will sign autographs.  None.  Zip.  Zero. Nada.  Put your autograph book and complaints away and enjoy your time with them and get a photograph.  I'll let you know which offered Photopass below.
As I entered the Star Wars Launch Bay Cantina around 10:30am, I found that talking Boba Fett was offering meet and greets with guests.  There is no formal "line", but Cast Members sort of position you around the area and Boba Fett will call for you to come forward when it's your turn.  There was a Photopass photographer on hand.  I saw him again around 11:30am, but didn't check all day.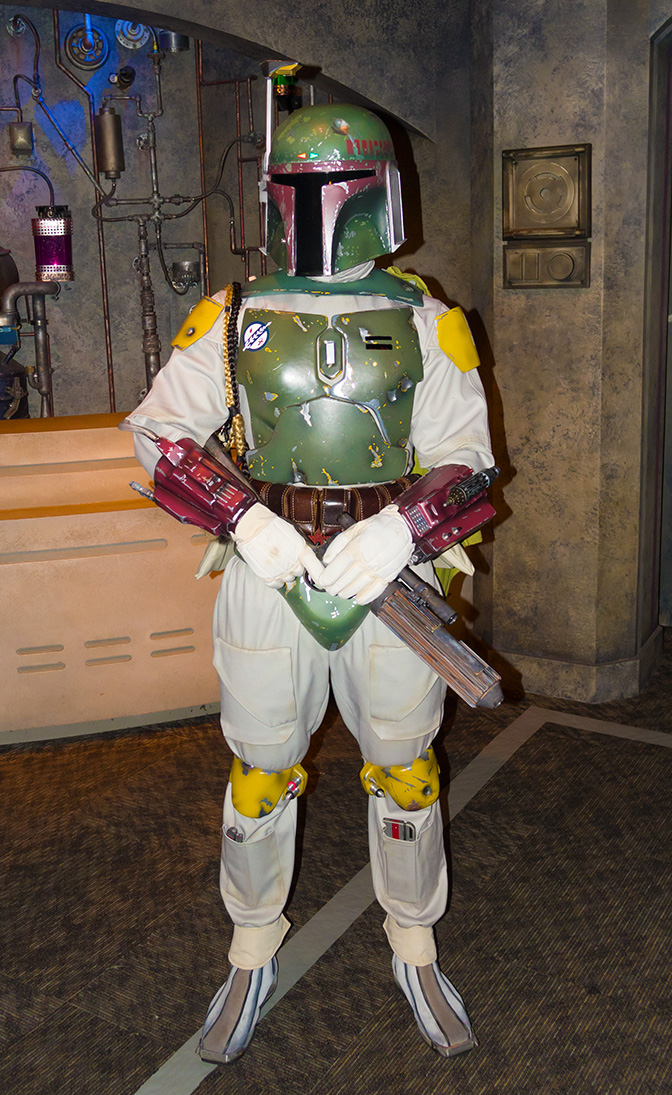 I've seen him in the Cantina in Disneyland several times, but this was my first time visiting with him in the Walt Disney World version.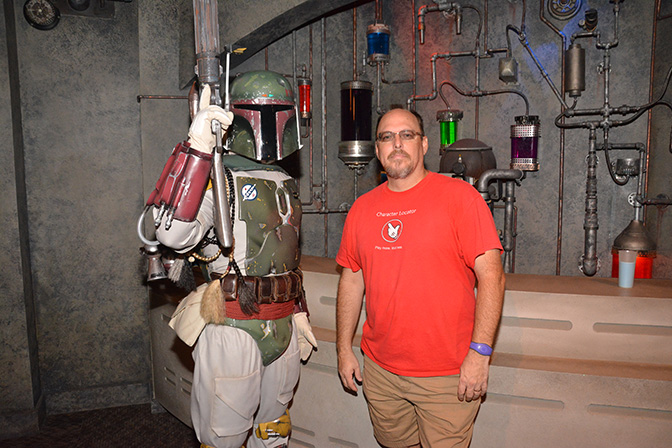 I asked if other Star Wars characters would rotate with Boba Fett and was told it would only be Boba.  I then went to the Center Stage Courtyard area and found the AWR Death Troopers patrolling the area.  At this time they weren't stopping for photos, but they did later.
After seeing the Death Troopers and looking around a bit, I decided to catch the March of the First Order Show with Captain Phasma and the First Order Stormtroopers.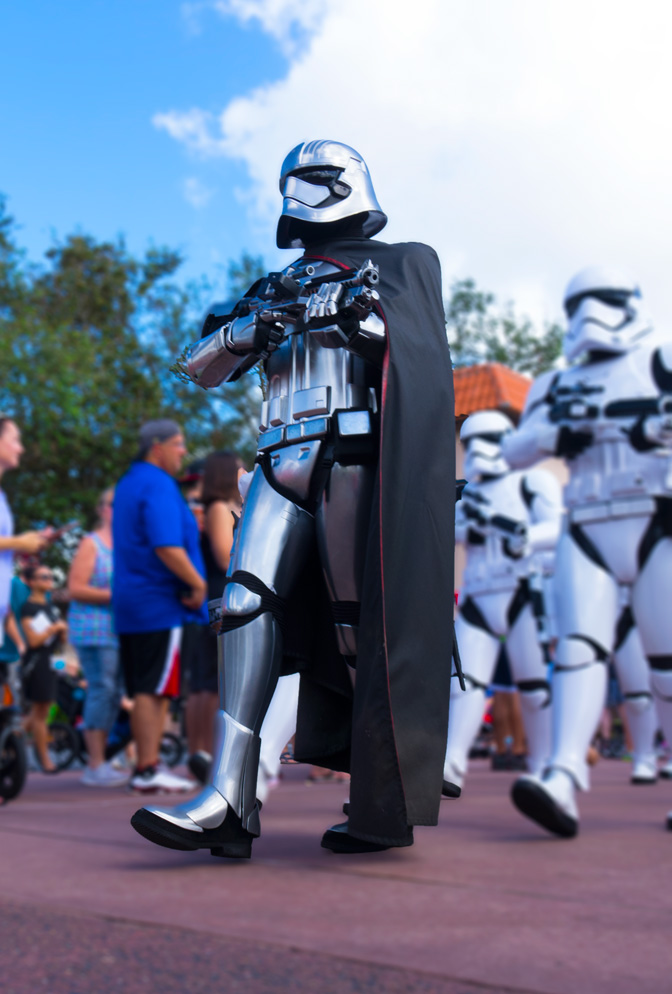 The mini parade marches up the main street and to the Center Stage area.  While there is no stage, they do their presentation and troop review on the concrete in the same area.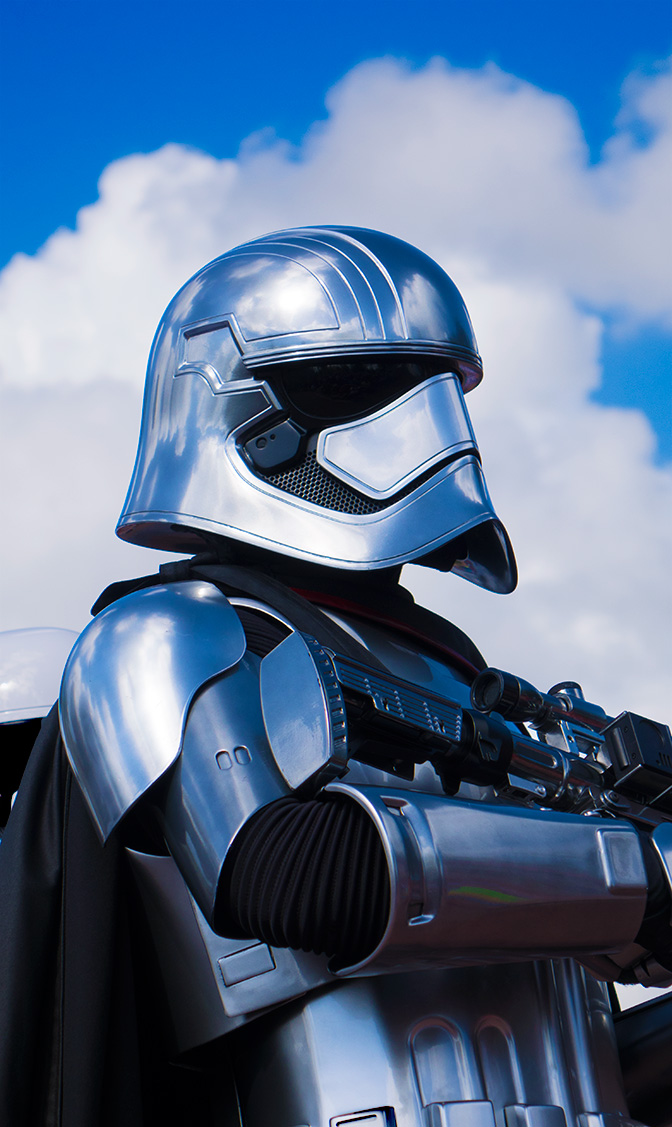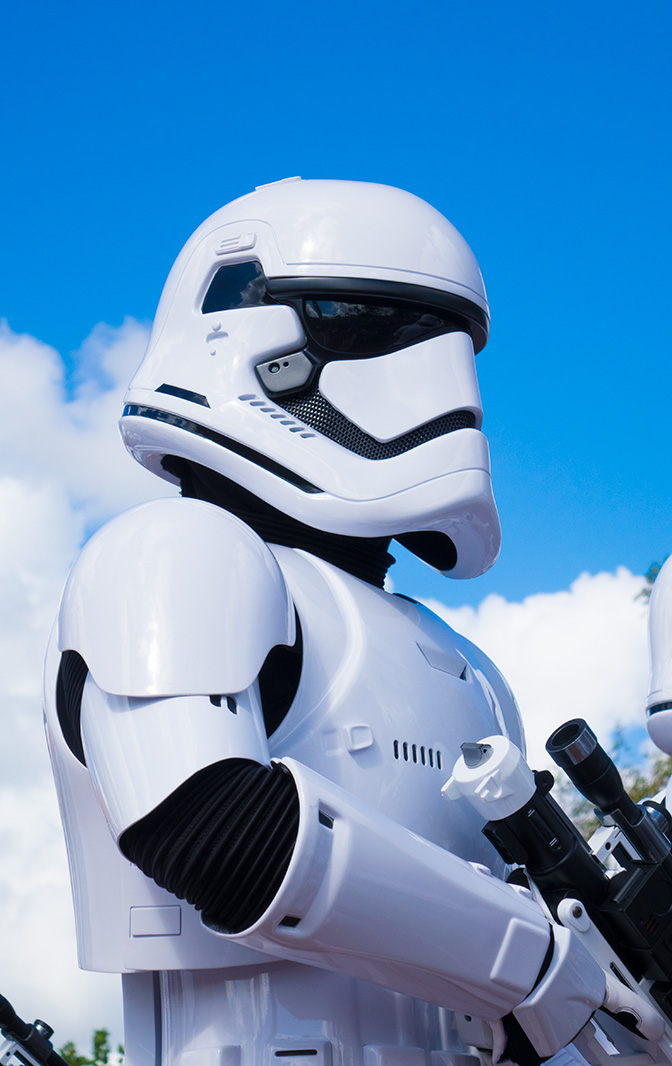 The entire March of the First Order processional takes about 10 minutes with only a few minutes at the Center Stage area.  Check out my YouTube video for the full presentation.  Looks like Trooper number 4 is the "Left Shark" of the First Order.
I then made an attempt to see if I would be able to meet Rey with Chewbacca inside the Star Wars Launch Bay.  I got in line at 12:10 with a posted wait of 20 minutes and was successful in meeting her at 12:30pm.
READ:  They will not provide a schedule for her meets. They will not guarantee her meets. The greeters at the Chewbacca meet will not know if she is available. The only person who would know is the final Character attendant right before you meet Chewbacca.  If you don't meet her, get back in line and try again (through October 22).  Do not ever be rude or demanding to a Cast Member, they are only doing their job and they can't guarantee that this magic will occur for every guest.  My friend tried once and it was just Chewie.  He went right back through the line and Rey was there.  Photopass is on hand.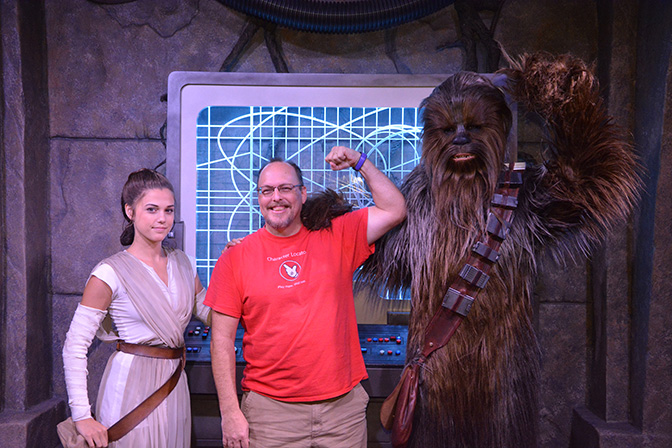 Rey cautioned me about using the Wooking language too much.  If one isn't truly knowledgable in the language, he could accidentally offend a Wookie.  I wouldn't want to offend, so I went back to regular Earth English.
I decided that I was making this a bit of a Star Wars day, despite riding Rock n Roller Coaster, Tower of Terror, Toy Story Mania and watching Frozen and Indiana Jones.  In light of my improptu Star Wars day, I decided to meet Kylo Ren.  Photopass is on hand. Speaking of Star Wars days, just use my Star Wars Day plan on Character Locator to take in all the regular Star Wars offerings for no additional cost or tour fees.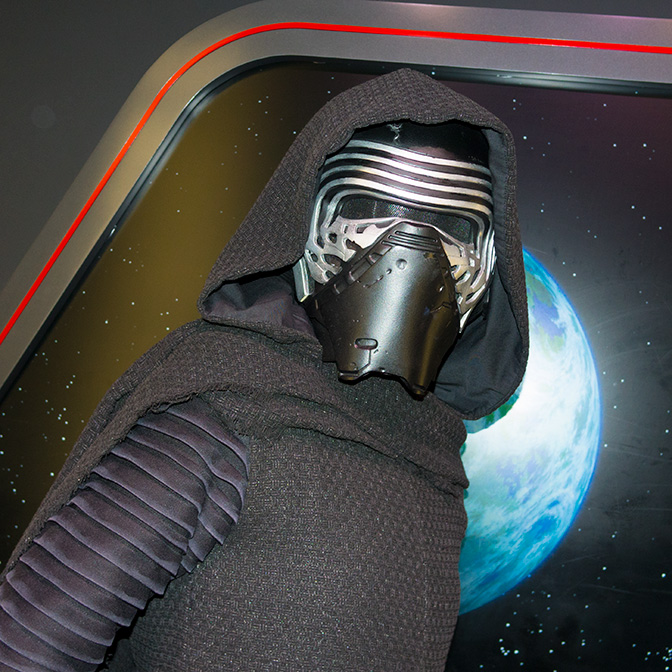 As I returned outside, I found the AWR Death Troopers were doing random meets at the Center Stage area.  They did not have Photopass photographers, so I handed over my camera to a kind young lady.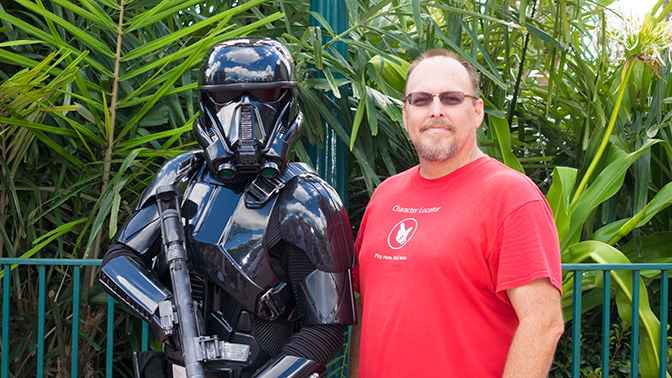 After enjoying some lunch at the Backlot Express, I went outside to watch the Jedi Training Academy: Trials of the Temple show.  In this show children 4 to 12 are given the chance to battle a dark side villain.  Currently the show offers Kylo Ren and Darth Vader as the Seventh Sister was recently retired.  You can find all my great tips on how to participate in the show on Character Locator.
You can see a full video of the new, more abbreviated show, below.  Don't forget to subscribe to my YouTube channel!  I'm hoping to begin creating more content for YouTube very soon.
I thought you might enjoy 3 photos I took from the show that turned out pretty well.
I want to be just like you Granddad!  I've killed off my Father and have my sights set on Mom now.  Will that make you happy?  Wait, you saved your own son from certain death?  No one told me this!  Noooo!!! (Hacks wall)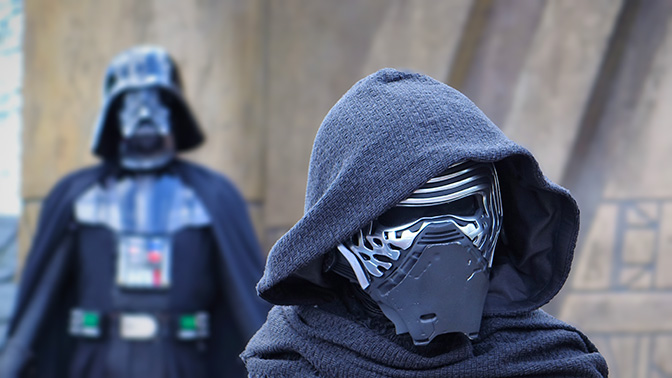 I hope you enjoyed my little Star Wars presentation and hope you get to meet Boba, Death Troopers and Rey between now and October 22, 2017!
Feel free to share the post below!