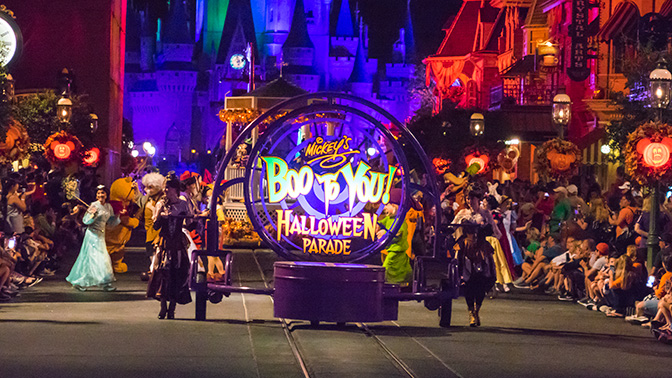 I was recently challenged to take some photos of the Boo to You Parade at Mickey's Not So Scary Halloween Party.  The best location for photos during a party is always at the Town Square Flag Pole area and I'm usually running all over the park, so I don't arrive in time to get one of those prime spots.  Late last night I was able to secure a good spot and I was able to get some pretty nice photos.  I'll put some parade viewing tips at the end of the post as well.  Take a look at the photos!
As the parade begins, two lovely young ladies escort the Boo to You parade down the street.  She has a nice smile.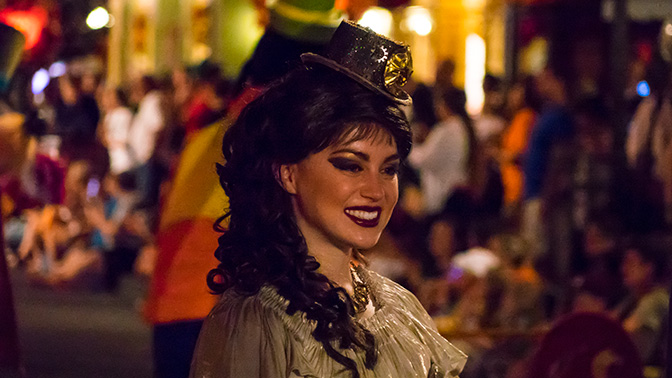 Then the characters march behind them.  Each character is holding a special mask for the party.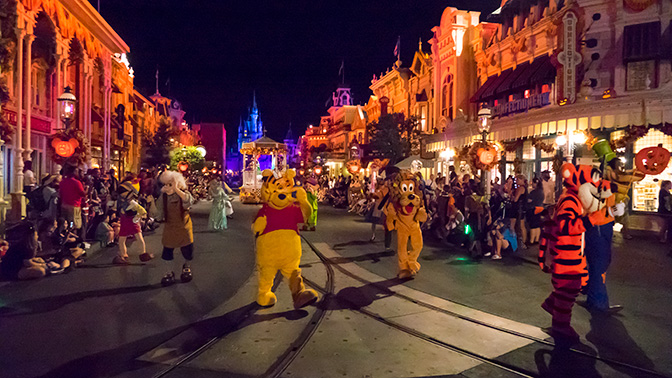 Mickey snuck a little nose to nose kiss from Minnie.  I hope the kids weren't looking.  Donald and Daisy are on the same float.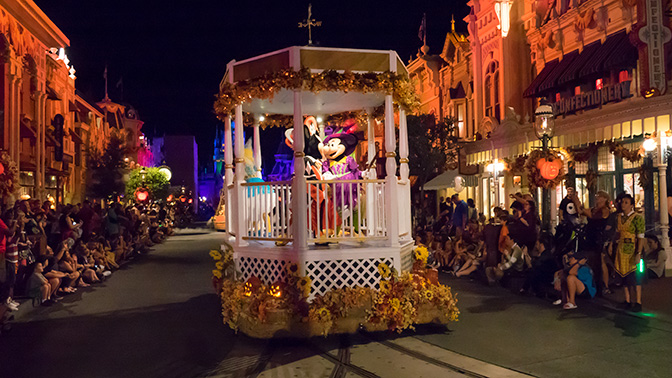 Here's Princess Daisy providing attention to her hoardes of faithful fans.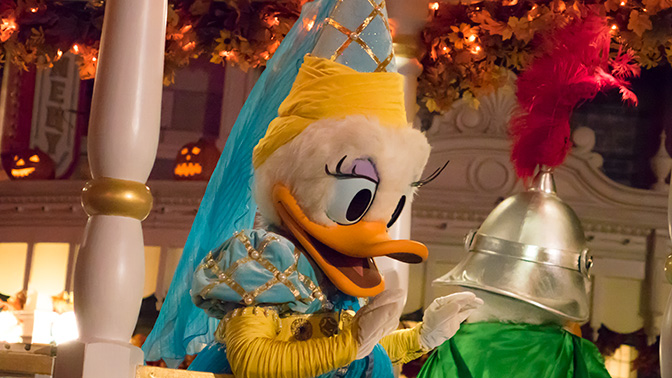 The next float is Captain Hook's ship with Peter Pan, Wendy and the lost boys.  Wendy just never gets to escape these ropes :(  It seems like these days she would be fighting Hook while Pan is tied in the ropes.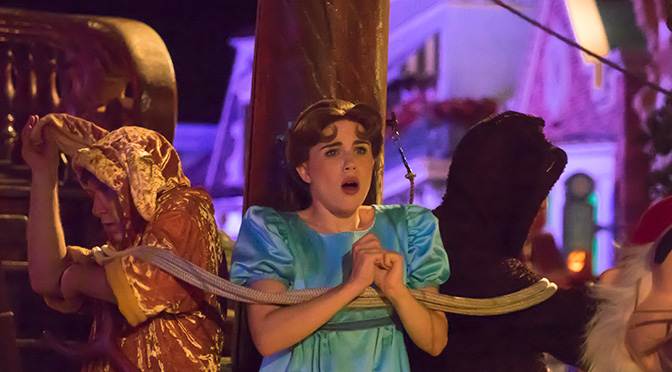 This is the best Lost Boy photo I've taken.  They usually come out blurry or the ropes get in the way of the photo.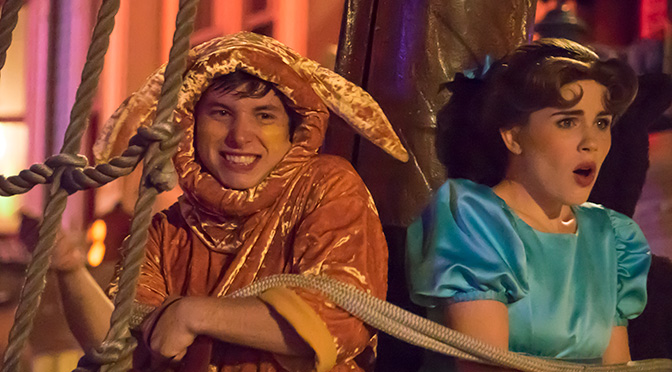 Peter Pan doesn't want us to tell Hook that his is on the deck.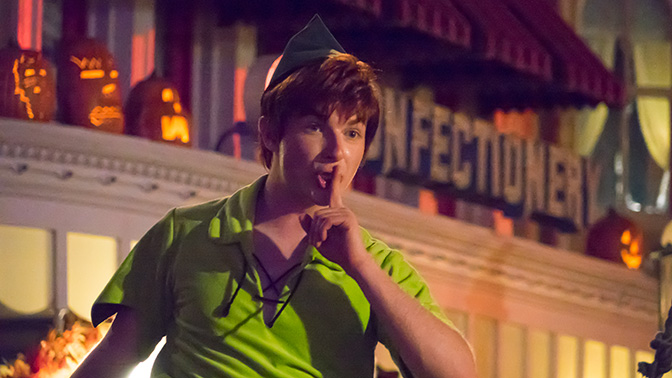 Following the Pan group is the flag wavers with Captain Jack Sparrow and Captain Barbossa.  My friend Robert is a band director, so he described their movements to me.  He said they are likely involved in Drum and Bugle corps.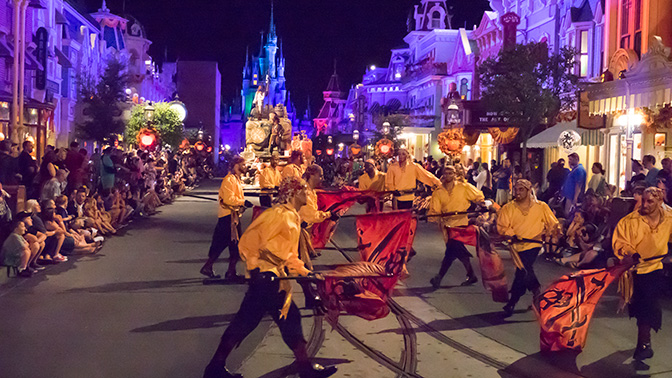 It's CAPTAIN Jack Sparrow, savvy?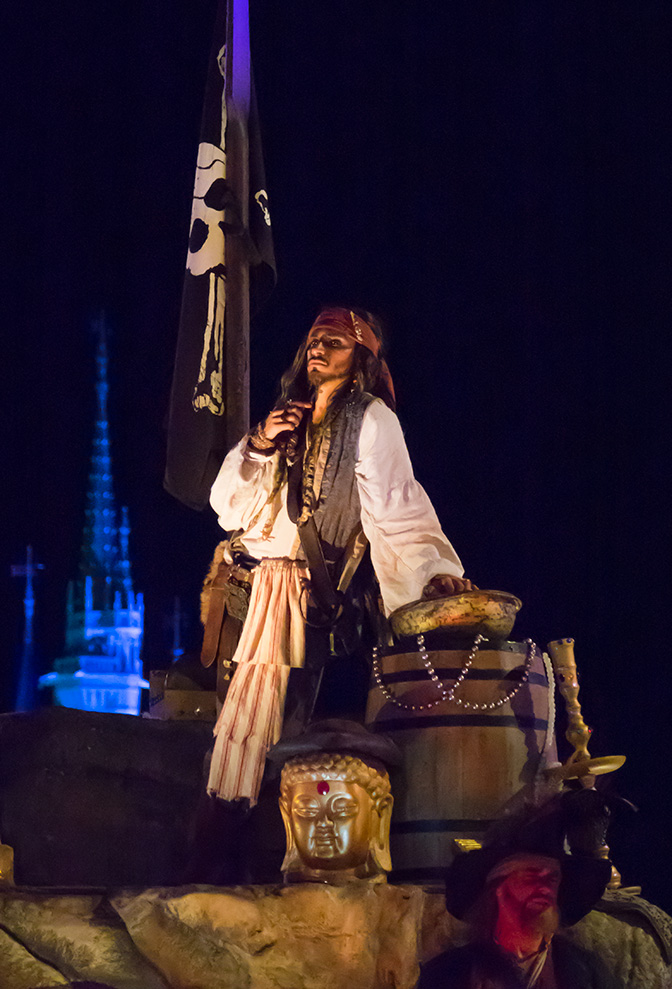 Barbossa wasn't happy that Jack gets all the attention, so he's offering a free green apple to anyone who shares this post on Facebook or Pinterest!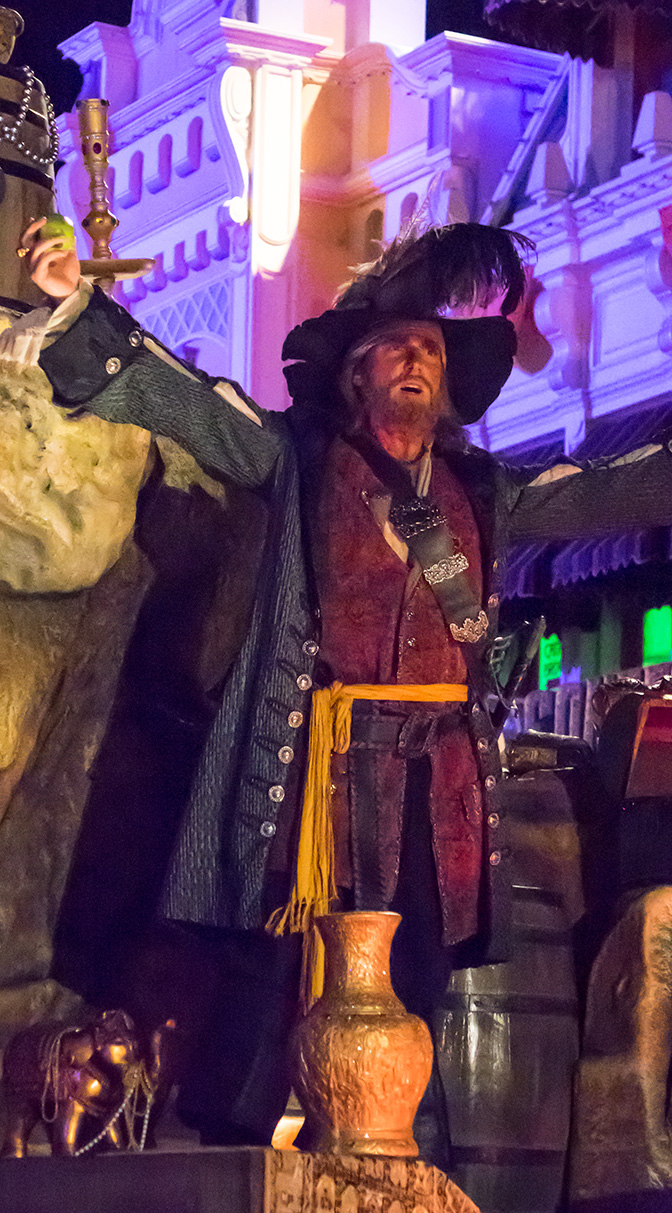 Apples, you think they will share this photo post for an apple?  Where's the rum?  Who took all the rum?  Who is this KennythePirate guy anyway?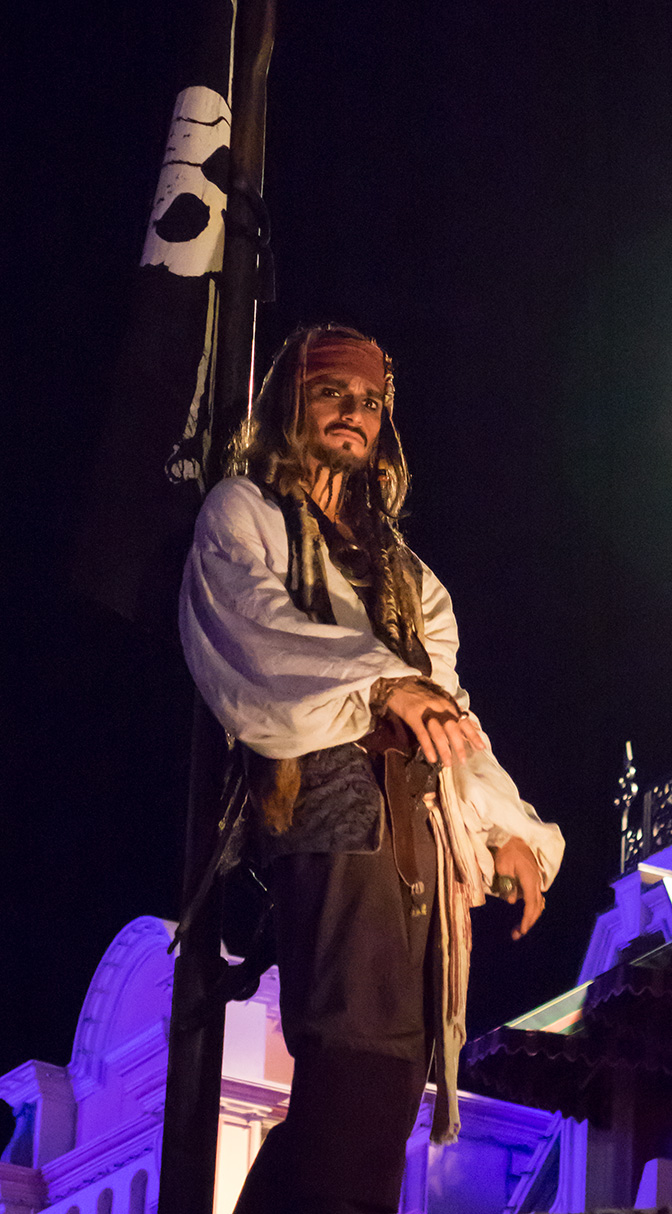 Following Captain Jack is the world famous Haunted Mansion grave diggers.  Some nights they have popped up for meet and greets near the Haunted Mansion.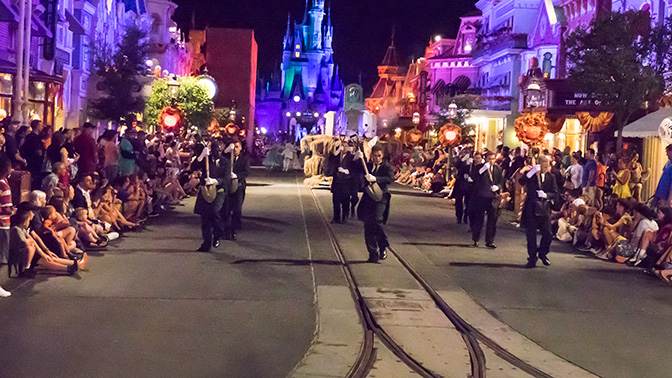 He seemed dissappointed that he can never get a good grave dug with all the marching around.  The concrete and metal probably hinder him a bit too.  I wonder how many shovels they go through yearly?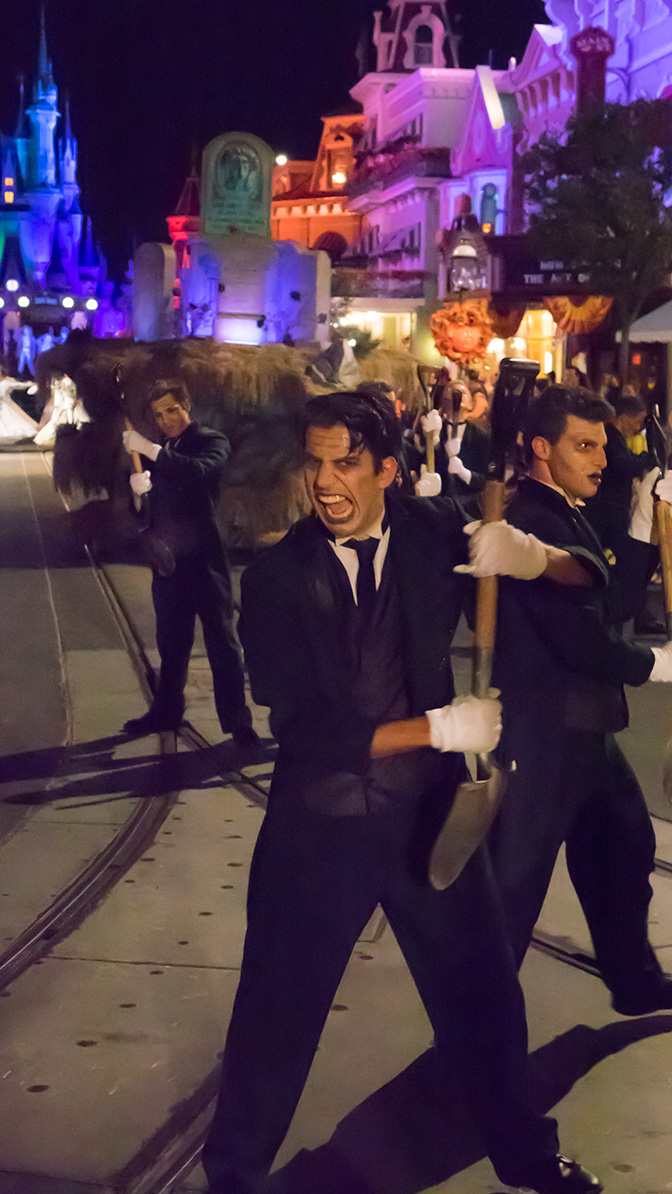 Following the grave diggers are the delightful Haunted Mansion ball room dancers.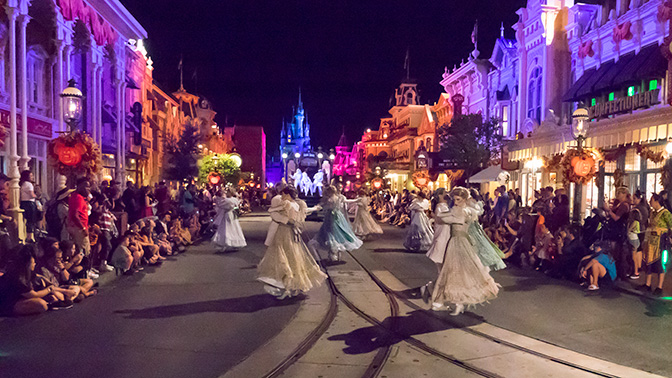 1, 2, 3 and dip…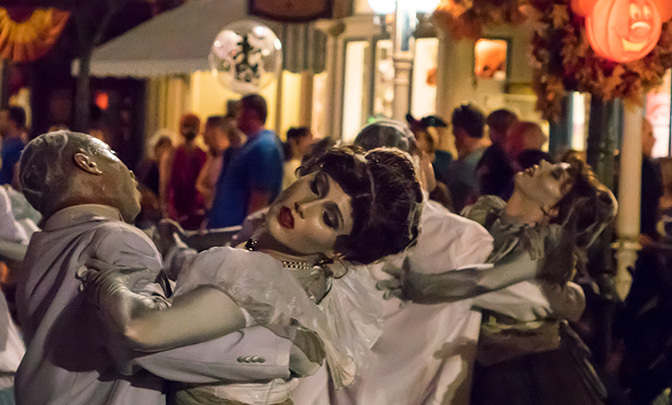 Oh my goodness!  I love these photos!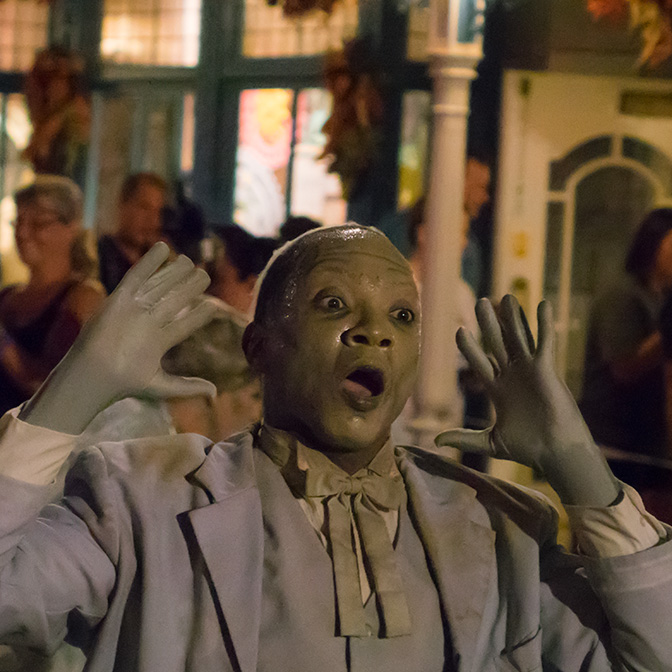 I'm not terribly impressed.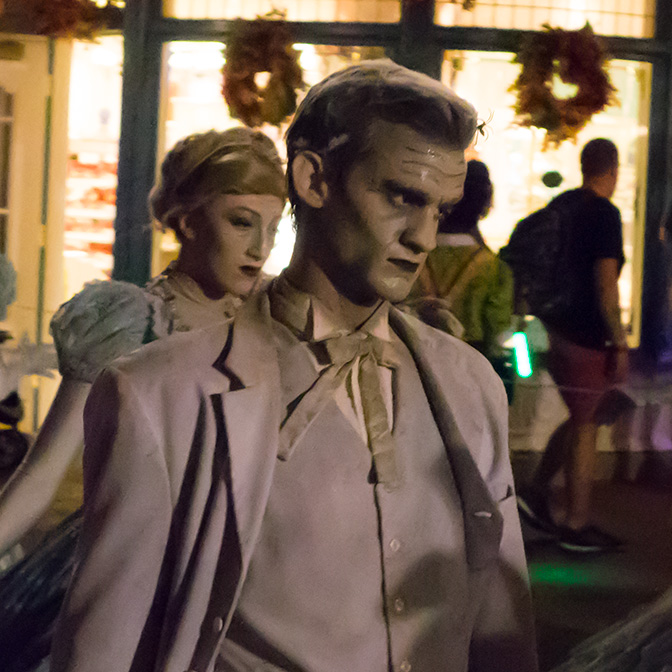 You'll see the hitch hiking ghosts on their float.  I also added the Photopass Magic Shot location to Character Locator.  Menu – Disney World – Halloween Party.  Then click the Extra tab at the top!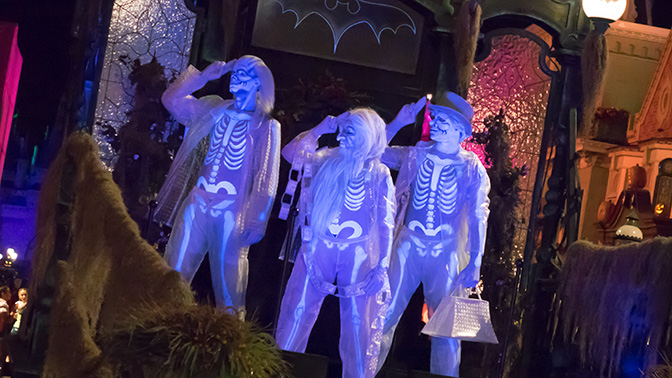 Can someone help me get a Minnie Van?  I haven't visited a Deluxe resort to get into the system, so I can hail one from my Lyft app yet.  Anyone?  Help?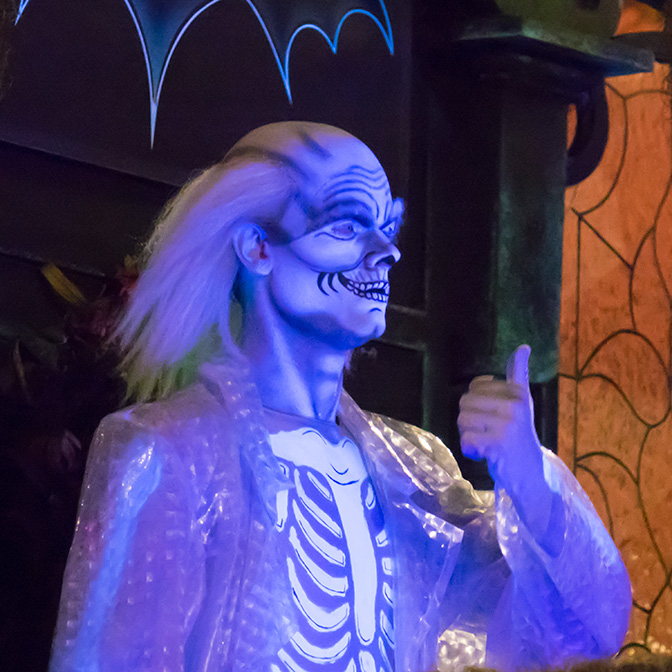 After this float is a yee haw good time with the Frontierland dancers Clarabelle Cow and Clara Cluck.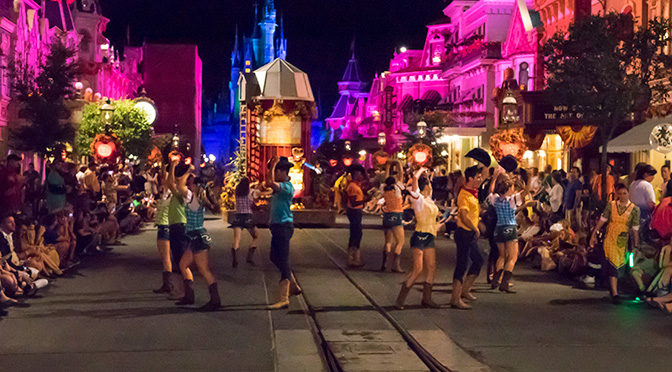 If your not so scary and you know it, clap your hands!

I think they enjoy their jobs.  It's hard work, especially in our unseasonal hot weather, but they smile and wave and reach out to little kids through the entire 30 minute parade march.  It begins in Frontierland and ends in Town Square, if you didn't know.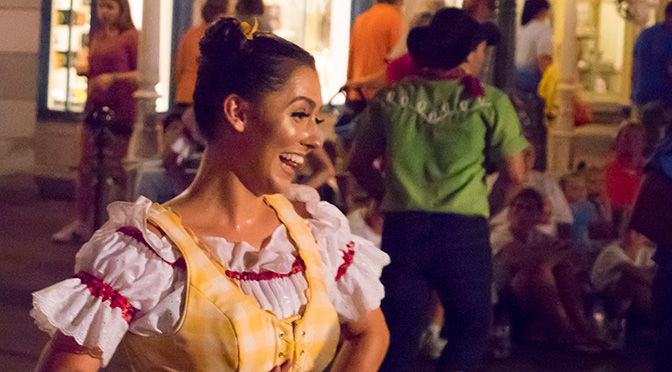 These guys are always popular.  Brer Rabbit and Brer Bear even come out for meet and greets during the Halloween party.  Their schedule is on Character Locator.  Anyone else find it odd that kids can't see their movie, but still want to meet them?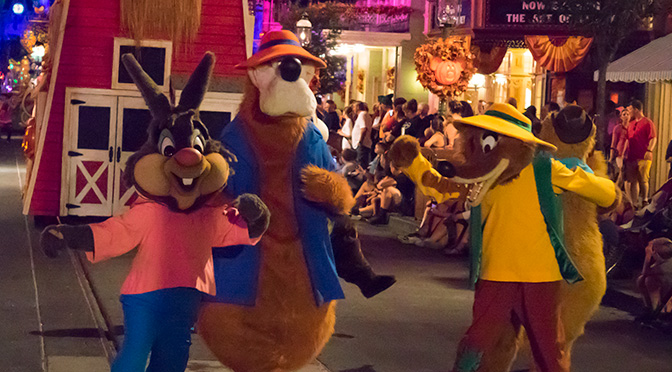 After the Frontierland bunch, you'll see the candy crew with Ralph and Vanellope  and the candy dancers.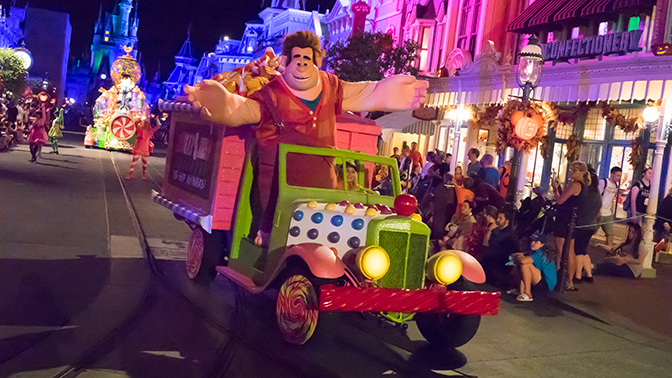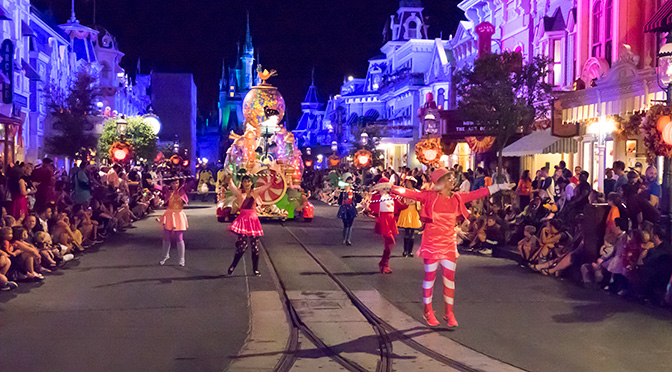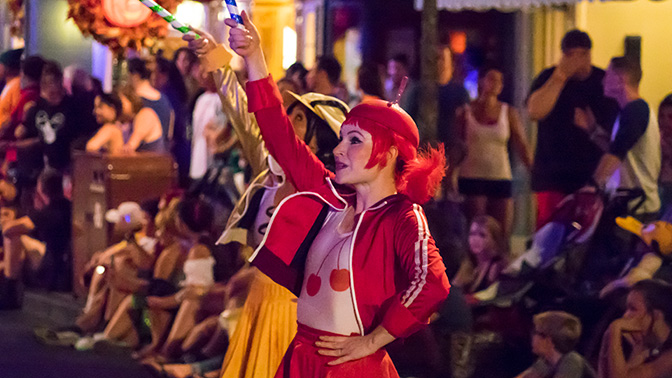 The parade ends with the villains group that is led by this awesome skelton band.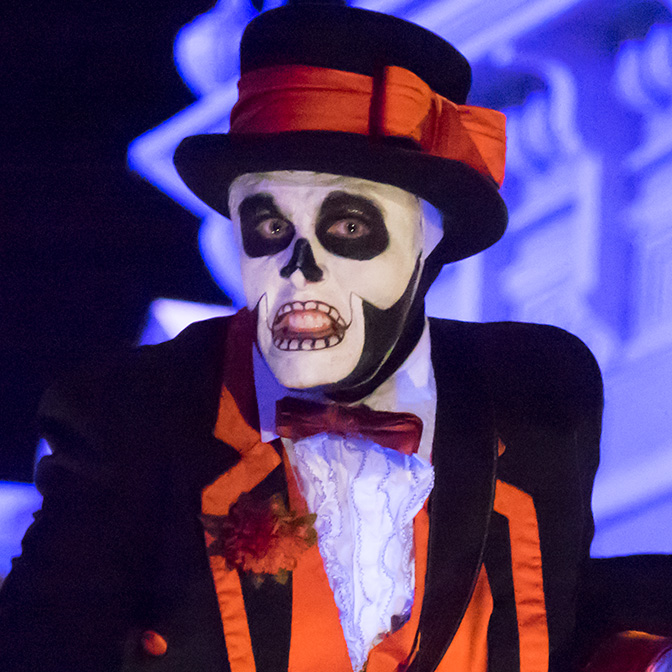 Ohhh, I love the skeleton band!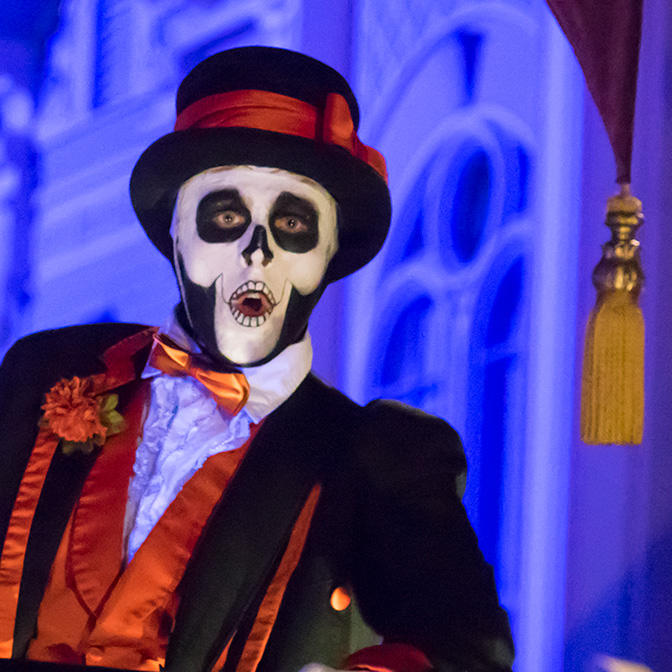 But we can't leave our float?  I'd love a meet with these guys!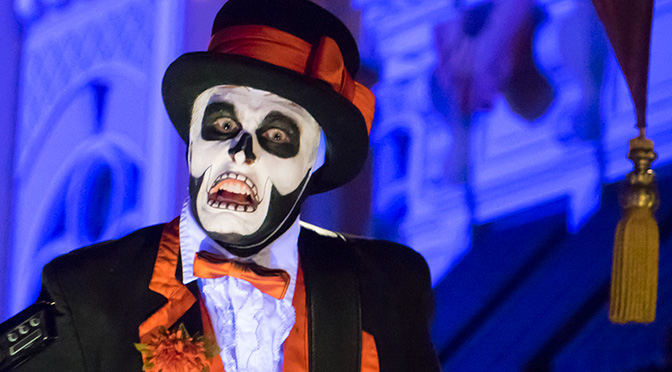 Several villains are led by Oogie Boogie before the final villains float ends the parade.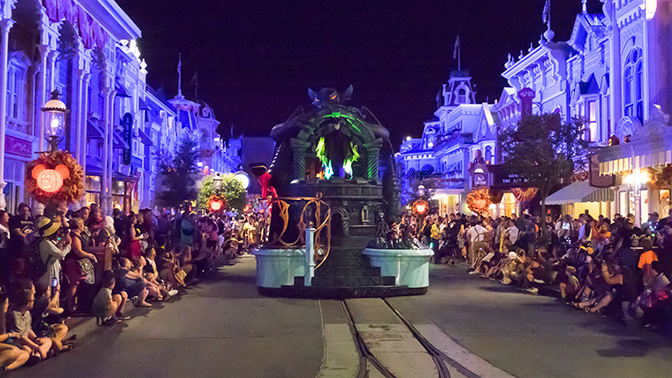 Maleficent.  Need I say more?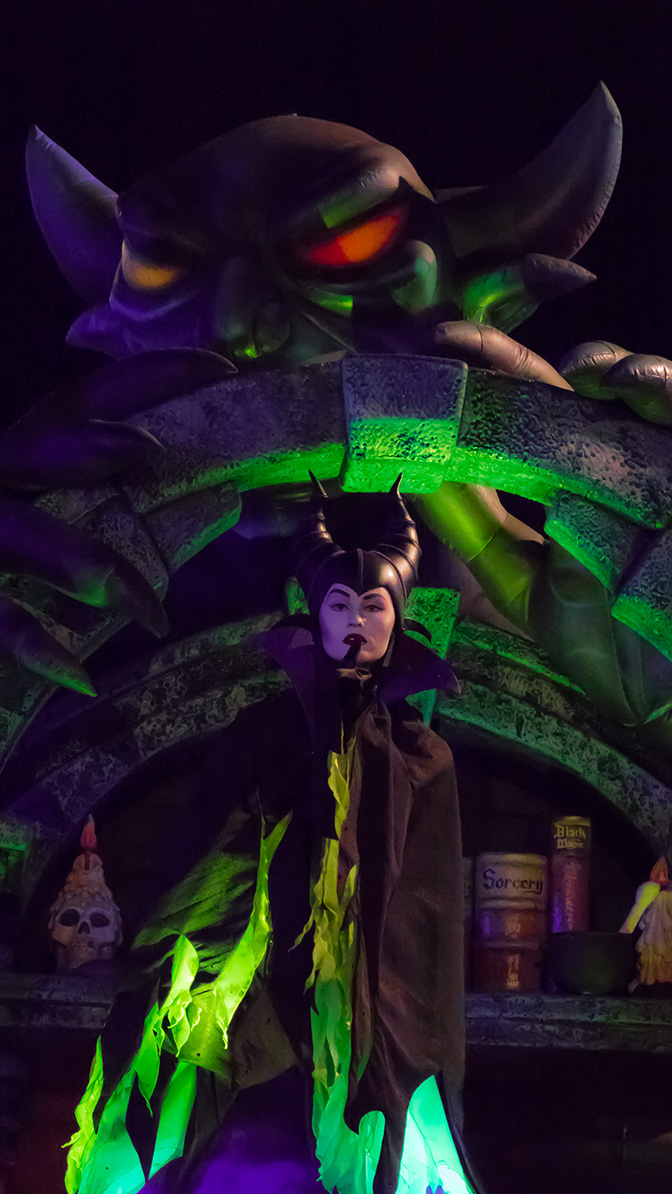 My favorite photo from the parade.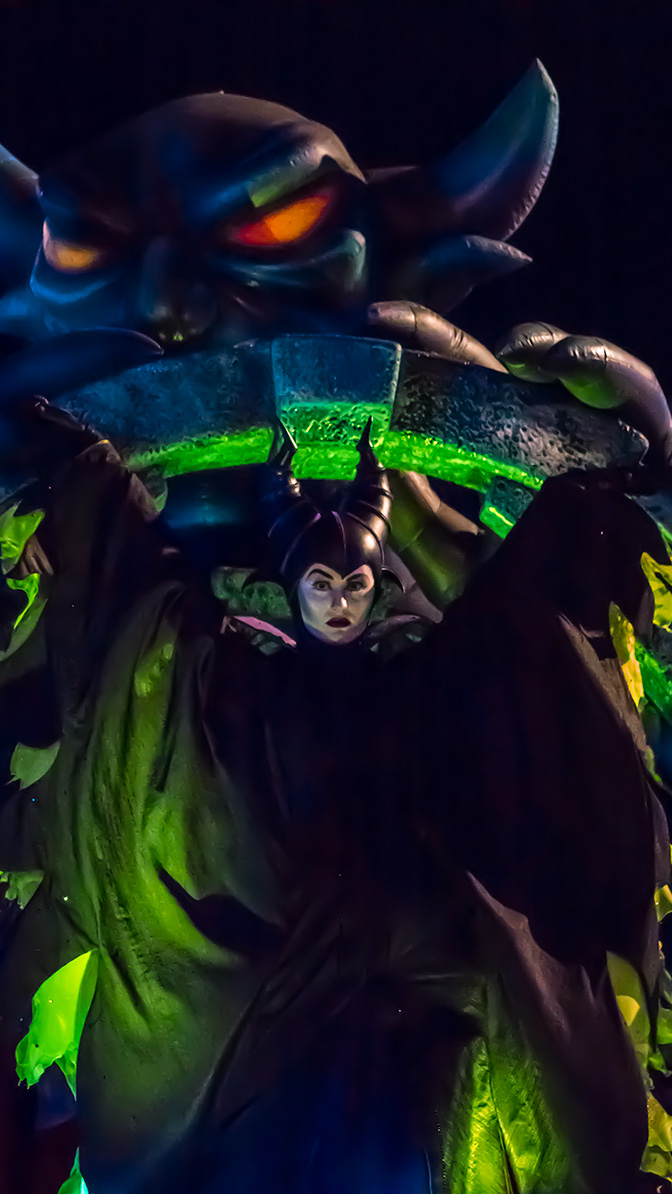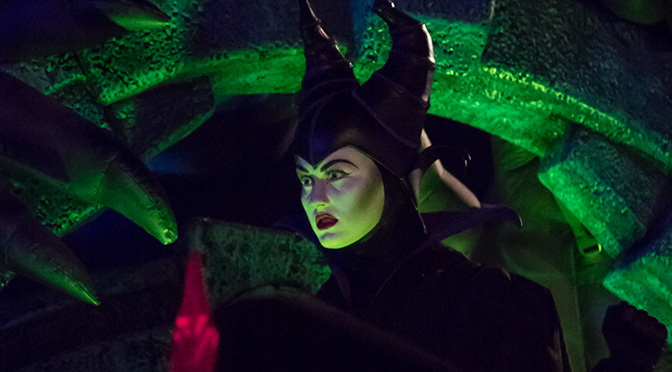 Did I grant you permission to take these photos?
The Queen Grimhilde is on the back of the float, be sure to catch her before leaving your parade spot.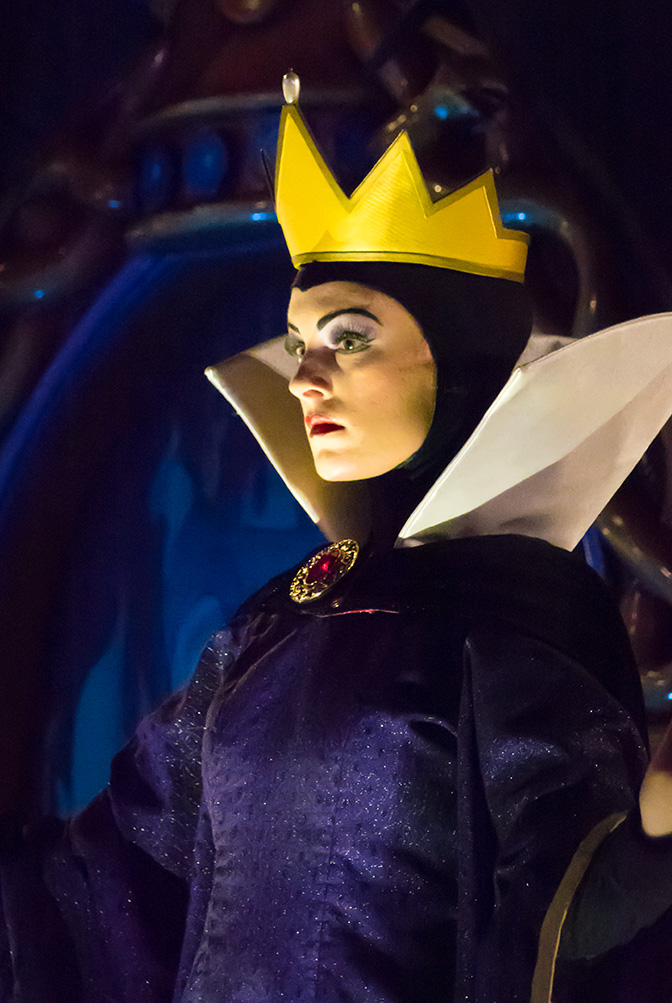 TIPS:
 If you are going to view the 1st parade and want a front row view, you'll need to find a spot 45-60 minutes early.
If you are going to view the 2nd parade from Main Street or Town Square, you should arrive 30-45 minutes early.
My favorite spots are: In front of the Country Bear Jamboree, In Liberty Square where the parade turns, at the Castle Hub facing the castle and the Town Square Flag Pole area facing up Main Street.
You'll need a good camera to get decent photos, but sitting in one of the lighted areas will help.
You'll often see one person holding down multiple spaces while children use the restroom or the group goes to grab snacks.
The Nick and Judy pre-parade is performed after the Headless Horseman and before the parade.  I'll add tips for them in my next post about that event.
Feel free to share the post below!