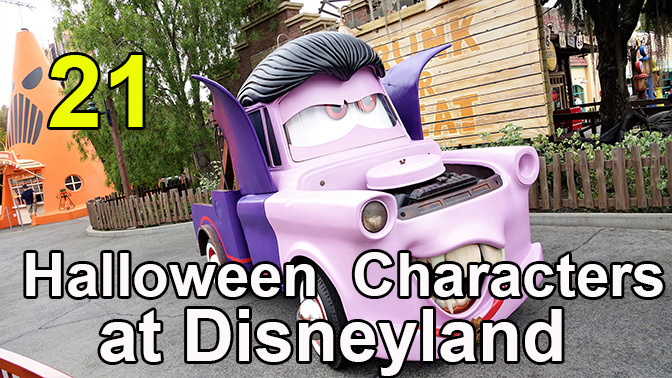 Disneyland is an amazing place to visit.  You get to feel the ambience of being in a park that Walt actually walked it, smell the wafting cinammon of the churros and ride many well-themed rides designed for the whole family.  As a Character Locator, I love that Disneyland changes up it's character costumes based on the season.  One of my favorite seasons to visit is Halloween Time.  There's so many great character costumes that you'll never see in Walt Disney World and villains sauntering about as though they own the place.  Here's 21 Great Halloween Character Meets at Disneyland.  All these characters can be met with a regular day ticket for the parks.
DISNEYLAND
Let's start our character costume adventure at Walt's park.  Town Square in Disneyland is such a great place, that is full of life all day long.  They offer a variety of bands and characters throughout the day, unlike Walt Disney World that only offers a few characters.  Part of that entertainment in Disneyland includes some great charcters like Chip n Dale.
Chip n Dale
During Halloween Time Chip n Dale appear as old-school police officers in Town Square.  They are on the lookout for nefarious criminals and villains and children with too much candy.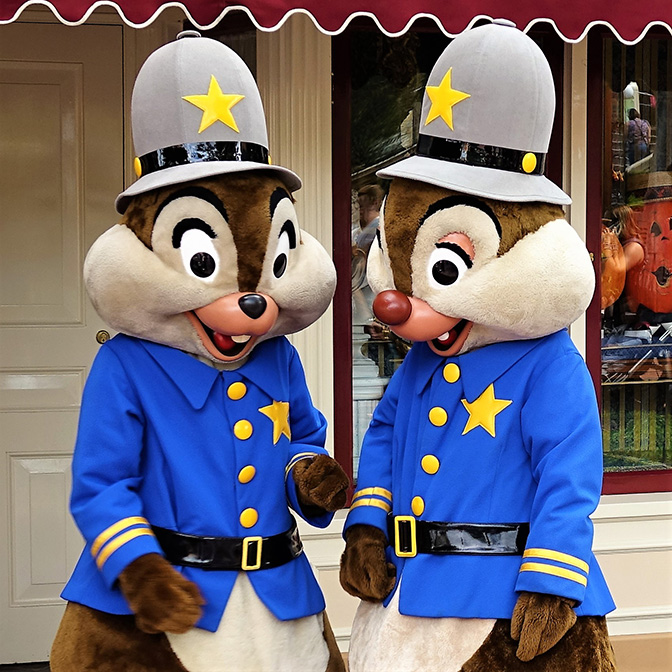 Cruella de Vil
Speaking of villains, Cruella de Vil is a regular in Town Square.  She can be found many days per week outside Halloween Time, but is more common during this season.  She can be found shopping for furs in Town Square.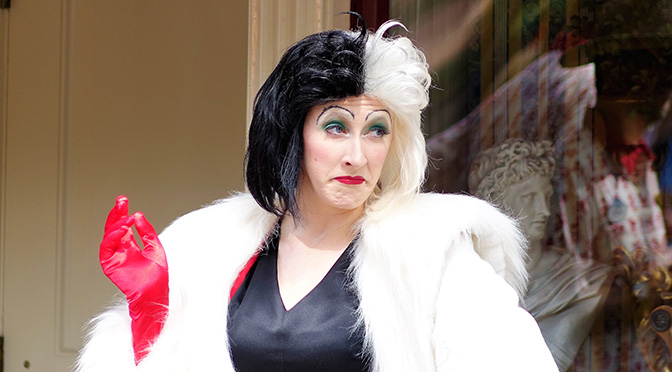 Donald Duck
What's more festive for the fall season than pumpkins?  Most people enjoy pumpkin spiced this and that through Halloween.  Donald is no exception!  He has this adorable costume during the day for meets in Town Square.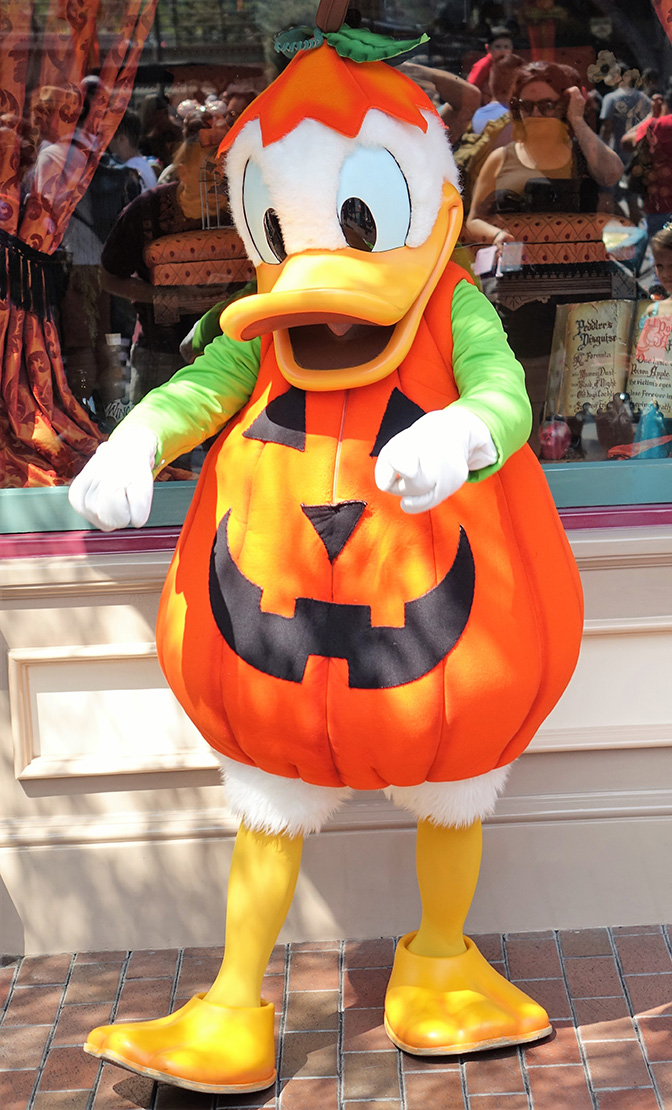 Dr. Facilier
The Shadowman is usually found looking for his friends on the other side on the streets of New Orleans.  Some times he likes to roam and other times he will stop for a set of photos.  In this case, I found him checking out the Mark Twain Riverboat.  Would you take a poor sinner's hand?  Dr. Facilier appears most days of the year.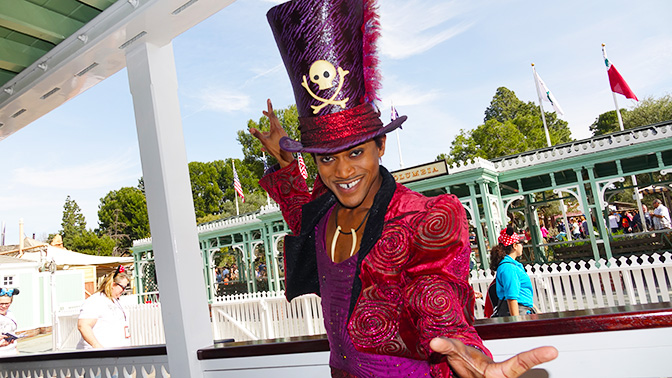 Goofy
Goofy loves to pretend that he's just a Dia de los Muertos skeleton.  Here you see him doing his best Walking Alive immitation.  He meets in Town Square.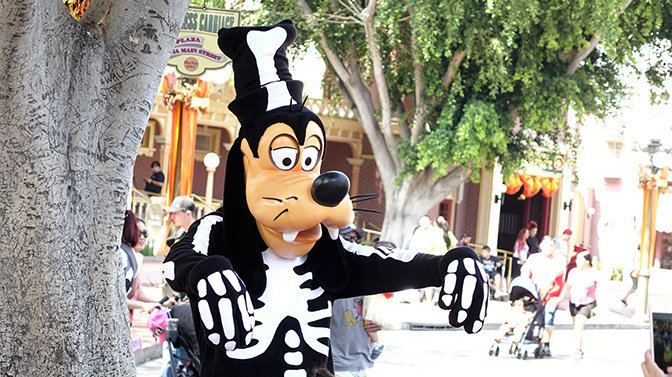 Jack Skellington and Sally
Jack and Sally are always sharing their always dying love with one another.  During Halloween AND Christmas seasons, they appear daily to meet guests.  They are found in New Orleans Square.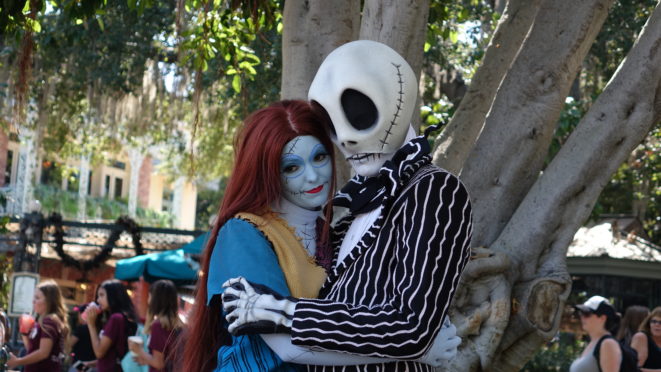 Jafar
I love that Jafar appears with his Cobra scepter at Disneyland.  He only appears during Halloween season in Town Square.  He is always searching for the "Diamond in the rough."  Don't tell him that the diamond is in Fantasy Faire.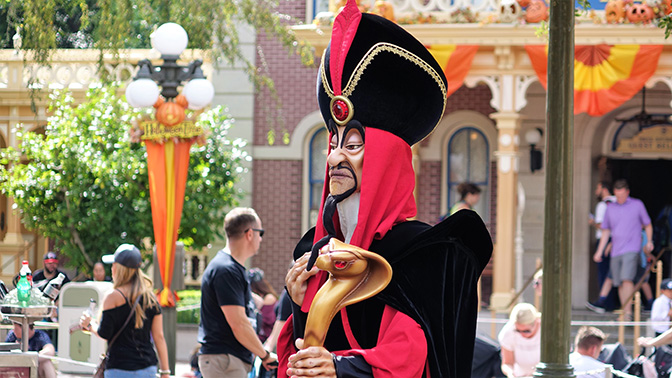 Mickey Mouse
You can't celebrate halloween without the great one himself.  Mickey meets guests throughout the day in Town Square in his purple magician costume.  If you ask him if he can do a magic trick, he might make your string cheese disappear.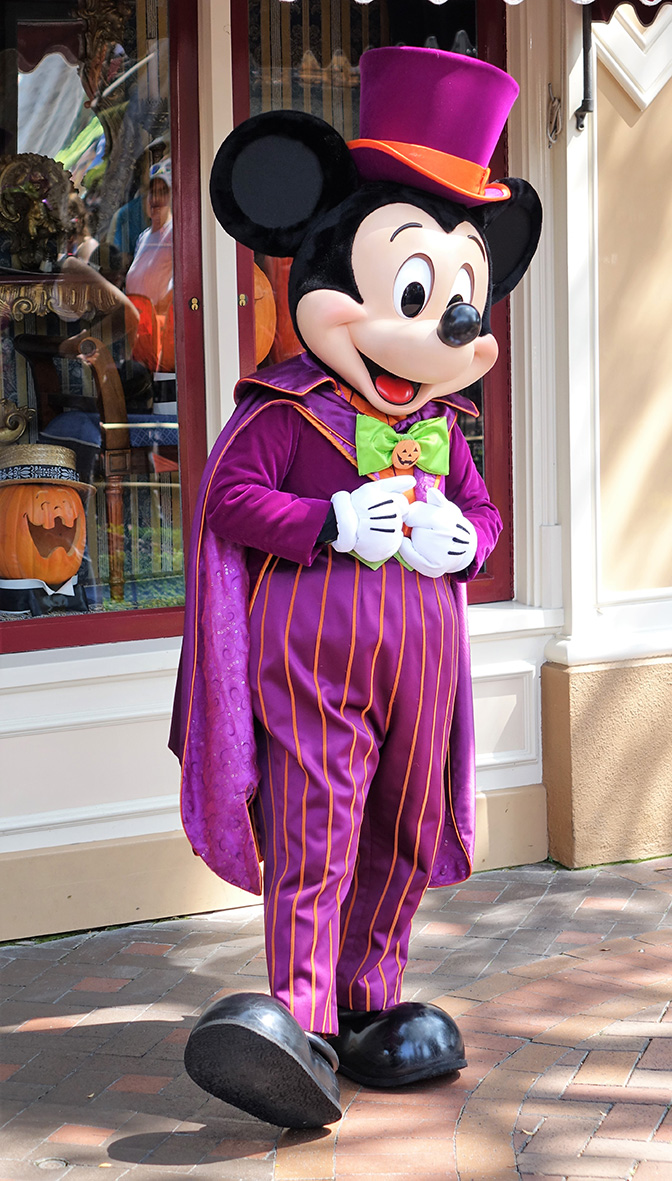 Minnie Mouse
The always lovely Minnie Mouse is ready for the season with her classic purple and orange Witch costume.  I asked her what she was conjuring up for the season and she said an engagement ring.  She's also in Town Square.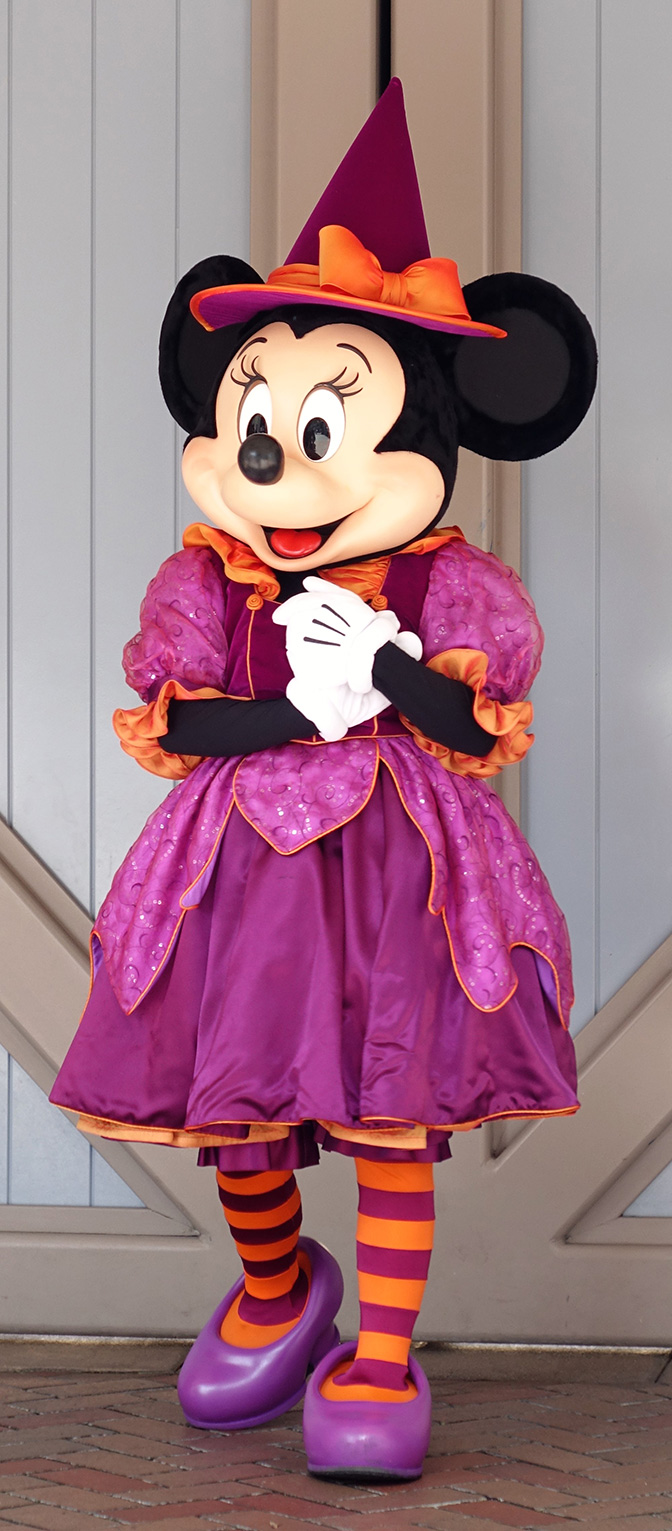 Pluto
Are you seeing what I mean by how amazing Town Square is at Disneyland?  Pluto meets daily during Halloween Time with his bat inspired collar.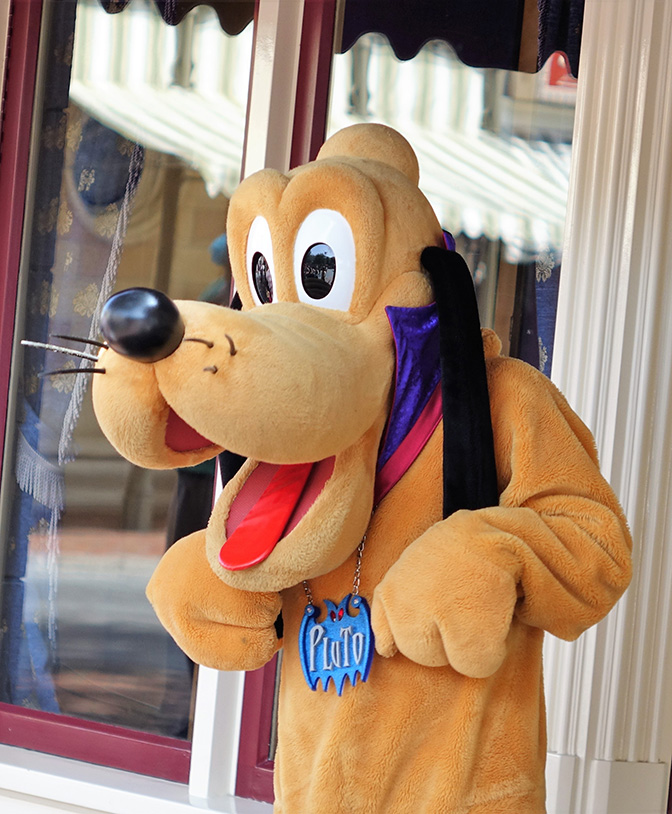 The Queen Grimhilde
The Queen is a common sight in Disneyland, and that holds true for Halloween as well.  She is usually found in Fantasyland or near Snow White's Wishing Well.  She refuses to smile as she said "Smiles give you wrinkles."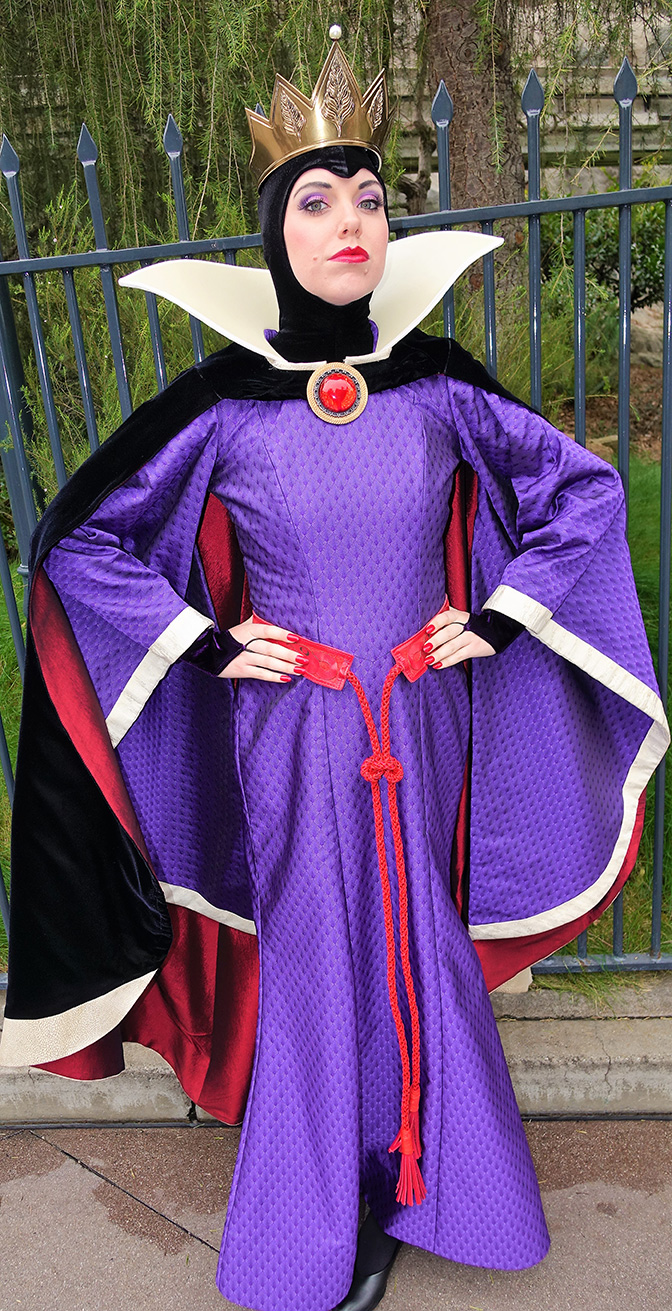 Queen of Hearts
She is found in Town Square checking the color of the roses and seeing if anyone is worthy of a game of croquet.  She roams Town Square.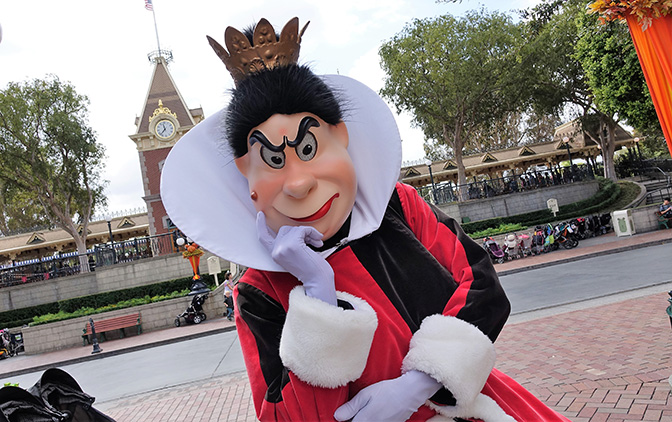 CALIFORNIA ADVENTURE
In 2017, California Adventure joined the Halloween fun.  Characters in Carthy Circle and Cars Land join the costume fun and can be met throughout the day.
Cruz Ramirez
The scallywag racer dons her best bucaneer costume.  She was incredibly difficult to locate when I visited recently, so I had to rely upon this terrific photo from Mousesteps.com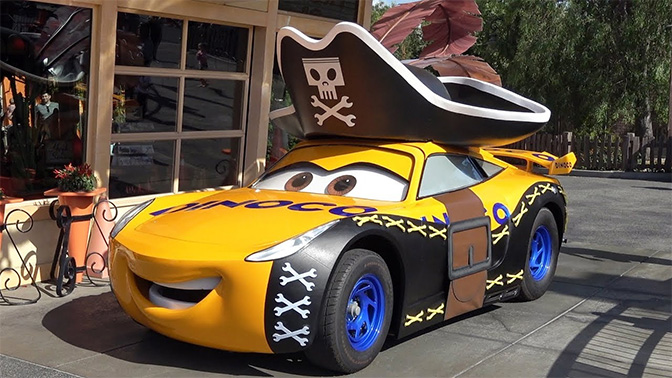 Daisy Duck
Daisy dons this beautiful new purple Sorceress costume in California Adventure.  She seemed to really like the new look and it fits her typical sassiness.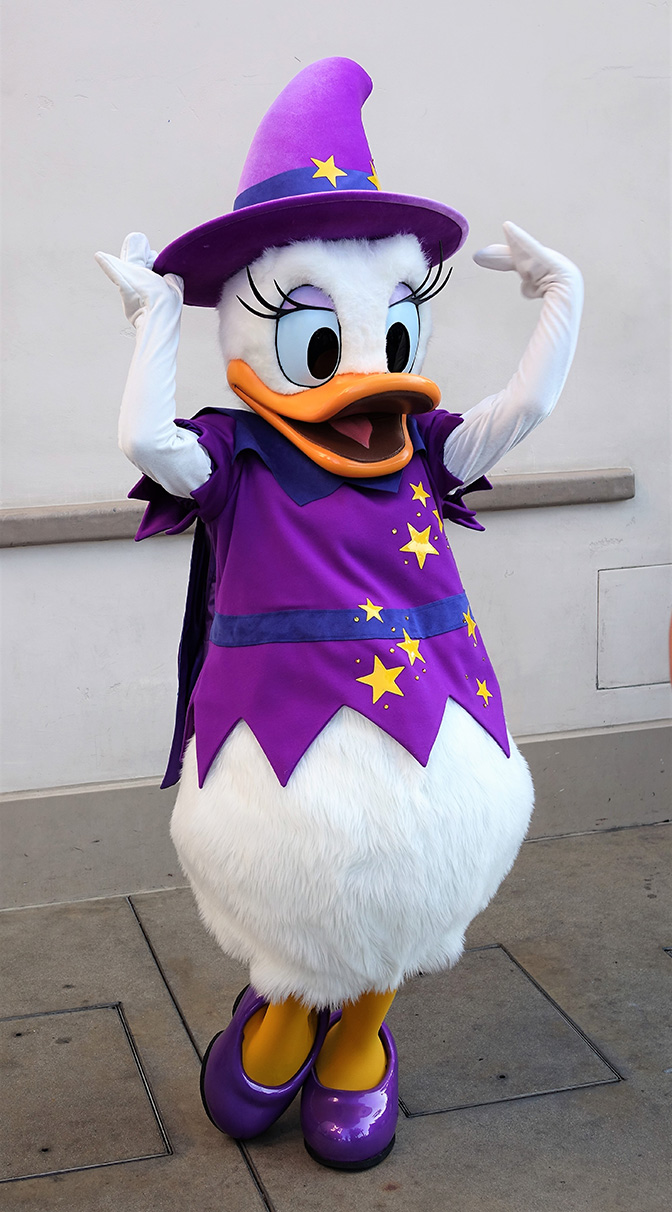 DJ
The rolling and rocking mobile disc jockey takes on a classic punk rocker look for halloween.  He doesn't offer meet and greets but can be found at DJ's Dance and Drive multiple times daily.  You can find his schedule on Character Locator.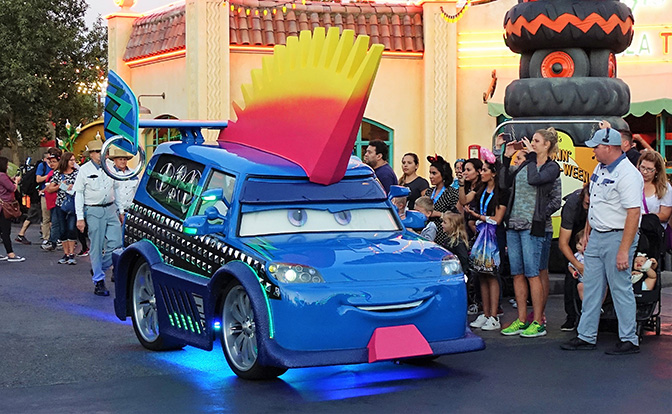 Donald Duck
Donald reveals his true nature with his new devilish costume complete with horns.  While he's one to always have a temper and willing to play a trick or two, he really means no harm.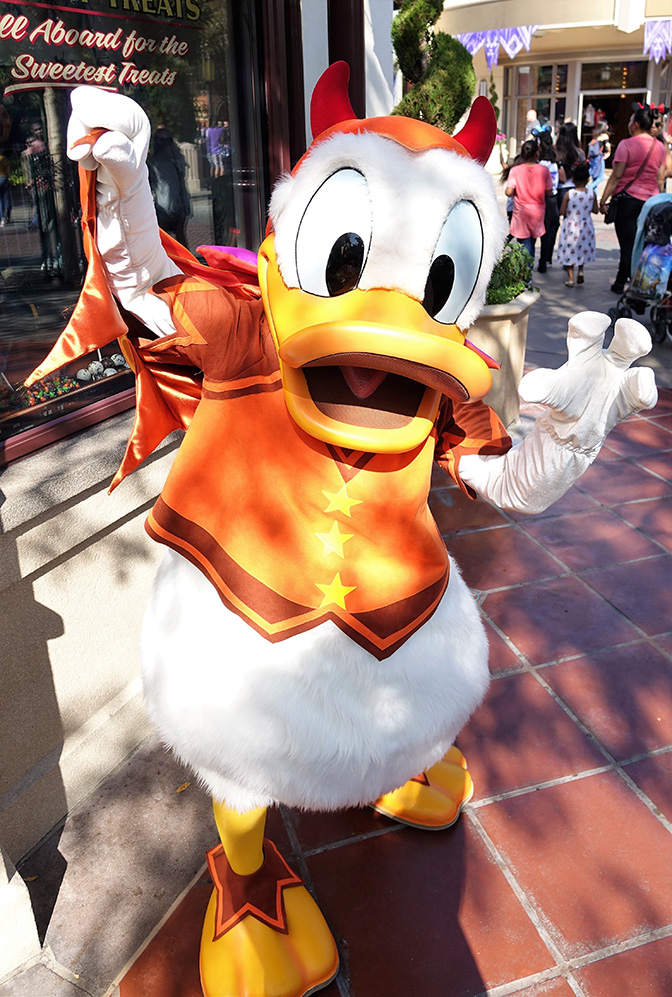 Goofy
Goofy is doing his costume on a budget.  I'm guessing that the stunt business isn't paying as well with everything moving to CG these days.  As a child I once grabbed a sheet and cut it up to become a ghost.  Later, I learned how much trouble I was in because I didn't ask permission.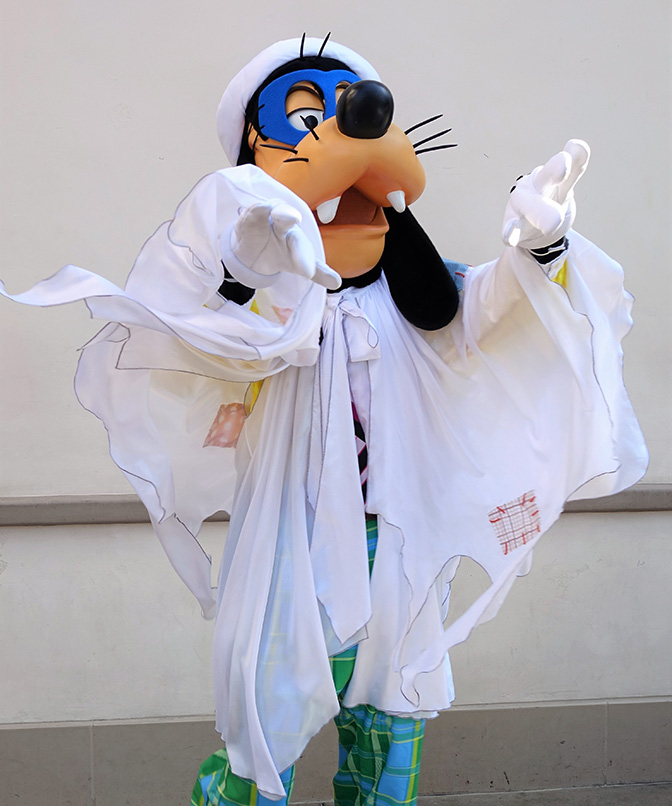 Lightning McQueen
Lightning displays his elaborate super hero costume in Cars Land.  I'm thinking he might actually take flight with that tail wing cape!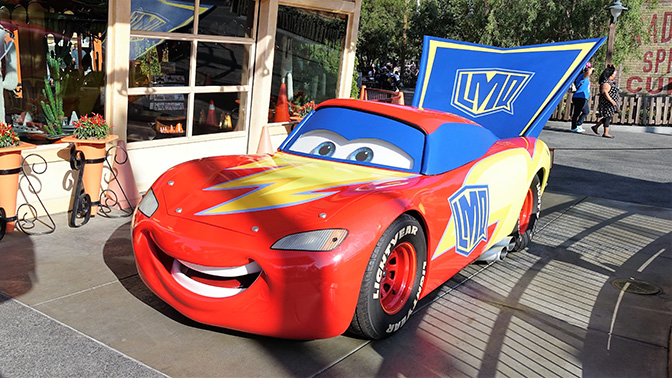 Mater
Mater's costume comes directly from Cars 2.  Vampire Mater is one of the better overlays for the Halloween season.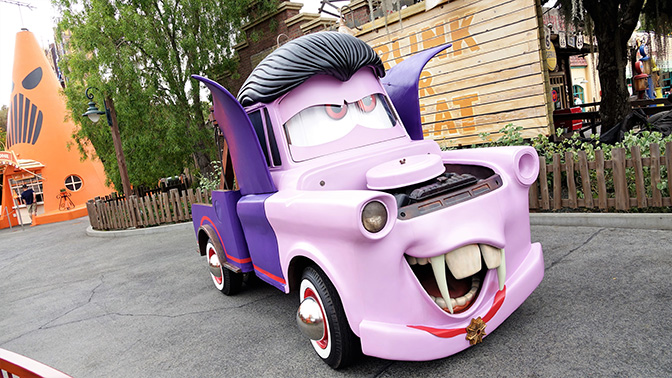 Mickey Mouse
Mickey adds some special bat touches to his regular costume in Carthay Circle.  He fits the theme of Carthay exactly this year.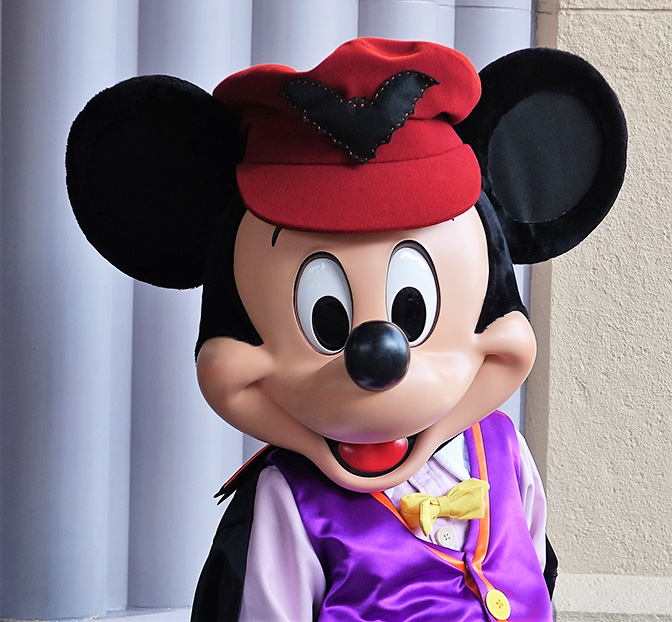 Minnie Mouse
I call this look "Moonbeam Minnie."  Minnie plussed her daily costume with a few touches of elegance.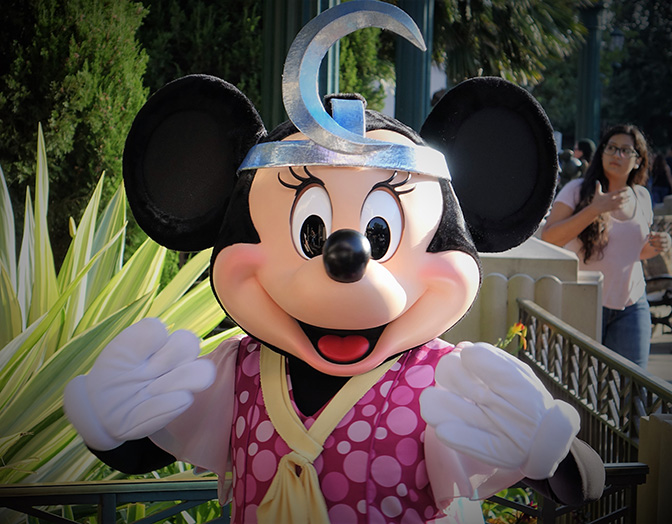 Red the Fire Engine
Red is one of my favorite Cars Land characters with his dinging bells and honking horns.  I suppose the honking led someone to lean toward a clown costume.  It's cute, but clowns give many people nightmares.  Maybe that's why he was limited to the gate area of Cars Land?  Hi Georgie, don't you want a balloon?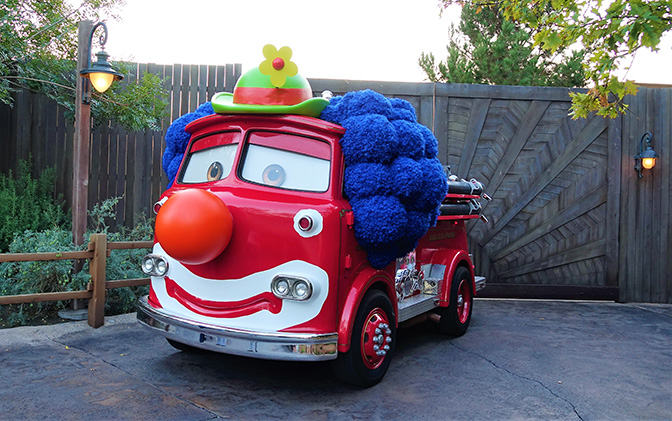 Well, that's our little photo tour for the day.  I hope you get the opportunity to visit Disneyland and meet all these great characters in their Halloween finest.  If you're planning to visit Disneyland, you'll definitely want to subscribe to Character Locator to make your planning super easy!  Did you like my photos?   Be sure to share the post below so others can enjoy as well.