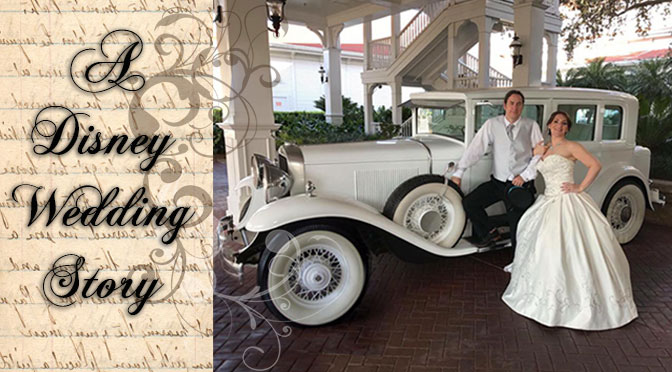 For many, a Disney wedding is their life's dream–where better to feel like a princess, right? For others, it probably seems like a really strange place for a wedding. It's certainty not for everyone, but having a Disney wedding made sense for us in terms of cost, convenience, and quality.
"You had a DISNEY WEDDING? What was that like?"
Oh my goodness, where to even begin? My husband and I had an unusually long engagement–our original wedding date was set for April 2008, but due to the economic meltdown we postponed… and postponed… and postponed. When we realized that we were nearing a decade of engagement, we decided we really should make it official, but with a family and careers, neither of us really had the wherewithal for wedding planning. Fortunately, our very good friends (who'd had a Disney wedding themselves in 2012) convinced us to look into Disney's Fairytale Weddings (DFTW).
Guest post by Melissa of Princessrants.com
Spoiler warning: once I got going writing this blog post for KtP, I started adding ALL the photos. ALL OF THEM. This is a looooooong post. I'll touched on everything from planning to our itinerary to  our theme park photo shoot! If you'd prefer the cliff notes version, check out our wedding highlights video below:
Alright, you've been warned! Here comes the rest! :-)
"WHY a Disney wedding?!"
Disney is our go-to destination for family vacations because Disney just makes everything so much easier when you are vacationing/traveling with young kids. Many of our friends are parents, too, who vacation — or would like to vacation — at Disney. Still, Disney wasn't originally on our radar as a wedding option until our friends urged us to look into it. Once we'd done the research we realized that a Disney wedding made sense for us in terms of cost, convenience, and quality.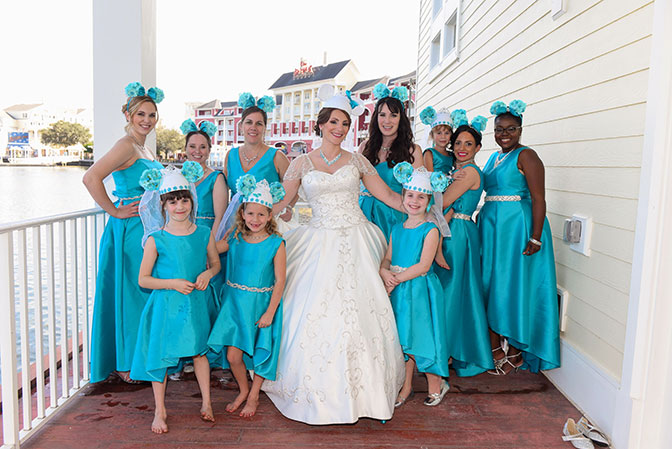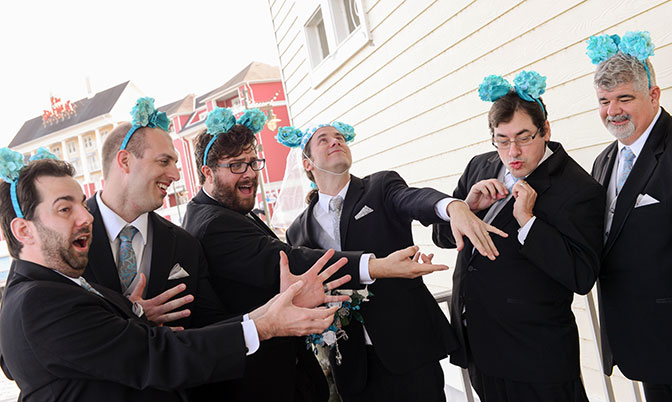 Here is why having a wedding AT Disney made sense in our case:
Economics: We priced Disney weddings against our local venues and found that in our situation, Disney made economic sense. The majority of our guests were coming from out of state, and flights to Orlando were less expensive than flights to Detroit. On top of that, the value resorts at Disney (with the wedding block discount) were less expensive than those near us–and nicer. We loved the idea of being able to offer our friends discounted resort and park tickets. I should add that we compared the cost of the ceremony/reception and our guests travel locally and at Disney— if you add in all the extra (like our dessert party and park passes and brunch) our wedding cost more than a local one would have, of course, but as my husband said it wasn't fair to lump in all those costs into the comparison because they weren't really part of the wedding, and our guests didn't have to go in to the parks (and in fact, many didn't).
Quality: When we talked to our local venues, we became really overwhelmed with the complexity of what we were being asked to manage on our own: so many vendors and contracts. I worried that if we tried to cut costs, we could end up with problems. Having vacationed at Disney for many years, we were familiar with Disney's commitment to quality. We felt confident that if we gave them our money, we would be guaranteed a magical event. Disney excels at running complex things flawlessly. I didn't have the same faith in the local venues and vendors we met with.
Convenience: I did not have the energy to shop for and negotiate with a zillion wedding vendors–that didn't sound fun to me. I wanted to be able to write a check and show up. DFTWs describes it as "being a guest at your own wedding." That one-stop-shop approach was important to me, keeping in mind that Disney's one-stop-shop encompasses so many restaurants and options that it's not limiting in any way. Another aspect of convenience that appealed to us was that of our guests: with so many out-of-state guests we were worried about having to entertain them all if they'd come out to where we live. I was overwhelmed with the prospect of figuring out airport pickups for friends and family. At Disney all that is handled (as long as your wedding guests are staying on property): they enjoy the same conveniences of every Disney guest, including Magical Express transportation and baggage handling, resort entertainment, theme park access, et cetera. We were free to enjoy vacationing with our friends, instead of feeling like we had to entertain them.
"What was the PLANNING PROCESS like?"
After making the decision to DO a Disney wedding, Disney makes wedding planning about as painless as they can. There is an easy to follow schedule of when decisions are due (such as venue, reception menu, floral, etc) prior to the event. Disney offers different size packages depending on the number of guests and type of event you want: Memories, the least expensive, for four guests; Escape, an 18-guest option; and Wishes, which is the full-scale wedding that you see on the DFTWs TV show (yes, there was a TV show and rumors of a follow-up full season of episodes with more Disney Weddings coverage, if you're into that sort of thing!)
Site Visit / Venue selection: Prior to committing, my husband and I decided to take a weekend trip down to Disney to see the venues ourselves. This isn't required, though it is recommended. I wrote about our site visit trip more extensively here. You are able to reserve your venue at 12 months (for Wishes weddings), so if you're thinking of doing a wedding, you will want to schedule this trip well in advance. It's also a great opportunity to have engagement photos taken to use on your save the date cards!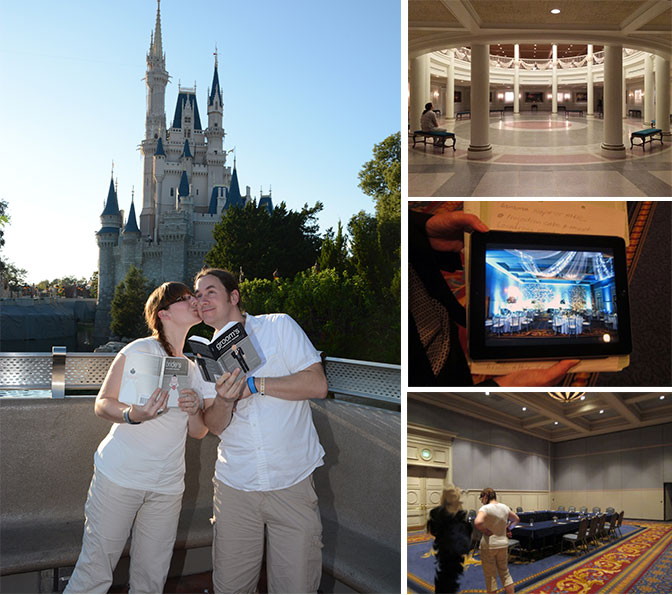 Planning Visit: Six months prior to your wedding, you can go down for your planning session with your wedding planner, as well as your menu/cake tasting. You'll also meet with floral to discuss decorations, too! This takes the better part of a day, and is in turns exciting and exhausting. Basically, you are compressing all the decision making into a couple of hours–the decisions aren't final, but it helps if you have an idea of what you want to discuss with your planner. For our wedding, we had very specific things that we wanted: we explained to our planning team that we were having a wedding AT Disney, NOT a Disney wedding. We didn't want the Disney-theming that, for many other couples, is the reason they choose DFTWs. Doing your homework ahead of time definitely helps! I've written more about our planning session here.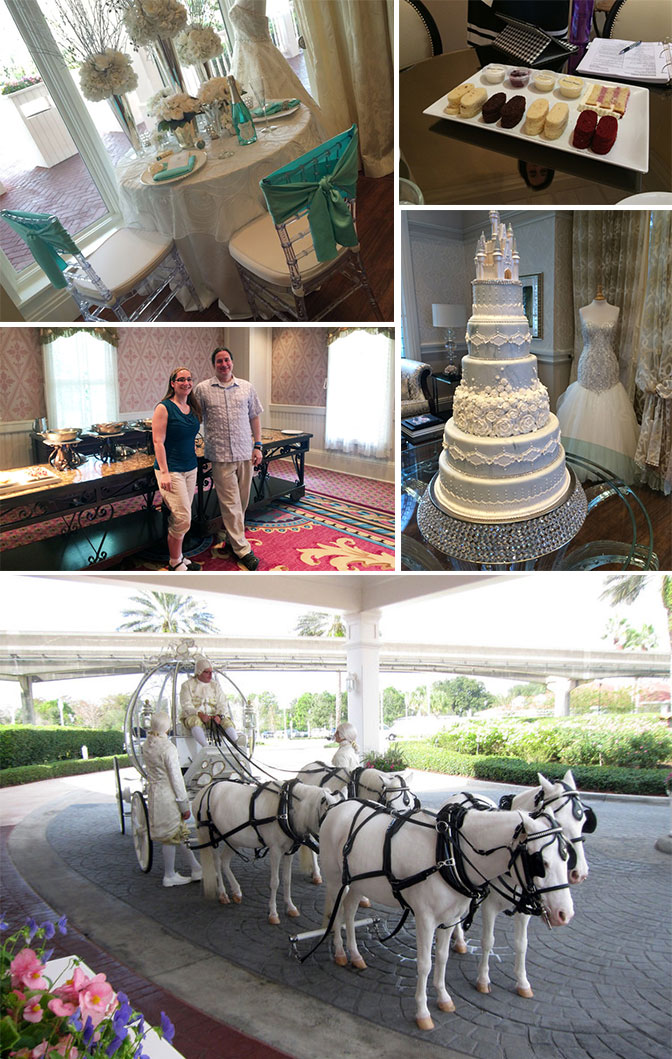 Things Disney doesn't handle: There are things that Disney doesn't handle, though for almost all of those services they will provide a list of recommended vendors. These include: invitations, hair and makeup, vacation planning services, DJ, attire (gowns and suits), and a few other miscellaneous items.  Additionally, though Disney offers photography, videography, and floral services, you also have the option of working with outside vendors. I am a designer by trade, and couldn't control my DIY impulses, so I probably took on more than I should have–but I loved making my own bouquets, dresses, centerpieces, invitations, officiant, and a few other things. If you happen to be a DIY nut like me, you might like my post about how I kept all my projects on track leading up to our wedding. If you want a bit more control over these sorts of things, but aren't up to DIYing, there exists a whole industry of vendors who specialize in Disney Weddings. My favorite resource for that is the DisBrides Facebook group, because many of the vendors in that group are former Disney Brides themselves!
Room Block: You are able to reserve a number of rooms for your guests at three resorts (Disney recommends picking a value, moderate, and deluxe so there is an option in every price point, but you can pick any three resorts). The discount guests receive varies based on season. Guests taking advantage of a room block aren't able to get a dining plan, unfortunately, and can't combine with other discounts. For our wedding we chose All Star Movies, Port Orleans Riverside, Beach Club, and Grand Floridian as our room block resorts.
Payment Schedule: You pay a non-refundable deposit when you book your venue. The second payment is due after your planning session and 90 days prior to your wedding (this is the largest payment). A final payment is due 30 days prior to the wedding. We made all of our payments through our Disney Visa so that we could wrack up the points! We also found that the most expensive add-ons were the Disney touches (having characters at your wedding, Cinderella's carriage, Magic Kingdom photo shoot, etc.). Because we weren't interested in a Disney-themed wedding, we ended up saving A LOT.
"What was your WEDDING TRIP like?"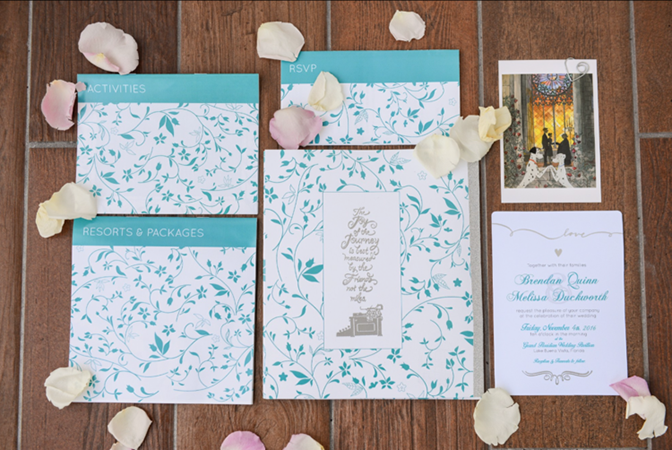 For our wedding, we had 65 guests (about 40 families). In our overly complicated invites / planning booklets, we provided an itinerary of what the bride/groom were planning to do so that our guests could choose – or not choose – to sync up with our activities. We tried to select a range of activities at a variety of price points that were in and outside of the parks so that there was an opportunity for us to hang out with each of our guests at some point in the week. Our goal was not to have everyone doing everything, but to be able to enjoy quality time with different groups of our friends each day.
I'm an ADR ninja, so I booked large group dining reservations ahead of time and asked my guests to opt-in, then cancelled the extras. (You might recognize me as the author behind the KtP post on how to get every ADR for your trip. ☺) I'm pretty proud of getting 40 section A seats for Hoop De Doo Revue, 30 seats for 9am CRT, and an entire half of the BBBoutique for park opening!
I linked up all of our guests' accounts so that I could make Fastpasses for everyone who'd opted in for our park days. For a time there were 60+ accounts connected to my My Disney Experience account and it was mayhem! But much easier in my opinion than fielding a zillion phone calls from guests or having people lost in the parks.
One of the special things about the dates we chose were that guests who wanted to do the full week were able to experience both the last Halloween party and the first Christmas party. We put our wedding in the middle so that guests could either come for the first part and have the wedding at the end of their family vacation, or come for the second part and put the wedding at the beginning of their family vacation.
We also worked with a Disney Vacation planner who helped our guests plan their trips. It was really helpful to have a person who was aware of our wedding itinerary, who could help our guests book hotels, dining, and Fastpasses and answer questions. Even with all the information we provided, I was surprised at the number of questions our guests still had about vacationing at Disney! I'd definitely recommend picking a vacation planner early and discussing your wedding details (at which hotels you have your room blocks, where your wedding events will be, et cetera) so that they know the bigger picture when helping your guests. Our vacation planner even helped to deliver the welcome bags we had made for each room!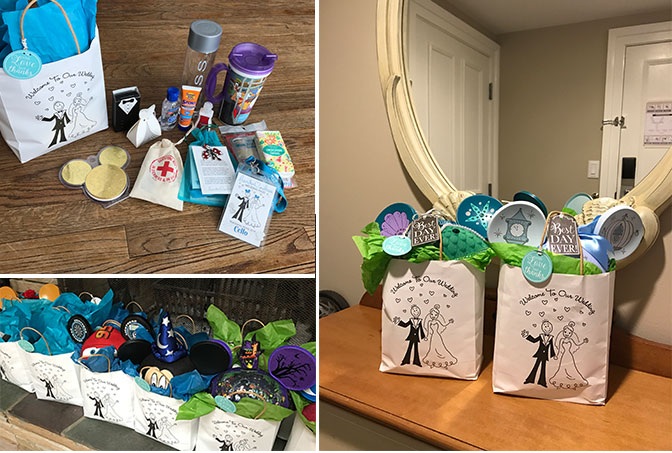 Welcome to our wedding, KtP readers! If you've made it this far, I'm seriously impressed! Your reward: SO MANY MORE PICTURES!
Our wedding activities covered 9 days. We dipped our toes into every park, and plenty of resort activities too! Check out the day-by-day highlights below…
Day 1: October 31st
Lunch at the Boathouse in Disney Springs
Mickey's Not-So-Scary Halloween Party

Day 2: November 1st
Hollywood Studios park time
Dinner at Mama Melrose
Star Wars fireworks

Day 3: November 2nd
Breakfast at Akershus
Beers/Snacks around Epcot
Mini Golf
Dinner at Beaches & Cream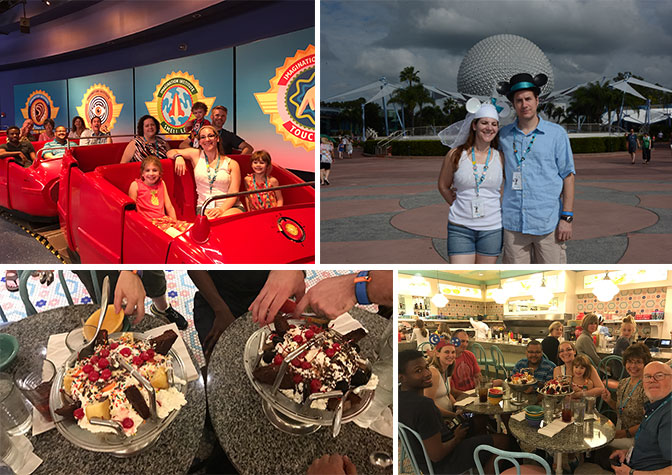 Day 4: November 3rd (morning)
Bibbidy Bobbidy Boutique reservations pre-park opening
Photos at Castle Couture
Breakfast at Cinderella's Castle
Storytime with Belle
Princess Fairy Tale Hall
Princess Promenade with Cinderella at Grand Floridian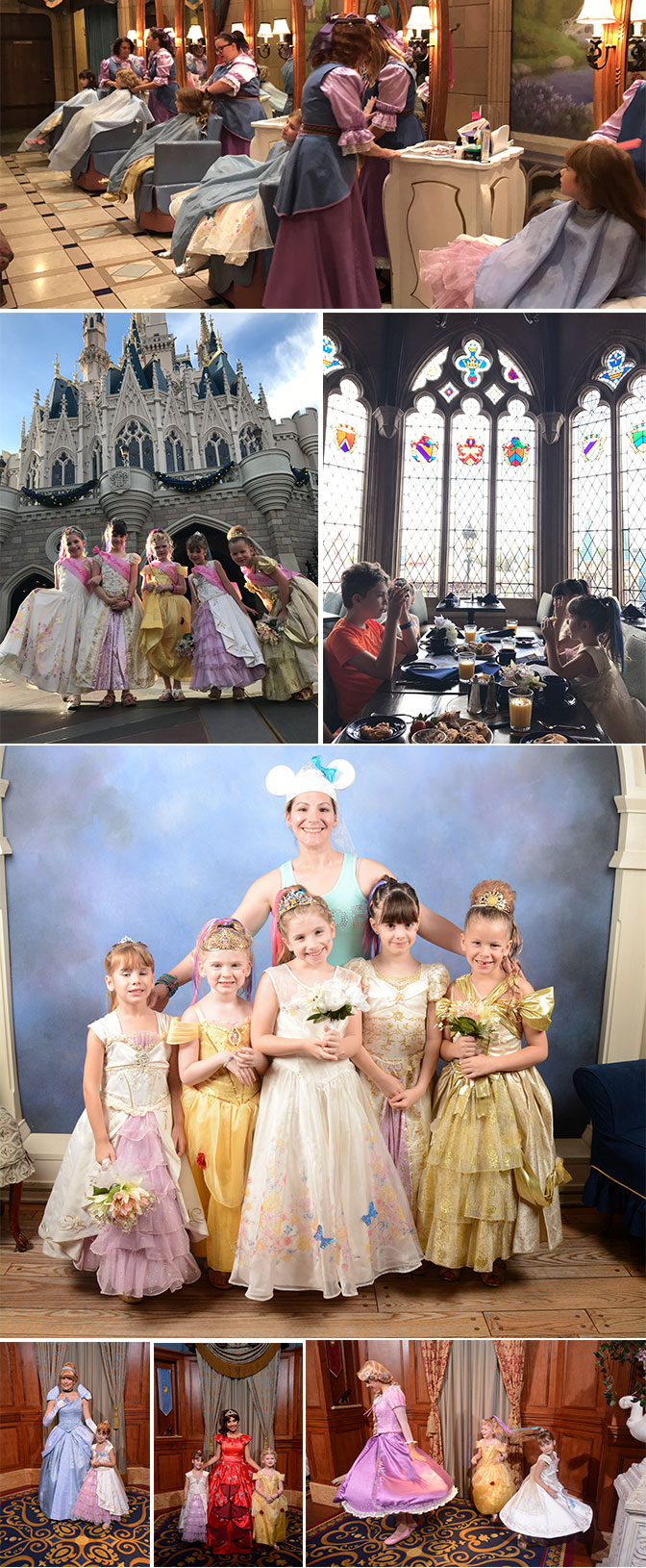 Day 4: November 3rd (evening)
Rehearsal at the Wedding Pavilion (Grand Floridian)
Rehearsal dinner at California Grill, Napa Room

Day 5: November 4th (wedding day!)
Wedding at 10am at the Wedding Pavilion (Grand Floridian)
Reception from 11-4:00 at the Atlantic Dance Hall
Private Fireworks Dessert Party at 9:30 at Sago Cay Pointe (Grand Floridian)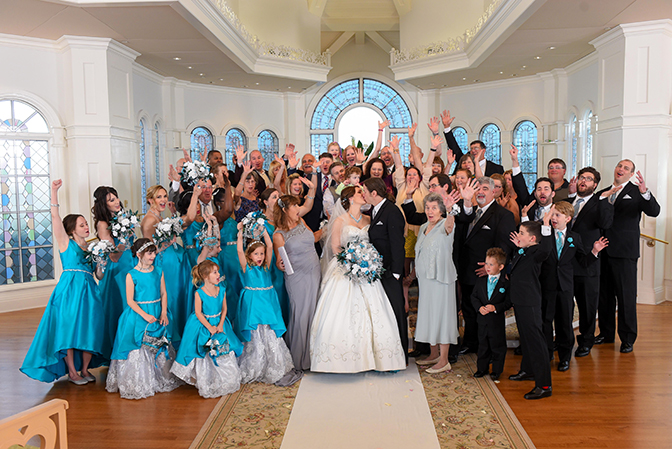 (More wedding day photos are further down!)
Day 6: November 5th
Breakfast at Hollywood & Vine
Jedi training academy
Lunch at Port Orleans
Theme park time at Magic Kingdom
Horseback riding at the Wilderness Lodge
Dinner at the Hoop de Doo Revue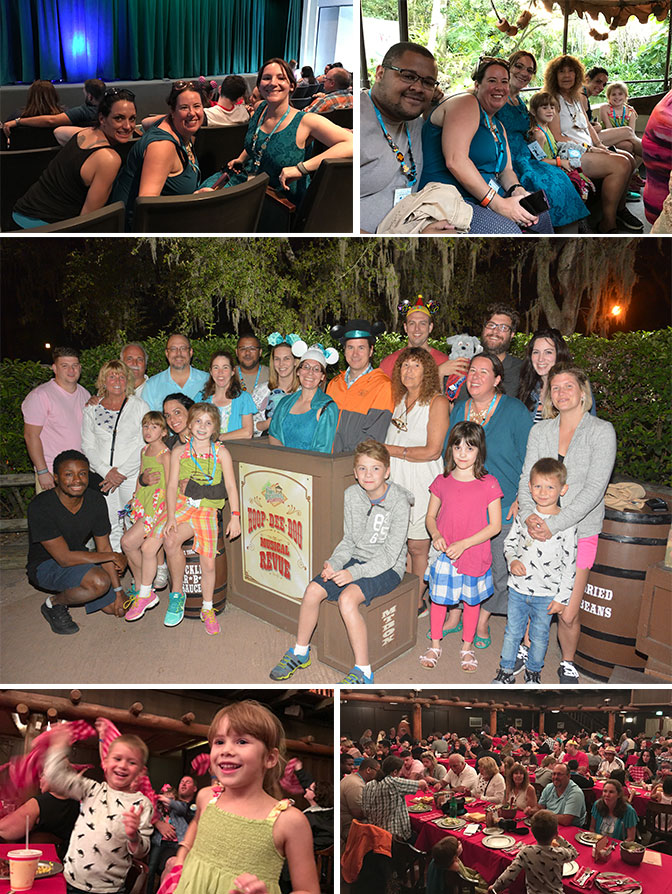 Day 7: November 6th
Kids' Pirate Cruise sailing from the Beach Club
Farewell Brunch at the Attic (private dining)
Swimming at Stormalong Bay (Beach Club)
Dinner at Ohana
Dole Whip / Fireworks
Day 8: November 7th
Wizarding World of Harry Potter at Universal Studios
Lunch at the Three Broomsticks
Mickey's Very Merry Christmas Party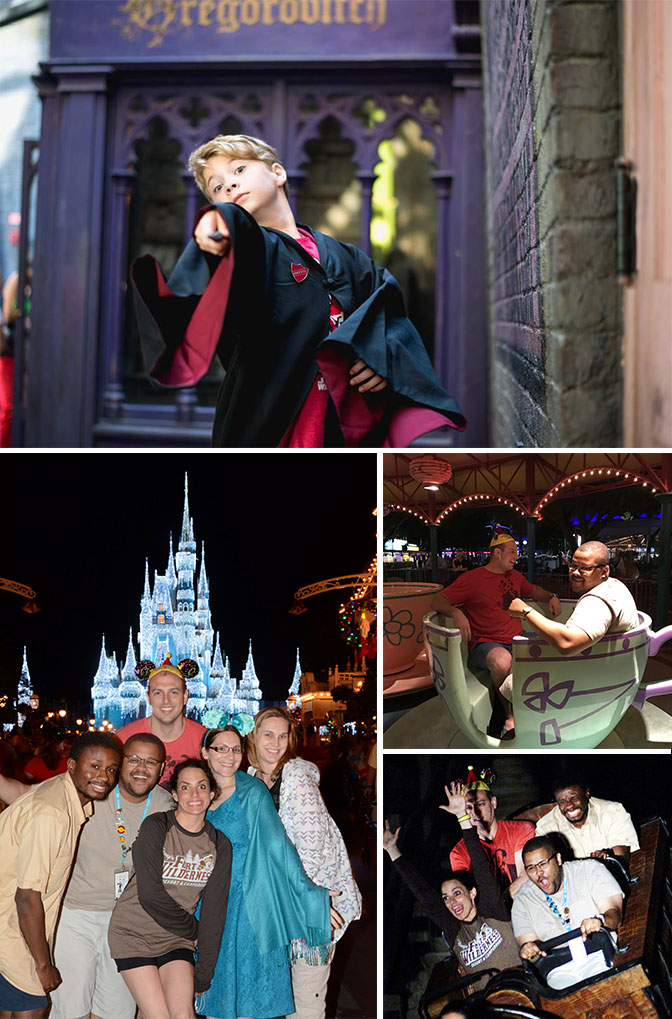 Day 9: November 8th
Theme Park photo shoot – Epcot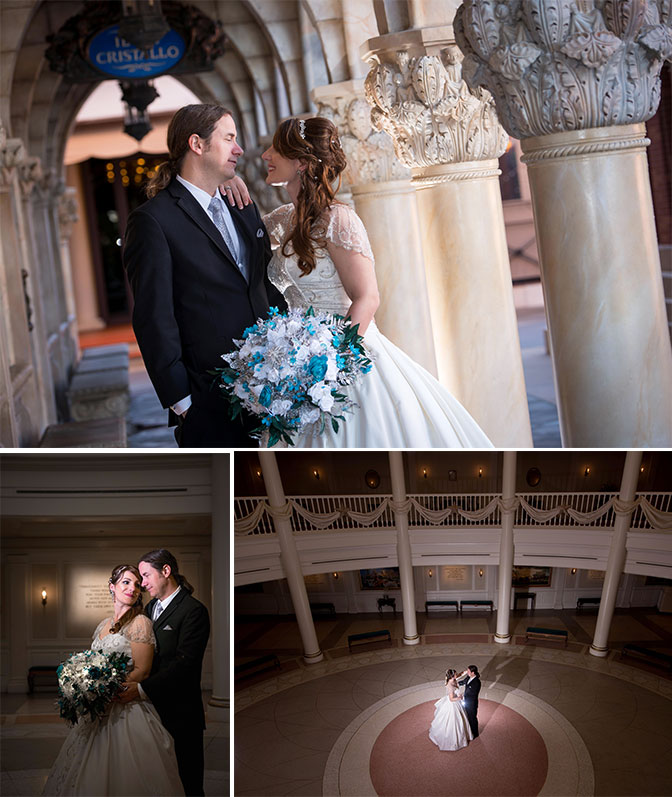 (More theme park photo shoot pics are further down!)
"What was your WEDDING DAY like?"
When we booked a 10am wedding, I didn't realize that meant hair/makeup would start at 4am. FOUR AY EM IN THE MORNING, OMG! I am not a morning person, so this was probably the hardest part for me. I rented a DVC 2-bedroom suite, and several of the bridesmaids stayed overnight for a really low-key slumber party. I only booked the room for the night before the wedding and kept my luggage at our DVC 1-bedroom suite at the Beach Club (where the guys got ready).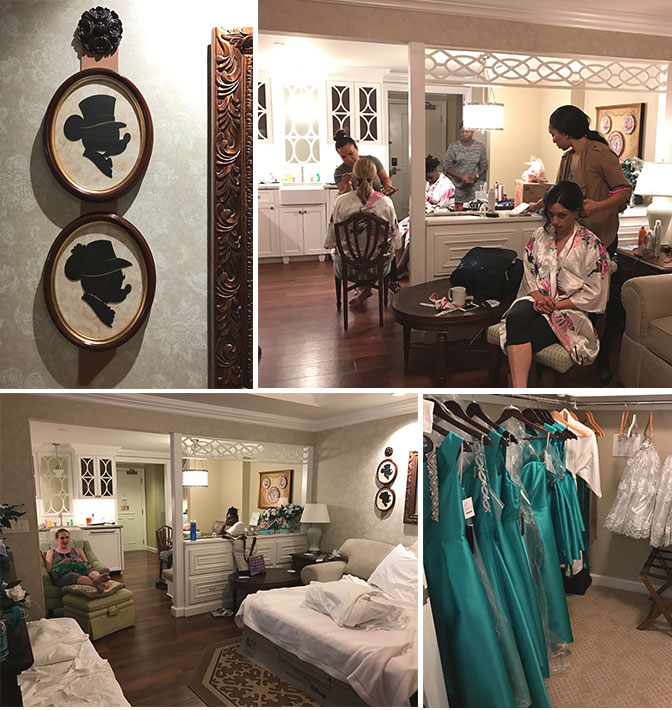 In the morning, we ordered in a tray of breakfast goodies to feed the bridesmaids and flower girls as they started trickling in. Even with a 2-bedroom suite, it was very tight, with the wedding party, plus the makeup ladies, plus the photographers. Our wedding photographers were Stephanie and Ali through Disney Fine Arts Photography (DFAP).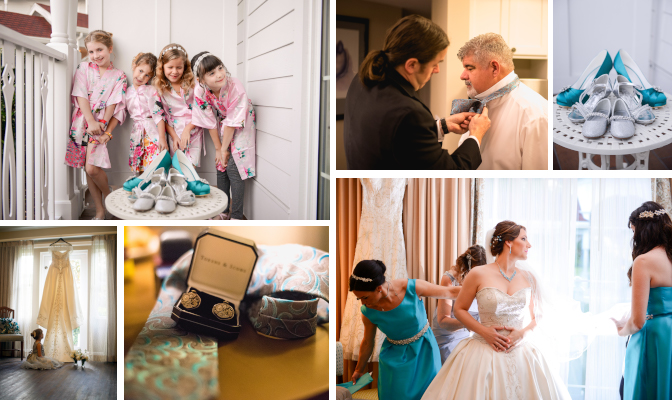 We took formal portraits on the stairs at the Grand Floridian. I had the honor of meeting Richard, the greeter at the Grand Floridian who especially loves to help the brides (he is the unofficial Disney Brides "good luck" charm!)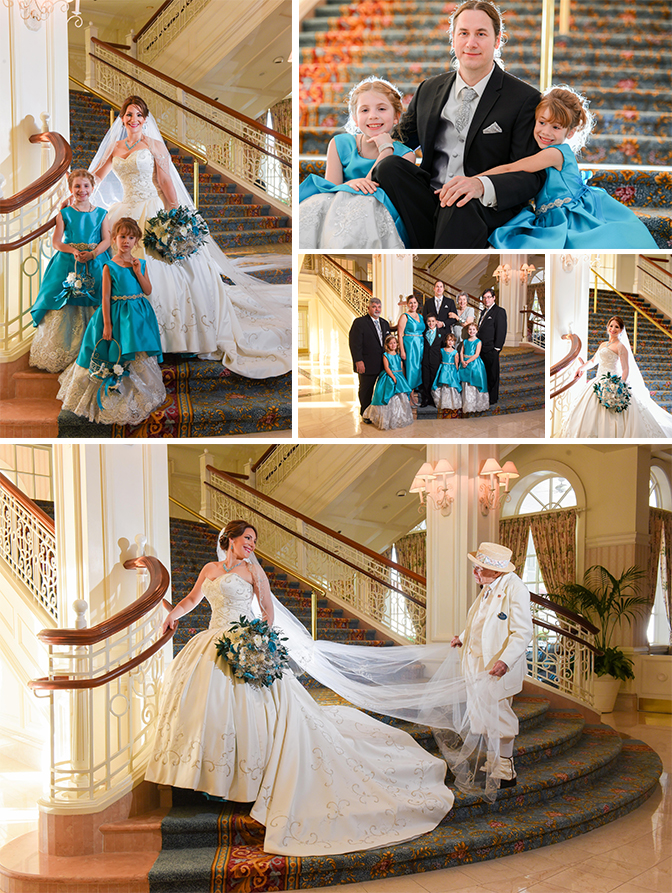 From there we walked over to the Wedding Pavilion, getting a few more photos by the water. I only had a couple of moments to rest before the ceremony started. The ceremony was lovely, officiated by Rev. Tim, who has done so many Disney weddings. Our music selections were: A Thousand Years (by the Piano Guys) for the processional, Can't Help Falling in Love with You (in lieu of the bridal march), and the Cello Song (by the Piano Guys) for the recessional.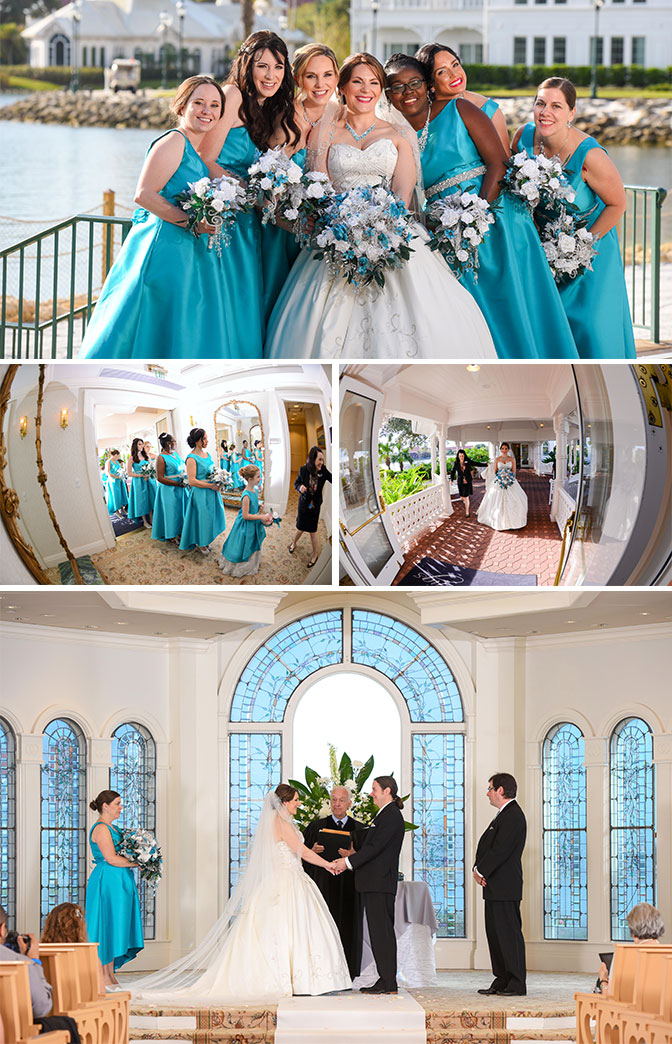 The whole morning was a blur of activity. I've heard so many brides say they wished they could have slowed their wedding day down to soak it all in, and it's so true! Fortunately, we had great support from DFTW to keep everything going as planned. If there were any crisis' happening behind the scenes, it never reached my ears.
After the ceremony, we drove over to the Boardwalk area. We made a special side trip to get a particular photo with the big mirror at the that I'd seen o the DFTW pinterest board. I absolutely love how you can see the front and the back of this dress in the same shot!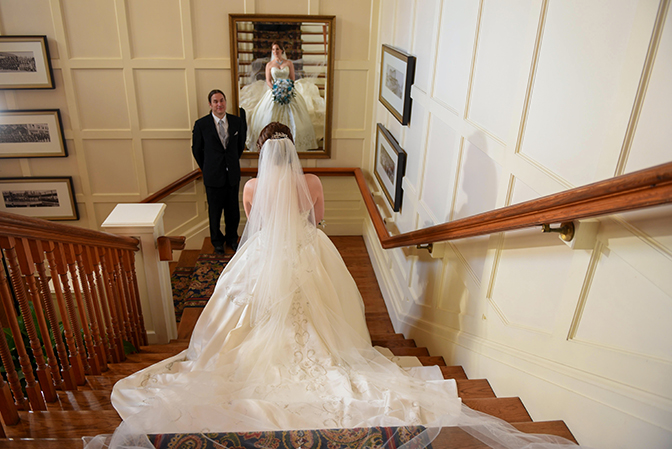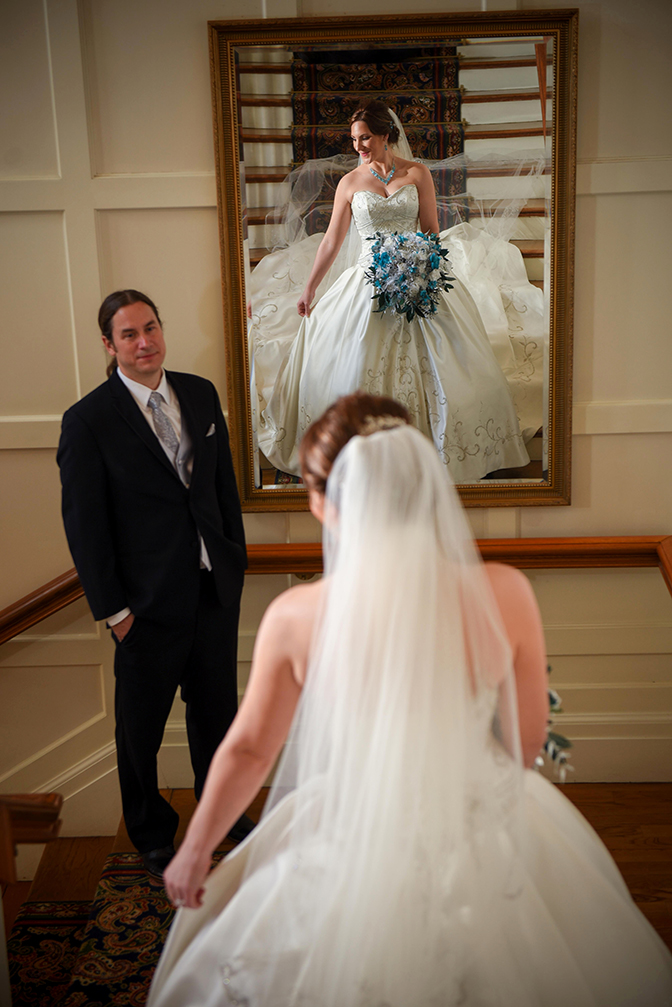 We arrived to the Atlantic Dance Hall just as cocktail hour was wrapping up. Our floral team did a fantastic job of making everything teal and sparkly, as well as incorporating our vintage glass vase collection and book-ish themed items, just like I'd been planning for, oh, ten years….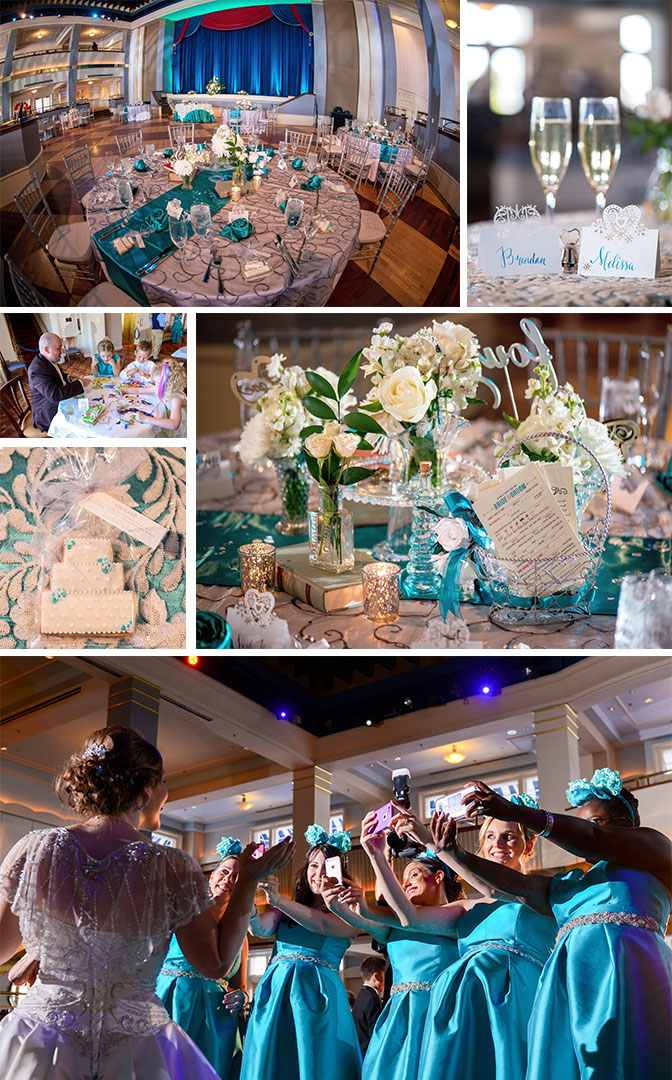 The food was amazing and included some of our Disney favorites! There was dancing and general merry-making. Because we had a dessert party scheduled for later that night, we didn't have a traditional wedding cake. Instead, we gave our guests pretty wedding-cake shaped cookies with tags that said "IOU Cake" and directions to the dessert party. We had a silhouette artist and a confetti canon, as well as a Bubble Tea bar (I'm not a big drinker, but a huge lover of Bubble Tea!)  
My husband and I are catastrophically bad dancers (I blame the fact that he is left handed!) and in the weeks leading up to the wedding, we'd decided to take some dance classes at our local Arthur Murray. Sweeping around the dance hall in my big ballroom gown was everything that my inner child had always dreamed of! Our first dance song was "Two Broke Kids" by Ruth B., because after paying for our Disney wedding we were totally broke!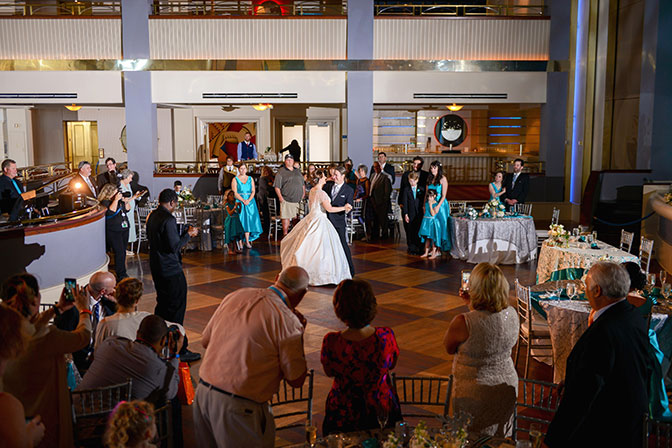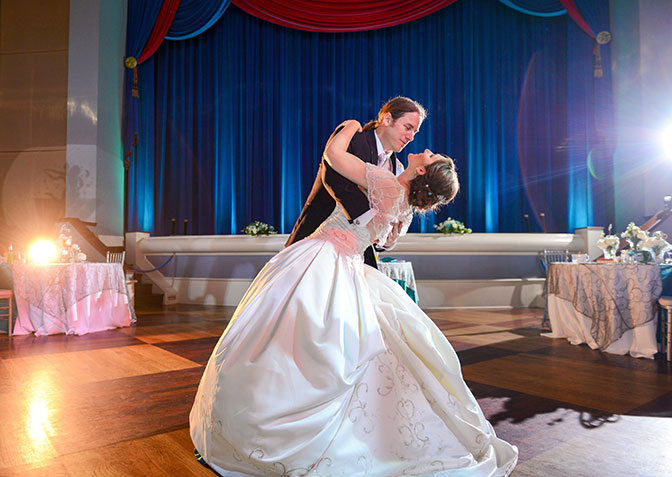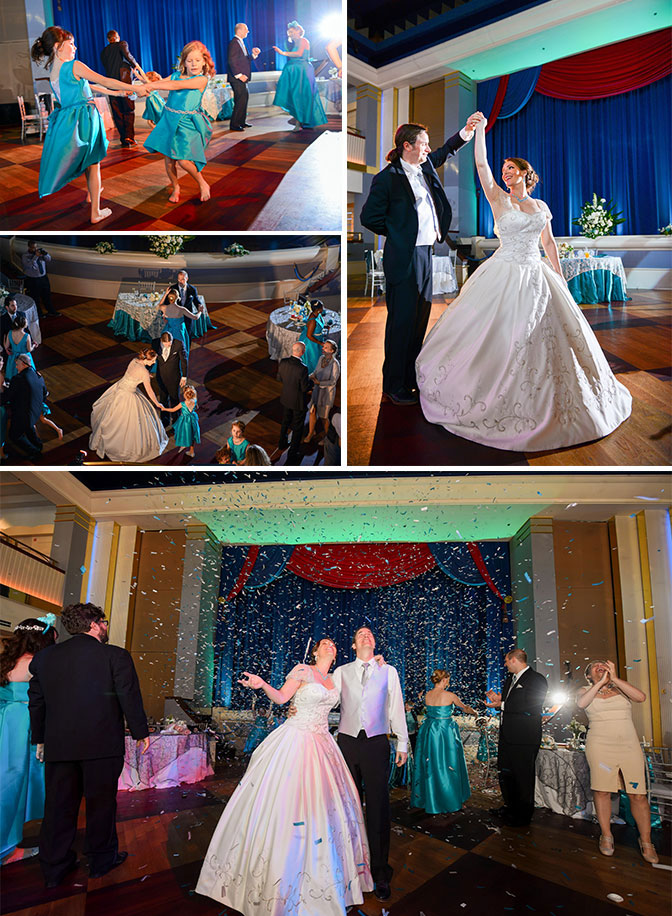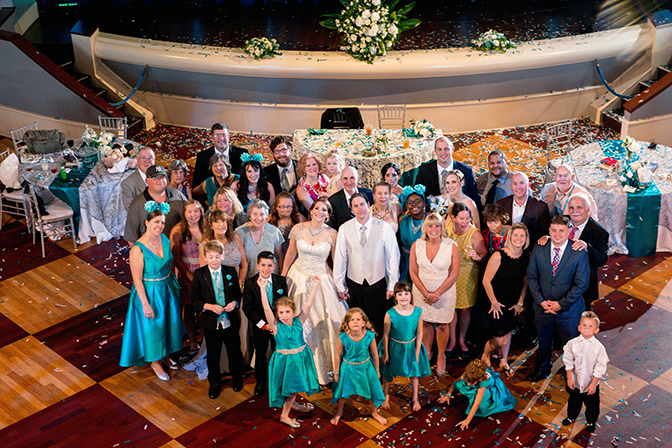 After the reception, we drove back to the Grand Floridian to check in to our complimentary wedding night room. If your group books a minimum number of nights, Disney credits you a 1-night stay. In retrospect, we should have just stayed with our DVC Beach Club room, because after being in 2-bedroom suites all week, the complimentary standard GF room was a bit of a let-down and a hassle to check in/out of. But it was great to be in walking distance to the dessert party, since by that point we were both absolutely exhausted, as you can imagine.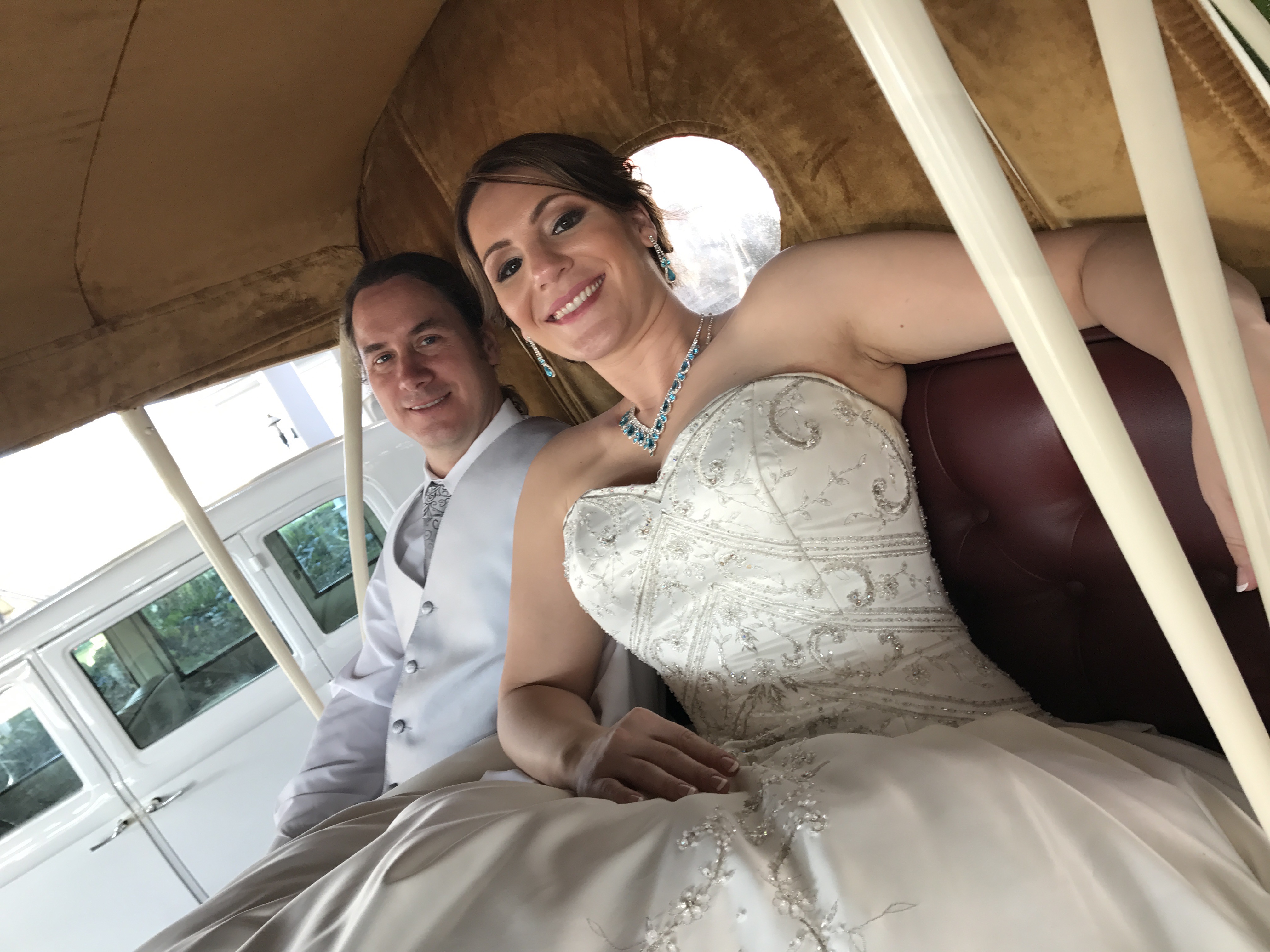 Our dessert party was at Sago Cay Pointe. I chose that location over the larger patio because I wanted to be closer to the fireworks and past the marina boats. We had a small cake and a huge spread of desserts that I'm afraid we barely made a dent in. We had specifically asked for a hot cocoa bar and macaroons for our daughters. Disney desserts are my favorite thing and I loved all the tiny cups and spoons and goodies!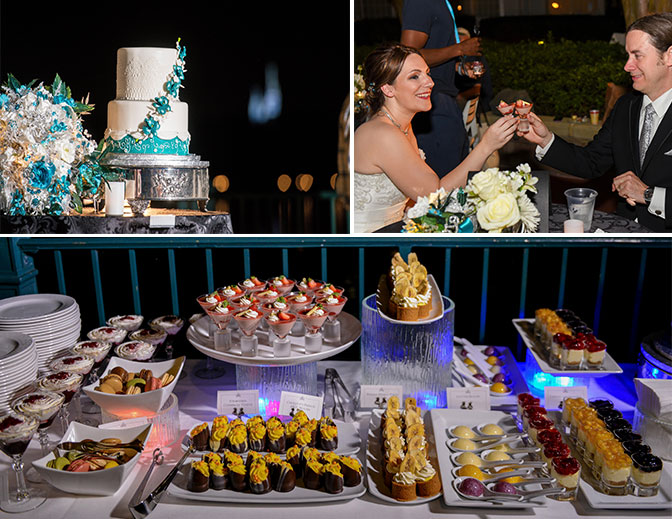 Even though we preferred the location for the fireworks party at Epcot, I don't find Illuminations to be very romantic ("Nothing says I Love You like GIANT FLAMETHROWERS, amiright?") I've always had a special love for Wishes (which was still playing at the time of our wedding). This was the one bit of Disney magic we added to our wedding day… and it was an experience like none other!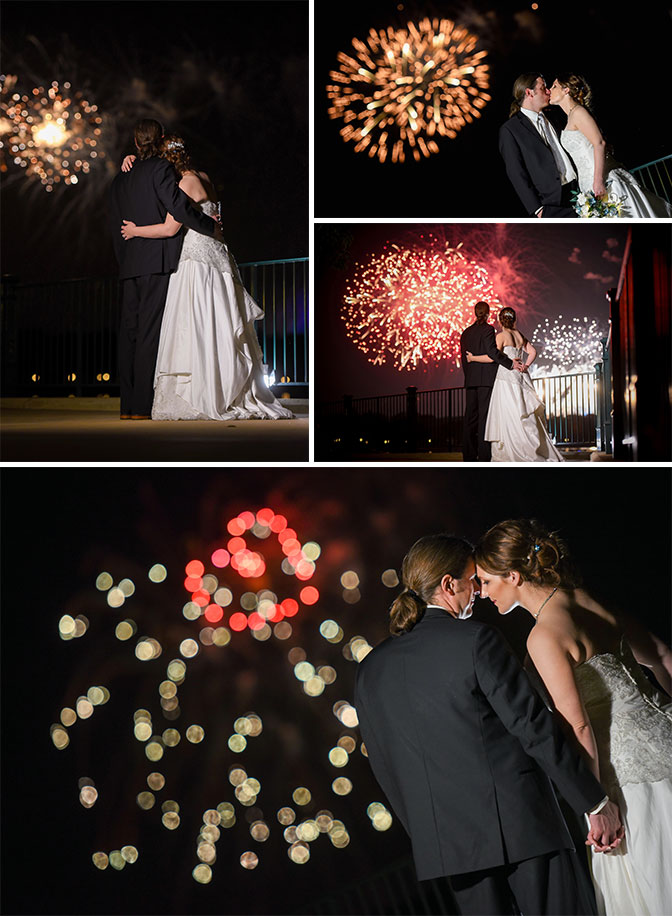 Two days after our wedding, we hosted a farewell Brunch at the Attic at the Boardwalk resort. The Attic is a lesser-known venue (above Jellyrolls at the Boardwalk resort) that was originally a DVC lounge but now serves as a private event location. My husband loved it so much that we'd considered using it for our rehearsal dinner, except that I wanted something more formal. Our good friend and groomsman, Adam Sparkes, is a professional wedding photographer, and he took a few photos for us with his 'vacation camera' that are some of my absolute favorites from the whole wedding!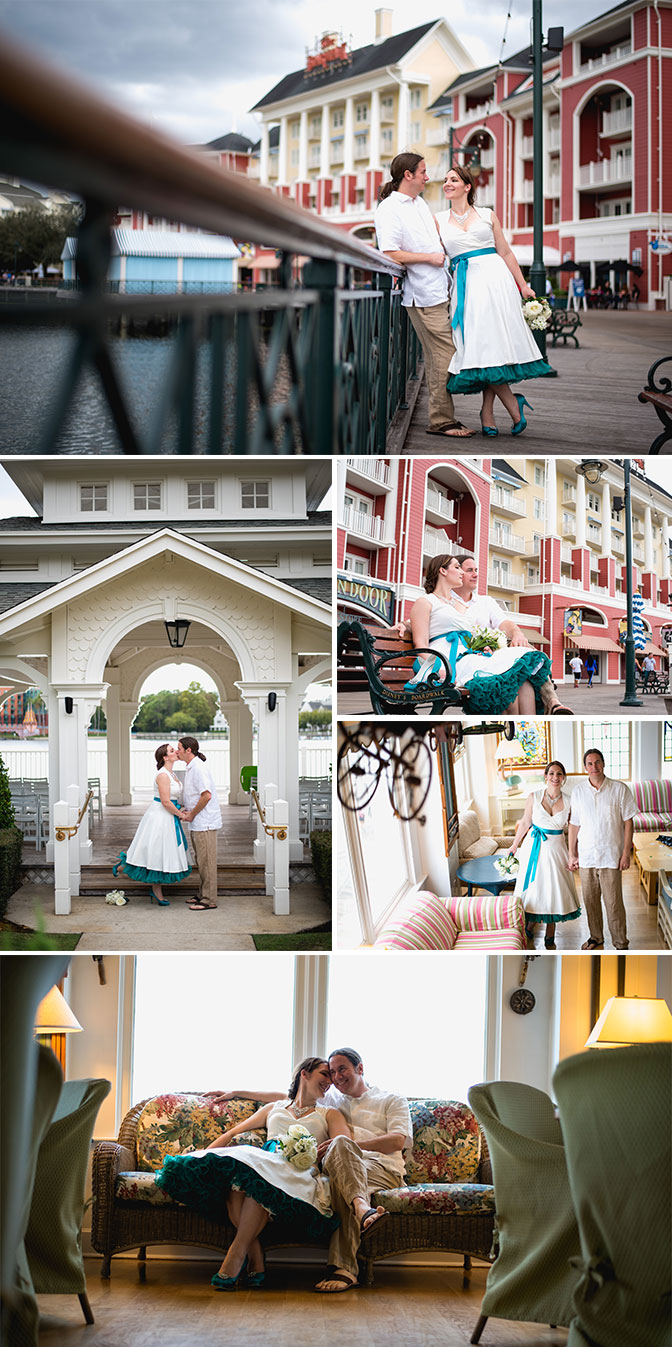 On our last day at Disney, we were scheduled for our Theme Park Photo shoot. Because we weren't having a "Disney Wedding," we were on the fence for a long time about whether we were going to do a photo shoot at all. However, it was included in our photography package level, so we decided we might as well. I'm very glad that we did, though it did mean having hair and makeup at 4am again (omg, the loss of sleeeeeeep!). The photo shoot was really special and an experience that you can only have at Disney–we were picked up by our photographer (Jacob) and driven backstage to Epcot before the park opened. We were able to get photos in France, Morocco, Italy, and the American Rotunda–I especially wanted to have photos of us dancing there, and it was so fun to twirl around that space (which was our first choice for reception venue, but because we wanted a Wishes dessert party instead of Illuminations, we'd decided to go with the Atlantic Dance Hall for our reception). Did you know that anyone can have a theme park photo shoot? DFTW brides are able to book dates earlier, but if you're flexible on your timing (and willing to pay the fees) its something anybody can do. I'm trying to convince my husband that we need to do another one just because, but so far no luck.

After our theme park photo shoot, we headed back to the Grand Floridian and met up with Kenny — who is also an excellent photographer, did you know? — to retake a few photos with our daughters that we hadn't been able to get the morning of the wedding. I can't say enough how grateful I am to Kenny for taking the time to meet up with us to get these special shots of me with my girls!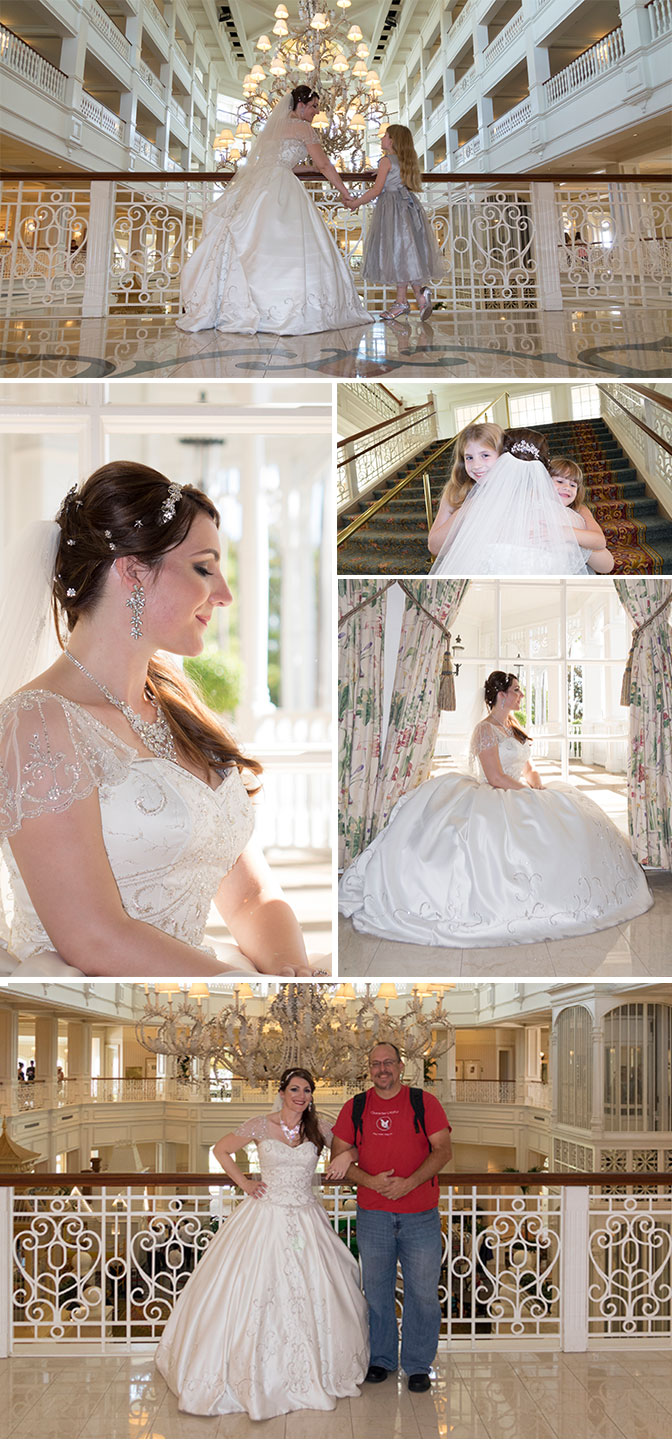 "Any regrets? What would you do DIFFERENTLY?"
 If I'd known how early I was going to have to get up, I probably would have gone with a later ceremony and reception. It definitely made the day more difficult for everyone in the wedding party, and I think I would have enjoyed myself even more if I'd gotten more sleep the night before.
I wish I'd scheduled separate hair/makeup providers for each hotel where my girls were staying so that we weren't all trying to get it done in one room from one service… that would have ideally let us all sleep in a little longer, too, because more could have been having hair/makeup being done simultaneously that way (we had a big group with 12 people getting hair/makeup done in total).
Also, I would have liked to have had more photography coverage, because even with the biggest package available through DFAP I felt like there were things that were missed that I really wish I'd had photographs of. If I could do it again, I would have hired an independent photographer in addition to the DFAP team to photograph at our extra events like the rehearsal dinner and brunch, and to have nicer photos of our theme park time!
"What was your FAVORITE THING?"
My favorite thing about having a Disney wedding were the days before/after it, and how we were able to share our favorite Disney experience with our friends and family, like fireworks from the California Grill which is one of our must-do meals each trip. There was one point when we were riding the monorail from the Grand Floridian to the Contemporary where we looked up and realized that we were in a car with all of our favorite people and how very surreal that was! Taking our daughters, nieces, and friends to the BBBoutique is also a very special memory.
In the welcome bags we gave our guests, we included custom pin trading lanyards with tags that included contact info for the bridesmaids who volunteered to be the coordinators (the idea was to reduce the number of calls from friends lost in the park that I would get; I definitely recommend having a point person for your guests if you have a large group, especially if a lot of your guests have never been to Disney before!). We love pin trading and one of my favorite wedding prep memories was when a box of 1,000 pins arrived at our house and my family–who hadn't been interested in helping me make the welcome bags–suddenly appeared to 'help' me sort through the giant pile of pins! I still laugh about it!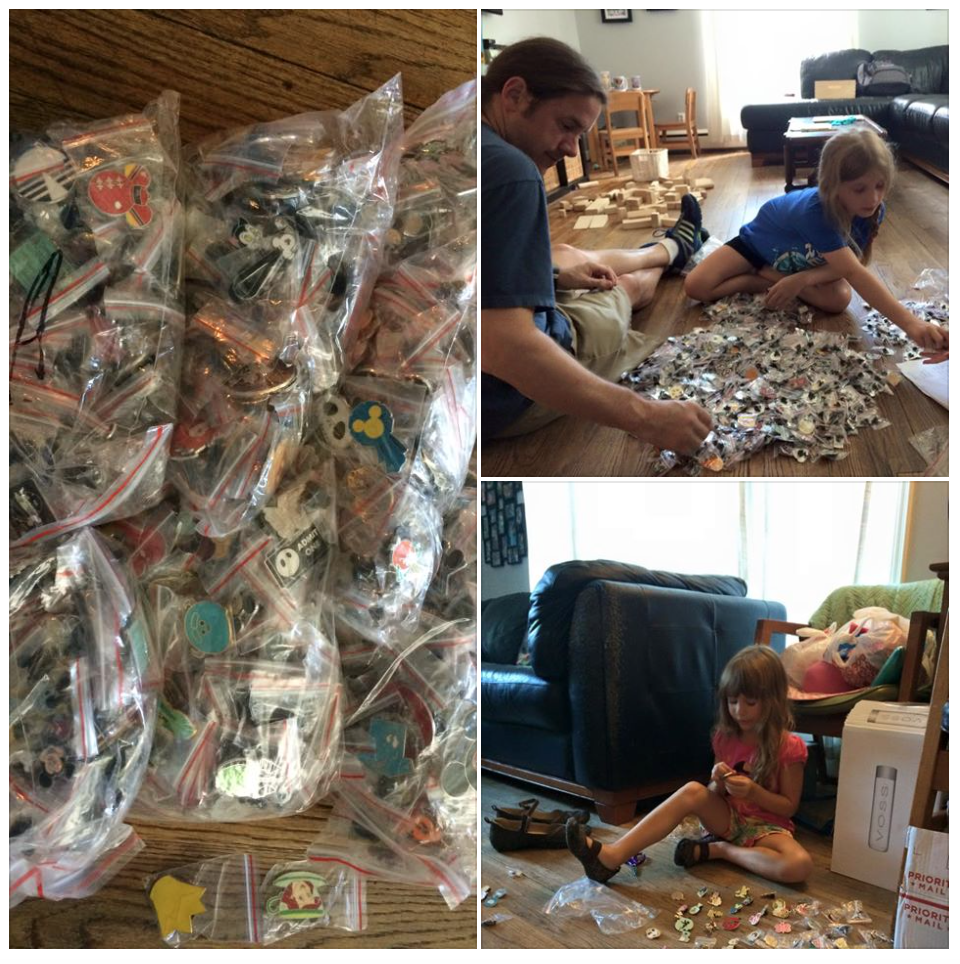 The unexpected but wonderful thing I've discovered about having a Disney wedding is being a "Disney Bride" (or more commonly referred to as Disbride). There's an active online community of Disbrides who form deep friendships and are generous with their time time to help out new brides. I was never part of a sorority in college, but Disbrides is what I think a sorority might be like. There's a special connection there now when I see other brides in the park wearing their veil hats, or look down at Franck's studio from the monorail and see the wedding coach waiting outside. Some Disbrides even meet up once a year at the parks! It's really cool to be a part of that. After all, it was a former Disney Bride who initially suggested we look into DFTWs, and later this year we'll be heading down for her brother's Disney wedding as well!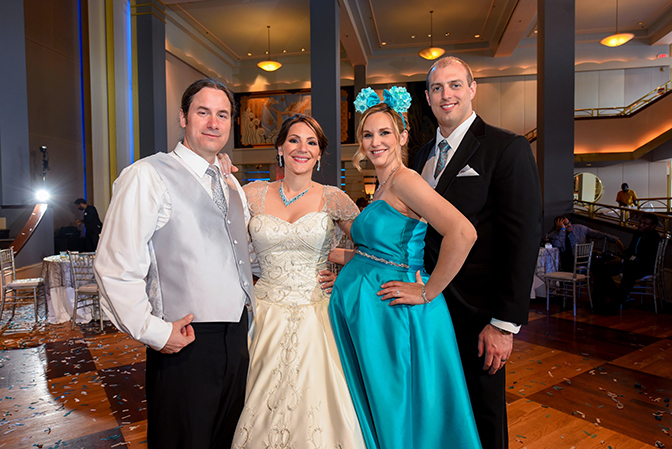 I was worried that having our wedding at Disney might "ruin" the parks for us as a vacation destination, but that couldn't be further from the truth! Our wedding trip was so different from our family trips that in my mind they remain very separate experiences. Like I said in the very beginning–I don't think a Disney Wedding is the right choice for everyone, but if you love Disney's atmosphere and customer service, it's definitely something to consider!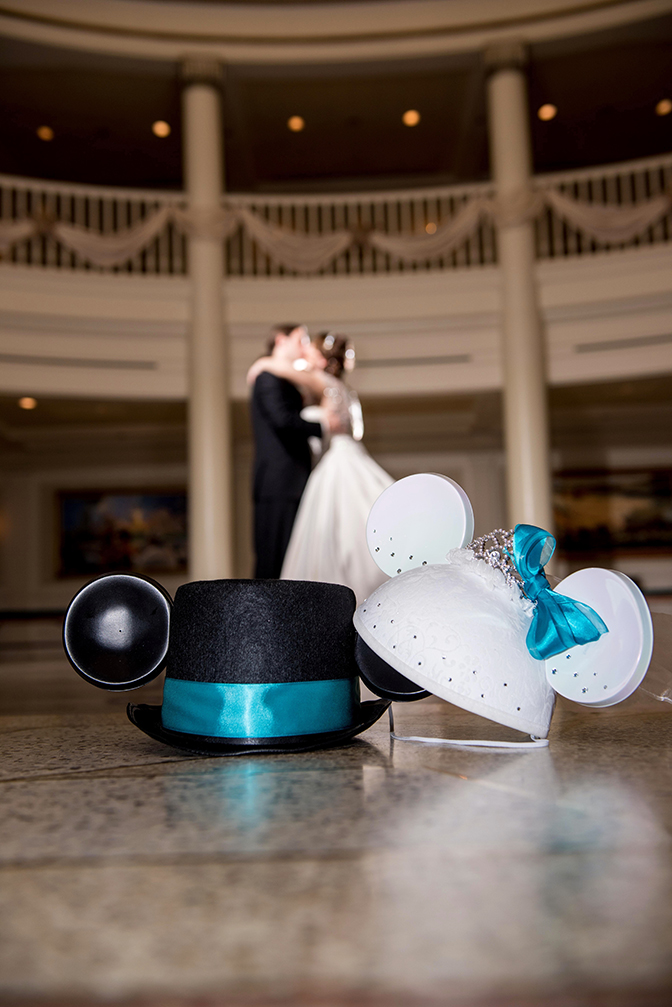 Vendors:
Special thanks to our DFTW team (Amy, Elise, Heather), DFAP (Ali, Jacob, Stephanie), and other vendors that made our wedding possible, and to all the friends and family who joined us for our special day!
Videography by our friends at Dream Monster  
Additional photography by Adam Sparkes
Cookie favors by Annari Van der Nest of Nelle Cakes 
Hair & Makeup by Beaute Speciale  
Officiant Reverend Tim
The Disbrides Vendor Mall & community for all kinds of amazing odds and ends! – They even do monthly "garage sales" where brides can pass along their gently used items, which helped me pick up some decorations at a great price… and then I passed them on to other brides when I was done!
My dress was a retired sample that I found at Elizabeth's Bridal in Northville, MI. and was only $240 (I'm supposed to pretend that it cost more but the thrift shopper in me just can't keep that a secret!)! That left me enough in my budget to buy more dresses from Birmingham Bridal Consignment for my rehearsal and dessert party, my sparkly wrap, and my gorgeous resale two-tiered cathedral veil! What I love most about my dress was that it sat in the back of a store closet for ten years— which was how long I waited to have this wedding! Meant to be. <3 
Lanyards, Invitations, light up bouquets, flower girl dresses, bridesmaids ears, and other items were designed and made by me! In making all the projects for our wedding I fell in love with Disney-themed crafting, and have since opened a small crafts shop on Etsy where I offer items that have sparked my imagination, and occasionally take custom orders for wedding items. Stop by and say Hi! https://www.etsy.com/shop/PandoraInkDesigns
Are you planning a vacation? Reach out to our trusted travel agency sponsor Authorized Disney Vacation Planner
Mouse Class Travel
!