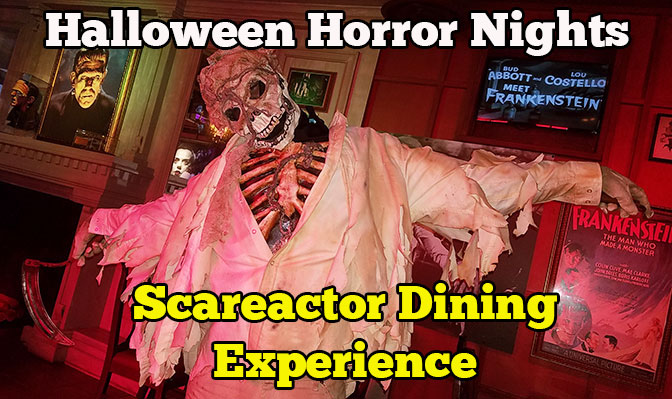 Each year at Universal Orlando's Halloween Horror Nights, they offer guests "Scareactor" Dining Experience that takes place prior to the opening time of Halloween Horror Nights.  It is an all you care-to-eat themed dinner meal with an opportunity to take photos with "Scareactors" and interact with them.  Here's our experience:
There are photos in this post that some might find scary in some way like faux blood, scarecrows and such.  Be aware before continuing.
THE CHECK IN
The check in process was a bit confusing and prolonged for our liking. We had to pick up our tickets at the will call kiosks, but they messed up my ticket and I had to wait in a long line at a ticket booth to get it corrected. There were only 4 team members working with several dozen people in line at the ticket booths. We weren't instructed on where to go and the lady was confused about the process.
We took our tickets to the main gate and we were told to go the entrance near the Blue Man Group. The greeter out front told us the check in "should be down the path." We found a short line for the side entrance and waited. They only took 8 or 10 people into Monster's Cafe at a time as they were in the process of clearing the park. Online it did say to meet by 5pm, as I found that on my phone. We were a little early. We waited and waited on the guy to return for us, but he never showed up, so a young lady escorted us. I'm not sure why we needed an escort as the ticket instructs you to go to Monster's Cafe.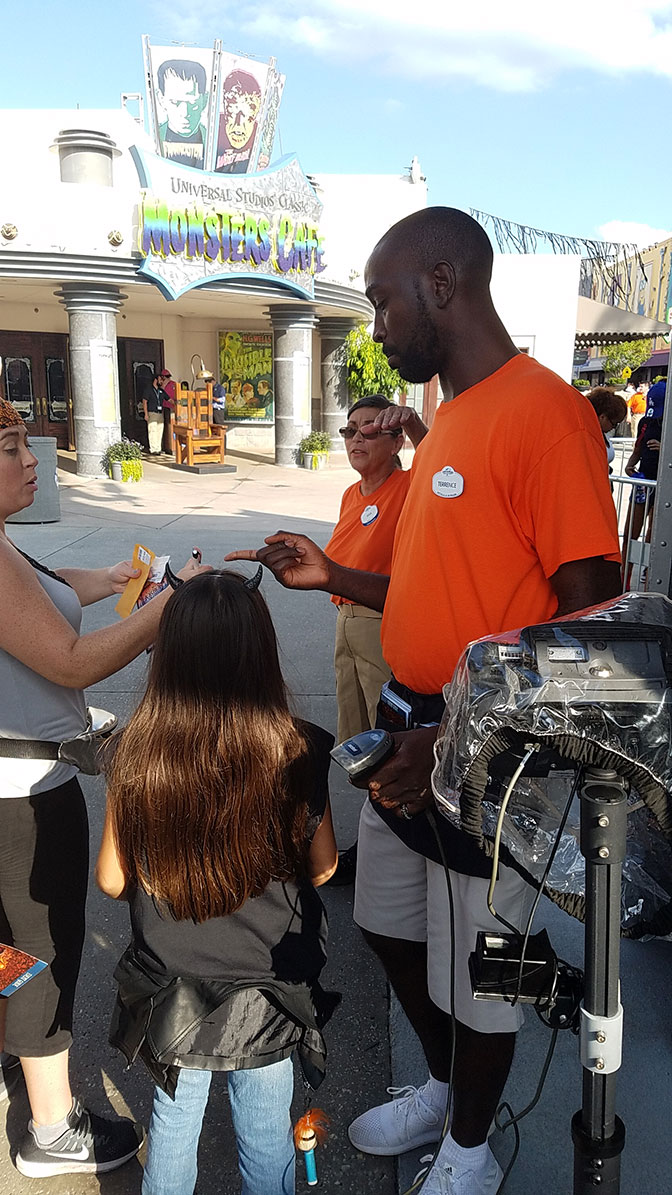 As we approached that area, we were asked for our HHN admission and Scareactor Dining ticket. He scanned our HHN admission and we did the finger print scanner. We then proceeded to the check-in out front of the restaurant. The gentleman asked for our Scareactor Dining ticket and our voucher for the free download. He substituted our voucher for a black and white piece of paper to take to a photo shop. This must be done on the same night to get the free download.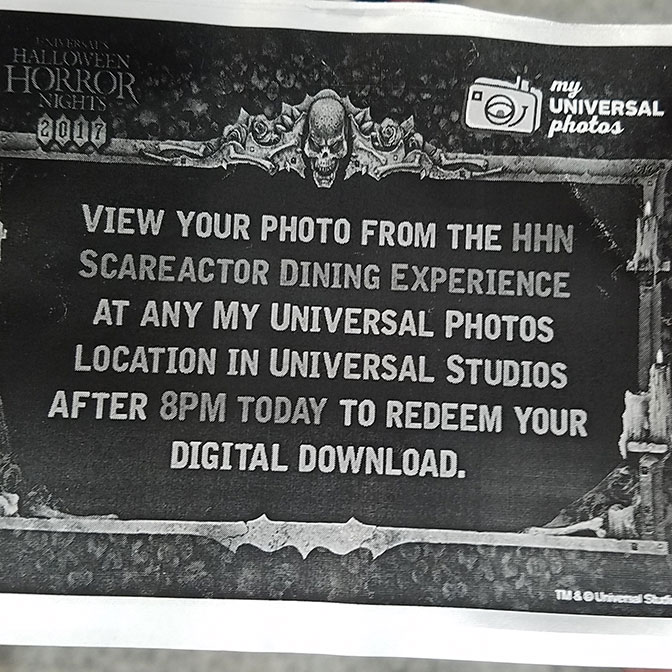 THE MEAL
The meal was delicious. It is served in a Quick Service restaurant, but the food was of a higher quality than you'd find in your typical Quick Service location.  You're offered an all you care to eat buffet line that consists of:
Vegetables: Mixed Vegetables, Mashed Potatoes, Rice Pilaf, Roasted Potatoes
Entrees: Chicken Marsala, Four Cheese Cavatappi (Mac and Cheese), Roasted Chicken, Penne Pasta, Baked Cod, Sliced Pork Loin, Salmon Medallions, Beef Medallions
Desserts: Chocolate Cake, Giant Chocolate Chip Cookies (can be to-go), Apple Pie, Strawberry Cheesecake and Brookies
Drinks: A full selection of non-alcoholic drinks
A host or hostess is provided after you choose your food. They are willing to seat you for your "final meal." The tables are prepared with napkin wrapped plastic spoon, fork and knife. Our friend broke is fork :) The team members are willing to bring you anything you desire to your table throughout the meal so you don't miss any scareactors. I received a couple of refills of my soda very quickly.
SCAREACTORS AND PHOTO OPS
Scareactors rotate through the rooms like a typical character meal. The leader of the meal is iGore, who is the host of the restaurant and is attempting to create his newest scary incarnation. He is looking for a willing brain or two and has his hacksaw ready. Other characters we encountered included Sam the pumpkin man from Trick r Treat, a scarecrow from the Scarecrow maze, and a  couple guys from the Purge.
Sam from Trick r Treat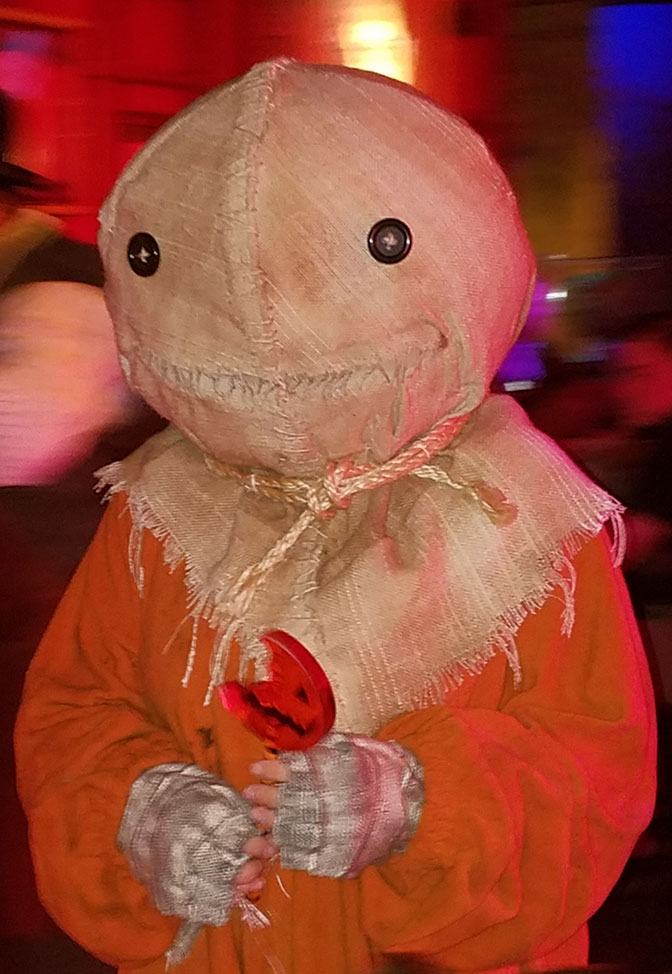 This photo was actually featured on the loop on the Main Stage at the line for the Shining House.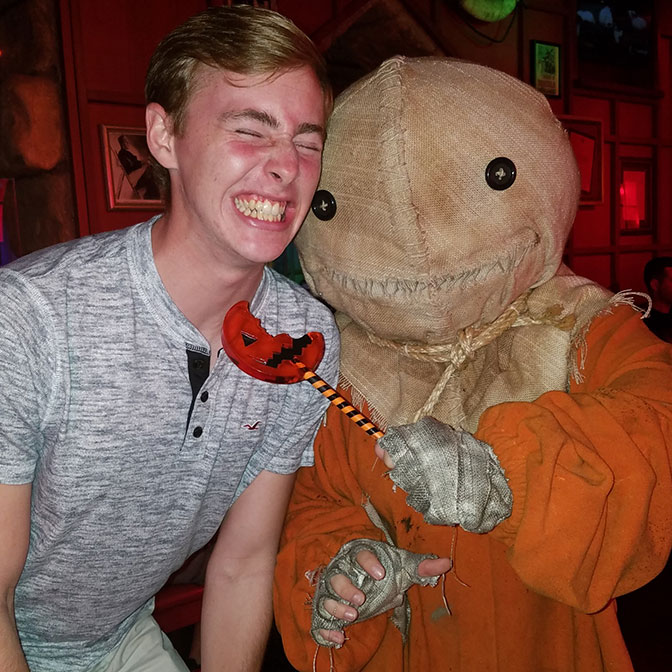 A Scarecrow from one of the scariest mazes of 2017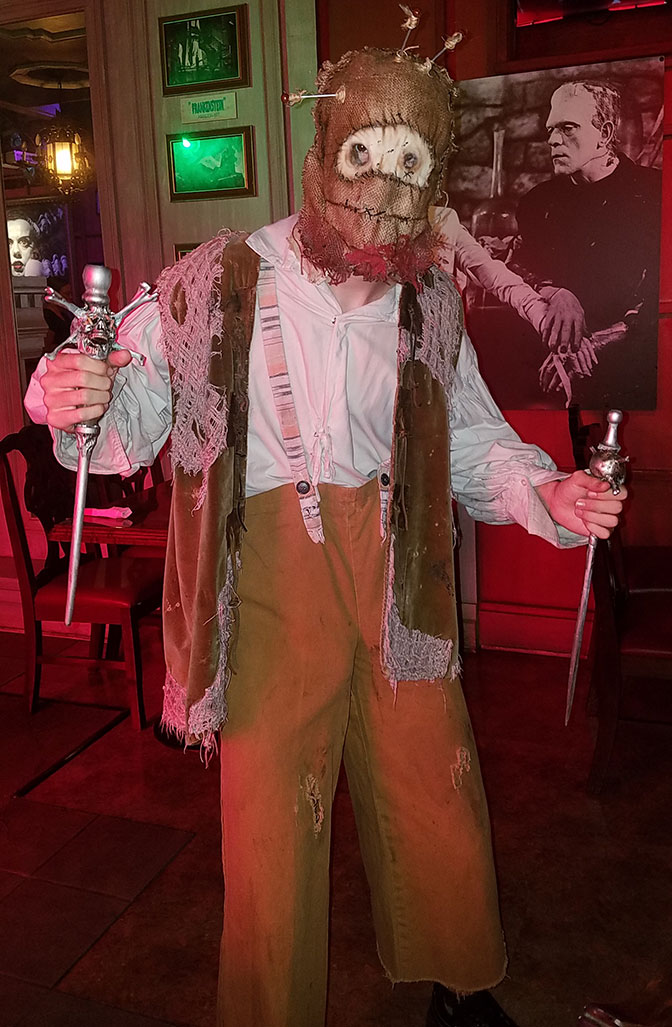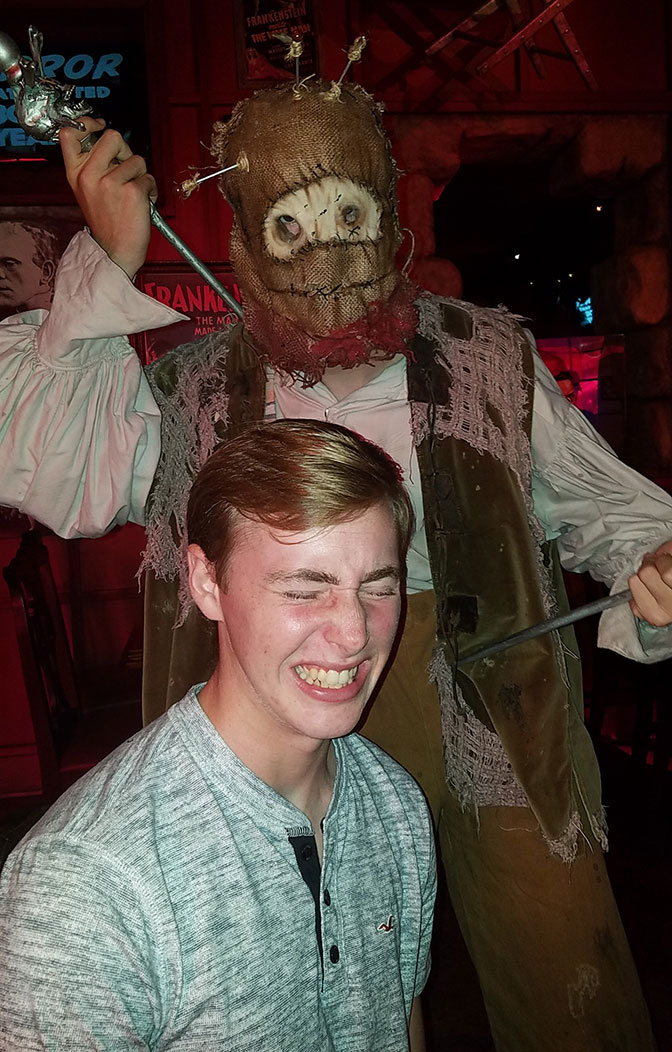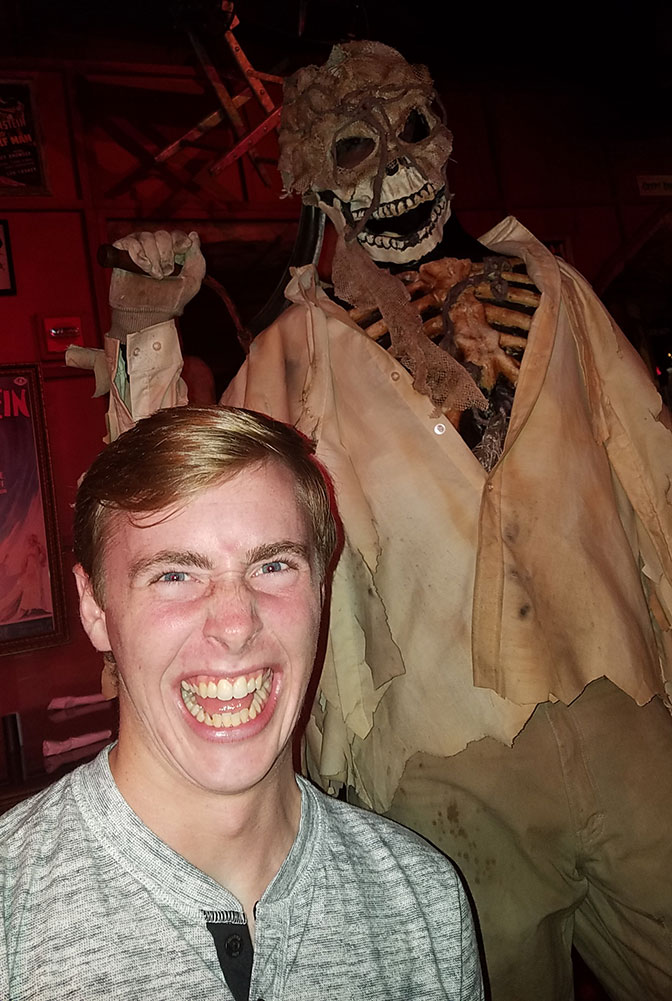 A purger from Purge 2?  If memory serves, he is one of the motorcycle riders from the 2nd movie.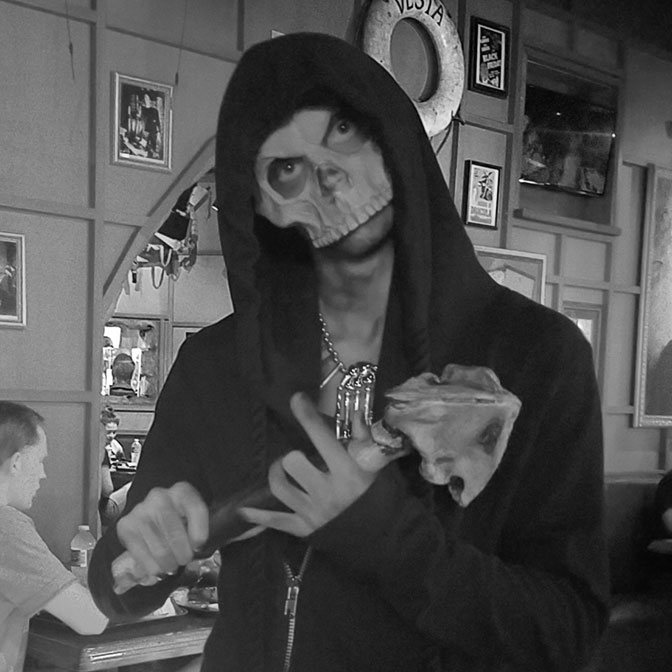 You receive one complimentary digital download per person from the photos taken by the Universal photographer, but you'll want to have your own camera or cell phone ready to take photos with most characters.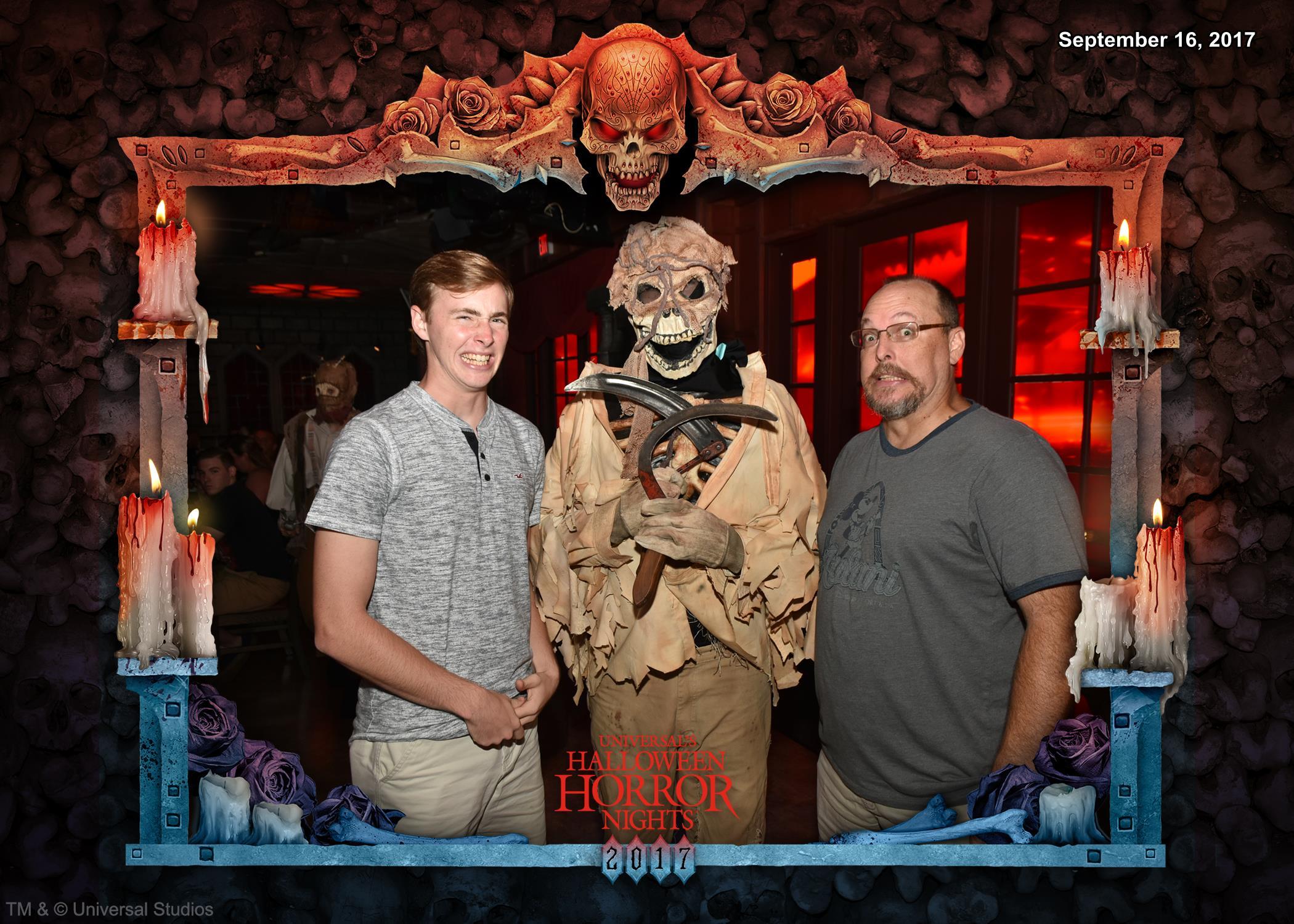 EARLY ENTRY
Around 6:10pm we were informed that we could leave to get in line for a Haunted Maze. In our case we chose to line up for The Shining. The line looked pretty long, but the house didn't actually open until a little before 6:30pm and we passed the Express merge point by 6:33pm and completed the house by 6:44pm.  If we could do it over, we probably would have chosen the American Horror Story house.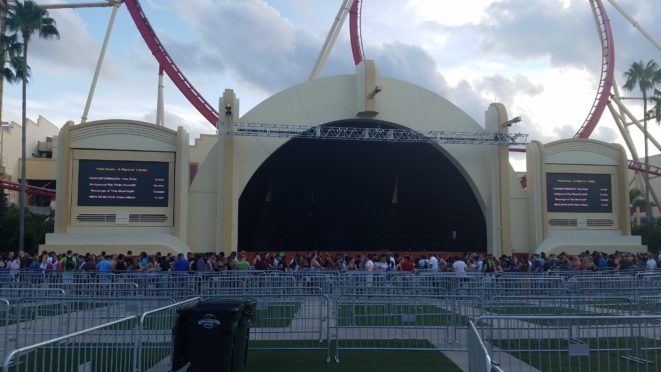 HOW TO PURCHASE
You can easily reserve your dining spot by using this link to the Halloween Horror Nights page.  You may also contact the Universal Orlando Resort™ Guest Contact Center. We are available 7 days a week (EST 7:30am – 10pm Mon-Sat; 7:30am – 9pm Sun) and can be reached via phone at 407-224-7840.
Cost: $49.99 per person
FINAL THOUGHTS
The meal isn't very scary. The scareactors make their way around the tables willing to take photos with you, but aren't really intimidating. None of them made any attempt to actually scare us at any time. They just walked aobut menacingly. Only iGore actually spoke with us and he was pretty entertaining and engaging. The food was delicous and there was plenty of variety. They encourage you to take a full drink with you and you can grab a couple of cookies for later as well, so have a bag with you.
The only downside to the event was out photo experience.  We had to ask a server to get the photographer to come back for photos, he then took them with a character my son didn't really want.   If you're using a cellphone for photos, use the flash or your photos will come out very red.
Overall I'd give the experience a high rating, but would like to see the photo opportunity improved.