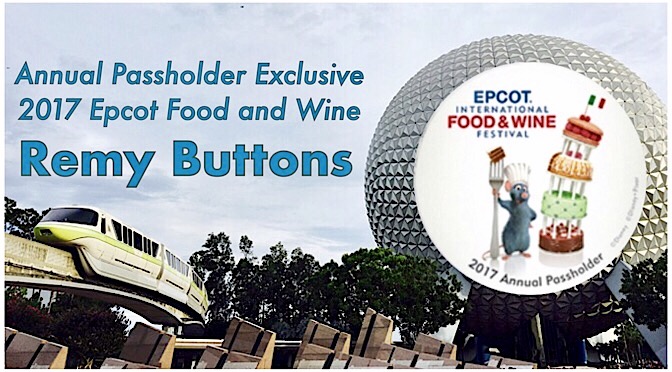 Disney has announced some additional information about the Annual Passholder gift for the 2017 Epcot International Food and Wine Festival. We had already heard rumors that this year's gift would be exclusive Remy buttons. Now, Disney has confirmed this in the latest Mickey Monitor publication sent to Annual Passholders.
Annual Passholders will have the opportunity to collect three different Remy buttons during the Festival. Of course, each Remy button features that adorable little rat chef from Ratatouille. On different Remy buttons, Remy has recreated a national icon of another country entirely from food. He uses sushi for the Torri Gatee (Japan), cakes for the Leaning Tower of Pisa (Italy), and fine cheeses for the Eiffel Tower (France).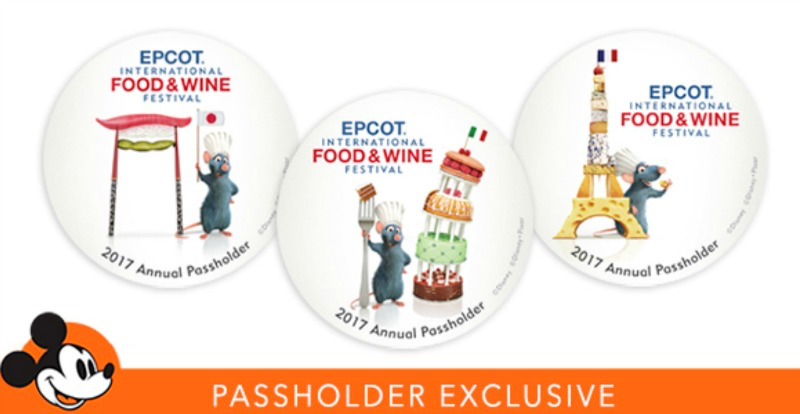 To Get All Three Remy Buttons, Passholders Must Visit Three Times.
Disney is giving out the buttons on a set schedule. In order for an Annual Passholder to obtain all three Remy button designs, they must visit at least once per time period during the Food and Wine Festival.
Here is the schedule Disney will follow for the Remy buttons:
Eiffel Tower Button – available August 31-September 30, 2017
Leaning Tower Button – available October 1-28, 2017
Torri Gatee Button – available October 29-November 13, 2017
In addition to the three free Remy buttons already mentioned, Disney announced that Annual Passholders can get additional buttons with a purchase from their new Future World marketplaces.
Here is the list of marketplaces that will have the additional buttons available.
Light Lab
Flavors from Fire
Coastal Eats
Active Eats
PEarth Eats
The Chocolate Studio
The Cheese Studio
The Wine and Dine Studio
For any of these special Annual Passholder buttons, park guests will need to show their Annual Pass along with a matching ID. Also keep in mind that there is a limited supply of Remy buttons, and once they are gone, well…they are gone.
Additional Exclusive Annual Passholder Food and Wine Merchandise
Though not free, Annual Passholders may also wish to purchase exclusive merchandise only available to Passholders while at the Food and Wine Festival. To view the Passsholder Festival t-shirt, visit KenythePirate's post by clicking here. To see the Passholder Festival Trading Pins, click here.