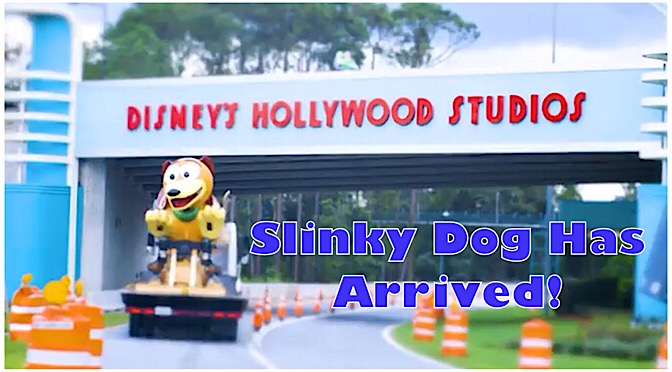 Today, August 30th, is National Slinky Day.  How else would Disney World celebrate this National holiday? By announcing the arrival of a very important package to Hollywood Studios.  Slinky Dog has arrived!
The first Slinky Dog Dash Coaster car for the new Toy Story Land attraction pulled into Hollywood Studios this past Monday.  The truck pulling the secret cargo was spotted as it traveled through Georgia.  It was not long before photos hit the web of the uncovered Coaster car.
If the Slinky Dog Dash Coaster car came into Hollywood Studios last Monday, why wait until today to announce it officially?  National Slinky Day, that's why.
The Official Arrival of Slinky Dog!
Disney also provided a newer video showing Disney Imagineers placing the first ride vehicle on its track.  Watch it below.
Toy Story Land will open in Hollywood Studios in Summer 2018.  Disney officially announced this at the D23 Expo in July 2017, along with the other news of Star Wars Land (now Star Wars: Galaxy's Edge) opening in 2019.
Are you ready for the new Toy Story Land to open?
– Chris Edwards