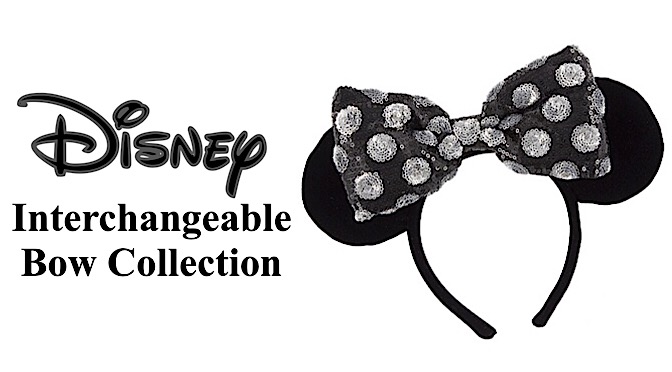 If you have princesses in your family who love to have a variety of Disney looks for different days at the Parks, there is good news.  The Disney Interchangeable Bow Collection has finally arrived in Disney World.  With the new interchangeable headband design, one can have many "sets of ears" without taking up too much room.
We got our first peek at this new collection during the D23 Expo in July.  The Disney Community went wild with the announcement of the collection.  The big question was when this product would be sold at the Parks.
When you purchase the Mouse Ear headband, it comes with a black and silver polka-dot Minnie bow. You can remove just the bow and swap it out for the other bow styles. Along with the fact that you can switch out the bow, we love the fact that the bow can be placed in the center, as you see traditionally, or you can wear it to the right or left side to make your look unique.
The Disney Interchangeable Bow Collection – Choose Your Daily Personality
Disney has created 10 bows for changing up your look. Disney designers used characters from Disney films as their inspirations. They include Alice, Cheshire Cat, and Queen of Hearts from Alice in Wonderland. Also, Ariel from the Little Mermaid and Cinderella each have their own bows. Aurora and Maleficent from Sleeping Beauty lets you choose which "side" you wish to be on for the day with their different bows. The final three bows are Cruella De Vil from 101 Dalmatians, Jasmine from Aladdin, and Yzma from the Emporer's New Groove.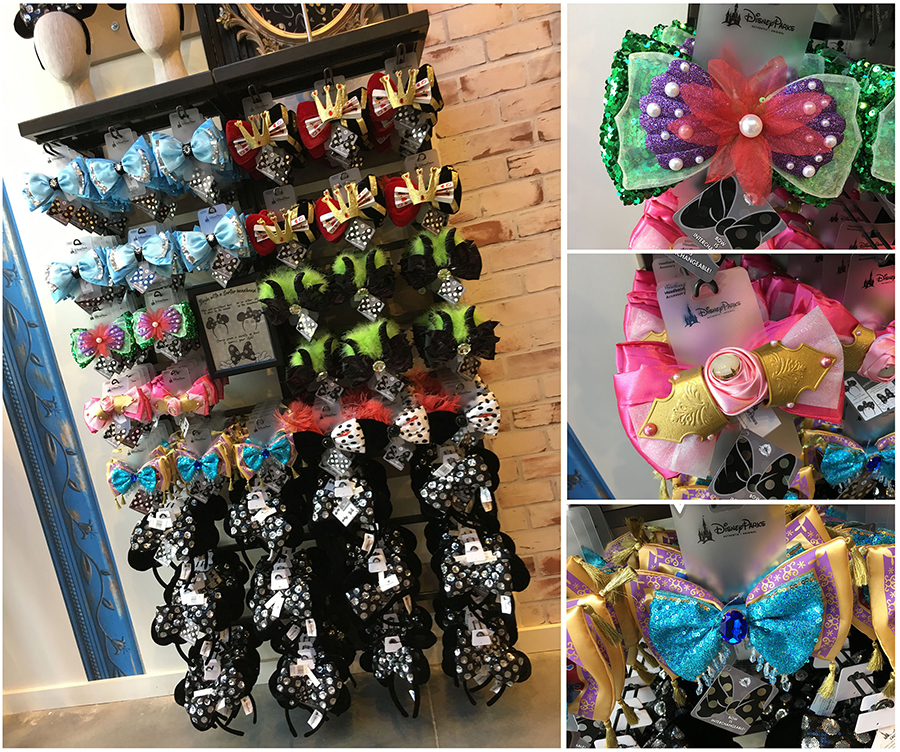 Check out the different choices in the video that Disney created below. If it inspires you to purchase your own headband and a collection of bows, head to D-Living at Disney Springs. While shoppers can only find the headband and bows in Disney Springs currently, Disney has told us to expect them to be available at other locations in both Disneyland and Walt Disney World Resorts in October.
Which of the bows would you purchase first for your collection?  If not already in the 11 styles, what character favorite of yours would you want Disney to add to the Disney Interchangeable Bow Collection?
– Chris Edwards