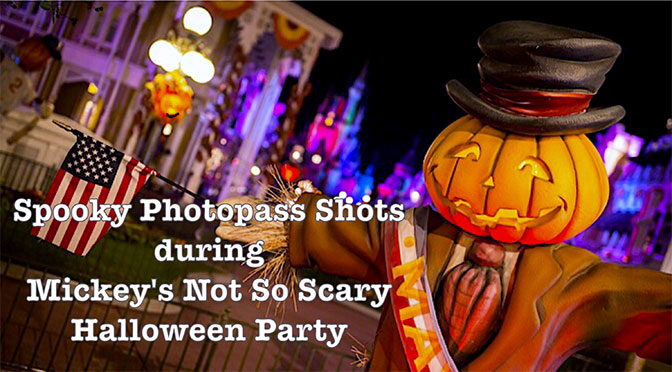 The  Halloween decorations are already going up in the Magic Kingdom.  It is only a matter of hours until the very first 2017 Mickey's Not So Scary Halloween Party starts.  Each party only lasts for five hours, and is jam packed with things to do: trick-or-treating, Boo to You Parade, Special Character Meet and Greets, and spooktacular castle shows and fireworks.  In addition to all of this, party guests can take advantage of some spooky Photopass shots only available during the event.
Character Meet and Greet Photopass Opportunities
First and foremost are the rare characters that will have Meet and Greets during the Mickey's Not So Scary Halloween Party.  This includes the ever popular Jack Skellington and Sally.  A few Disney villains will make their appearance.  And some of the regular gang will appear dressed in their finest treat-or-treat costumes.  As you hang out with these Halloween pals, Photopass photographers will be ready to snap some pictures of your group.
Mickey's Not So Scary Halloween Party Photopass Magic Shots
Photopass Magic Shots are photos where Disney adds some Magic to the picture after it is taken by a Photopass Photographer.  These Magic Shots may include a still image that is either added as a background or guest interaction.  Magic Shots are sometimes animated, resulting in a video that has the added Disney Magic moving around the still image.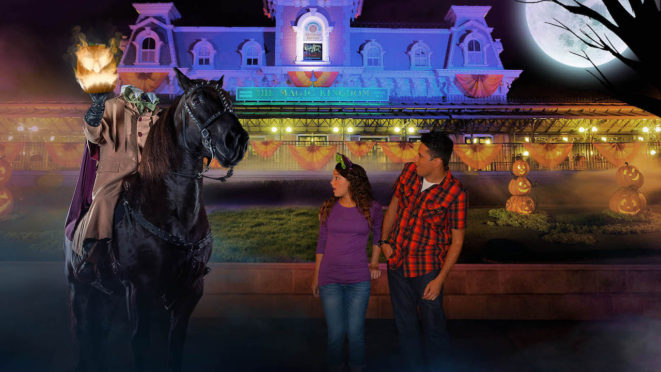 Here are a few locations to visit during any Mickey's Not So Scary Halloween Party in order to get one of these spooky Photopass shots.
Headless Horseman Magic Shot: Front of the Park before entering either tunnel into Town Square
Haunted Mansion Animated Magic Shot:  in Town Square looking down Main Street
Haunted Mansion Dancing Ghosts Animated Magic Shot:  find any Photopass Photographer on Main Street
Dancing Skeleton Specialty Shot: Outside of Ariel's Grotto in New Fantasyland
Haunted Mansion Ghost Coach Driver Magic Shot:  Area by queue of the Haunted Mansion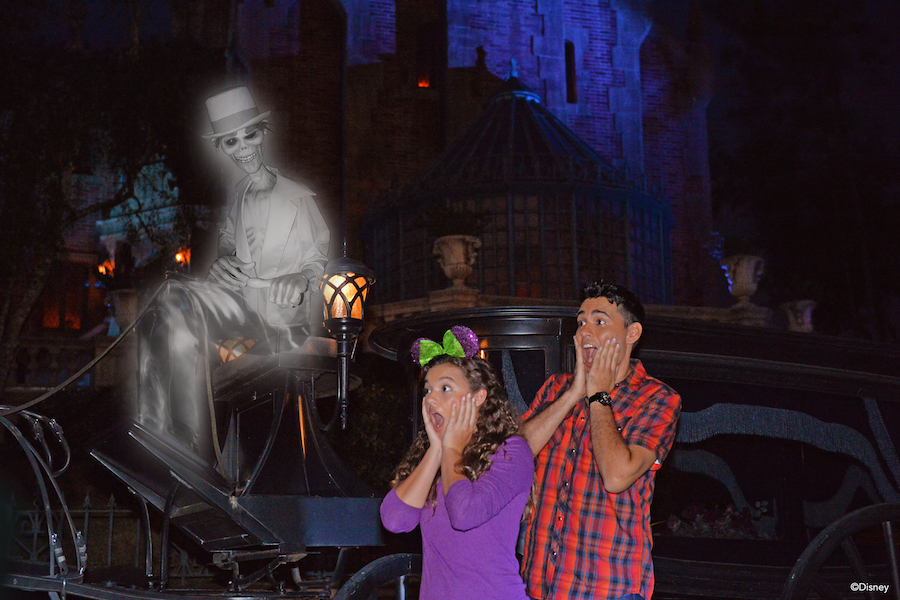 Photopass Props for the Not So Scary Halloween Party
In addition to the  Photopass Magic Shots, Photopass Photographers may have physical props that guests can interact with while posing for their pictures.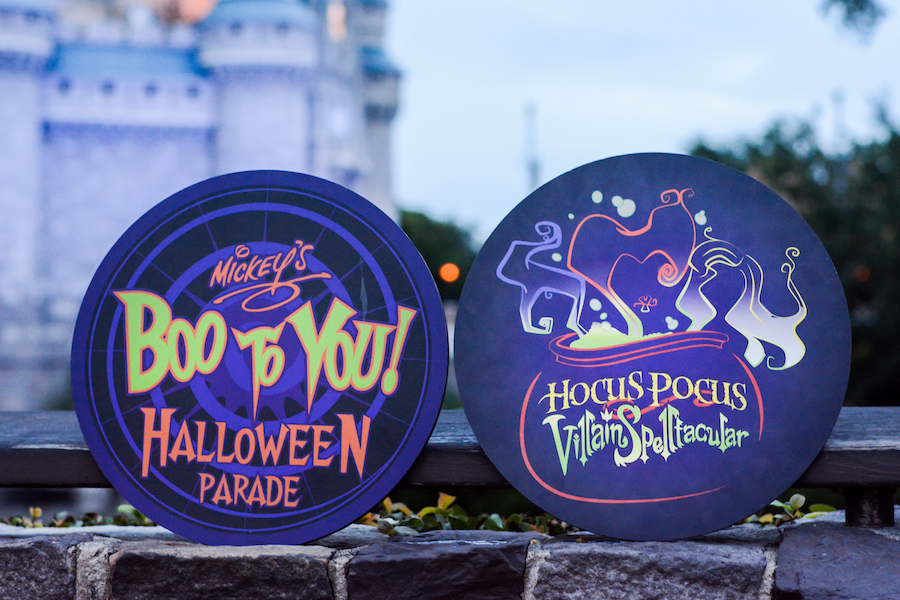 These Photopass props include signs that guest can hold for their photos.  Sometime these signs are lying beside the Photopass Photographer's tripod or even clipped onto their belt loops.  Keep an eye out for these while walking around the Magic Kingdom during the Mickey's Not So Scary Halloween Party.  Don't hesitate to ask for a sign to hold if not offered by the Photopass photographers.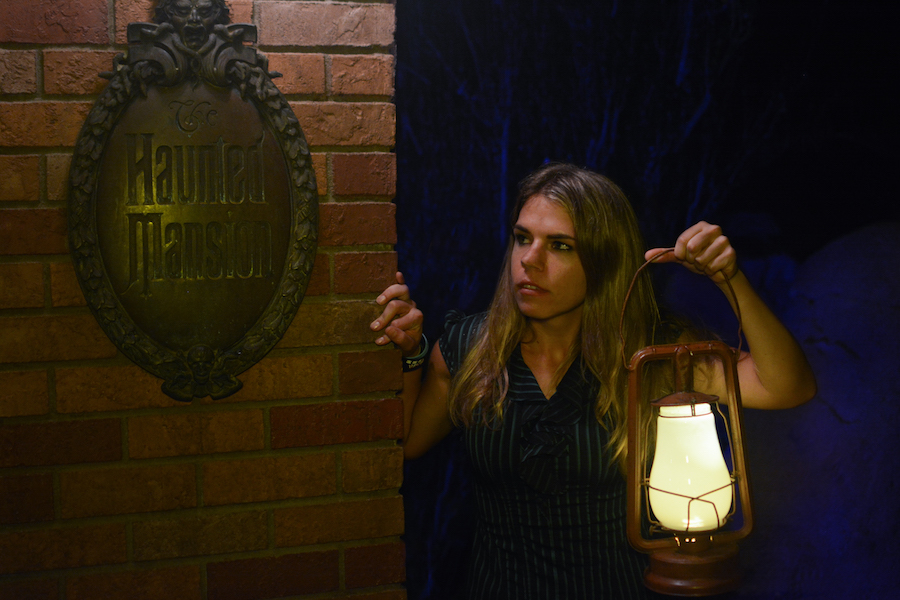 Other props may also be available.  This includes a creepy lantern that looks like it came right out of the graveyard scene of the Haunted Mansion.  Take advantage of any of these special props while you can.  Like other Halloween Party items, they will only appear during party hours.
Mickey's Not So Scary Halloween Party Updstes and Webinar
This list above is just a preview of the things to come for the 2017 Mickey's Not So Scary Halloween Party as far as the Photopass opportunities.  If you want to hear firsthand information about all of the details after the first party occurs on Friday, August 25th, then stay tuned to Kenny the Pirate throughout the weekend.
If you are serious about preparing for you Not So Scary visit this year, then you should attend Kenny the Pirate's upcoming webinar.  This free webinar will give you everything you need to know about the Halloween Party.   You can even submit questions to answer during the webinar.  For more information about this event and  to sign up, click here.
– Chris Edwards