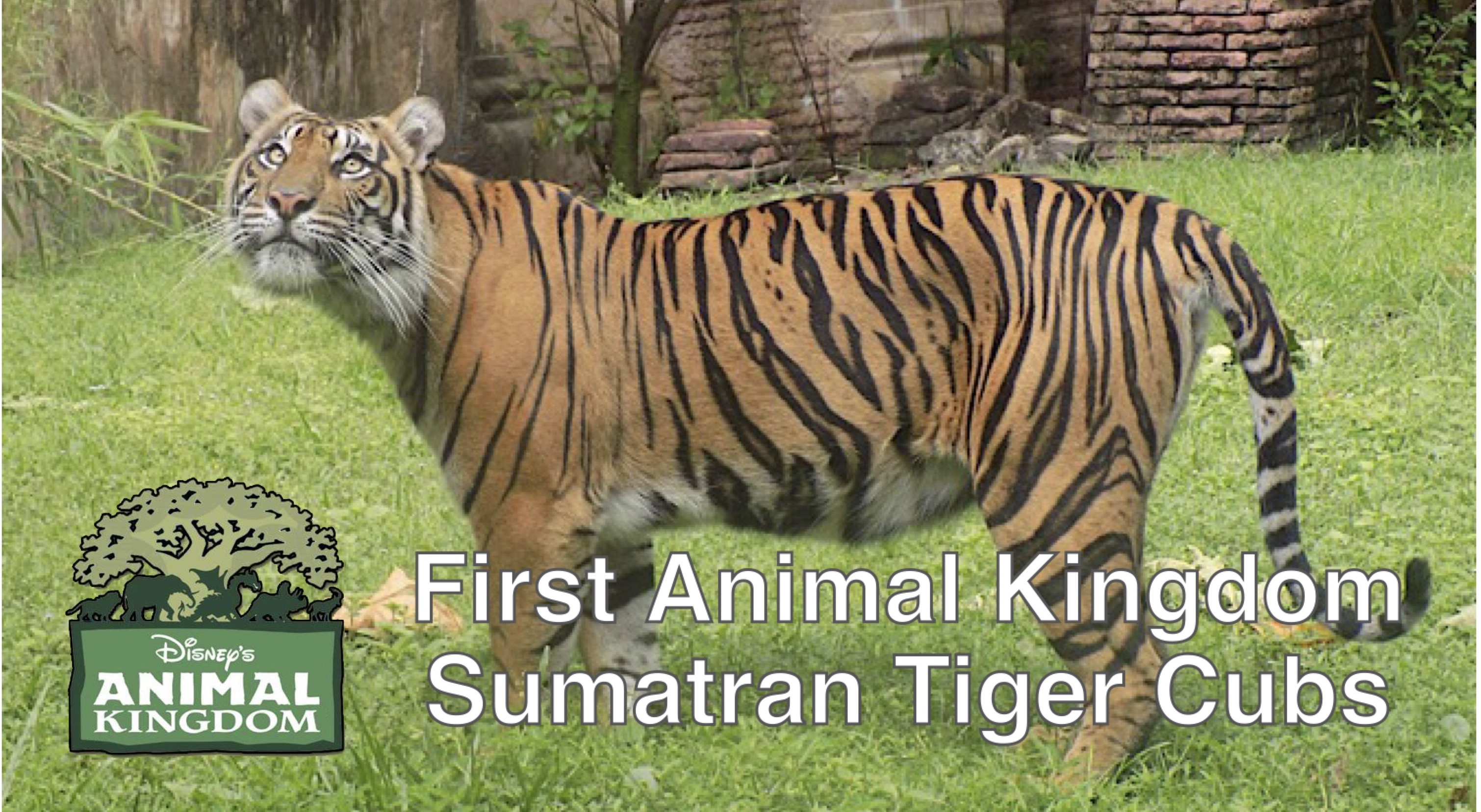 We were so excited to hear from Disney today that Sohni, the female Sumatran Tiger at Disney's Animal Kingdom, recently gave birth to a pair of Sumatran Tiger cubs!  They are the first tigers born in the Animal Kingdom's history.
Disney says that Sohni and her cubs are bonding well.  They have a dedicated team of animal care experts and veterinarians providing around-the-clock care of the tigers.  We expect to see Sohni along with her cubs back on exhibit within the next several months.  When we spoke to one of the handlers on our last visit to the tiger exhibit at Animal Kingdom,  they had said that the tigers would hopefully be out by Christmas or the first of next year. We are keeping our fingers crossed for an earlier arrival.
The Sumatran Tiger Cubs – Part of an Critically Endangered Species
Currently, there are fewer than 500 Sumatran tigers in existence in the wild. The species is facing threats like habitat loss, poaching and illegal wildlife trade.  In light of this, the arrival of theses Sumatran Tiger cubs is very significant.
The care team at Animal Kingdom use the Species Survival Plan for guidance in the breeding that resulted in the Sumatran Tiger Cubs at Disney's Animal Kingdom.  This Plan is overseen by the Association of Zoos and Aquariums.  This ensures responsible breeding for populations of threatened and endangered species.
If you, like us, are eagerly awaiting to see these adorable Sumatran Tiger cubs in person, here is a video Disney provided of Sohni with her new cubs.
You can also read more details about Sohni and the cubs' father on our article here.
Who had visited the Maharajah Jungle Trek at Animal Kingdom to see the Tigers?  Will the addition of Tiger cubs mean visiting this exhibit more often?
– Chris Edwards