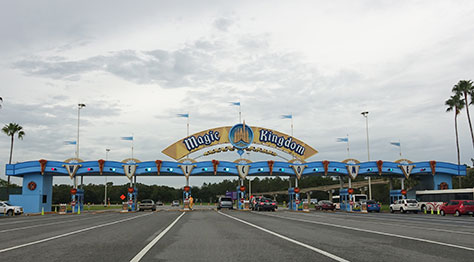 As of 9:45am on October 7, 2016 Hurricane Matthew is passing along the East Coast of Florida, having never made landfall.  It's still a serious storm to those along the coast and the occasional thunderstorm or squall to those inland, but mostly the theme park areas really avoided the worst case scenario.  Here's some things to expect over the next day or so:
 All theme parks will remain closed today.  They have no plans to open them nor their shopping and dining areas.  Regular operations should resume tomorrow, Saturday, October 8, 2016.
Disney World resort guests are requested to remain in their rooms and resorts, but aren't being forced to remain.  Many restaurants and stores outside Disney World still plan to remain closed today.
Disney World is attempting to bring in food for resort guests that will consist of a limited menu and boxed meals.  If your resort doesn't offer it yet, please hold tight as they could offer it for you within a few hours.
Some resorts will offer special character meet and greets in their lobbies and special activities.  It's likely that it will happen on an unpublished schedule at some resorts.  Many resorts offered this last night and it really helped to cheer up the children, especially the little ones worried about their favorite character.
I would expect a larger movement of guests toward the Magic Kingdom tomorrow.  You're basically combining guests who forfeited their visits on Thursday and Friday and combining them with the guests who already wanted to visit on Saturday for the extra night time entertainment.  Be sure to arrive early, use Fastpass+ and use some of my great Touring Plans to make the best of a possibly busy day.
My original Crowd Forecast for tomorrow was for Heavy Crowds and for the Magic Kingdom to be red or avoid.  Many guests had to cancel or delay their trips, so the overall crowd level will likely not reach the projection, but the Magic Kingdom will still be quite busy from 11am until Wishes.  Make the best of the day and have a great time with your family in the world of magic!
My family and I are doing great and we saw no damage.  Our power, cable and internet access are still operational.  We are healthy and enjoyed some family time playing board games.