I visited Disney's Hollywood Studios to get some good photos of some of the recent character changes and provide you with an update and ended up meeting with an awesome rare character!
You'd think Bolt is the rare character, right?  Bolt has actually been meeting at Hollywood Studios for about 3 weeks now.  I added him  to Character Locator when he began meeting to help you, and I included him and others in my Touring Plans a couple of days ago.  Walt Disney World characters are always changing, so it helps to have a subscription to stay up to date and make your planning easier.  I'm really grateful that it helps people accomplish our goal to "Play more. Wait less."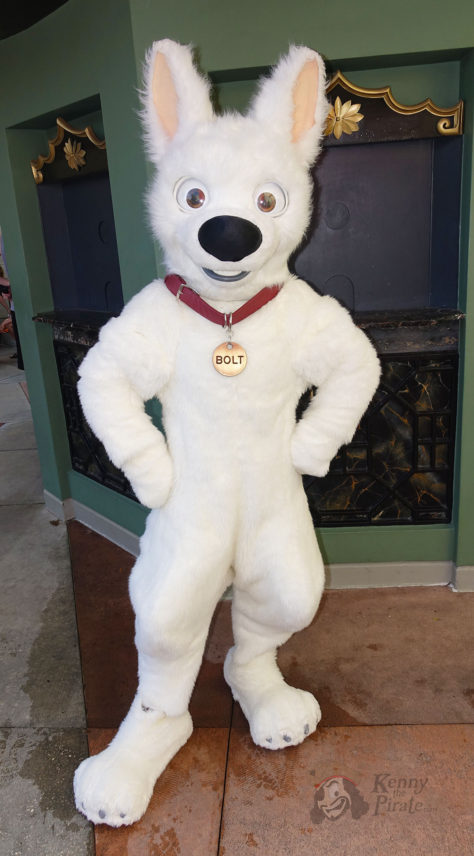 I asked Bolt how he'd like to pose and he went with the Power Pose, so here we are.  He meets at the Great Movie ride.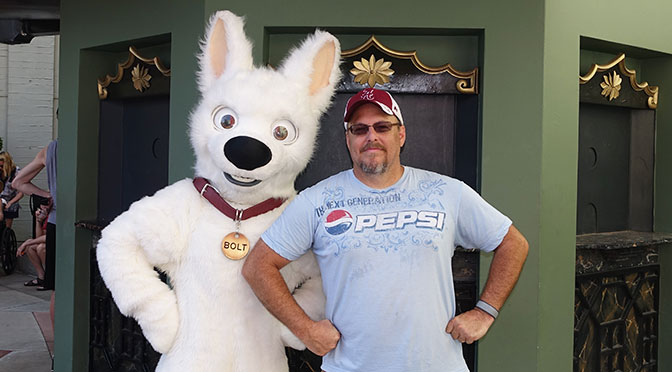 Maybe the rare character is Max?  Nope!  Max has also been meeting daily at the Great Movie Ride.  It's really ashamed how many park guests don't know the Disney movies and cartoons though.  I heard people saying, "Who is that dog over there?"  "Maybe it's baby Goofy, let's go meet Baby Goofy."  (Face palms)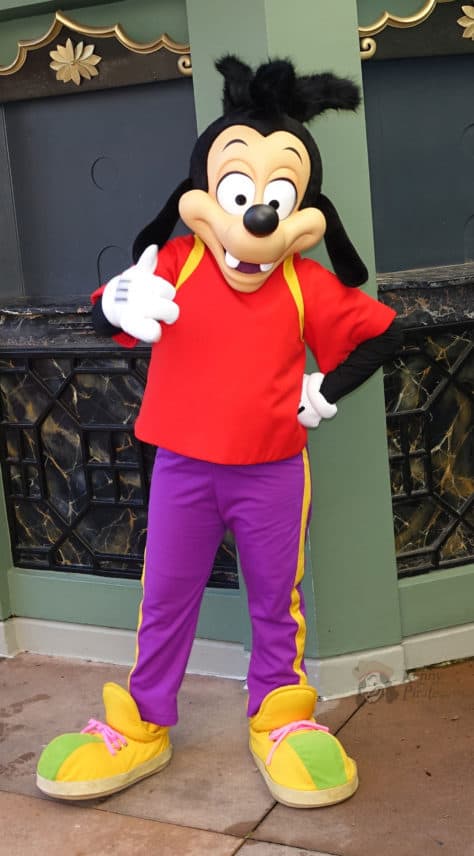 He is Max Goof.  He is the son of Goofy and the former Mrs. Geef.  Yes Max was raised by a single dad who isn't very good at sports, home repair, driving a car or most anything except making me laugh.  Max has his head on straight though.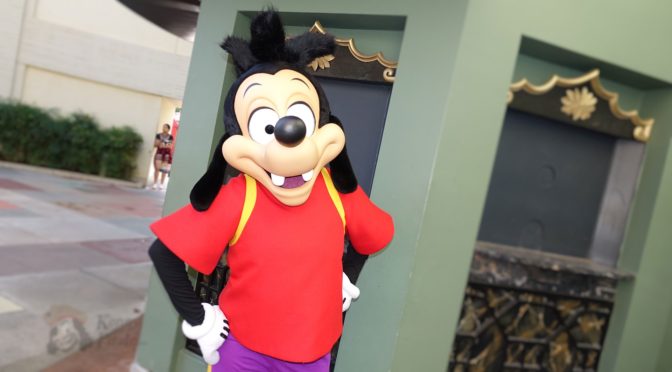 Max preferred the "tough guys with arms crossed" pose.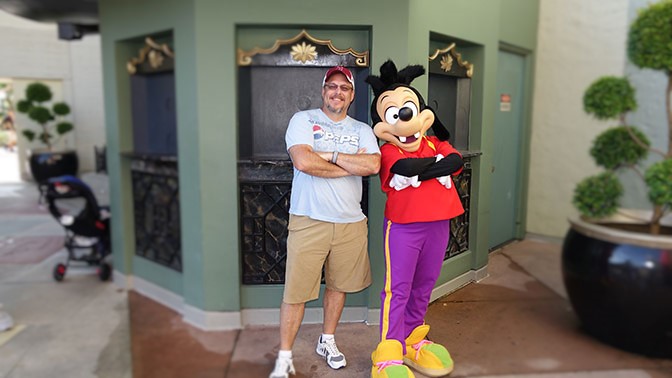 Goofy usually meets at the same time as Max but is currently across from him in the courtyard.  The guy is like a rock star with long lines and his own paparazzi!  The man knows how to travel.  Hollywood Star!

So the special character is Lilo and or Stitch?  Nope, the park added Stitch a couple of weeks ago and Lilo added on this week.  I'm actually impressed with bringing back several great characters.  There's no way to know how long they will stay around, but it's fun seeing them out again.
I've heard rumblings that more changes will occur in Hollywood Studios as it relates to the courtyard area and Commissary Lane.  I'm not prepared to say who, but hopefully there could be some more positive movement in the character world.  There's thousands of people who could spend their entire trip meeting characters, so it's great to see more variety the last few weeks and I'll commend Epcot for adding Joy/Sadness and Baymax to their rotations too!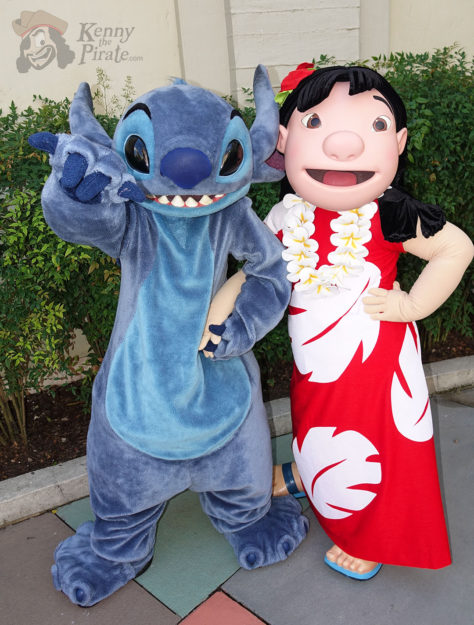 Hang ten!  I'll leave the actual surfing to my daughter who, very adeptly, rode the waves in Hawaii last year.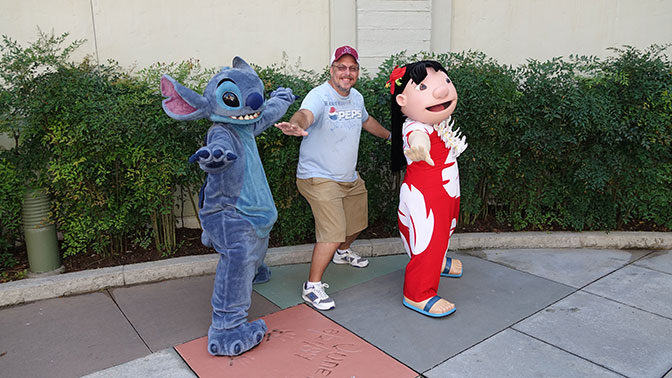 So, who did you meet?  We want to know.  It's drama I'm looking for here. Hey, don't cheat and scroll down.  I've got important Chip n Dale news first!
The Chipmunks got the boot from the courtyard area and their clothes went flying off!  Acck!  They are nekkid again in Hollywood Studios.  "Don't look Ethel, it's too late…"  Seriously, they don't wear their 1940's costumes any longer, they are just their plain old acorn-loving selves.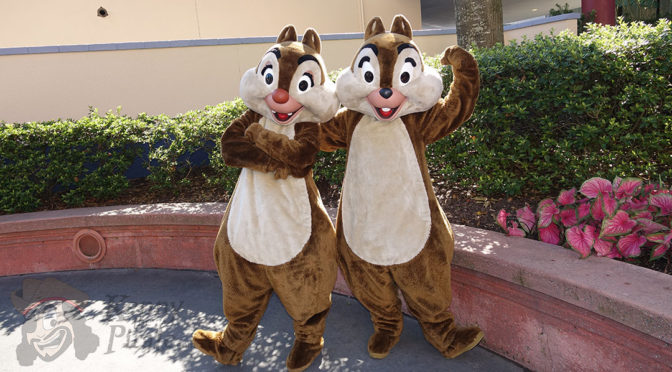 They love shade and I can't blame them.  I love shade too.  It's like 97 degrees with 90% humidity, so any shade or air-conditioning you can find is a great thing!  Even standing in the shade, you're likely to be dripping with sweat in Florida.  People say, "You must be used to it, since you grew up in the South."  Hottest place I ever lived was Texas, and it was humid where we lived, but I still love a tall glass of sweet tea and AIR-CONDITIONING!
Okay, back to the point, Chip n Dale are located along Commissary Lane.  You might find them hidden behind the DVC kiosk.  Great way to sell memberships?  If you don't see them there, just look along Commissary Lane.  Their schedule and all others are always included 24 hours a day with your Character Locator subscription.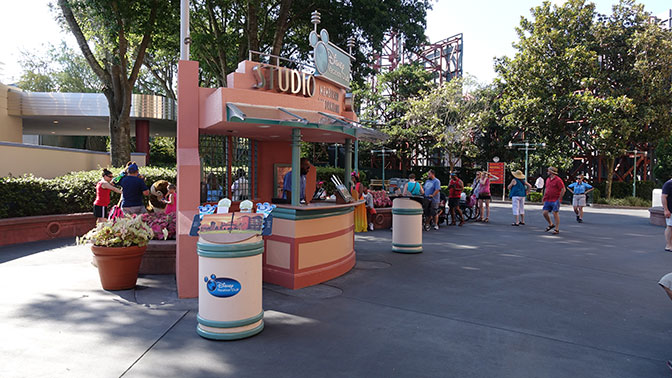 These guys are always stirring up trouble.  Chip felt I'd look like a cool guy with my hat turned sideways.  If you're confused, Chip looks like he has one tooth (two close together) and Dale has 2.  One tooth, one vowel.  Two teeth, two vowels.  Also Chip has a black or chocolate chip nose and higher eye brows.
Can we stop talking about eye brows, and get to the great character you ran into at Hollywood Studios?  Okay, I'll post it as long as you finish the article so you'll know what's going on with the other characters.
Oh wait!  Mickey and Minnie's meet in Hollywood Studios now has a more permanent sign and posted wait system.  At around 10am, the wait was a whopping 5 minutes.  It grew to 20 within an hour.  Great meet and greet!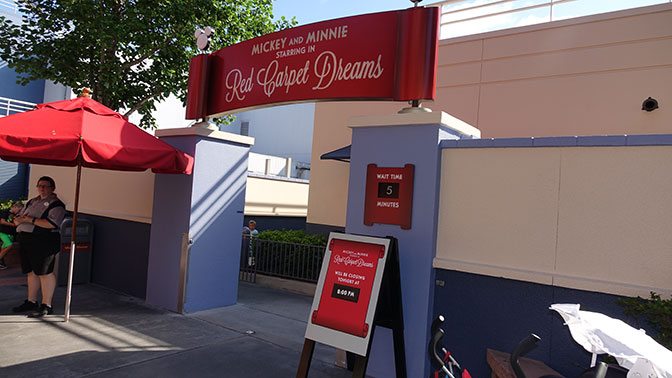 Here's my rare find for the day.  Pinocchio showed up in the courtyard to meet guests.  Daisy wasn't feeling well today, so Pinocchio grabbed a boat from Germany and rowed on over to meet guests.  It's always fun seeing Pinocchio as he usually only pops up at Character Palooza rarely.  When the Cast Member announced the meet, everyone became excited to see him.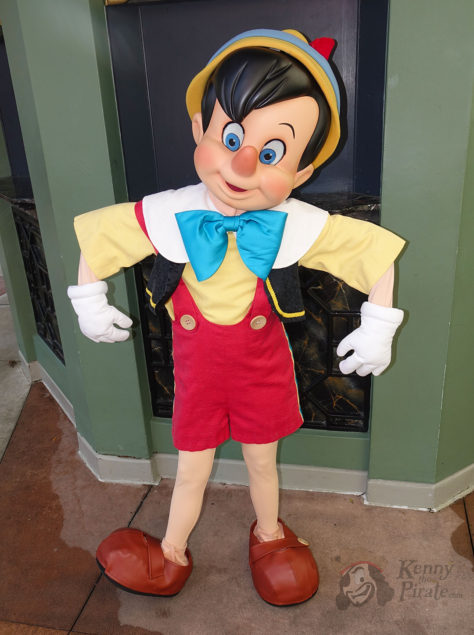 Hi-ho the merry-o
That's the only way to be
I want the world to know
Nothing ever worries me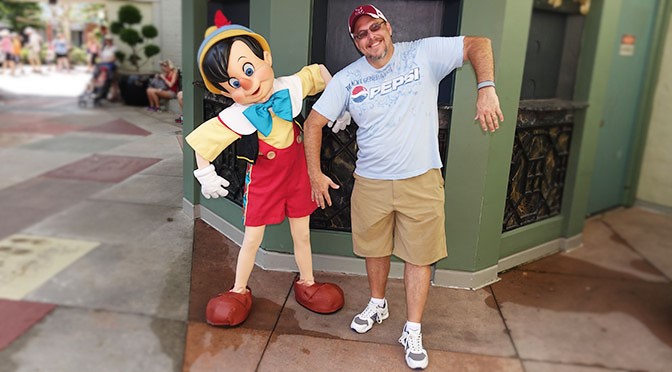 After meeting the courtyard and Commisary Lane characters, I decided to walk around a bit and check on other character meets.
Line for Sofia the First aka Princess Sofia.  If you see a line, come back later in the day.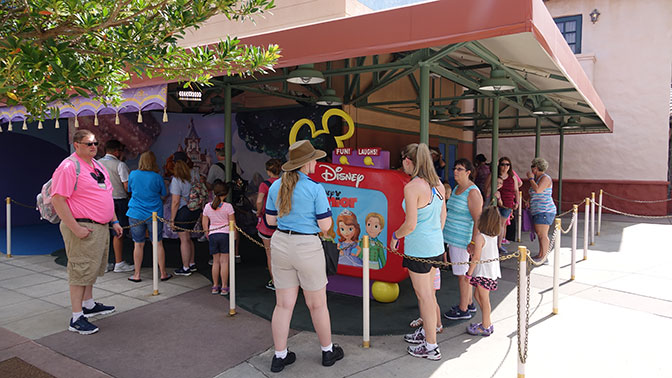 Jake was on break, but the had a 10 minute or so line.  Here's Pluto.  Here's some better photos and how to meet him.
Doc was leaving to get some more tongue depressors, cod liver oil or Mercurochrome or something.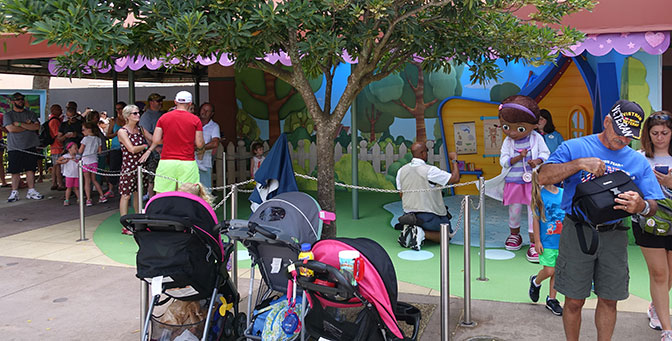 I entered the Star Wars Launch Bay through the merchandise store in order to check on the character meets there.
Jawas were out trading in the Cantina.  Why does this place not sell blue milk?  They would make a killing!  Actually, why does Disney not offer a Star Wars character meal?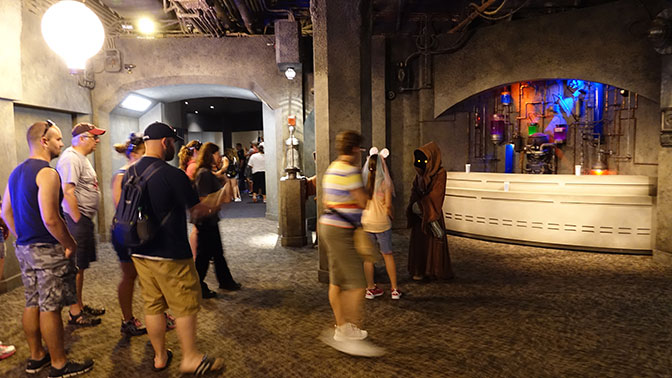 People often want to know how to get the Jawas to trade.  You can't offer them money, even if it's foreign money.  They don't want food, especially hot gooey, half-eaten food.  They love shiny things like paper clips and tin foil.  They love buttons and pins.  If you offer them junk or paper, expect them to deny you and move on.  They are traders, not garbage men.  They will often give you a droid part, if you offer them something of value.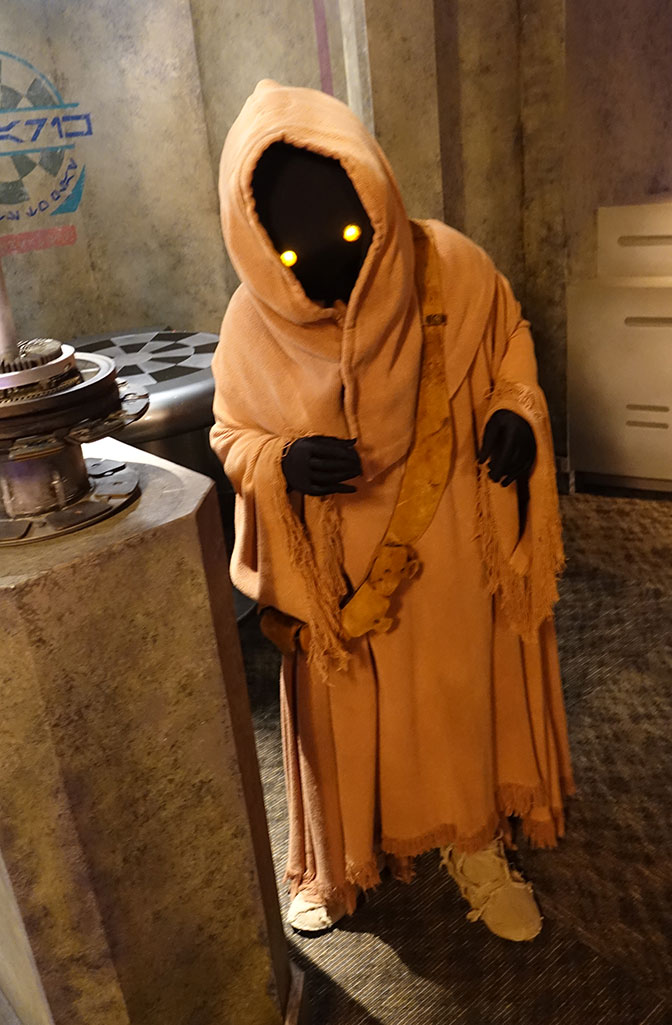 Chewbacca's line was posted at 20 minutes.  That could be possible with this line.  He's a fun meet, but practice your gurgling sounds!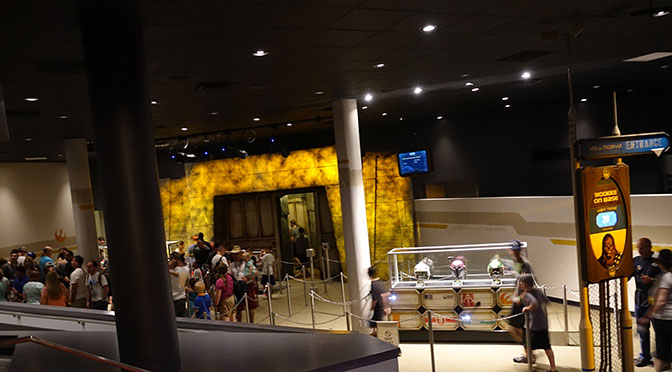 Kylo Ren's posted wait was 10 minutes.  Ummm no!  It was out the door, you're looking at an easy 30 minutes when that happens.  Don't try to be funny with Kylo Ren, he's not into humor.  He'll either take out his light saber and scratch up the wall like he does in the movie, or like he does in Jedi Training, or like he does in the Star Wars fashion show or he'll just tell you to leave.  Yes, he has actually directed guests out of the room for attempting to break character with him.  It's not Kylo's comedy hour.  Kylo runs the room, you just take orders, comprende?  It's a fun, and very intimidating meet.  If you have a Chase Disney Visa, use it for the special meet with a smaller line.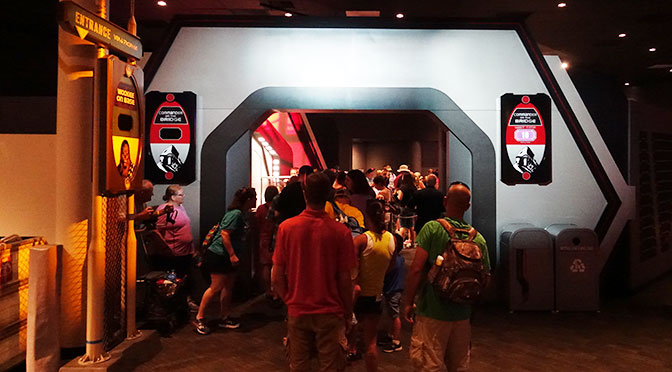 I checked in on Buzz n Woody and their posted wait was 35 minutes, but I've easily waited 45 from outside like these guests.  It is a VERY slow moving meet because the characters spend time with the guests and it's quite loud inside too.  I hope they make the sound issues better when Toy Story Land opens in like 2028 or whatever.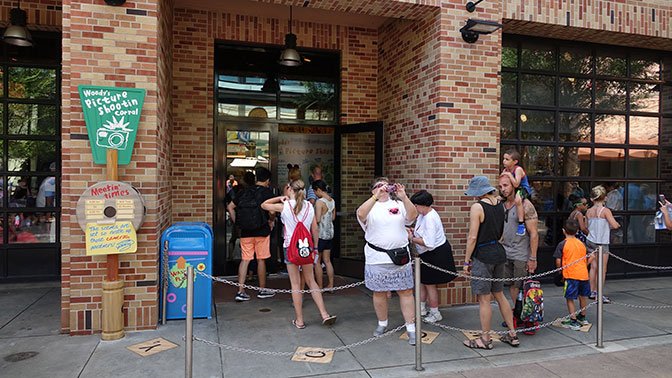 I checked out the Green Army Man Bootcamp.  It's a fun, interactive experience for kids in Pixar Place with no posted show times.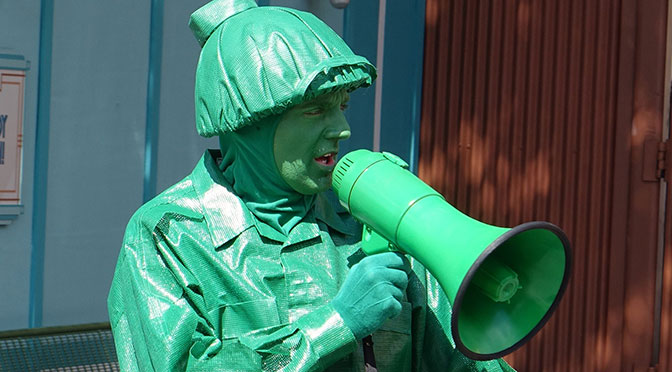 I then rode Toy Story Midway Mania and it was a posted 20 minute wait.  It took 15, but would have been less, but they cleared the Fastpass+ line.  The 3rd track really did the trick!  I scored a little under 300,000 playing alone and almost got high score for the day.  I once posted a live photo on my Facebook of the empty queue during the day and some guy accused me of posting a photo taken at rope drop.  Not sure what I'd gain in doing that, but you get no photos of my pleasantly empty queue thanks to "that guy."
Before leaving due to crazy heat and impending rain, I stopped by the Olaf meet and greet.  They've greatly improved the signage at this meet.  It's gone from a tent board, to tent board with temporary sign to much nicer permanent signage.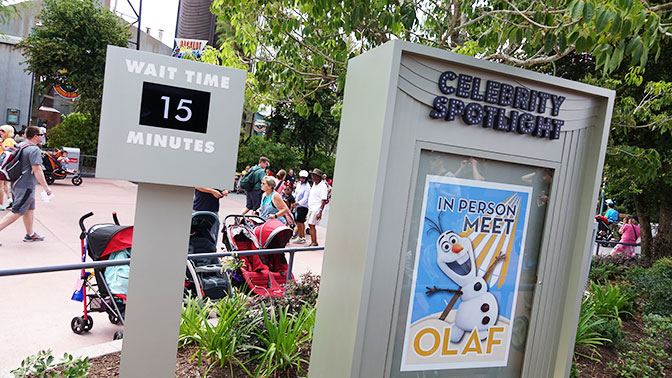 It even has an estimated wait time.  Olaf is popular and can have a wait of up to 30 minutes.  They use Disney magic to keep you from waiting 60 minutes ;)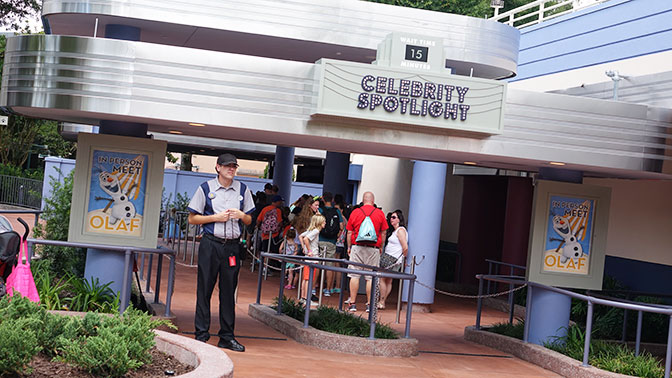 Hope you enjoyed my little character tour!  I'm in the parks today checking out the new Soarin' film, the new Mickey's Royal Friendship Faire show, the rearranged Princess Fairytale Hall and the new Star Wars Fireworks.  Man, I need to hire and assistant or team or something lol.  It's great living the dream!  I'll try to do as much Facebook LIVE as possible for you.
Get all the latest KennythePirate Disney news and planning advice in your inbox!