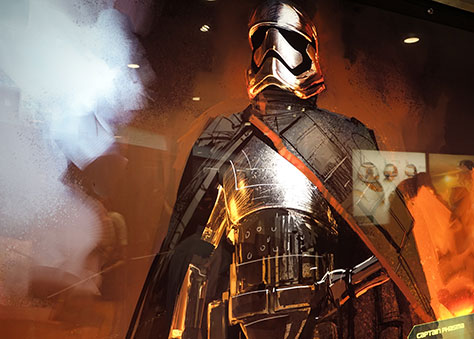 Got your morning coffee and donuts, or in my case, low calorie, low sodium cereal with additional Flax Seed ready?  Let's dig into some more rumors surrounding Hollywood Studios refurbishment.
Please remember that all rumors should be treated as speculation until Disney officially releases news or the point of discussion actually occurs without notice.
Let's review some recent rumors before taking another bite of the gooey, sugar coated donut.
 We discussed how management is contemplating a full, but "temporary" Star Wars overlay on Rock n Roller Coaster.  It was received with mixed reviews on the comments and my Facebook page.
What would you think of a Star Wars overlay on Rock n Roller Coaster?
 We talked about how Ezra and Sabine are supposed to arrive pretty soon at the old American Idol try out center across from ABC Commissary.  Construction continues to advance with walls up next to the Star Wars: Path of the Jedi theater.  Still not confirmed by Disney.
Ezra and Sabine to offer meet and greet at Disney's Hollywood Studios
 We talked about how Kylo Ren would replace Darth Vader and it was confirmed by Disney.  Kylo has begun meeting guests in Disneyland already and should begin in Disney World in mid to late February.  I hope to have a more accurate date very soon.
Darth Vader to cease his regular meet at Disney's Hollywood Studios and Disneyland
 We talked about how more closures will occur.  Phineas and Ferb and Lightning and Mater have already left the park and walls are up in their area with no visible construction.  Pizza Planet is closed and walls surround it.  Black plastic on a couple of windows is the only visible sign of interior change about to occur.  Walls are up with some Muppet type theming, which continues to point toward Pizza Planet becoming a Muppet restaurant and the area taking on more of a mini-land.  Pizza Planet will return in a few years in new Toy Story Land along with a couple of rides, shopping and a meet and greet location.
Hollywood Studios will also destroy the entire backlot area including the former Backlot tour, Writers Stop, Mike and Sulley will leave, Studios Catering Company, the Coke bottle thing, the mermaid fountain, all former sets, Honey, I Shrunk the Kids, Youze Guys, Herbies Drive In, Lights, Motors, Action, Watto's Grotto, all New York and San Francisco sets and Premier theater.  Earffel tower will also be removed.
Hollywood Studios is really the only american Disney park that doesn't have clearly defined 'lands' like the others.  It was a hodge podge of various studio buildings and scattered rides.  Disney is moving to create more lands and mini-lands.  I'm still wondering what will happen to most of the Backlot area.  We know Star Wars runs down one side of the park and Toy Story takes the other, but what fills the lower middle where Osborne Lights used to take place?  Lots of space there for another land or mini-land expansion or it could just end up as a bunch of support buildings.
April 2nd is the final day for many beloved Hollywood Studios attractions
So, here's some new stuff for you to nibble upon while you dose yourself in some highly caffeinated refreshment.
 Club Disney could be leaving.  Character fans have enjoyed the extra Fab 5 meet and greets with unique costumes and the chance to dance with them and take an air conditioned break on a nice little couch.  Rumors are pointing toward a possible transition to a new version of the "Star Wars Rebel Hangar" which would provide a dining experience with some rogue Star Wars characters roaming about for possible stop and meets.  Maybe they call it Club Jedi? It was tested last year across from Star tours and booked quickly.  Food wasn't amazing in my opinion, but they brought some of the food items back to the Backlot Express food location.  Wouldn't it be awesome if Captain Phasma actually appeared?What will happen to Club Villain?  Rumors are pointing to some type of similar experience at Epcot.  Most guests expressed positive feedback and especially liked the Queen of Hearts as a face character.  Special character dining experiences are hot at WDW and a regular villain experience has been requested by guests for years.
Sci-Fi Dine-In restaurant could be about to offer the Star Wars breakfast again.  Darth Vader with other dark side characters inhabited this location during Star Wars weekends and guests clamored to drink the "Blue Milk."  My family and I enjoyed the experience, but quickly learned how hard it was to take a decent photo.  If this experience does return, it may provide guests an opportunity to meet Darth Vader once he leaves the Launch Bay.Seems like a no-brainer to increase profit with very little effort to me.  March out some Star Wars baddies, color some milk and upcharge it considerably to guests clamoring for Star Wars characters that won't appear otherwise since Star Wars Weekends are no extinct.  R.I.P. awesomeness!
I realize that many people won't favor the increased Star Wars presence in Hollywood Studios, just as many pushed back against Frozen for 2 years, but its VERY profitable and in high demand, so they will continue to create new cupcakes, new popcorn buckets and other Star Wars specials.  I've said for years that Star Wars is a theme that could EASILY create a 5th park, but we'll get more Star Wars in the 3rd park instead.